You're going to fall in love with these Huevos Rancheros! Warm corn tortillas spread with smashed black beans and topped with a fried egg, fresh pico de gallo, avocado and Queso fresco for a quick fresh breakfast! Serves 4 in about 30 minutes.
Pat and I both agree we could eat tex-mex all day everyday. And yes, that includes breakfast, lunch and dinner.
Speaking of breakfast… can we take a minute to talk about these huevos rancheros? One of my ultimate favorite breakfasts. Usually I make them just for me so I can use up leftovers from our taco night. However when I make them for all four of us, I make everything fresh. That includes this super simple, fresh pico and smashed black beans. Both of which are ridiculously delicious and relatively quick and effortless to whip up.
So breakfast can be on the table and in your face in no time. Which is always and forever my kind of recipe.
To Make These Huevos Rancheros recipe you will need:
white corn tortillas
smashed black beans
4 eggs, an avocado
pico de Gallo
cilantro
queso fresco
hot sauce
Plus any other toppings you want.
Start by whipping up the pico. Seed and dice 2 roma tomatoes and add them to a bowl along with 1/4 cup diced white onion, a minced garlic clove, 2 tablespoons minced cilantro, juice of 1/2 a lime and a pinch or two of kosher salt. Stir and set that off to the side so the salt can work its magic on the tomatoes and all those flavors can come together.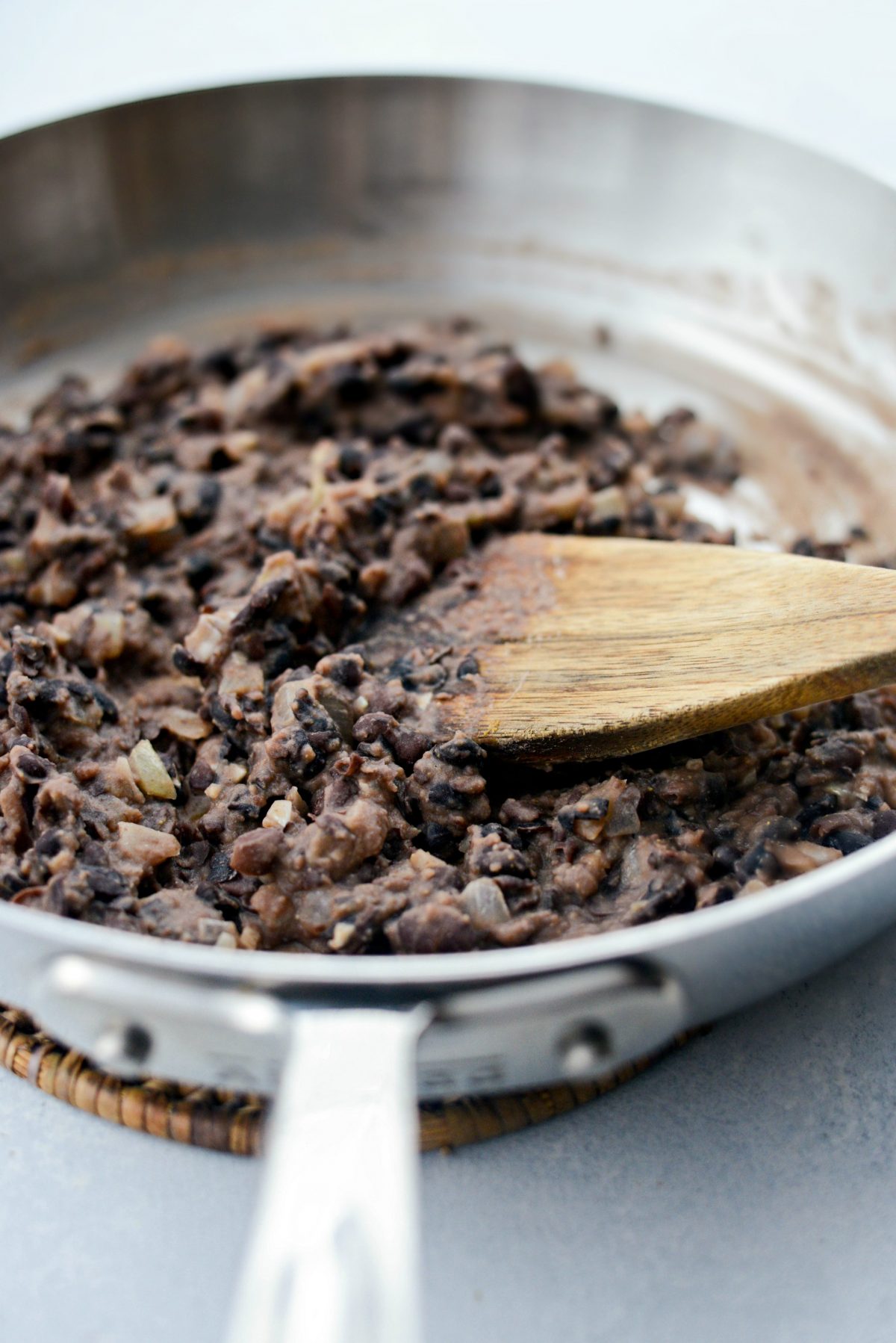 Heat a teaspoon of olive oil in a 10-inch skillet on medium-low. Add in 1/3 cup of diced onions with a pinch of kosher salt, stir and cook until soft and the edges start to turn golden brown. Add in a clove of minced garlic, stir and cook for 1 more minute.
Add in the rinsed and drained (15 ounce can) black beans, 3/4 teaspoon cumin and 1/4 teaspoon ground coriander, stirring to combine and heated through. Pour in 1/4 cup water and 1 tablespoon lime juice and then season with salt to taste.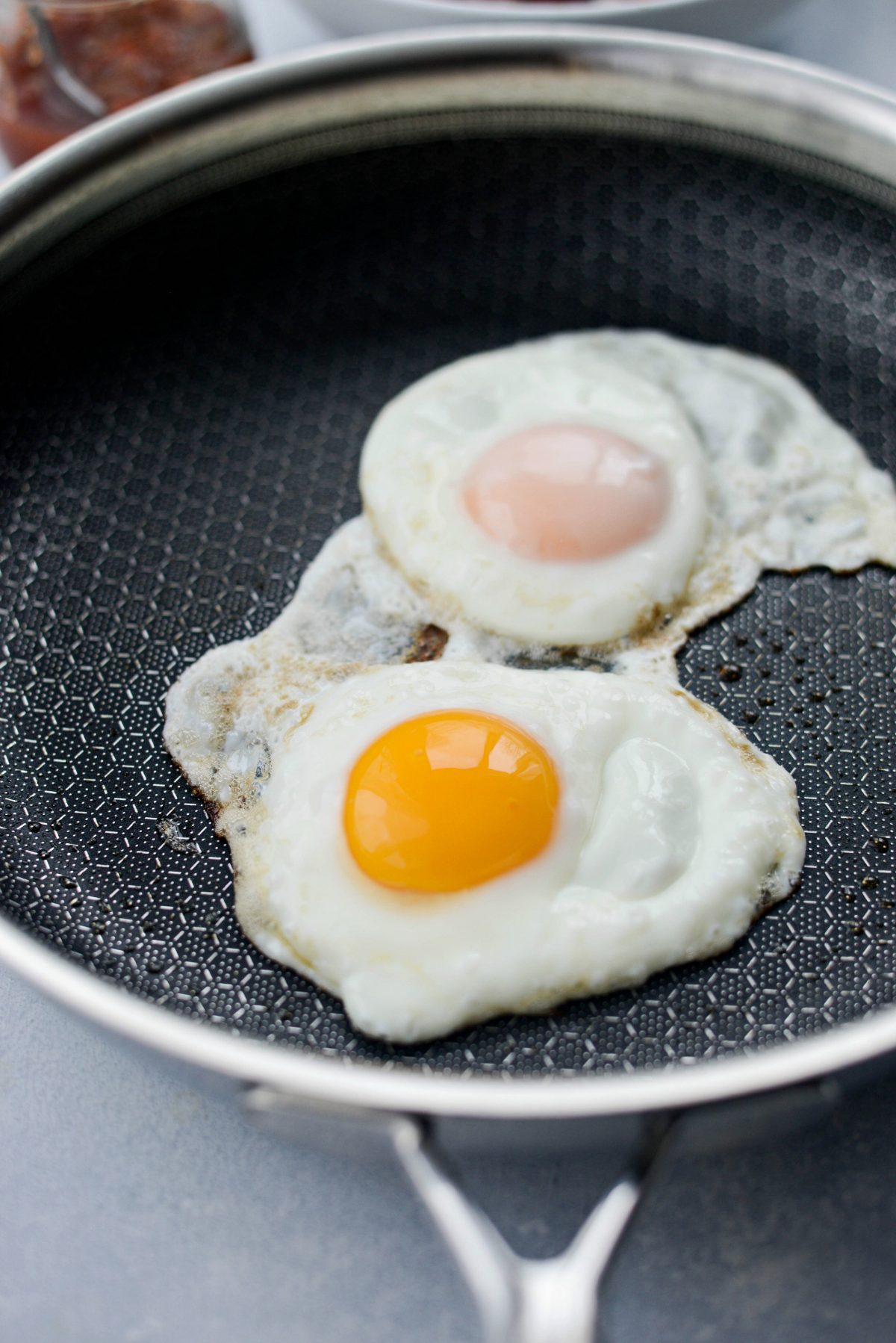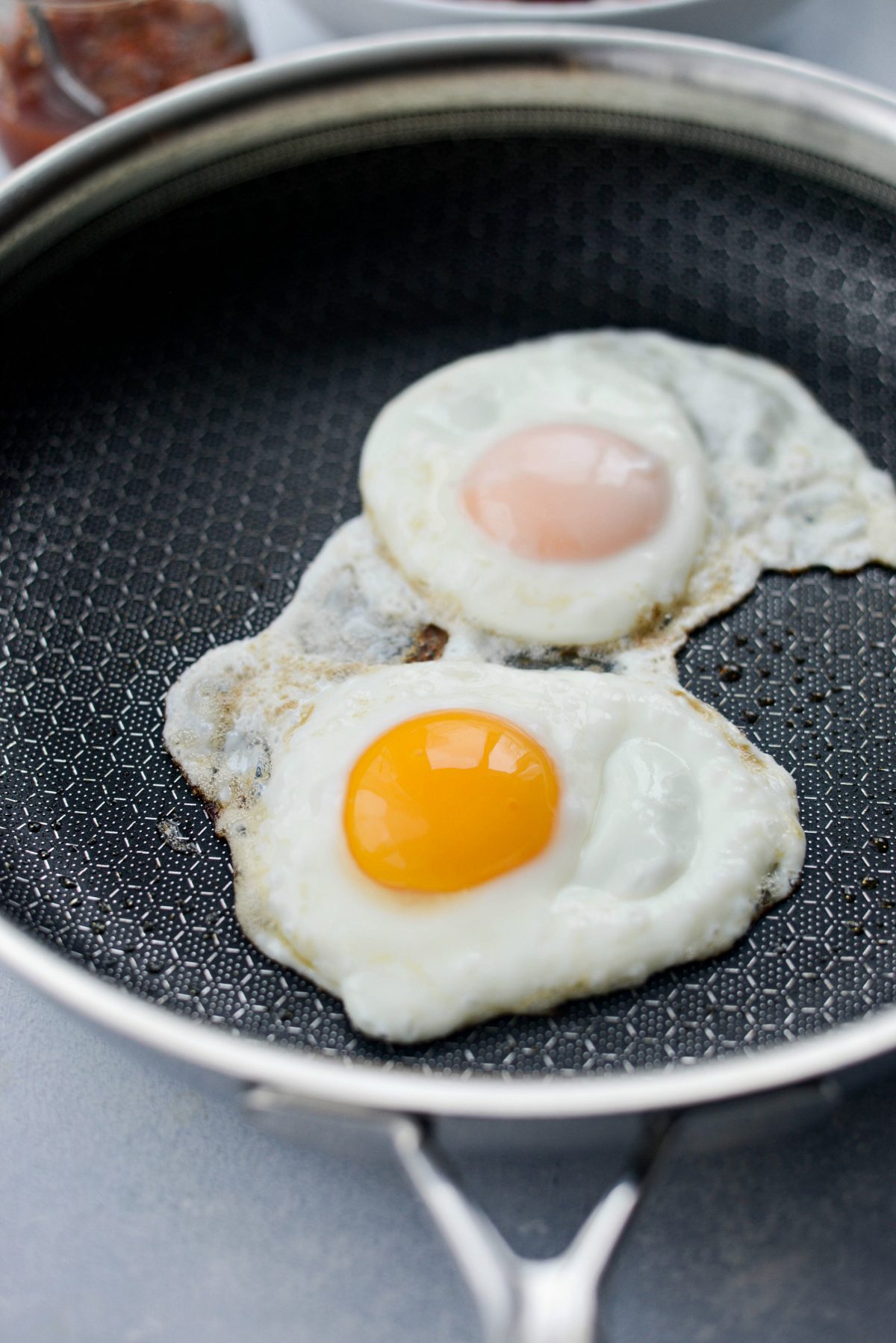 Next, heat up a nonstick skillet over medium heat and warm the corn tortillas. Then transfer to a plate and spread with the smashed black beans.
Then spray the pan with olive oil spray and quickly fry up 4 eggs (sunny side up! or however you prefer) and place them on top of the black beans.
Lastly, saddle up some avocado slices, top with as much pico as you want and sprinkle with queso freso and any other toppings you crave.
How To Get Ripe Avocados To LAST:
The trick to storing ripe avocados so they last is a no-brainer, it's easy and effective and has saved me SO much money. First buy hard to the touch, bright green avocados and allow them to ripen on the counter. Once they are black, soft to the touch (NOT squishy) pop them into the fridge. Because here is where they will last for quite a few days! You guys this has changed my life and I owe this trick to my sisters. No more wasted avocados!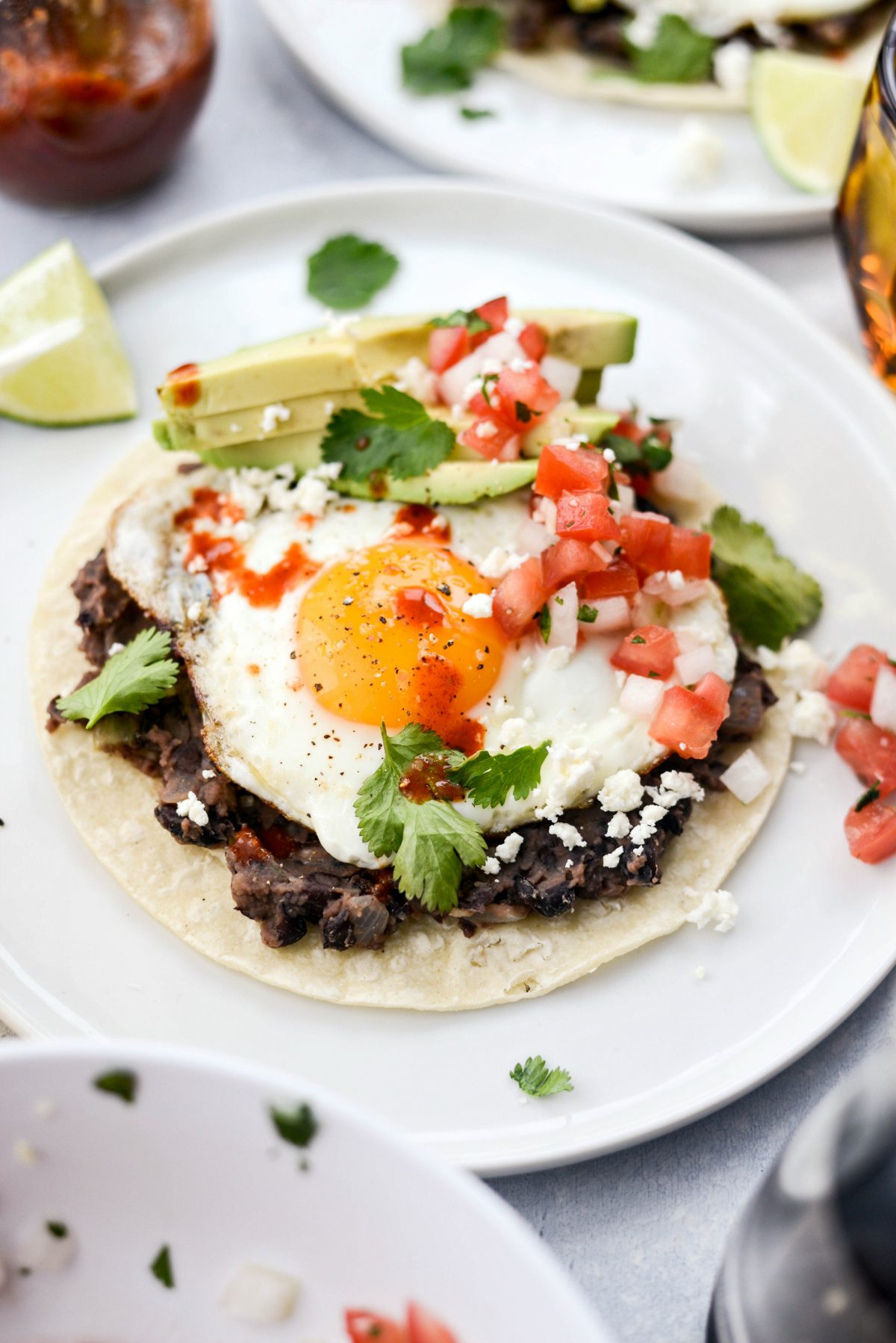 Because heat is my middle name, I love to add a few dashes hot sauce! and black pepper and an extra squeeze of lime. But, hey! you do you because truthfully there's no wrong way to enjoy your huevos rancheros!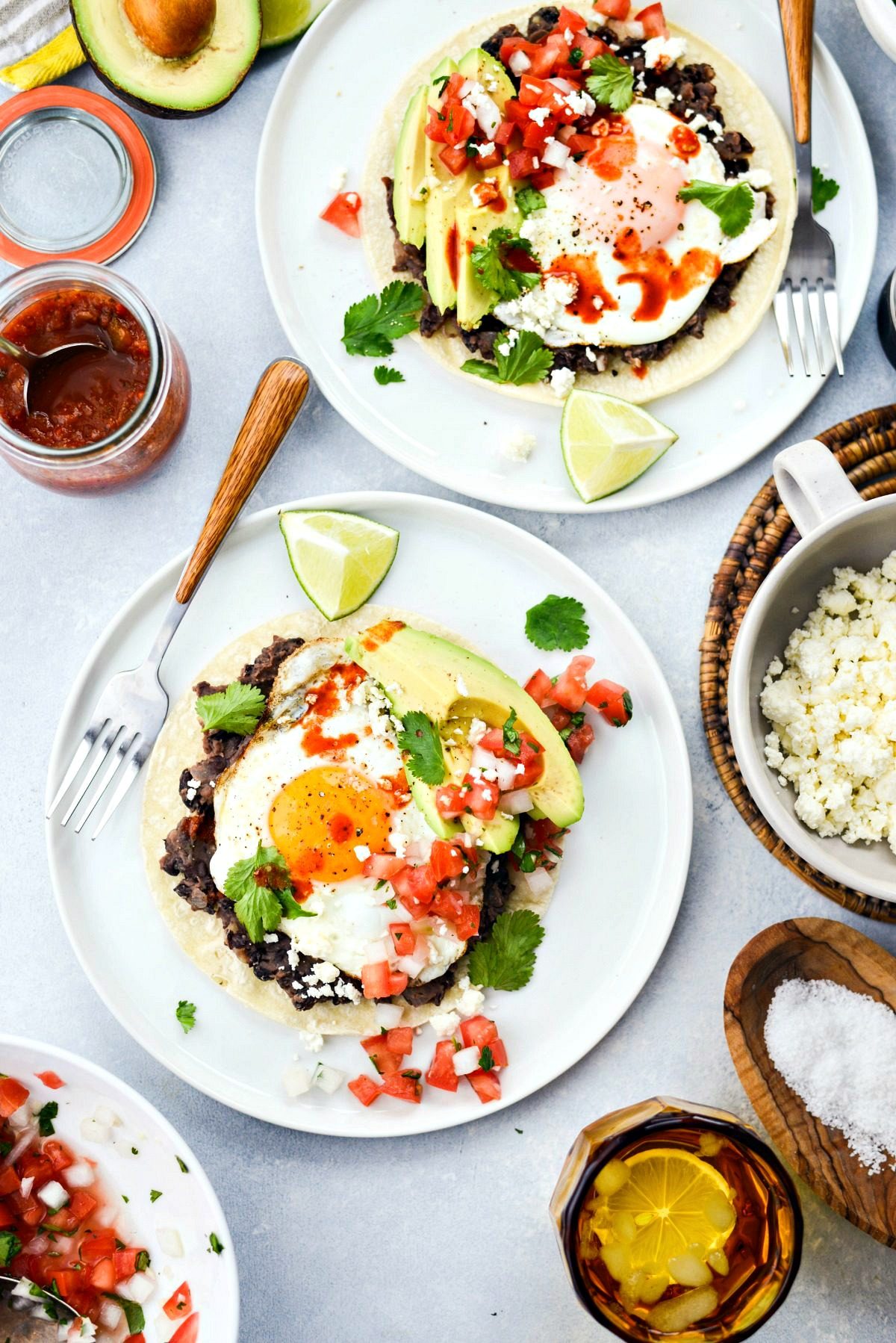 Breakfast, I love you.
For more breakfast and brunch recipes Click Here!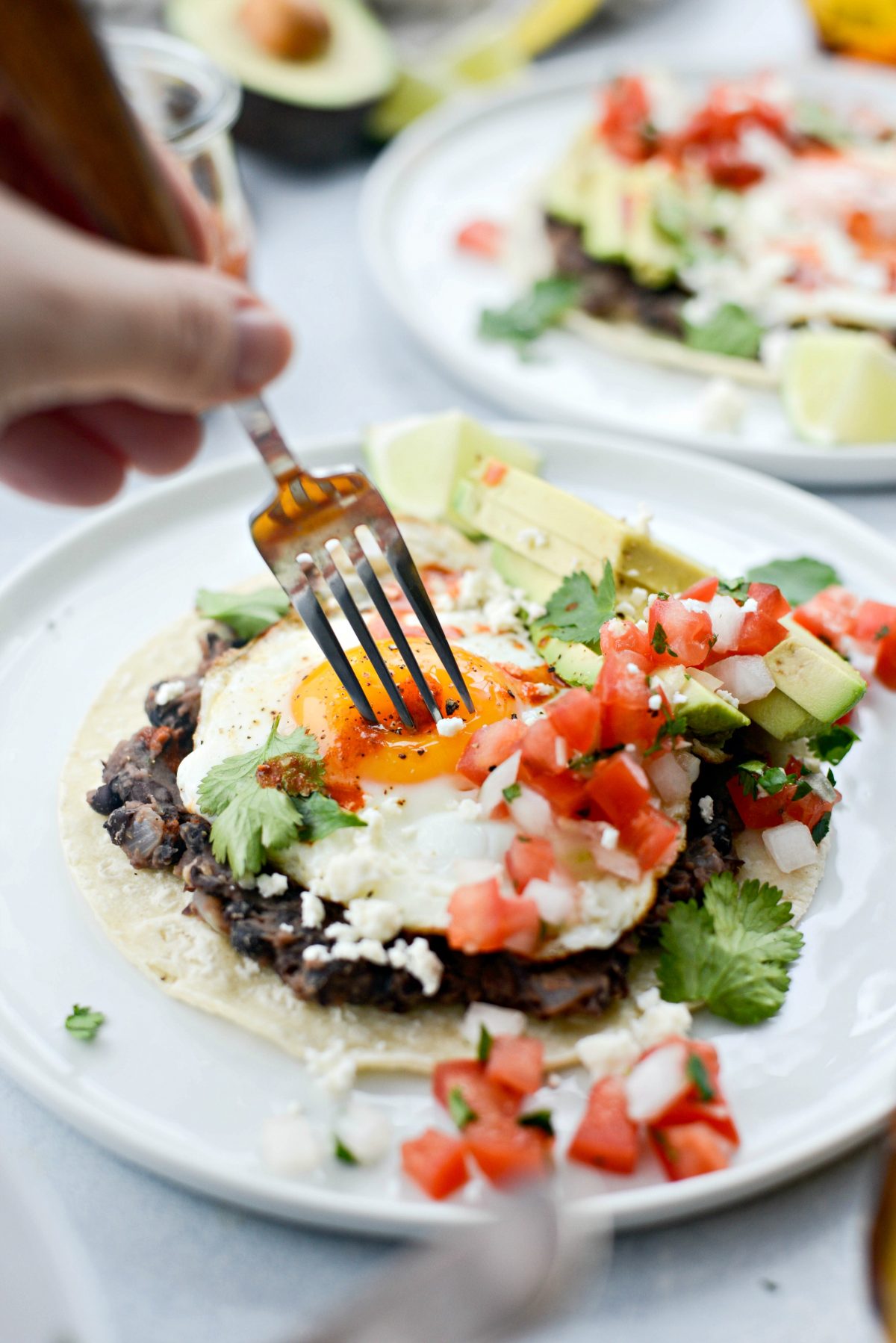 Enjoy! And if you give this Huevos Rancheros recipe a try, let me know! Snap a photo and tag me on twitter or instagram!
This post may contain affiliate links.
Buy the Cookbook: Simply Scratch : 120 Wholesome Homemade Recipes Made Easy Now available on Amazon »
THANK YOU in advance for your support!