I used my recipe for yellow cake mix to make this perfectly moist and delicious homemade yellow cake. Whether it's for a birthday or just because, this cake is one of my favorites!
Yellow cake and chocolate frosting belong together. Do they not?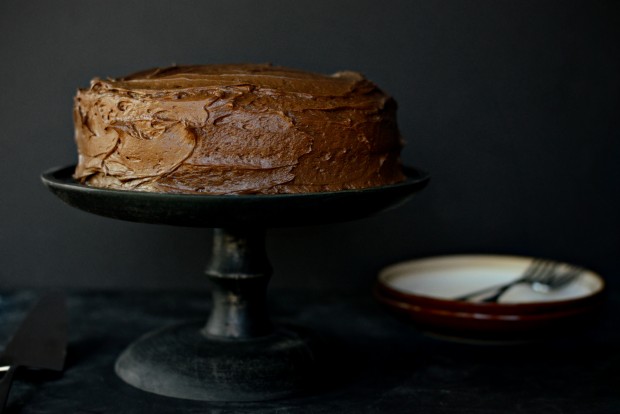 Rarely do I ever bake a cake, let alone one with frosting but today is a special occasion.
Since moving into our house 3 years ago, we've lived on a canal without a boat to take us out onto our lake. Well, Pat has a fishing boat but that really only fits two comfortably and well, we wanted (more like desperately needed) something to take our kids, family and friends out on the water with. Over these past few years we had some serious boat envy on those hot summer days as we'd watch our neighbors head out on their pontoons, drinks in hand and all smiles and laughter. We could not spend another summer without a boat. So this year we bought one! It was just delivered this morning, of course it was freaking COLD at 47 degrees which made our first boat trip short and sweet. But I have high hopes of many sunny and warm summer days ahead of us.
So yeah, new boat = celebrate = cake.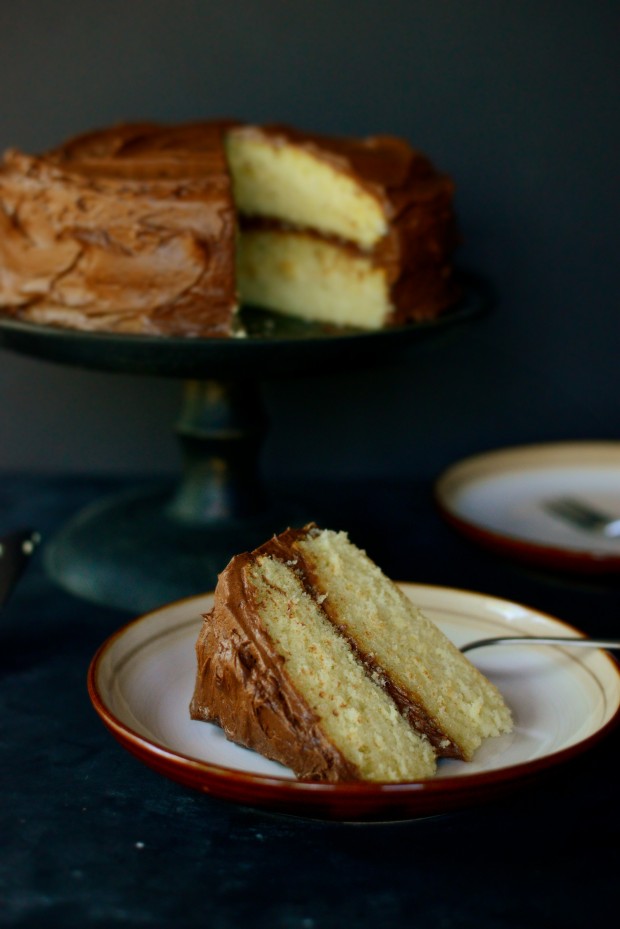 So I bet you were wondering why on earth I'd post a yellow cake mix recipe and not the actual recipe for the yellow cake. Well my reason is that if I was to post the cake mix plus the yellow cake recipe AND the whipped chocolate frosting there would have been 30 bazillion photos. So I decided to break it up over several posts and save you from even more mouse scrolling than usual.
Today, I'm sharing a moist and scrumptious yellow cake recipe and a to die for chocolate frosting. Next week there's another cake recipe for your eyes to visually devour. Two cakes in two weeks… who am I? Can you even handle it?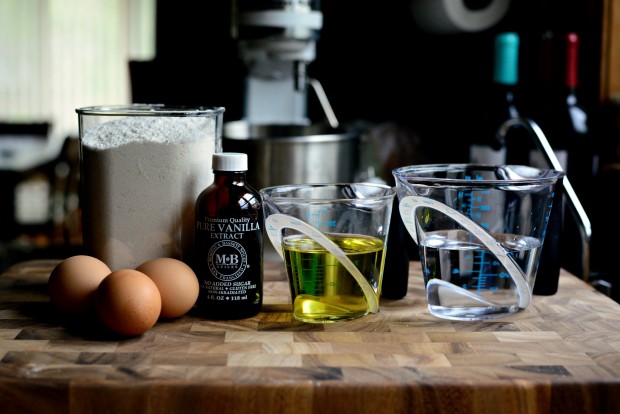 It's a pretty straightforward cake recipe. You'll need this cake mix, water, oil, eggs and vanilla.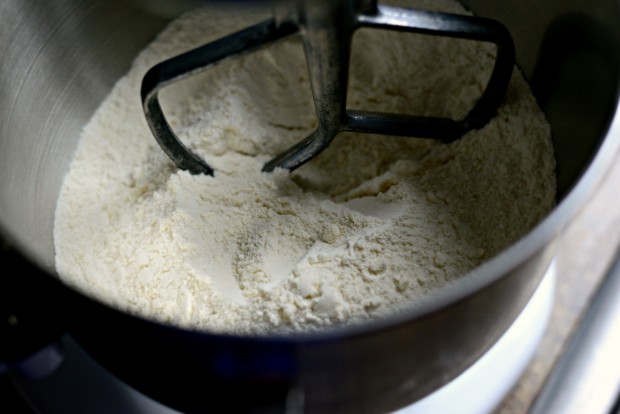 Add the homemade yellow cake mix into the bowl of your stand mixer.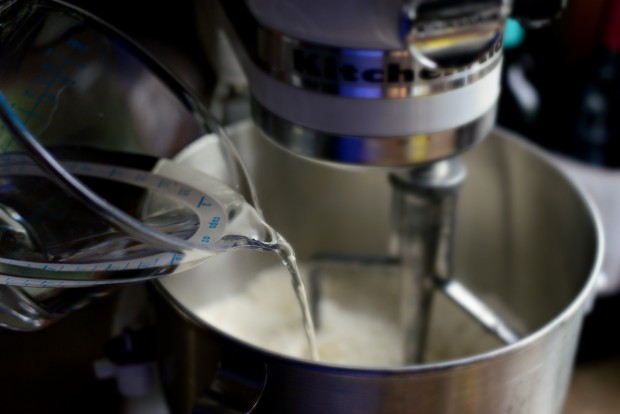 With the mixer on low, add in a cup of water.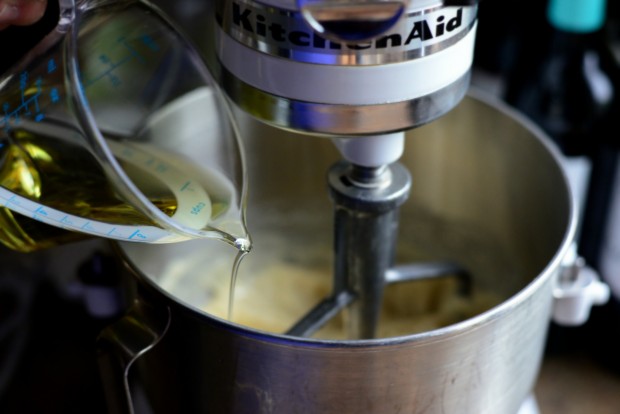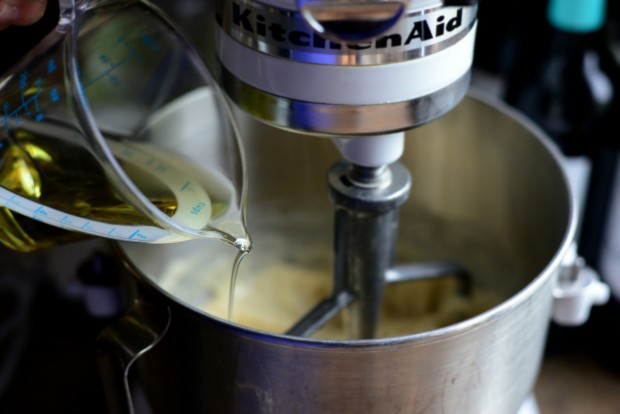 Then pour in 2/3 cup grapeseed oil.
Continue to mix on low speed until the water and oil have combined with the dry ingredients. Then add one egg at a time, mixing well after each egg.
Scrape down the sides of the mixing bowl with a rubber spatula.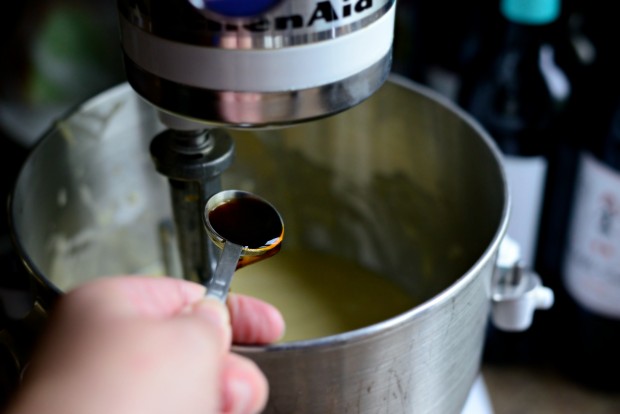 Measure and add in two teaspoons of pure vanilla extract.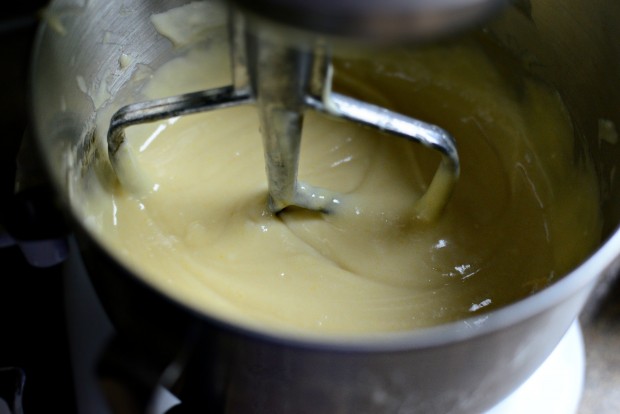 Mix on low until the vanilla is combined and the batter is smooth, be careful not to over mix.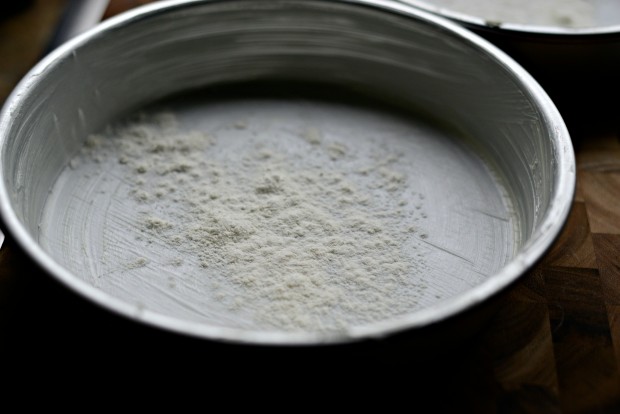 Generously butter two 9-inch round cake pans, line with parchment and dust lightly with flour, shaking any excess flour out of the pan. (This is how I line a cake pan with parchment paper)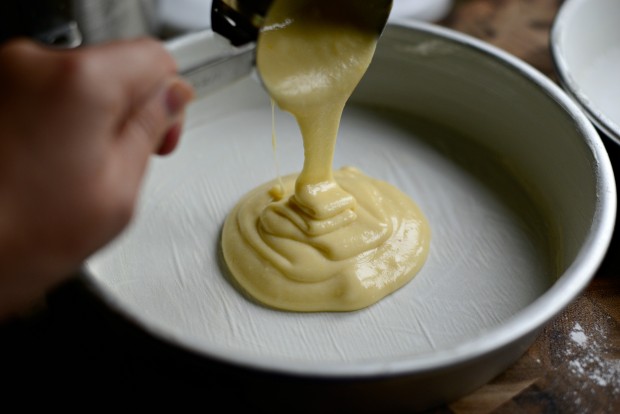 Divide the batter among the two pans, about 2-1/2 cups per cake pan.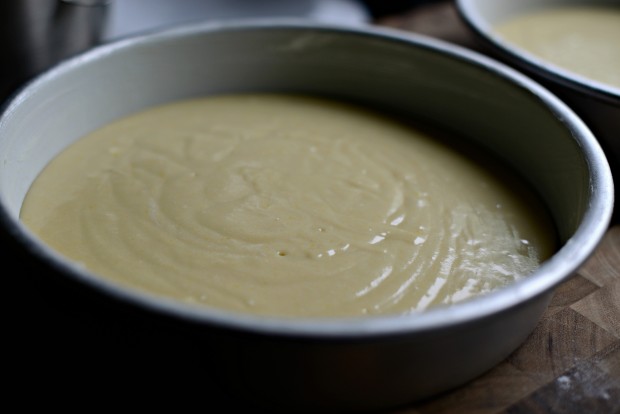 Tap the pans on the counter top so the bubble rise to the top, then bake in a preheated 350° oven for 25 to 30 minutes or until a toothpick comes out clean.
Allow the cakes to cool in the pan for 10 minutes.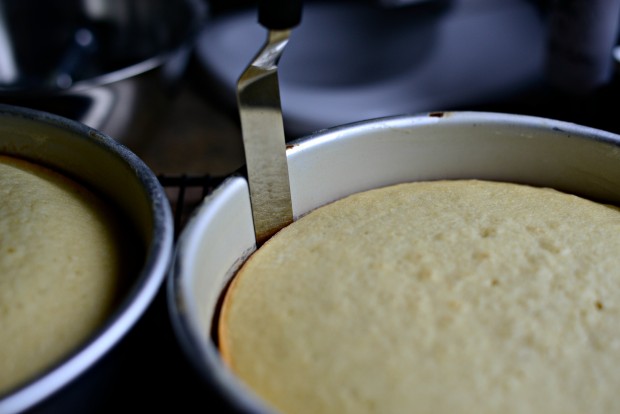 Run a knife along the edge of the cakes…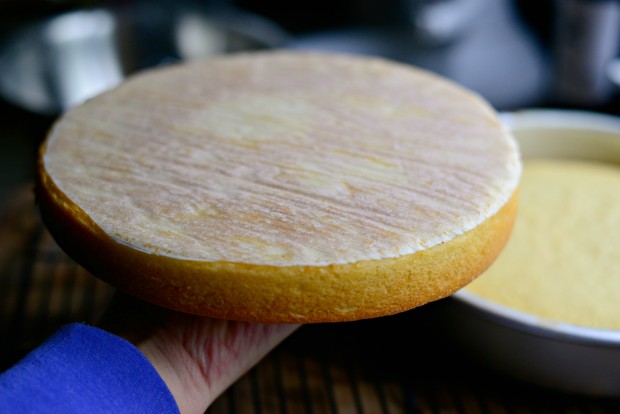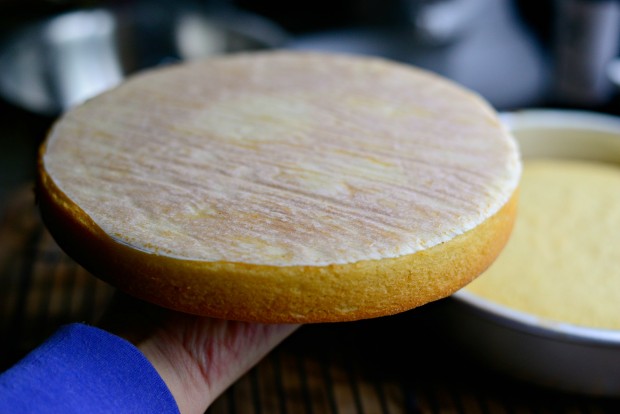 …before tipping the cake out of the pan.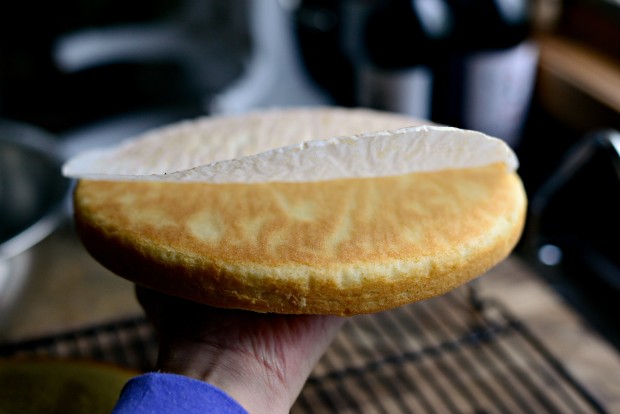 Peel the parchment paper back…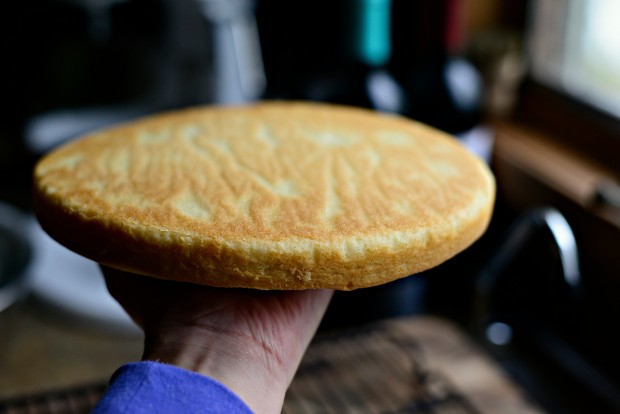 Ta-da!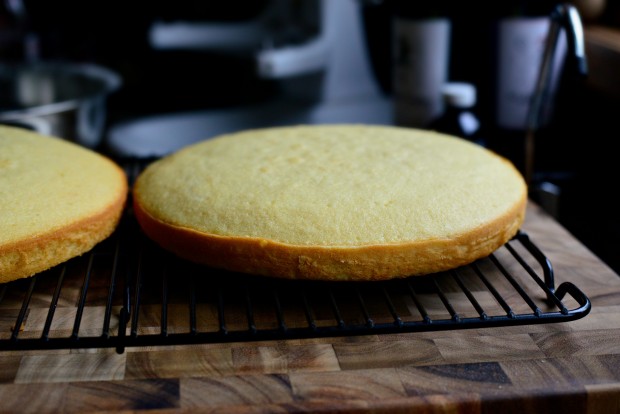 Allow the cakes to cool completely before frosting.
To make the frosting, start by dropping 1/2 cup (1 stick) butter into the bowl of your stand mixer.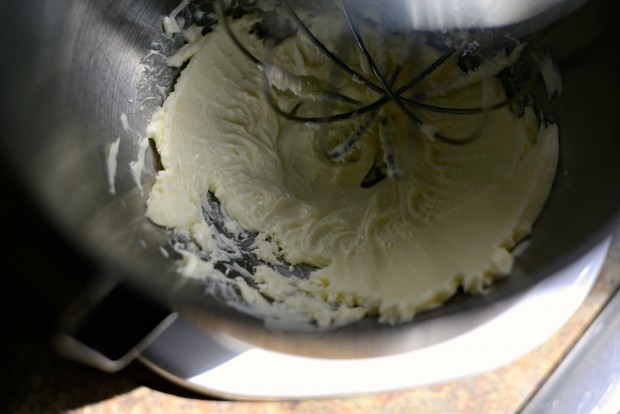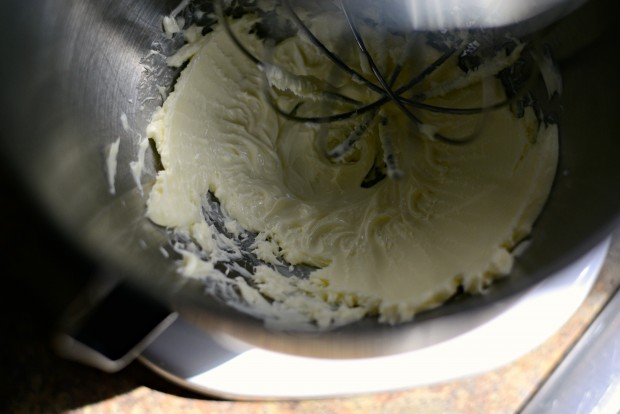 Mix on medium speed for 2 to 3 minutes until creamed.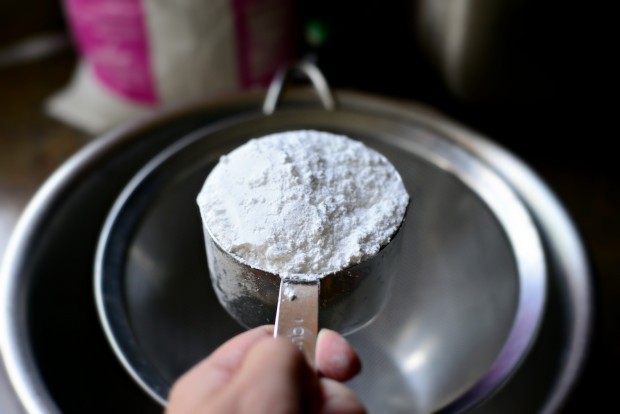 Meanwhile, sift 2-1/2 cups of powdered sugar…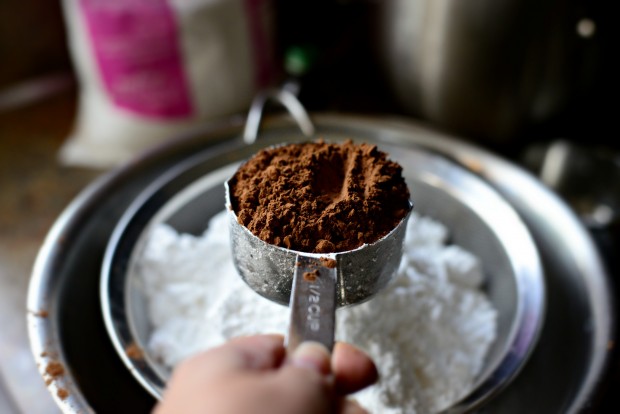 and 1 cup of unsweetened cocoa powder…
…into a large bowl.
In a small bowl or measuring cup combine 3 tablespoons half and half (heavy cream or whole milk can be used instead) to the half and half add 2-1/2 tablespoons buttermilk and 1 teaspoon pure vanilla extract.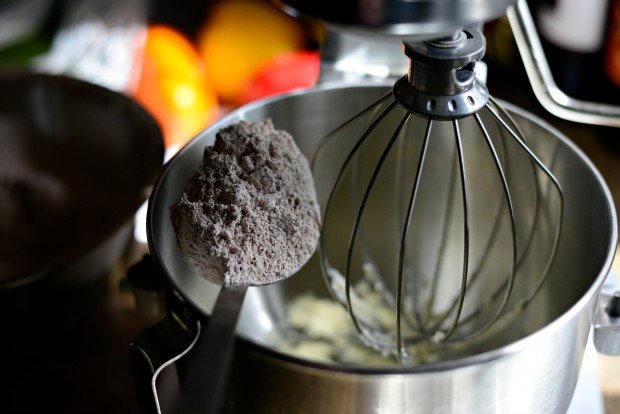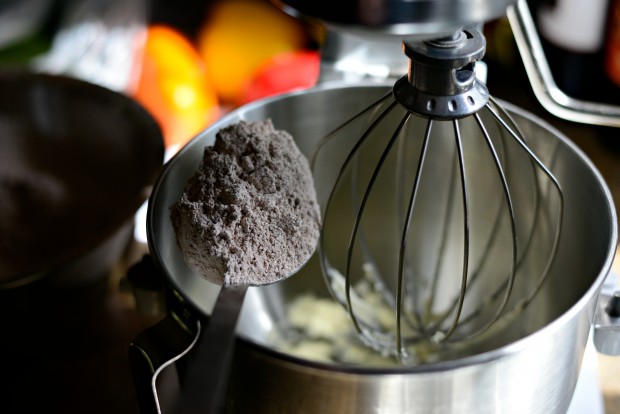 Add a few large spoonfuls of the sugar and cocoa mixture…
…alternating with the vanilla mixture.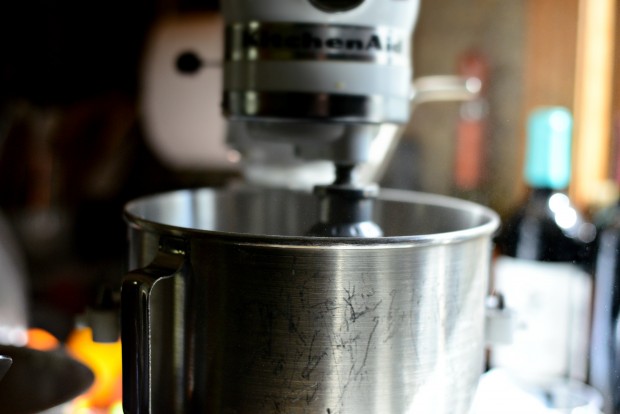 Mix on low speed…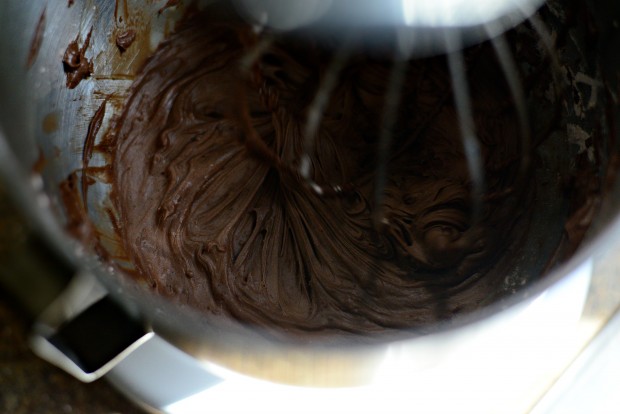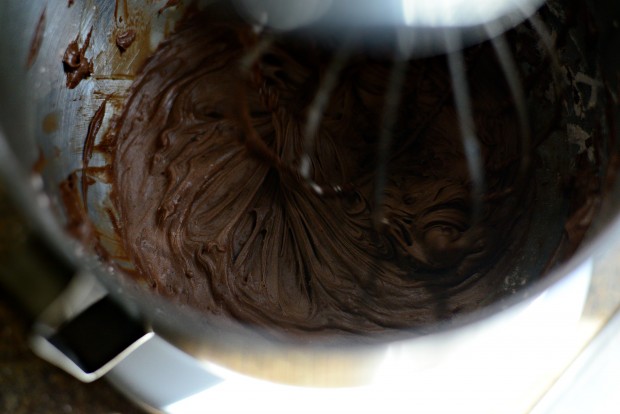 Until just combined.
Increase the speed to high and whip until light and fluffy.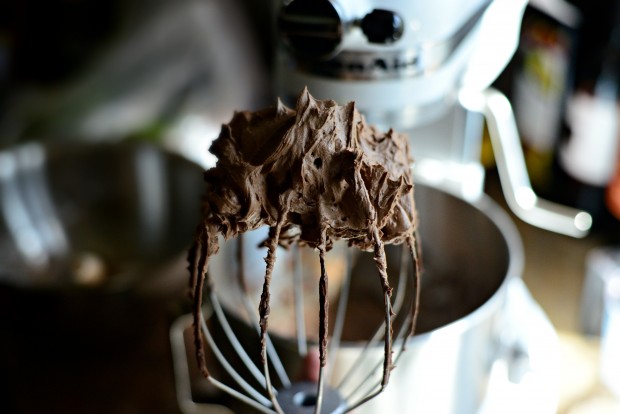 Like this!
This looks like a sweet hairdo!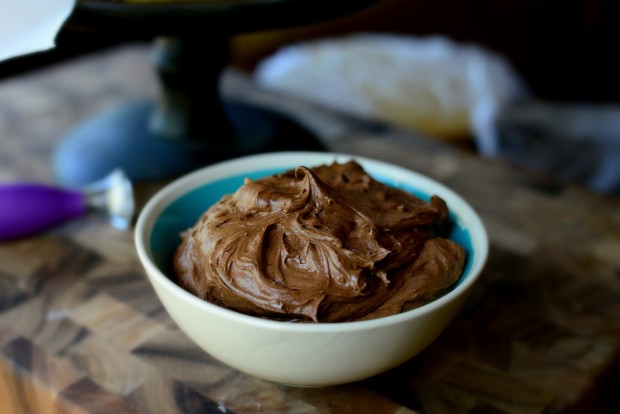 Scrape the frosting into a bowl and get ready to frost that cake!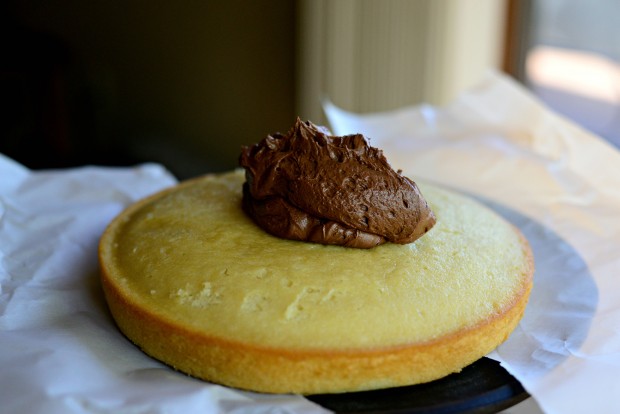 Drop a generous glob (<—- totally a technical term) onto the first layer. I like to stick a couple strips of parchment under the edges of the cake to keep me from turning my cake stand into a frosting mess.
Spread from the center to the edges.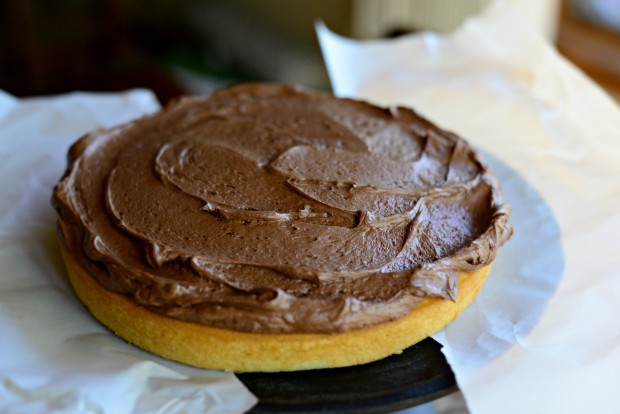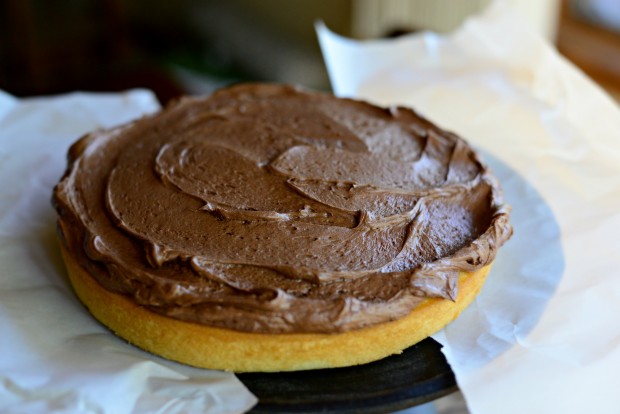 You'll want to have a little bit of frosting peeking out from between the layers.
Place the second layer on top of the frosting…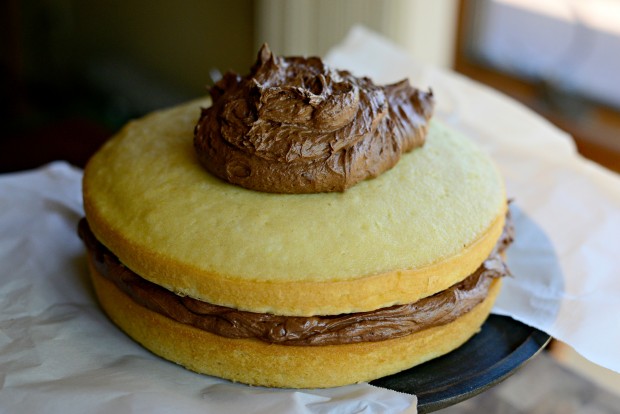 And add the remaining frosting on top of the second layer.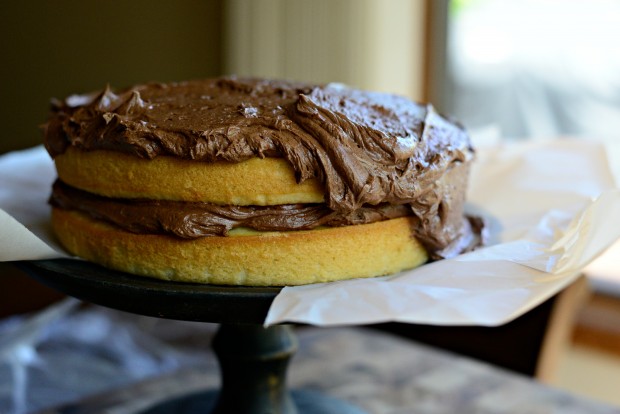 Use your offset spatula and spread the frosting from the center, to the edges and down around the sides of the cake.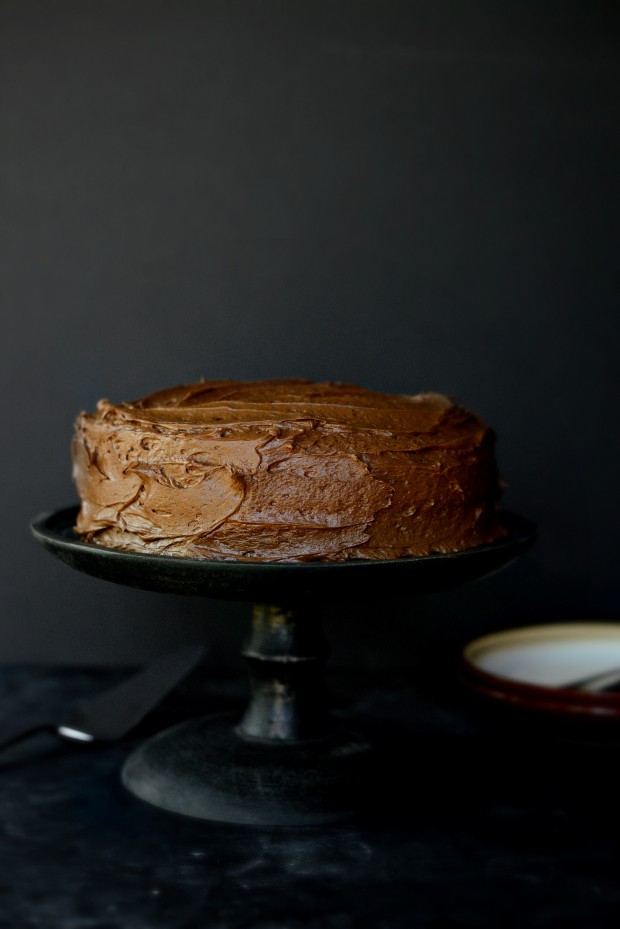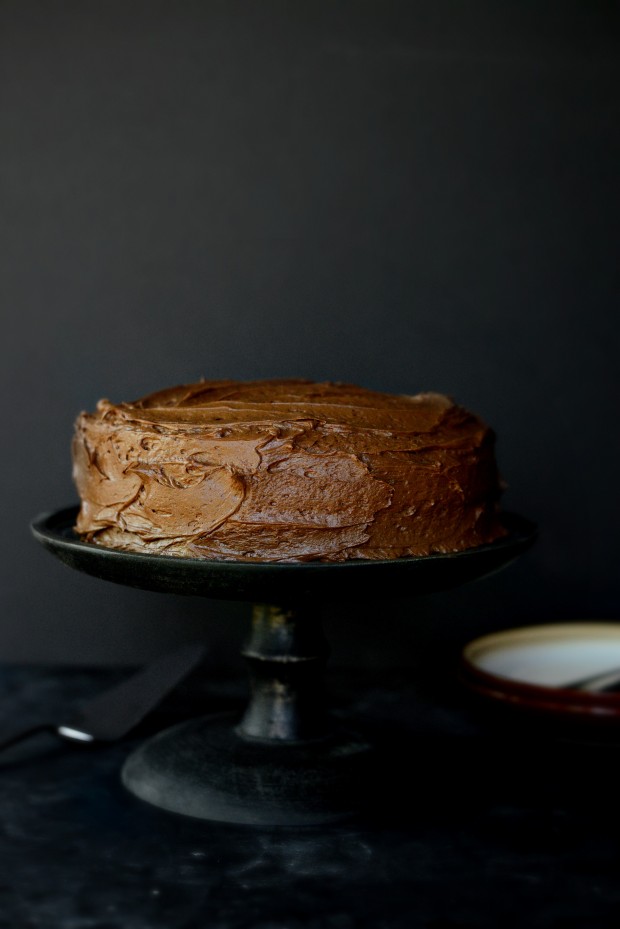 Boom. Frosted cake.
This light and fluffy homemade yellow cake is on the light side of the yellow scale because it's really based on the egg yolks and not on any added food coloring. But I'm okay with knowing my cake is au natural.
PS. This perfectly perfect chocolate frosting is legit, and this is coming from a girl who's not the biggest frosting fan. But I like. I like a lot.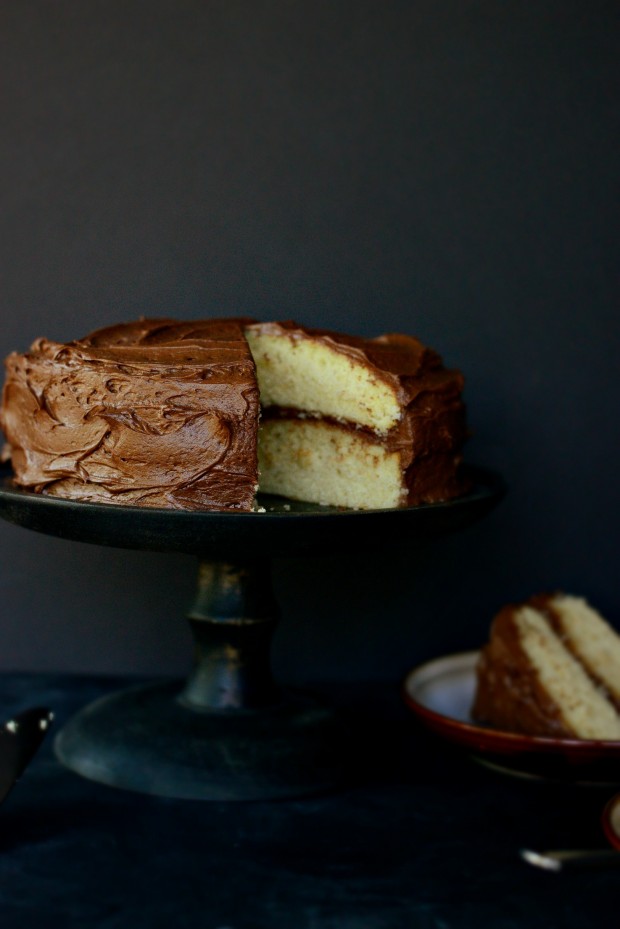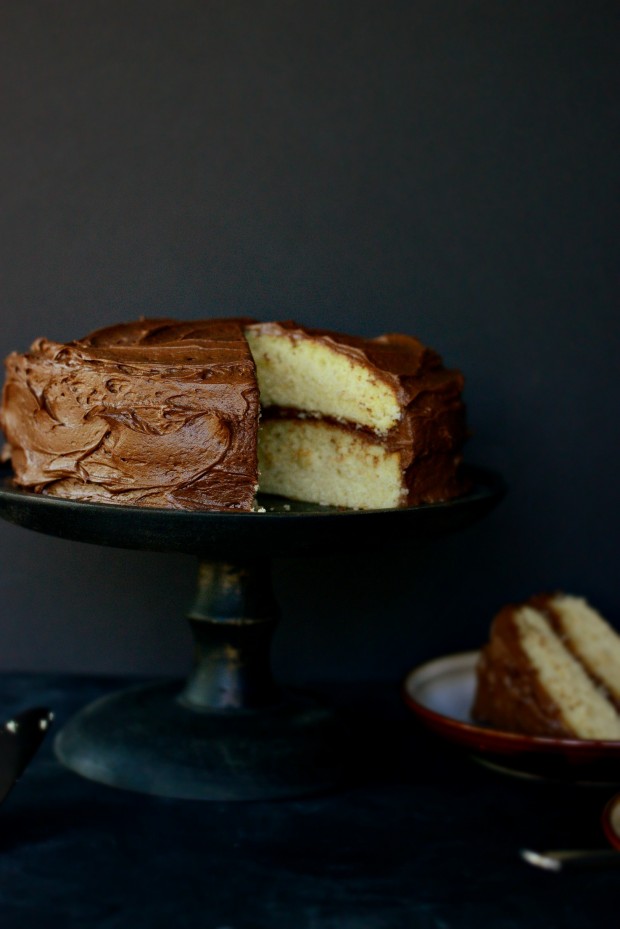 I do love me a delicious piece of homemade yellow cake.
Enjoy! And if you give this Homemade Yellow Cake recipe a try, let me know! Snap a photo and tag me on twitter or instagram!
My cookbook Simply Scratch : 120 Wholesome Homemade Recipes Made Easy is now available! CLICK HERE for details and THANK YOU in advance!
[this post contains affiliate links.]
This post may contain affiliate links.
Buy the Cookbook: Simply Scratch : 120 Wholesome Homemade Recipes Made Easy Now available on Amazon »
THANK YOU in advance for your support!