Summer is all about this Grilled Whiskey Glazed Cedar Plank Salmon! Fresh Atlantic salmon is grilled on a whiskey-soaked plank of cedar and then slathered with a deliciously sticky homemade whiskey glaze. Serves 4.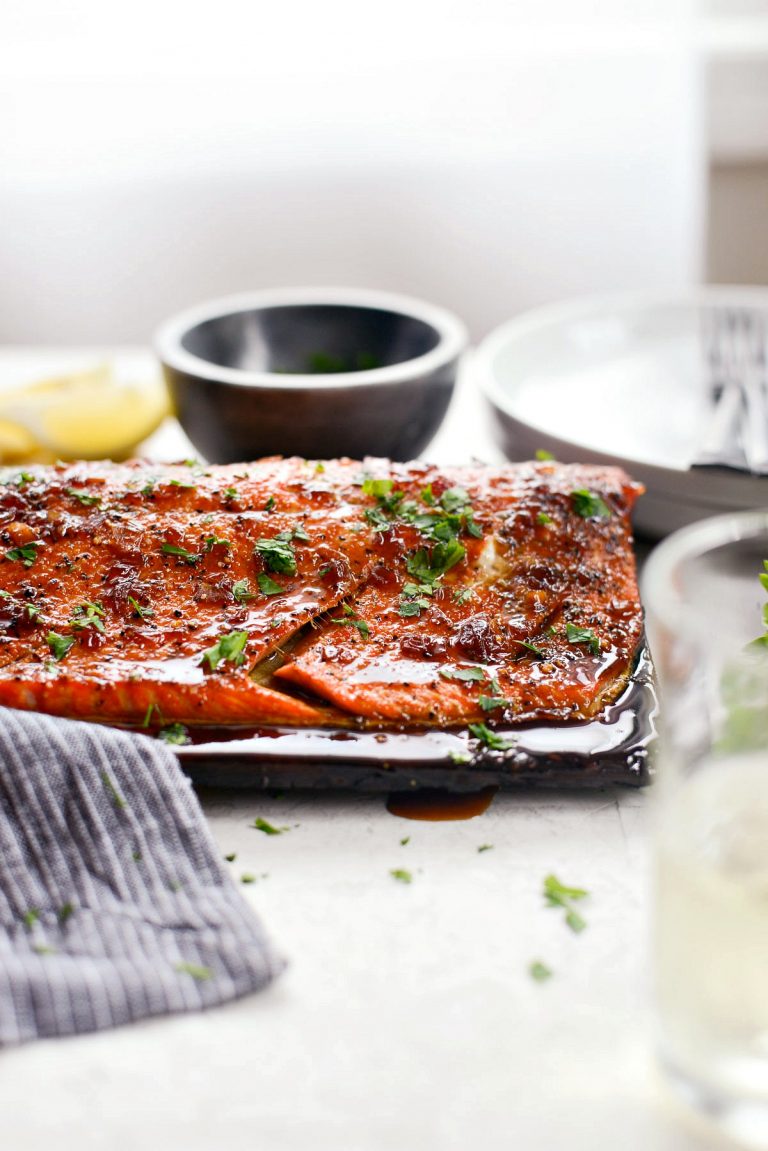 Meet the most delicious glazed salmon your lips will ever touch. Okay, so that was a bit dramatic but I promise you this is so incredible and worth the few steps it takes. A whole salmon filet is cooked on a wood plank that has been soaked in whiskey and water. Then the cedar plank salmon is brushed in a homemade boozy whiskey glaze. Because why not?
This recipe was inspired by something I always order from a local restaurant. The Jack Salmon from Highland House is my go-to. However the fish and chips, Greek salad and breadsticks are a few other reasons why we keep coming back. Years ago the salmon was on a cedar plank but I think they've since done away with it. So I'm bringing it back.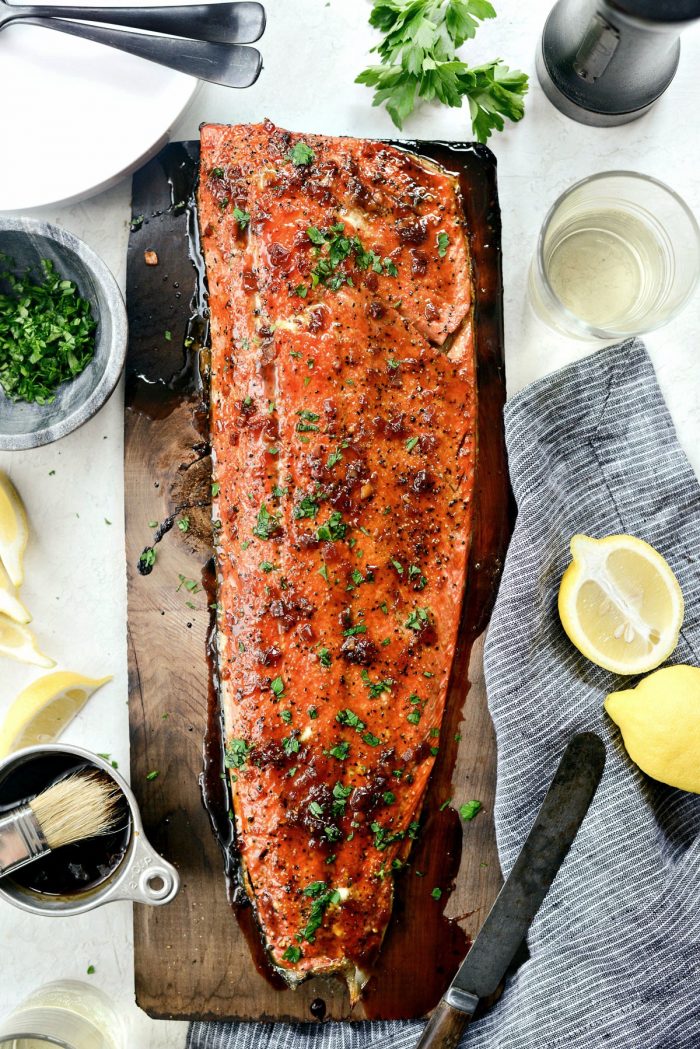 And the combo of cedar wood and whiskey glazed salmon is fantastic.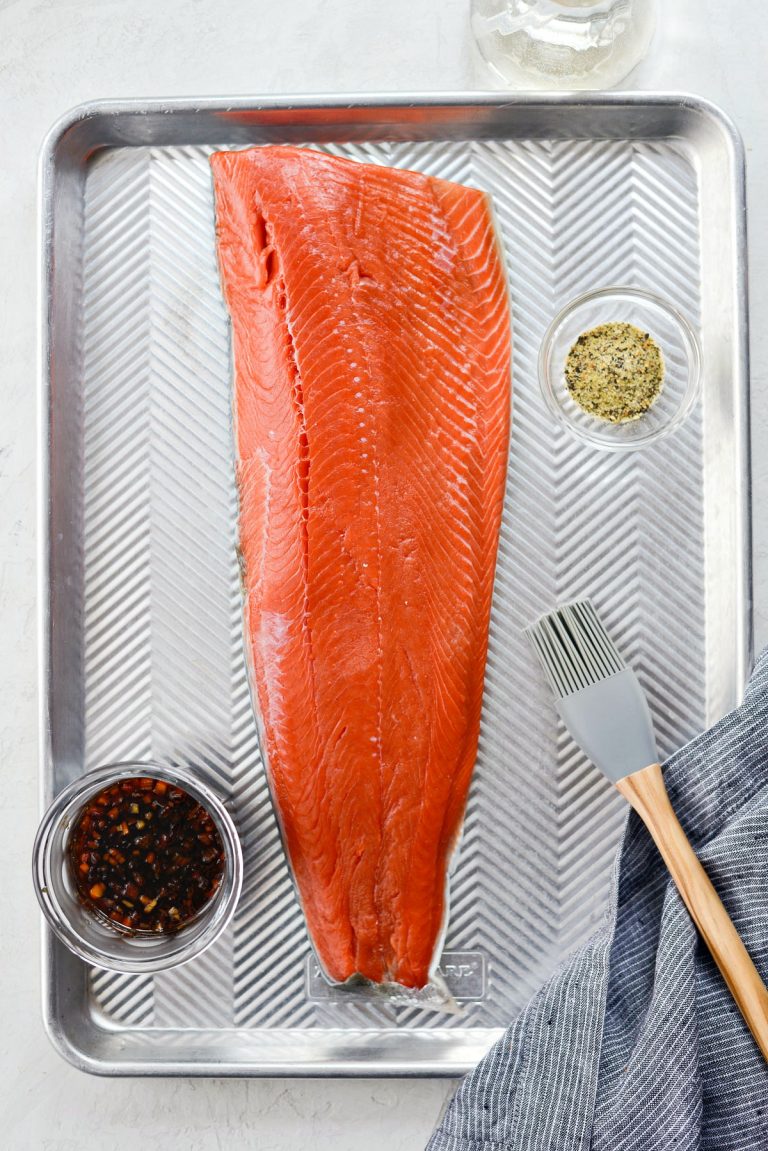 Here's what you need to make the Grilled Whiskey Glazed Cedar Plank Salmon:
7×16 cedar plank
1-1/2 pound salmon filet
lemon pepper seasoning
whiskey glaze – see below
spray bottle
One of the most important things to do is to soak the cedar plank. A couple hours in advance, place a 7×16 cedar plank onto a rimmed sheet pan. Then pour 2/3 cup of whiskey over top and then weigh the plank down with something heavy, I like use a large glass measuring cup. Lastly pour enough water over top until it's completely submerged. Allow the cedar plank to soak for 2 to 4 hours. In doing so this will help keep the wood from catching fire.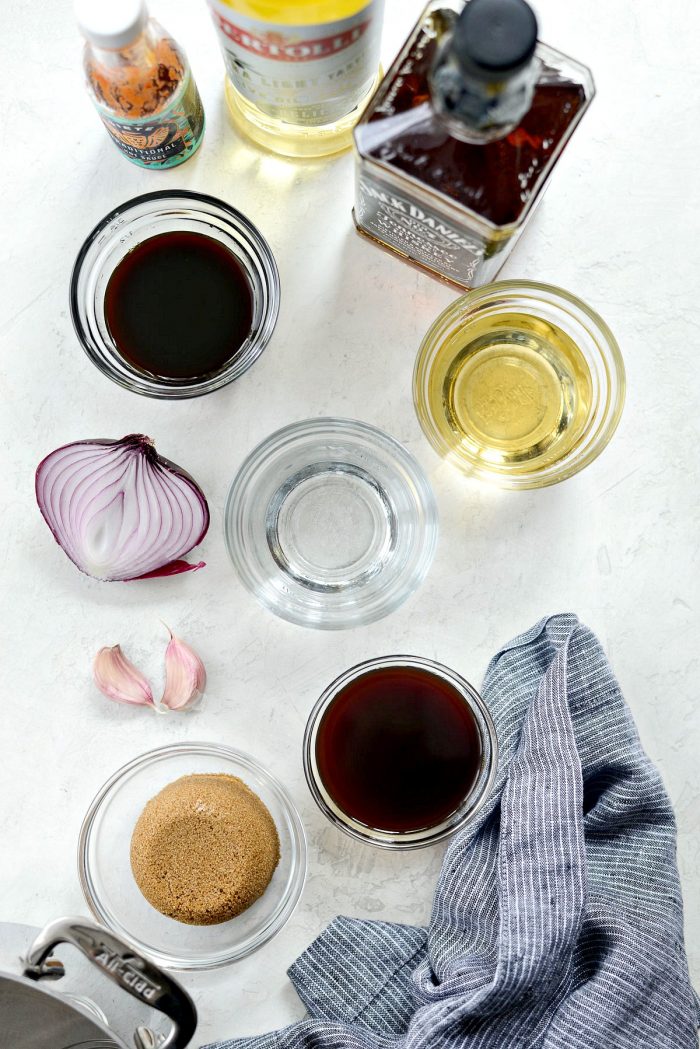 For the Jack Daniel's Whiskey Glaze you will need:
1 teaspoon light olive oil
1/2 a red onion, finely minced
2 cloves peeled garlic, finely minced
1/2 cup dark brown sugar
a 1/2 cup water
1/2 cup whiskey (I use Jack Daniel's)
a 1/2 cup white grape juice
1/3 cup teriyaki sauce (homemade or store bought)
1/4 cup coconut aminos
a few dashes hot sauce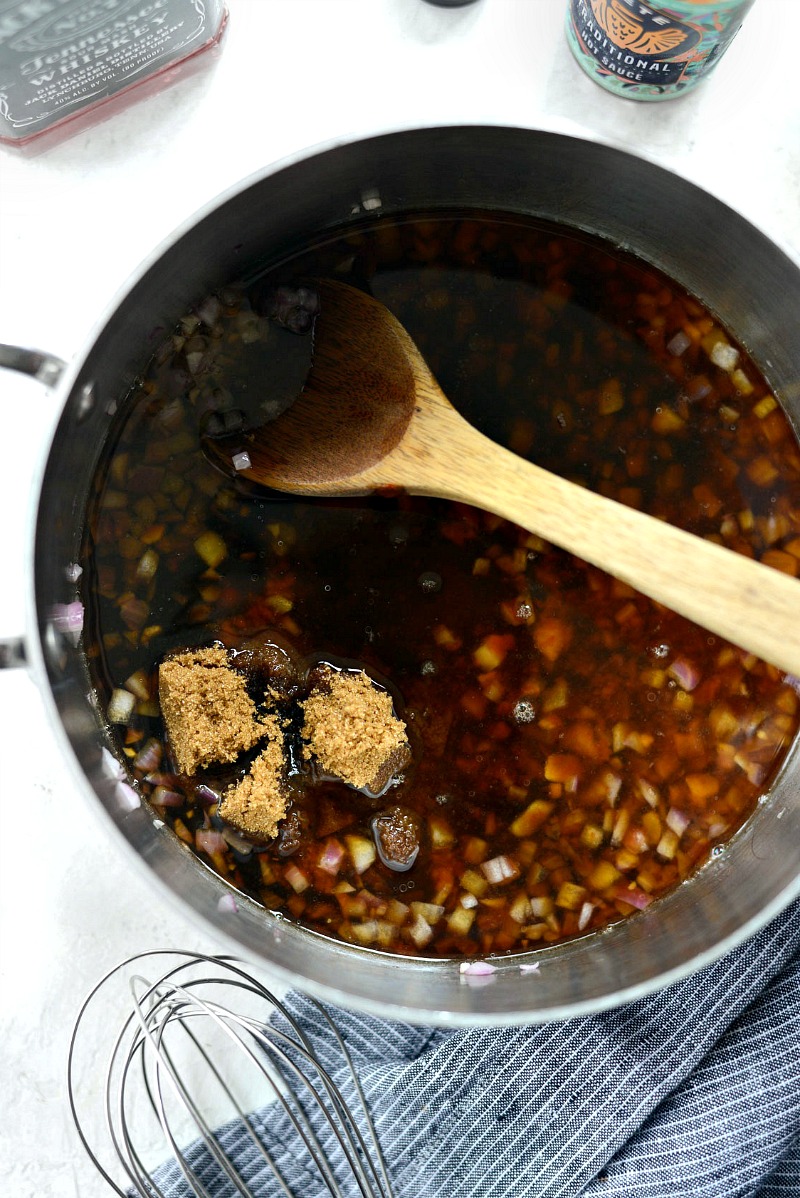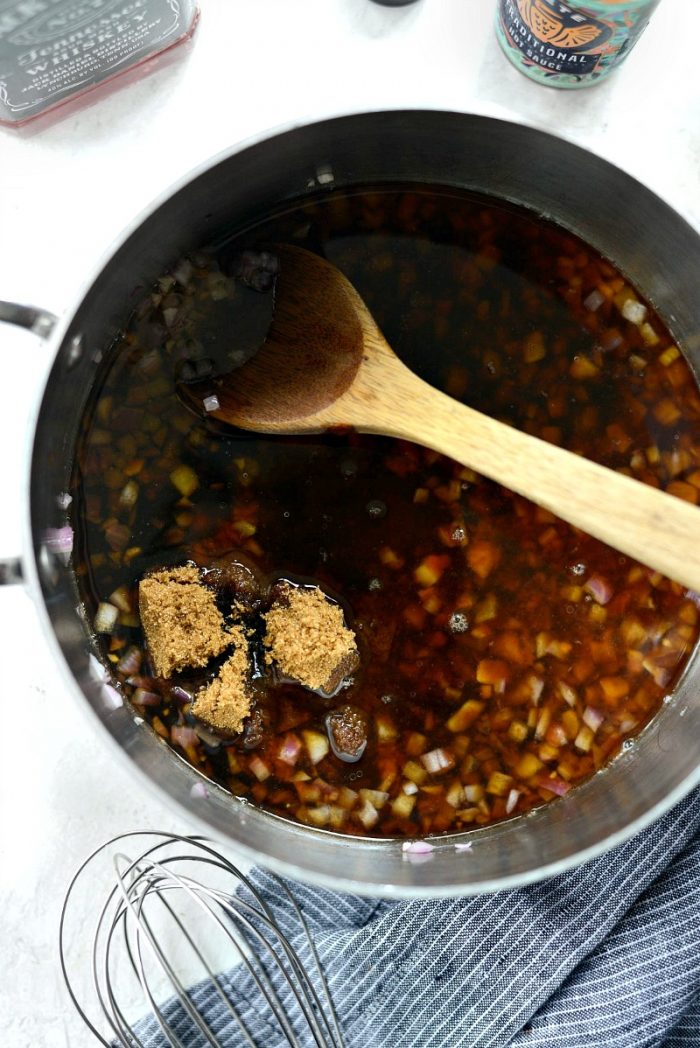 Start by heating a teaspoon of oil in a medium sauce pan on medium. Next sauté the onions and garlic until tender, stirring often. Then add in the remaining ingredients and bring to a boil over medium-high heat. Once boiling, reduce the temperature to medium-low and continue to simmer for 35 to 45 minutes or until the glaze has reduced significantly and is thicker.
Lastly, divide the whiskey glaze in half. Because one half will be used to brush on the salmon while grilling, the other being reserved for serving.
Next preheat your grill to 415-425°. When your grill has preheated, drain the cedar planksoaking liquid and place the plank upside-down onto your grill grates. Then close the lid, letting the grill lightly char the top side of the cedar (which is facing down at the moment) for 8 minutes. With that said, this step will start the charring process sooner and will infuse your salmon filet faster.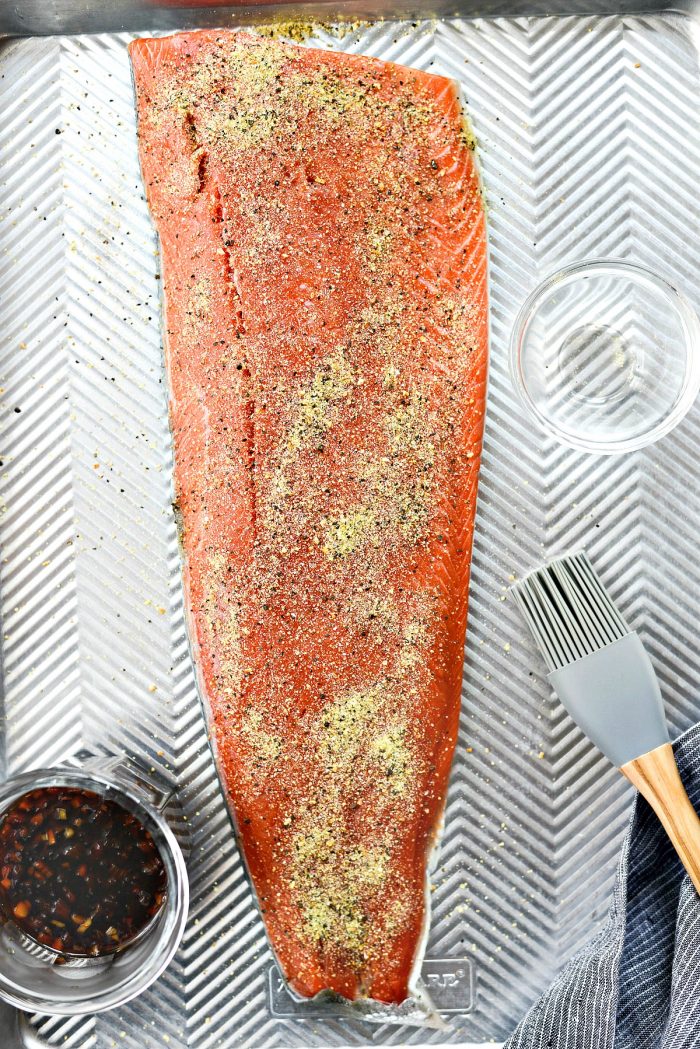 Meanwhile, season the salmon generously with 1 tablespoon of lemon pepper.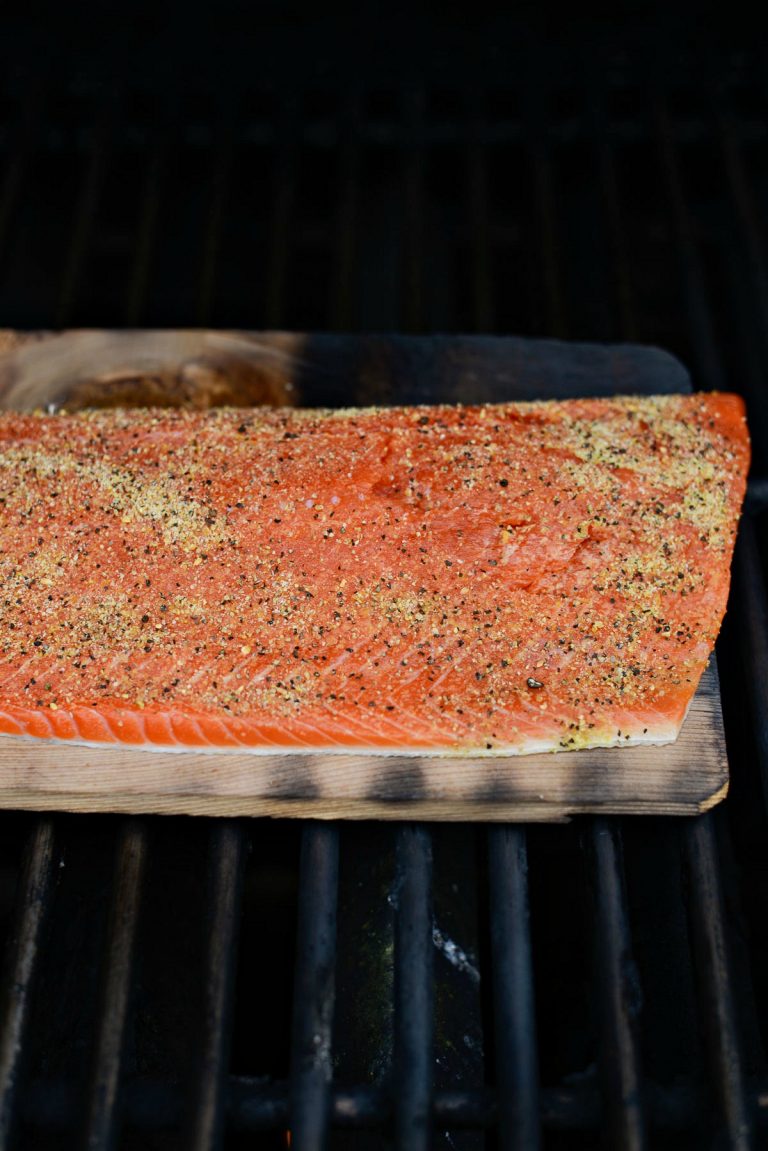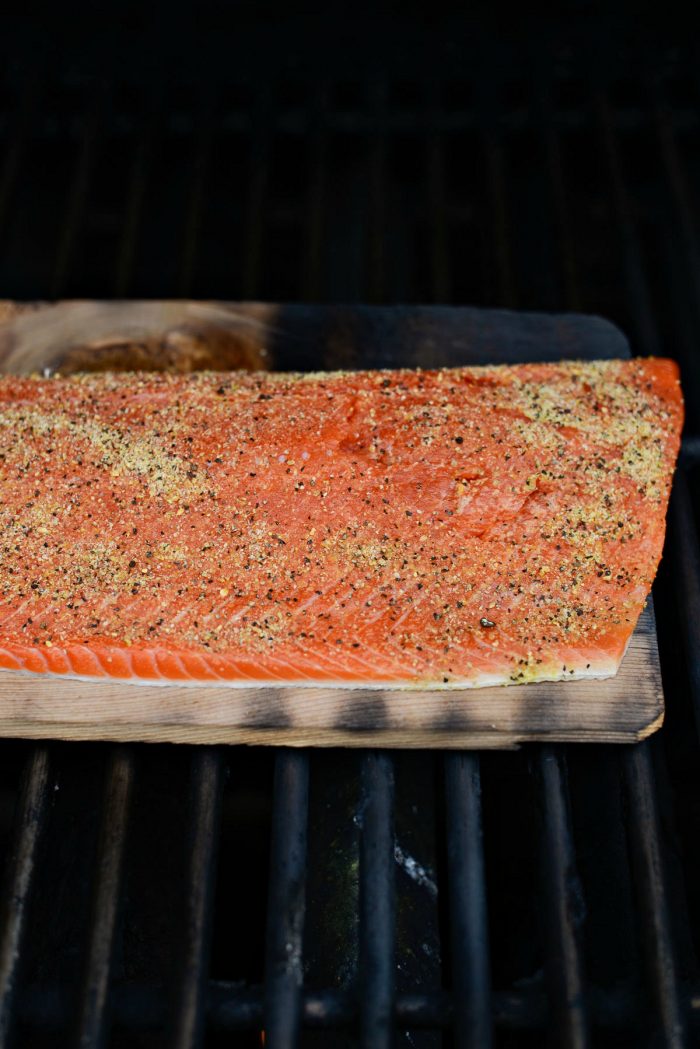 Next, use tongs to turn the plank over and then carefully place the entire salmon on top of the cedar. Close the lid and grill for 8 minutes.
Make sure you peek on the salmon periodically (once or twice) to check for any flare-ups, using the spray bottle to distinguish any flames.
After the first 8 minutes, brush the glaze onto of the salmon. Close the lid and continue to cook for 2 minutes. Then after the 2 minutes, open the grill and bush the salmon with more of the whiskey glaze. Close the lid one more time and grill for 3 minutes or until the salmon is fully cooked.
Now the salmon will be deliciously shellacked in a sweet whiskey glaze.
Using tongs, slide the plank with the salmon onto a clean sheet pan. Doing this makes it a lot easier to carry it inside.
Finally, slice the salmon into fourths, then use a fish spatula or any sturdy server to get between the skin and the flesh. The skin should have stuck to the plank so you should be able to separate the two pretty easily – leaving the skin behind on the plank.
Lastly sprinkle with a sprinkle of fresh minced parsley, for a pop of color and with lemon wedges and the reserved glaze.
Sweet and sticky, buttery and cedar-y. Can you say heaven?? Because that's exactly what we have here.
We love this grilled whiskey glazed cedar plank salmon! Serve it with cauliflower tabbouleh and grilled asparagus for a light and satisfying meal!
Enjoy! And if you give this Grilled Whiskey Glazed Cedar Plank Salmon a try, let me know! Snap a photo and tag me on twitter or instagram!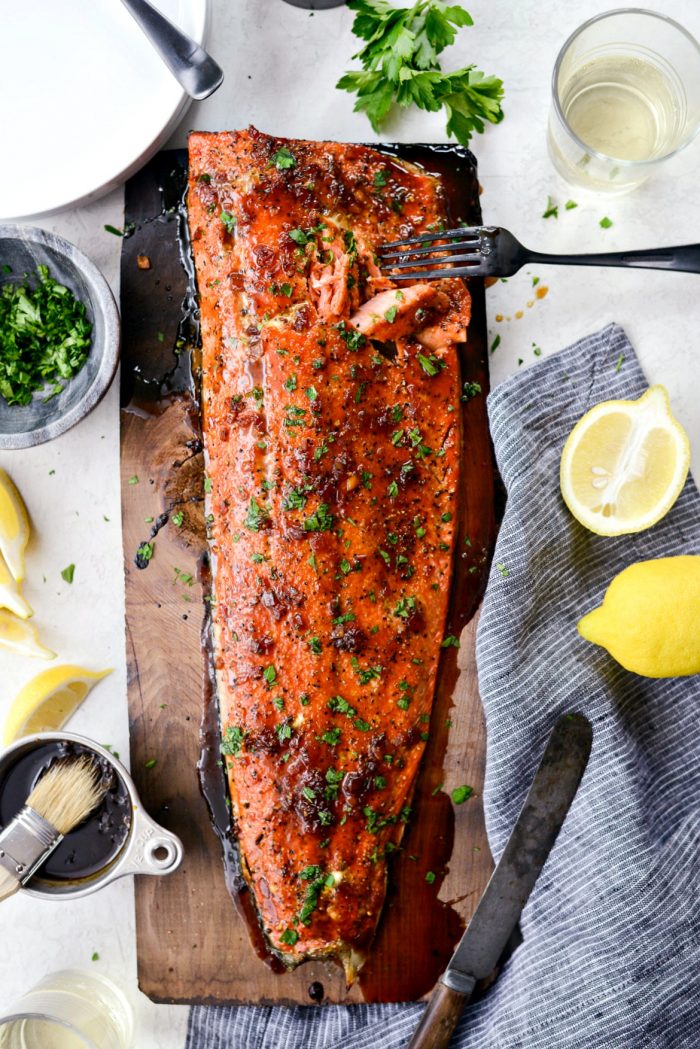 This post may contain affiliate links.
Buy the Cookbook: Simply Scratch : 120 Wholesome Homemade Recipes Made Easy Now available on Amazon »
THANK YOU in advance for your support!