Grilled Vegetable Panzanella is my twist on a classic summertime salad! Summers best vegetables are grilled and tossed with grilled ciabatta cubes and a flavorful Dijon vinaigrette. Serves 6.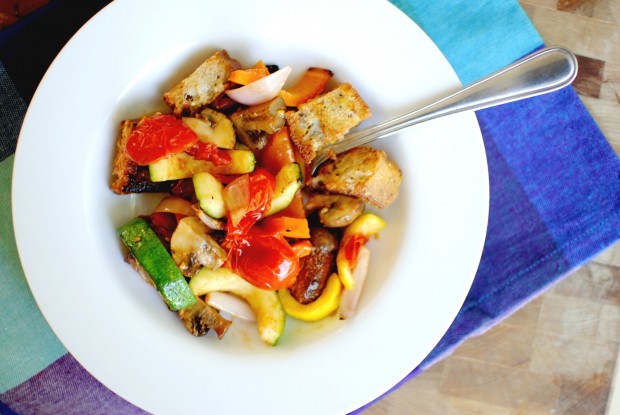 In summertime we grill 90% of our meals.
If it's sunny out. We grill. Not in the mood to dirtying a pan – we grill. And if I'm personally opposed to the thought of cooking. Pat grills. Which is a solid 89 of that 90%.
To Make This Grilled Vegetable Panzanella You Will Need:
for the salad:
small ciabatta loaves
extra light olive oil
campari tomatoes
cremini mushrooms
shallots
orange bell pepper
zucchini
yellow squash
for the vinaigrette:
garlic
almost-empty jar of Dijon mustard
white wine vinegar
light olive oil
kosher salt
freshly ground black pepper
I love this whole wheat ciabatta. I love that it's whole wheat and has fleck of poppy seeds throughout. Not sure if you'll find these at your bakery, so regular ciabatta is always delicious in this recipe!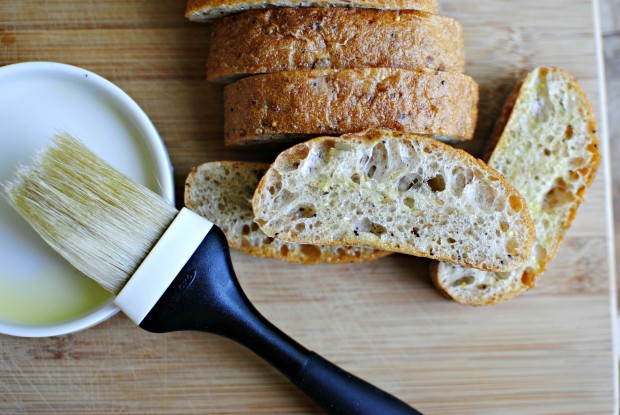 Then after you give it a slice, brush the sides with 2 tablespoons extra light olive oil.
Next, over medium heat, toast the slices until nice and well… toasty.
Next, while those cool, get going on that prep. Veggie prep that is. You'll want to cube this bread at some point. In the throes of making this recipe I forgot all about shooting a pic of that. But I think you can imagine what cubed grilled bread should look like!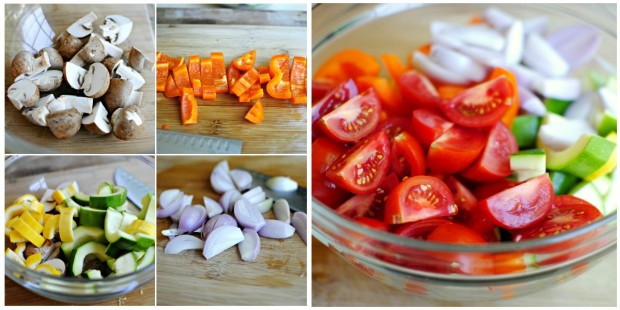 First quarter 8 ounces of mushrooms, trimmed and sliced up 1 orange bell pepper, halved and de-seeded 1 yellow squash and zucchini, sliced up 3 good sized shallots and quartered about 8 to 10 campari tomatoes.
Campari are my favorite.
They're sweet and once the grill does its magic with them you'll know why I love these so. Two words blistered magic.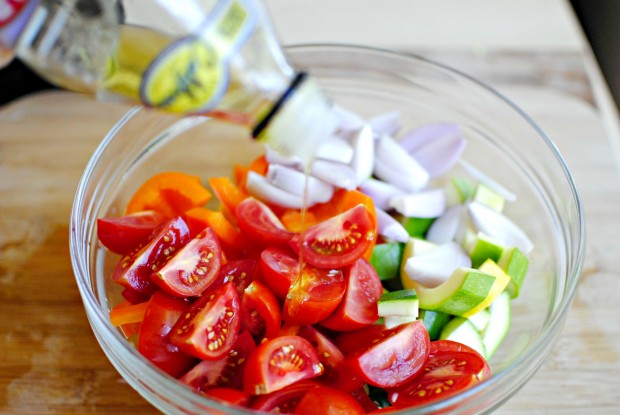 Then drizzle with a little olive oil…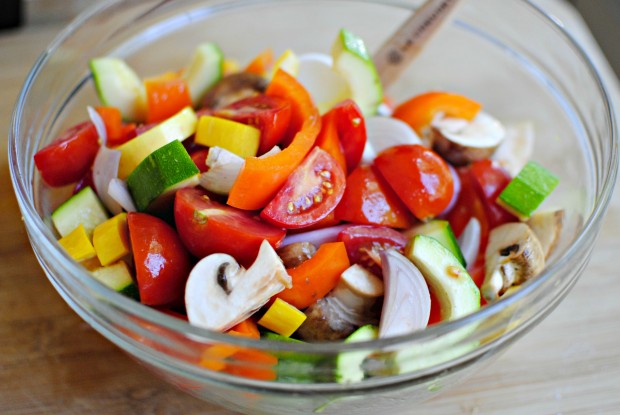 Next give it a toss with a little kosher salt and it's as read as it'll ever be to hit that hot grill.
I got this grill basket from my mother-in-law a while ago… and I love it! It's sits on the grill and you can stir your veggies without having to skewer a darn thing beforehand nor risk dropping them through the grates. It's from Pampered Chef FYI and I love it.
All you need is 5 minutes to make this vinaigrette.
It's a good idea that as those rainbowful (yep new word) veggies are grilling… grab that almost empty jar of Dijon. You know you have one in the far left back corner of your fridge or is it in the door? What? You don't keep nearly empty jars around? Then just use a heaping half teaspoon and that should do the trick! Really?… no empty jars huh?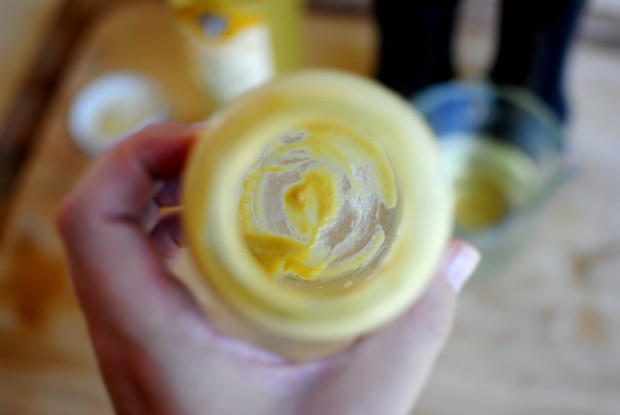 This is my jar. Like I told ya above… there's about a half a teaspoon or so in there… and instead of dirtying up yet ANOTHER bowl… I'm using this jar. Darn it!
Next mince up 1 large clove of garlic and add that in along with 3 tablespoons white wine vinegar and then seasoned it all with 1/2 teaspoon kosher salt and 1/4 teaspoon freshly ground black pepper. Lastly, pour in 1/2 cup of light olive oil and screwed on the cap tight.
I then handed that Dijon jar right on over to Pat and made him shake the bejesus out of it because he's strong and can handle it.
While he was doing that, I went and checked on the grill.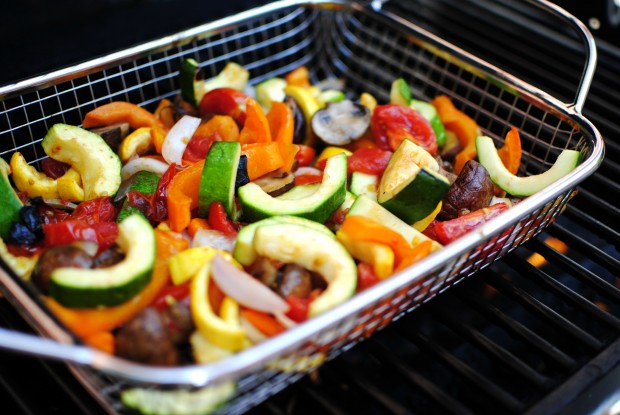 Next pull the veggies off the grill when they reach a level of char, soft-yet-still-firm just watch out for drips… better yet slide that basket onto a platter.
Then toss with the cubed grilled bread and drizzle with some of the dressing. Toss and serve warm!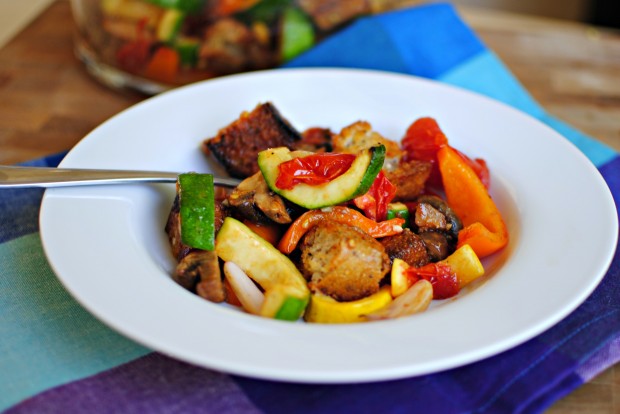 This grilled vegetable panzanella really is summer in a bowl. I've honestly had this recipe buzzing around my head since last summer. Grilled veggies, grilled bread and grilled dressing. It's light and the vinaigrette only adds to the delicious flavors of the grilled vegetables. My personal favorite? The bread. Soaked with the juices of the veggies and the dressing.
Then I've died and gone to heaven with this salad! And I'm so excited for the leftover grilled vegetable panzanella tomorrow!
Ps! Make this gluten free by using toasted gluten free bread! Winner-winner…
Enjoy! And if you give this grilled vegetable panzanella recipe a try, let me know! Snap a photo and tag me on twitter or instagram!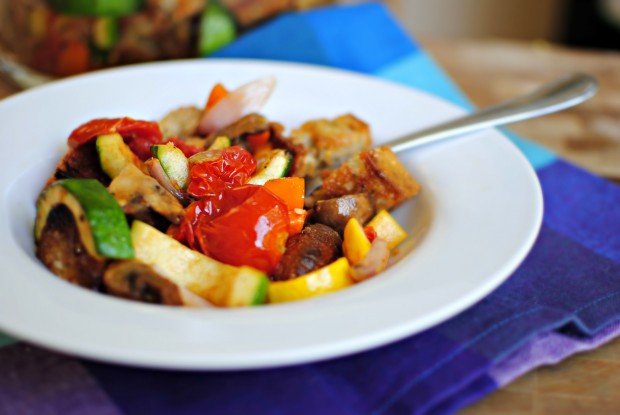 This post may contain affiliate links.
Buy the Cookbook: Simply Scratch : 120 Wholesome Homemade Recipes Made Easy Now available on Amazon »
THANK YOU in advance for your support!