onThese grilled tilapia fiesta foil packs are quick and easy. Tilapia and black beans, peppers and corn topped with cheese are cooked in foil packs for easy clean up. Serve with rice and sprinkle with chopped cilantro!
With the end of the school year last week and the mere fact I'm currently living in a boxed fortress with our packed boxes ceiling high all that I haven't packed yet is our grill. Okay, so that may be an exaggeration… but the whole part of living in a house filled to the brim with boxes, is not! You really don't realize how much stuff you have until you have to fit it all into 3 cubic feet boxes. I think it's pretty safe to say we won't be moving again anytime soon!
So with that said. Who needs a little fiesta in their lives? I do, I do!
Since this recipe was first posted, I now use my homemade cajun seasoning for this recipe.
To Make This Grilled Tilapia Foil Packets You Will Need:
tilapia fillets
sweet corn (thawed if frozen)
black beans
red bell pepper
diced green chiles
cilantro
olive oil
pepper jack cheese
cooked rice
In a bowl add 1 cup of sweet corn and 1/2 cup diced red bell pepper.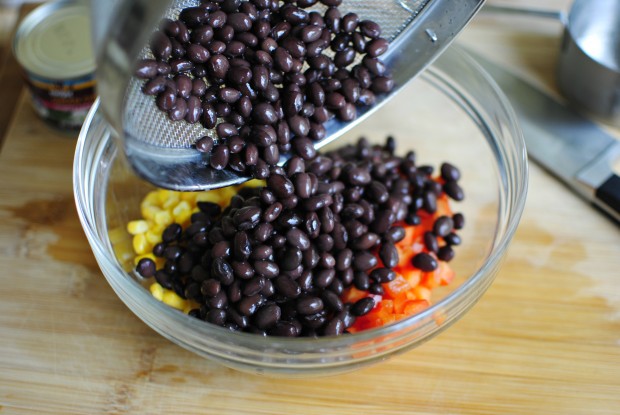 I added 1 can rinsed and drained black beans.
Measured and added 1 tablespoon of diced green chiles.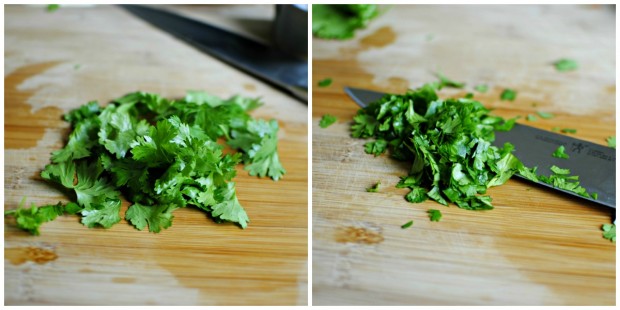 Chop 1 tablespoon fresh cilantro.
Add that to the bowl and drizzle in a tablespoon of olive oil and gave it a good toss.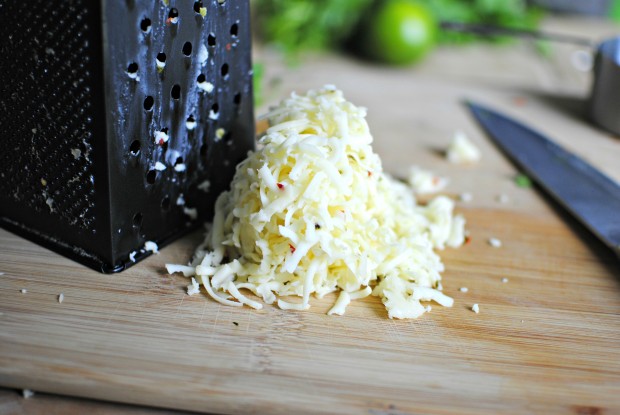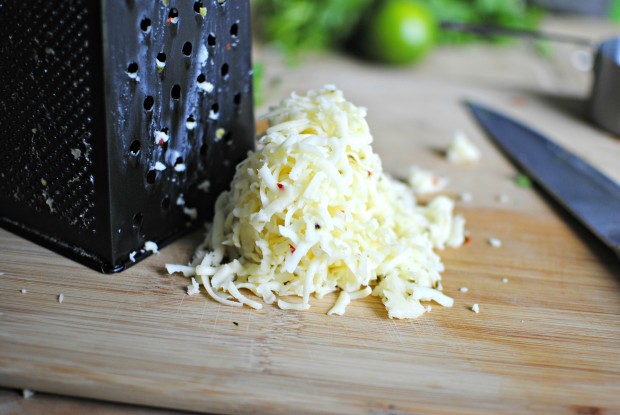 Grate up 4 ounces of pepper jack cheese.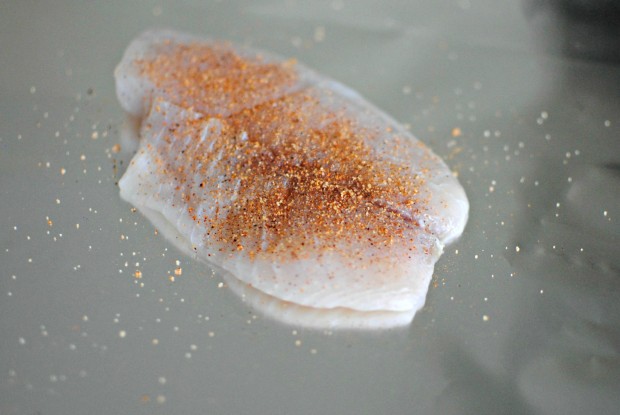 Arrange 4 tilapia filets on a lined baking sheet and sprinkle 1/4 teaspoon of Cajun seasoning on top of the tilapia.
Then top the seasoned tilapia with about 1/4 cup of the fiesta veggie medley and then if you like it spicy sprinkle a quarter teaspoon more of cajun seasoning.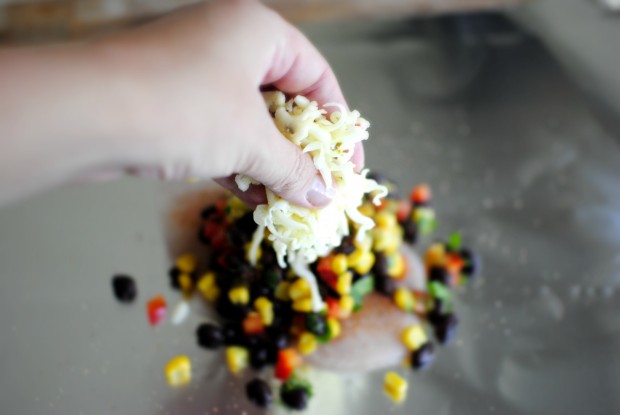 Divide and top each of the tilapia filets with cheese.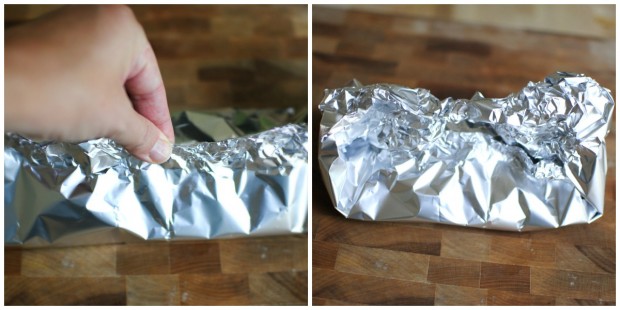 Then bring up the sides of the foil and crimp and then fold the ends up to make a foiled handbag. Yeah that's right.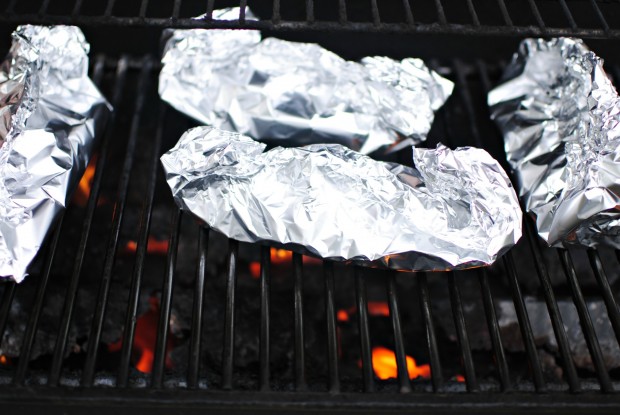 Next, place the foil "handbags" on the grill that has been preheated to medium-high, close the lid and cook for 15 minutes.
I had to hurry on inside because a storm was-a-coming. So I watched as the rain drops landed on our grill and sizzled, it was kind of cool… Pat thinks I'm a dork. Whatevs.
Next, carefully open the grilled tilapia fiesta foil packs being careful not to burn yourself. Use a sturdy spatula to remove the tilapia and gently place it on some of the rice.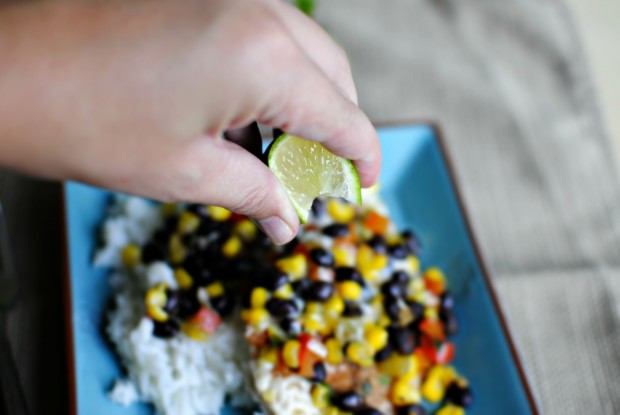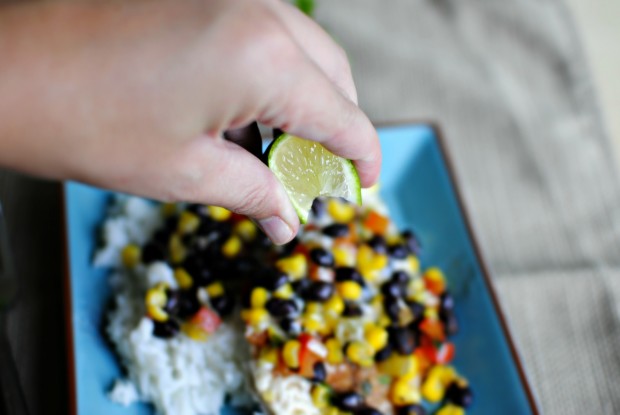 Squeeze a wedge of lime over the fish. Grab your fork and dig in!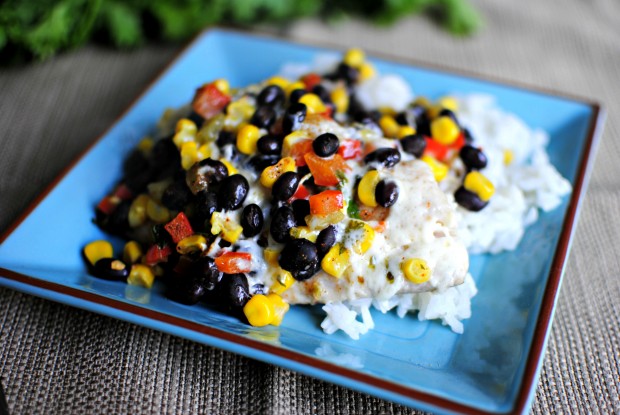 The fish should be flaky and flavorful. I particularly love the black beans and the spiciness of the fish. What can I say? I'm a sucker for heat.
Enjoy! And if you give this grilled tilapia fiesta foil packs recipe a try, let me know! Snap a photo and tag me on twitter or instagram!
Yield: 4 servings
Grilled Tilapia Fiesta Foil Packs
Quick easy and the best part is that there's minimal clean up!
Ingredients
4 tilapia fillets
1 cup sweet corn, thawed if frozen
1 (15 ounce) cans black beans, drained and rinsed
1/2 red bell pepper, diced small
1 tablespoon diced green chiles
1 small handful fresh cilantro, chopped
1 tablespoon olive oil
4 ounces pepper jack cheese, freshly grated
2 teaspoon cajun seasoning
2 cups cooked rice
Instructions
In a bowl combine the corn, diced peppers, black beans, green chilies, chopped cilantro and the olive oil. Stir.

On a couple pieces of foil (one piece if using heavy duty) place the tilapia in the center. Sprinkle with 1/4 teaspoon of cajun seasoning.

Divide the veggie medley over the fish and sprinkle with another 1/4 teaspoon of the seasoning.

Top each with a quarter of the shredded cheese.

Bring up the sides of the foil and crimp and then fold the ends up to make a foiled handbag.

Set the foil packs on the grates a preheated grill set at medium-high and close the lid to cook for 15 minutes.

Carefully Remove the foil packs from the grill and open. Remove the tilapia with a spatula. Place the tilapia on a couple spoonfuls of the rice and squeeze a wedge of lime over top.

And serve with a little more of the chopped fresh cilantro if desired.
Serving: 1g, Calories: 448kcal, Carbohydrates: 32g, Protein: 45g, Fat: 16g, Saturated Fat: 7g, Polyunsaturated Fat: 2g, Monounsaturated Fat: 6g, Cholesterol: 110mg, Sodium: 258mg, Potassium: 712mg, Fiber: 2g, Sugar: 3g, Vitamin A: 1350IU, Vitamin C: 23mg, Calcium: 243mg, Iron: 2mg
This post may contain affiliate links.
Buy the Cookbook: Simply Scratch : 120 Wholesome Homemade Recipes Made Easy Now available on Amazon »
THANK YOU in advance for your support!