Grilled Marinated Steak Kebabs; cubes of steak, peppers and onion marinate in a simple homemade marinade, skewered and grilled to perfection. Serve with rice, corn on the cob or a green salad and grilled bread. This recipe will serve 6 with 2 skewers per person.
There's something to love about grilled and slightly charred steak, peppers and onions on your own little convenient skewer.
I think we all can agree that pre-cut bites of meat and vegetables on a skewer is universally loved. A recipe that calls for simple ingredients, simple marinade and grilling which means – yay no pans! – also plays a hand in it too.
Who doesn't like things kept simple?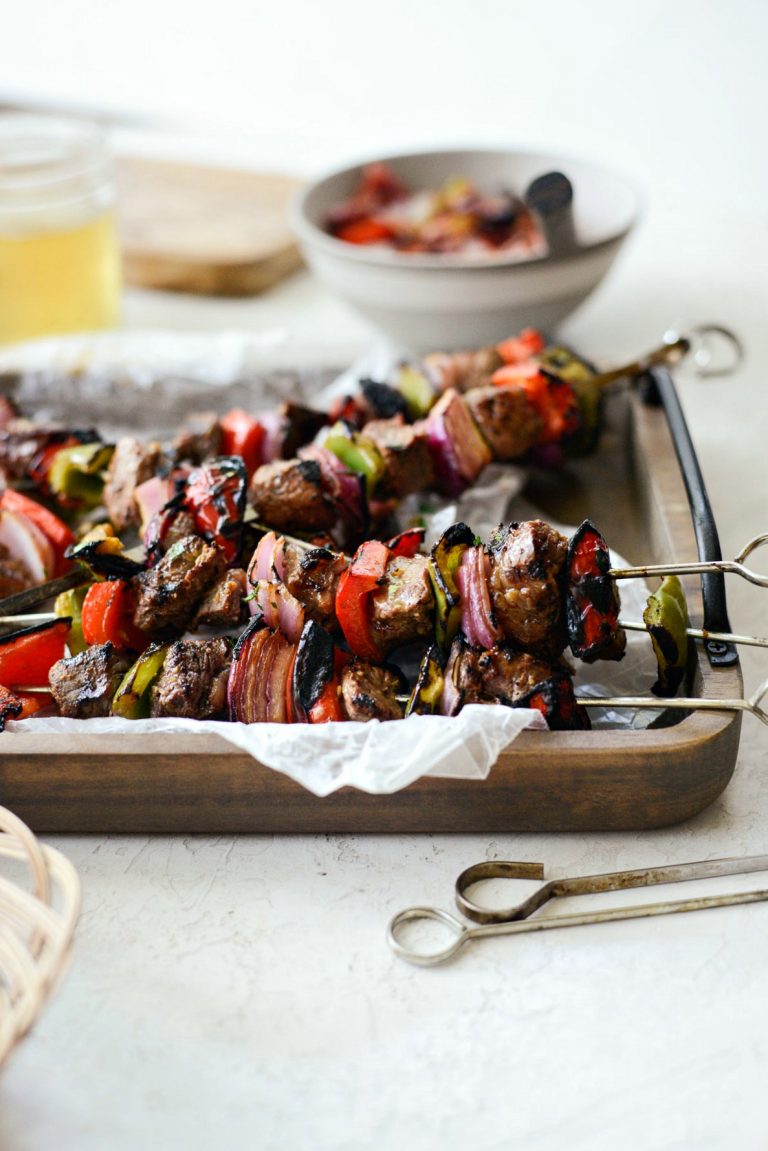 Two key things to delicious and flavorful steak kebabs is buying a good steak and the marinade. Don't be fooled by those perfect little cubes of beef labeled "stew meat" those you will need to cook for several hours before they even start to get tender. Sirloin or ribeye are my steaks of choice for tender kebabs. Both can be pretty lean, normally on the less expensive side and cube up easily. The rest of the magic happens in the homemade marinade.
Bonus! These grilled marinated steak kebabs make the best leftovers. Simply reheat or eat straight out of the container.
You won't believe your taste buds.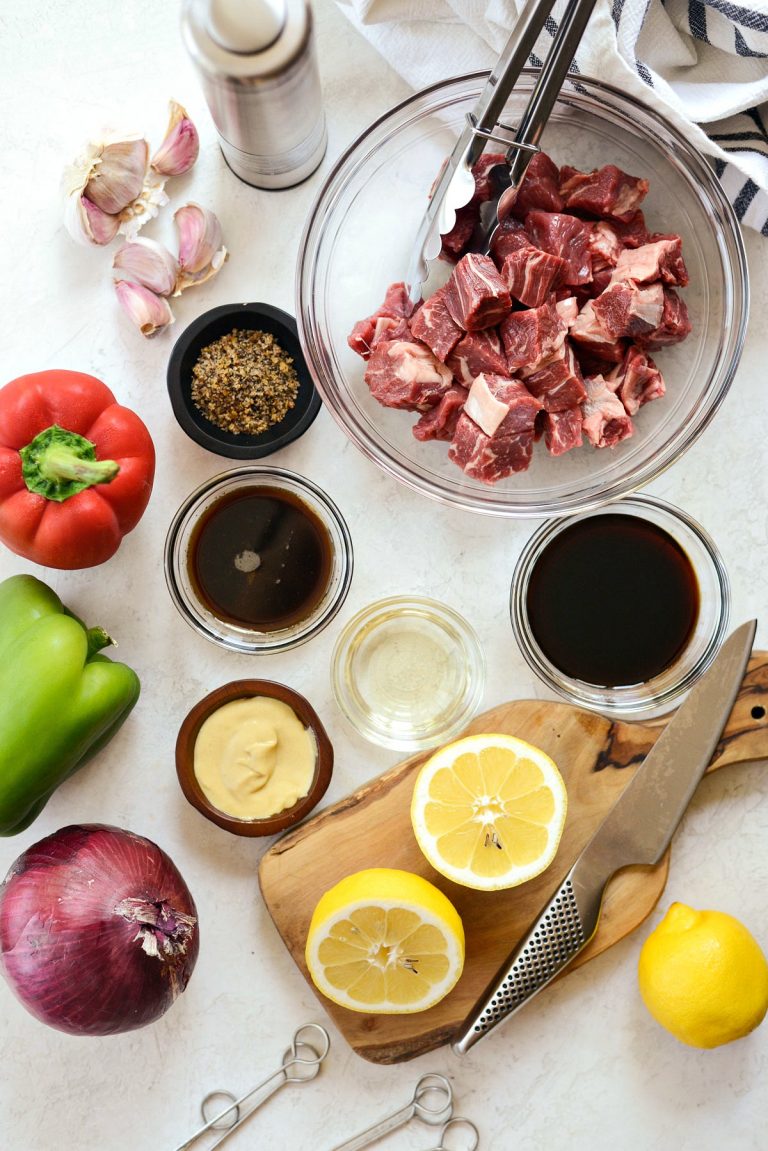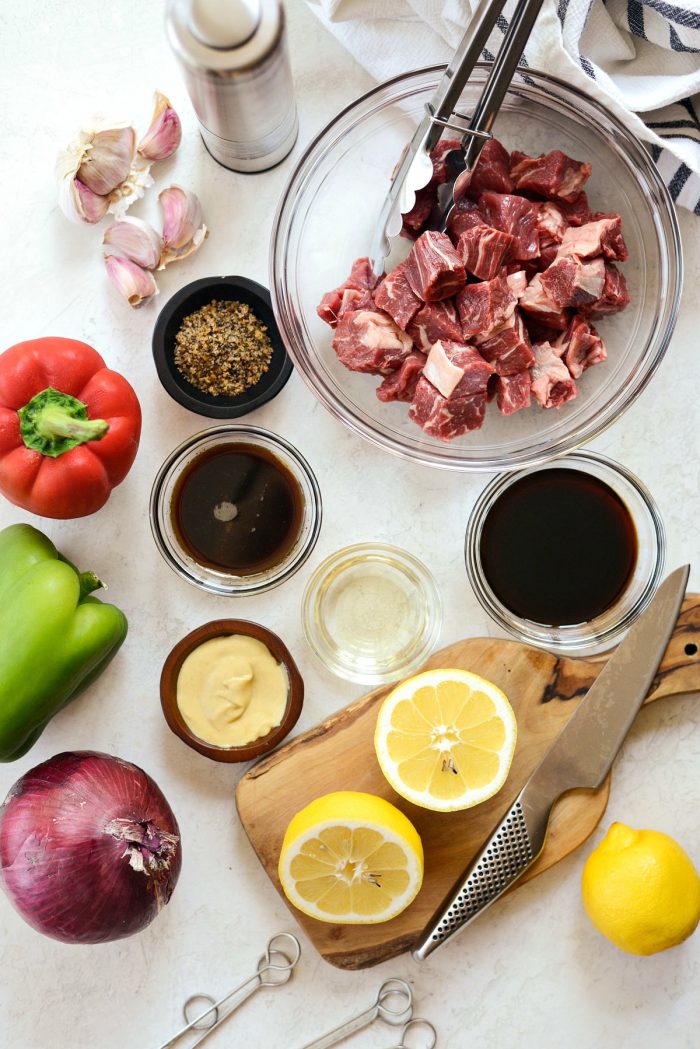 To Make These Grilled Marinated Steak Kebabs You Will Need:
sirloin or ribeye steaks
bell peppers – any color
large red onion
fresh garlic – lots
steak seasoning
dijon mustard
lemon juice
tamari
olive oil
The marinade for the steak and veggies is as simple as it gets. And I bet most of you have all of these already in your pantry and fridge ready to go.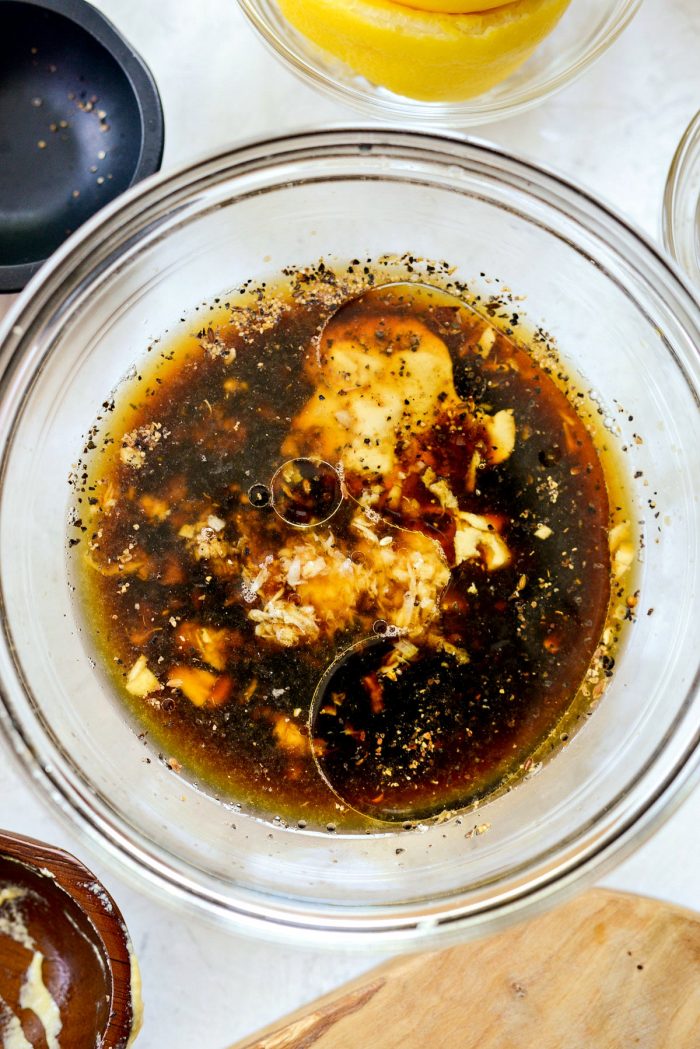 First, in a medium bowl, start by finely mincing or grating up 4 cloves of fresh garlic. Measure and add 1 tablespoon steak seasoning, 2 tablespoons dijon mustard, 1/4 cup freshly squeezed lemon juice, 1/4 cup low-sodium tamari 0r low-sodium soy sauce, 2-1/2 tablespoon Worcestershire sauce and 2 tablespoons extra light olive oil.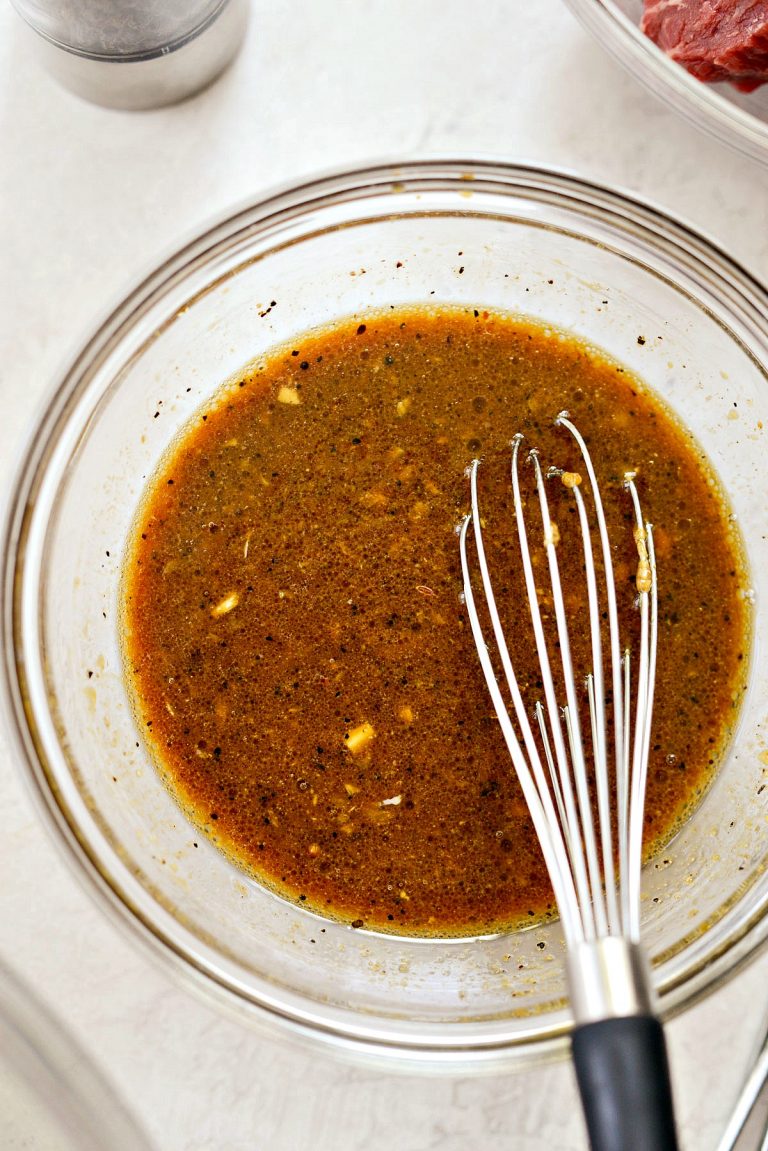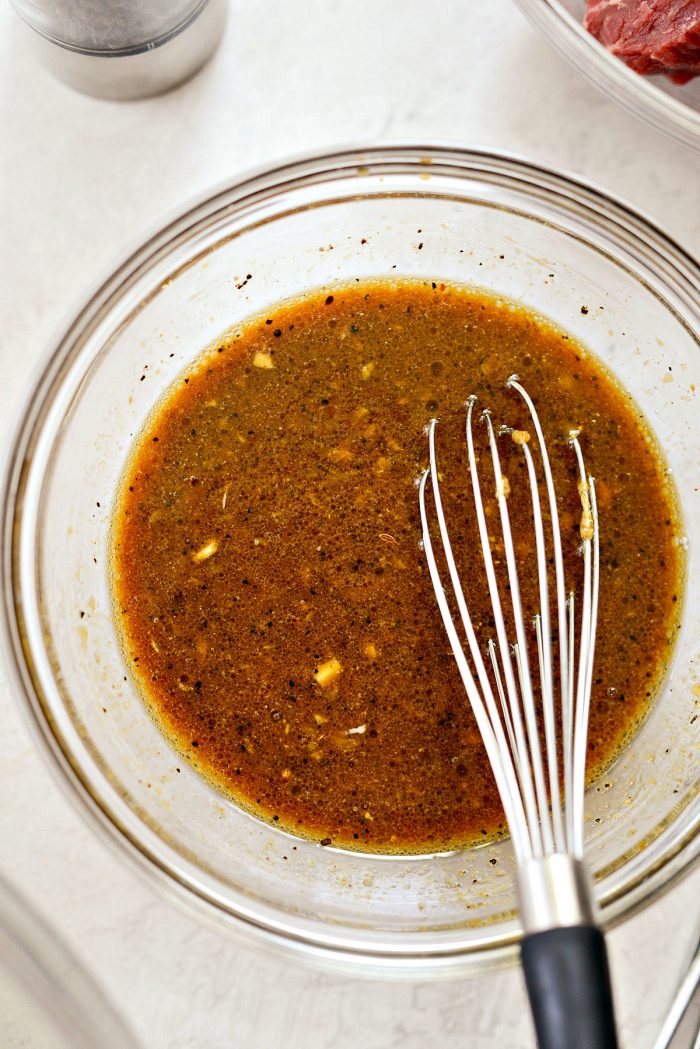 Keep whisking until every ingredient is incorporated.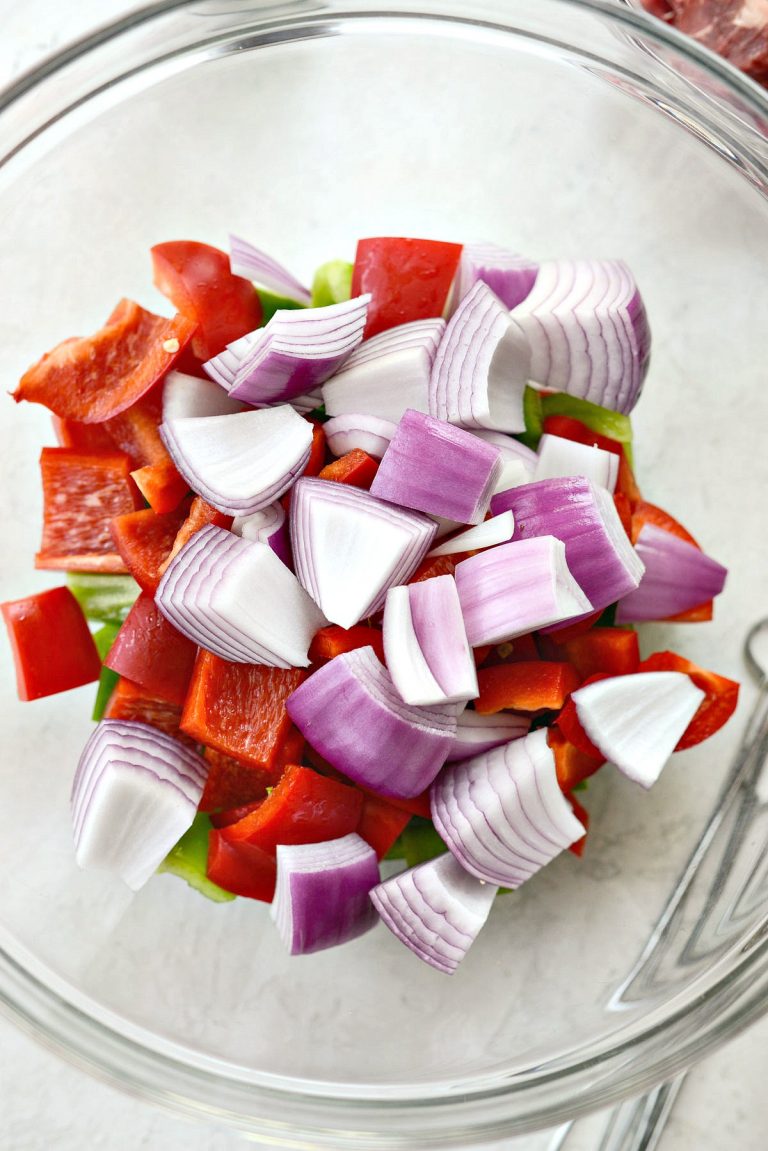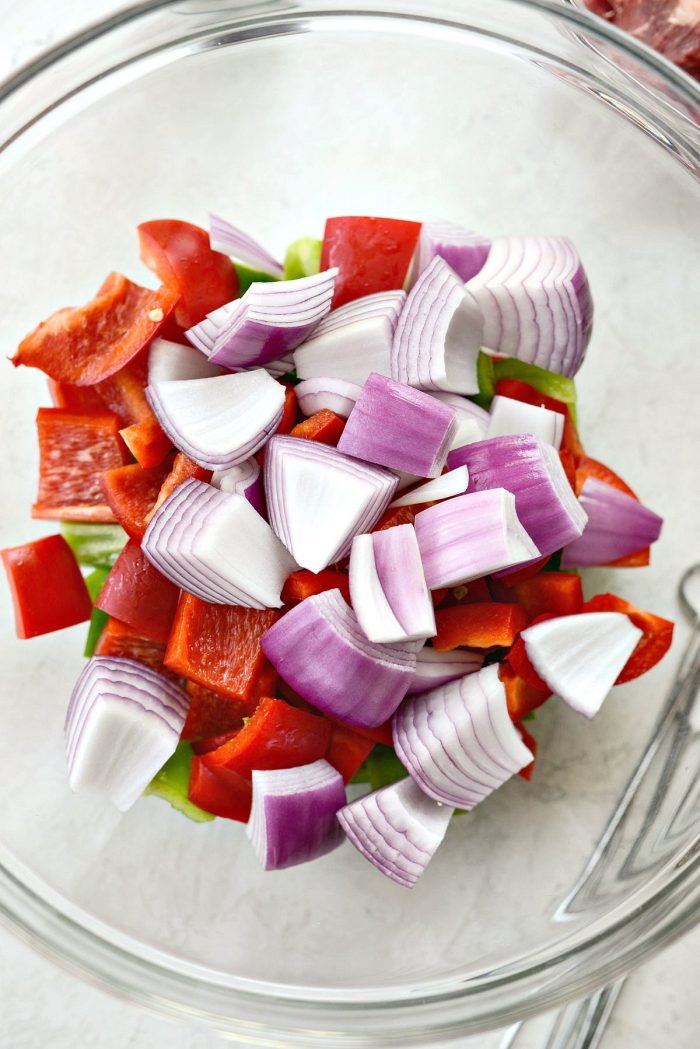 In a large mixing bowl, add 3 chopped bell peppers and 1 large chopped red onion.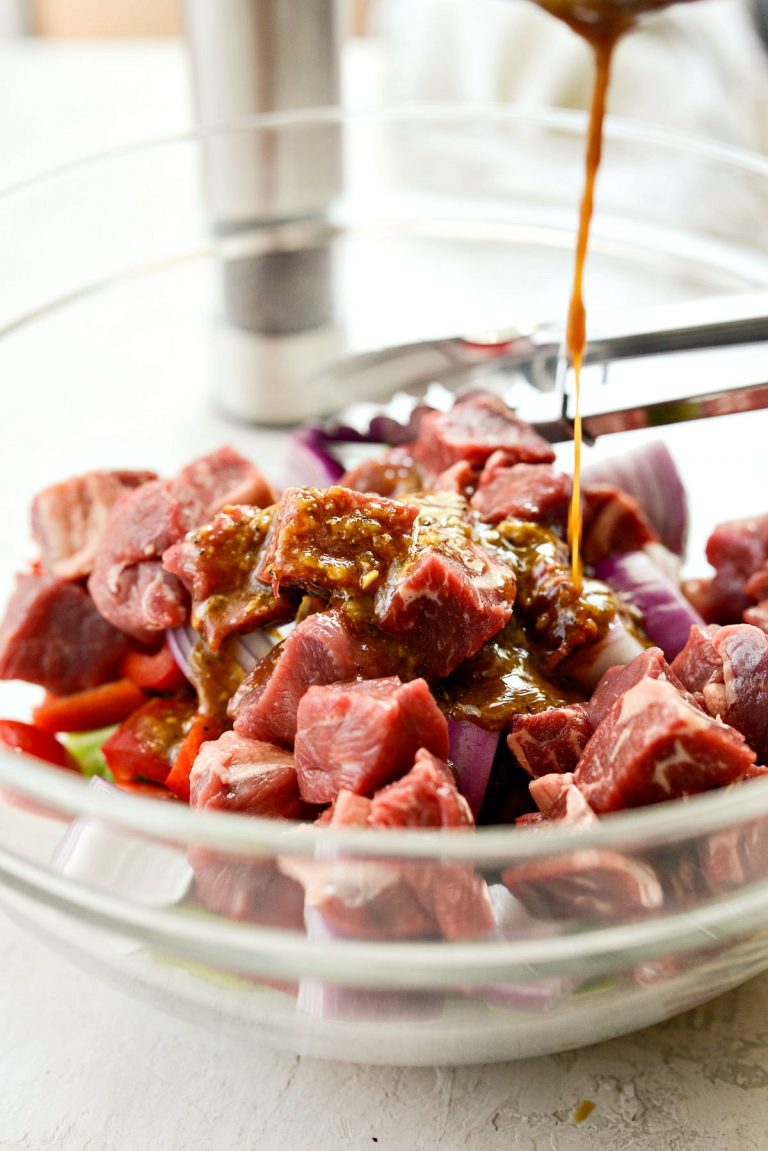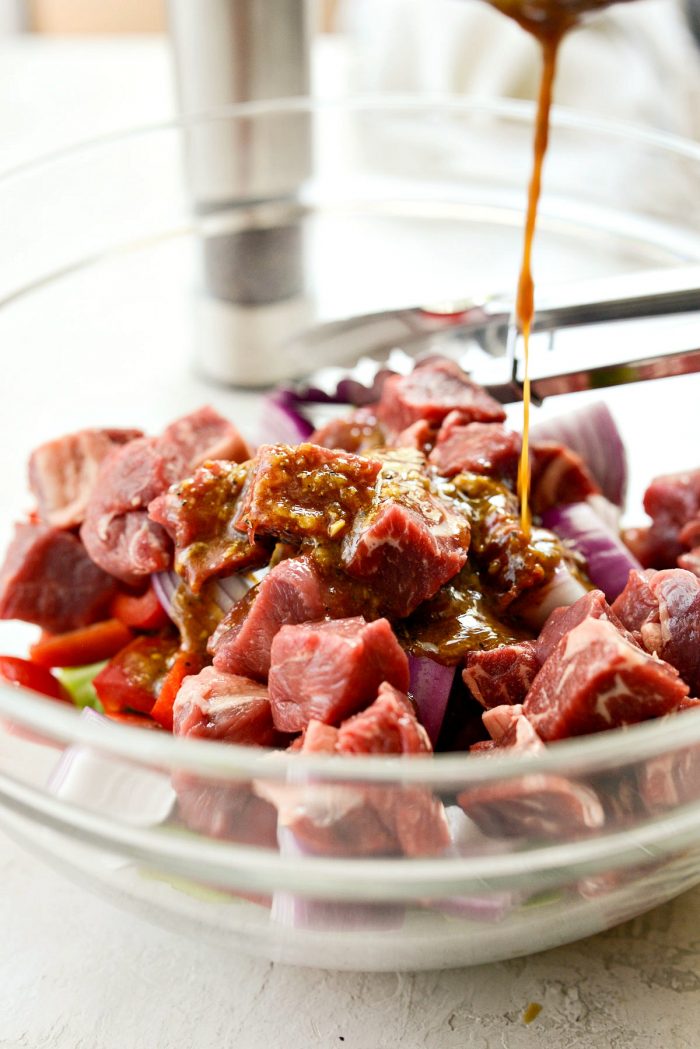 Next, add the cubed steak to the same bowl along with all of the marinade.
See? Easy!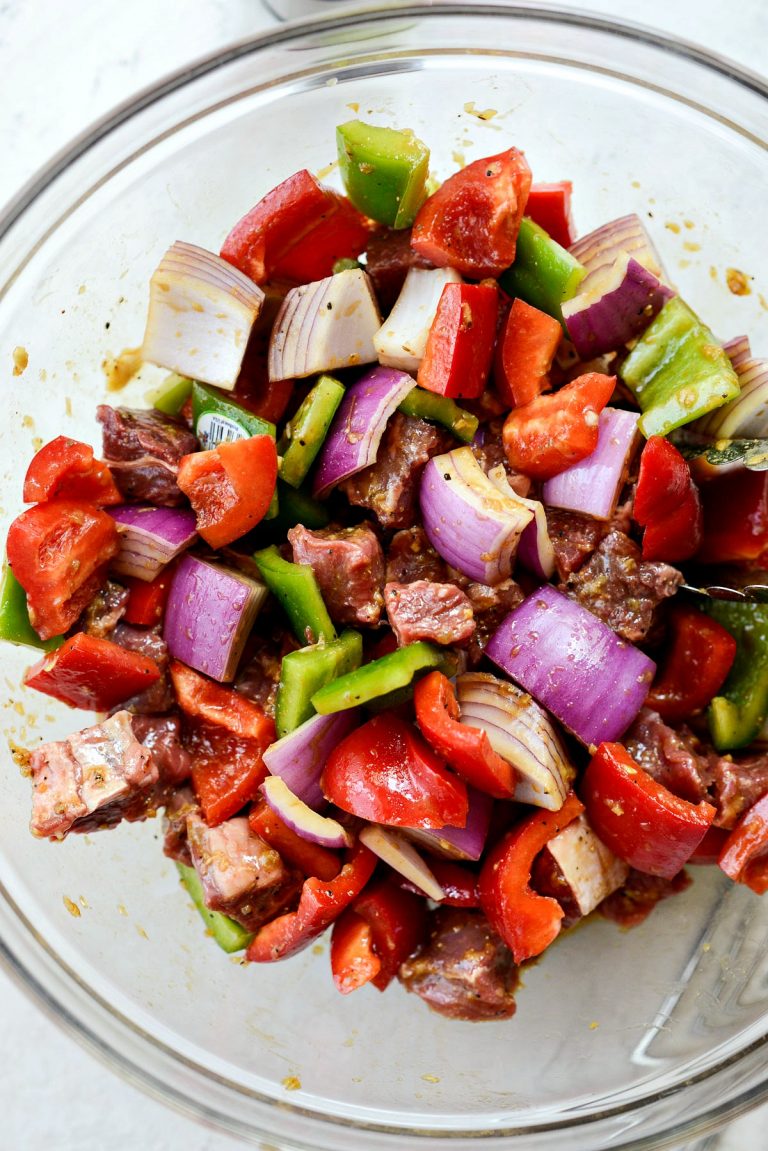 Toss it all together until nicely coated and let everything sit and marinate for about 30 minutes to bring the beef up to room temperature.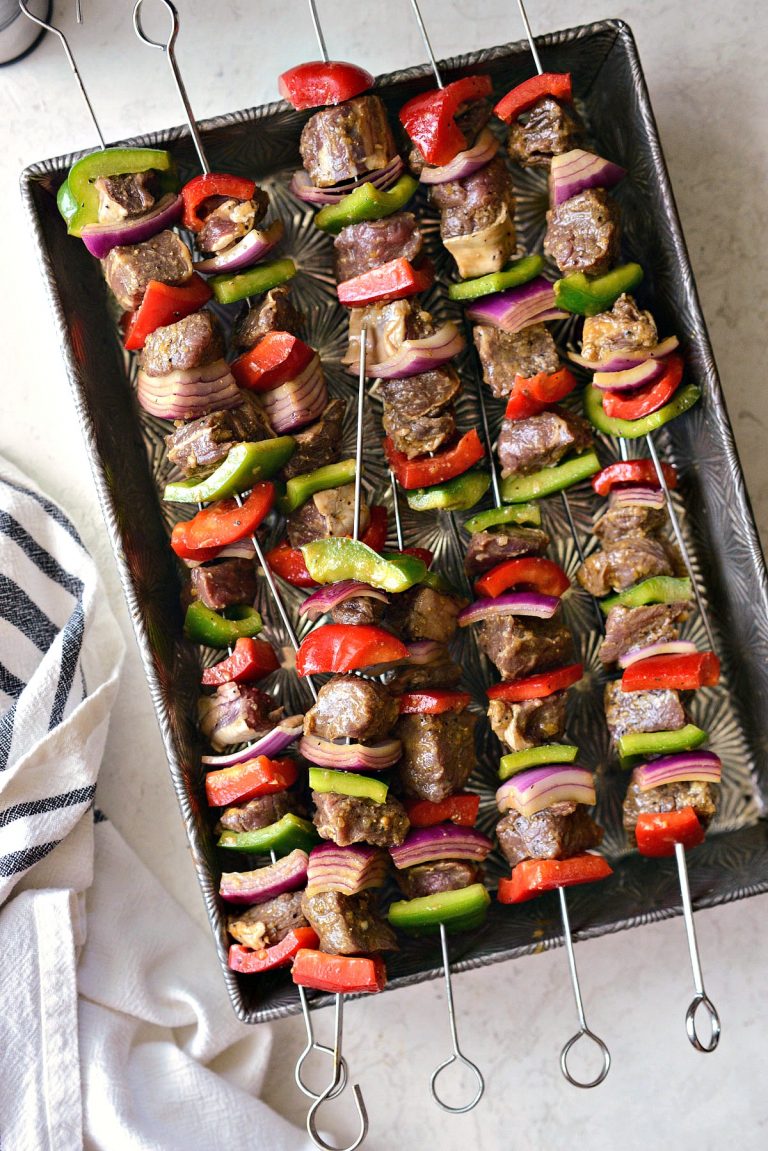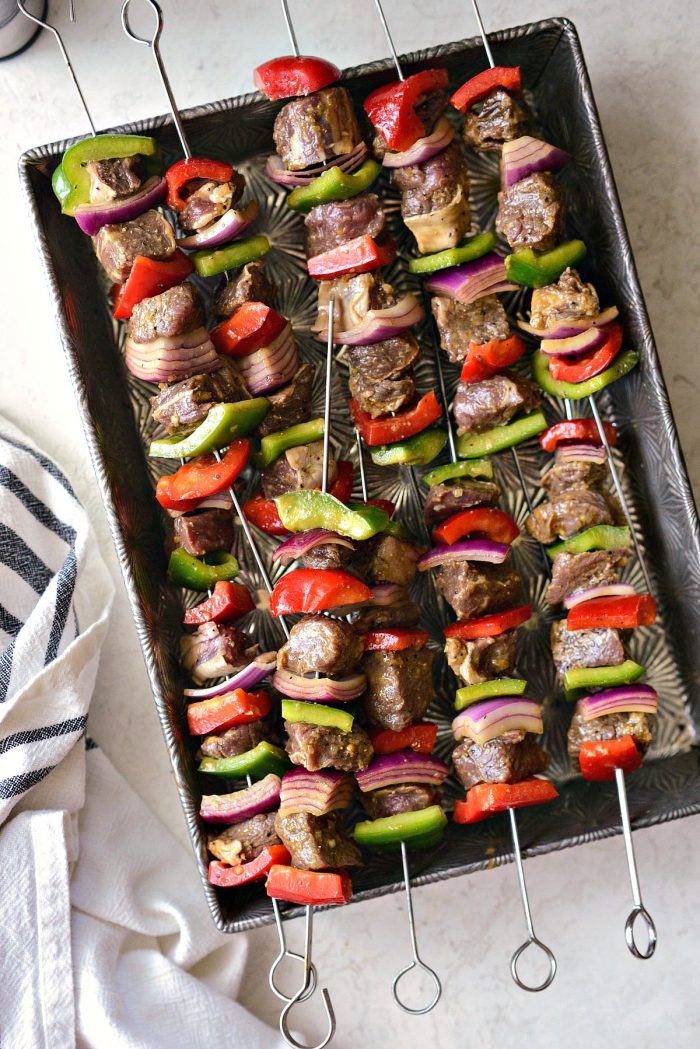 Then preheat your grill to medium-high (about 550-600°). While waiting, skewer the meat alternating with a little pepper and onion. I usually do about 4 to 5 pieces of steak per skewer, ending with about 12 skewers total.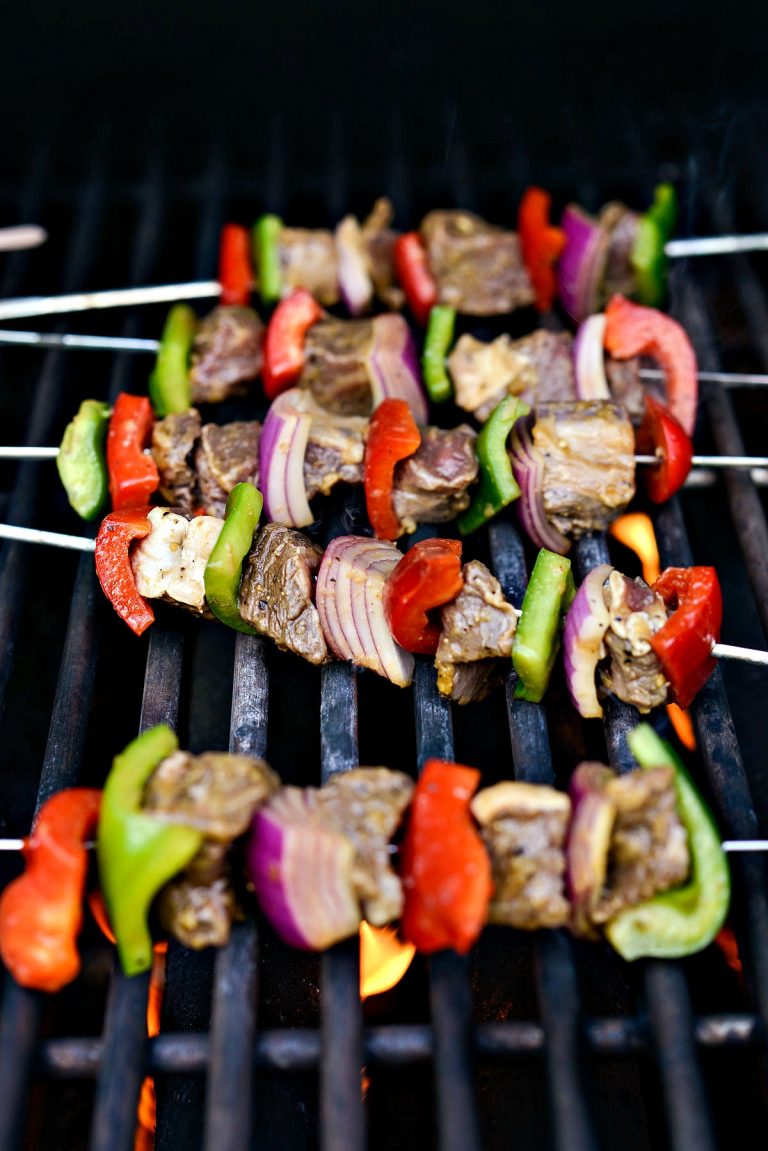 Once your grill has preheated and is screaming hot, place the skewers onto the hot grate, cover and immediately reduce the temp to medium-medium/high.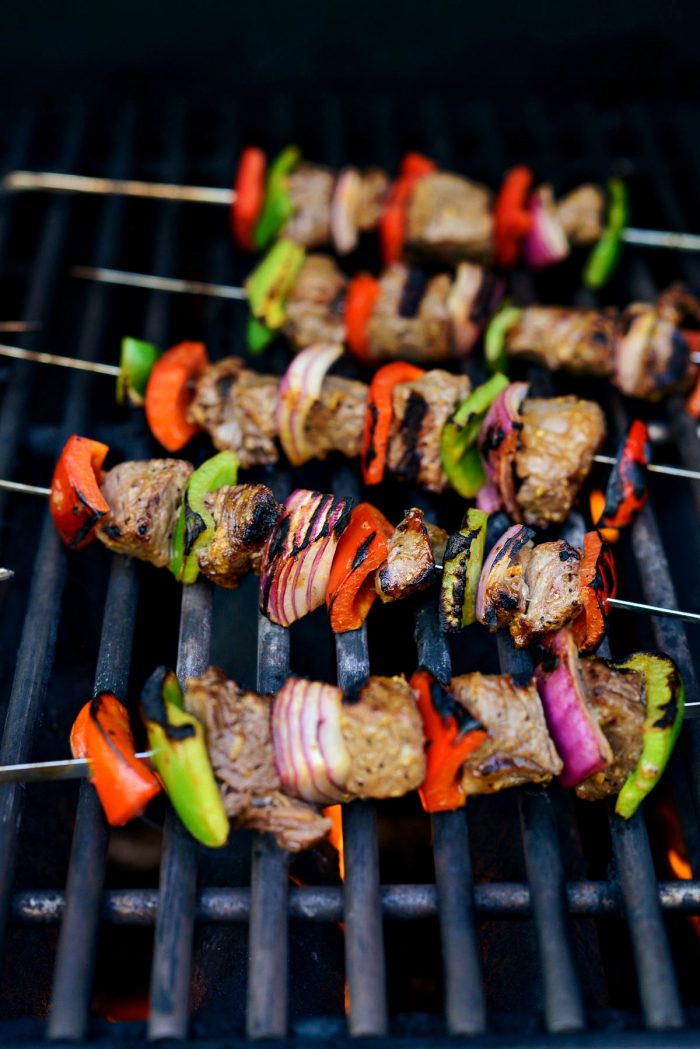 Then turn every few minutes until the steak has a crispy char on the outside and I like mine medium on the inside or roughly about 8-10 minutes. Sorry I really don't keep track of time. I tend to just eyeball it.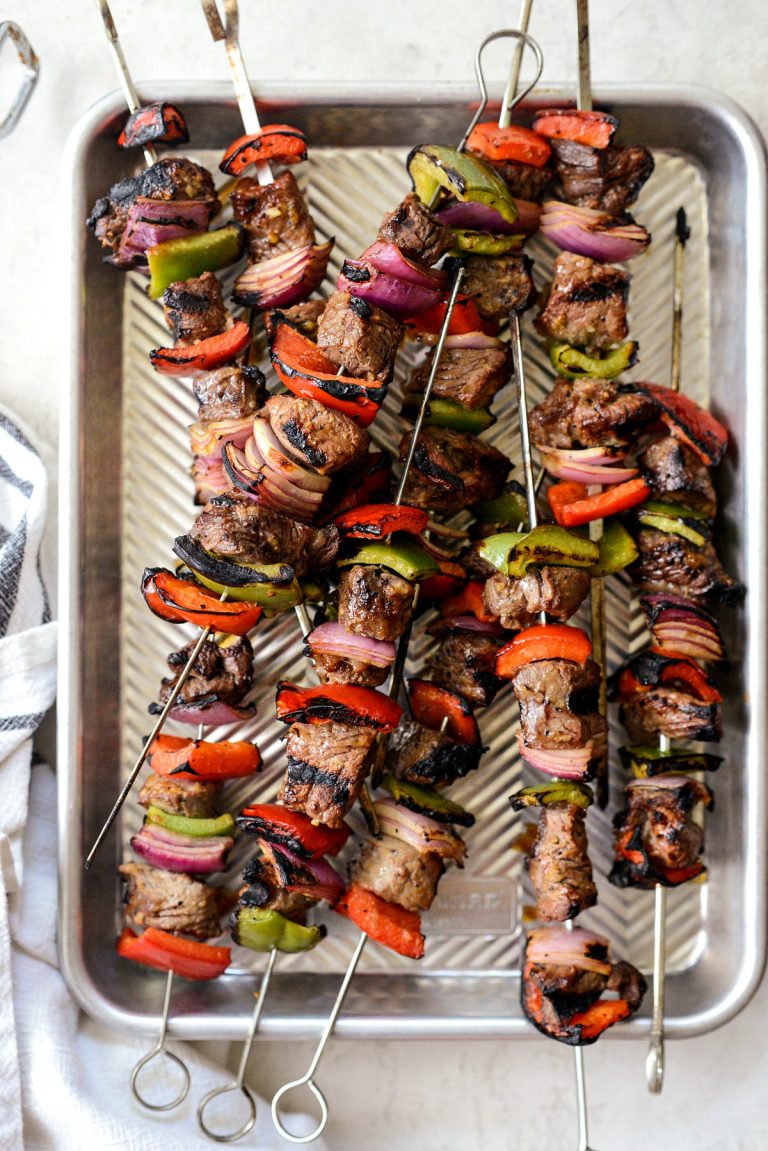 Once cooked, pull them off the grill to cool for a sec. Any leftover vegetables that didn't make it to skewers can always be added (first drain from the marinade) to a preheated grill pan and cooked for a few minutes.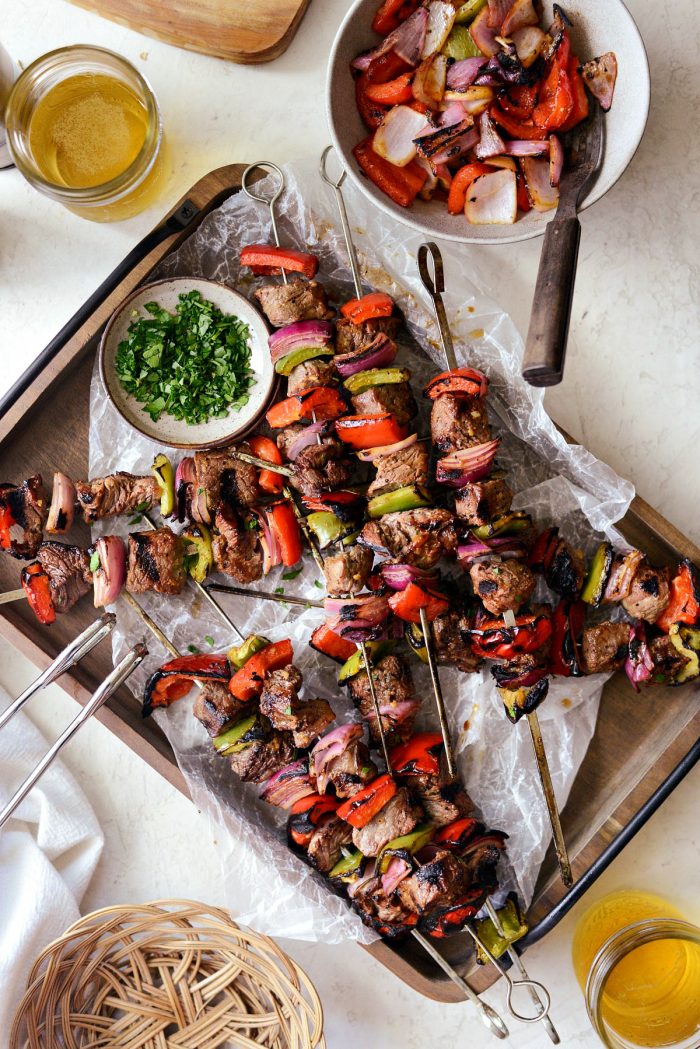 Finally, dig in. Seriously I could make a meal out of these grilled marinated steak kebabs all by themselves. However, feel free to serve them with your favorite side dish like; grilled corn, rice or couscous. Or slide them off of the skewer and into a soft tortilla.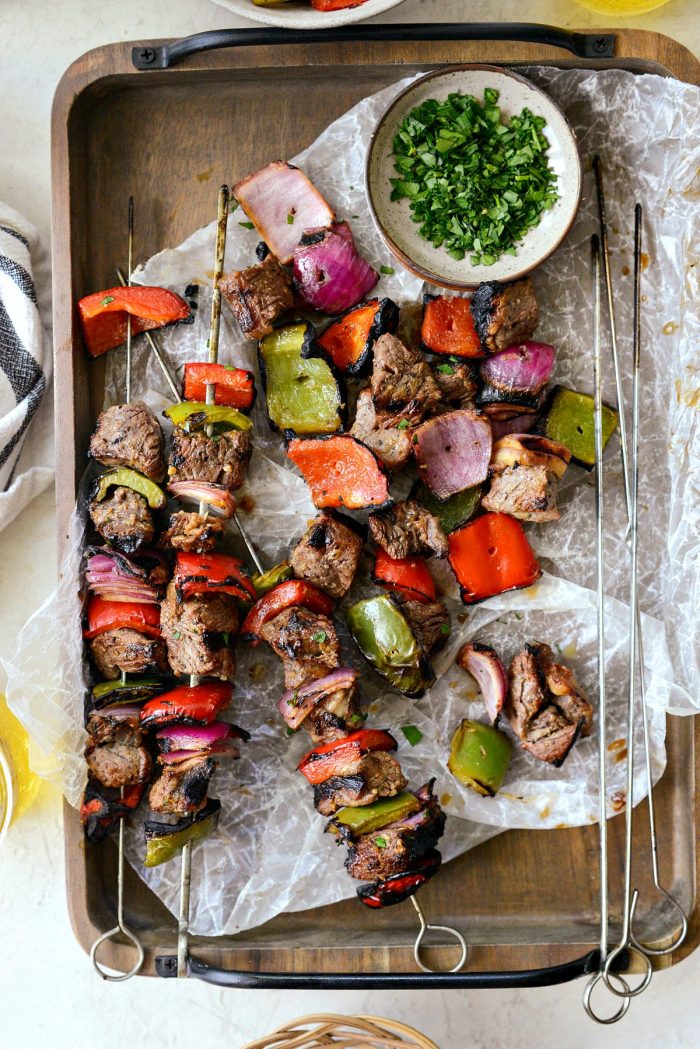 No matter what way you serve these, dinner will be delicious!
Enjoy! And if you give these Grilled Marinated Steak Kebabs a try, let me know! Snap a photo and tag me on twitter or instagram!
This post may contain affiliate links.
Buy the Cookbook: Simply Scratch : 120 Wholesome Homemade Recipes Made Easy Now available on Amazon »
THANK YOU in advance for your support!