These maple honey glazed pork chops and most definitely the easiest and best tasting pork chop you'll ever have. A family favorite for sure!
Whoa. It just occurred to me that this weekend ends summer vacation.
I sorta have mixed emotions about the whole thing. I'll miss staying up until 2am reading, sleeping in and having late breakfasts with my girls. But I am looking forward to the cozy nights by our fireplace in our new home, leggings, bulky sweaters and Pat's hunting trips. Awww-yeah hunting trips! 😉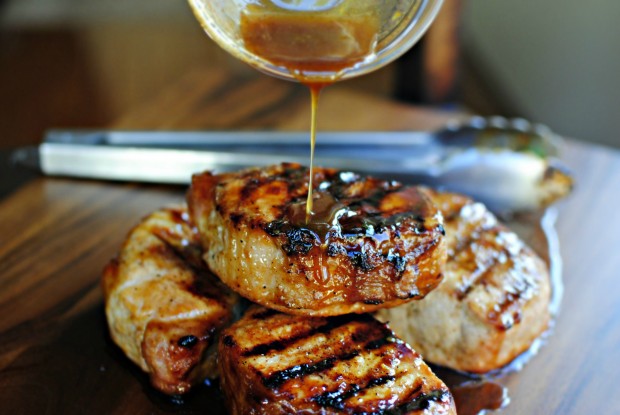 When it dawned on me that this might be one of our last grilled dinners, I was a little sad. Who am I kidding? We grill all year round! We are so those folks, and by 'folks' I mean the cool-hip-still-look-20-something-folks, who stand outside by the grill in the dead of winter with our scarves and booties on… knee deep in snow!
But it's a good thing these chops don't need a grill to happen. You cook them just the same in a 350 degree oven, and you get the same result… just minus those purty grill marks.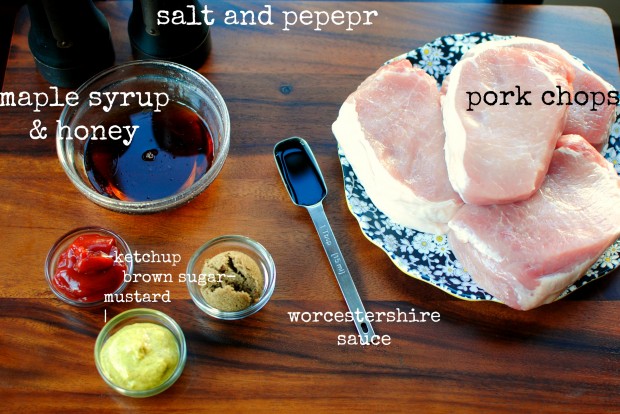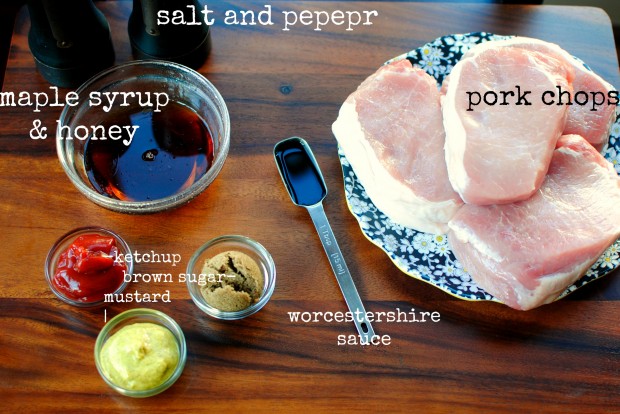 To Make This Grilled Maple Honey Glazed Pork Chops You Will Need:
boneless top loin pork chops
kosher salt
black pepper
real maple syrup
honey
spicy brown mustard
dark brown sugar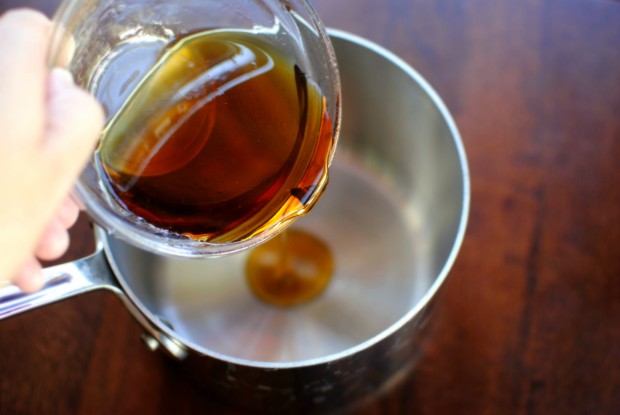 First, start by adding 3/4 cup real maple syrup and 1/4 cup honey into a sauce pan.
Next add in 2 tablespoons ketchup.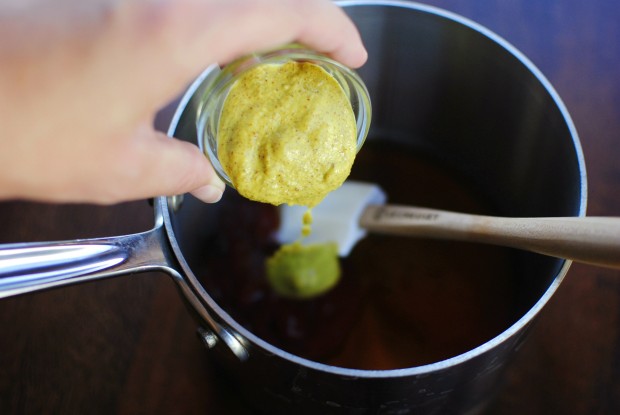 Then measure and add in 2 tablespoons spicy brown mustard.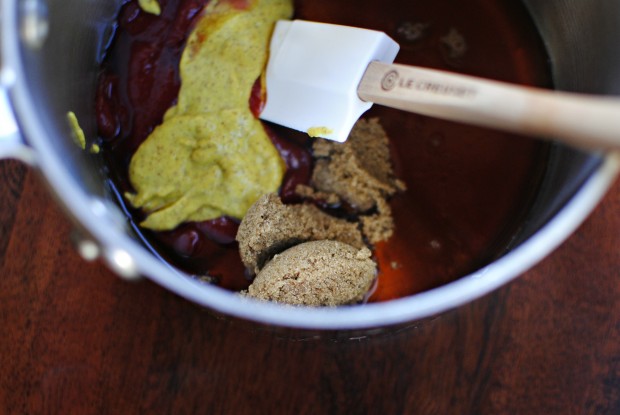 Next 2 tablespoons dark brown sugar.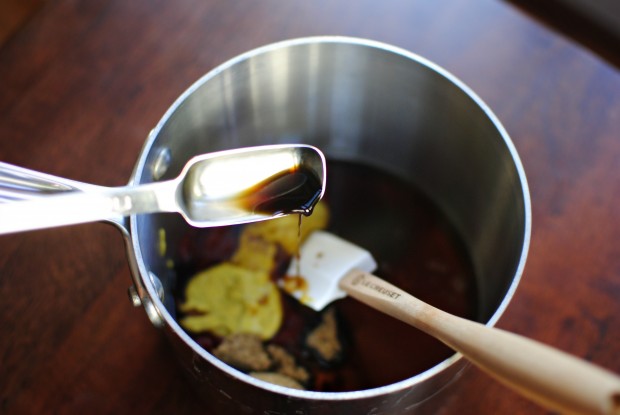 Lastly, add 1 tablespoon worcestershire sauce.
Lastly, give it a quick stir and then bring it up to a boil, stirring often.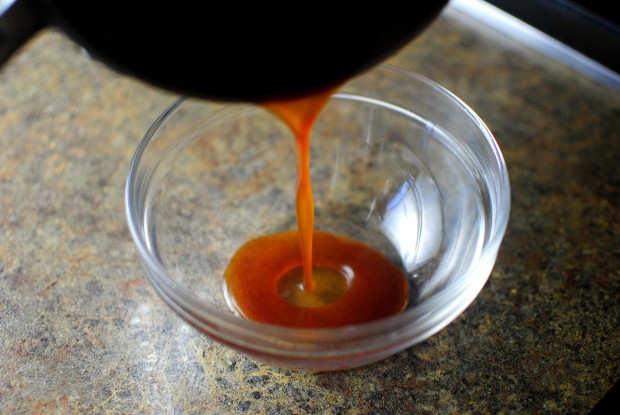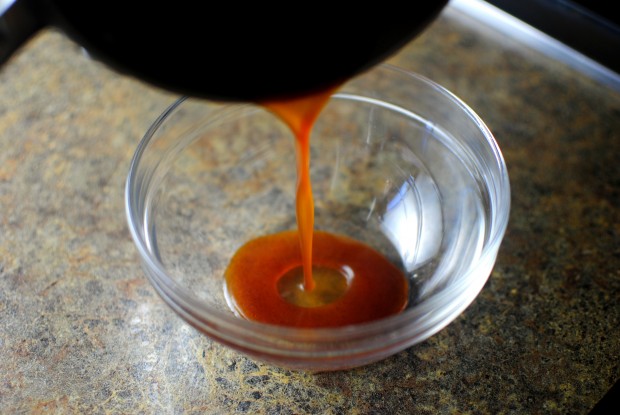 Next, pour 4 tablespoons into a small bowl and the rest of the glaze into a larger bowl.
Next, grab the pork chops and set them out to bring up to room temperature, for about 30 minutes.
Meanwhile, preheat your grill to 400 to 450°.
Then season with plenty of kosher salt and freshly ground black pepper.
Next, lay the seasoned pork chops down onto the hottest part of your preheated grill grate and cook for 2 to 3 minutes.
Flip and repeat for another 2 to 3 minutes. Remember to adjust the times if you're using a thinner chop!
Next, grab the glaze (saving the little bowl of glaze for later) and brush it on the pork chops. Then flip/brush and repeat, for the next 8 minutes OR until the internal temp reaches 145°.
Be careful not to let the glaze burn or the pork over cook.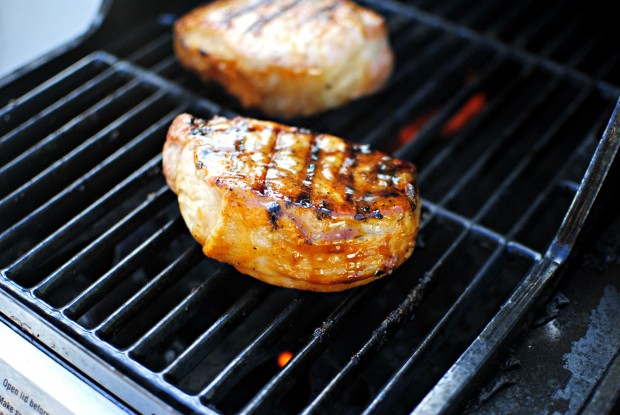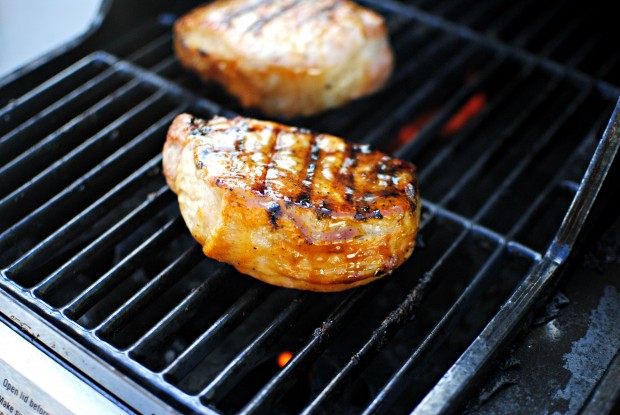 Swoon.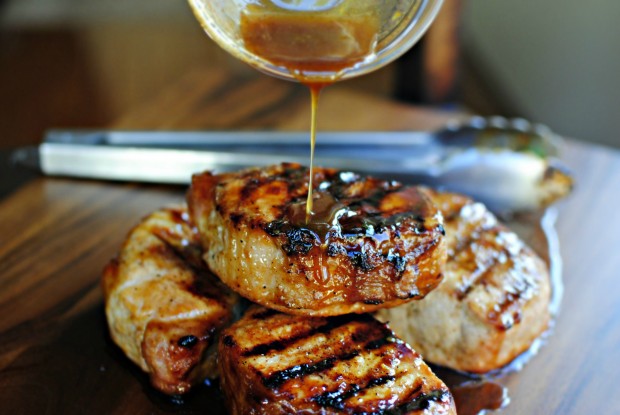 Finally, once the chops are fully cooked, let them rest for 5 to 10 minutes. Then grab that little bowl of maple-honey goodness and drizzle it over top. Because you can never have too much glaze.
The glaze is sweet and tangy, leaving these maple honey glazed pork chops unbelievably delicious.
Enjoy! And if you give this Maple Honey Glazed Pork Chops recipe a try, let me know! Snap a photo and tag me on twitter or instagram!
This post may contain affiliate links.
Buy the Cookbook: Simply Scratch : 120 Wholesome Homemade Recipes Made Easy Now available on Amazon »
THANK YOU in advance for your support!