Before summer is over you must make this Grilled Cherry Gorgonzola Flatbread! Homemade pizza dough is grilled and topped with fresh cherries, bacon and blue cheese! A fun snack and appetizer!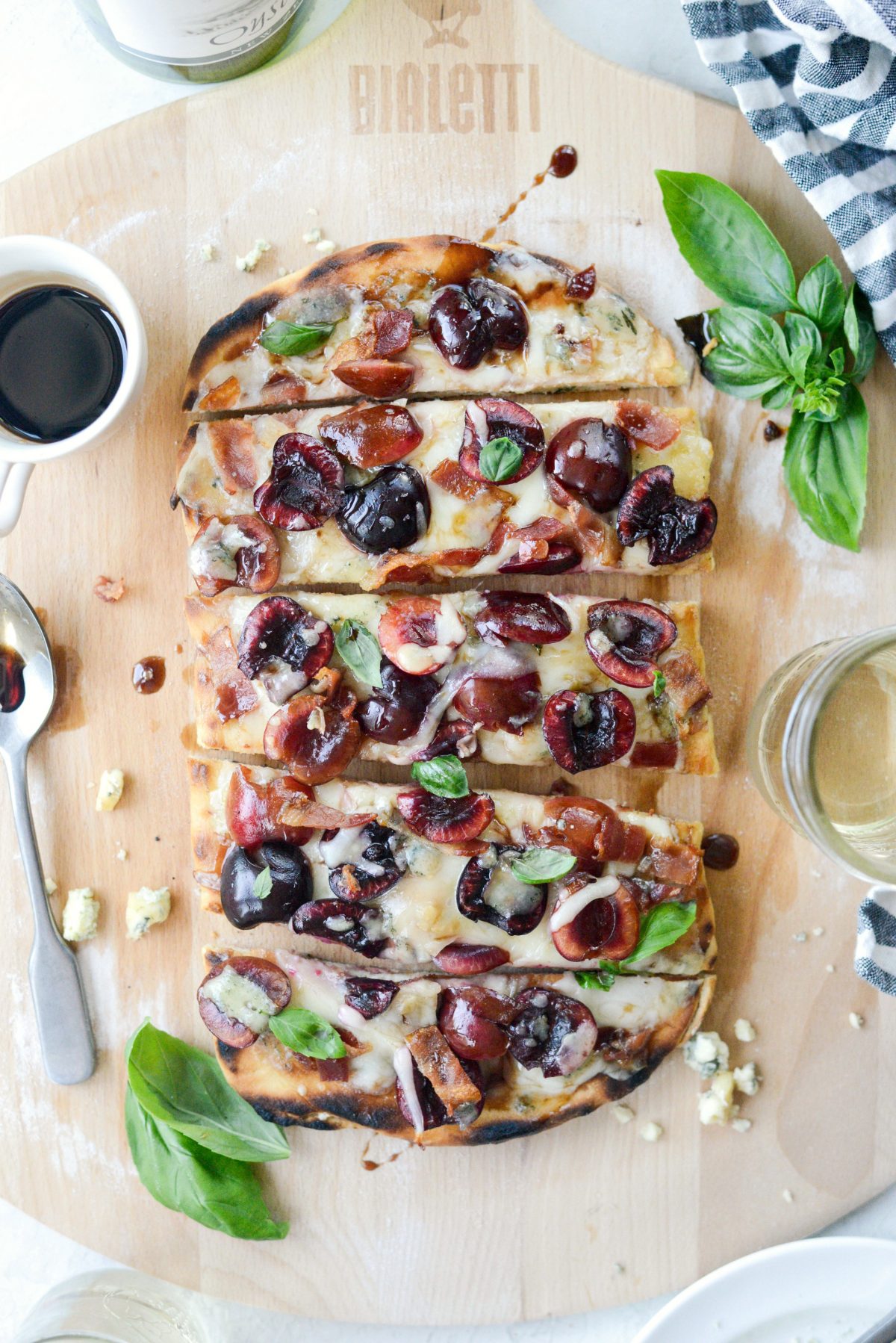 YES! I know all my fellow blue cheese lovers are nodding your heads because blue cheese in any way, shape or form -but especially on pizza- is the BEST way to consume blue cheese.
Back in July, I spent the day turning 1 recipe of homemade pizza dough into 3 unique and delicious flatbreads. It was a day of epic deliciousness and just in case you were on vacay and missed it, there was a peach and prosciutto (with honey and arugula), plum and bacon (with gouda and oregano) and now -dun, dun, dun, DUN- cherry and gorgonzola (with bacon and basil)!
->insert a thousand exclamation points<-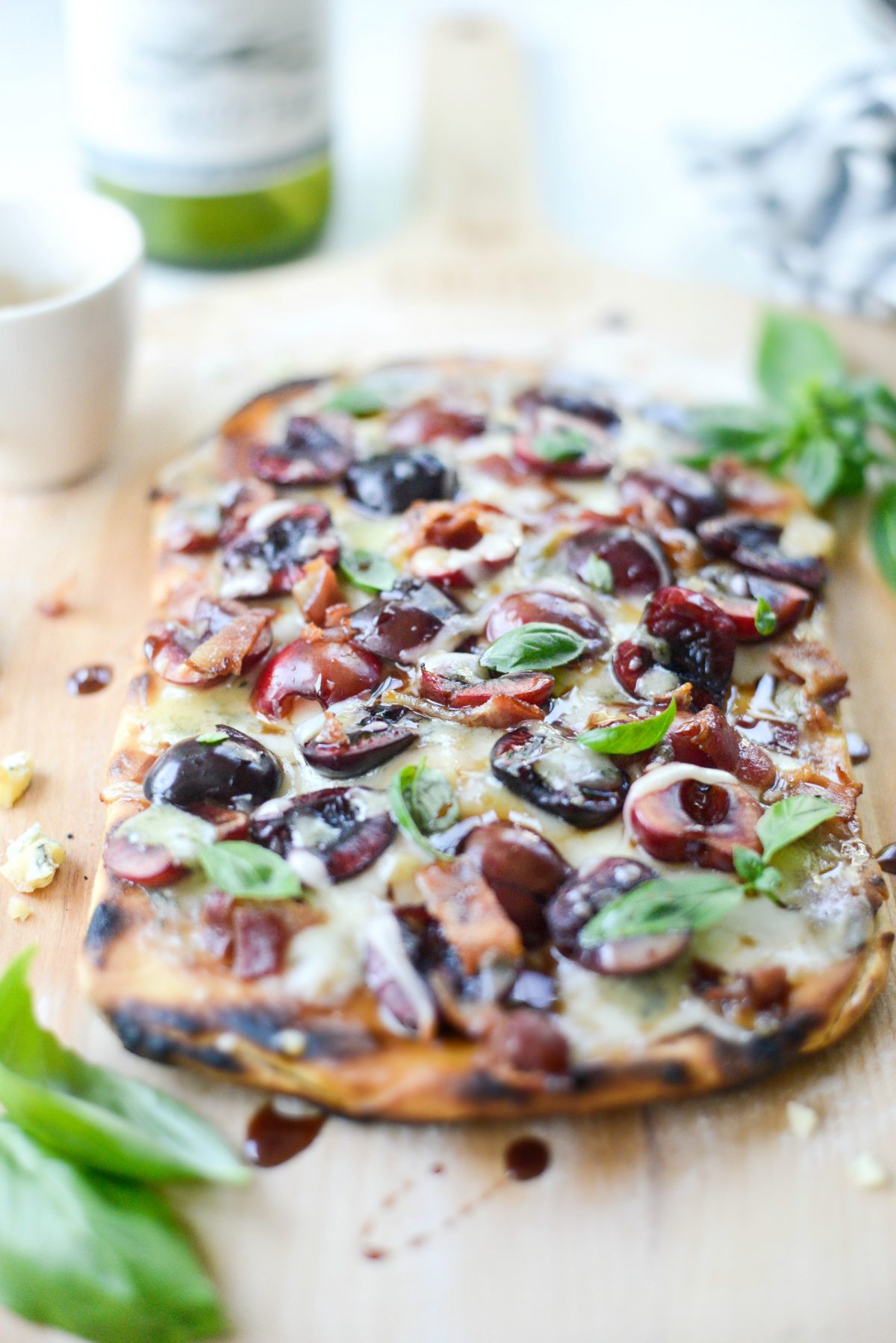 My mouth literally is watering remembering how delicious this flatbread was. Sweet and tart, smoky and funky and did I mention you drizzle it with balsamic reduction? Oh yesssss! I highly recommend you make this and enjoy it with your significant and/or bff and with a bottle of wine.
No regrets. It's Friday after all!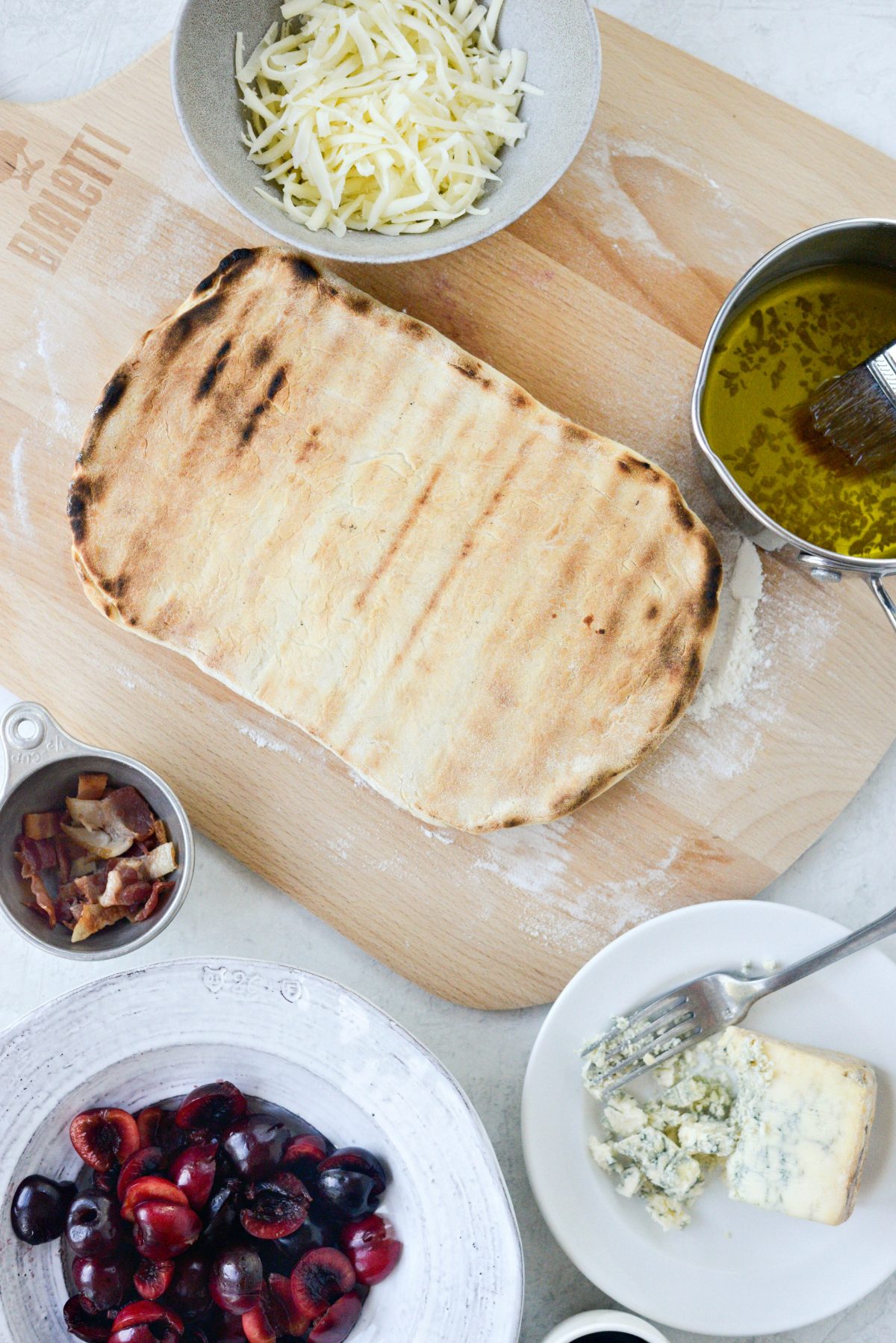 To Make This Grilled Cherry Gorgonzola Flatbread You Will Need:
1/3 of pizza dough recipe
garlic olive oil
pitted and halved sweet cherries
freshly shredded mozzarella cheese
cooked and crumbled thick-cut bacon
blue cheese
balsamic reduction or glaze
fresh basil leaves.
If you have a cherry pitter, you're already ahead of the game. I do not. I used a metal straw (from a reusable Starbucks cup) to push the pits out the bottom of the cherries and then sliced each cherry in half. If you're making a larger flatbread or 3 smaller ones, you may need more cherries, so adjust the measurements.
To make the garlic olive oil:
Start by pouring 1/4 cup olive oil into a small sauce pan. Then add in two cloves of finely minced garlic and heat on low to medium-low until the oil yields a fragrant aroma and the garlic starts to toast and turn lightly golden. Remove off of the heat and let cool. This one recipe I used for all three flatbreads.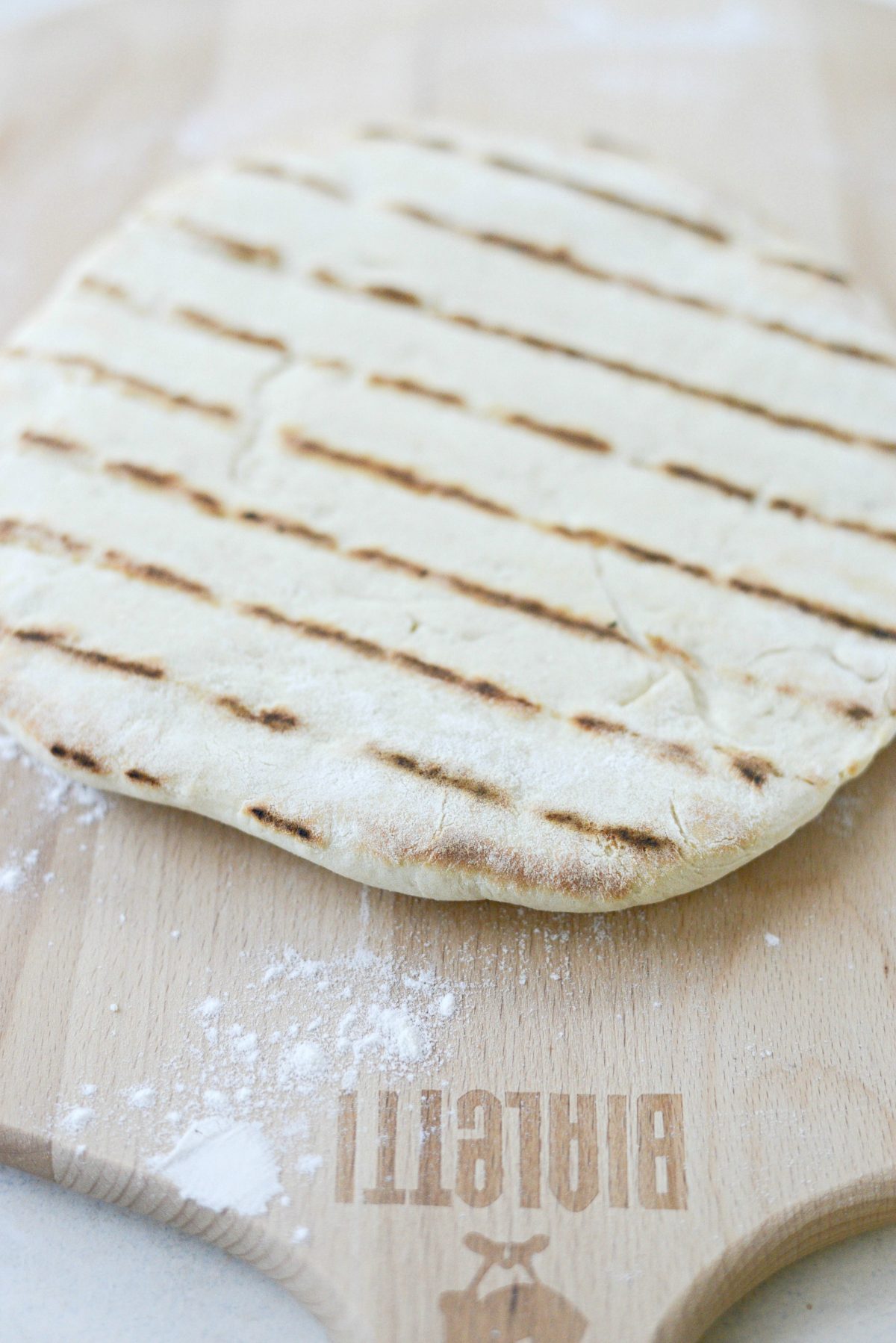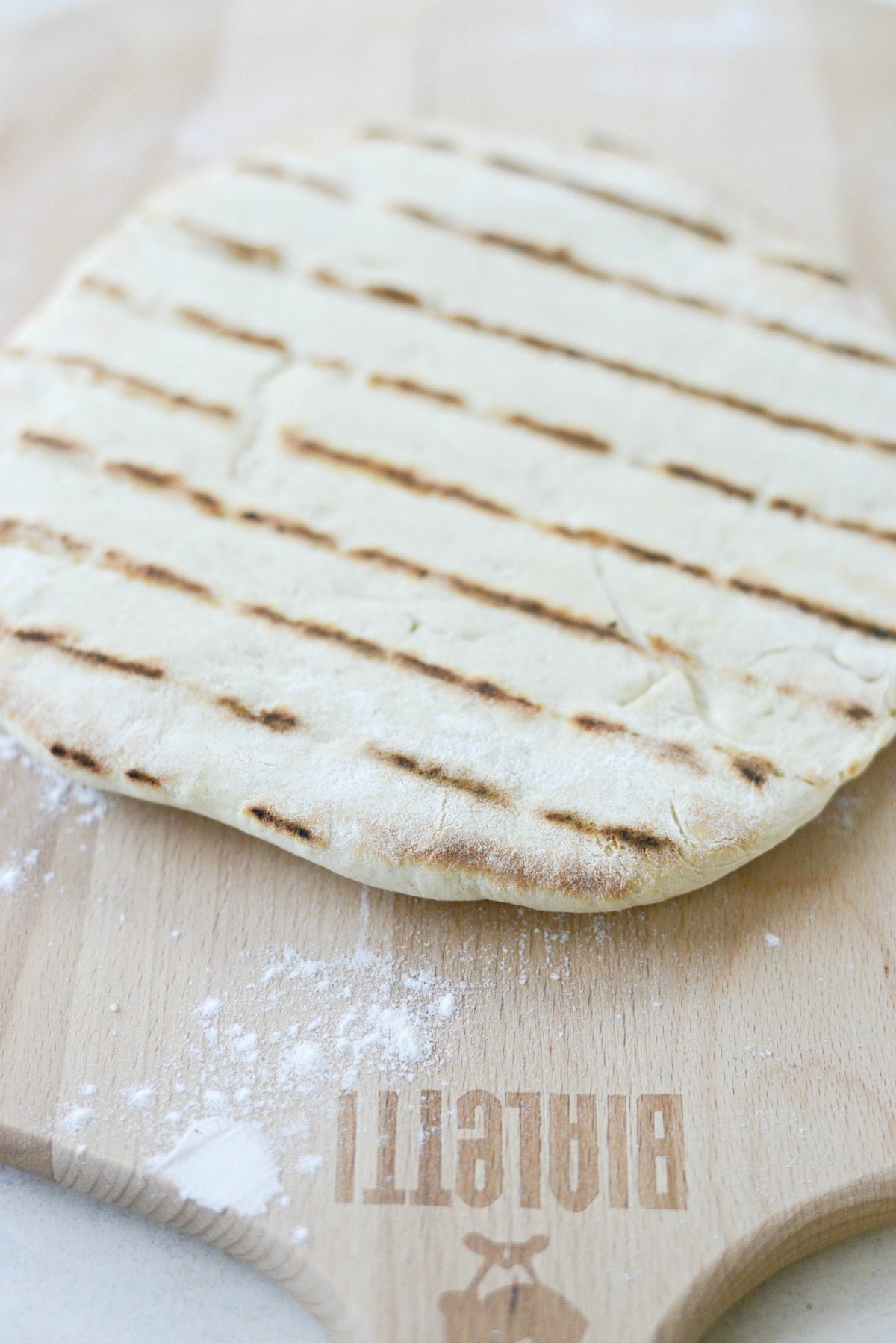 Make The Crust:
Step one in making this grilled cherry and gorgonzola flatbread is obviously making the dough. Because I was making 3 different flatbreads, I divided my homemade pizza dough recipe into thirds and let it rise in separate bowls covered lightly with a tea towel. Once risen, I worked with one ball of dough at a time and stretched it as thin as it could. With this said, you certainly can make one large flatbread pizza or two or three smaller ones with the same toppings. Just adjust the topping amounts accordingly. Keep in mind you can also freeze any unused pizza dough!
Back to the dough. When the dough has been stretched to a desired shape and thinness and your grill has preheated to 425 to 450°, place the dough onto the lightly oiled grill grates and closed the lid. Let the dough grill for 2 to 3 maybe even 4 minutes. Because my grill runs hot (and yours may too!), I recommend checking it often, and if the underneath is golden and starting to form grill marks, then immediately remove the grilled dough to a large, wood cutting board or pizza peel. Be sure to place the uncooked side facing down.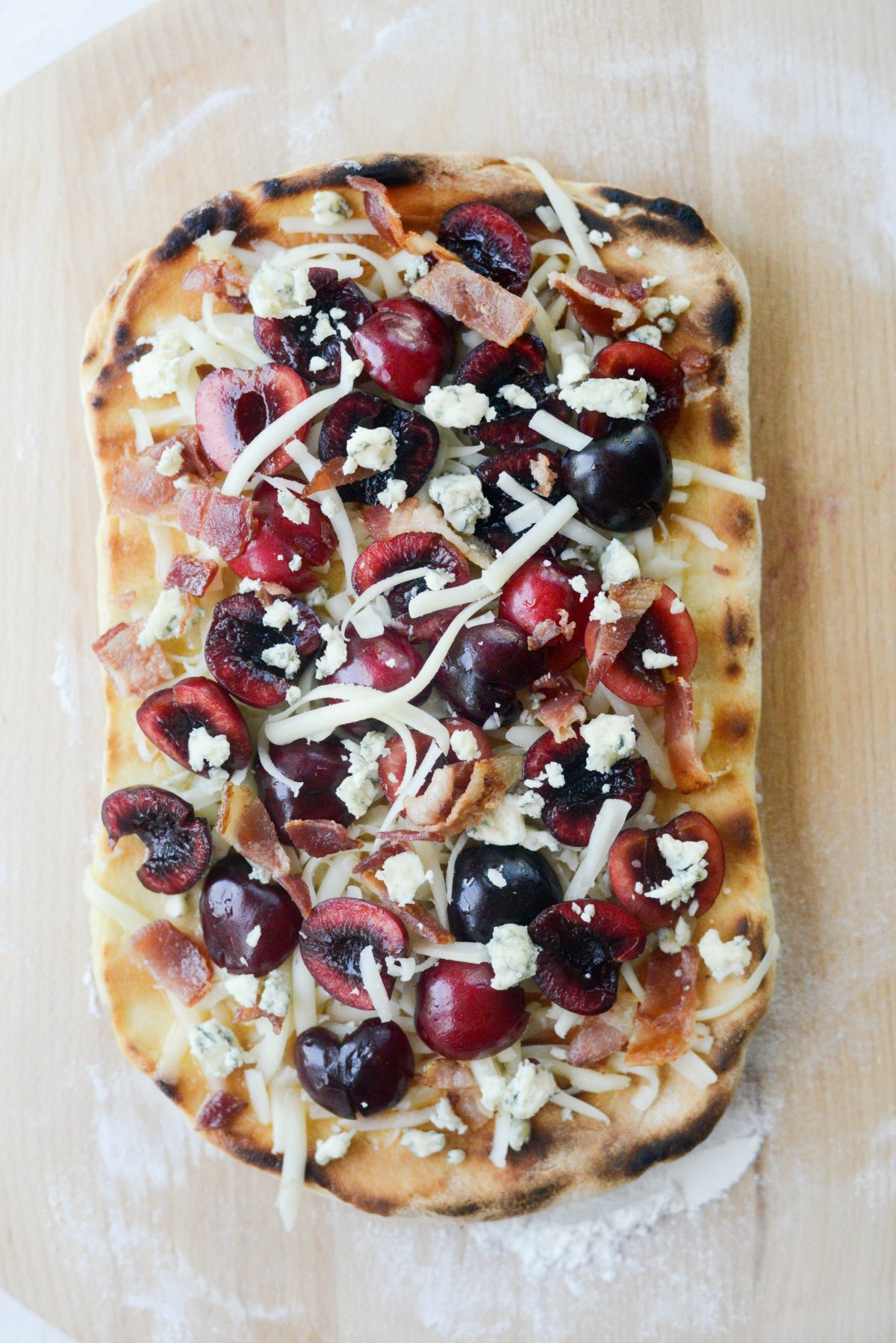 Then brush the grilled side with that magical garlic olive oil. Top with mozzarella, cherries, bacon and crumbled blue cheese. Place the flatbread back on the grill, close the lid and grill until the cheese has melted and the dough is fully cooked. This should only take a minute or two.
Lastly, drizzle with reduced balsamic or balsamic glaze and top with fresh basil leaves.
Grilled Cherry Gorgonzola Flatbread = Flavortown.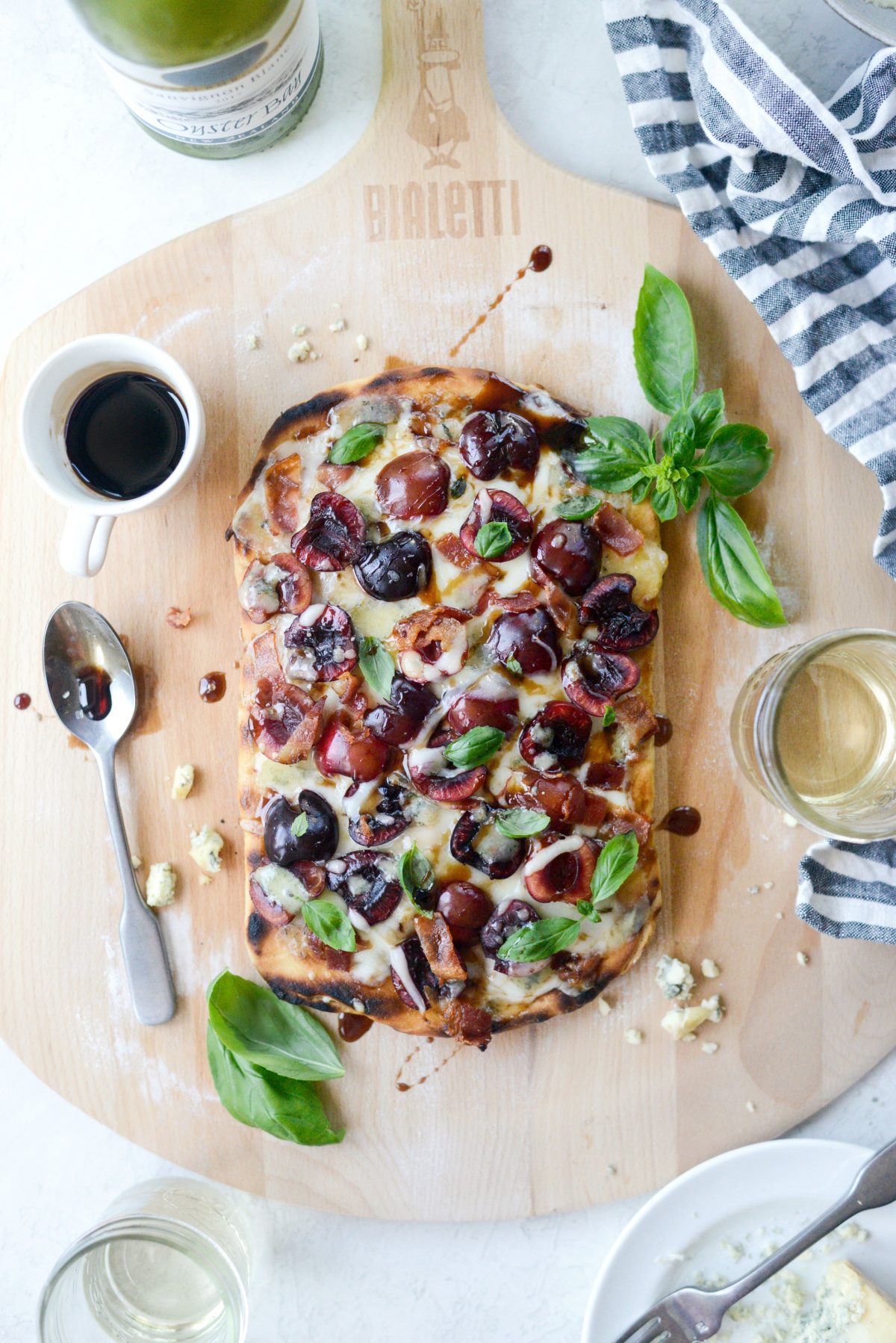 Enjoy! And if you give this Grilled Cherry Gorgonzola Flatbread recipe a try, let me know! Snap a photo and tag me on twitter or instagram!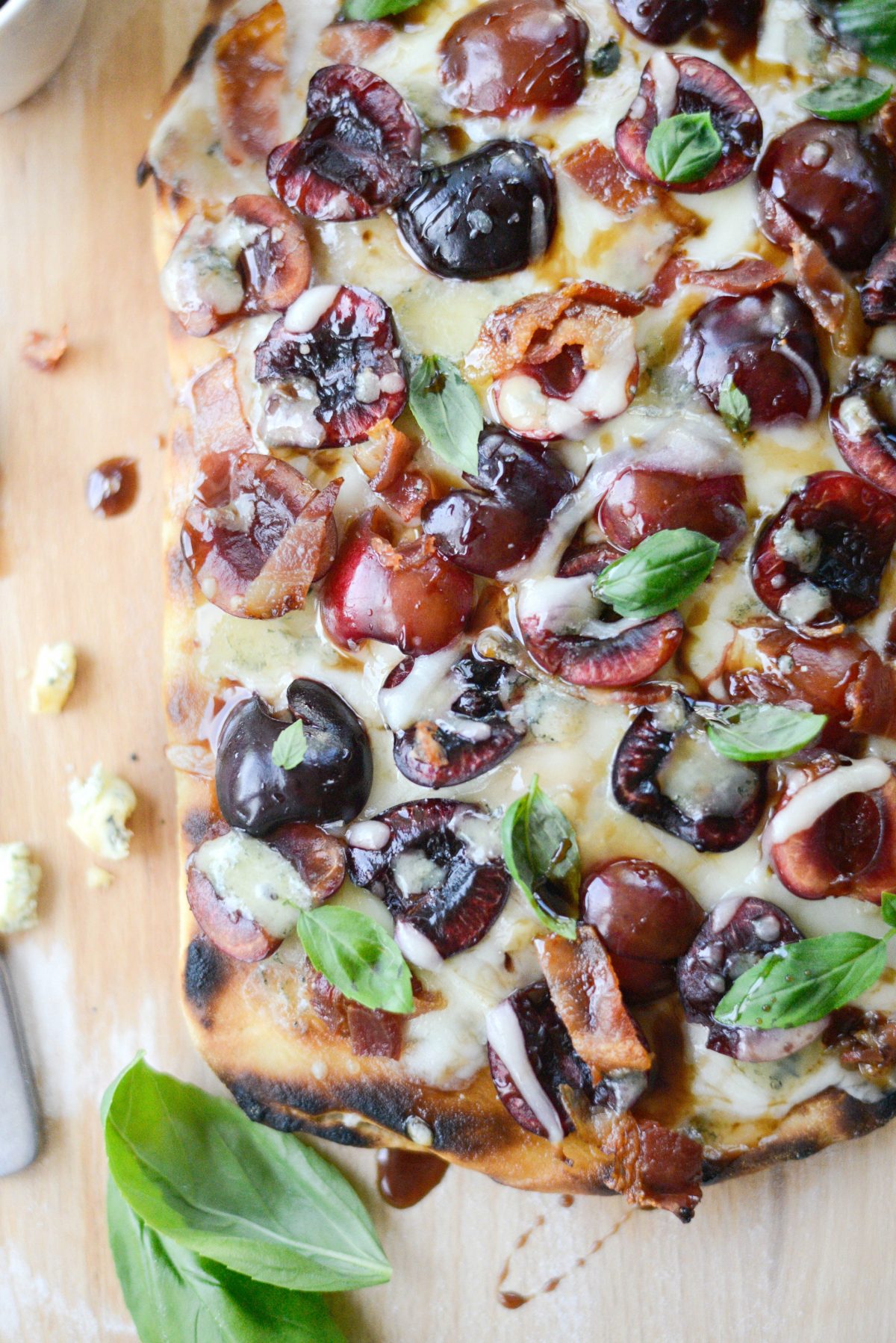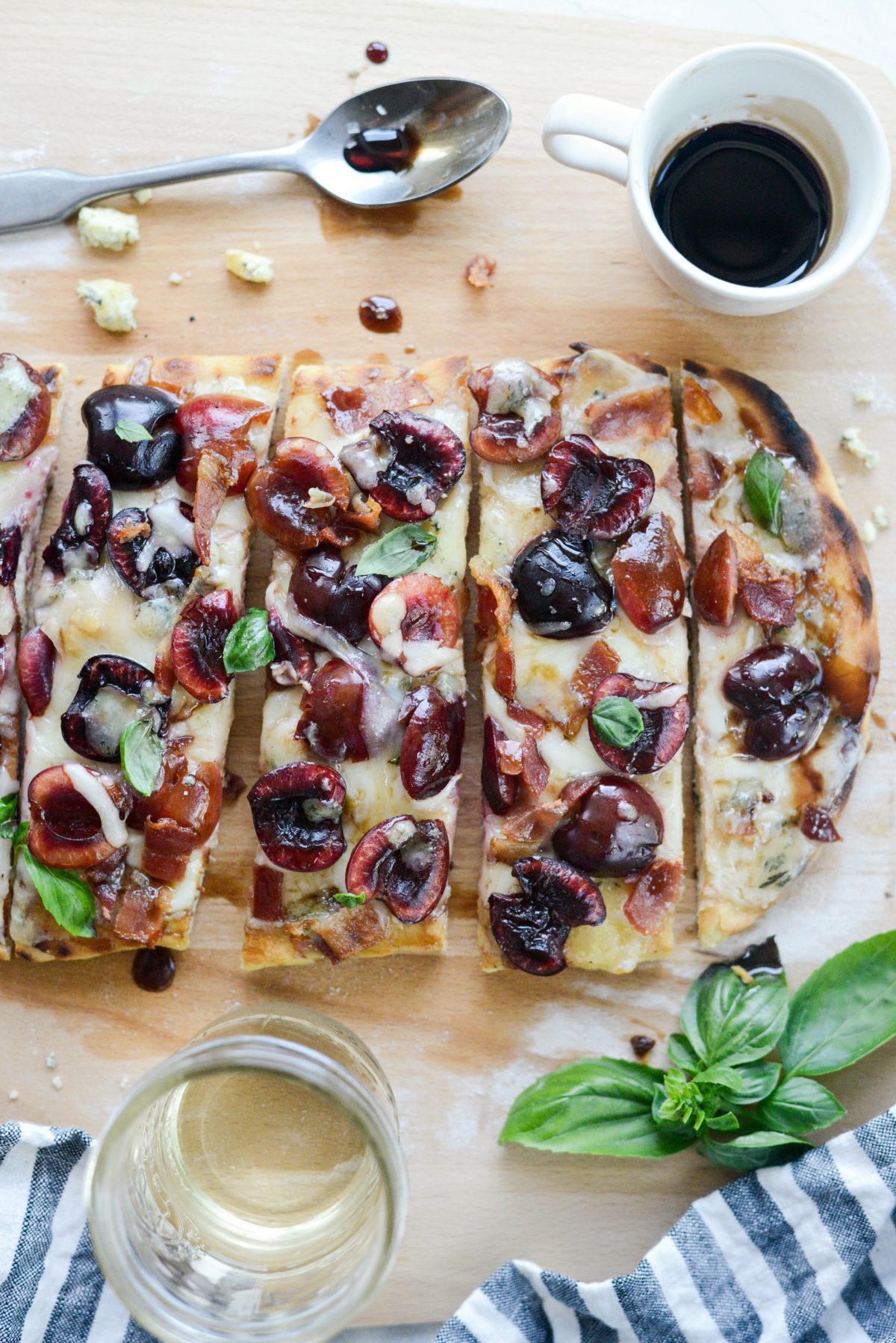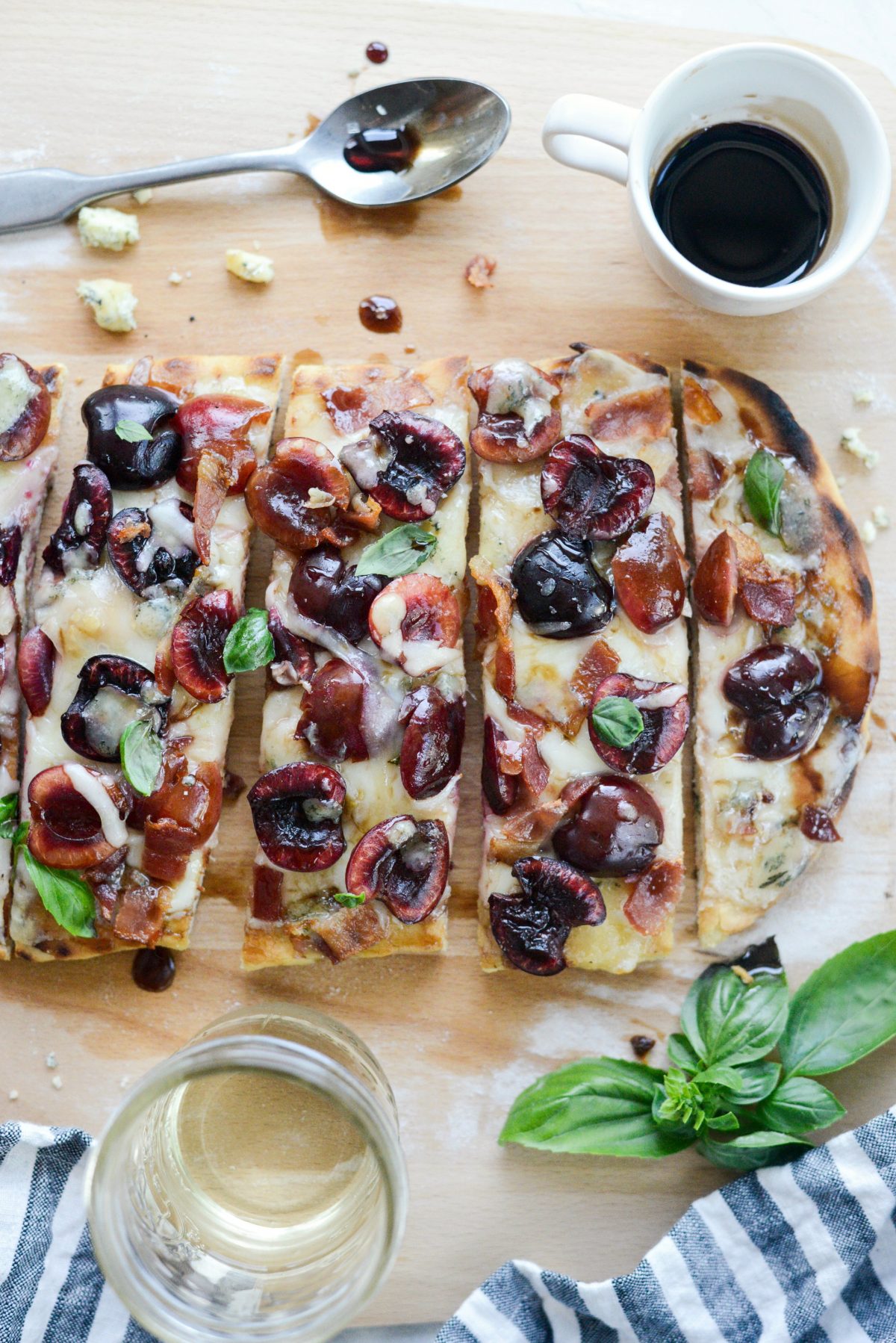 This post may contain affiliate links.
Buy the Cookbook: Simply Scratch : 120 Wholesome Homemade Recipes Made Easy Now available on Amazon »
THANK YOU in advance for your support!