In this easy and healthy Ginger Sesame Brown Rice, fresh ginger coins cook with the rice adding lots of flavor. Finish with toasted sesame oil and sesame seeds. Easy and pretty effortless.
We are a rice eating family.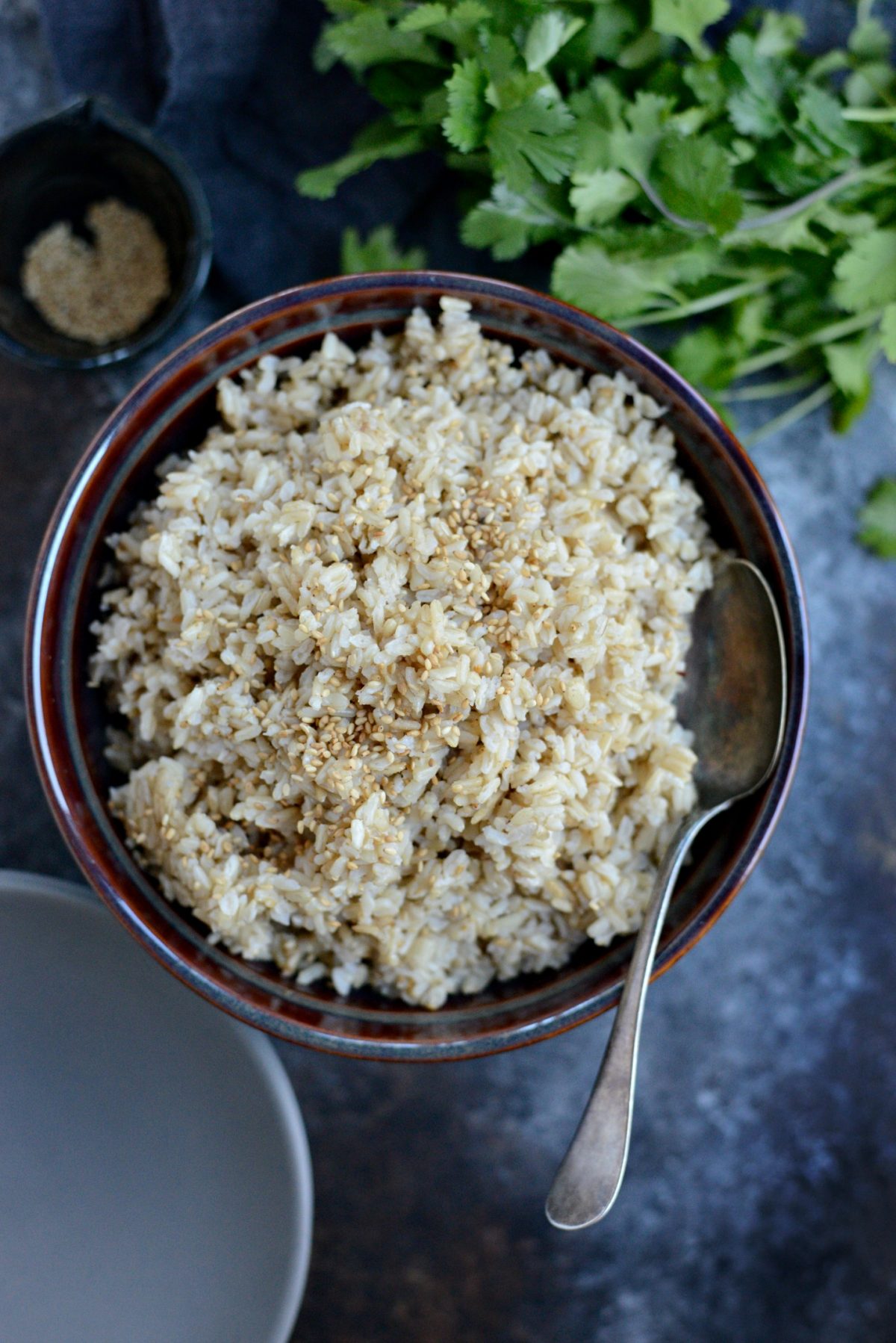 Well, most of us are with three out of four because Mal is still on the fence. Which is crazy because the girl loves her carbs and rice is one of the best ones too.
Being that rice tends to be bland, it leaves a lot of room to inject flavors. Whether it's through sauces, aromatic or spices. It's one of the most versatile ingredients and I probably make it 2 to 3 times a week.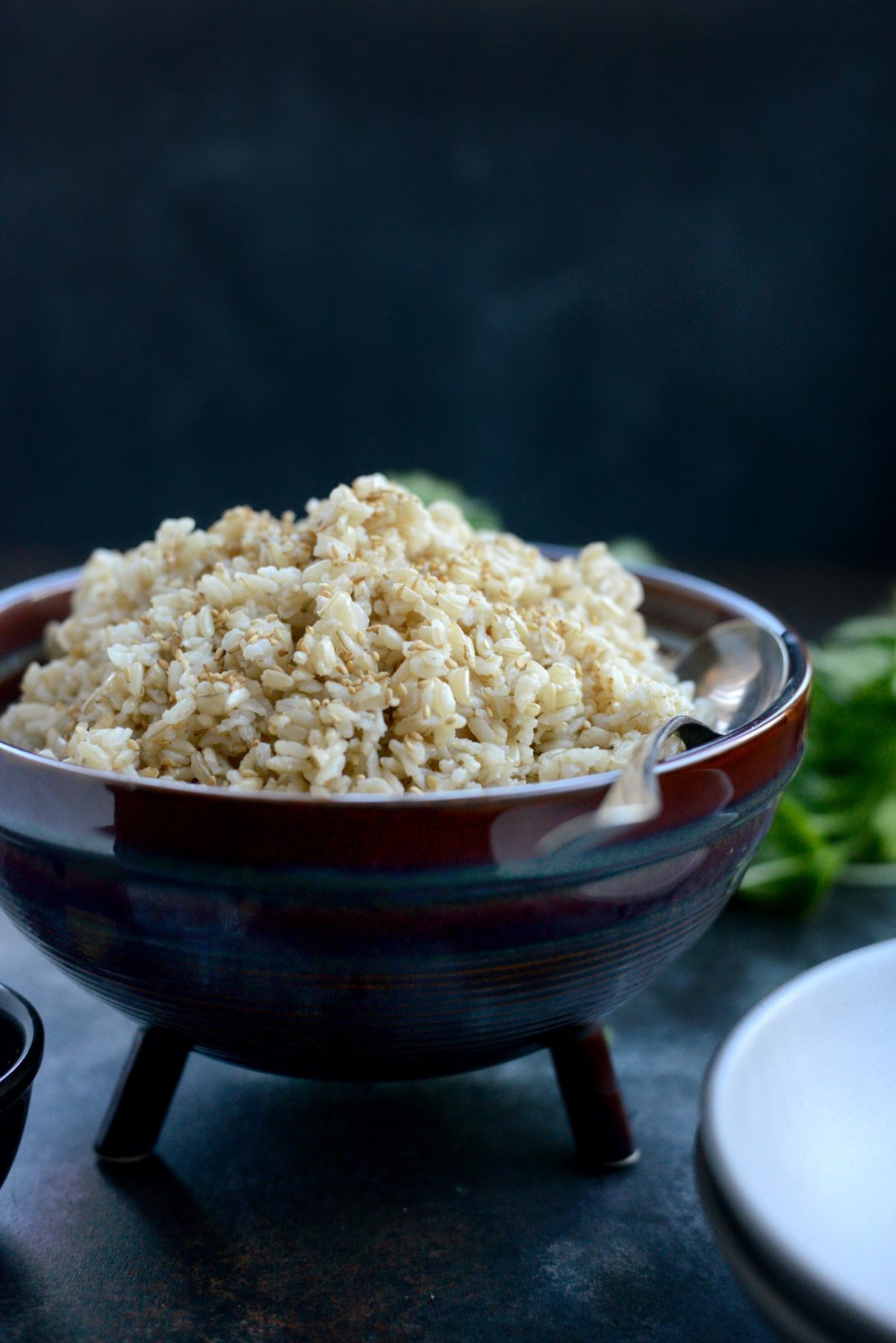 She claims that her only favorite rice is this recipe but then I made this ginger sesame brown rice and she claims it's second on her list. Ugh. I've never been more determined to make her love alltherice. It will happen. I will make it happen.
Feel free to use any rice you like. I'm switching things up by using a long grain brown rice. I love the texture and flavor, and I think it works pretty darn good with ginger and sesame.
Like all of my rice recipes, I make them in a rice cooker. Which is one of my all time favorite small kitchen appliances.
To start, measure and add 3 cups (using the cup that comes with the rice cooker which is equivalent to 3/4 of a cup) and add it into the rice cooker. Then add in sliced and crushed ginger root. And then a few generous pinches of kosher salt too.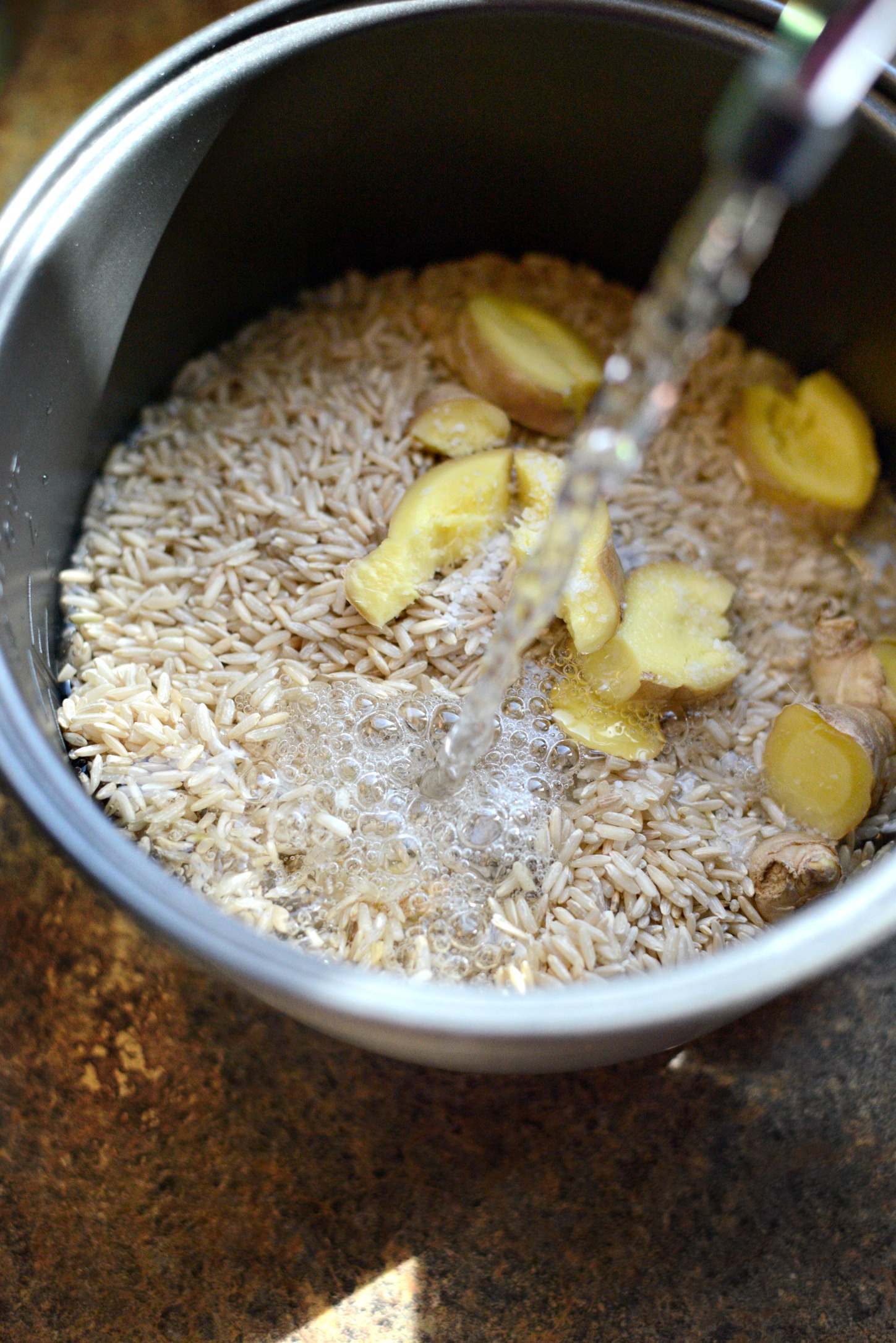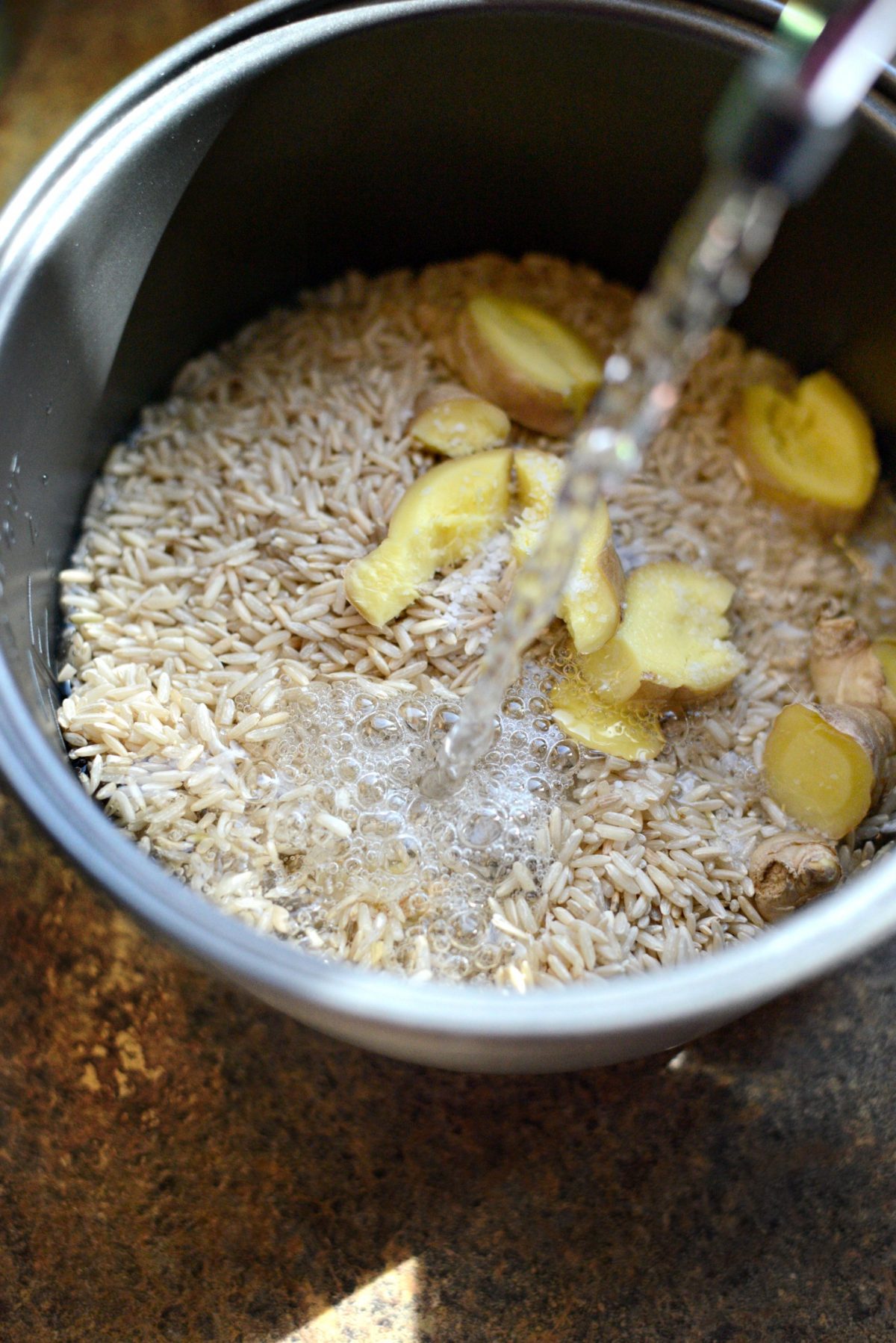 Next add in the water. For my brand of rice cooker, using 3 cups of rice has me filling up to the 3-cup water line. Which is marked on the inside of the pot.
Then give that a stir and set the pot into the rice cooker. Next plug in the rice cooker, turn it on and press the brown rice button. But follow the manufacturer directions that came with your rice cooker.
Next fluffy the cooked rice with a fork, removing all the ginger pieces. Next, drizzle in 1 tablespoon of toasted sesame oil and add in 2 to 3 tablespoons toasted sesame seeds. Stir, fluff and transfer to a serving bowl.
That's it my friends! Simple and bursting at the seams with flavor. You can serve this with just about anything, like as a side to grilled or broiled fish or shrimp kebabs, chicken or mixed into a vegetarian bowl of some sorts. It's a delicious way to jazz up plain old brown rice.In the next few days I will be sharing the scrumptious chicken recipe that I made for dinner to go with this ginger sesame rice. Stay tuned!
Enjoy! And if you give this Ginger Sesame Brown Rice recipe a try, let me know! Snap a photo and tag me on twitter or instagram!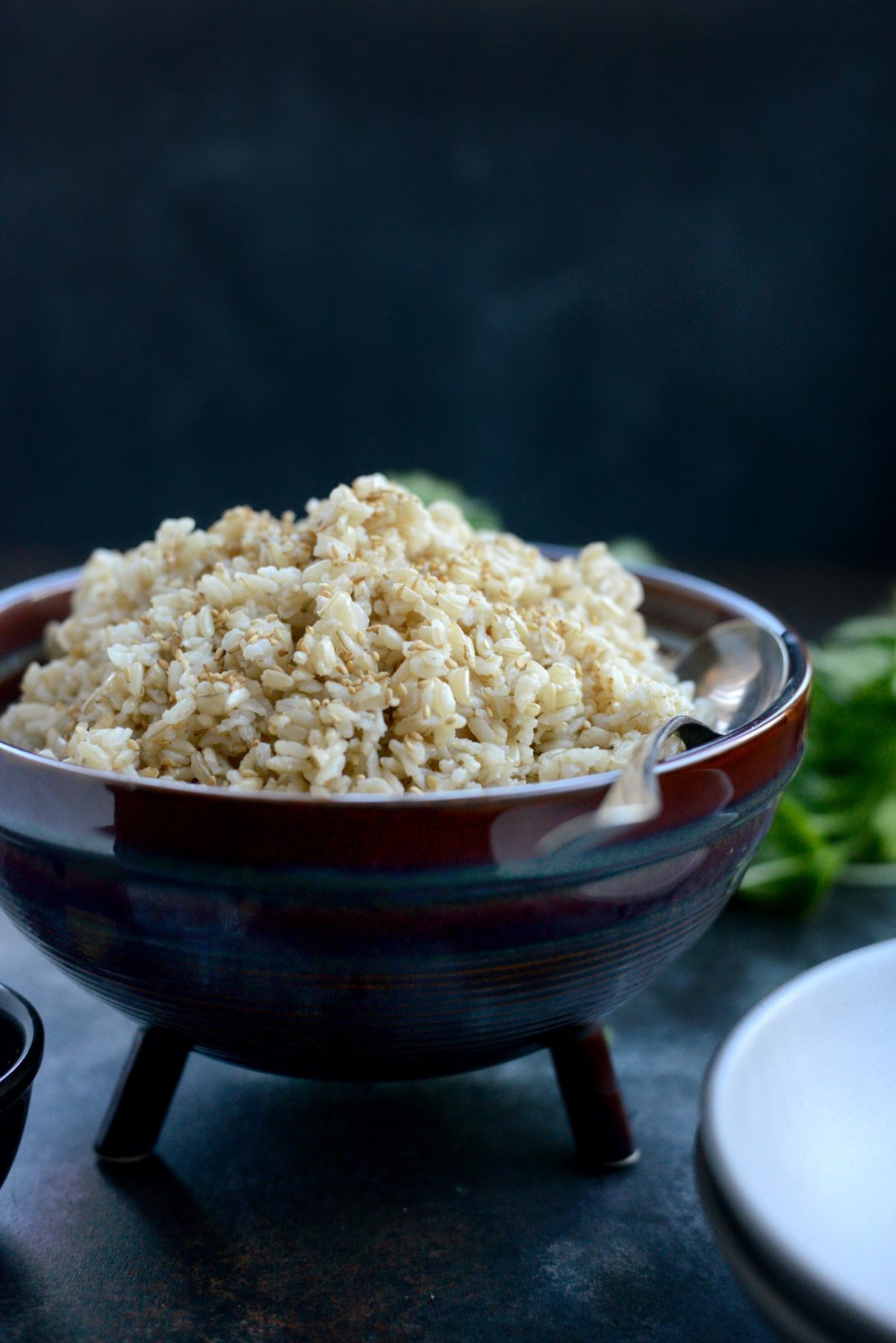 My cookbook Simply Scratch : 120 Wholesome Homemade Recipes Made Easy is now available! CLICK HERE for details and THANK YOU in advance!
Yield: 12 servings
Ginger Sesame Brown Rice
Ginger sesame rice; fresh ginger injects a ton of flavor while the rice cooks. Lastly fluff the rice and drizzle in toasted sesame oil and a sprinkle of toasted sesame seeds. Easy and pretty effortless.
Ingredients
3 cups brown rice
2 inch ginger root
1/2 teaspoon kosher salt
1 tablespoon sesame oil
2 to 3 teaspoons sesame seeds
cilantro, optional
Instructions
Place the brown rice into your rice cooker.

Slice the ginger root into coins and smash with the blunt handle of your chef's knife. Add the ginger to the pot plus the 1/2 teaspoon kosher salt.

Following the manufacturer instructions that came with your rice cooker, add the water and cook until the rice has absorbed all of the water and is fully cooked.

Fluff the rice with a fork, removing ALL of the ginger root pieces. Drizzle in the toasted sesame oil and mix in the toasted sesame seeds.

Taste, adding more salt as desired before transferring the rice to a serving bowl.

Serve with torn fresh cilantro if desired.
Calories: 185kcal, Carbohydrates: 36g, Protein: 4g, Fat: 3g, Saturated Fat: 1g, Polyunsaturated Fat: 1g, Monounsaturated Fat: 1g, Sodium: 99mg, Potassium: 134mg, Fiber: 2g, Sugar: 1g, Vitamin A: 1IU, Vitamin C: 1mg, Calcium: 19mg, Iron: 1mg
[this post contains affiliate links.]
This post may contain affiliate links.
Buy the Cookbook: Simply Scratch : 120 Wholesome Homemade Recipes Made Easy Now available on Amazon »
THANK YOU in advance for your support!