It doesn't get more flavorful than this Garlicky Fajita Shrimp Pasta! Seared fajita seasoned shrimp, peppers and onions, lots of garlic and pasta tossed together in a simple cream sauce. Serves 4 to 6 (depending) in about 40 minutes.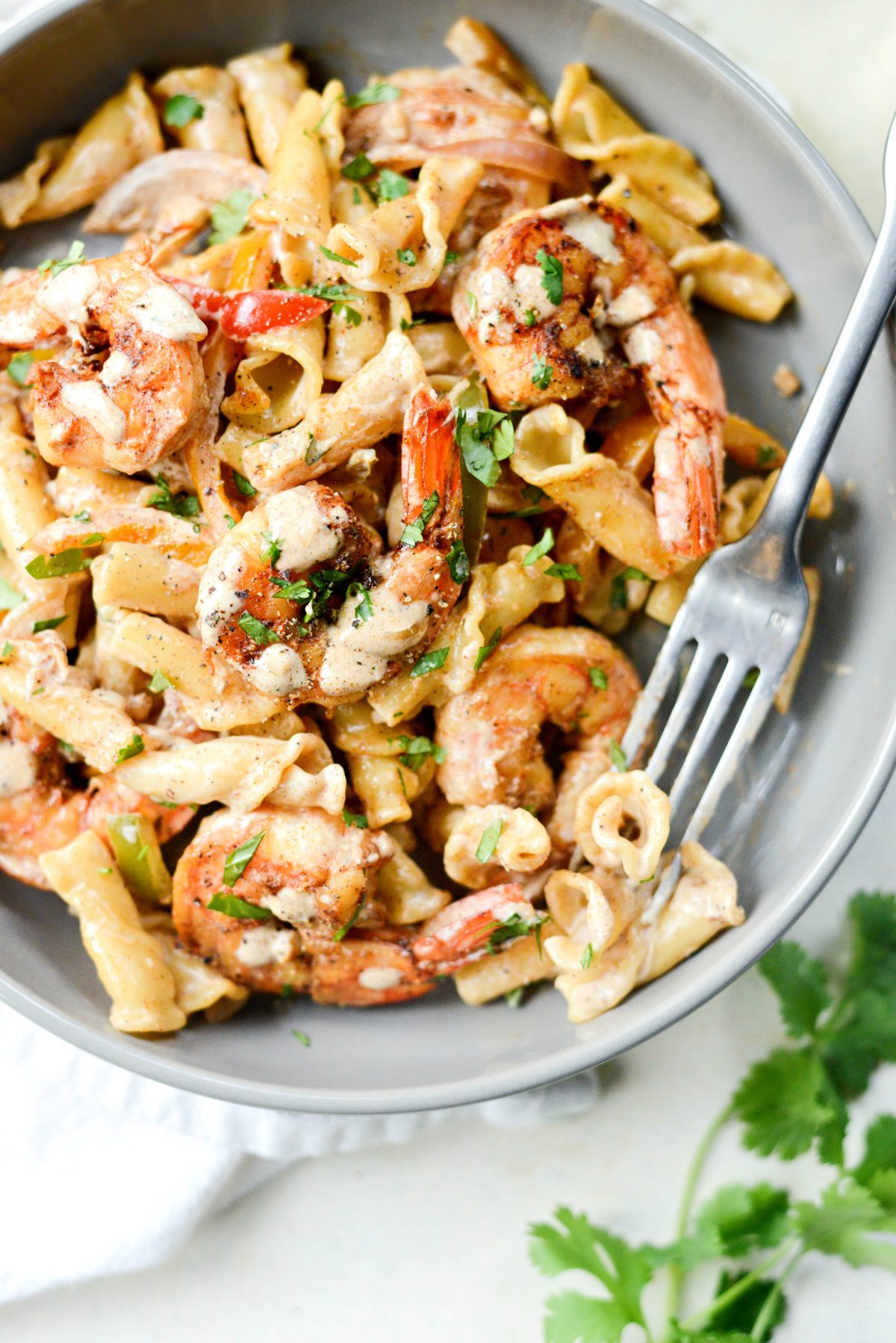 Love fajitas? Love pasta even more?
Well then this garlicky fajita shrimp pasta will fit the bill!
Inspired by this Cajun chicken pasta recipe, I set out to switch things up, by swapping in homemade fajita seasoning and used typical fajita vegetables you'd find on your sizzling platter, with the added bonus of lots of fresh garlic. Swimming in a simple cream sauce that's utterly and equally luscious and delicious.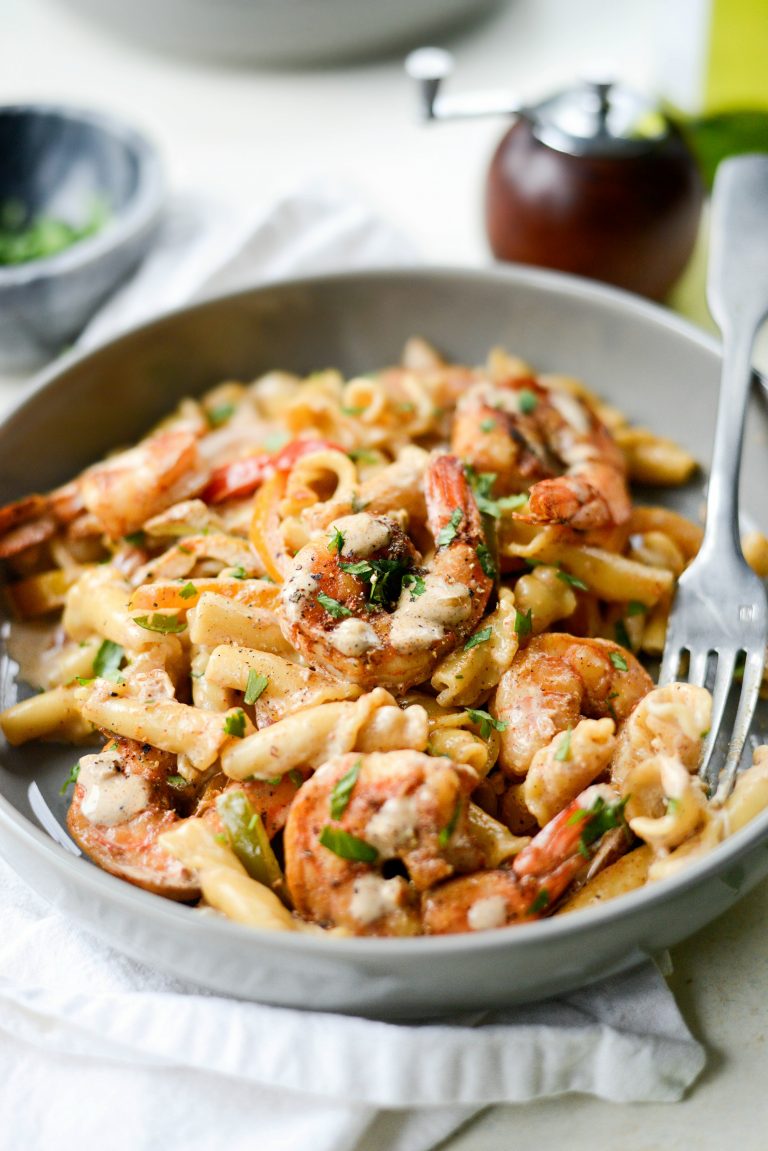 This pasta recipe is comfort food to the max and can be made any night of the week!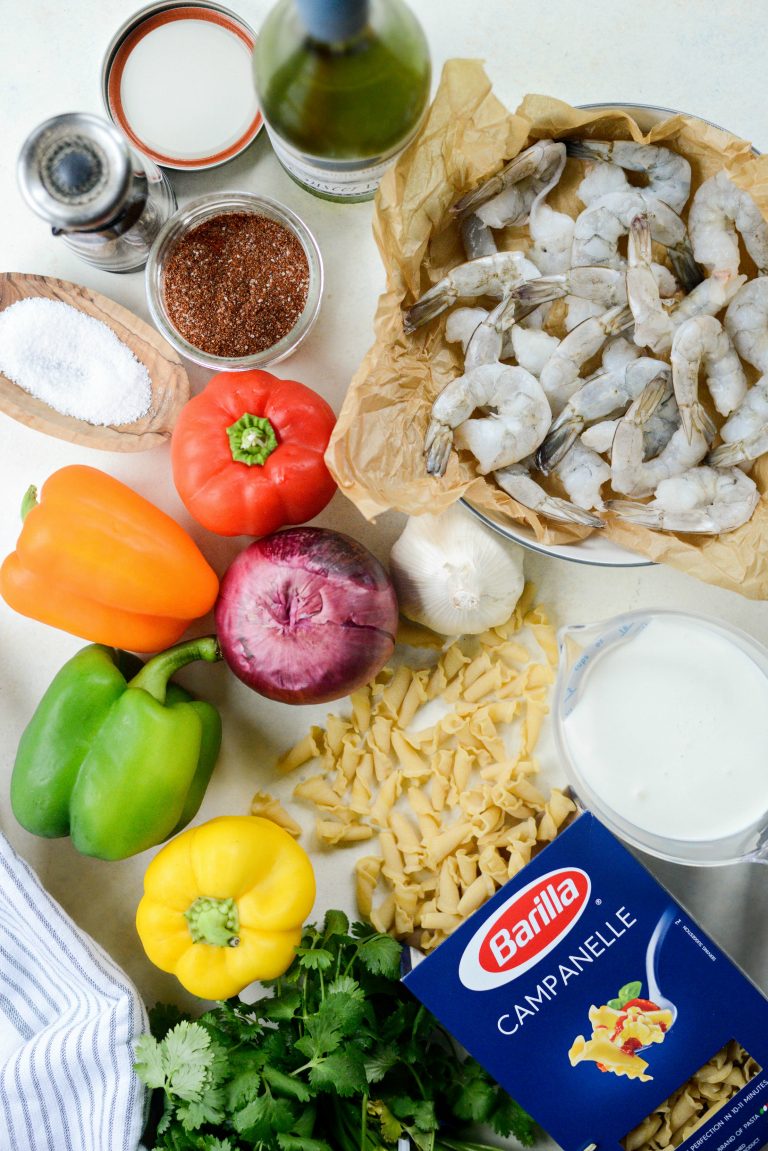 To Make This Garlicky Fajita Shrimp Pasta You Will Need:
campanelle (or another short pasta)
shelled and deveined shrimp (16/20 size)
homemade fajita seasoning (omitting the cornstarch)
olive oil
red onion
red, orange, yellow and green bell peppers
garlic
dry white wine (or substitute with chicken broth)
half & half
kosher salt
freshly ground black pepper
cilantro
grated parmesan, for serving
Start by bringing a large pot of water to boil. This takes about 20 to 25-ish minutes so I do this first. I add in the pasta at the same time I add in the garlic (for the recipe) because typically pasta cooks in 10 minutes.
A good reminder is that you want your skillet/sauce waiting on the pasta, not the pasta waiting for the sauce.
Doing so, the noodles will most likely be stuck together. SO start your pot of water first thing and then add the pasta once you're about 1/2 to 3/4 pound for this recipe.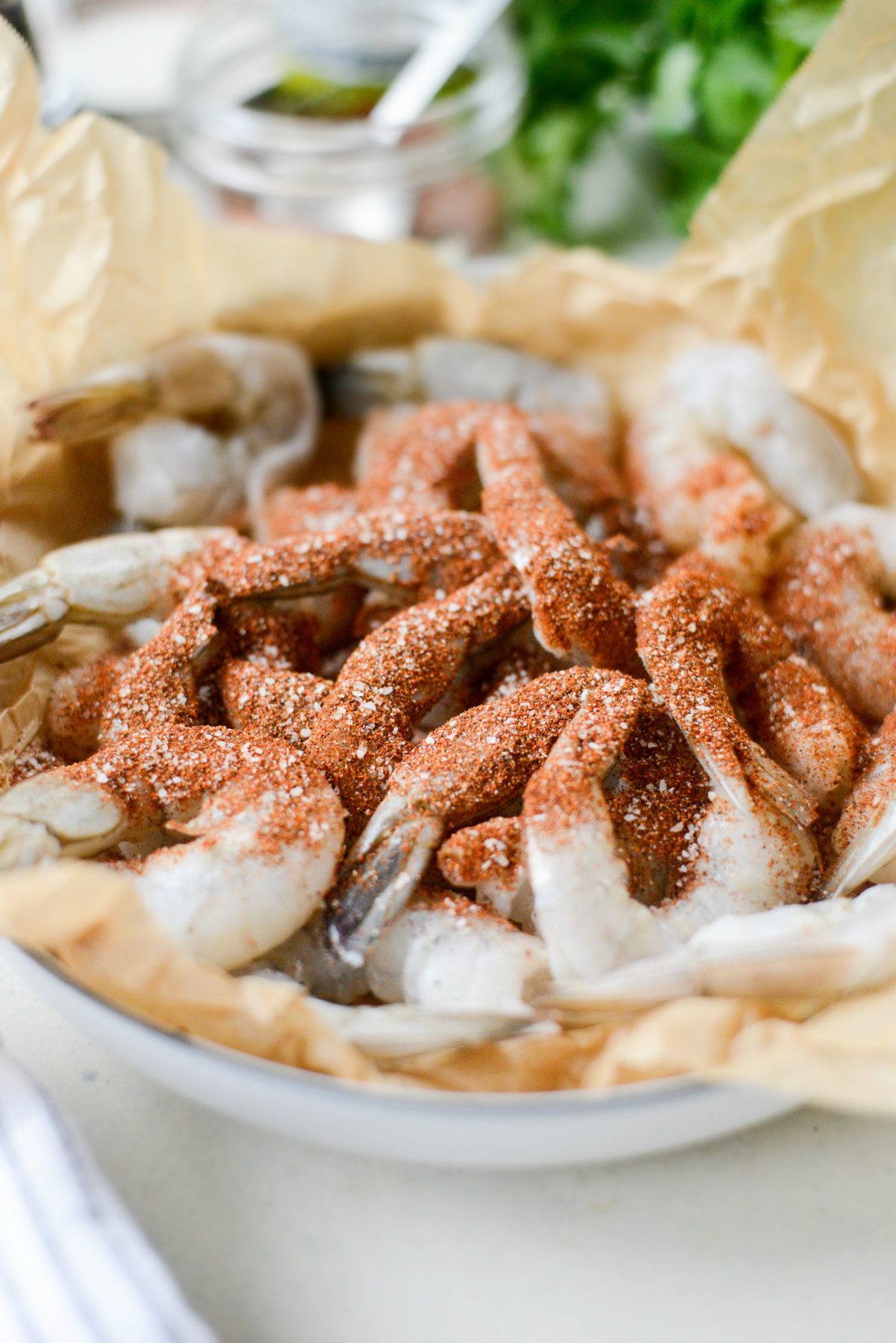 First toss pat dry 1 pound (16/20 size) of raw, peeled and deveined shrimp. Whether the tails are on or off is up to you. Season the shrimp with 2 tablespoons fajita seasoning.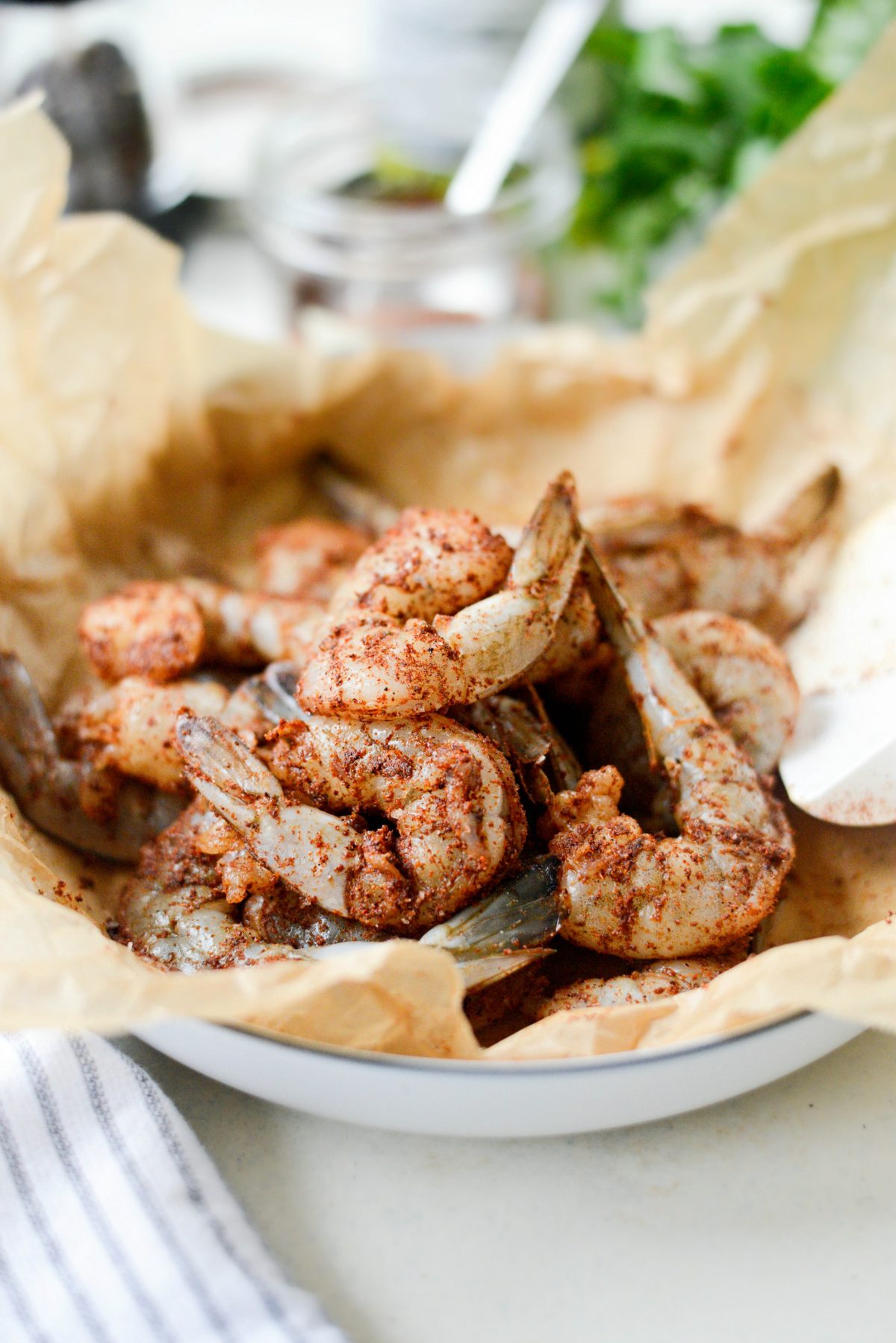 Toss well to coat.
Next, heat 2 teaspoons olive oil in a 10 or 12-inch deep-sided skillet over medium-high heat until the oil starts to shimmer <—that's how you will know it's hot. You can also (carefully) hover your hand over the center of the pan to check.
Add the shrimp in a single layer and allow to cook 1 to 2 minute or until they have a deep, rich color and can easily release from the pan.
Turn the shrimp and continue to cook an additional 1 to 2 minutes. Do not over cook.
Transfer the shrimp to a bowl or plate and set off to the side.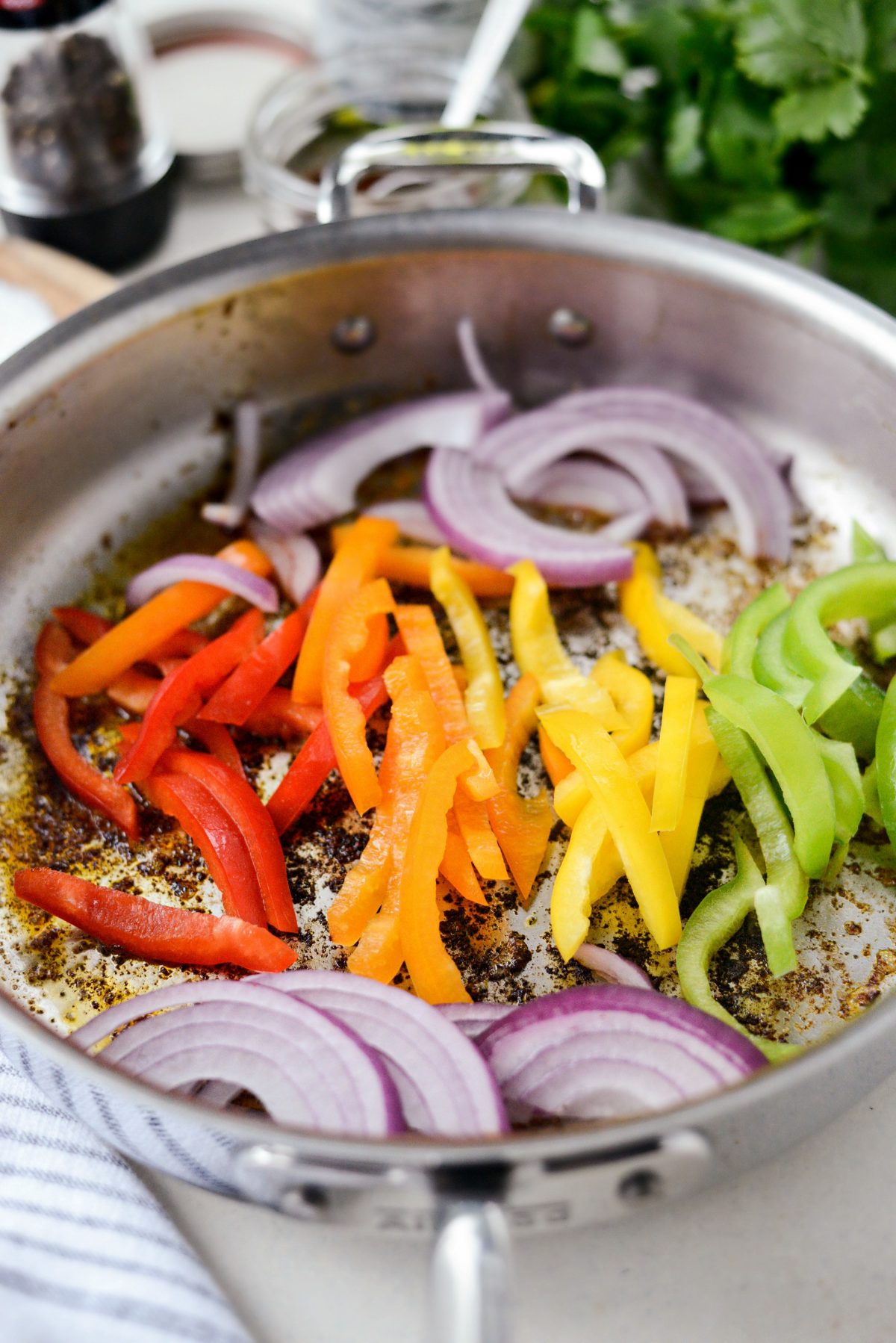 Reduce the heat to medium and add in 1 teaspoon oil or as needed and add 1/2 a medium sliced red onion and 1/4 cup each sliced red, orange, yellow and green bell peppers.
Toss to coat and cook until just starting to get tender. You want firm yet tender not mushy peppers,
Then add in 4 large cloves of minced fresh garlic.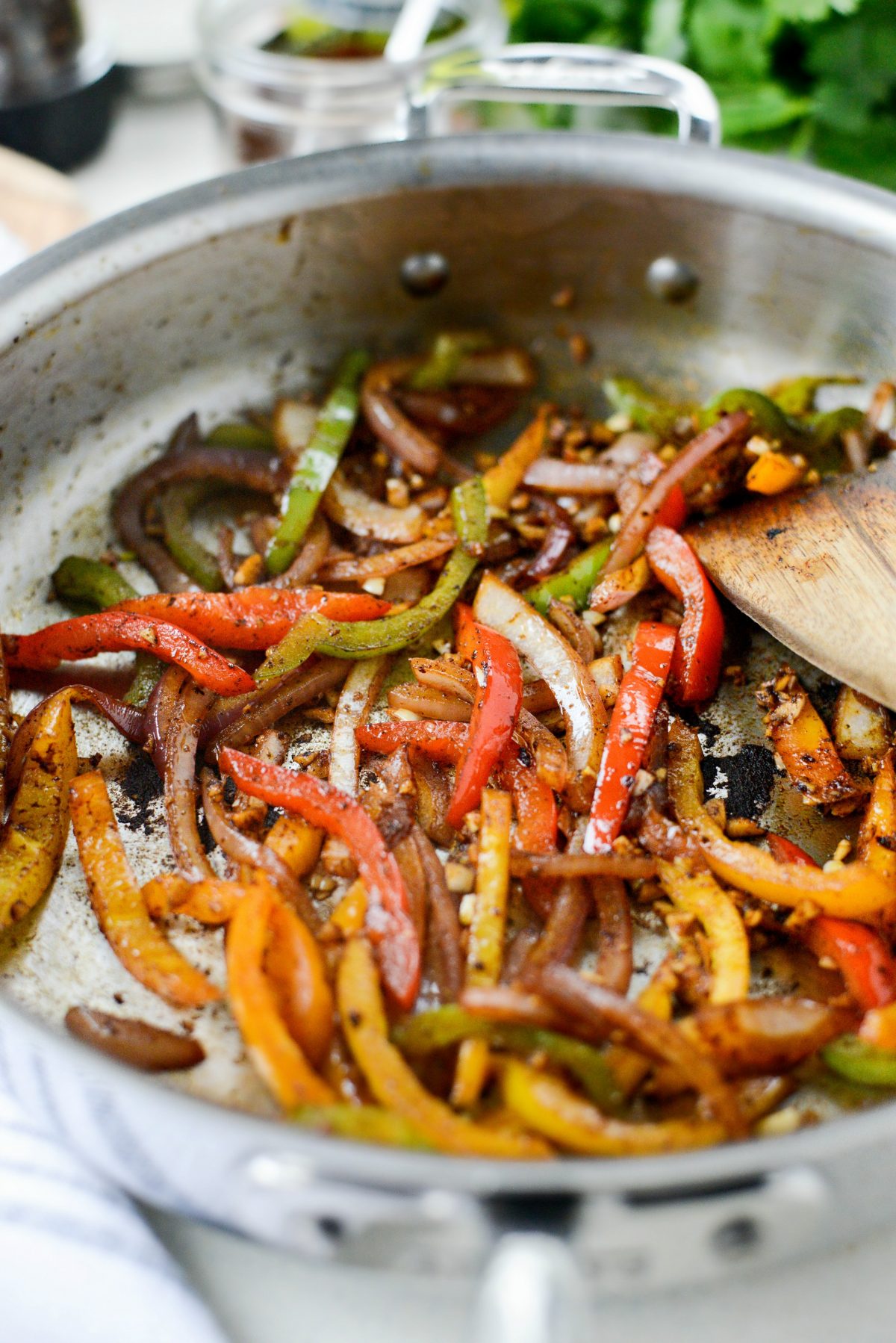 Stir and cook for only 1 to 2 minutes.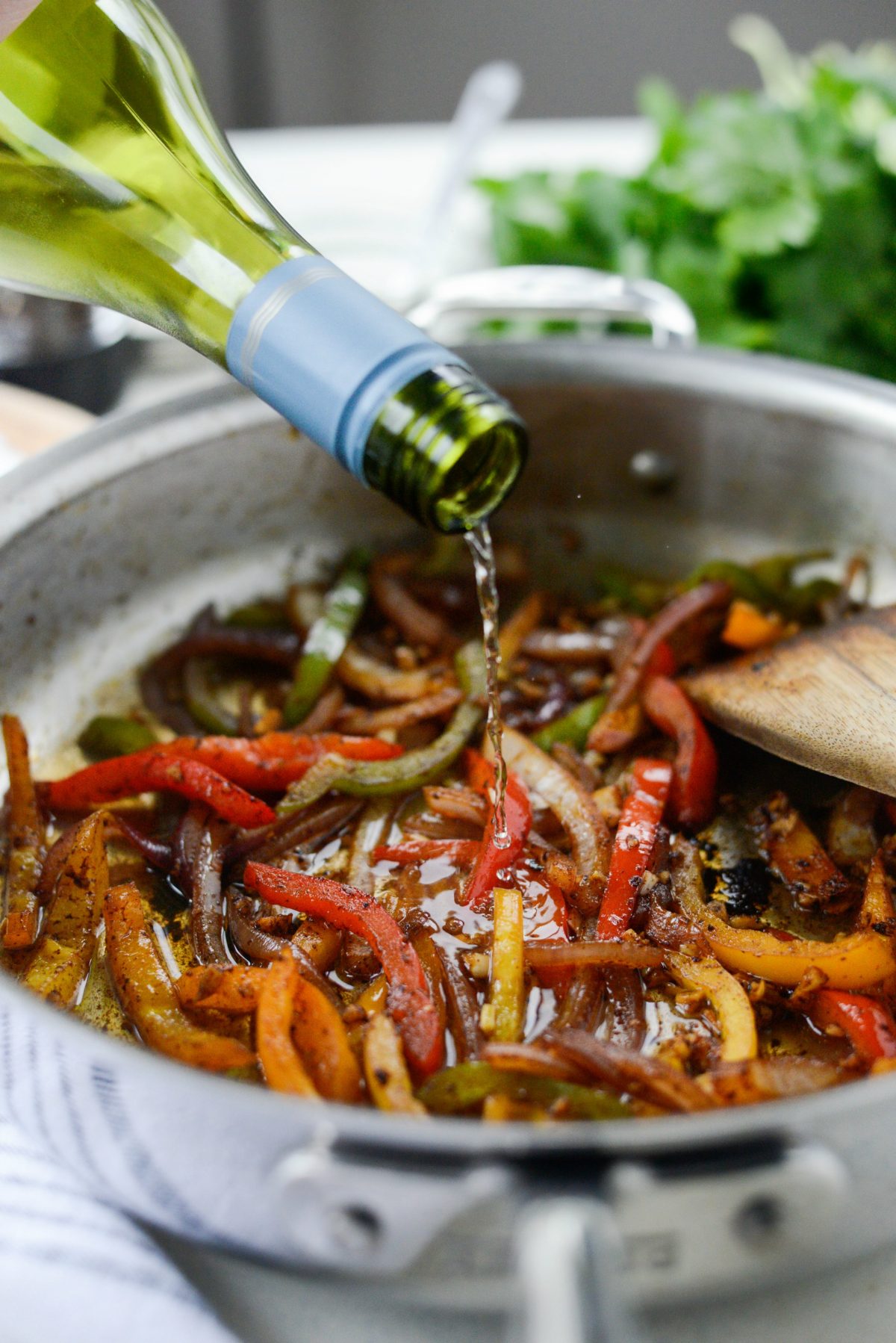 Increase the heat to medium-high and pour in the 1/4 cup of dry white wine, or chicken broth if wanting to avoid alcohol.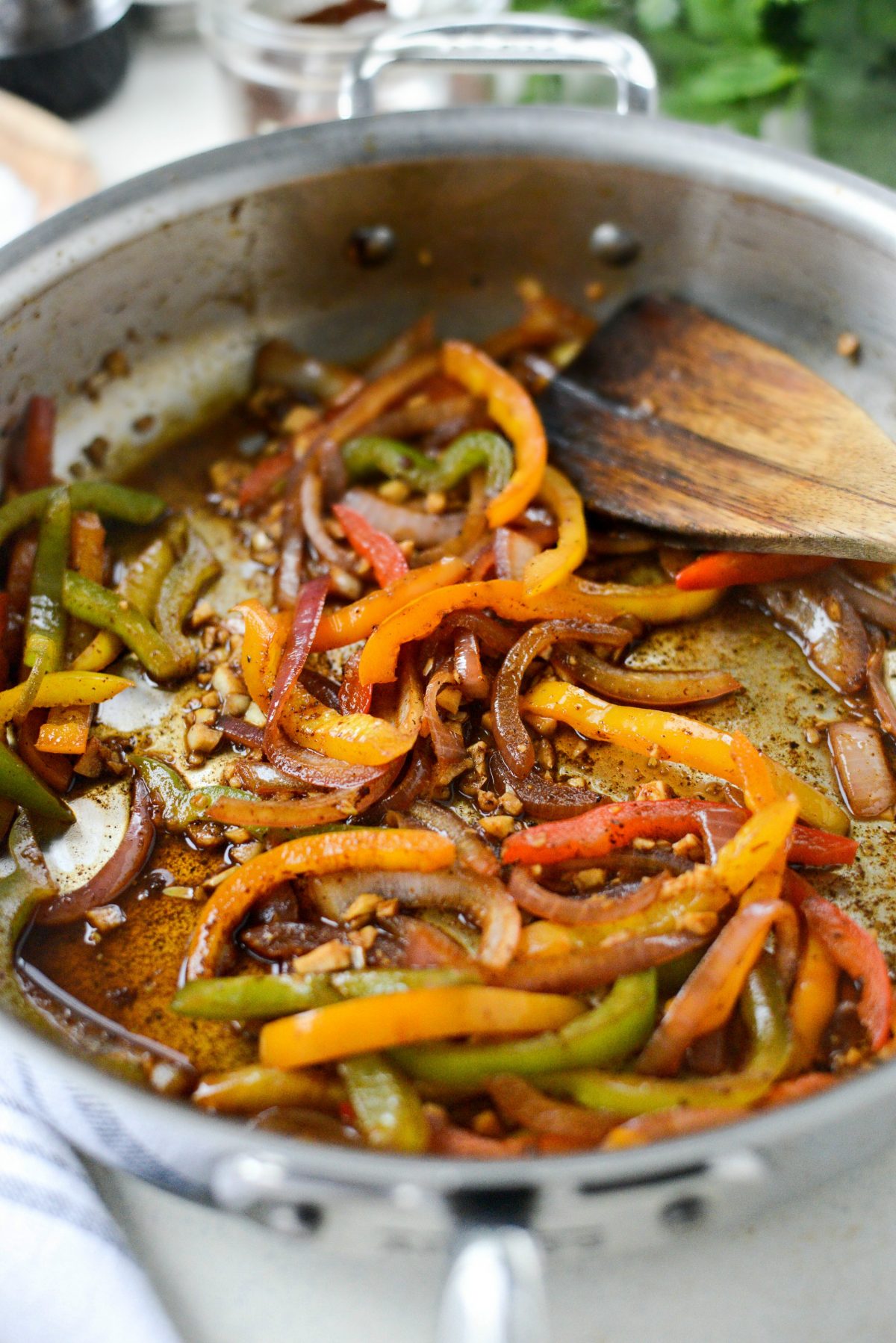 Stir, scraping up those delicious browned bits on the bottom of the pan.
That is where lots of flavor is at!
Once the wine has reduced to roughly a tablespoon, stir in 1-1/2 cups of half & half.
Bring to a slow bubble or simmer until the cream sauce has thickened slightly.
Lastly, add in the pasta, shrimp.
and toss to combine. Taste test and season with kosher salt and freshly ground black pepper to taste.
Serve in a shallow dish or bowl and top with chopped fresh cilantro.
Quick and simple yet SO extremely flavorful! Everything you love about fajitas but in pasta form! My family devoured this! I served it with crusty bread and at the last minute I decided to sprinkle my bowl with a little Parmesan cheese.
Not really a fajita topping, but oh my goodness it was perfection.
SO delicious in fact that everyone's bowl was gone in minutes and wiped clean (because, bread!). The flavors of the fajita shrimp, veggies and that garlicky pasta sauce was the perfect combination!
Side note:
Because I made this in the earlier in the day, I knew I would be reheating it for dinner. When I do this, I remember to reserve a cup of the starchy pasta water so I can add it in while reheating my leftovers. Doing this is an easy way to bring your pasta sauce back to life. I pour the pasta water into a container (with a lid) and store in the fridge. Alternatively, a few splashes of chicken or vegetable broth could be used.
To reheat the pasta, I added the container of "leftovers" back into a large skillet with a little pasta water, covered it with a lid and reheated it slowly until hot.
Prepare to fall in love, my friends!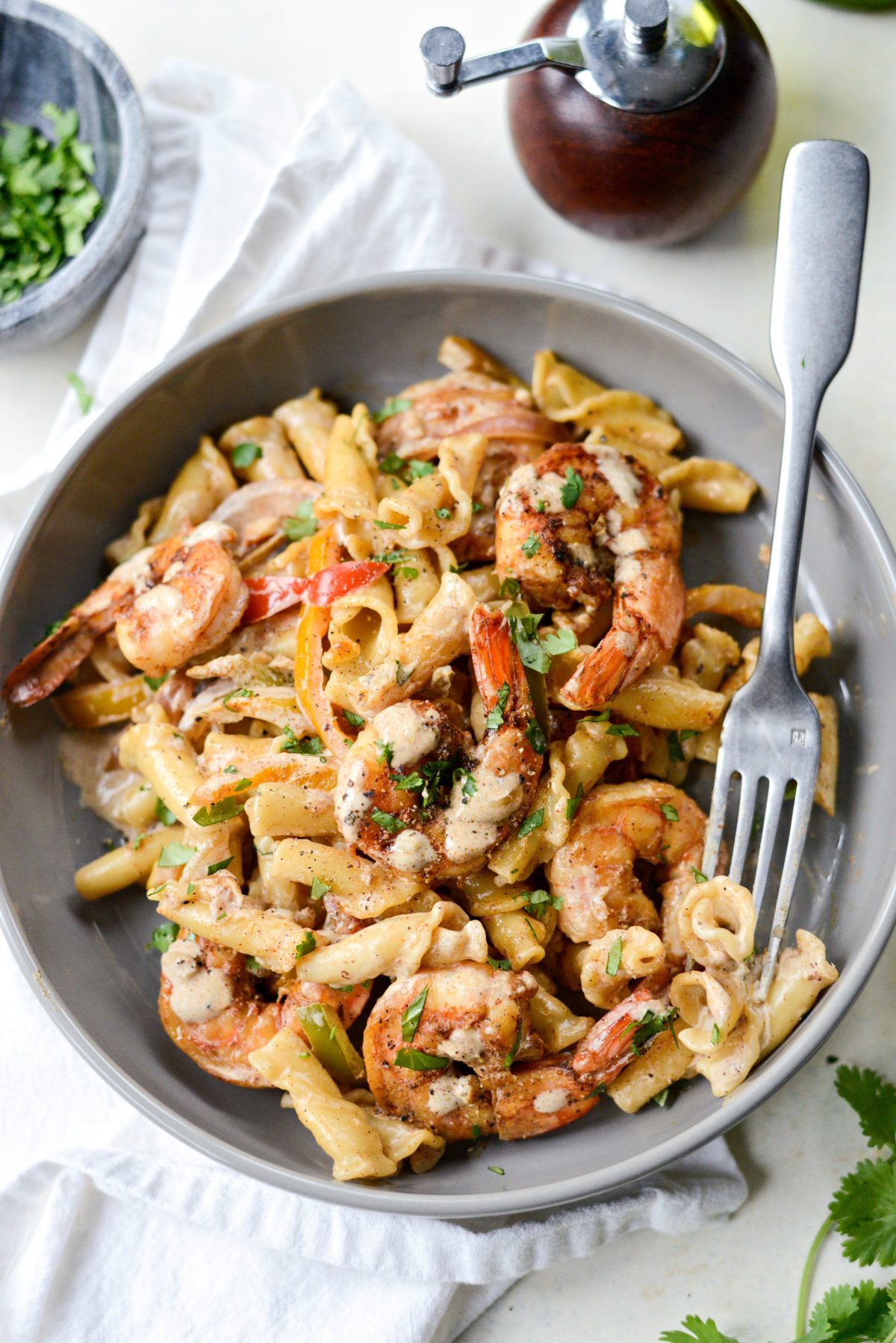 Enjoy! And if you give this Garlicky Fajita Shrimp Pasta recipe a try, let me know! Snap a photo and tag me on twitter or instagram!
Yield: 4 people
Garlicky Fajita Shrimp Pasta
It doesn't get more flavorful than this Garlicky Fajita Shrimp Pasta! Seared fajita seasoned shrimp, peppers and onions, lots of garlic and pasta tossed together in a simple cream sauce. Serves 4 to 6 (depending) in about 40 minutes.
Ingredients
12 ounces campanelle pasta, or other short pasta
1 pound shelled and de-veined raw shrimp, 16/20, tails on or off and thawed if frozen
2 tablespoons homemade fajita seasoning
3 teaspoon olive oil, divided
1/2 medium red onion, sliced
1/4 cup red bell pepper, sliced
1/4 cup orange bell pepper, sliced
1/4 cup yellow bell pepper, sliced
1/4 cup green bell pepper, sliced
4 large garlic cloves, minced
1/4 cup dry white wine, like sauvignon blanc or chardonnay
1½ cups half & half, or sub with 3/4 cup each heavy cream and whole milk
kosher salt, to taste
freshly ground black pepper, to taste
cilantro, for serving
grated Parmesan cheese, for serving
Instructions
Bring a large part of water to boil. Once boiling add in a palmful of sea salt and then add in the pasta. I like to drop in the pasta around the same time the garlic goes in to the skillet, so the pasta is ready at the right moment and doesn't have to wait. Follow the package directions cooking until al dente. Reserve a cup of pasta water if wanting to reheat later, otherwise drain the pasta before adding to the recipe.

In the meantime, toss the shrimp with fajita seasoning until evenly coated.

Heat 2 teaspoons of olive oil in a large, deep-sided skillet. Once hot, add the shrimp in an even layer. Cook for 1 to 2 minutes before turning and continuing to cook 1 to 2 minutes more. Transfer the seared shrimp to a clean bowl or plate and set off to the side.

Next add the remaining olive oil and add in the sliced onion and peppers with a pinch of salt. Toss and cook about 5 minutes. The peppers should be just starting to turn a little tender yet still firm. Add in the garlic and cook for an additional minute. (this is when I would suggest adding the pasta into the boiling salted water).

To the skillet, pour in the wine and cook until reduced to 1 tablespoon. Stir in the half and half and bring to a simmer until slightly thickened. Once the past is al dente, add it along with the shrimp to the skillet. Gently toss to combine, taste and season with kosher salt and black pepper to your preference.

Serve with chopped fresh cilantro and freshly grated parmesan cheese if desired!
Serving: 1serving, Calories: 582kcal, Carbohydrates: 75g, Protein: 30g, Fat: 16g, Saturated Fat: 7g, Polyunsaturated Fat: 1g, Monounsaturated Fat: 5g, Trans Fat: 0.01g, Cholesterol: 175mg, Sodium: 905mg, Potassium: 556mg, Fiber: 4g, Sugar: 9g, Vitamin A: 1162IU, Vitamin C: 51mg, Calcium: 189mg, Iron: 2mg
This post may contain affiliate links.
Buy the Cookbook: Simply Scratch : 120 Wholesome Homemade Recipes Made Easy Now available on Amazon »
THANK YOU in advance for your support!