This classic homemade broccoli casserole using homemade cream of mushroom soup, fresh broccoli and topped with toasted, hand-torn pieces of sourdough bread.
I can't stop thinking about this from scratch version of broccoli casserole and its cheese strings.
On my side of the family, broccoli casserole is a staple holiday side dish. Whether it's served with turkey, ham or roast chicken, this casserole is a crowd-pleaser. My kids love it = you will love it.
Since last fall was dedicated primarily to writing and photographing my cookbook [affiliate], I kind of fell off the wagon when it came to posting holiday recipes. Not this year! So I busted out the (other) book. I was in the middle of my room, flipping through my three-ring binder titled "Our Family's Book of Treasured Recipes" that my mom gave all us girls, when I stumbled upon a recipe for homemade broccoli casserole. After checking out the ingredients, I then decided to scratch-ify it… more.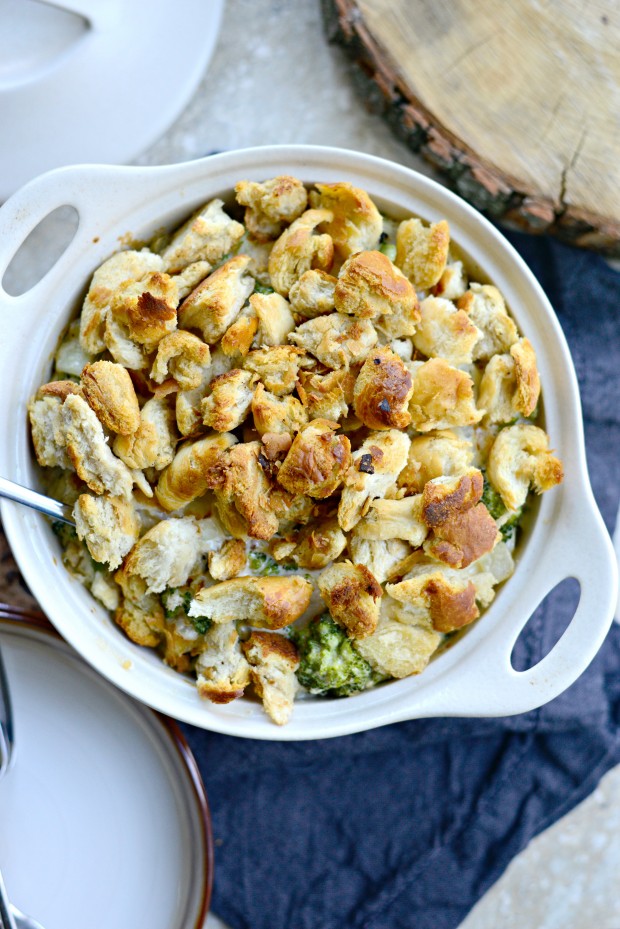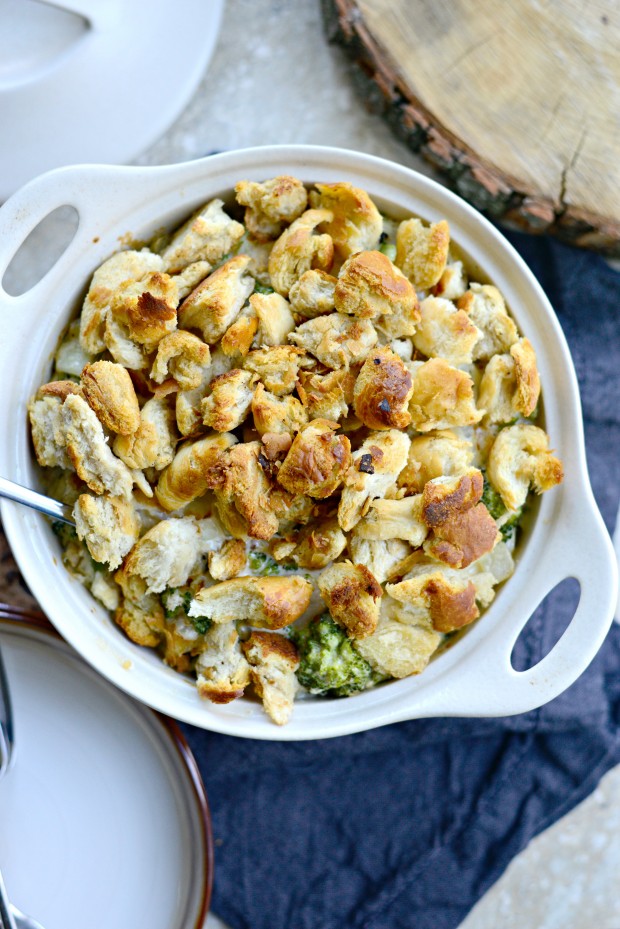 In this recipe I've swapped out the canned cream of mushroom soup for my homemade version. I'm also using fresh broccoli, this way I can eliminate the frozen bag kind that typically consists of more stems than florets, amiright? I've also done away with the breadcrumb topping and swapped it with hand-torn, pan-toasted sourdough croutons.
Now, not all broccoli casseroles call for breadcrumbs, some are topped with crackers or stuffing even. My mom went the breadcrumb route, and while I love her casserole, I wasn't the biggest fan of the breadcrumb topping. To me it was too dry and dusty and lacked any substantiality. I'm loving the buttery torn bread topping! It's pretty outstanding.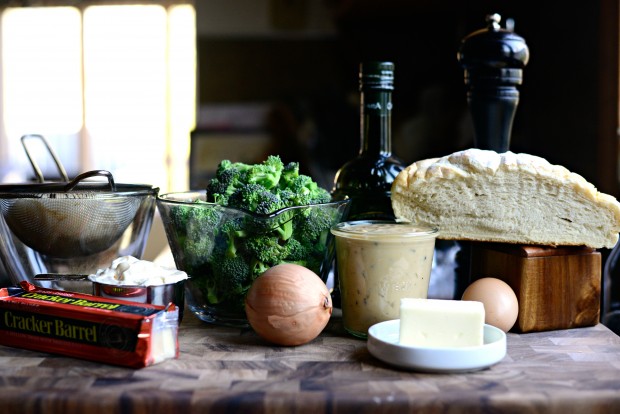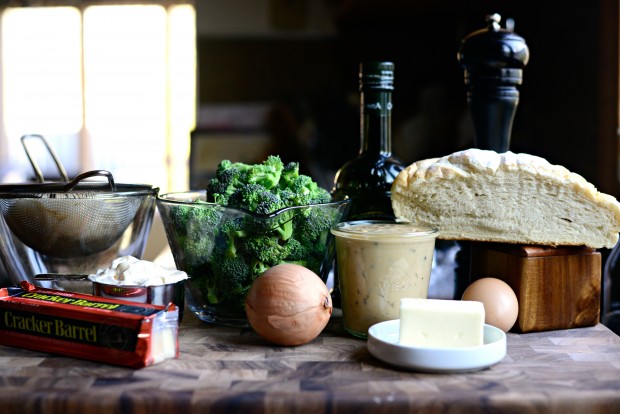 Gather all the ingredients and let's rock.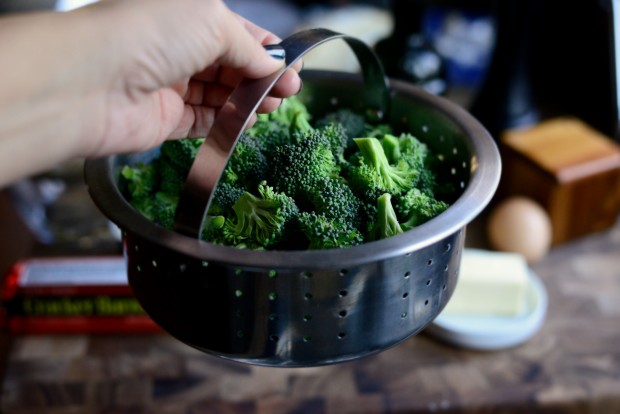 Place 12 ounces of broccoli florets into a steamer basket.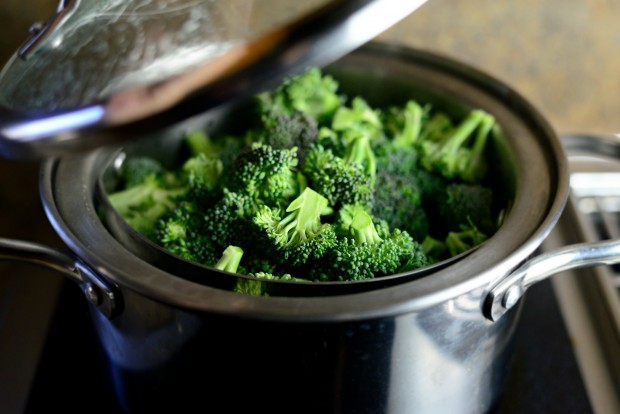 Set it into the pot over simmering water.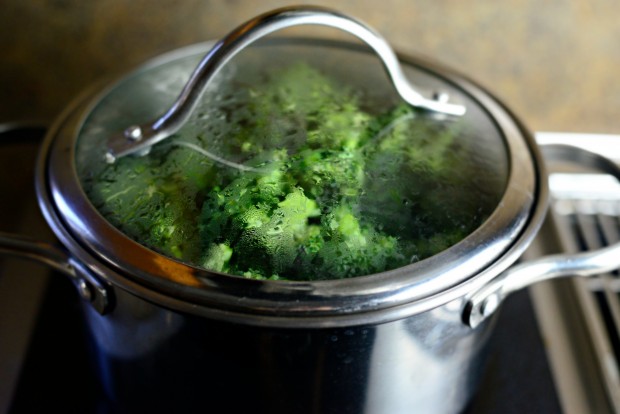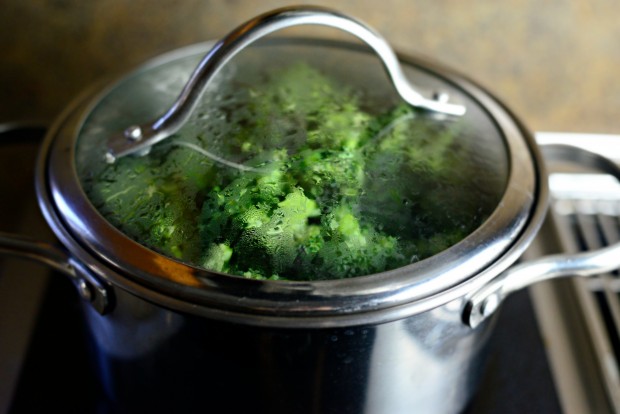 Cover and steam for 10 minutes.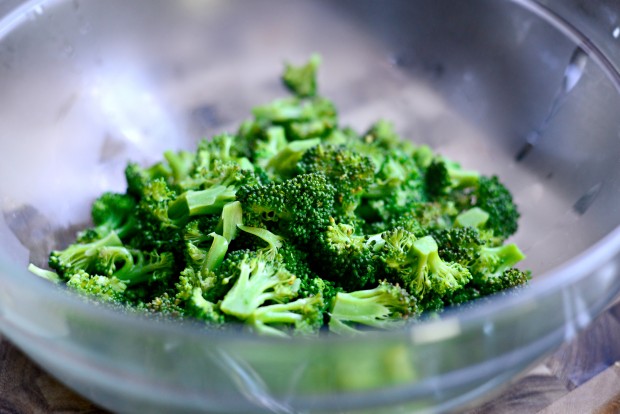 Transfer the steamed broccoli to a large bowl to cool slightly.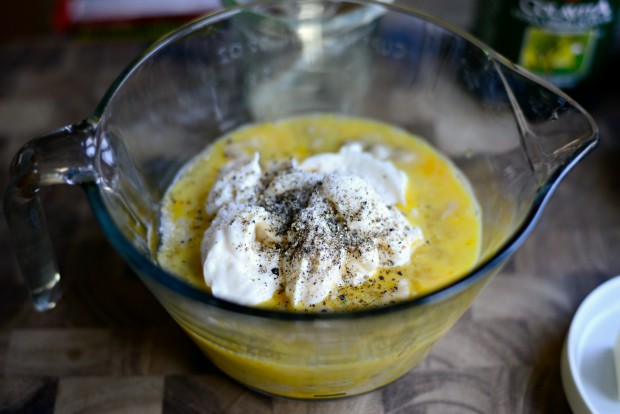 Meanwhile, in a large bowl or liquid measuring cup; lightly beat the egg and add in the homemade cream of mushroom soup, mayonnaise, 1/2 teaspoon kosher salt and 1/4 teaspoon freshly ground black pepper.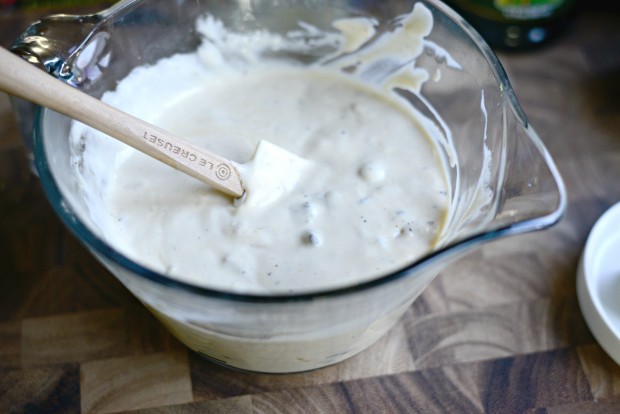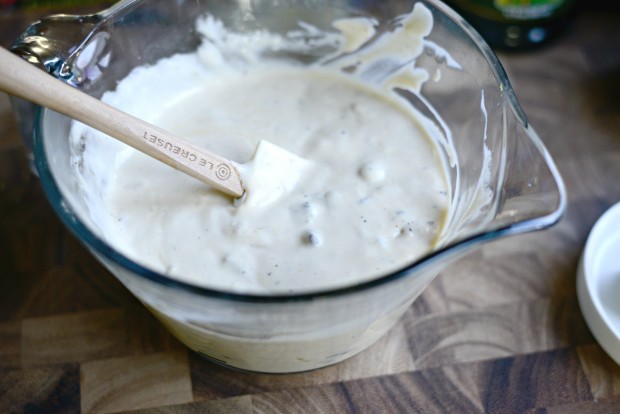 Give that a stir and scoot off to the side.
In a deep-sided, 10-inch skillet melt a tablespoon of butter and add in 3/4 cup of diced yellow onion and a small pinch of salt.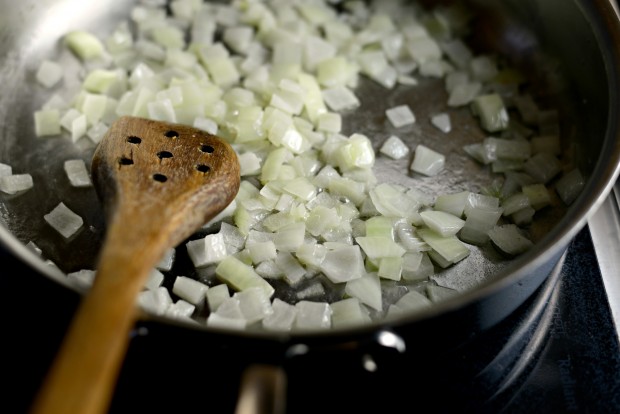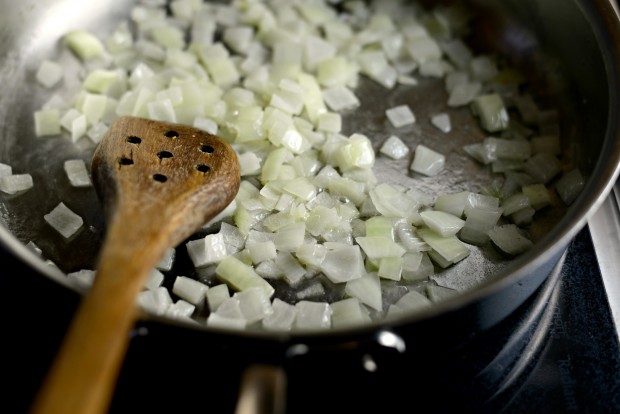 Saute for 5-8 minutes or until the onions are soft and translucent.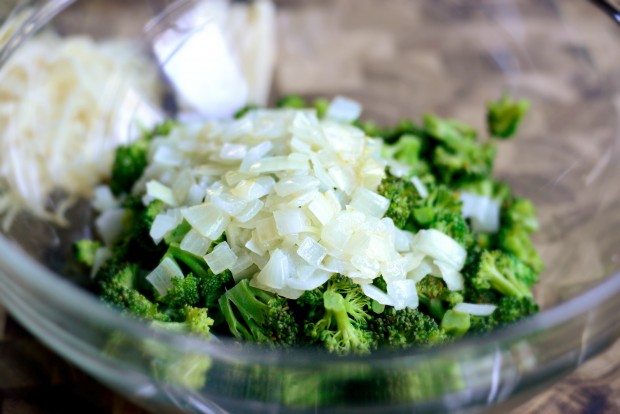 Scrape the softened onions into the bowl with the broccoli.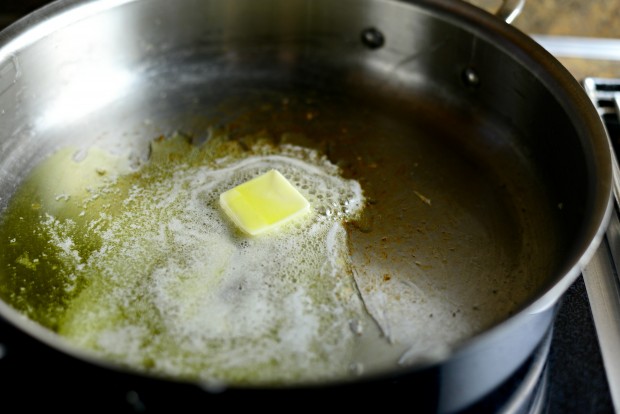 Melt 1-1/2 tablespoons of butter and 1 tablespoon of olive oil into the pan that cooked the onions.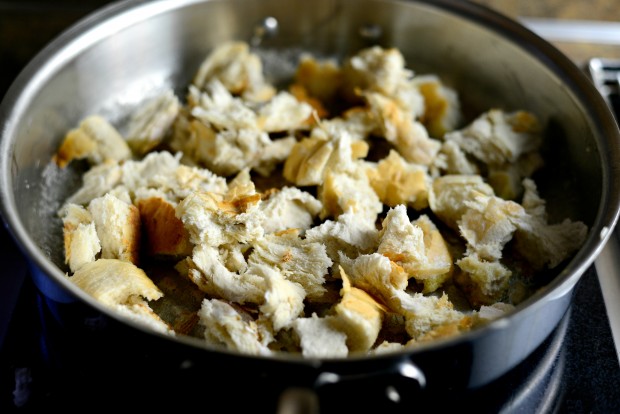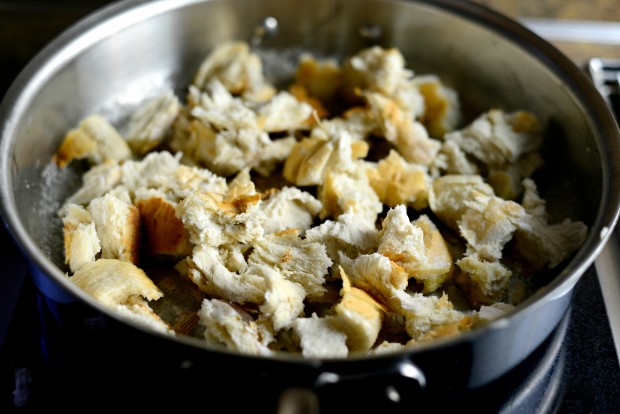 Toss in the torn bread pieces of sourdough and toss to coat in the butter/olive oil. My bakery sells this super soft sourdough which works lovely as the topping to this homemade broccoli casserole.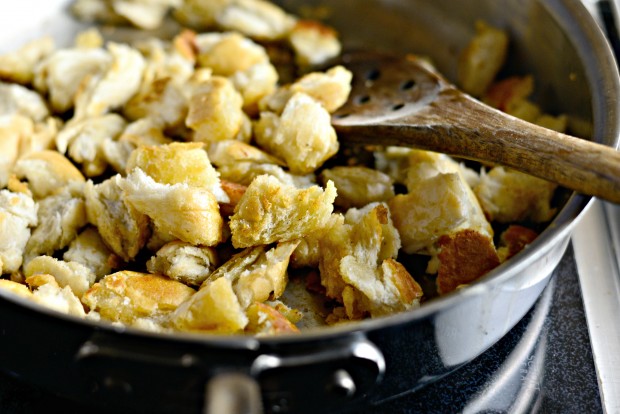 Cook for 3 to 4 minutes or until the bread pieces are lightly toasted and a light golden brown. Remove off of the heat.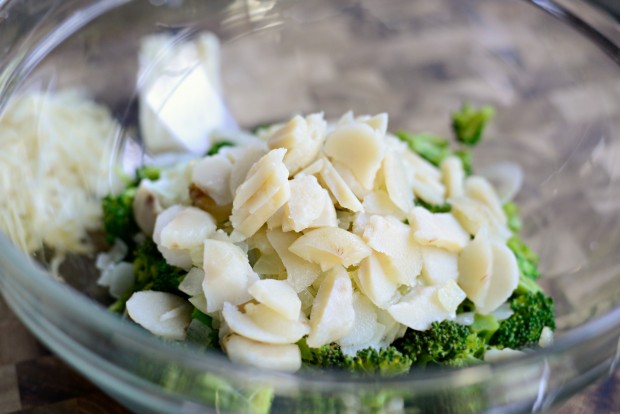 Here is where I add 1/3 cup chopped water chestnuts. My mother has always added them to her casserole, and I wanted to stick as close to her recipe as possible- BUT… I probably will omit them the next time I make this. While I love water chestnuts… I'm not a fan of them in this casserole. They add some crunch but I found I picked them out and scooted them to the edge of my plate. You may very well like them, but this is an optional ingredient in my book.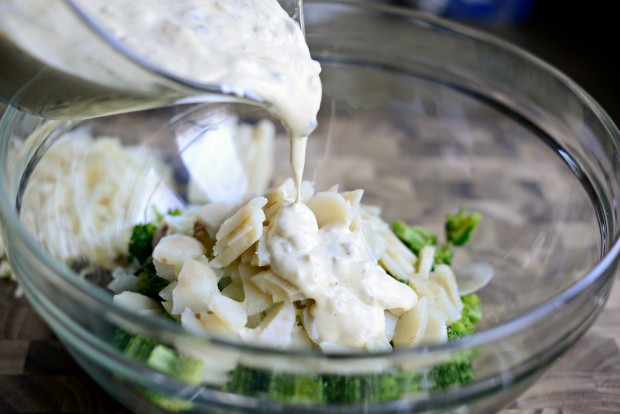 Pour in the egg/cream of mushroom soup mmixture…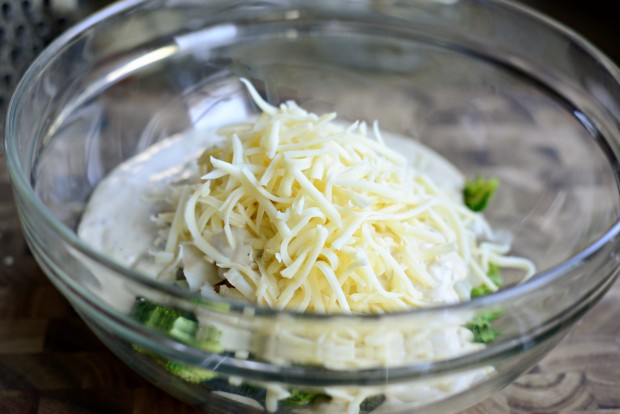 Add in a heaping cup of grated baby swiss cheese.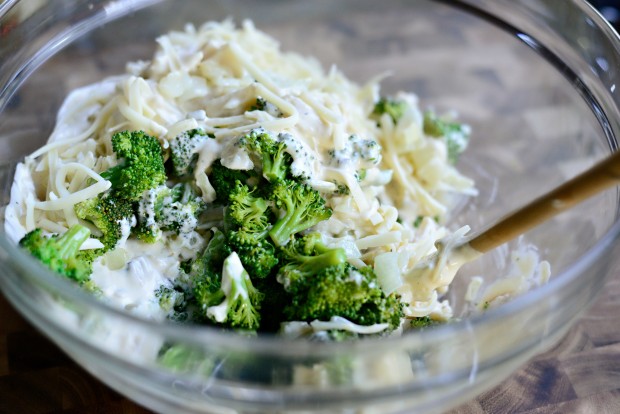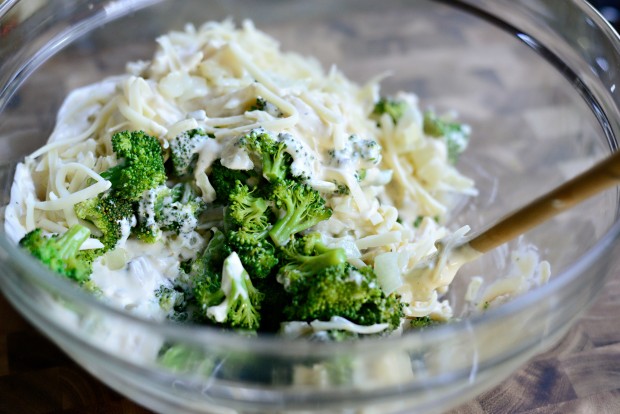 Stir…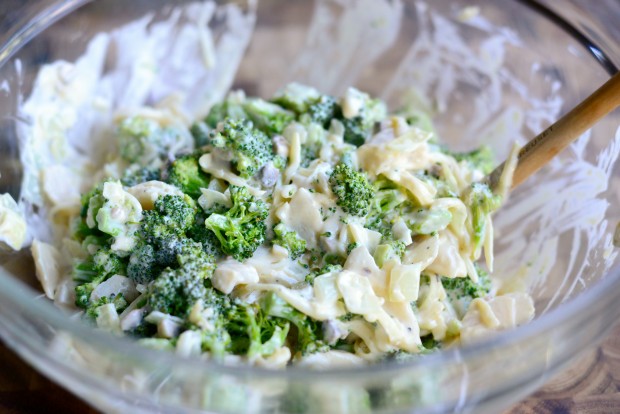 YUM.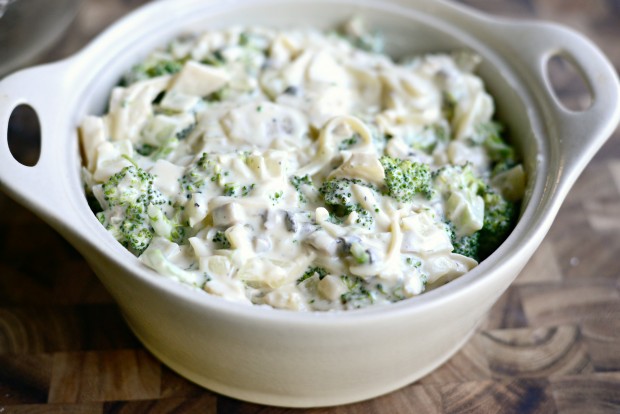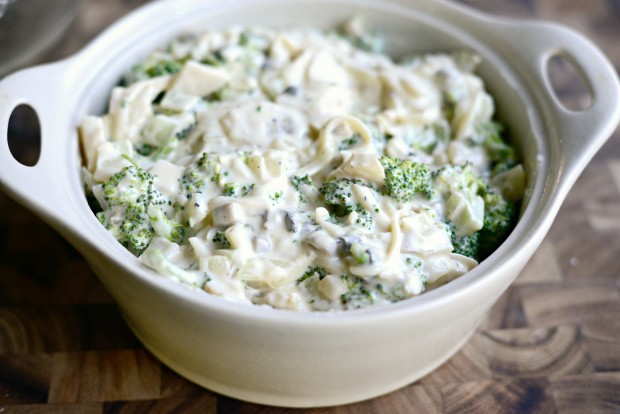 Fill a 1-1/2 to 2 quart baking dish with the broccoli mixture…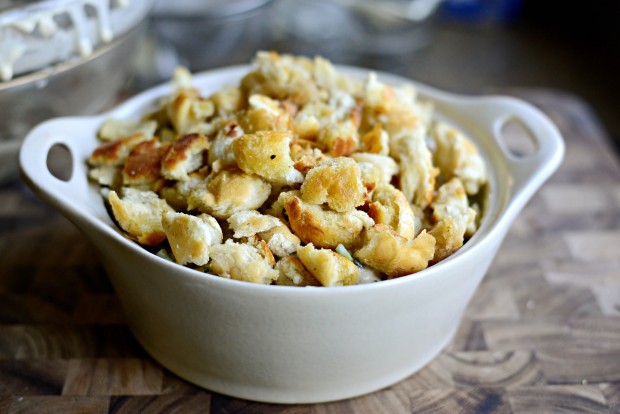 Top with the toasted, torn bread croutons and bake, in the lower third of your oven, for 30 minute or until bubbly.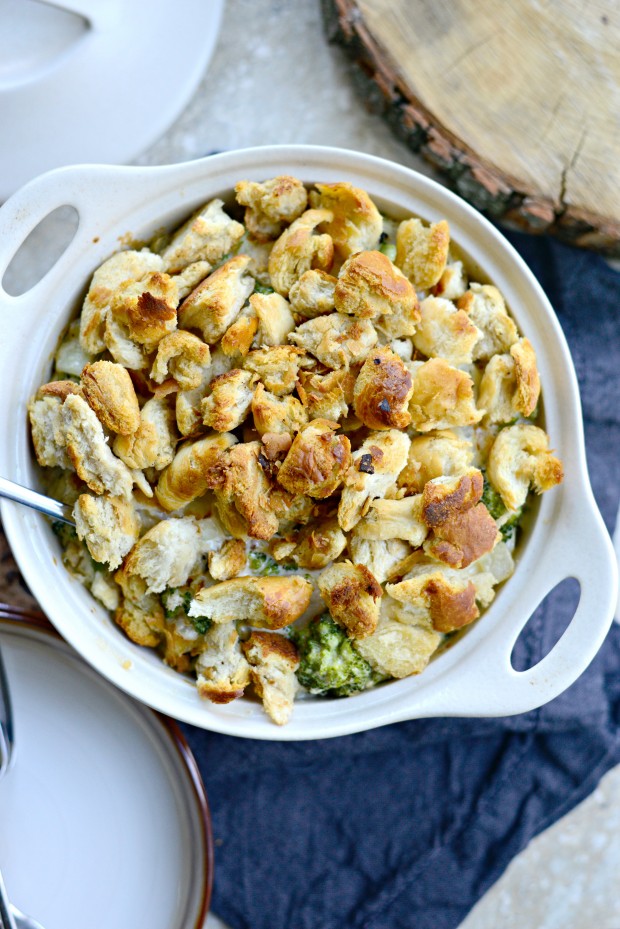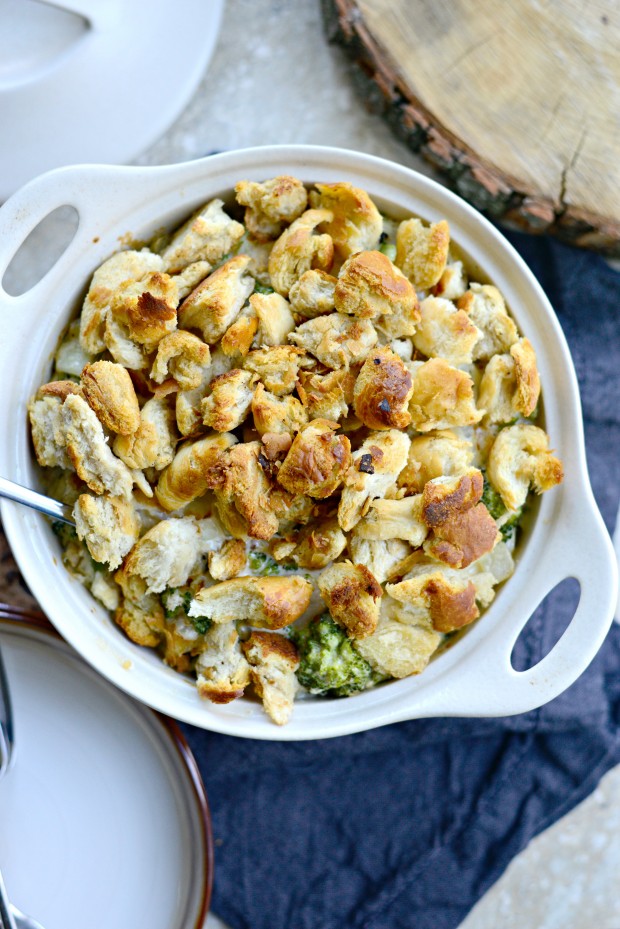 The combination of the cheesy homemade broccoli casserole and sourdough bread topping baking in the oven is utterly mouth watering.
It took all that I have not to dish myself half of the casserole and eat it on the spot. No evidence… no consequences.
And the cheese strings are out of this world.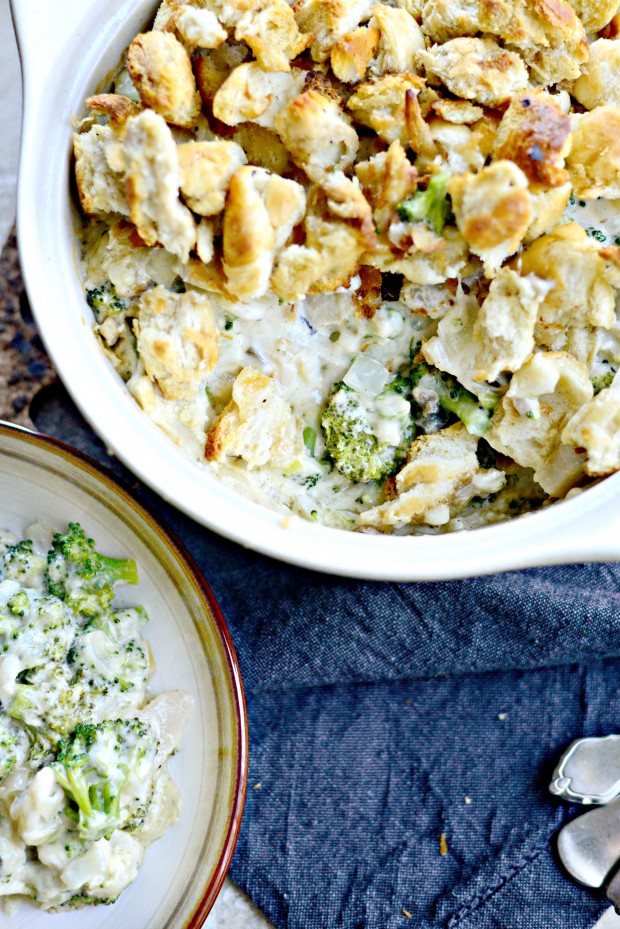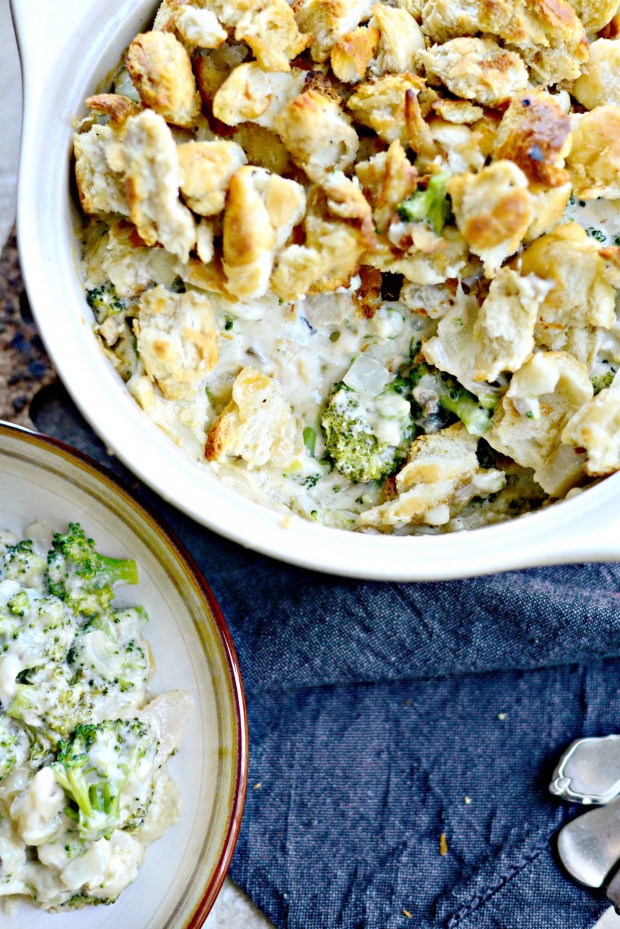 I baked this casserole earlier in the day so I could blog it. Then I covered it in foil (after it had cooled) and popped it into the fridge. I reheated it later to have with dinner by preheating my oven back to 350 degrees, removing the foil and baking until bubbly. It tasted just as fantastic the second time around.
If making this in advance for the holidays, I'd prepare everything until the bread croutons. Cover tightly, refrigerate and then toast the torn bread before wanting to bake.
Prepare for your mind to be blown.
Enjoy!
My cookbook Simply Scratch : 120 Wholesome Homemade Recipes Made Easy is now available! CLICK HERE for details and THANK YOU in advance!
Yield: 8 servings
Homemade Broccoli Casserole
A childhood classic broccoli casserole using homemade cream of mushroom soup, fresh broccoli and topped with toasted, hand-torn pieces of sourdough bread.
Ingredients
2½ tablespoons butter, divided
12 to 14 ounces broccoli florets
1 large egg
1 recipe condensed cream of mushroom soup
2/3 cup mayonnaise
1/2 teaspoon kosher salt
1/4 teaspoon freshly ground black pepper
1 cup grated baby swiss cheese, using the larges holes on box grater
1 cup diced yellow onion
1 tablespoon olive oil
2 cups hand-torn sourdough bread, I eye ball it
1/3 cup chopped water chestnuts, optional
Instructions
Position your oven rack in the lower third portion of your oven. Preheat your oven to 350° and butter a 2 quart baking dish.

Place broccoli florets in to a steamer basket. Bring a pot filled with an inch or two of water to a boil. Set the basket into a pot (water should not touch the bottom of the basket), cover and steam the broccoli for 10 minutes. Once steamed, transfer broccoli to a large bowl to cool.

In a medium mixing bowl lightly beat the egg. Add in homemade cream of mushroom soup, mayonnaise, salt and pepper. Stir until all ingredients are incorporated. Set off to the side.

Melt 1 tablespoon of butter in a deep-sided 10-inch skillet. Add onions and a pinch of kosher salt, cook until soft, about 5 minutes. Transfer cooked onions to the bowl with the broccoli.

Add 1-1/2 tablespoons butter plus 1 tablespoon oil to the pan that cooked the onions, add 2 to 3 cups of torn sourdough bread and toss to coat. Toast the bread pieces for 5 to 6 minutes over medium-low until lightly golden and slightly crispy. (these will further crispy in oven)

Pour in the soup/egg mixture, the grated Swiss and use a rubber spatula to stir the ingredients. Spoon broccoli mixture into prepared baking dish and top with bread pieces.

Slide the casserole into the oven and bake for 25 to 30 minutes or until the casserole is bubbly. Allow to cool a few minutes before serving.
Serving: 1g, Calories: 285kcal, Carbohydrates: 14g, Protein: 8g, Fat: 22g, Saturated Fat: 6g, Polyunsaturated Fat: 9g, Monounsaturated Fat: 6g, Trans Fat: 1g, Cholesterol: 49mg, Sodium: 436mg, Potassium: 275mg, Fiber: 2g, Sugar: 4g, Vitamin A: 540IU, Vitamin C: 40mg, Calcium: 191mg, Iron: 1mg
[this post contains affiliate links.]
This post may contain affiliate links.
Buy the Cookbook: Simply Scratch : 120 Wholesome Homemade Recipes Made Easy Now available on Amazon »
THANK YOU in advance for your support!