These fried mozzarella bites are delicious! Balls of fresh mozzarella breaded in homemade breadcrumbs and fried until crispy on the outside and melty on the inside.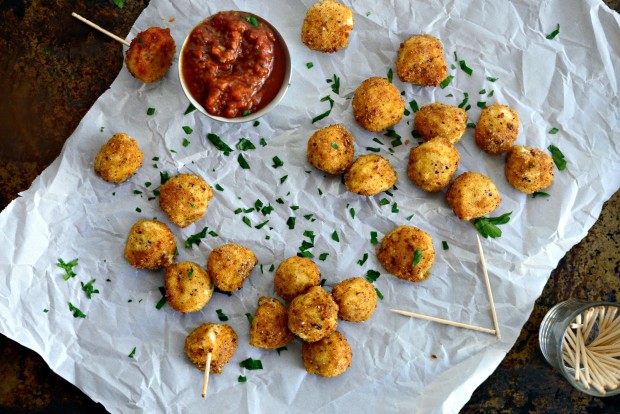 It's Friday! I have strict plans today that will consist of comfy pants, cups of coffee and reading Colleen Hoover book.
And if my girls and I didn't already scarf these fried mozzarella bites down yesterday then I'd pop them like bonbons while I read. But I guess I'll have to suck it up and pop peanut M & M's instead. Life could be worse.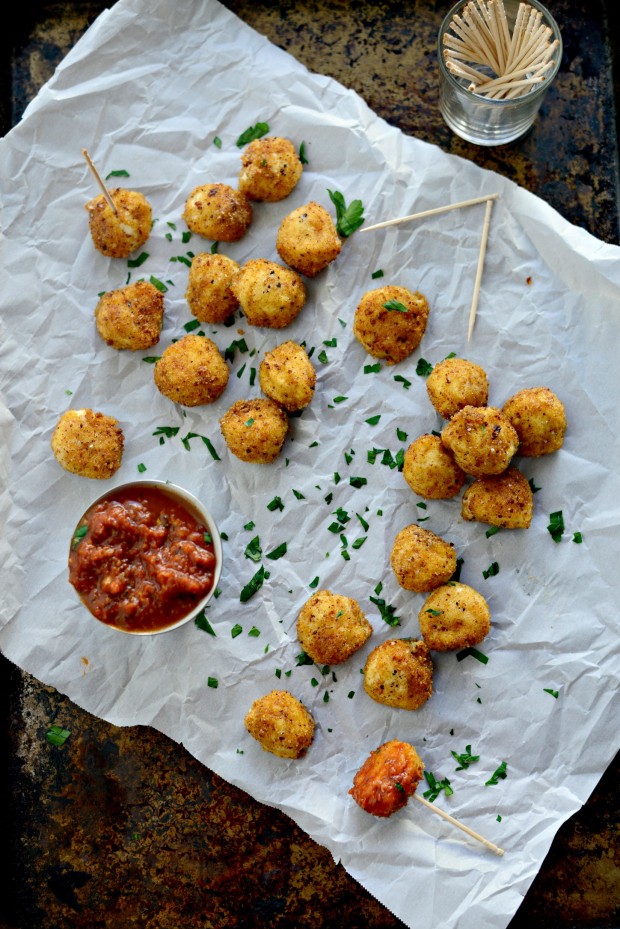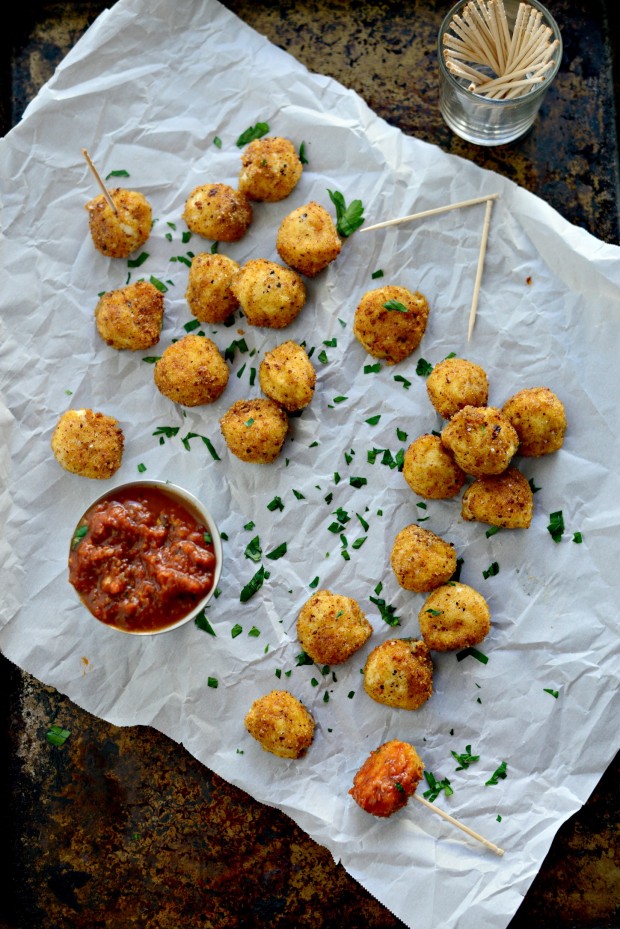 So I'm really into fresh mozz. That's nothing new. BUT fresh mozzarella comes in all kinds of sizes; pearl, cherry and a few others I'm drawing a blank on… but I honed in on the cherry size ones and had visions of crispy fried balls of cheese. Oh and this fiery arrabbiata sauce that I made yesterday came in mighty handy for dunking.
Delicious cheesy snack for the win!
Ummm you didn't think I'd use store bought breadcrumbs did you?? Um, yeah… no way. Especially since making your own is easystreet.
Grab 6 slices of sourdough bread.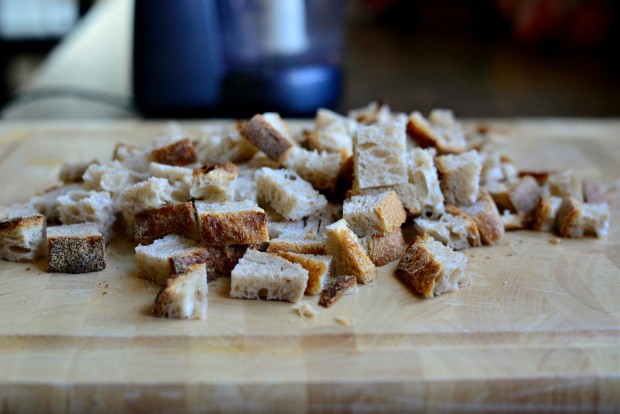 Roughly dice it into pieces…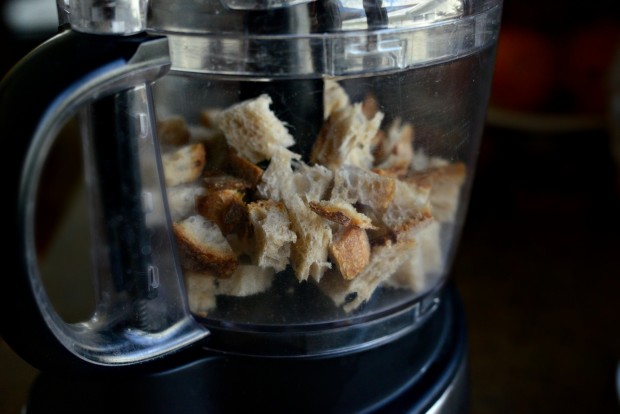 Drop it into your beast of a food processor and whir until crumbs form. You don't want any big pieces, small crumbs are fine… we'll be blitzing these a second time so don't get frustrated that it's not finely ground at first.
Dump the breadcrumbs onto a rimmed sheet pan.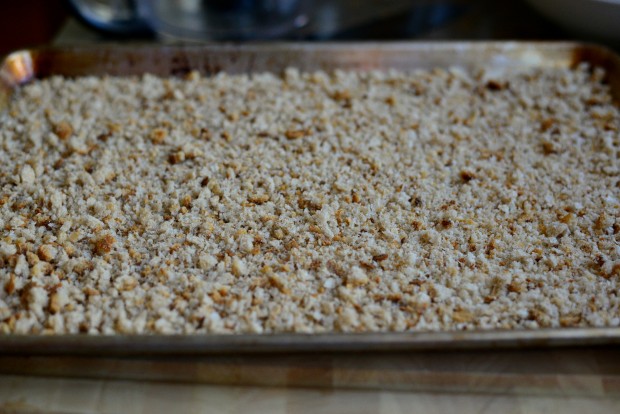 Shake to spread them in an even layer before sliding into a preheated 325 degree oven for 10 minutes.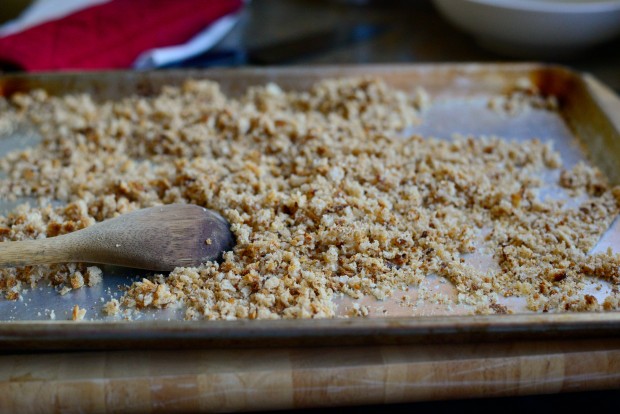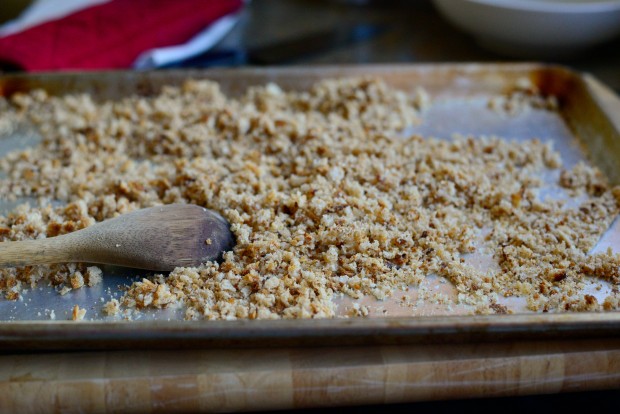 Remove, give the crumbs a toss. You'll notice they're starting to get a little crispy. Slide back into the oven for 5 minutes, tossing one more time and baking for 3 to 4 more minutes.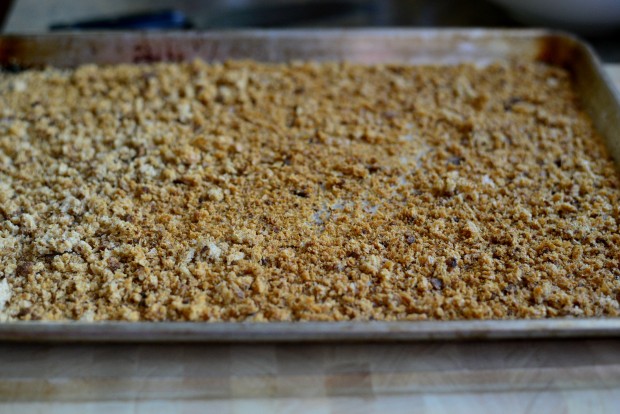 Let the toasty breadcrumbs cool on the pan while you prep the mozz and situate the breading station.
Remove the fresh mozzarella out of the fridge and drain off the liquids.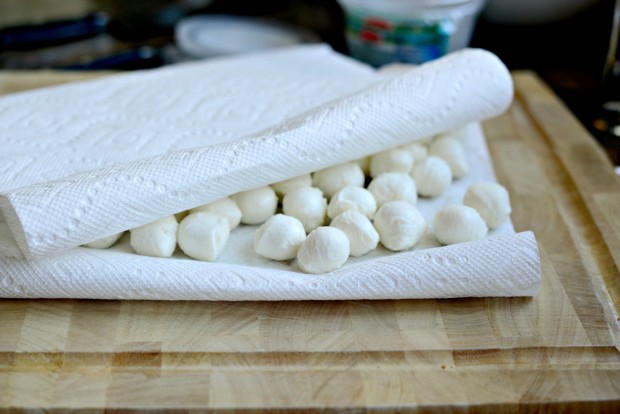 Scatter them onto paper towel and blot them dry.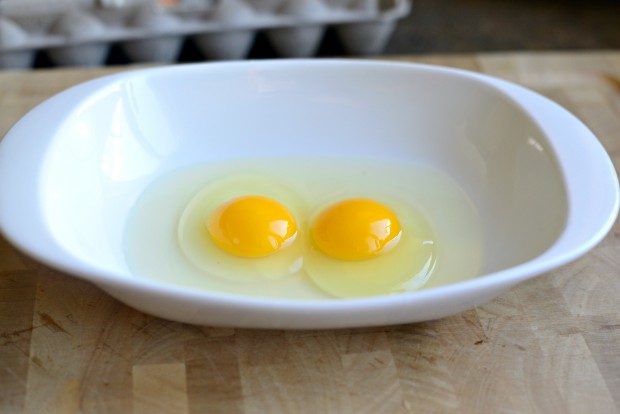 Meanwhile crack two eggs into a shallow bowl.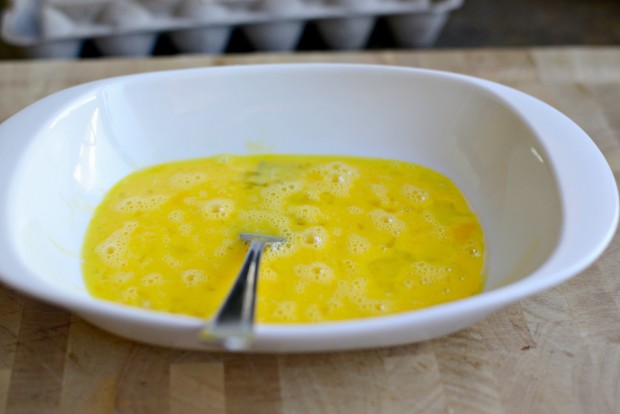 Beat them senseless.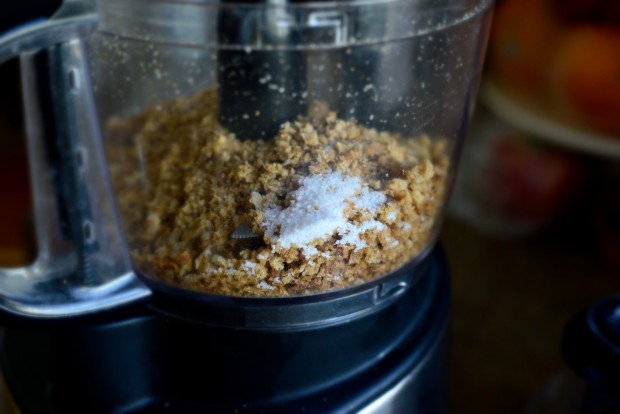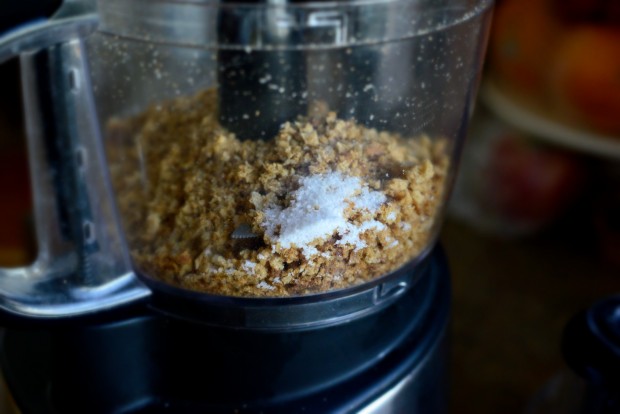 By now the bread crumbs have cooled so place them back into the food processor with 3/4 teaspoon of salt and pulse until finely ground.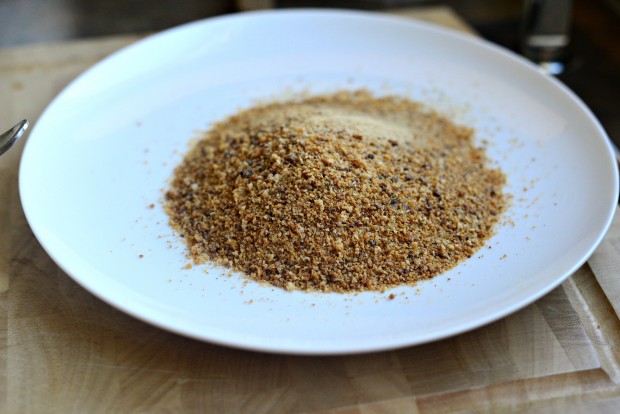 Like so.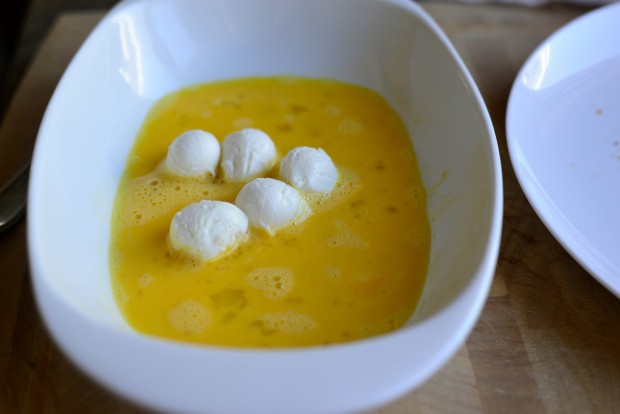 Place a few of the mozz balls into the eggs…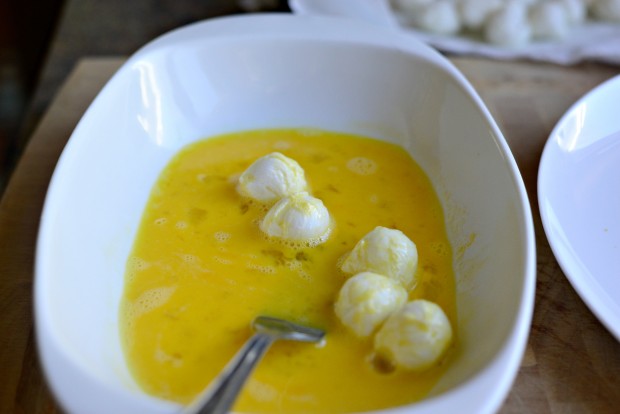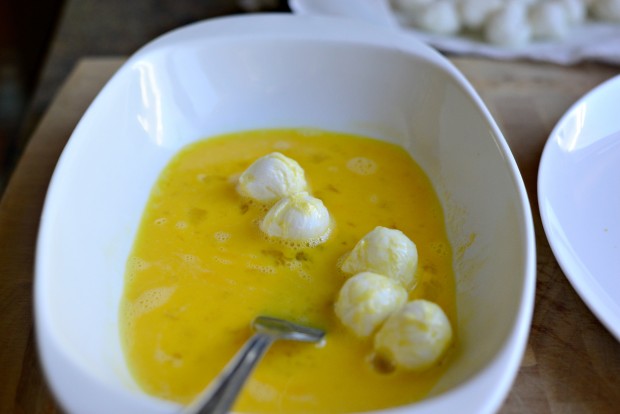 Stir them around to coat…
Allow any excess egg to drip off into the bowl before placing them into the crumb mixture.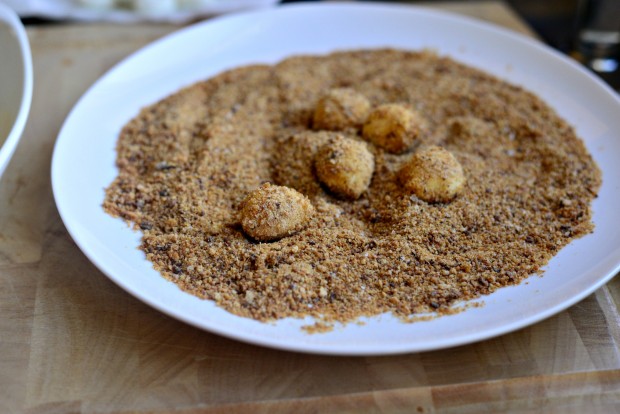 Toss. Coat. You know the drill.
And place them onto a large platter while you repeat with the remaining mozzarella.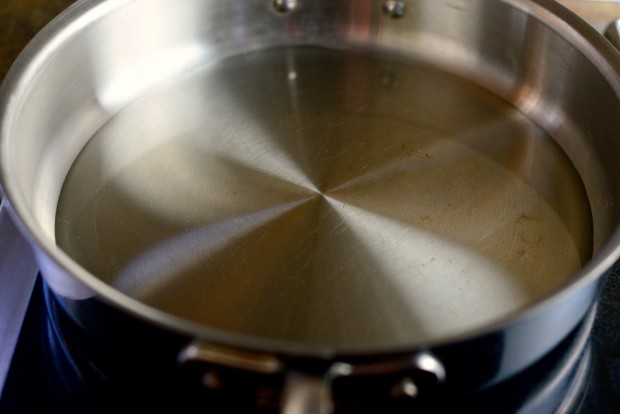 Heat a deep-sided skillet with about 1/4 inch of safflower oil over medium-high.
Once the oil is hot and glistening, carefully drop in a few mozzarella balls at a time.
The browning happens REAL fast so like 20 seconds max before flipping.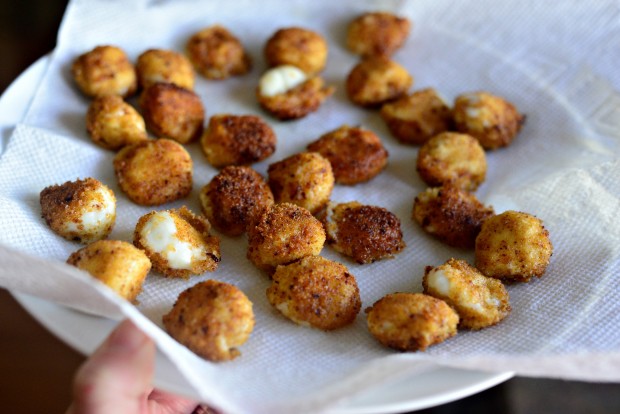 It will take a few to get the feel for it. The trick is that you want the cheese to soften but you don't want the cheese to bust out of the breading. Trust me, you can still eat them… so nothing will be wasted.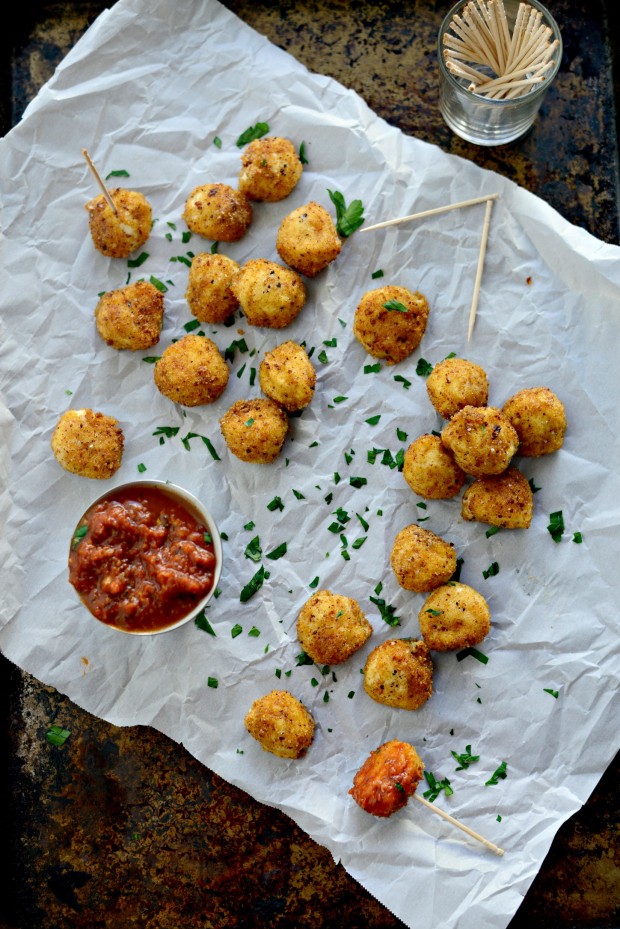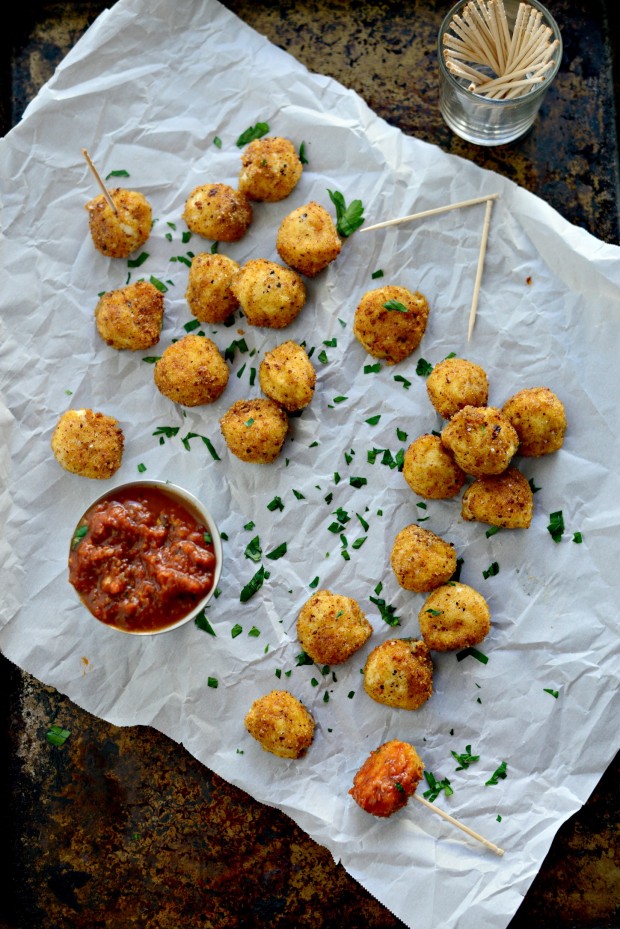 After frying I sprinkle with a pinch or two of kosher salt, fresh chopped basil or parsley and dunk it in that heavenly spicy sauce I shared with you yesterday. But you could totally make this pizza sauce… either would work splendidly.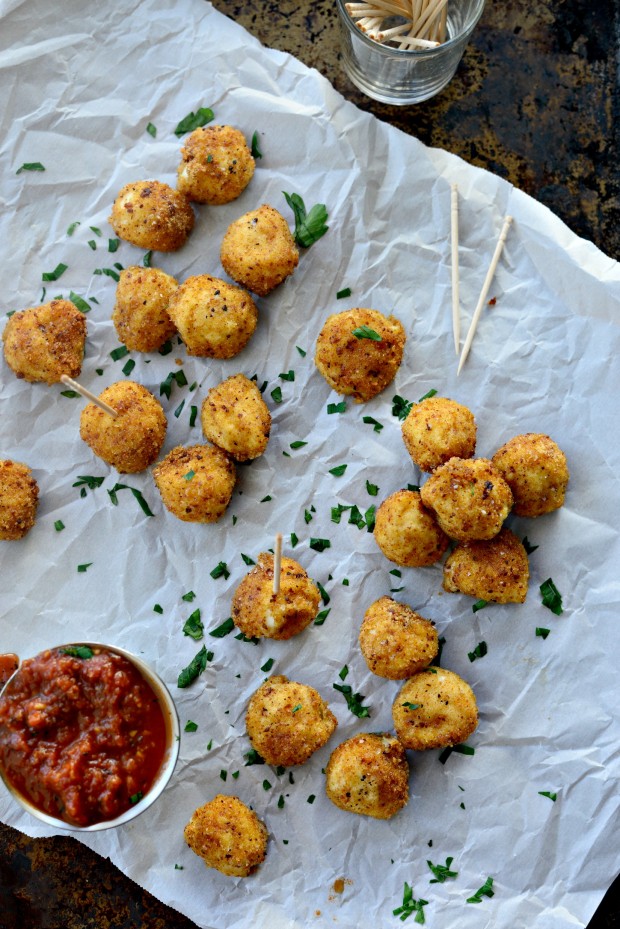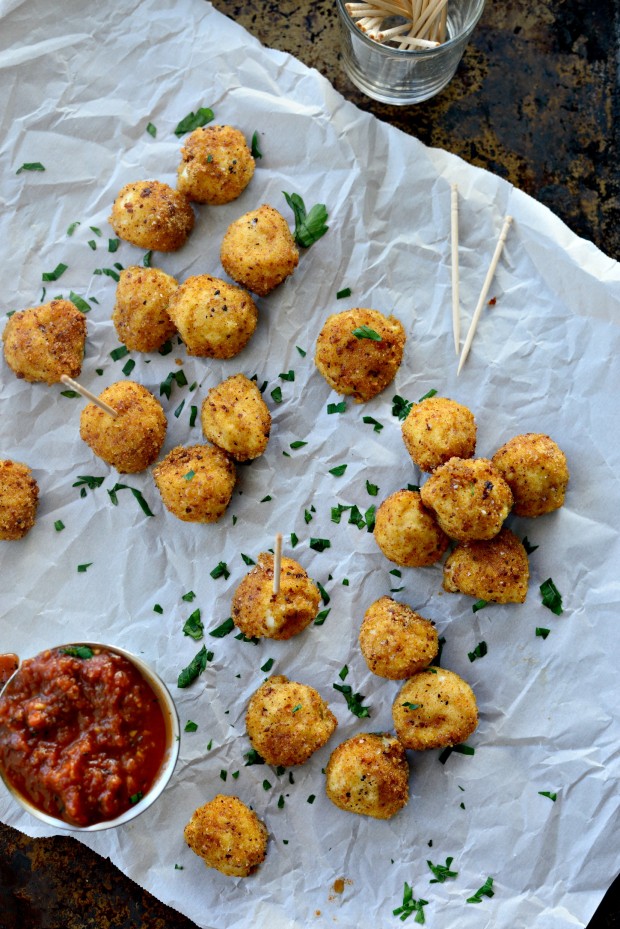 Cheers to the weekend! Be warned, these fried mozzarella bites are delicious and VERY delicious!
Dip on, friends. Dip on.
Enjoy! And if you give this fried mozzarella bites recipe a try, let me know! Snap a photo and tag me on twitter or instagram!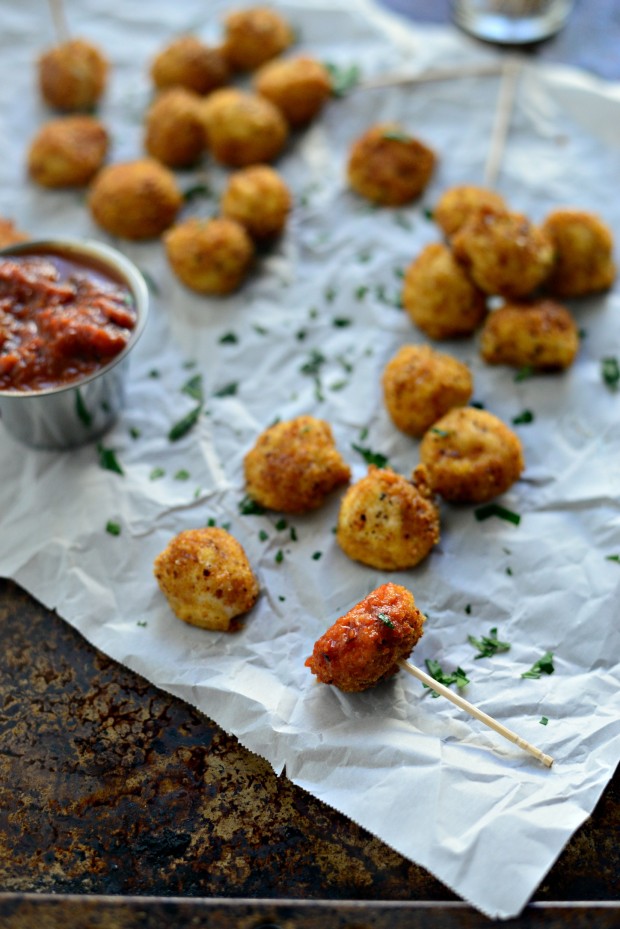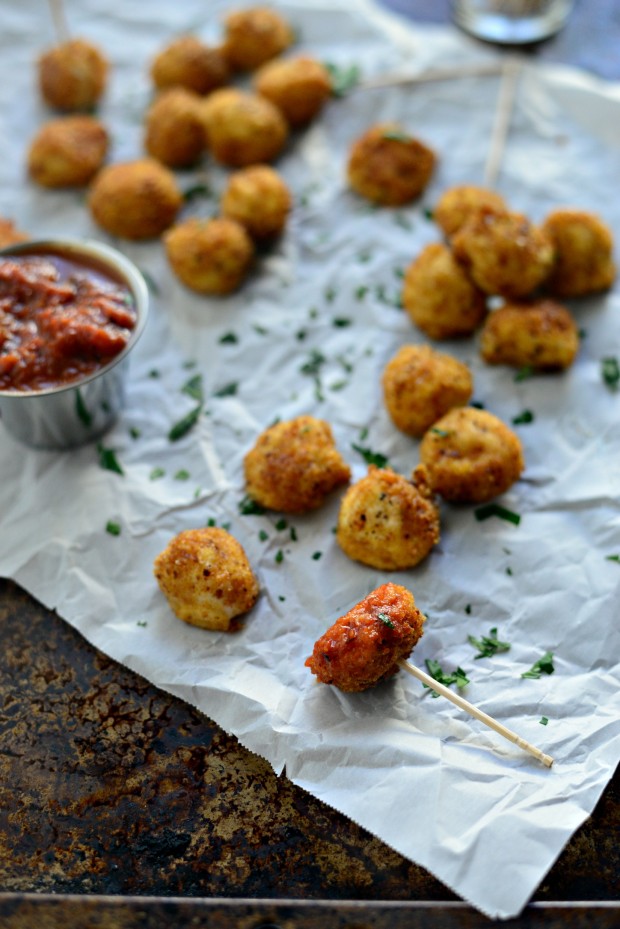 Yield: 8 servings
Fried Mozzarella Cheese Balls
Fresh mozzarella rolled around in homemade breadcrumbs and pan-fried for mere seconds until crispy.
Ingredients
6 slices sourdough bread, cut into chunks
kosher salt
2 large eggs
16 ounces fresh mozzarella balls, cherry size
extra light olive oil, or avocado oil
minced fresh basil, or parsley
homemade quick arrabbiata sauce, marinara or pizza sauce
Instructions
Preheat oven to 325°.

Pulse bread cubes in food processor until small crumbles form. Spread them out evenly on a rimmed sheet pan and bake for 10 minutes. Remove, stir and bake for 5 more minutes. Remove and toss one last time before baking for 3 to 5 minutes. Allow breadcrumbs to cool in pan for 15 minutes.

Meanwhile, drain fresh mozzarella and blot between pieces of paper towel. Crack two eggs in a shallow bowl and beat with a fork.

Pour cooled breadcrumbs back into the food processor, add in 3/4 teaspoon kosher salt and pulse until fine crumbs form. You will have about 1 cup crumbs. Remove and pour into another shallow bowl.

Working in batches, toss fresh mozzarella balls in egg and drip excess off into dish. Toss in breadcrumbs and place on a clean platter. Repeat with remaining mozzarella.

Heat 1/4 inch of safflower oil in a deep-sided pan over medium-high heat. Once hot add a few of the breaded mozzarella balls and fry for 15 to 20 seconds before flipping and repeating. Transfer to a paper towel lined platter and repeat. Adjust the heat under the oil so the mozzarella bites do not burn.
Serving: 1g, Calories: 337kcal, Carbohydrates: 32g, Protein: 18g, Fat: 16g, Saturated Fat: 5g, Polyunsaturated Fat: 1g, Monounsaturated Fat: 2g, Trans Fat: 1g, Cholesterol: 67mg, Sodium: 456mg, Potassium: 819mg, Fiber: 2g, Sugar: 3g, Vitamin A: 127IU, Vitamin C: 3mg, Calcium: 245mg, Iron: 2mg
This post may contain affiliate links.
Buy the Cookbook: Simply Scratch : 120 Wholesome Homemade Recipes Made Easy Now available on Amazon »
THANK YOU in advance for your support!