A French Onion Soup Grilled Cheese Sandwich is essentially French onion soup in grilled cheese form. Slices of sourdough is topped with gruyere cheese and wine, garlic and thyme infused caramelized onions and griddled to golden perfection.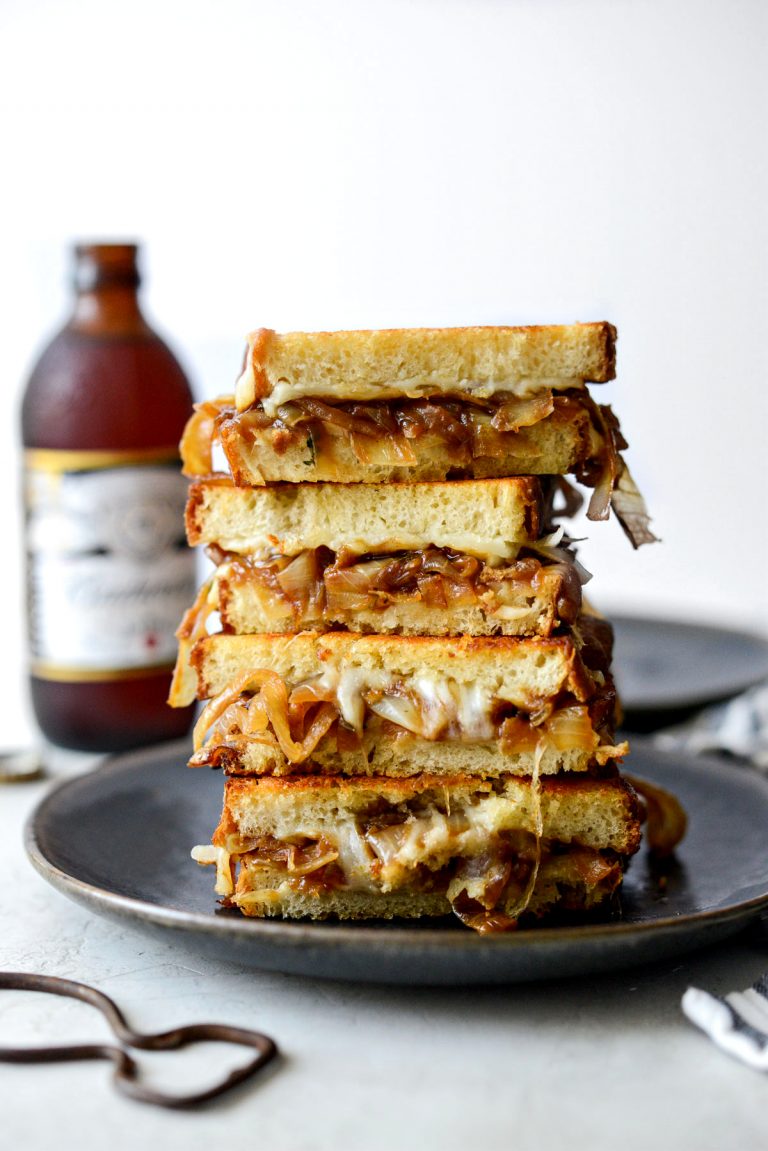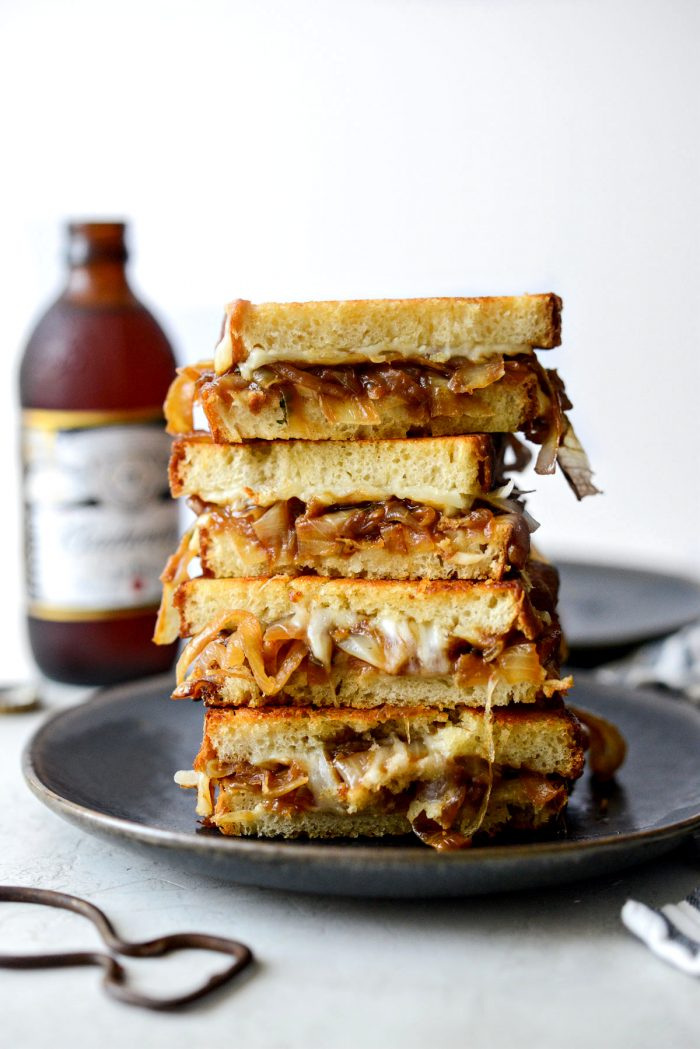 Friday was the kind of day that calls for a cozy fire in the fireplace, a hot bowl of soup, grilled cheese sandwiches.
French Onion Soup Grilled Cheese Sandwich to be exact.
I'm pretty sure after the first bite we collectively died and got a sneak peak at what heaven is like. And since that first glorious bite I've now decided that in my heaven, grilled cheese is served all the time. Like we're talking breakfast, lunch and dinner here. With salt and vinegar chips. And pickles. And cake.
Onions are caramelized in butter with garlic, fresh thyme and combined with white wine before topping sourdough bread, gruyere cheese and griddled to golden perfection.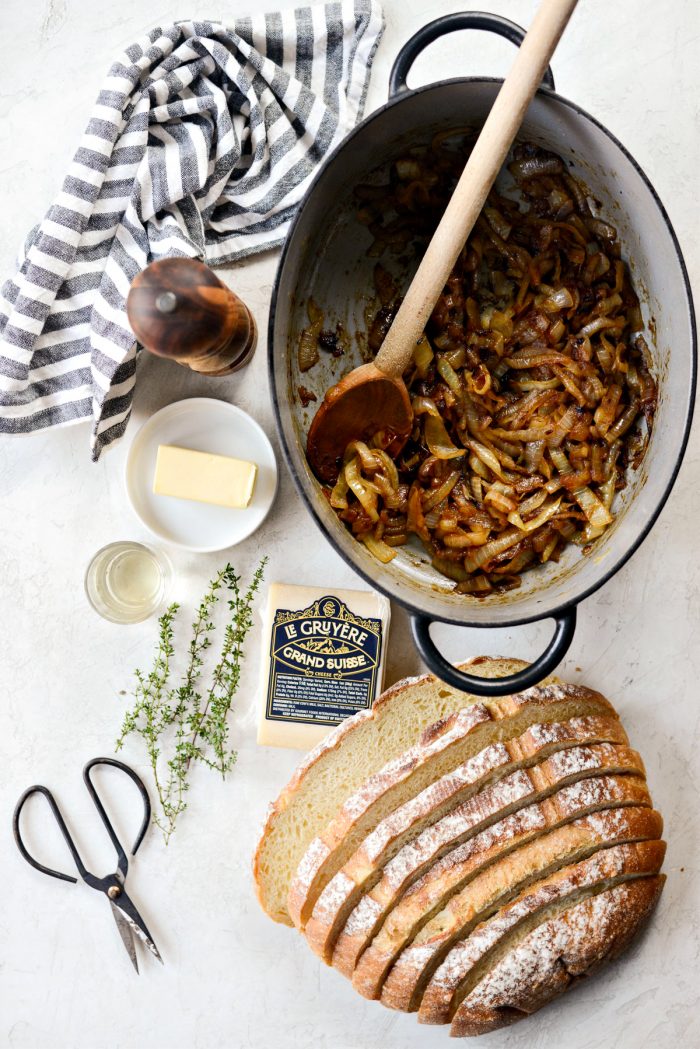 To Make This French Onion Soup Grilled Cheese Sandwich You Will Need:
unsalted butter
yellow onions
thyme
salt
freshly ground black pepper
garlic
white wine
sourdough bread
gruyere cheese
salted butter
First things first, caramelize the onions.
Melt 4 tablespoons of unsalted butter in a large pan over medium-high heat. Meanwhile, slice the top and the bottoms off of your yellow onions and slice them 1/4 of an inch thick. Keeping the onions uniformed in thickness will help them cook evenly.
When the butter has melted, add in the onions, 2 cloves minced garlic, 1 teaspoon thyme leaves, 3/4 teaspoon kosher salt and 1/2 teaspoon freshly ground black pepper. Toss well to combine and so the onions are coated in butter. Cover and cook undisturbed for 5 minutes.
After the 5 minutes, remove the lid and reduce the heat to medium-low. Cook for 40 minutes, stirring every 5 minutes until the onions are soft and a deep golden in color. Reduce the heat if you notice the onions are browning too soon.
For a more thorough how-to click here for step-by-step instructions.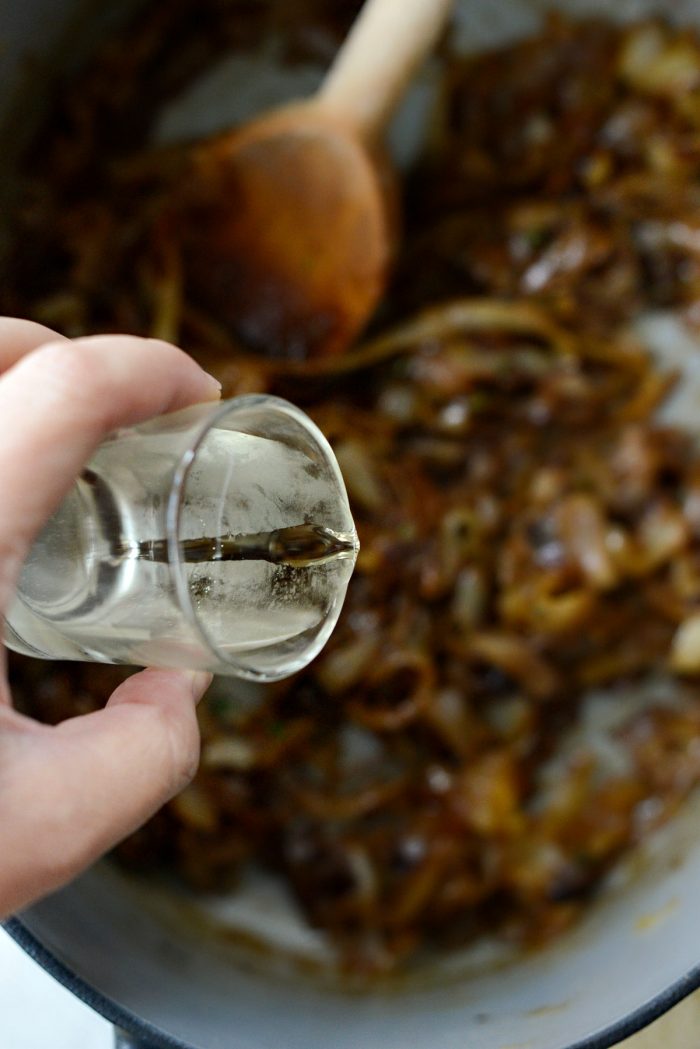 Once the onions are soft and reach a deep golden color pour in 3 tablespoons of dry white wine. I use Sauvignon Blanc, however beer or beef broth can be substituted.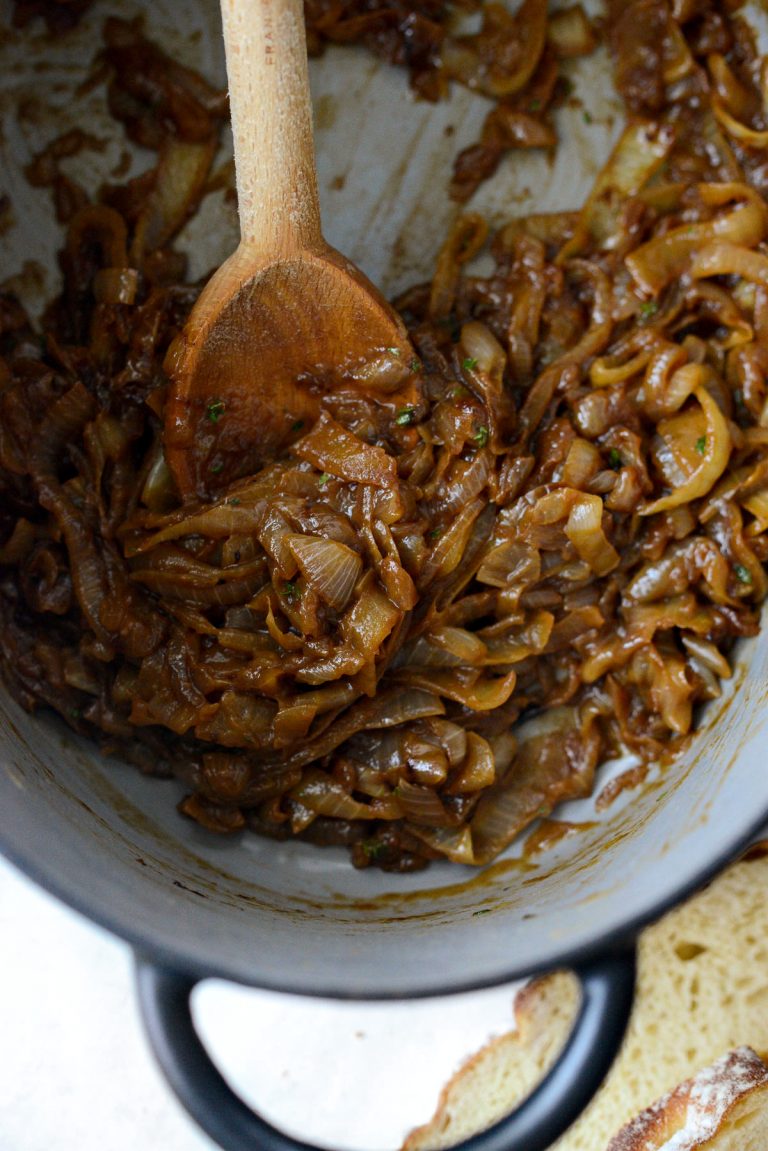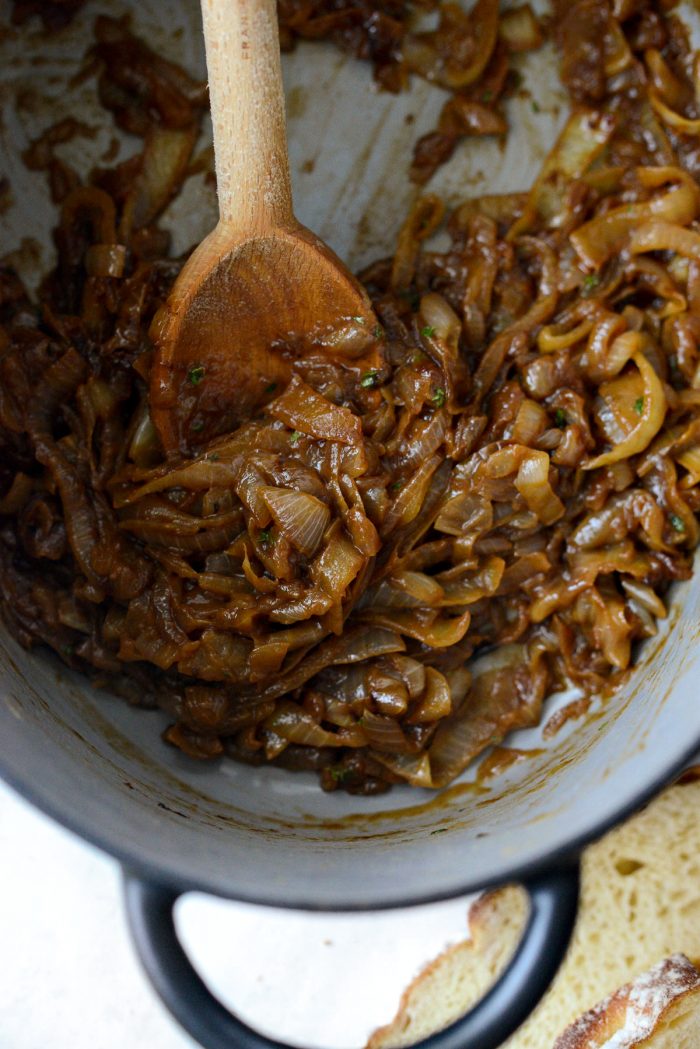 After adding the wine, immediately scrape up any bits that are stuck to the bottom of the pan.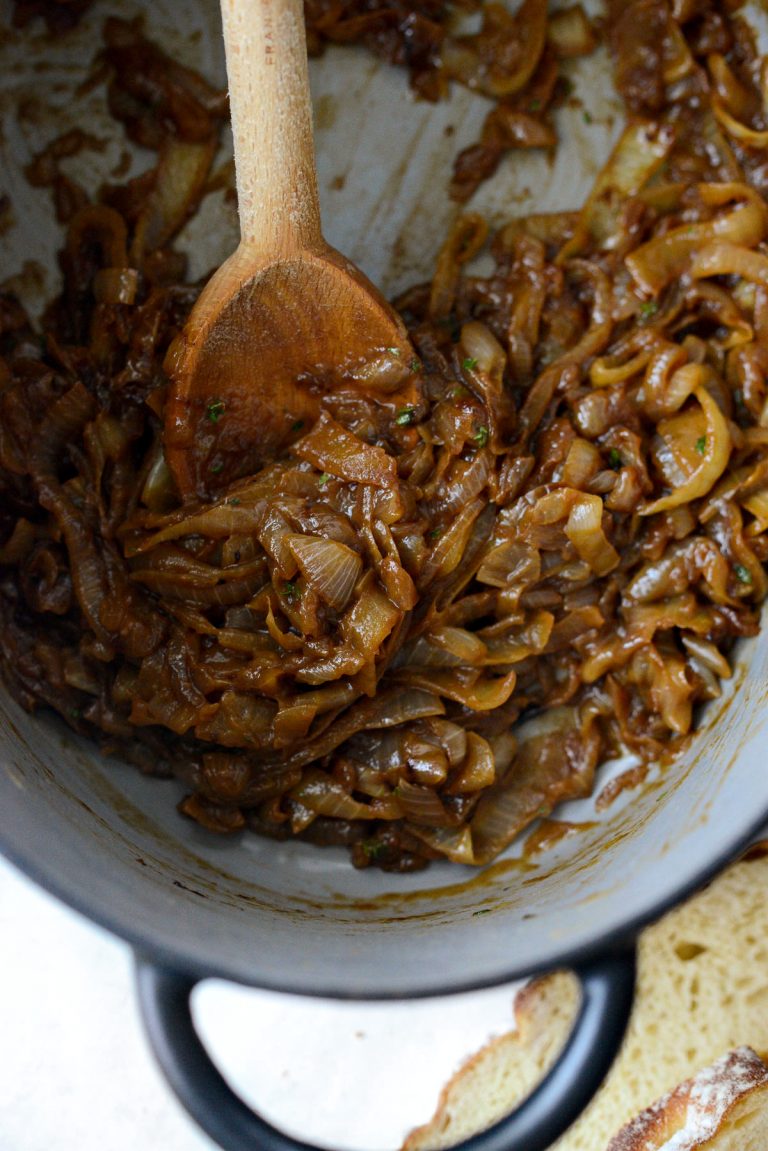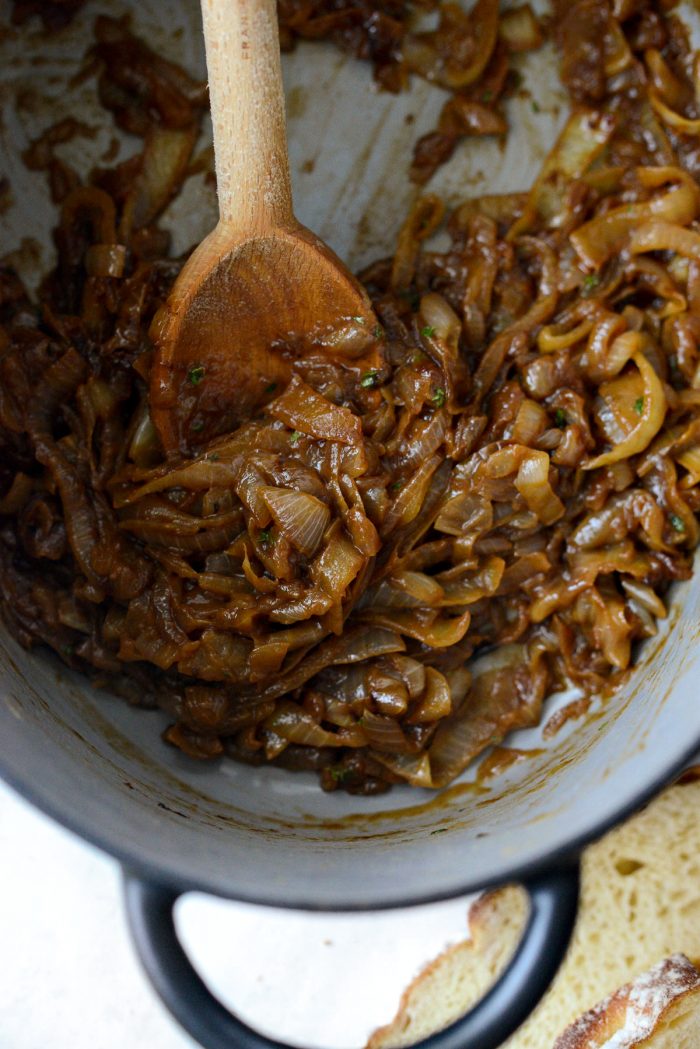 The onions will be all jammy like so just pull the pan off of the burner so they don't burn.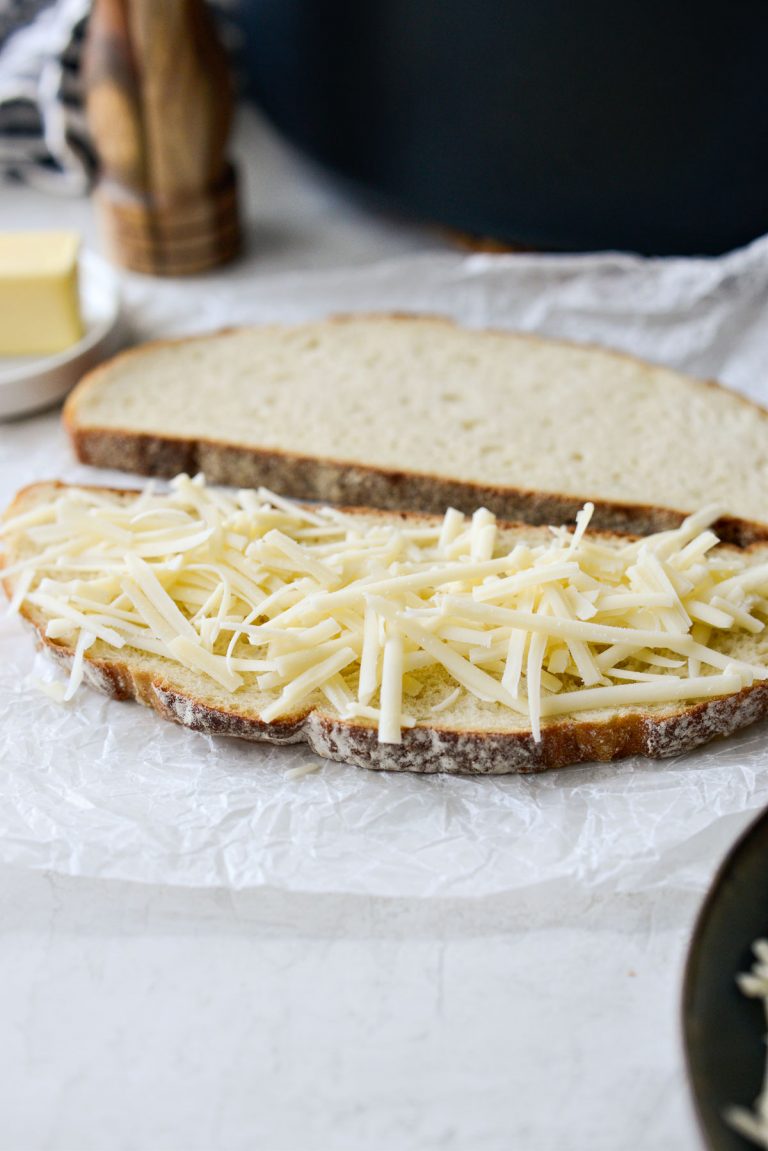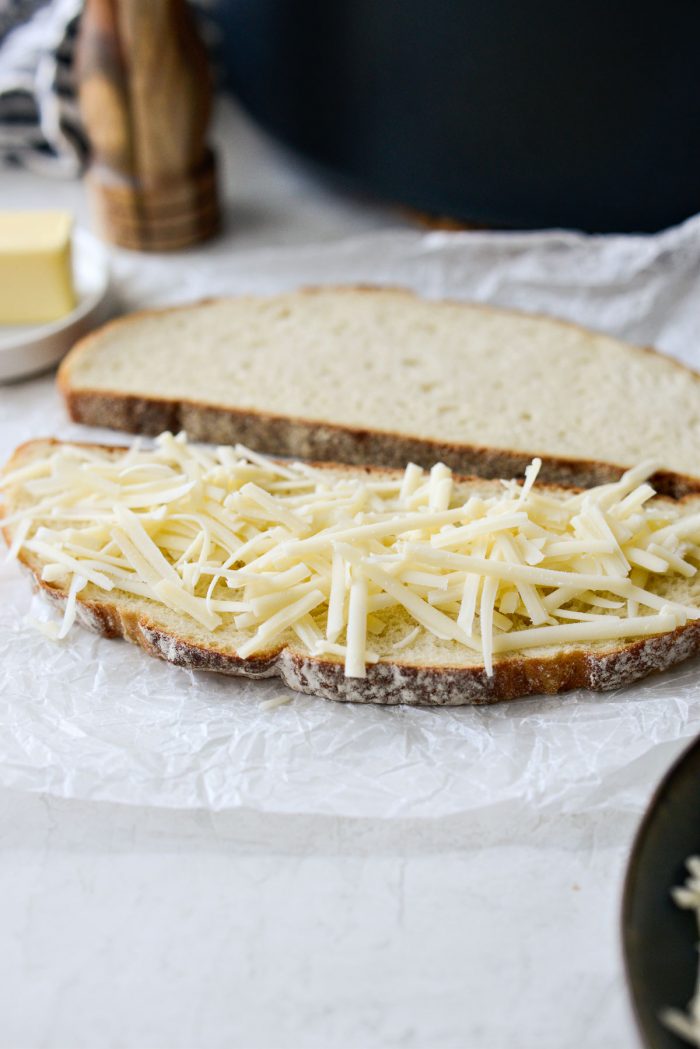 Lay your slices of sourdough down and top with some of the grated gruyere. How much is up to you and the size of your slice of sourdough.
Top with a little of the caramelized onions.
Again, the amount is up to you. These slices are pretty large, however typically, this recipe should yield 4 maybe even 6 sandwiches.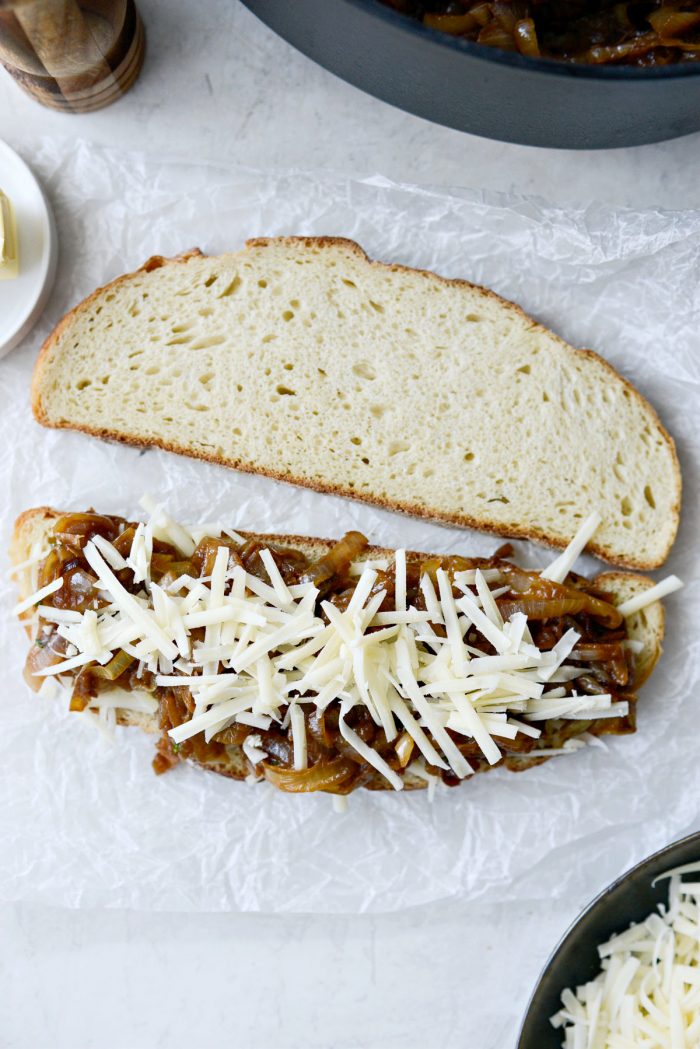 Top the onions with a little more of the smoked Gruyere.
oh baby.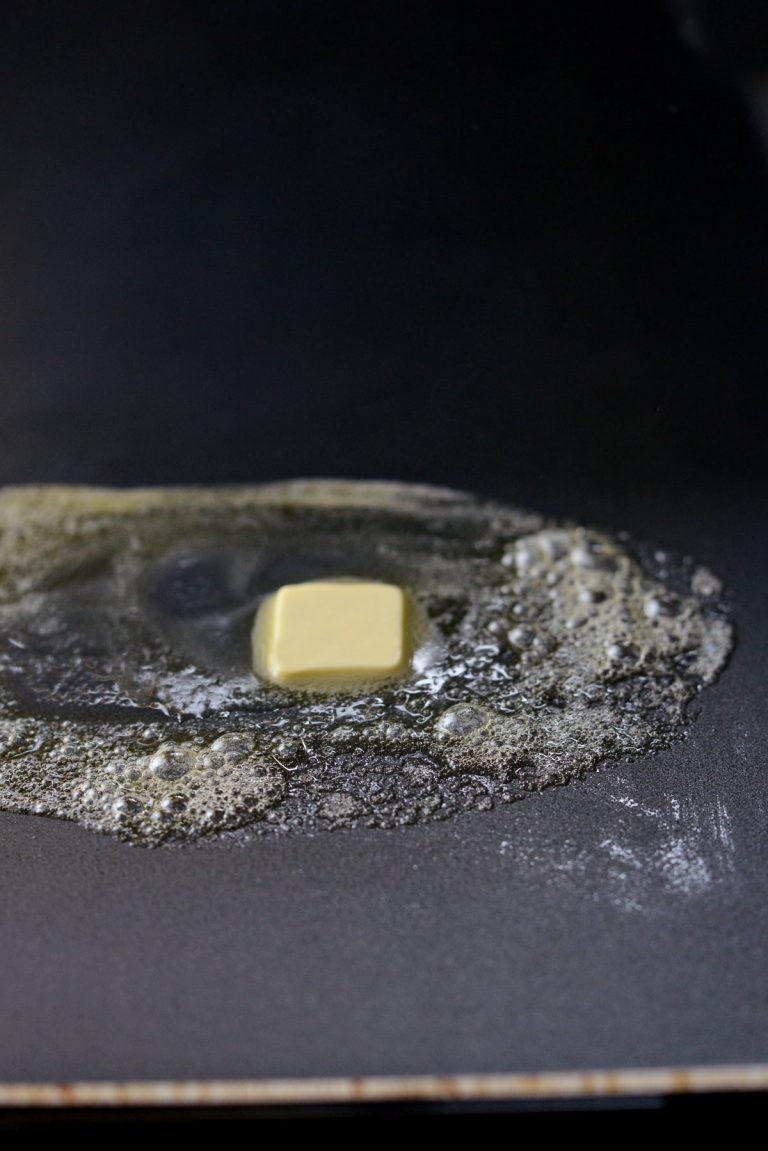 Preheat your griddle to 250° melt 1 tablespoon of butter per sandwich, spreading it around in pools roughly the size of your sandwiches.
Place the sandwiches down and increase the temperature of your griddle to 300°.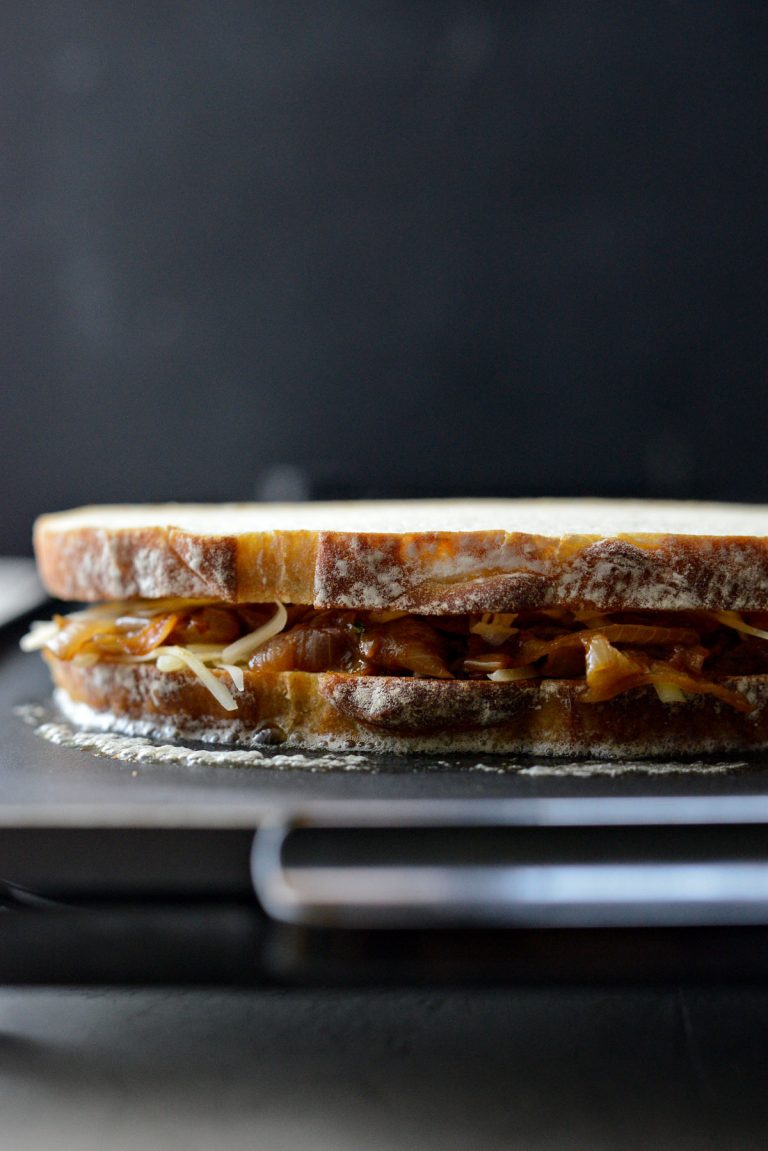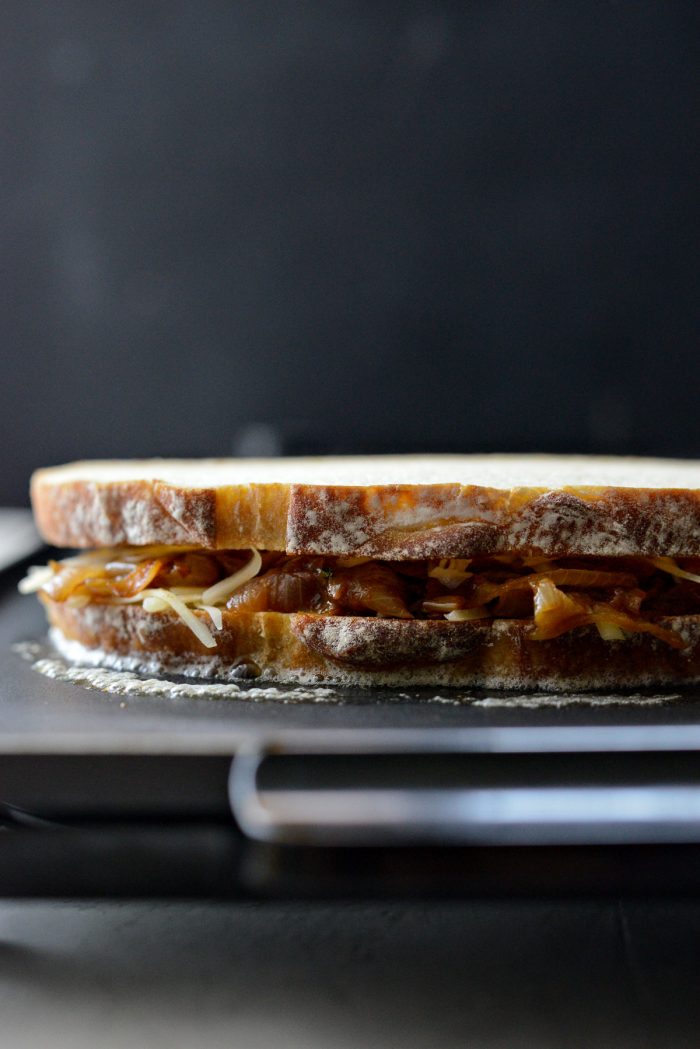 Gently pressing the sandwich into the butter.
Griddle the sandwiches until the underside is crisp and a deep golden brown.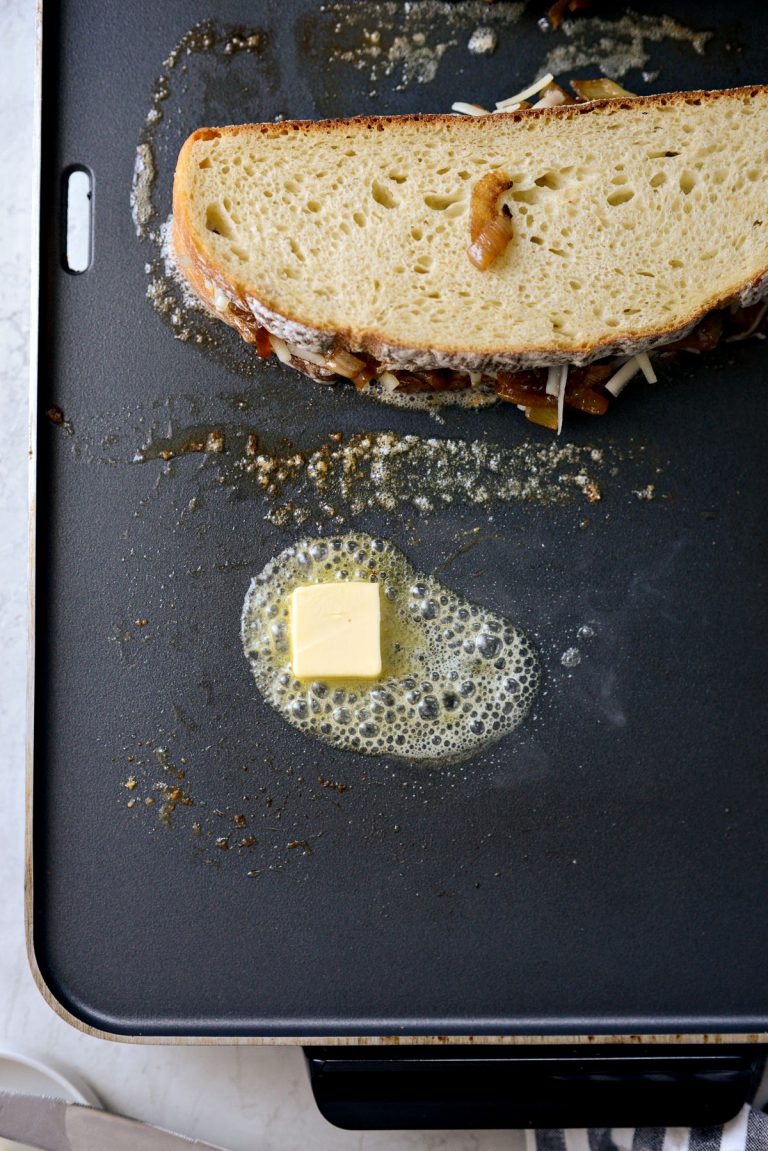 Before flipping, use a spatula to lift the sandwich, melt another tablespoon of butter the same way you did before, and carefully flip the sandiwch on the second side. Gently pressing the sandwich into the butter.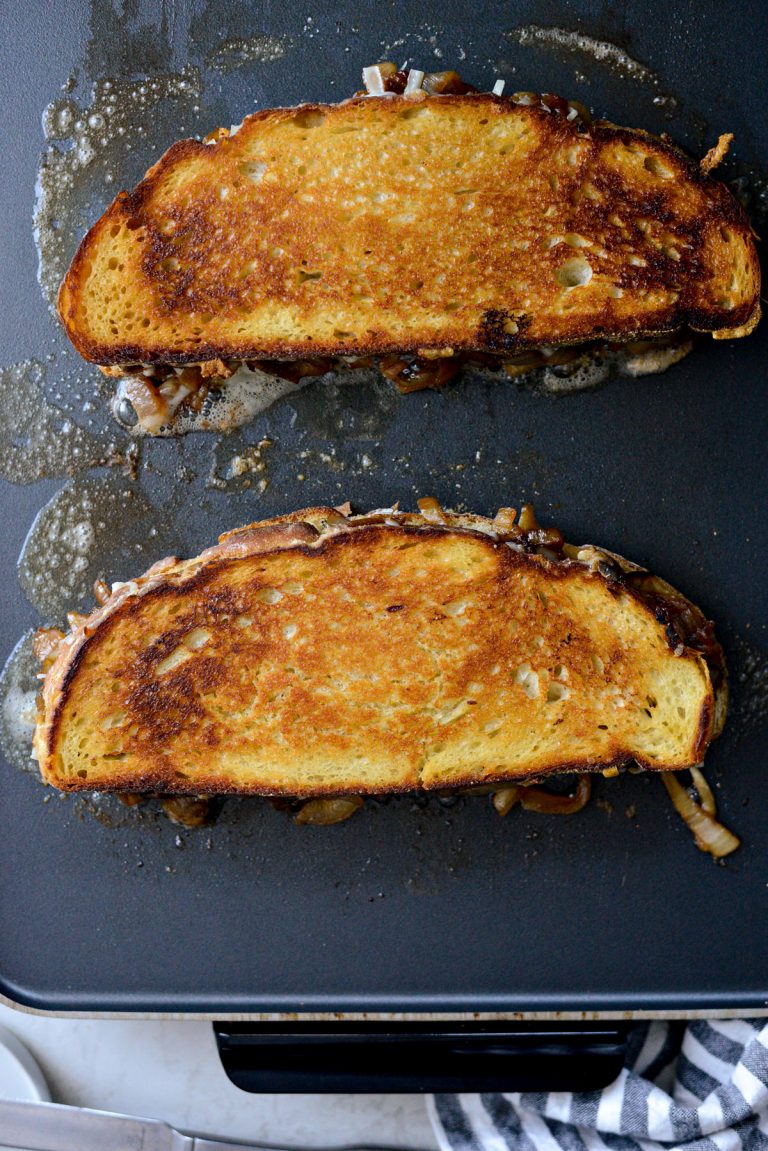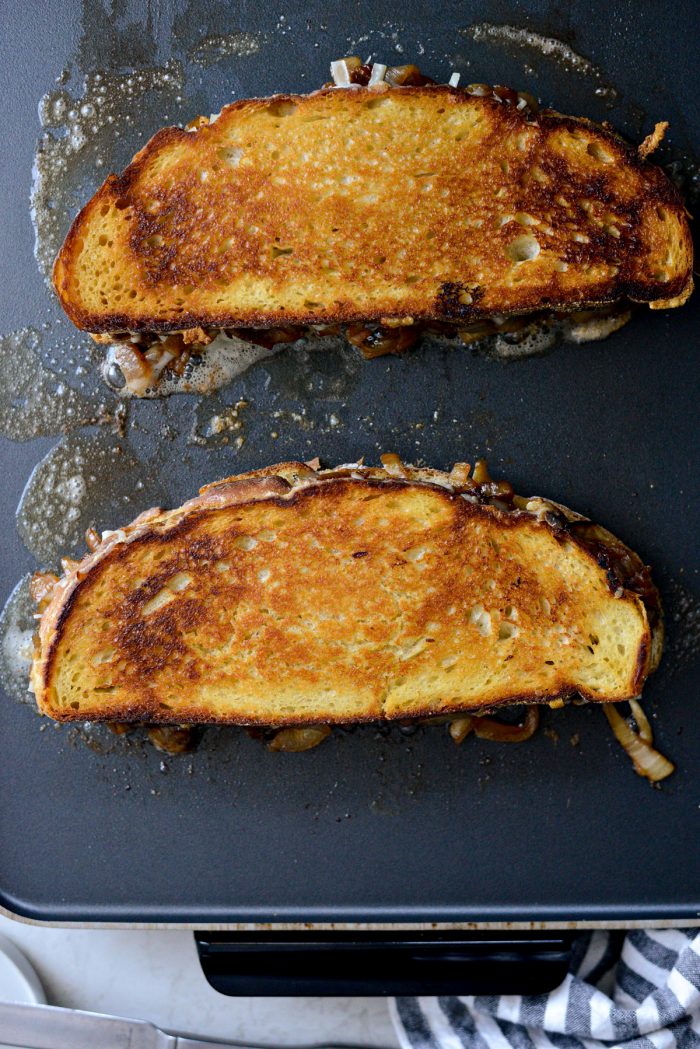 Continue to cook until the second side deeply golden and crispy.
Cut your French Onion Soup Grilled Cheese Sandwich in half and serve immediately.
This is a pretty decadent grilled cheese. So fancy. And cheesy. It is exactly what I pictured the ultimate French onion soup grilled cheese to be.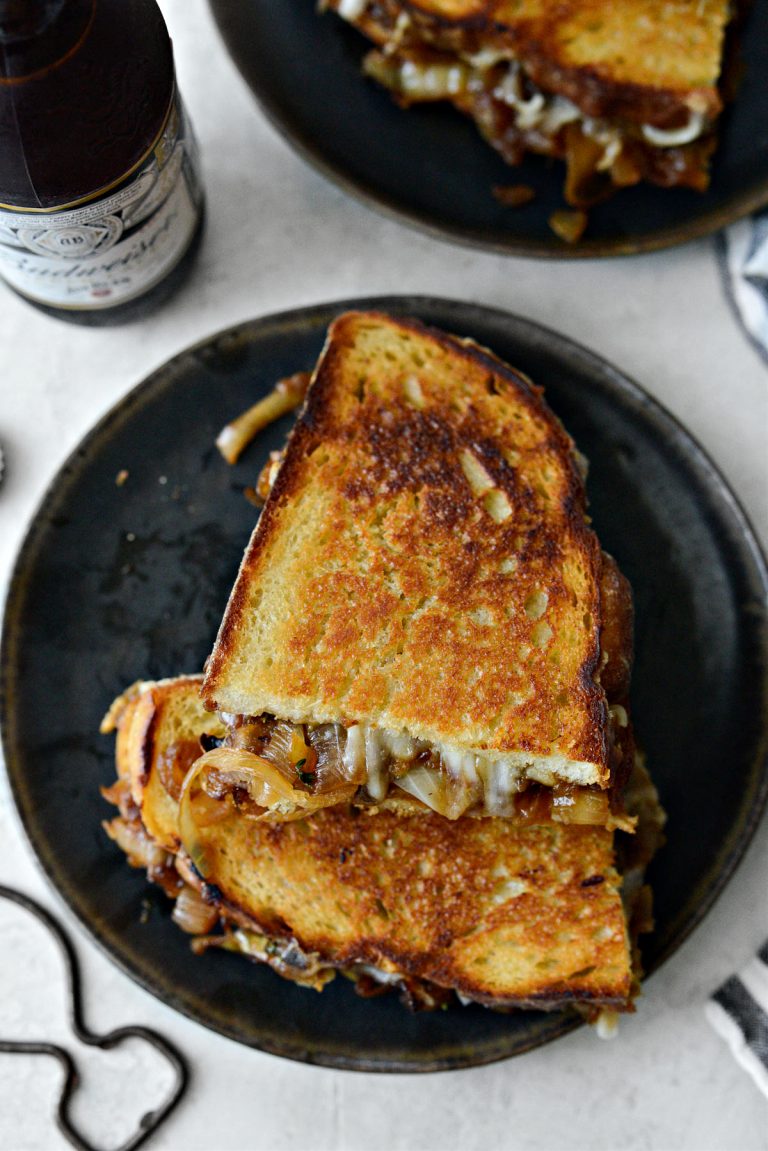 Enjoy! And if you give this French Onion Soup Grilled Cheese Sandwich recipe a try, let me know! Snap a photo and tag me on twitter or instagram!
This post may contain affiliate links.
Buy the Cookbook: Simply Scratch : 120 Wholesome Homemade Recipes Made Easy Now available on Amazon »
THANK YOU in advance for your support!