Eating healthier lunches never tasted more delicious than these Fajita Chicken and Vegetable Quinoa Bowls! Quinoa is topped with black beans, fajita roasted (or grilled) peppers, zucchini, jalapeño, onions and sliced chicken. Top with an flavor-packed yet ridiculously easy avocado cilantro lime dressing!
Do you meal prep? We are beginners in the sense that I've only made one other meal prep-ish recipe and then proceeded to absentmindedly delete the entire photo process. I was so frustrated (read: angry beyond all reason) and maybe there was a little crying spell – I mean it was 3 hours of work, 400+ photos simply gone – so I was so peeved that I gave up on making/photographing and even thinking about any other meal prep recipe.
Until Pat mentioned wanting to bring healthier lunches to work. Lucky for him, I have written down a few recipes/ideas for meal prep a few months ago when the inspiration struck so I already had a plethora for him to choose from. His first pick was these fajita chicken and vegetable quinoa bowls you see before you.
These make ahead bowls have everything you can want in them. Fluffy quinoa – check. Fajita style veggies – check. Black beans and chicken – check, check. It's a protein packed meal that will fuel you through your day, keeping you full for longer.
The dressing however is something you probably aren't expecting. I like to keep you on your toes like that. We topped our fajita chicken and vegetable quinoa bowls with this bright and super flavorful avocado cilantro lime dressing. It goes absolutely perfect with the fajita seasoned chicken and vegetables. And no mayo or sour cream is needed, just 1 avocado will give you this lusciously creamy dressing!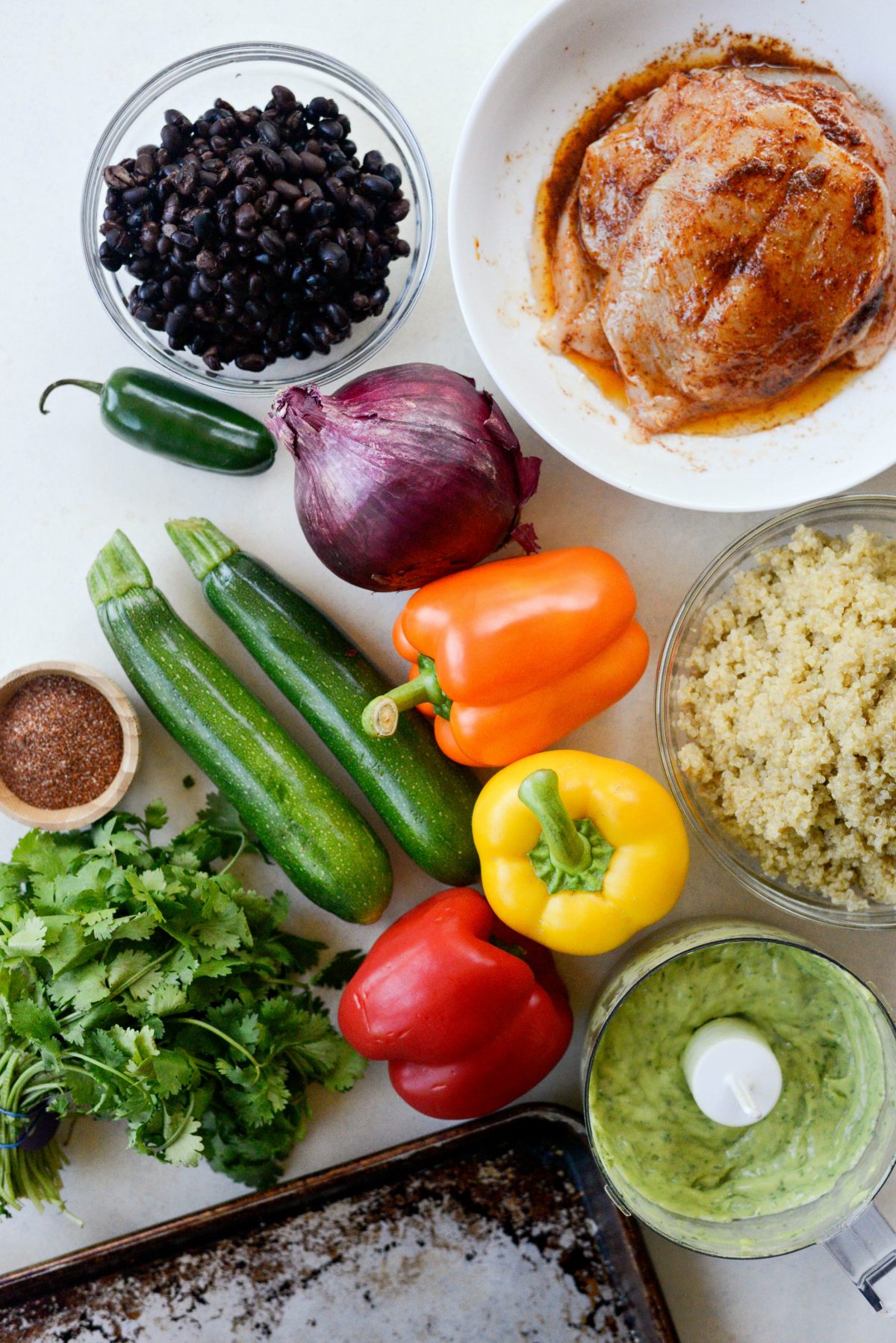 TO Make This Fajita Chicken and Vegetable Quinoa Bowls you Will Need:
for the chicken:
2 butterflied chicken breasts
2 teaspoons light olive oil
the juice from 1/2 a lime
2 teaspoons fajita seasoning -I just omitted the cornstarch in the recipe
for the veggies
1/2 a red orange and yellow bell peppers
1 jalapeno
2 zucchini
1/2 a red onion
1 tablespoon olive oil
2 tablespoons fajita seasoning.
You can also omit the chicken and up the veggies to keep these fajita bowls vegetarian.
For the avocado cilantro lime dressing You Will Need:
1 small avocado
1 large handful of cilantro
1-2 tablespoons honey (to taste)
juice of 1 lime
kosher salt
black pepper
Start by arranging the bell peppers, jalapeño, zucchini and onion in a annoyingly OCD manner onto a rimmed, metal baking sheet. Then drizzle with a 1 tablespoon olive oil and sprinkle with 2 teaspoons fajita seasoning.
Next slide the pan onto the middle rack of your preheated 400° oven and roast for 18 to 20 minutes, rotating the pan half way through.
Meanwhile make the dressing! To your mini food processor, add 1 small avocado, 1 large handful of cilantro, 1-2 tablespoons honey (to taste), juice of 1 lime, salt and pepper to taste and then process until combined. Add a little bit of water at a time to thin out the dressings consistency.
Next, divide roughly 2 tablespoons of the avocado cilantro lime dressing into small cups that have lids and set it off to the side. I picked up these throw away containers at my local grocery store, but there's also reusable containers as well.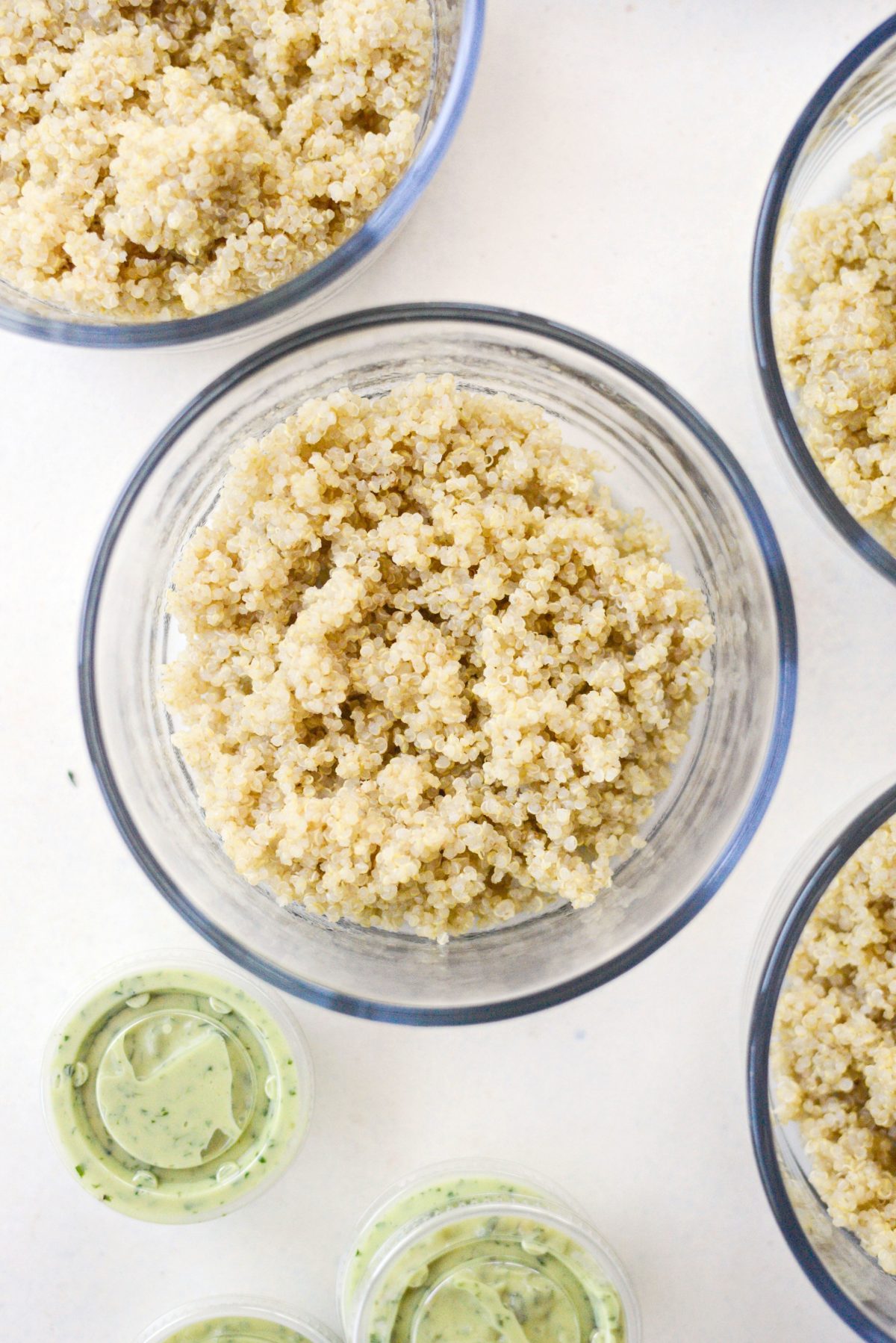 Once everything cools, divide the quinoa and fajita vegetables equally among 4 bowls. To make the quinoa, I followed this method of making quinoa, using only 1 cup dry quinoa. This was the perfect amount of cooked quinoa to fill the 4 bowls.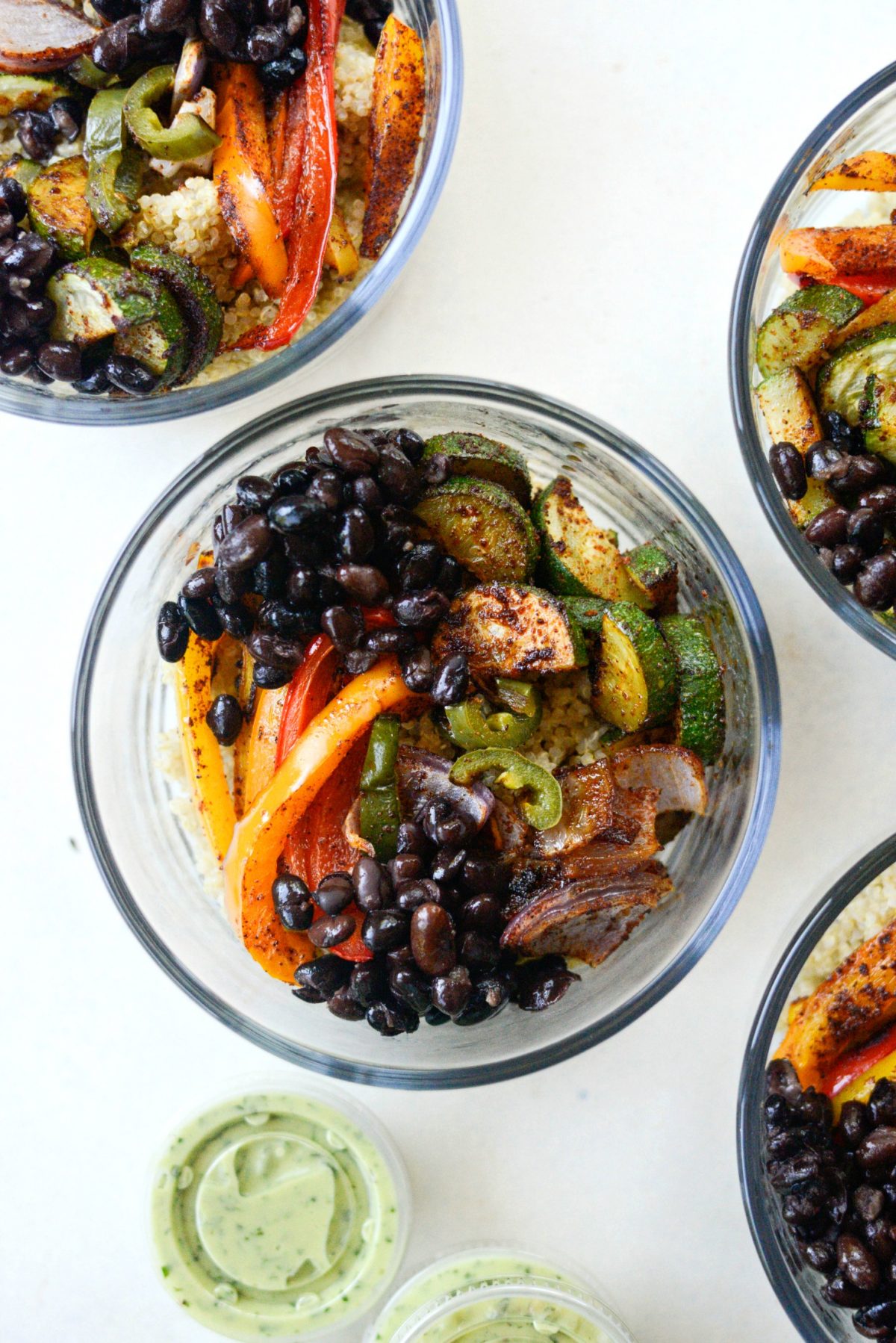 Next divide the (drained and rinsed) black beans and then half a sliced chicken breast per bowl .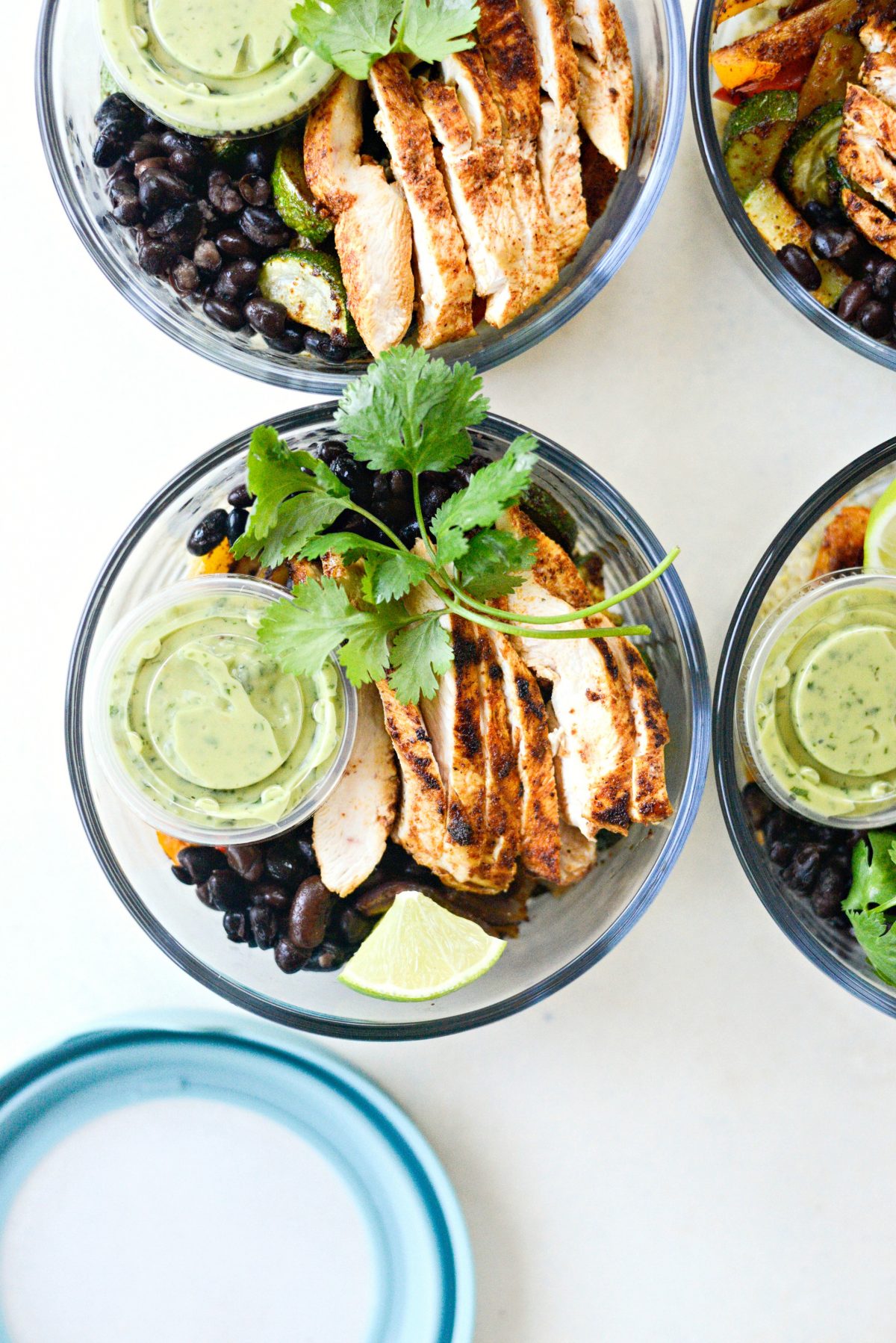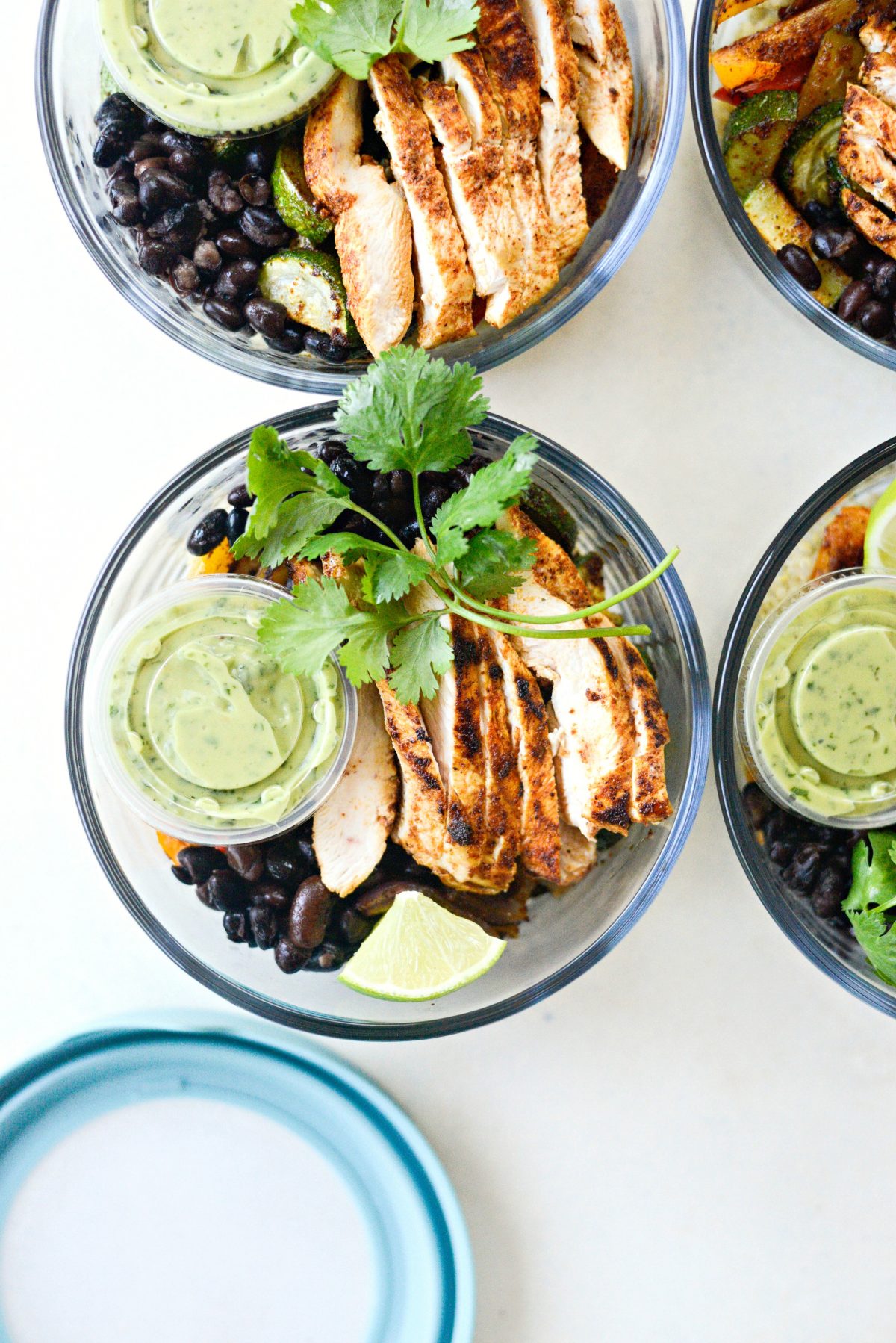 Lastly tuck in a little cup of dressing, lime wedge and fresh cilantro sprigs into each bowl before replacing the lids and storing in the fridge.
TO SERVE:
When ready to eat, remove the dressing, lime and cilantro. Reheat the fajita chicken and vegetable quinoa bowl in the microwave until warm. Next, drizzle with the dressing add a squeeze of lime and tear up the cilantro.
Toss to coat everything with the dressing, and then prepare yourself for live at first bite.
Now of course this would make an excellent lunch or dinner, but for people who like to meal prep…this recipe is for you!
Enjoy! And if you give this Fajita Chicken and Vegetable Quinoa Bowls recipe a try, let me know! Snap a photo and tag me on twitter or instagram!
This post may contain affiliate links.
Buy the Cookbook: Simply Scratch : 120 Wholesome Homemade Recipes Made Easy Now available on Amazon »
THANK YOU in advance for your support!