This easy artichoke gratin is quick, simple and the perfect side dish or warm appetizer! Plus there is loads and loads of cheese.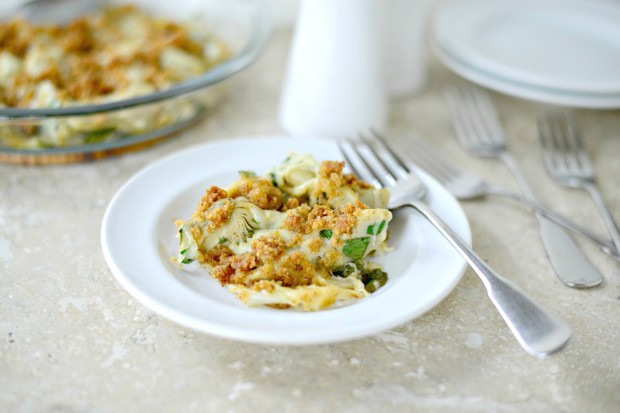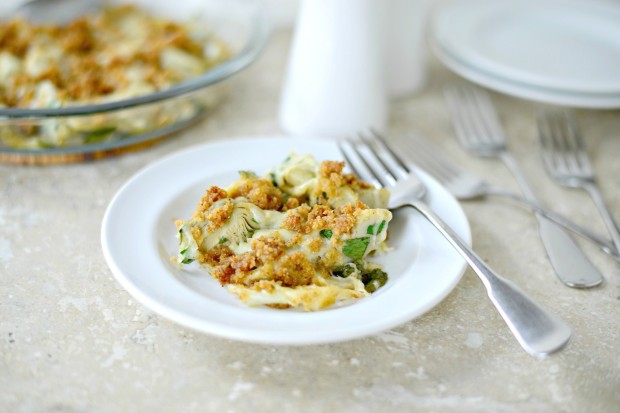 This honestly was the tastiest six ingredient dish I've made yet. How can you go wrong with baked artichokes and Gruyere cheese? You can't.
Because sometimes you want a quick and effortless side dish or a hot, cheesy appetizer. And sometimes you're having a bad week and just tossed 45 dollars worth of groceries in the trash and you just need eat your feelings.
So I'll spare you the sad song about the ribs that took me all day to rub, braise and slather only to end up in the garbage. Or how the pretzel chocolate chip cookie bars that looked and smelled promising had the texture of sand. No one wants to read about that, especially when there's oooey gooey cheesy artichoke goodness to visually devour.
Now. Feast. Your. Eyes.
First, as if this gratin wasn't already pretty decadent, we're topping it with brown buttered bread crumbs. Yeah sorry not sorry.
Start by melting two tablespoons of butter over medium-low heat until bubbly and brown.
Then throw in the 1/4 cup of breadcrumbs and then toss those crumbs in the browned butter until absorbed. Scoot that off to the side while you whip up the gratin. Which takes all of about 5 minutes to do.
Next, drain a [14.75 ounce] jar of marinated artichoke hearts. If I can offer a piece of advice. Always, skip over the canned artichokes and always, always grab the jarred ones because they're less mushy and typically better quality.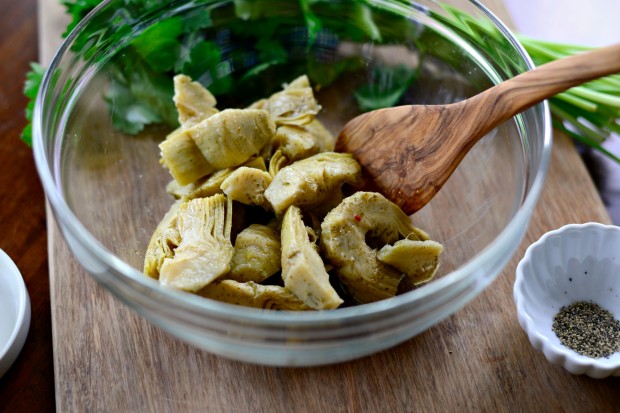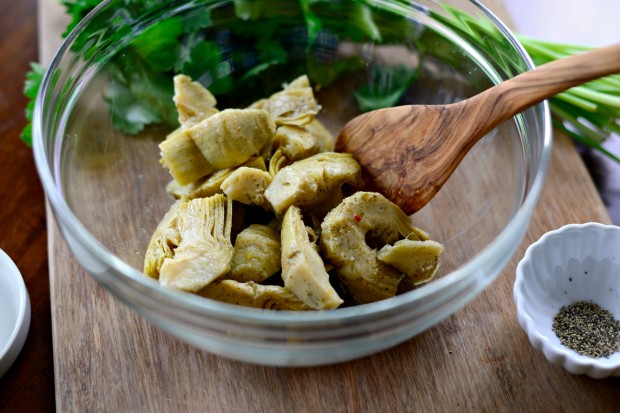 Then, after you've drained off as much of the marinating liquids as possible, toss the artichokes into a bowl.
And then chop up a couple tablespoons of fresh parsley and add it right on into the bowl.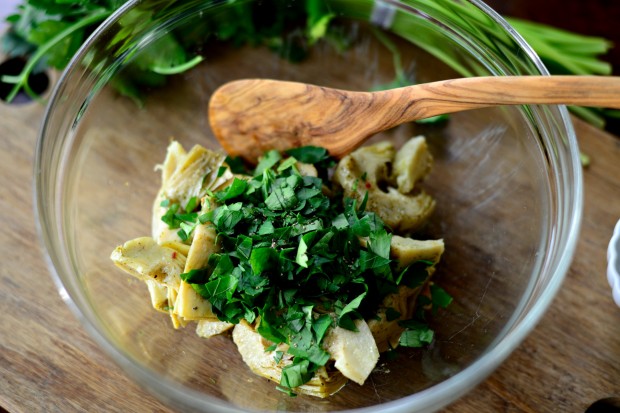 Next, season with coarse black pepper.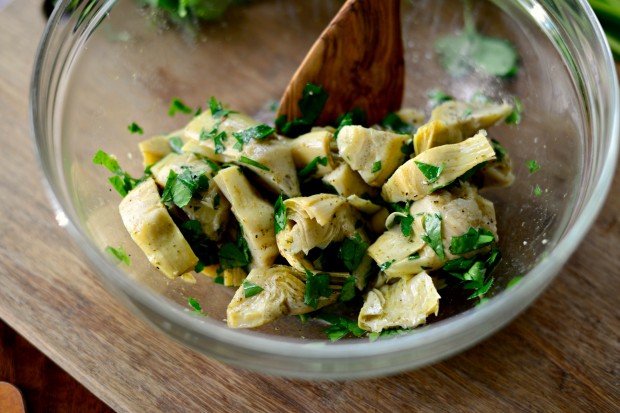 Then give it a quick toss and set it off to the side for just a second. Because if you buy good quality marinated artichoke hearts you really won't need any more seasoning than fresh parsley and black pepper.
Next, drizzle a teaspoon or so of olive oil into a 9-inch pie plate or any small oven-safe baking dish.
Then spread the artichoke hearts in an even layer.
Next grate a cup of Gruyere cheese and sprinkle that all over the top of those artichokes.
And then grab those crumbs and sprinkle them over the top of the cheesy chokes.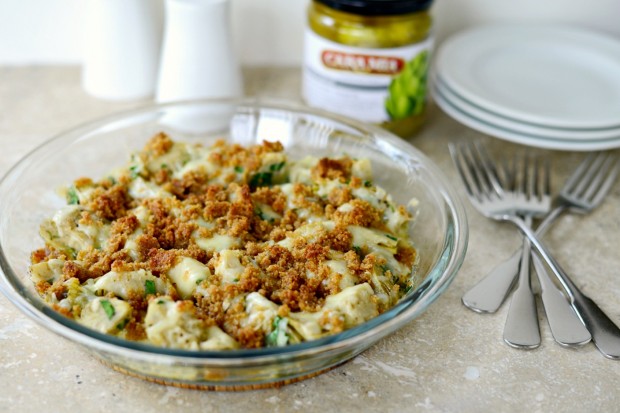 Next bake the gratin in a 400° oven for ten or so minutes until the cheese is melts and is bubbly. The breadcrumbs will be a deep golden brown.
Remove and serve while it's warm. We're covering all the bases here; cheesy, crispy and delicious. It really is that simple and delicious!
Enjoy! And if you give this Artichoke Gratin recipe a try, let me know! Snap a photo and tag me on twitter or instagram!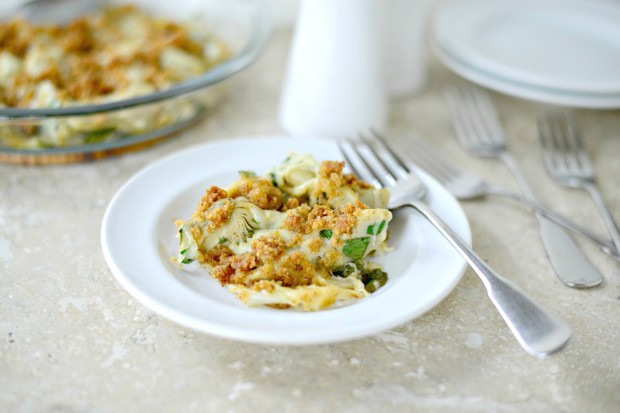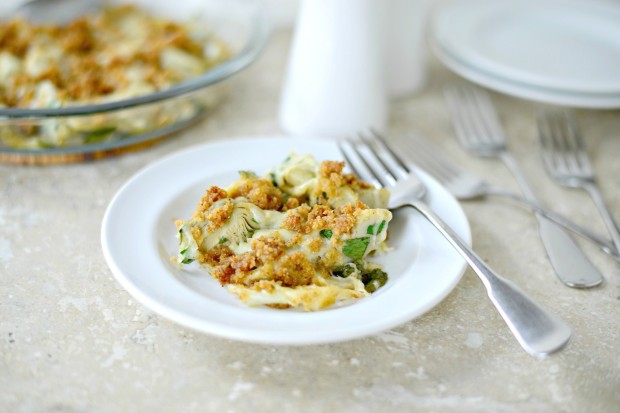 My cookbook Simply Scratch : 120 Wholesome Homemade Recipes Made Easy is now available! CLICK HERE for details and THANK YOU in advance!
Yield: 6 servings
Easy Artichoke Gratin
Quick, simple and the perfect side dish or warm appetizer or side dish!
Ingredients
1 marinated artichoke hearts, or 14.75 oz jar
2 tablespoons chopped fresh parsley
1/4 teaspoon coarse ground black pepper
1 cup freshly grated Gruyere cheese
1/4 cup plain breadcrumbs
2 tablespoons butter
1 teaspoon olive oil
Instructions
Preheat your oven to 400 degrees and drizzle one teaspoon of olive oil into the bottom of an oven-safe baking dish.

In a small 8-inch skillet, add the butter and heat over medium heat.

Continue to heat the butter until it turns lightly golden in color and smells nutty. Add in the breadcrumbs and stir to coat until the breadcrumbs have absorbed all the browned butter. Remove the skillet from the heat and set off to the side

In a medium bowl combine the marinated artichoke hearts with chopped fresh parsley and black pepper. Place the artichoke hearts evenly on the bottom of the prepared oven-safe baking dish.

Sprinkle the Gruyere cheese over top of the artichoke hearts, top with the browned butter breadcrumbs and bake for 10-15 minutes or until the cheese is bubbly and the breadcrumbs are a deeper golden.
Calories: 157kcal, Carbohydrates: 4g, Protein: 7g, Fat: 12g, Saturated Fat: 7g, Polyunsaturated Fat: 1g, Monounsaturated Fat: 4g, Trans Fat: 1g, Cholesterol: 34mg, Sodium: 168mg, Potassium: 36mg, Fiber: 1g, Sugar: 1g, Vitamin A: 510IU, Vitamin C: 3mg, Calcium: 235mg, Iron: 1mg
[this post was a paid partnership with STAR FINE FOODS and any opinion is my own]
This post may contain affiliate links.
Buy the Cookbook: Simply Scratch : 120 Wholesome Homemade Recipes Made Easy Now available on Amazon »
THANK YOU in advance for your support!