This double chocolate chunk share cookie is the dessert for sharing with close friends and family. Serve with a few scoops of vanilla ice cream and spoons.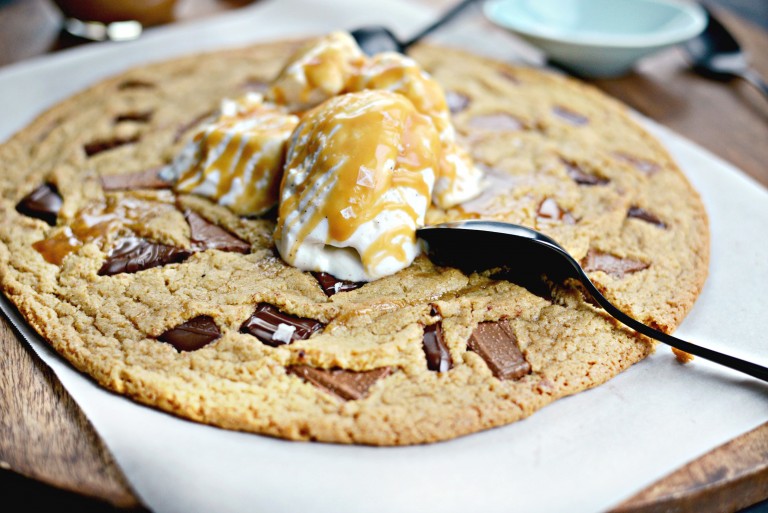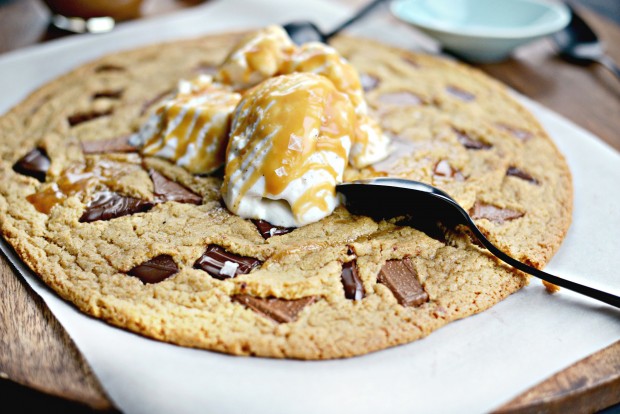 Normally I would never share a cookie. Not with my husband and not with my two daughters.
Sharing a cookie is right up there with giving away the last piece of crispy bacon or the only K-cup of coffee. It just wouldn't ever happen. However sharing a giant cookie, topped with ice cream, homemade caramel and sea salt. Now that's a totally different story.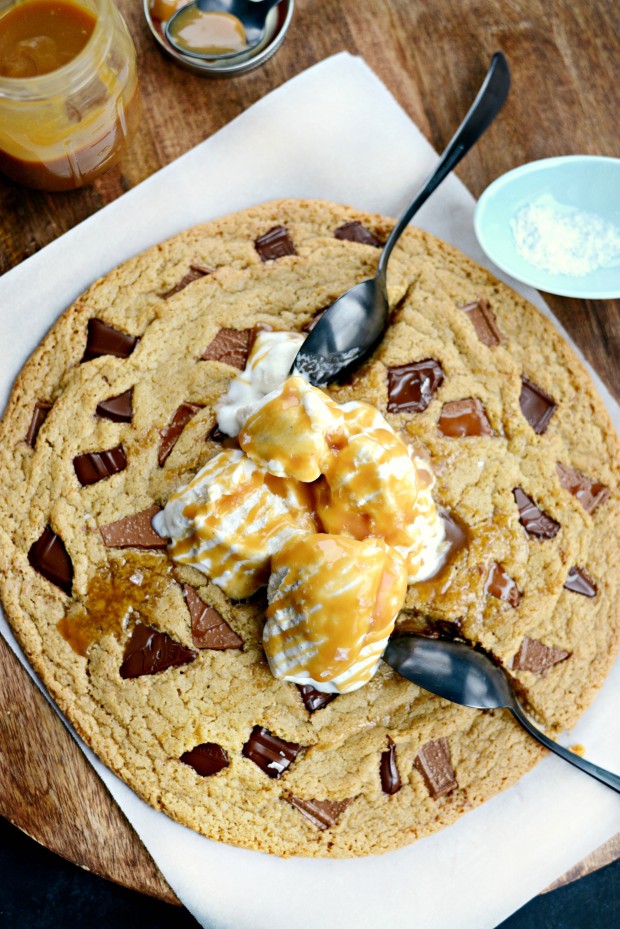 I made this giant chocolate chunk cookie last Sunday. Haileigh was doing homework, Pat was watching Scent of a Woman for the billionth time. <— and I'm not kidding. Whenever that movie is on, no matter which part of the movie he finds it at, he'll watch it the rest of the way through. Mainly for the ending. I'm pretty sure all of us girls can recite, and in verbatim, Pacino's speech at the end. "…but there's nothing like the sight, of an amputated spirit. There is no prosthetic for that." Pat would be so proud.
With everyone else preoccupied, I asked Malloree if she'd like to help me make this here share cookie. It was a lot of fun, she measured and poured everything and I snapped the photos. This has me thinking about hiring her as my assistant. Maybe pay her in cookies and ice cream? It'll be brilliant!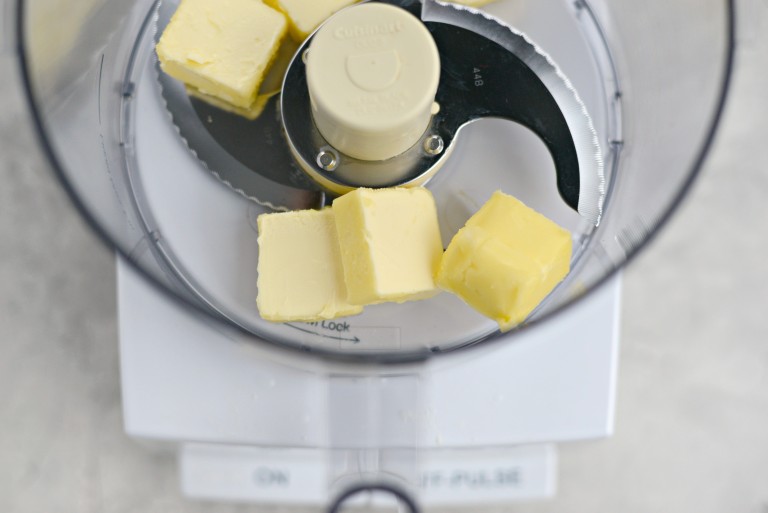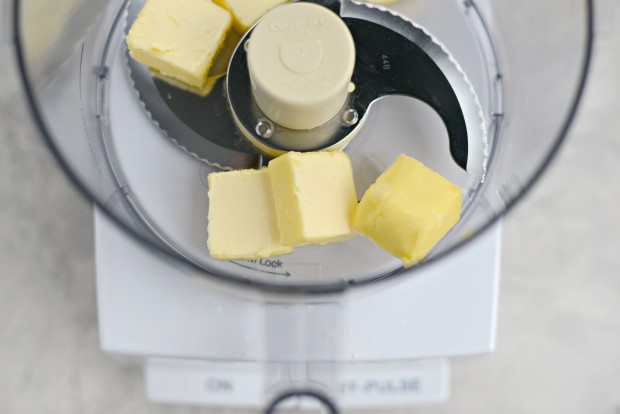 This recipe uses the food processor which is a nice change from busting out my giant beast of a Kitchen Aid.
Don't get me wrong, I do love my mixer, but it's always fun to switch things up a little. Anyways, add 6 tablespoons of unsalted butter to your food processor that's fitted with the sharp-as-heck blade attachment.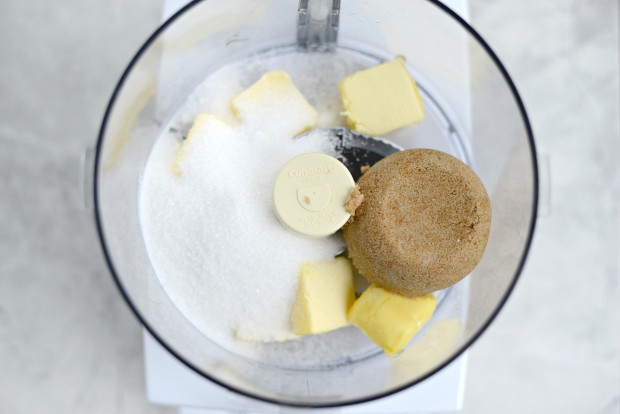 To that, add in a 1/2 cup of both dark brown sugar and regular sugar.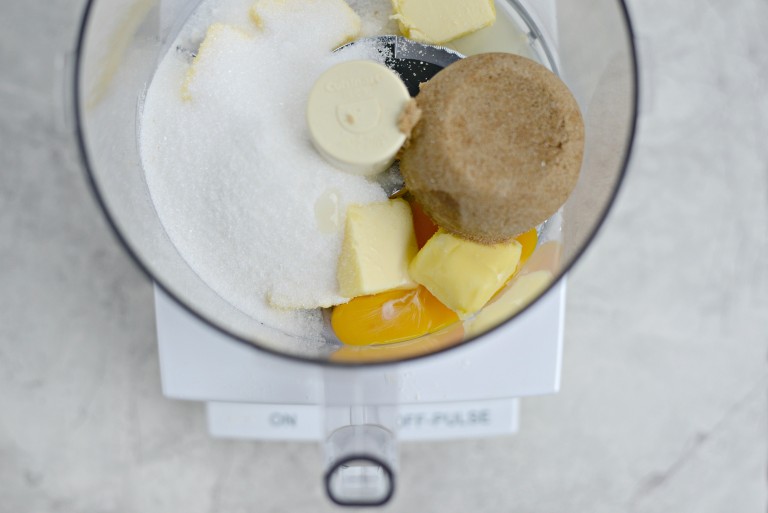 Crack in a large egg.
Measure in 1 teaspoon vanilla extract.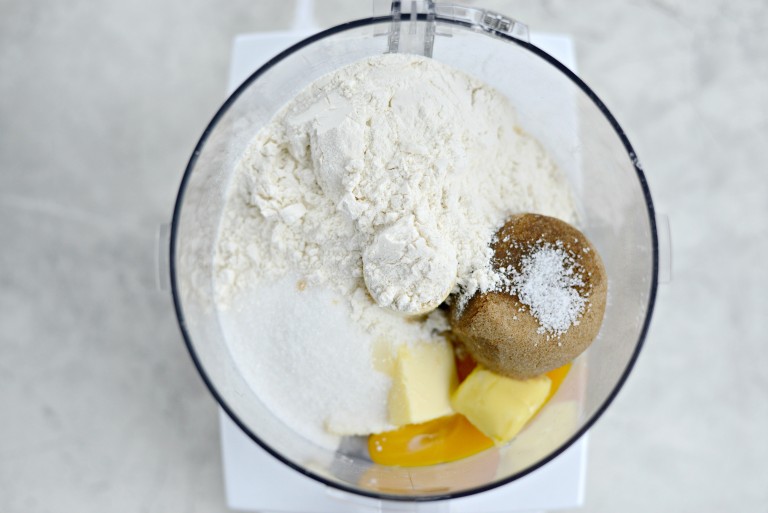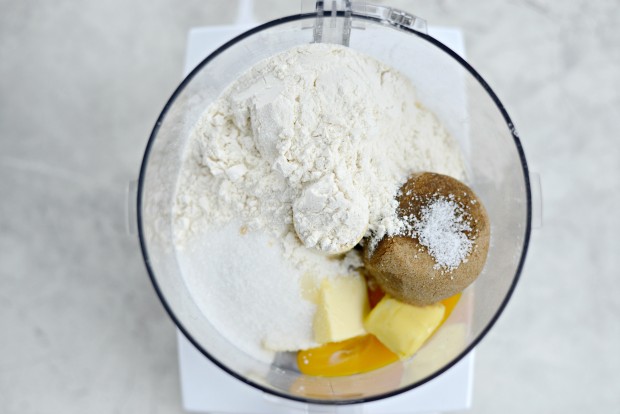 And lastly, add in 1/2 of a teaspoon of kosher salt and 1/8 teaspoon baking soda.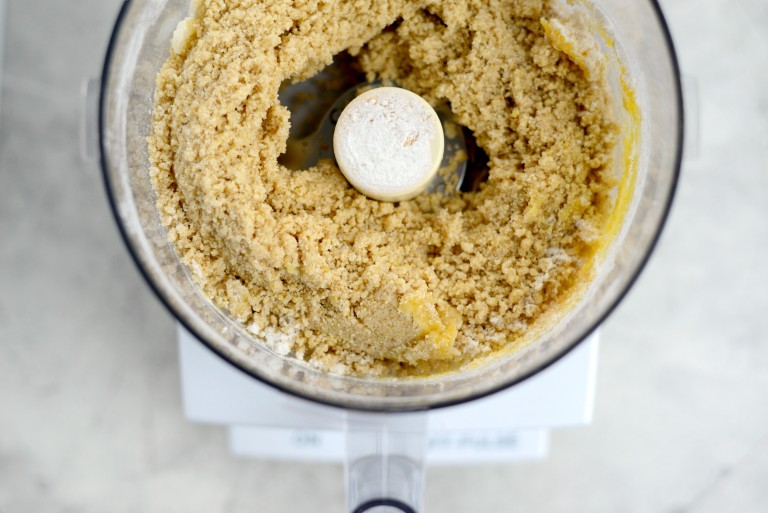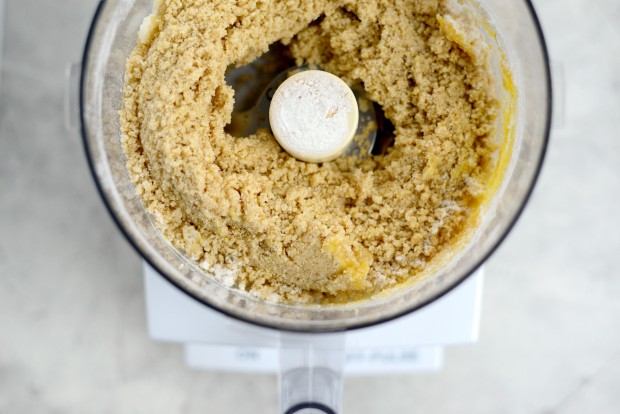 Pulse until just combined.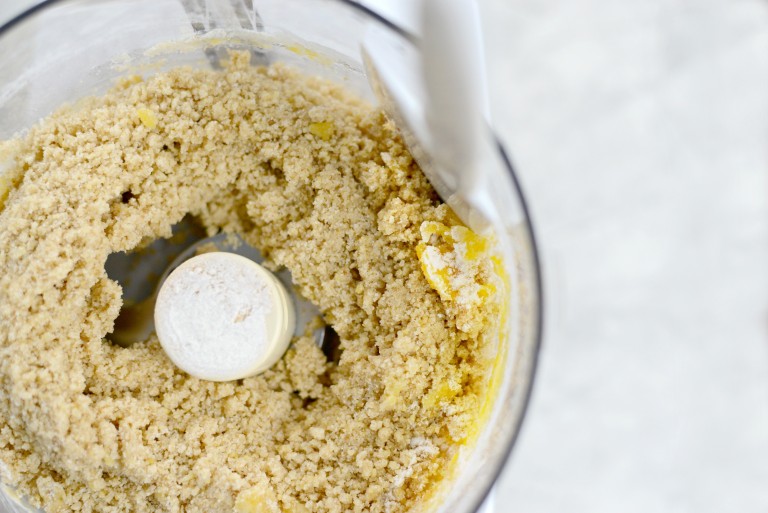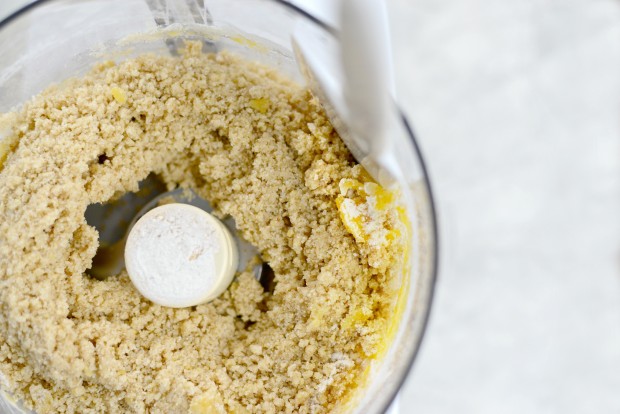 Use a spatula to scrape down the sides and to incorporate any egg that is stuck to the sides or edges of the bowl.
Continue to pulse until it resembles cookie dough.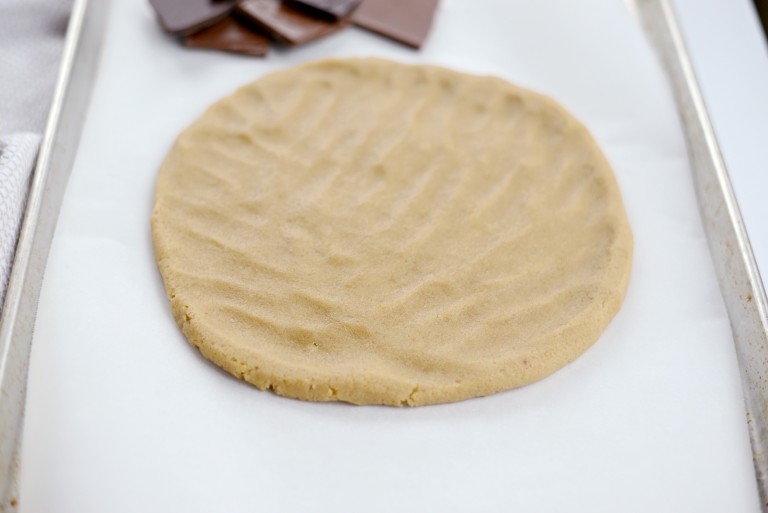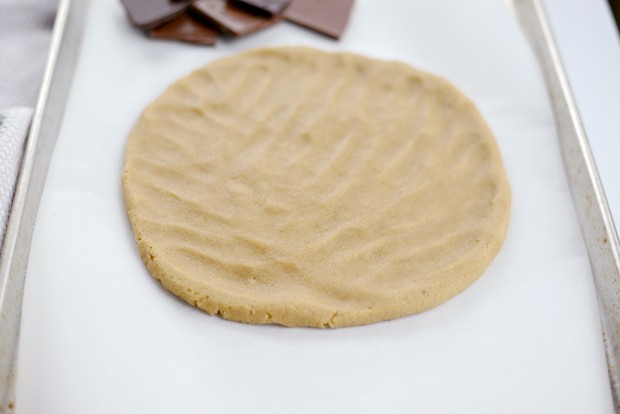 Use a sheet of parchment paper to line a rimmed baking sheet and place the cookie dough in the center. Use your fingers to pat the dough out into a 10-inch round.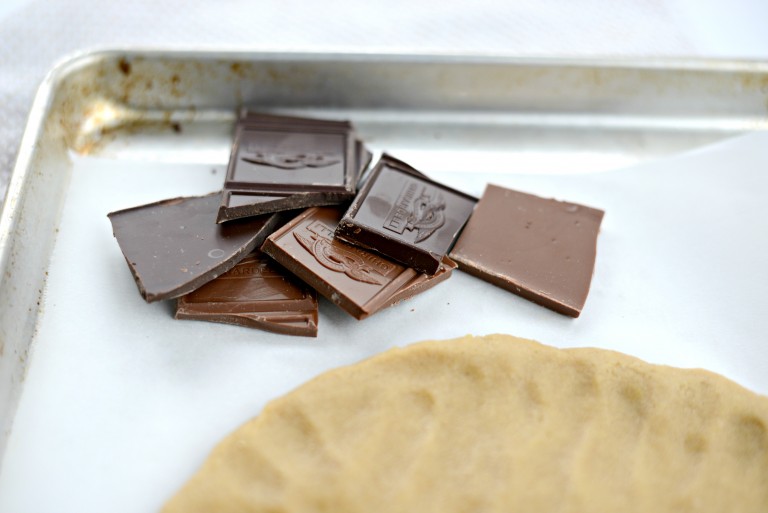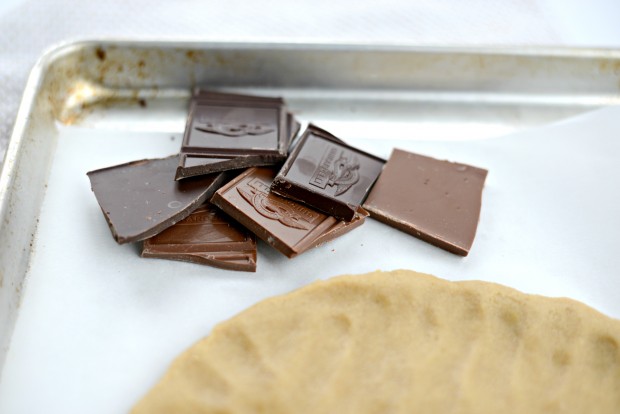 Grab 3 square of each dark chocolate and milk chocolate (totaling roughly 3 ounces).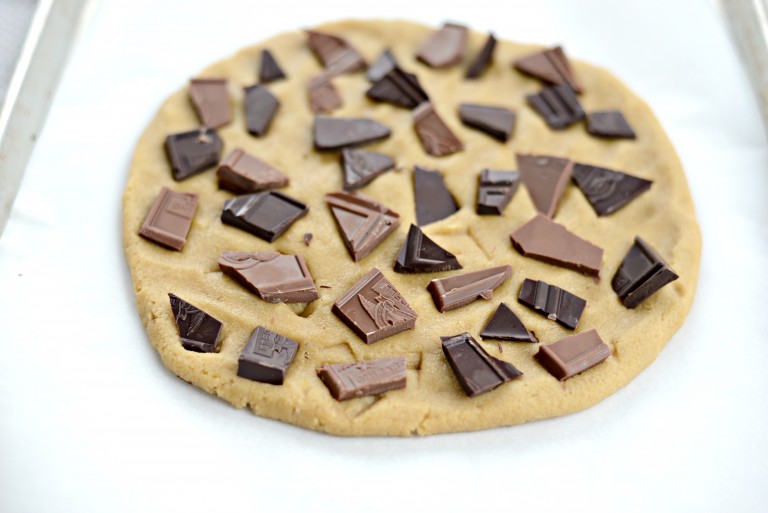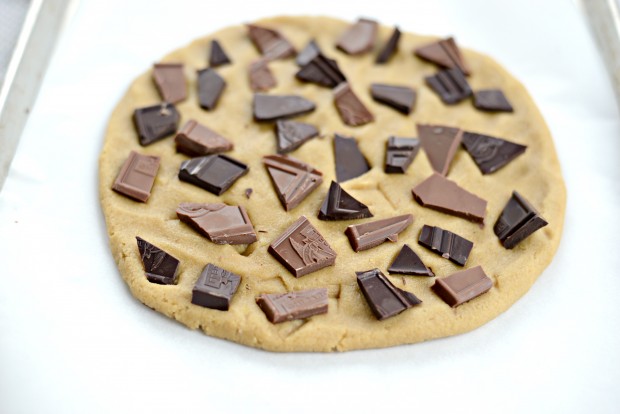 Break the chocolate into misshapen chunks and press them into the top of the cookie.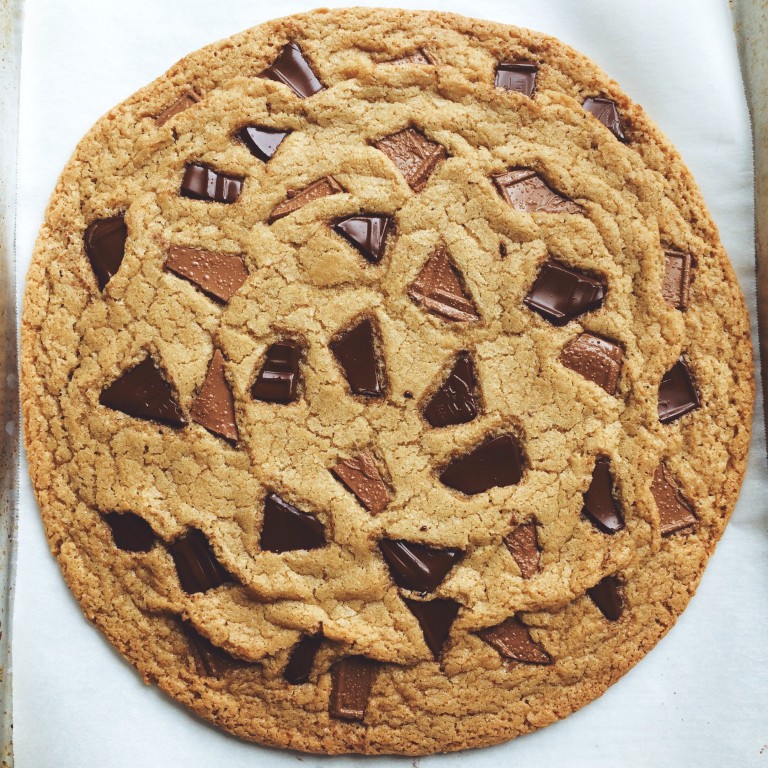 Slide the cookie into a preheated 325° oven to bake for 20 to 25 minutes or when the edges are golden and the center is firm.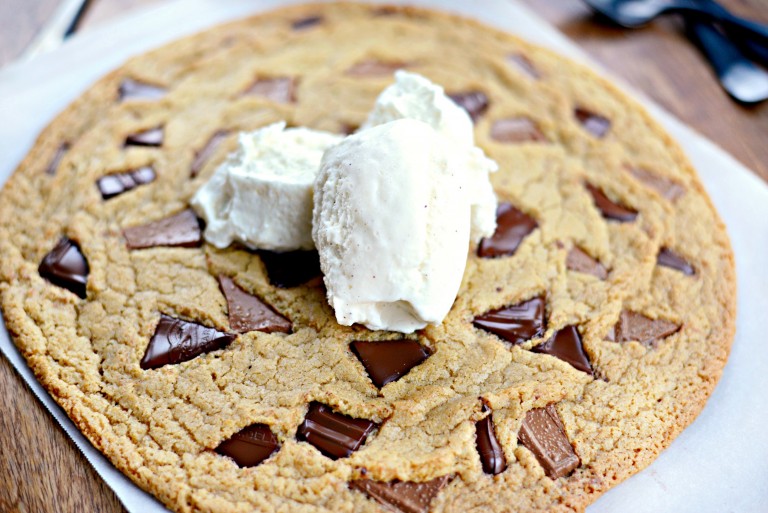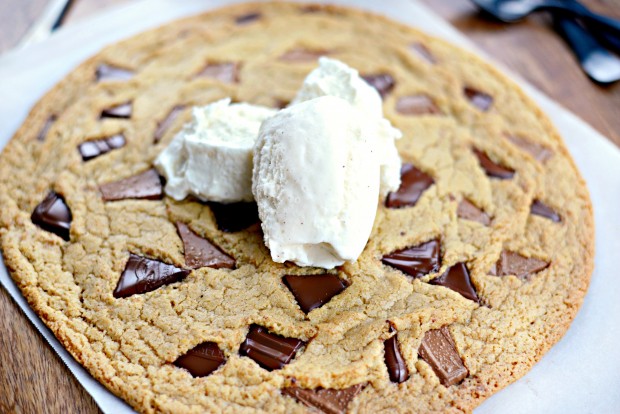 Allow the cookie to cool on the pan for 5 minutes before using the parchment to slide the cookie to a large platter or cutting board. Next top the warm cookie with scoops of vanilla (or chocolate!) ice cream onto the center.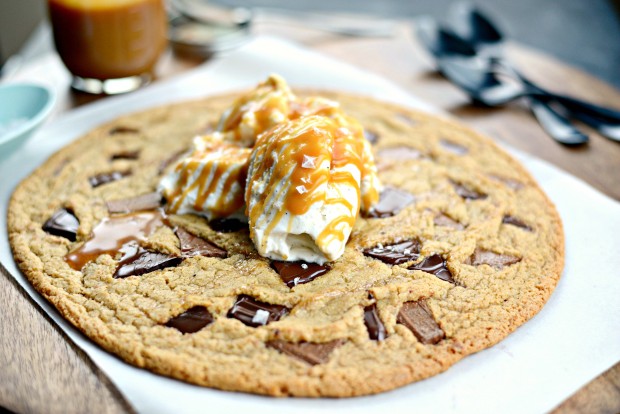 Drizzle with slightly warm homemade caramel sauce and sprinkle with flaked sea salt.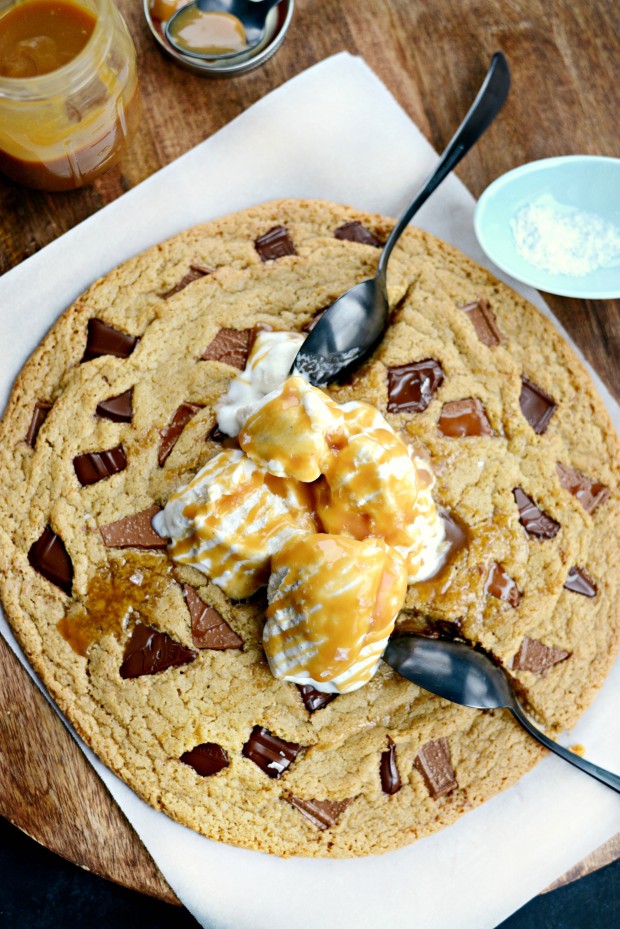 Then go at it with spoons. The warm cookie will start to soften the ice cream, and the salted caramel is fabulous addition to the double chocolate in the cookie! While I stuck with the crispy edges of the cookie my husband claimed the center, because the cookie absorbed some of the ice cream giving it that cookie dough texture.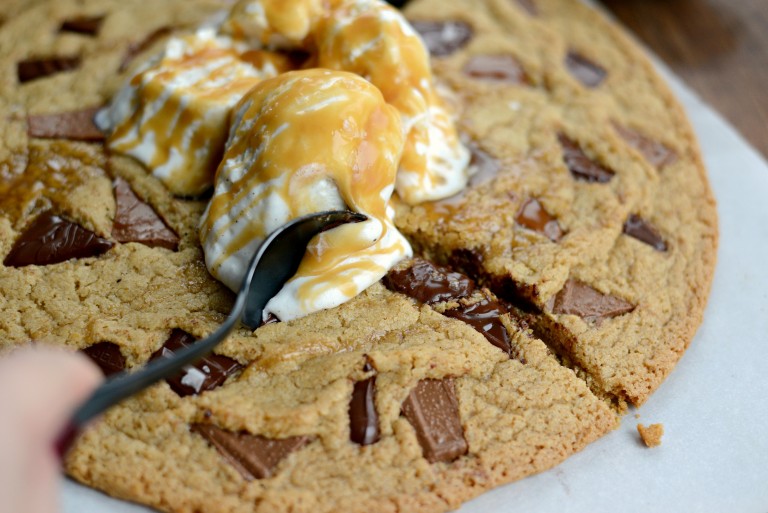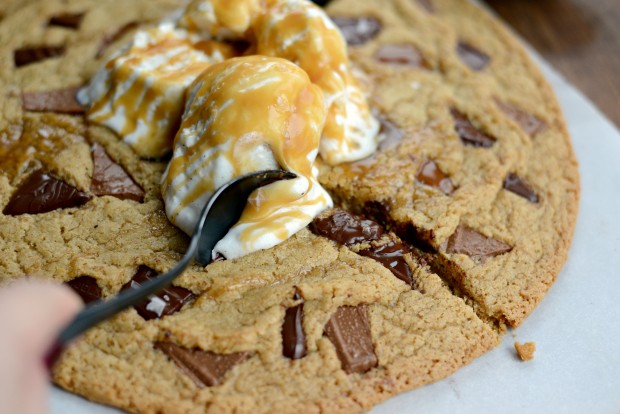 Seriously this cookie is ridiculously good.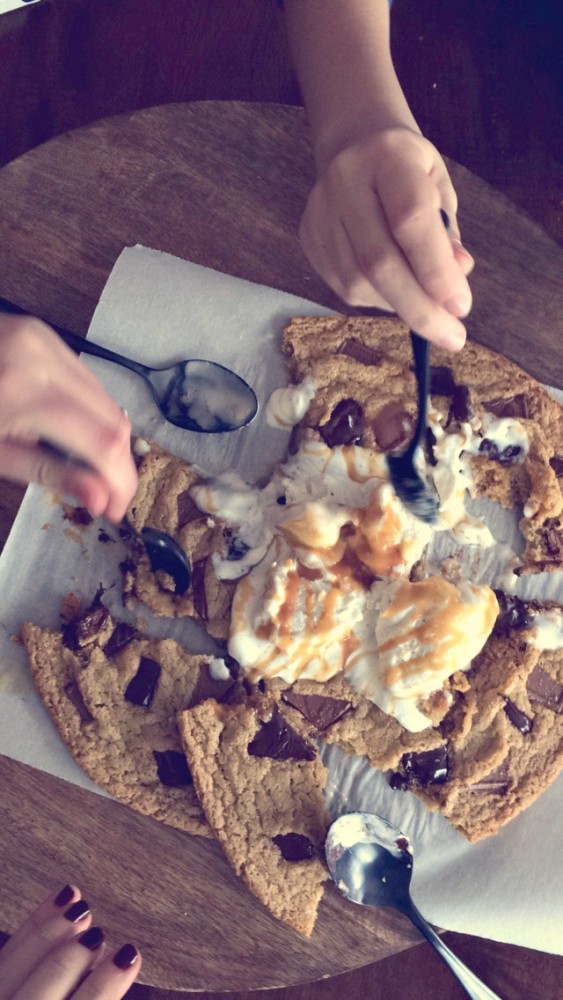 #reallife
Click Here For More Share Cookie Recipes!
Enjoy! And if you give this Chocolate Chunk Share Cookie recipe a try, let me know! Snap a photo and tag me on twitter or instagram!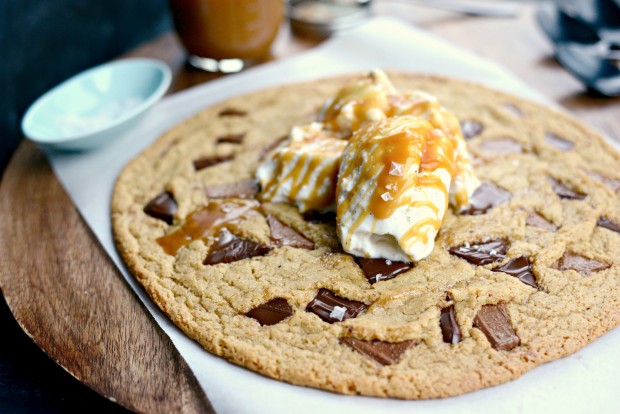 Yield: 6 servings
Double Chocolate Chunk Share Cookie
One giant cookie, studded with both milk and dark chocolate. While it's fresh from the oven top it with vanilla ice cream, warm homemade caramel and a sprinkle of sea salt. Then share it with friends, family or no one at all.
Ingredients
FOR THE COOKIE:
6 tablespoons unsalted butter
1/2 cup dark brown sugar
1/2 cup sugar
1 large egg
1 teaspoon pure vanilla extract
1/4 teaspoon kosher salt
1/8 teaspoon baking soda
1¼ cup unbleached all-purpose flour
1½ ounces dark chocolate, broken into pieces
1½ ounces milk chocolate, broken into pieces
Instructions
Preheat your oven to 325° and line a rimmed baking pan with parchment paper.

In the bowl of your food processor, add the butter, both sugars, egg, vanilla, salt, baking soda and flour. Pulse until combined.

Turn the dough out onto the prepared pan and shape into 10-inch circle. Press the chunks of chocolate into the cookie and bake on the middle rack of your oven for 20 to 25 minutes or until the middle is set.

Let cool for 5 minutes on the pan before using the parchment to slide the cookie off of the pan and onto a large platter or cutting board.

Scoop ice cream onto the center, spoon on warm caramel and sprinkle with sea salt.
Notes
This recipe is respectfully adapted from Donna Hay.
Serving: 1g, Calories: 420kcal, Carbohydrates: 62g, Protein: 5g, Fat: 18g, Saturated Fat: 11g, Polyunsaturated Fat: 1g, Monounsaturated Fat: 5g, Trans Fat: 1g, Cholesterol: 58mg, Sodium: 140mg, Potassium: 138mg, Fiber: 2g, Sugar: 40g, Vitamin A: 393IU, Calcium: 34mg, Iron: 3mg
This post may contain affiliate links.
Buy the Cookbook: Simply Scratch : 120 Wholesome Homemade Recipes Made Easy Now available on Amazon »
THANK YOU in advance for your support!