Spicy and addicting, these sriracha garlic kale chips are made in the food dehydrator!
I've been wanting a food dehydrator for like ever now.
Originally, my obsession started with the want to dehydrate my leftover herbs from my garden after the summer, then it was to make homemade fruit leathers and then I became intrigued by raw cooking. Yet I just could never bite the bullet and buy one.
Until, the other week when I tested out the Excalibur Food Dehydrator. Are you even kidding me? The moment it was delivered to my door I had to calm my overexcited brain down by means of meditation just to sort out and decide on what recipe I was going to make first. So prepare for upcoming dehydrating posts and recipes because I am officially and un-apologetically addicted. #sorrynotsorry
So when I think of healthful snacks my family eats, kale chips come to mind. Typically I make them in the oven, but it never fails that a few or ten get a little darker than the rest. Not that I, lover of all things slightly burnt, particularly mind but it's just not as visually pleasant. With a food dehydrator, you get crisp minus the bitter and brown edges. Score!
To make the sriracha garlic kale chips, I use a little Sriracha powder with some other spices and seasonings for a healthy snack with some kick.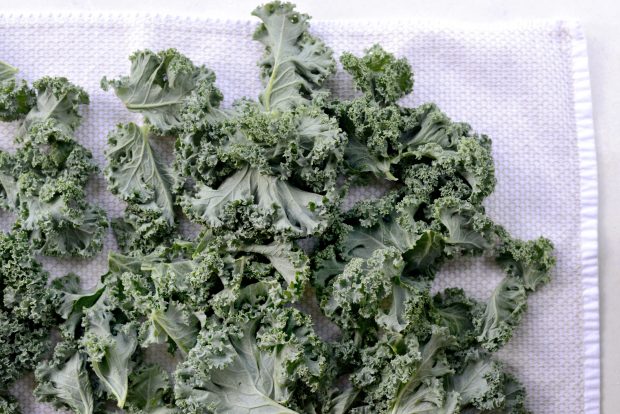 Remove the leaves from a bunch of kale, give them a rinse and place on a kitchen towel. PS. I'm using curly leaf kale.
Then I just role up the towel and let the water get absorbed.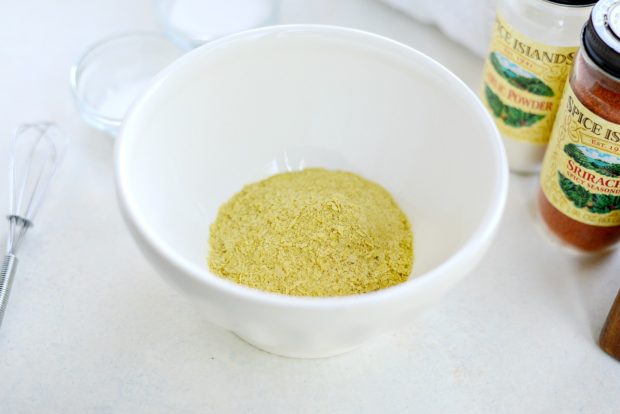 For the sriracha garlic seasoning, I added 2 tablespoons of nutritional yeast to a small bowl. This gives the kale chips a cheddar-like flavor. LOVE!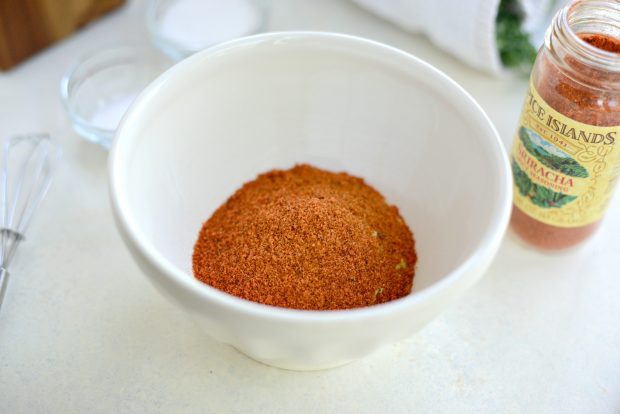 Then add in a tablespoon of sriracha seasoning…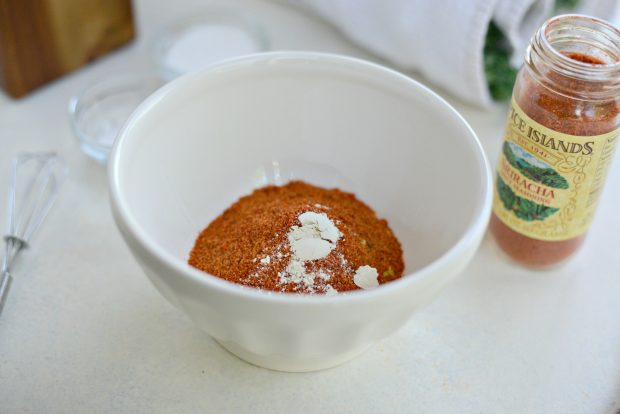 1/4 to 1/2 teaspoon of garlic powder, depending on how garlicky you like it.
Then add in 1/2 teaspoon sugar plus 1-1/2 teaspoons of kosher salt.
Then give it a whisking and set off to the side.
Depending on how much kale you get in your bunch, drizzle with 2 to 3 tablespoons of oil.
Enough oil so that the leaves are glossy, but not drenched, when tossed.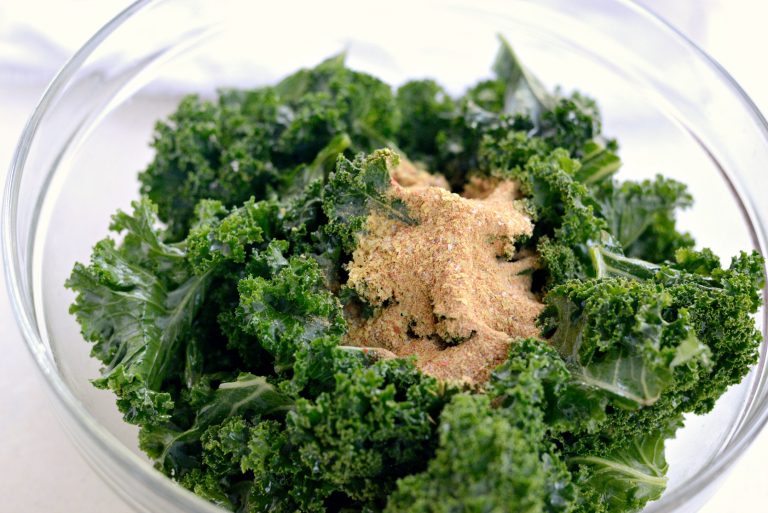 Add in the sriracha-garlic mixture…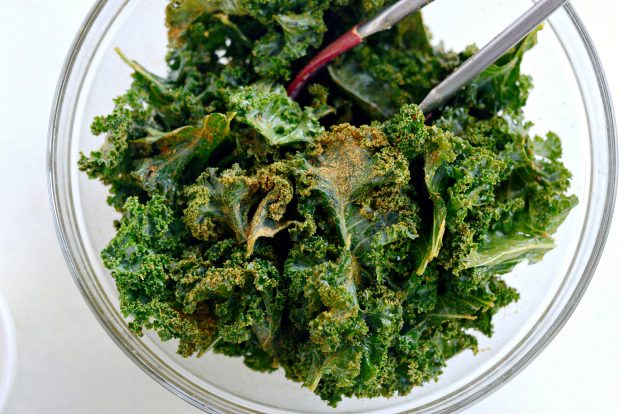 And toss to coat.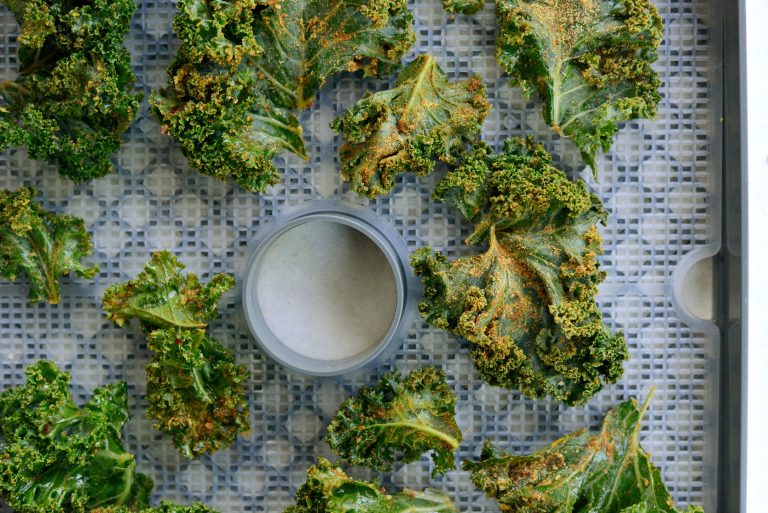 Arrange the kale leaves in a single layer, but not overlapping.
Stack the trays, cover…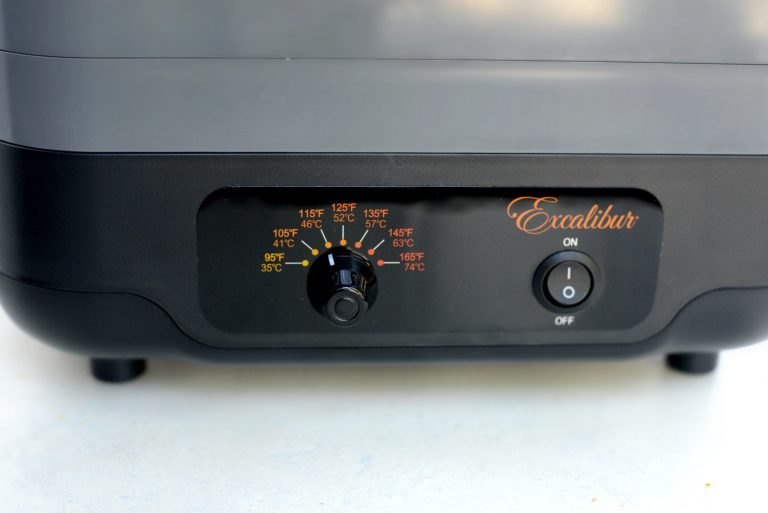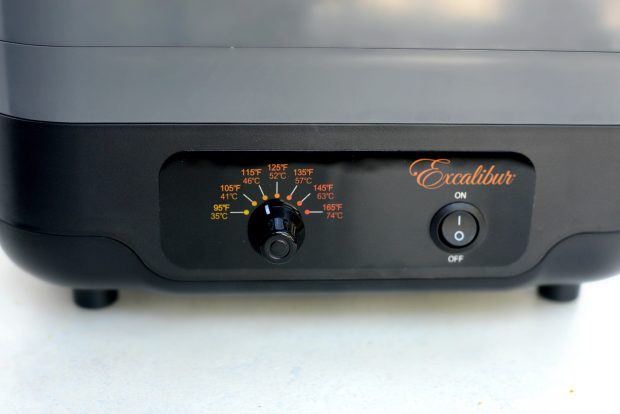 And set the temperature to 115 degrees. Flip the switch to on and wait 3 to 5 hours.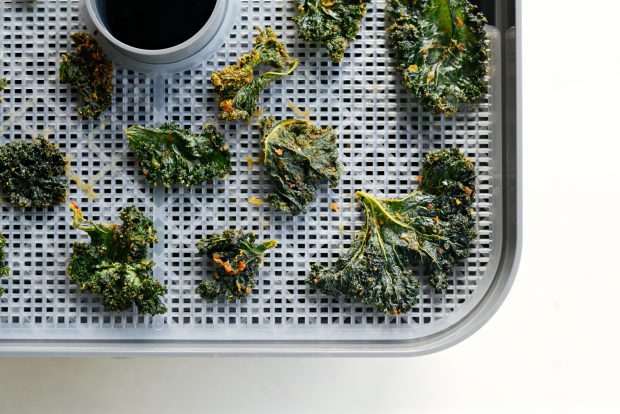 I check on them after 2 hours and then every 30 to 45 minutes until the leaves are crisp and dried out.
Then I sampled away! Spicy. Garlicky. Crispy. Goodness.
I hope you enjoy these sriracha garlic kale chips!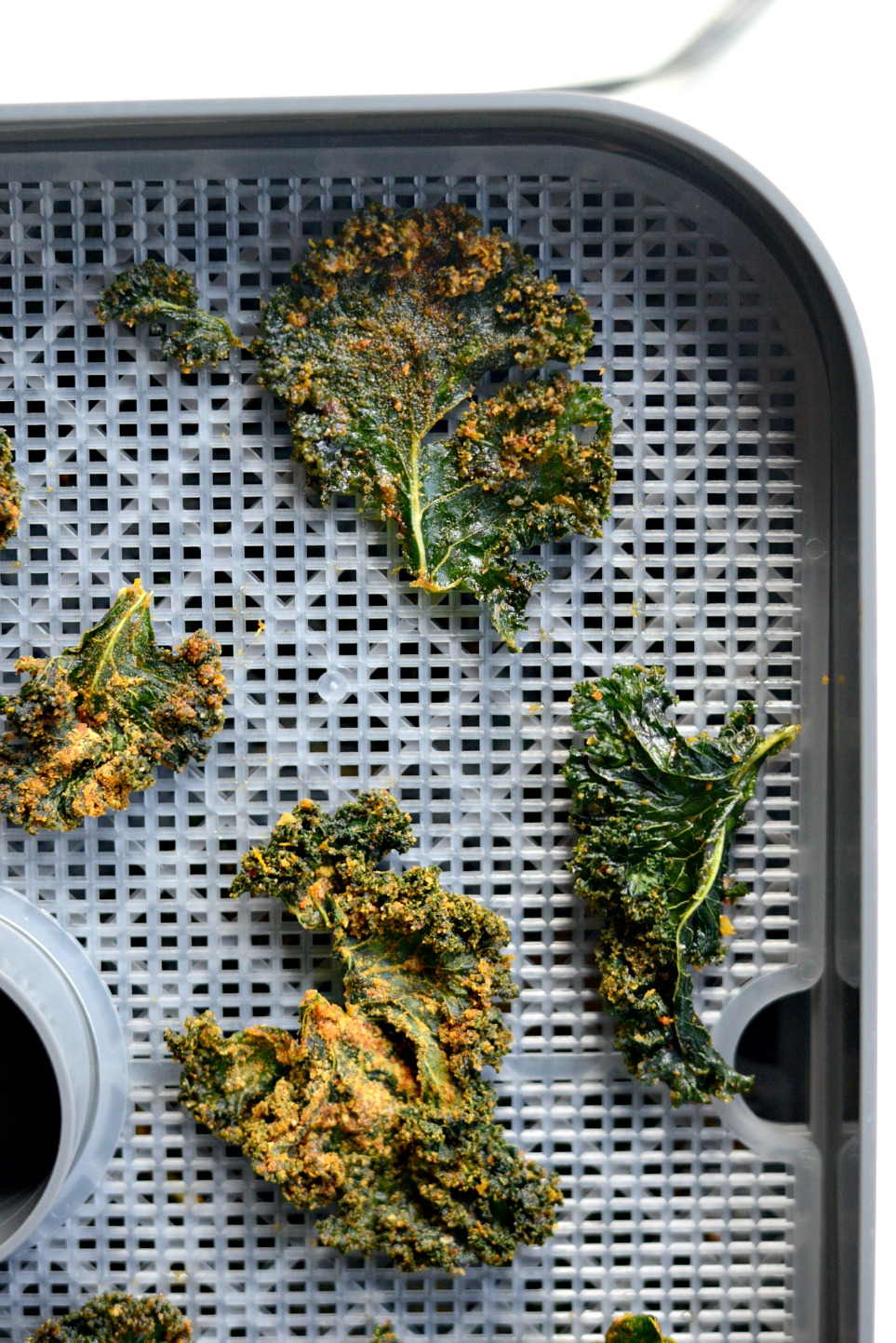 I packed these up and took them with us to my daughters softball tournament over this past weekend and guiltlessly snacked away. SO good! and because the moisture was taken out of the kale, there's no need for them to be refrigerated! Which means, these kale chips should last for a couple of months if tucked in a airtight container, but I doubt they'll even make it that long, they're so spicy and delicious!
Cheers to food dehydrators that make healthy snacking easy! Now on to making homemade fruit leathers- SO excited!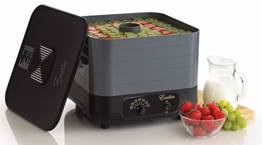 There's a long list of things that I like about this food dehydrator. First it's on the smaller side. Don't get me wrong, it holds a lot (like a large bunch of kale!) but it's not this monstrous thing that takes up a ton of counter space- which I like. I love that there are liners for dehydrating smaller things like herbs and corn. And there's also liners for making fruit leathers. My Excalibur also came with containers for yogurt making!!
If I had to make one complaint, which really isn't a humongous deal or anything, was that it was just a tad noisy. Like I said, it's not horribly loud or anything like that but it's not quite either. Kind of like the fan above your stove. I don't know if I just expected it to be silent or what, but with that said, it won't keep me from dehydrating and I really-really do like this food dehydrator!
If you're interested in food dehydrating here is some more information on the benefits of dehydrated foods:
· An efficient way to preserve harvests while maintaining vitamin content and antioxidants. Dehydration concentrates natural flavors, sweetness and aroma.
· If stored properly, dehydrated foods also have a longer shelf life than any other preservation method.
· Dehydrated food is approximately 10% to 15% of the weight of "wet" foods.
· Prep time is minimal for dehydrating. Simply cut the food, load the trays, set the temperature and let the dehydrator do the work.
Enjoy!
My cookbook Simply Scratch : 120 Wholesome Homemade Recipes Made Easy is now available! CLICK HERE for details and THANK YOU in advance!
Yield: 4 servings
Dehydrated Sriracha + Garlic Kale Chips
Crispy, spicy and delicious kale chips made in the dehydrator!
Ingredients
1 bunch kale leaves, washed
2 tablespoons nutritional yeast
1 tablespoon dried Sriracha
1/4 teaspoon garlic powder
1/2 teaspoon sugar
1½ teaspoons kosher salt
2 to 3 tablespoons olive oil
Instructions
Remove the tough stems form the bunch of kale by holding the stem part in one hand and running your other hand down the length of it. Hand-tear the leaves into chip-size pieces, rinse and place on a kitchen towel and pat dry.

In a small bowl combine the nutritional yeast, Sriracha seasoning, garlic powder, sugar and salt.

Place the kale leaves in a large bowl and drizzle with olive oil until coated. Add the seasoning and toss to coat.

Place kale leaves in a single layer, without overlapping, onto dehydrator trays. Cover, set the temperature to 115 degrees and turn on your food dehydrator. Dehydrate for 3 to 5 hours or until the kale is crisp.

Store in an airtight container for up to 2 months.
Serving: 1cup, Calories: 99kcal, Carbohydrates: 6g, Protein: 4g, Fat: 8g, Saturated Fat: 1g, Polyunsaturated Fat: 1g, Monounsaturated Fat: 5g, Sodium: 886mg, Potassium: 277mg, Fiber: 2g, Sugar: 1g, Vitamin A: 4109IU, Vitamin C: 39mg, Calcium: 54mg, Iron: 1mg
I was given an Excalibur Food Dehydrator in exchange for recipe development and my honest review. As always, my thoughts are my own and I am smitten with my Excalibur!
This post may contain affiliate links.
Buy the Cookbook: Simply Scratch : 120 Wholesome Homemade Recipes Made Easy Now available on Amazon »
THANK YOU in advance for your support!