This Curried Chicken Salad is loaded with shredded cooked chicken, juicy red grapes, crisp celery, green onions, cashews and cilantro, tossed in a bright yellow curry yogurt dressing.
This was my lunch for the week and I'm not mad about it.
You remember that beautiful chicken I roasted a week or so ago? Well after it cooled, I quickly picked and picked every bit of meat off of the bones and shredded it into bite-size pieces. Yes, I roasted a chicken for the sake of this gorgeous vibrant salad. Worth it.
Curried chicken salad is also loaded with fresh grapes, buttery cashews, crisp fresh celery, green onions and cilantro. However the real gem is the bright, golden curry dressing. Because I wanted to make this dressing a smidgen healthier, I swapped out some of the mayonnaise for Greek yogurt. Then I spiced things up with ground curry, turmeric and ginger. You won't even notice the difference.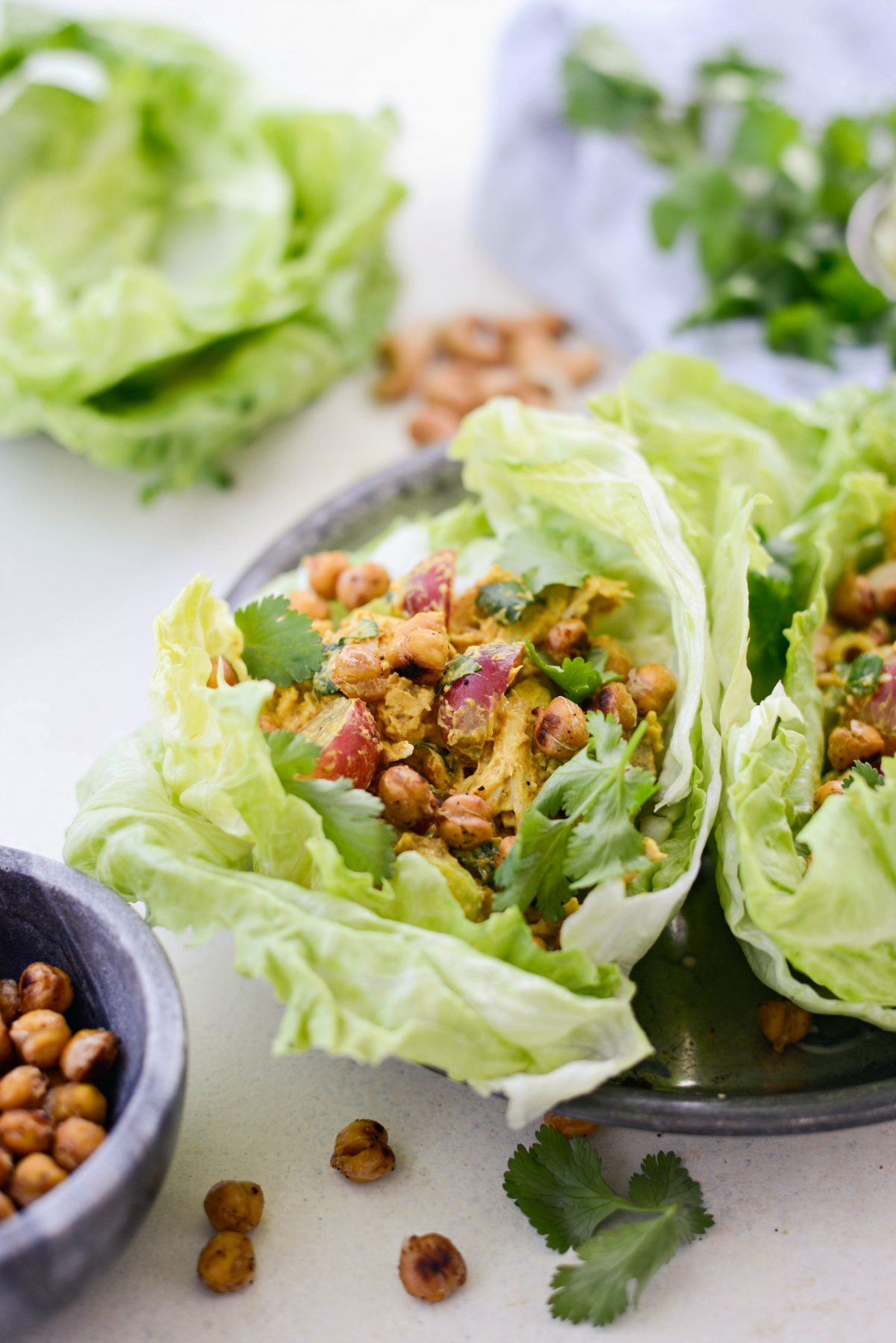 A little sweetness from honey, tang from lime juice and a little heat from aleppo pepper sends it over the top.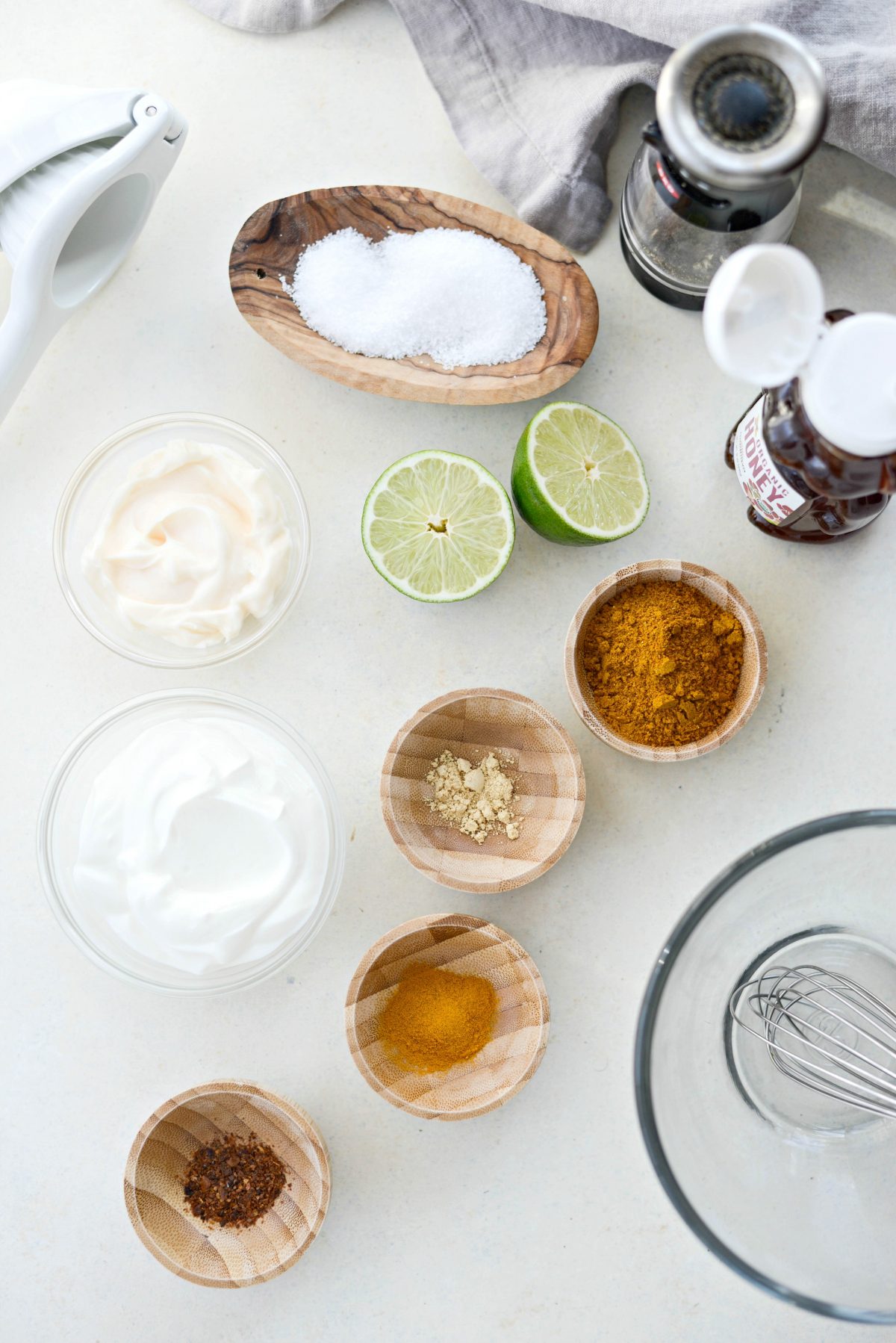 First, to start you will want to make the chicken salad dressing.
For this you will need; 1/2 cup non-fat, unsweetened Greek yogurt, 1/3 cup mayonnaise, 2 teaspoons honey, the juice from 1/2 to 1 lime – depending on the size of your lime, 4 teaspoons curry powder, 1/2 teaspoon turmeric, 1/4 teaspoon ground ginger, 1/2 teaspoon kosher salt, 1/4 teaspoon freshly ground black pepper and 1/4 teaspoon aleppo pepper.
What is Aleppo Pepper? Aleppo Pepper is a pepper that is dried and commonly used in Middle Eastern and Mediterranean cuisine. It has a moderate heat level, similar to ancho chile but with a fruity raisin-like flavor (thanks wiki!). I purchase my Aleppo Pepper from Penzeys and use it in quite a few recipes and sprinkled over popcorn.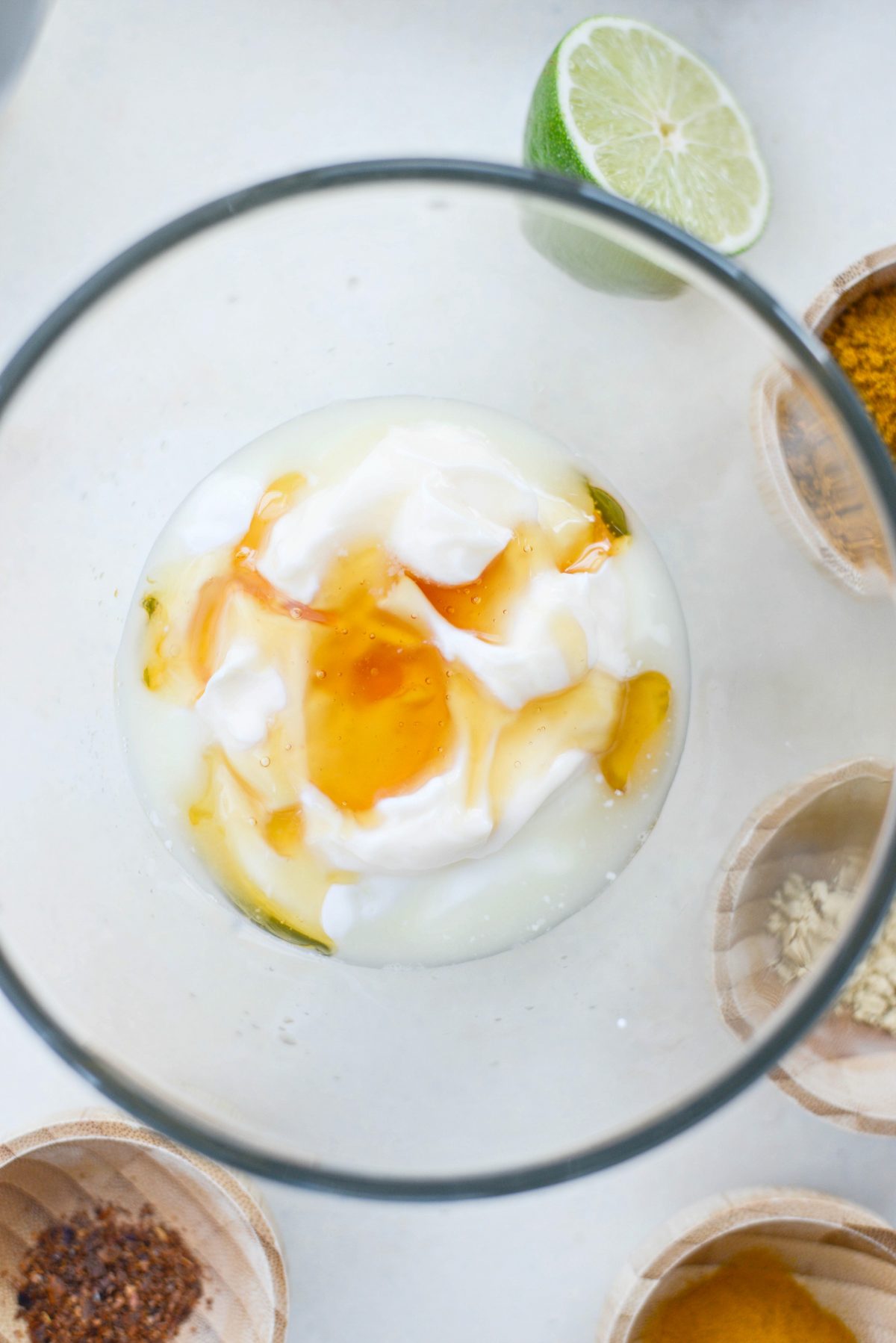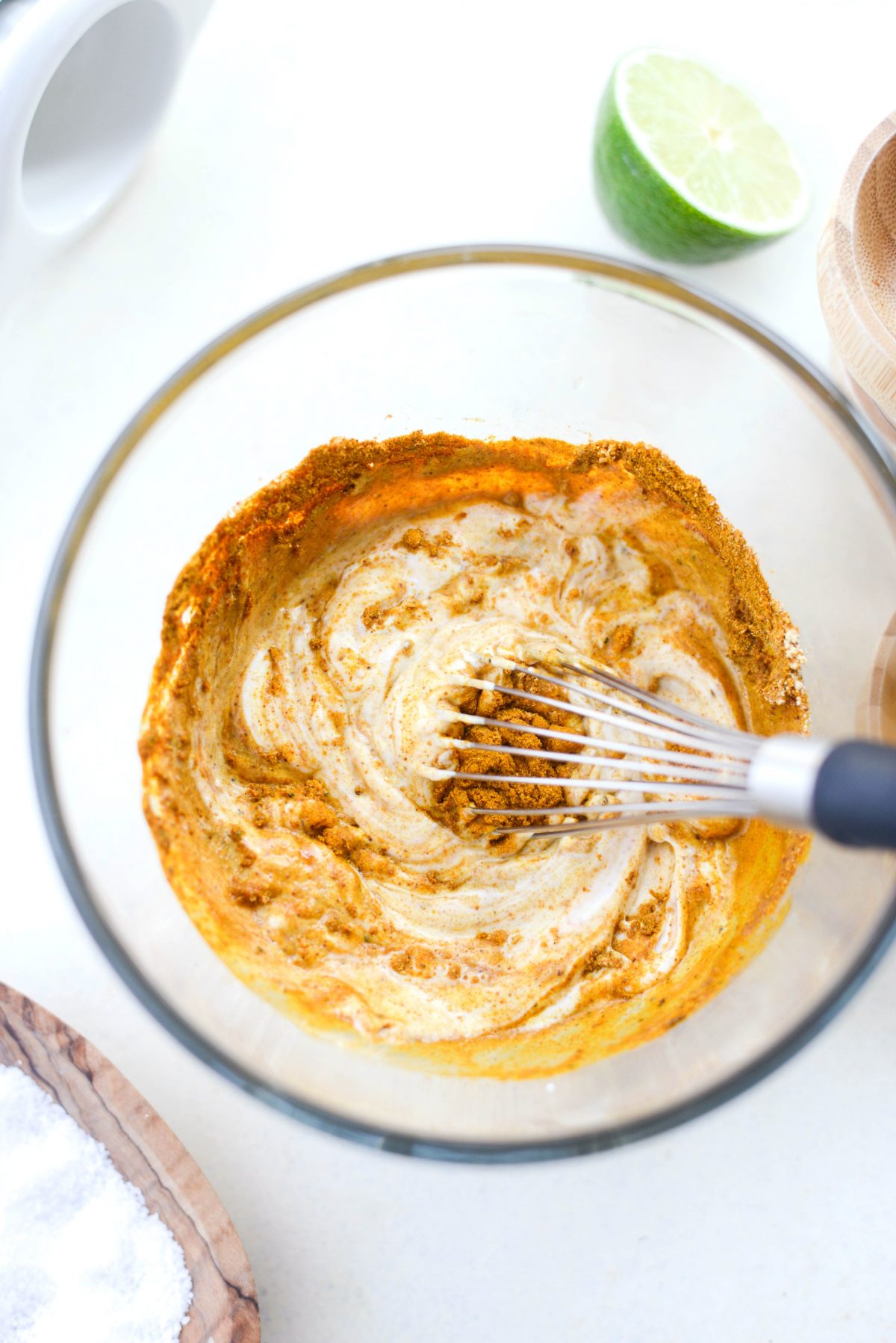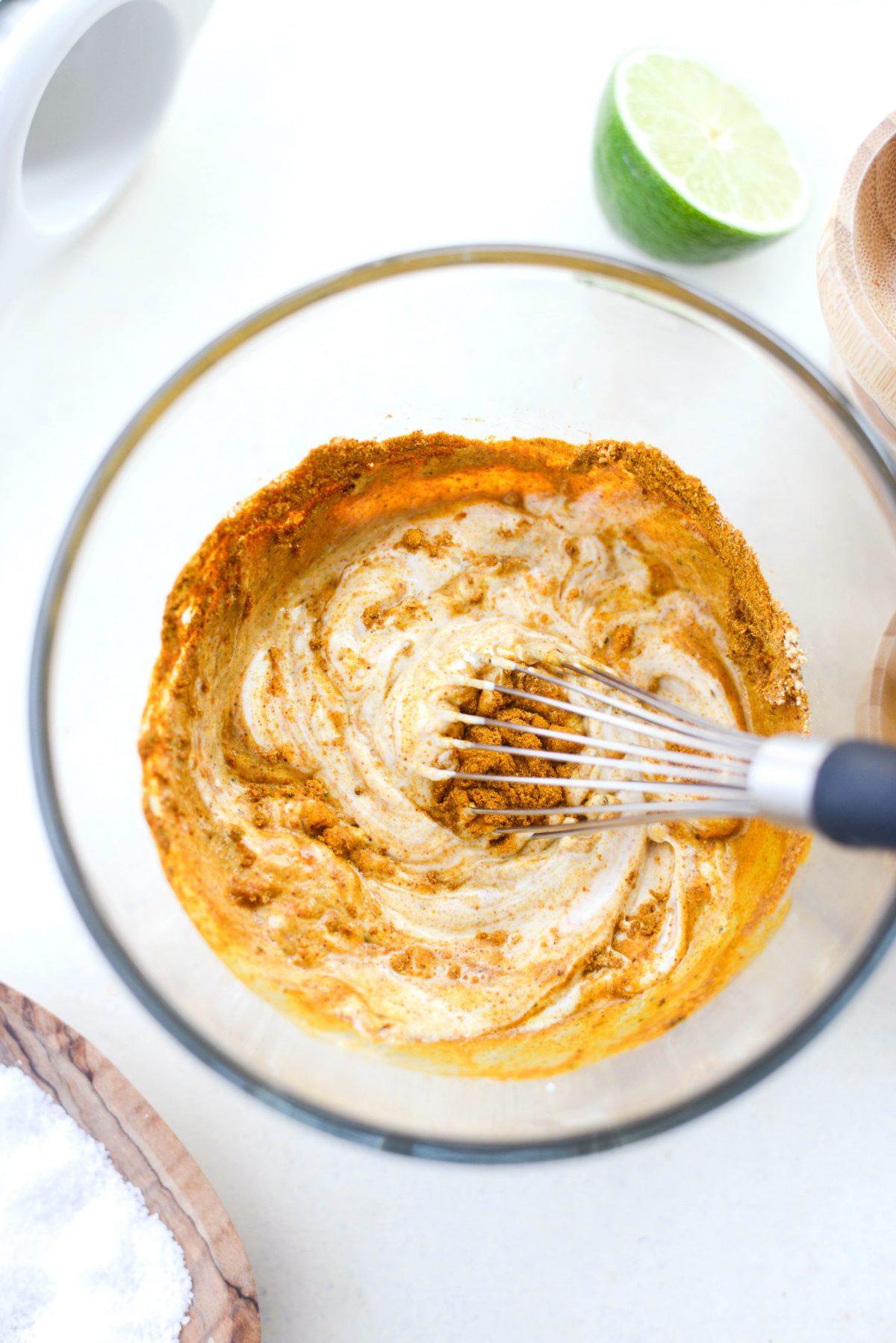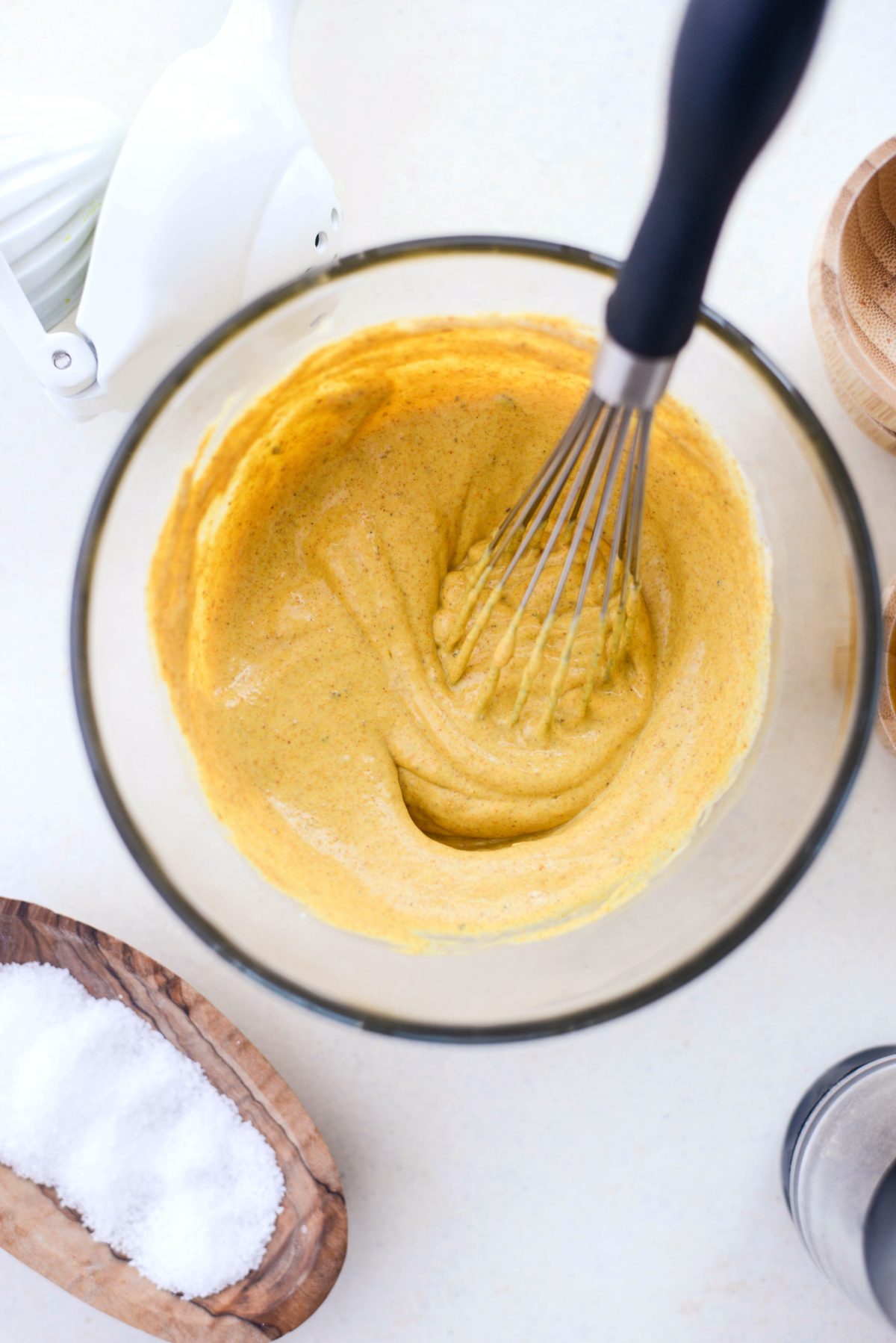 First, in a medium-size mixing bowl, measure and add in the yogurt and mayonnaise. Next, drizzle in the honey and squeeze in the lime juice. Lastly measure and add in all the spices, whisking until smooth.
Because of the turmeric, I highly recommend that you use a spatula that is a dark color, otherwise it could stain. I learned this the hard way. RIP white spatula.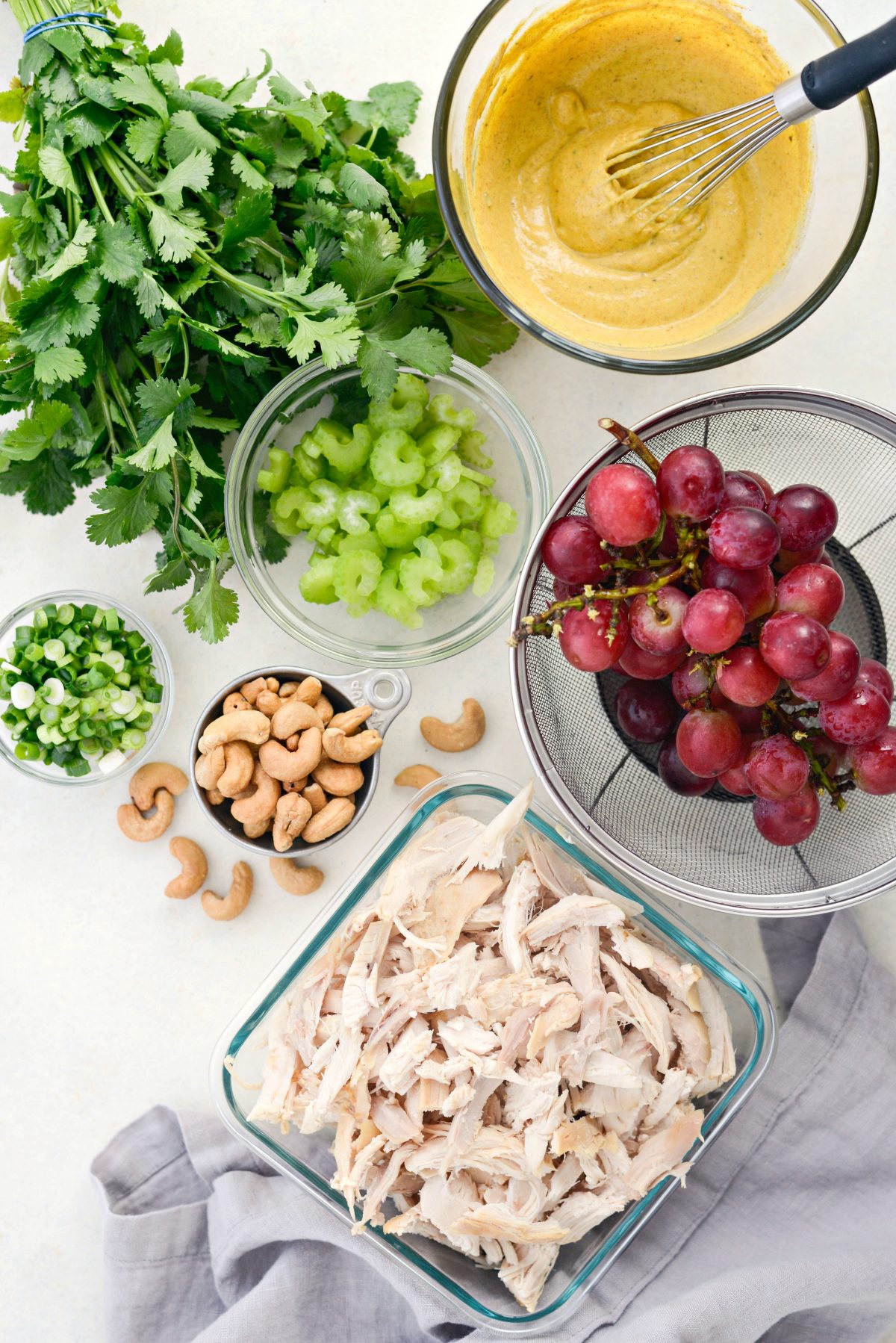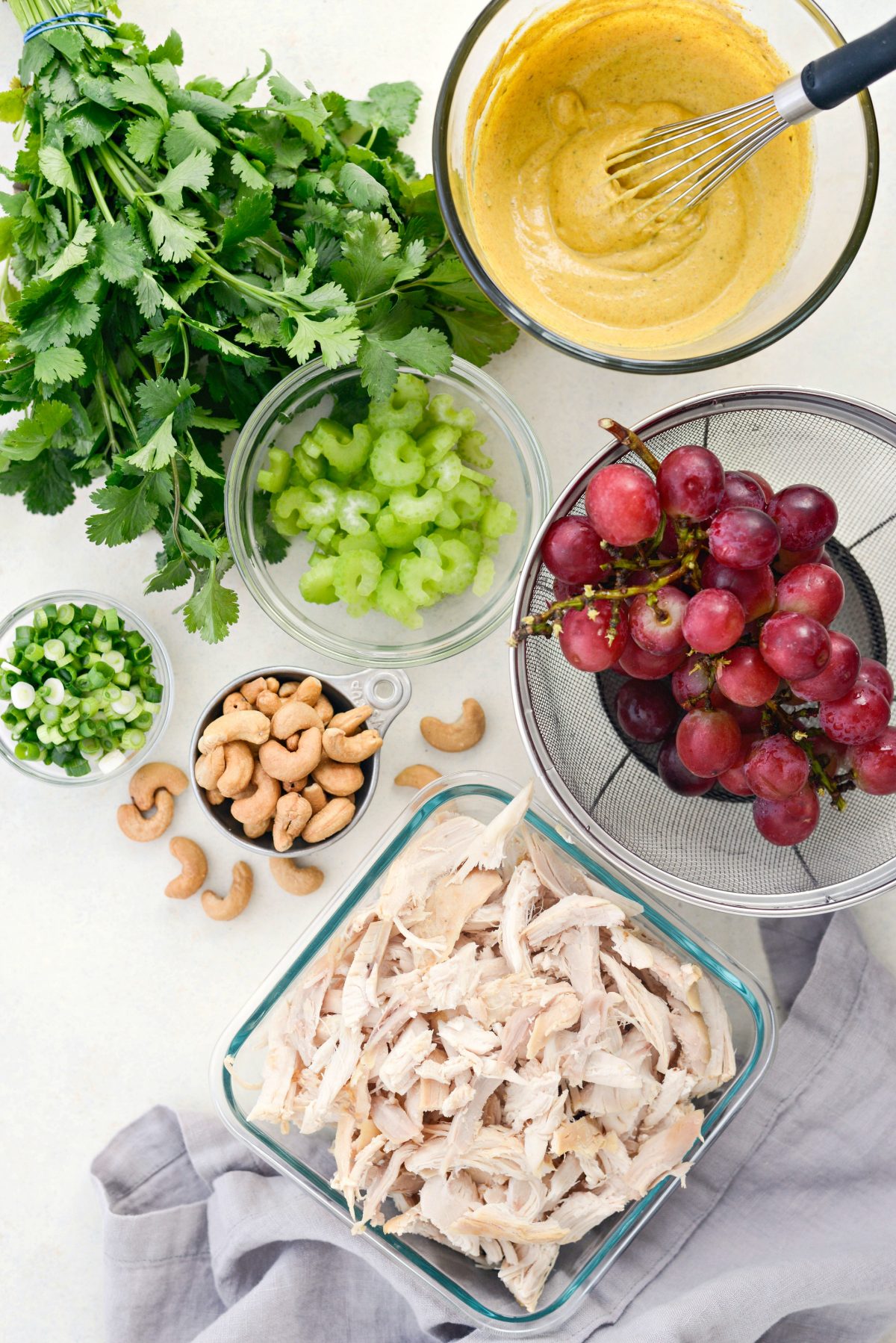 Next all that's left to do is assemble the chicken salad. For this you will need; 4 cups leftover [cooked] chicken or about 1 rotisserie, 1 cup of halved red grapes, 1/2 cup sliced celery, 1/3 cup unsalted roasted cashews, 1/4 cup sliced or 4 green onions, 1/4 cup cilantro and the curry yogurt dressing.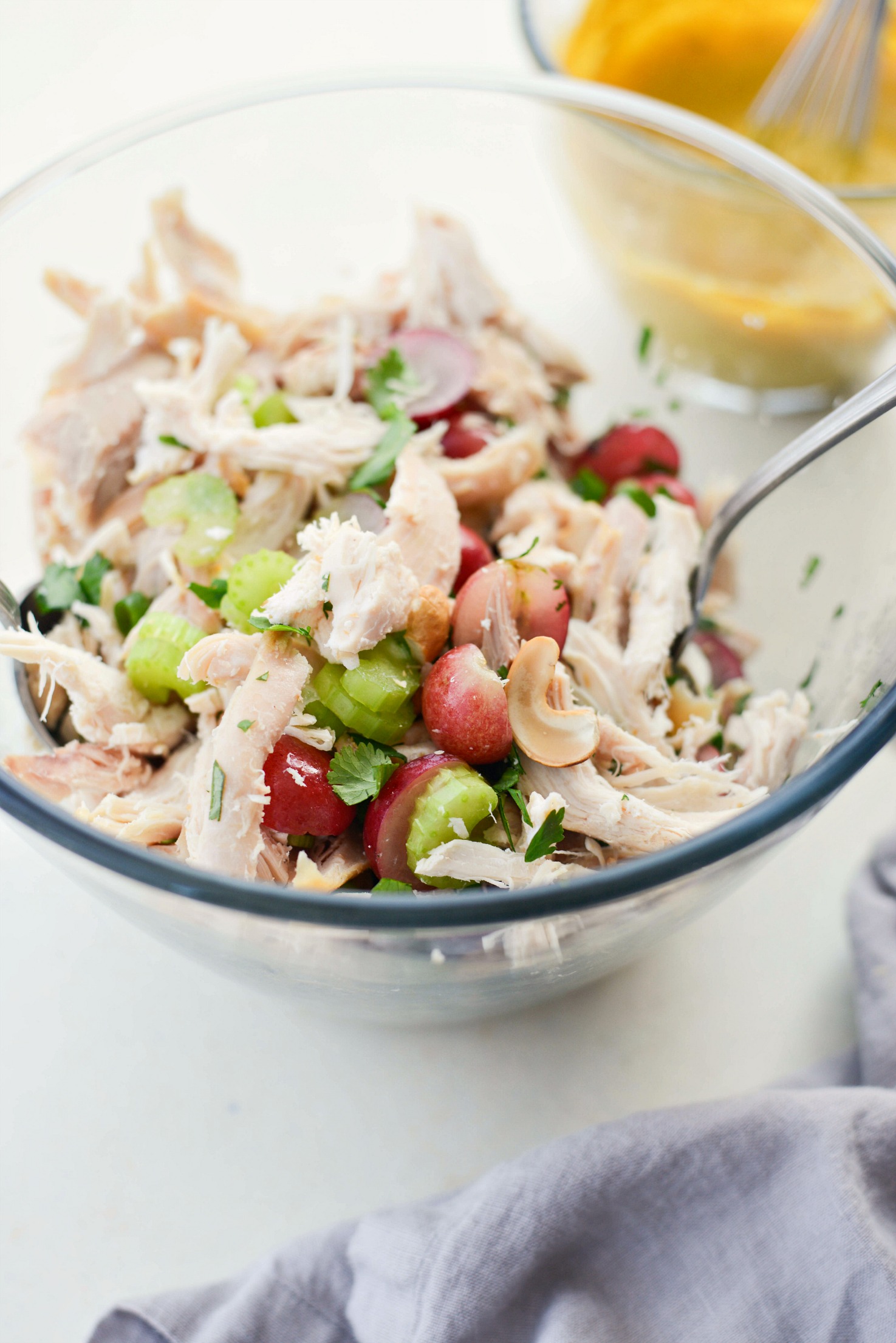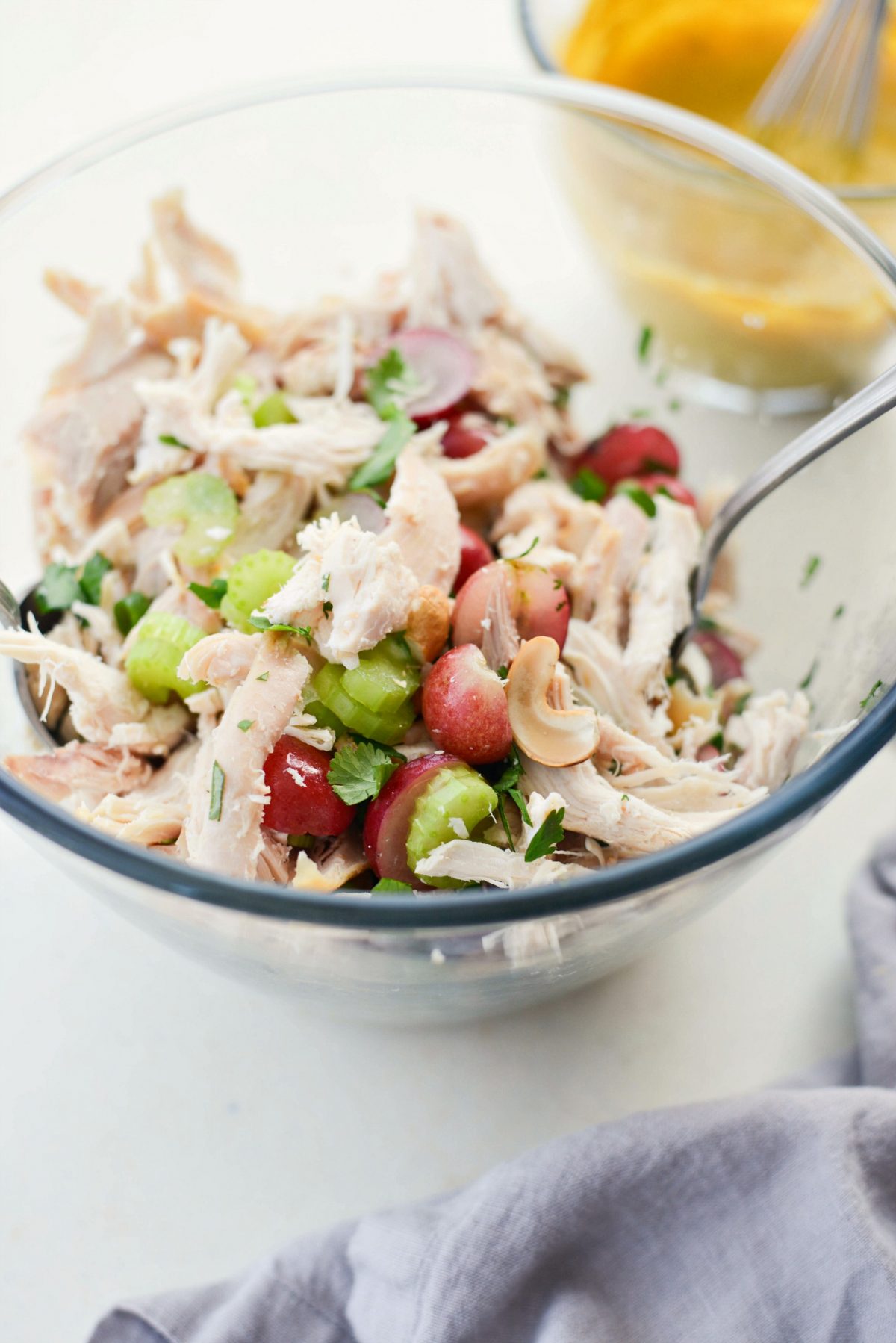 Then, in a large mixing bowl combine the shredded chicken, halved grapes, sliced celery, cashews, green onions and cilantro.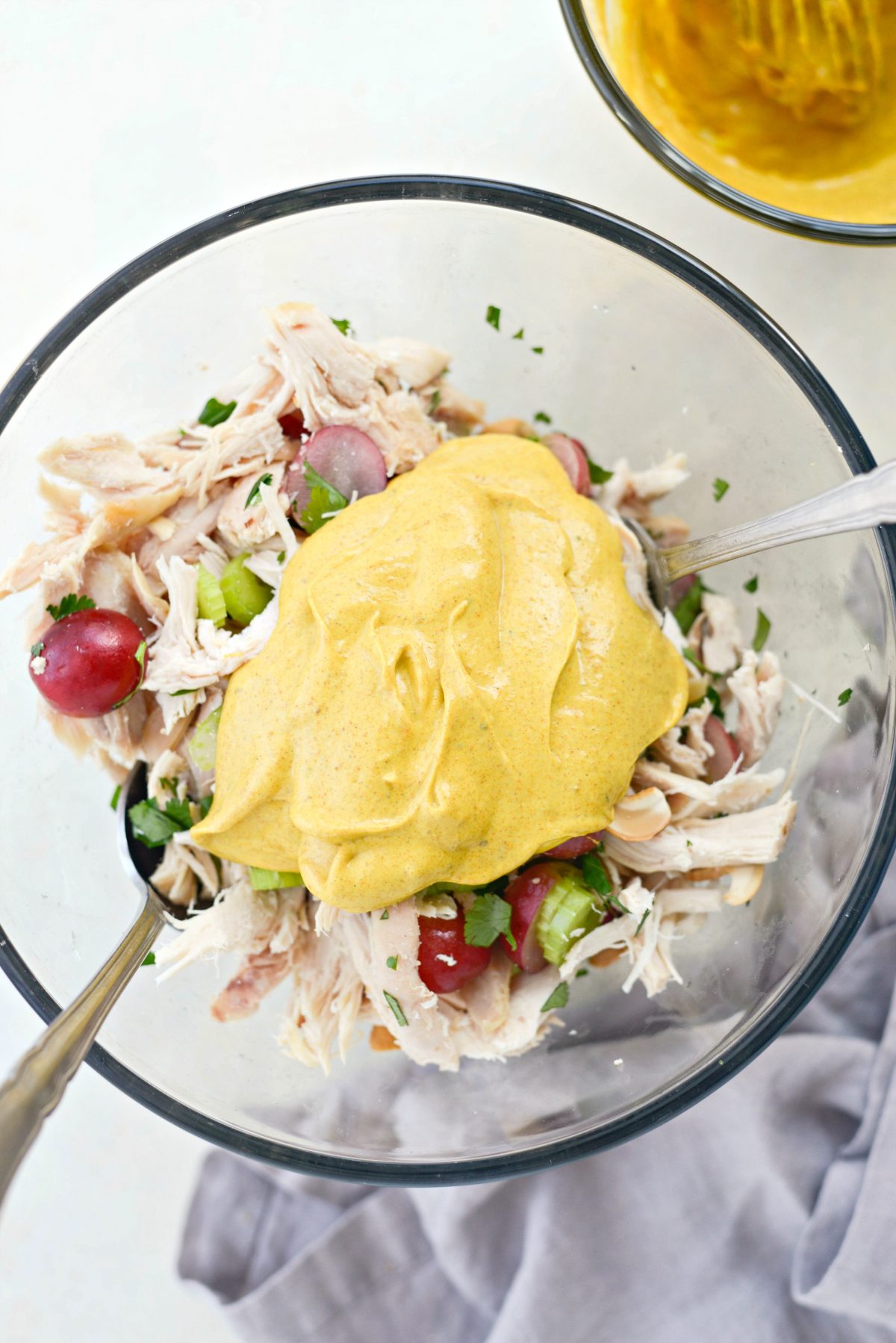 Next pour in all of the golden curry dressing.
Lastly, gently toss to combine. Then cover the bowl tightly with plastic wrap or a lid and refrigerated for an hour or 2 before serving.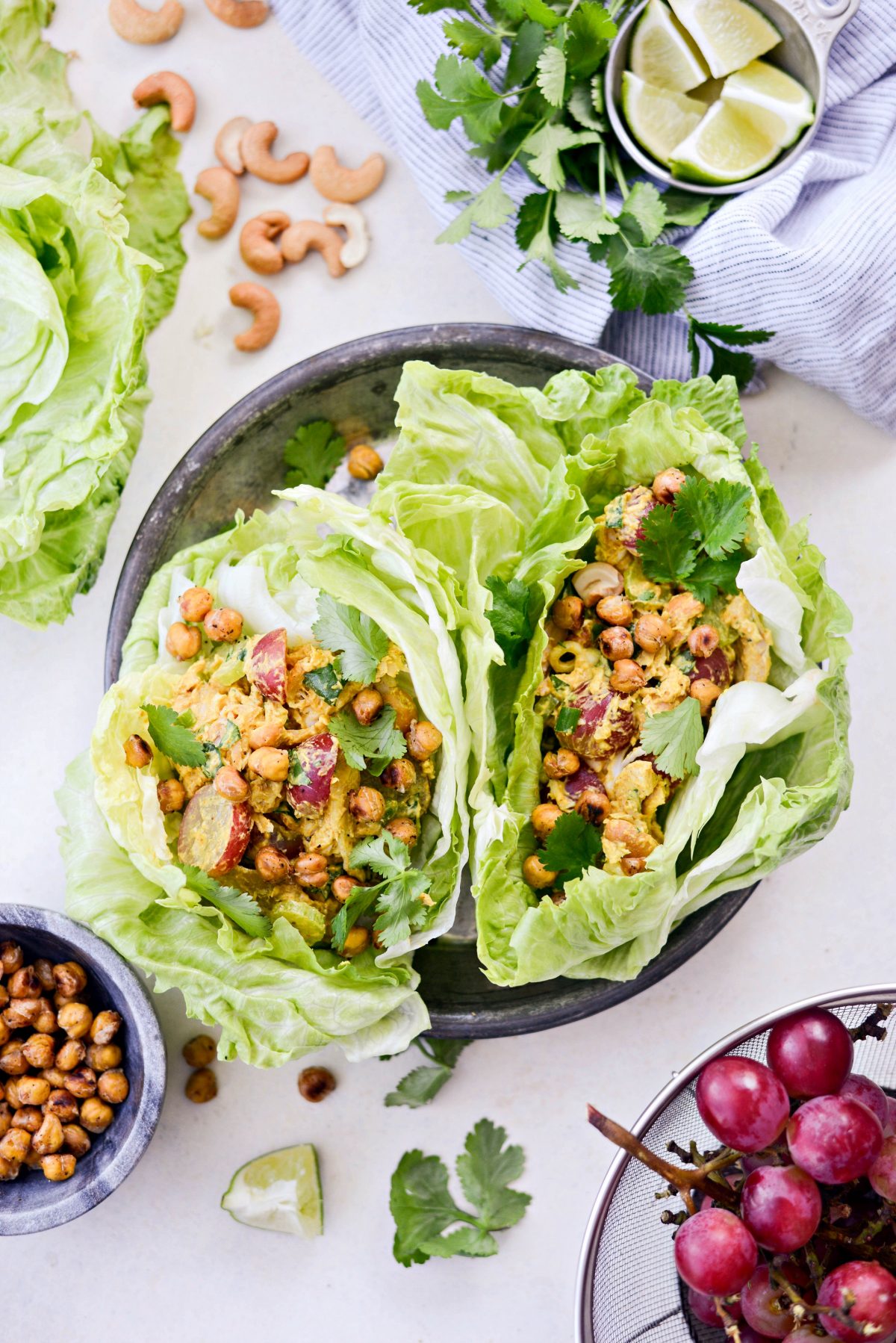 To serve, tuck a few spoonfuls of the curried chicken salad into crisp lettuce leaves. However a lavash or a low-carb wrap is a delicious too, if I make them this way I always add shredded lettuce to the wrap. With that said, you could eat it straight from a bowl with crackers. Because why not?
It's a flavorful, healthy and gorgeous salad with delicious crunch and texture. Incase your were wondering, the grapes, cashews and dressing are pretty much my favorite parts. And of course the whole crisp lettuce wrap thing. Because, as you know, I love me some lettuce wraps.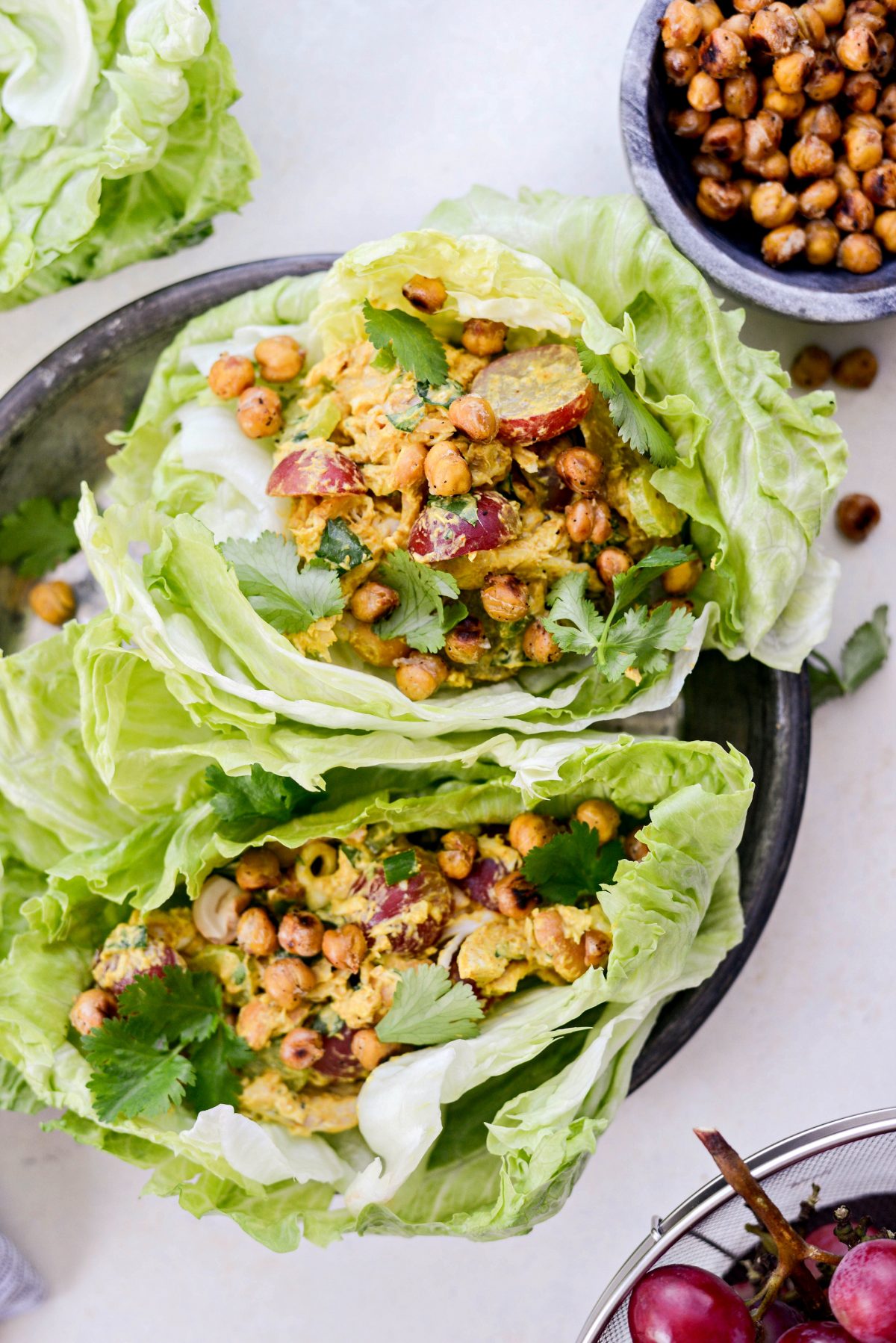 Enjoy! And if you give this Curried Chicken Salad recipe a try, let me know! Snap a photo and tag me on twitter or instagram!
This post may contain affiliate links.
Buy the Cookbook: Simply Scratch : 120 Wholesome Homemade Recipes Made Easy Now available on Amazon »
THANK YOU in advance for your support!