This Creamy Cauliflower Potato Soup is AMAZING!! This deliciously creamy soup is lightened up by adding roasted cauliflower into the mix.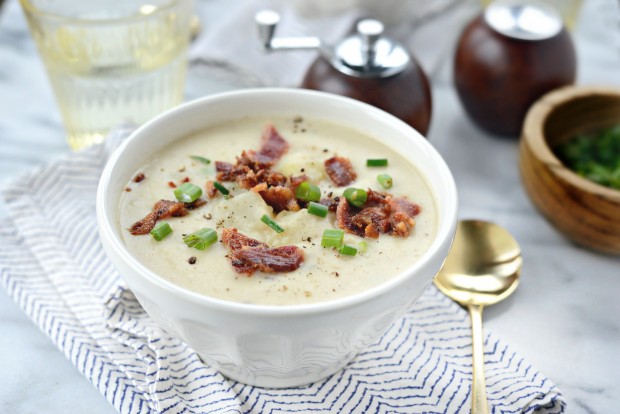 I'm going to go ahead and just say it, I love this Creamy Cauliflower Potato Soup (and even better) my entire family loves this soup.
It's creamy, flavorful, hearty and light. It's as simple as roasted cauliflower florets and pureeing with cooked potatoes, onions, garlic and thyme in chicken broth. The pureed cauliflower will not only add to the creaminess of this soup, but also allows you to cut back on potatoes making this soup a little lighter. Yay!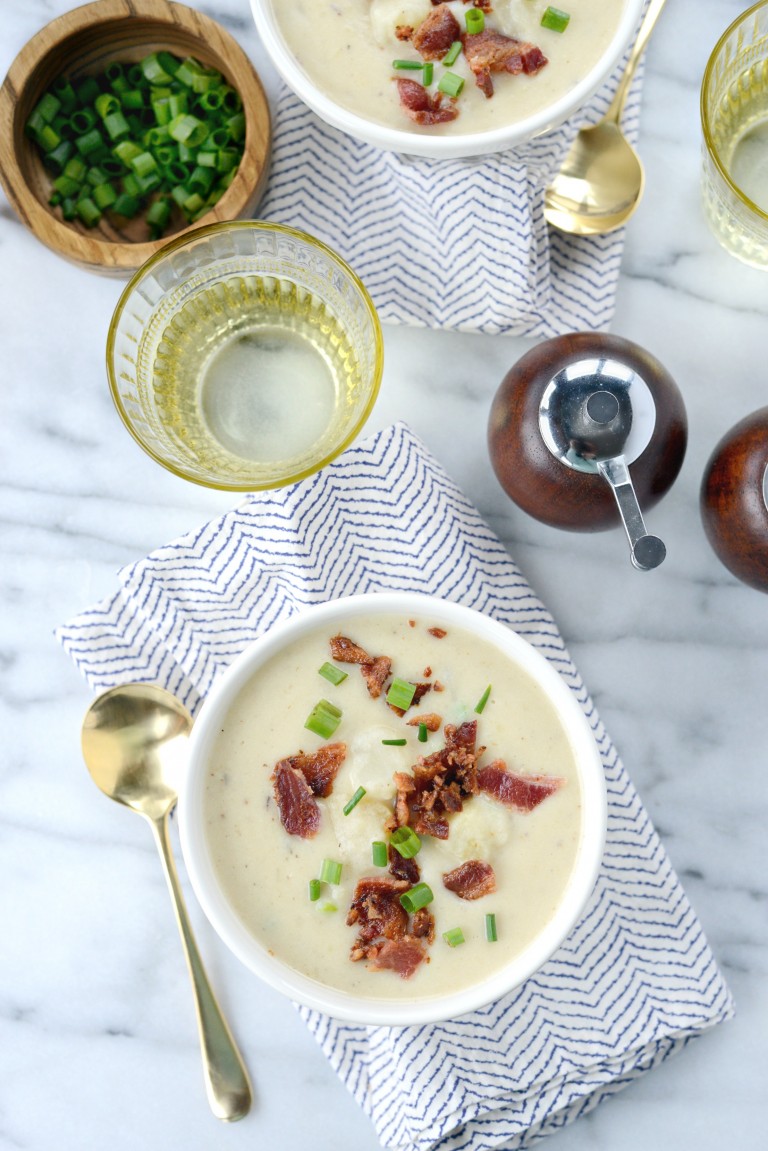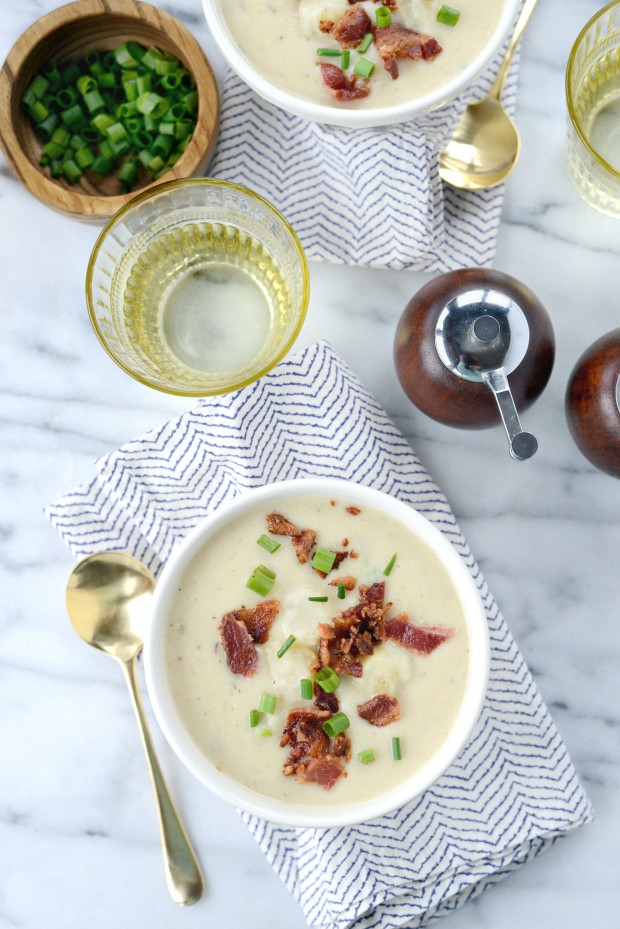 That's of course until you add the bacon.
BUT as we all know, everything good in life begins (and gets topped) with bacon (and cheddar if you aren't like me and actually remember to buy it at the store).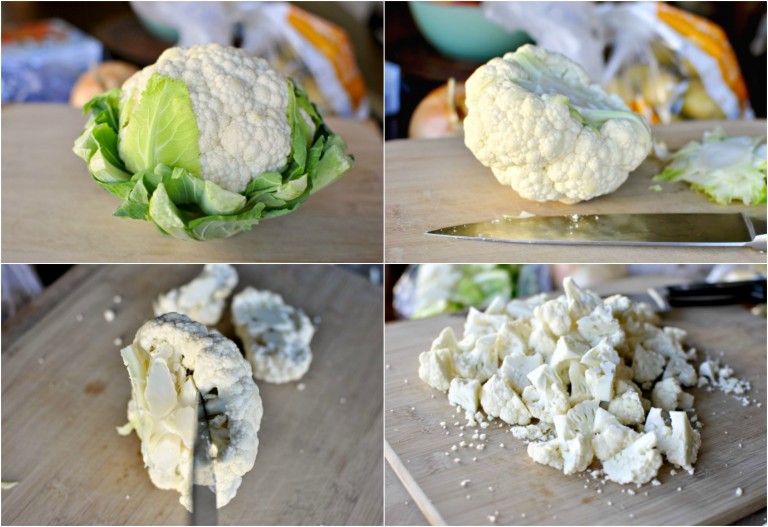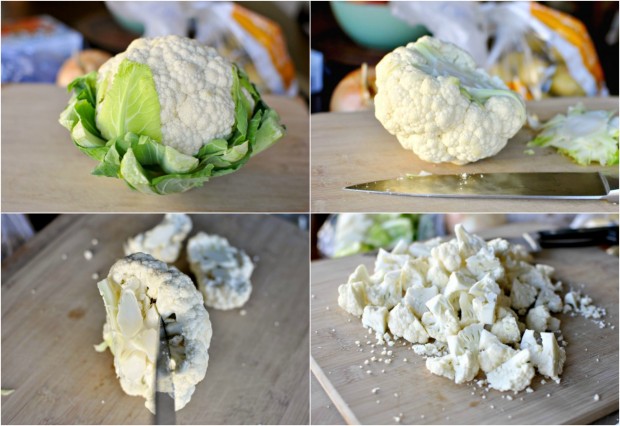 Peel off all of the green leafy parts and cut off the stem (core?). Then cut the cauliflower into smaller florets.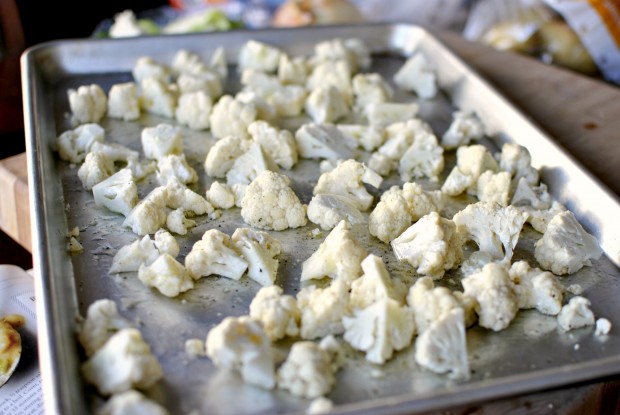 Scatter them on a rimmed metal baking sheet, drizzle with a couple tablespoons of olive oil (or more), and a sprinkle of kosher salt and black pepper. THEN roast the bejesus out of them in a 400 degree oven for 20-25 minutes, you may want to rotate the pan halfway through.
While the cauli is roasting:
Place bacon in a large dutch oven, heat to medium/medium-low and cook until crispy. Transfer the bacon to a paper towel lined plate and set off to the side.
Multitask while the cauli is roasting and the bacon is crisping… dice up one medium sized yellow onion, you should have about a cup.
Then move on to the russets. Peel (obviously I'm not to particular on getting all the skin off), cut lengthwise into thirds or fourths (depending on the size) then cut the sections into french fry like sticks and then dice those up into 1-inch cubes.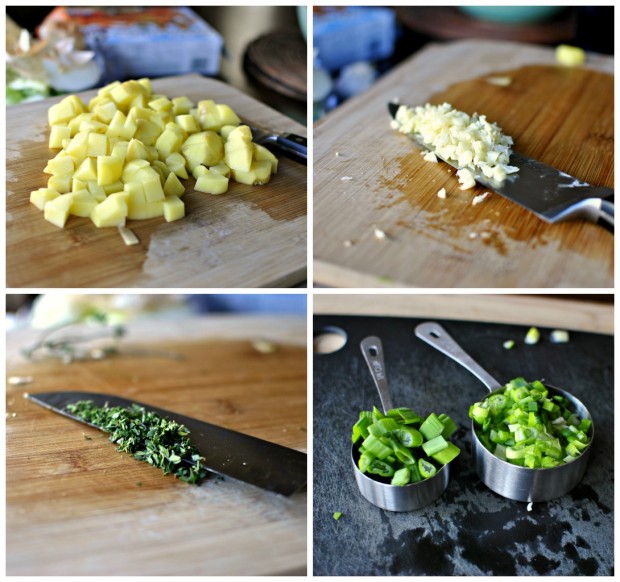 Do the same thing with the Yukon gold's; peel and dice… you know the drill. Mince up the garlic cloves, roughly chop the fresh thyme and prep the green onions as well.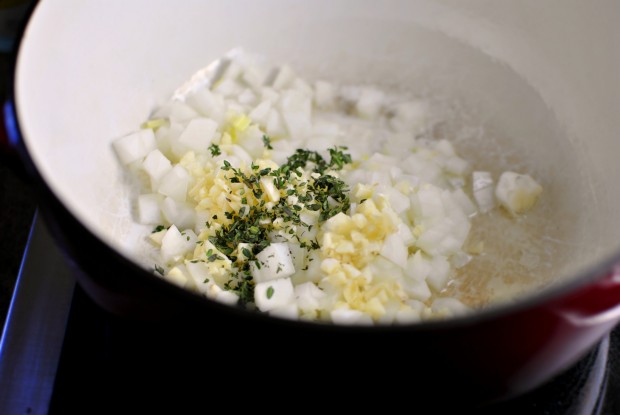 Drain all but a tablespoon of bacon fat from the pot and add in the onions, garlic and thyme.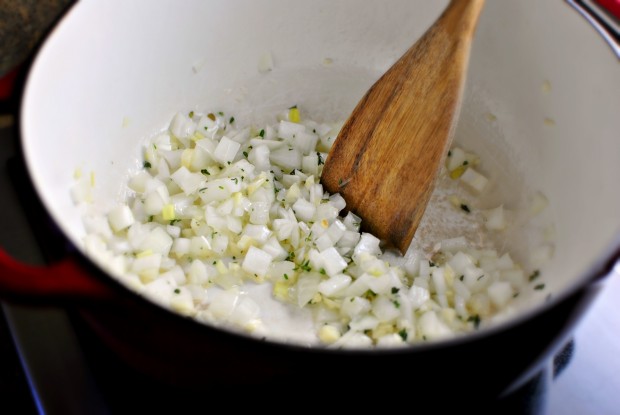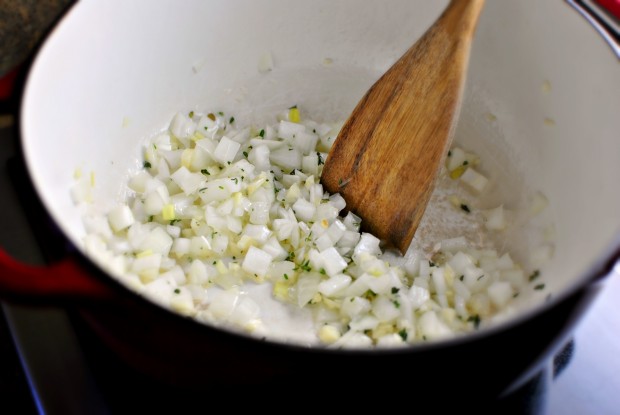 Sweat those for 5-8 minutes until soft and translucent.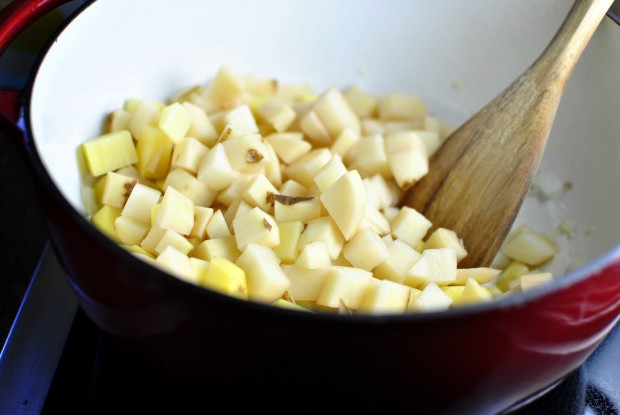 …dump in all those cubed potatoes…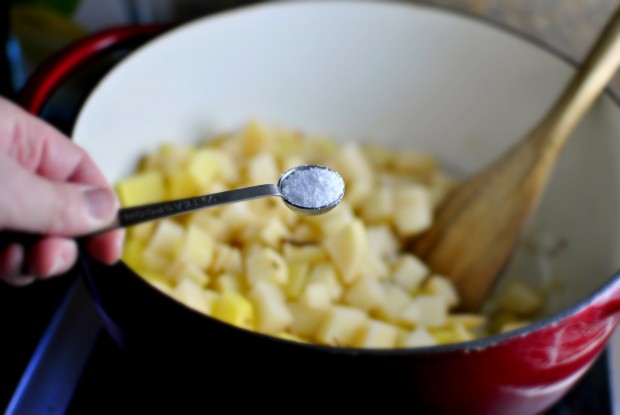 …add in 1/2 teaspoon of kosher salt…
…one bay leaf…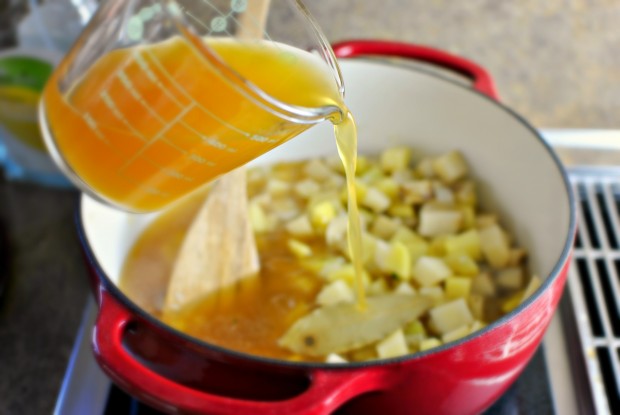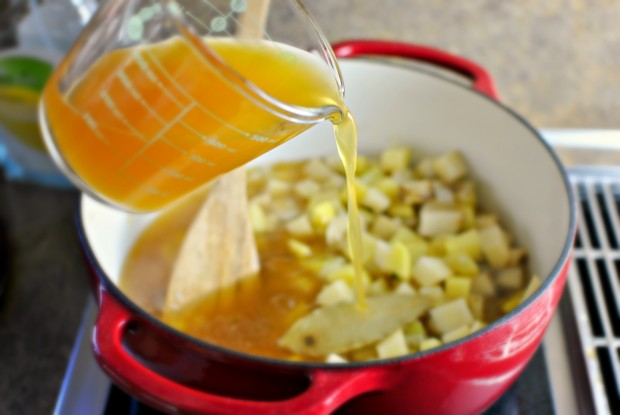 …and 4 cups of low-sodium chicken broth.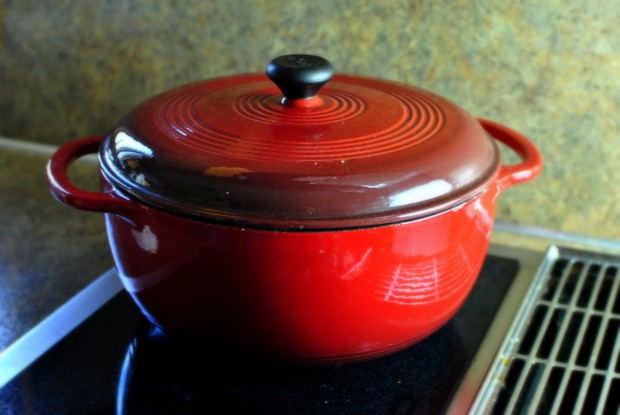 Cover, increase the heat to high an bring the broth to a boil. Once at a boil, reduce the heat to low and cook the potatoes at a simmer for 15-20 minutes (depending on their size) until they are fully cooked and a fork pierces it easily.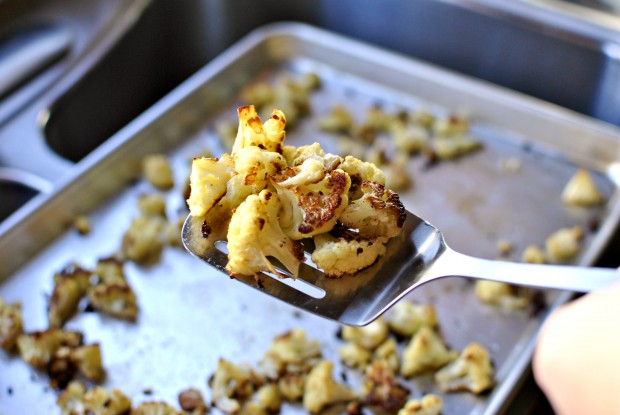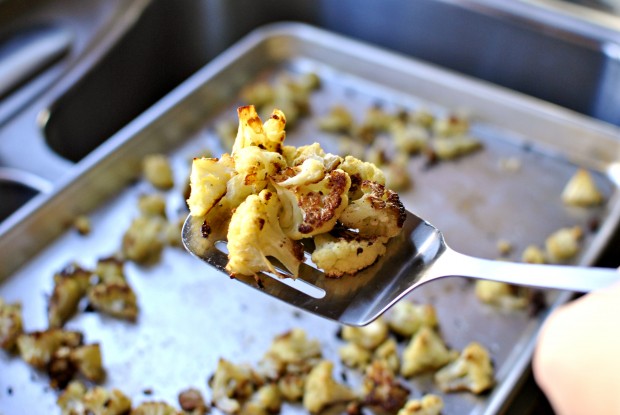 This is what the cauliflower should look like after it's been roasted. NOW I reeeeally wish you could smell this… it smells SO good! It's comparable to walking into Subway and getting smacked in the face with the smell of their bread baking… but only it's cauliflower. I maybe snacked on two or fourteen of these. No, I'm kidding… or am I?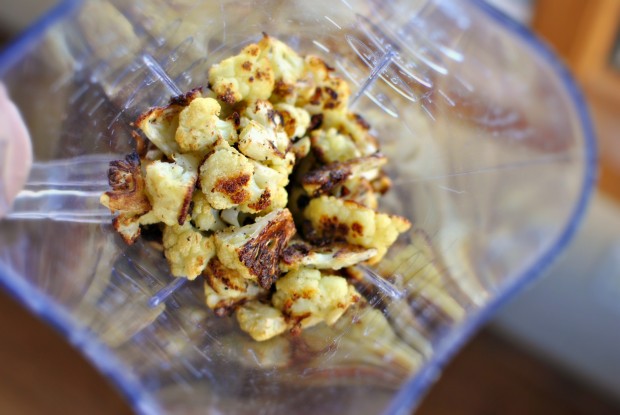 Place all of the roasted cauliflower and place it all in a blender…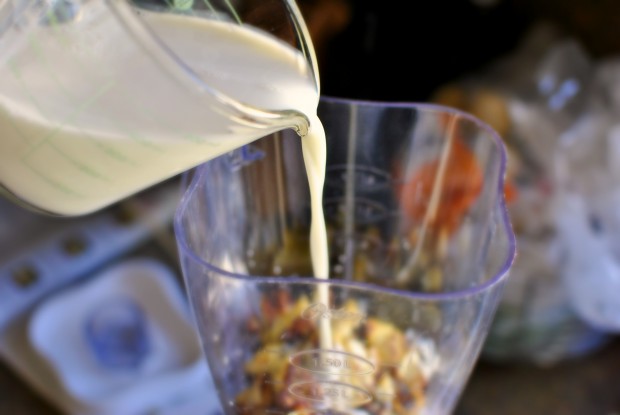 Pour in the milk…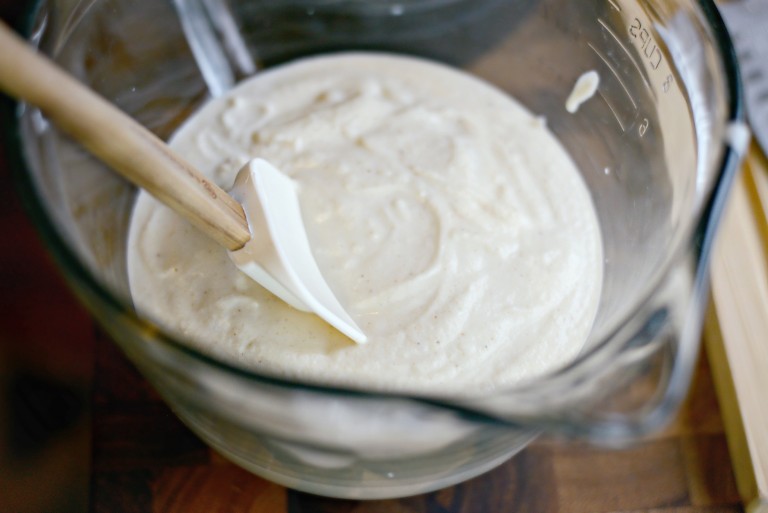 Puree until smooth and then pour all of it into a GIGANTIC bowl and move on to pureeing the rest of the soup.
Once the potatoes are cooked, work in batches ladling the potatoes and a some of the broth into the blender.
Note:
I like to use a slotted spoon and remove a couple spoonfuls of the potatoes to the bowl with the cauliflower so there is some larger pieces of potato in our bowls before I start pureeing the soup.
Remove that center part of the lid, place a towel over the whole (so pressure won't build and explode potato soup all over you beautiful kitchen) and pulse it a few times.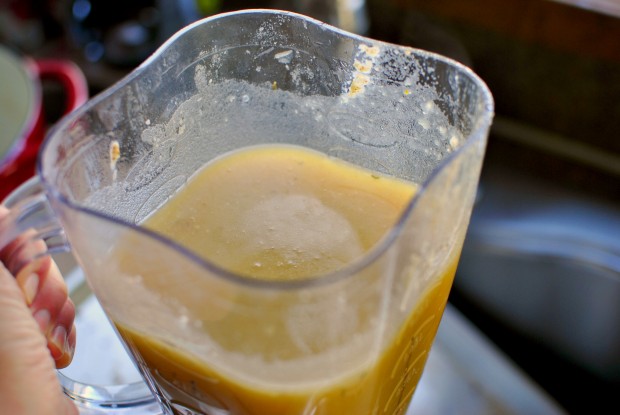 I wanted this to be creamy but with a few chunks of potato and onion throughout.
You can however do whatever the heck you want and puree it a little bit more or less. It is up to you! Just don't go crazy, because the potatoes can turn kind of gummy. Blech! Then I added that and the cauli puree back into the pot and move on with the remainder of the recipe.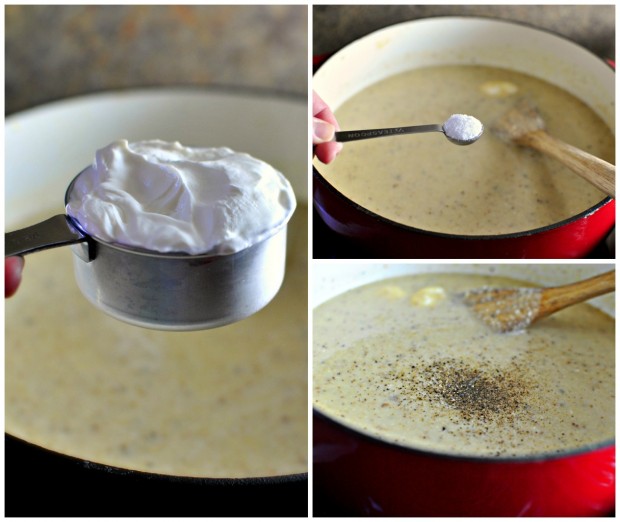 Add in a half cup of sour cream, crème fraiche or even Greek yogurt. Whatever you fancy… stir that in until completely melts into the soup.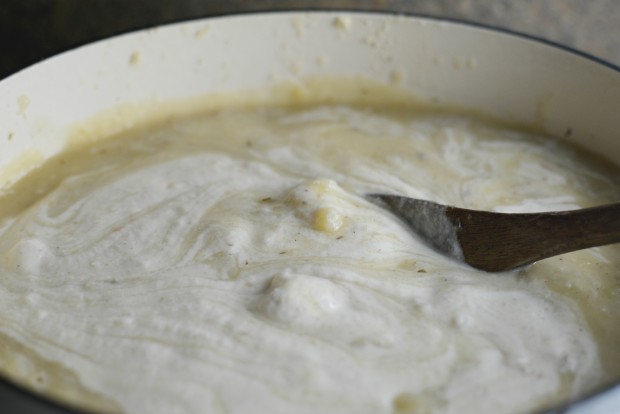 You'll want to check soup by tasting it and season with more salt (about 1-1/2 more teaspoons) and add in the remaining 1/2 teaspoon of black pepper. Lastly sprinkle in the 1/2 cup of chopped green onions, stir until heated through out and serve!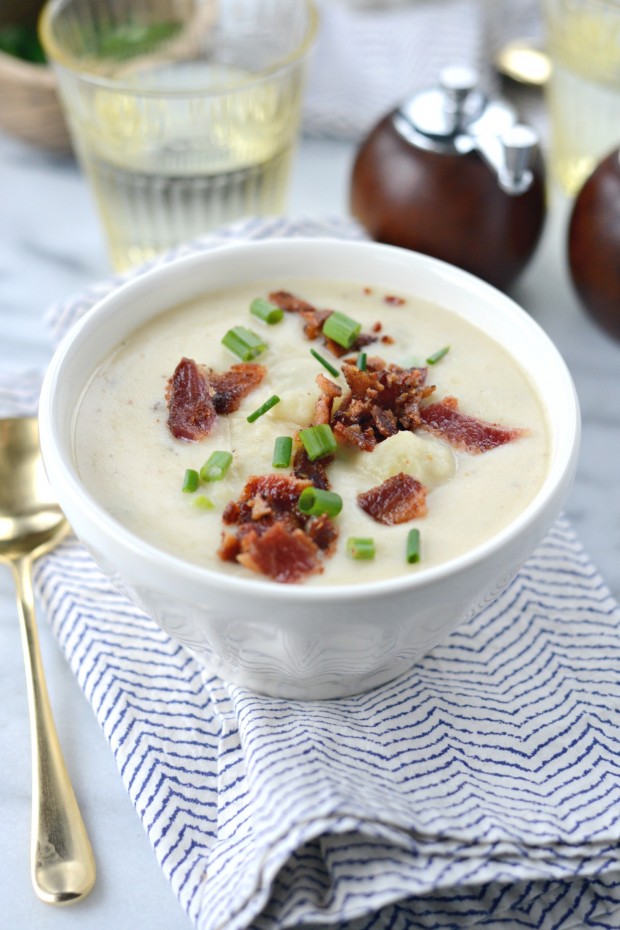 But first before you chow down, garnish with the cauliflower potato soup with chopped bacon and more green onions.
This cauliflower potato soup is SO SO SO SO good. The cauliflower doesn't steal the show and it tastes just like the potato soup you know and love. However, I just felt less guilty about eating an entire bowl.
I'm definitely not.
Ps. sharp cheddar is also an excellent topping idea.
Enjoy! And if you give this Creamy Potato and Cauliflower Soup recipe a try, let me know! Snap a photo and tag me on twitter or instagram!
This post may contain affiliate links.
Buy the Cookbook: Simply Scratch : 120 Wholesome Homemade Recipes Made Easy Now available on Amazon »
THANK YOU in advance for your support!