Colcannon is an Irish potato dish of mashed potatoes and kale (or cabbage). In my recipe, I mix in roasted leeks and garlic, sautéed kale and bacon for the ultimate St. Patrick's Day side. Serves 6 to 8.
Colcannon is heaven in a bowl.
Rarely have I encounter bad mashed potatoes. But I once had the best mashed potatoes of my life at a wedding – in the form of a mashed potato bar. Mashed potatoes served in a martini glass which could be topped with whatever the heart desired; bacon, cheddar, sautéed mushrooms – you name it. Needless to say it was incredible.
Which is exactly what colcannon is. I decided to take the traditional concept of potatoes and kale (or cabbage) and elevate it by adding a puree of roasted garlic and leeks, crispy thick cut bacon and sour cream. The texture and slight sweetness of the kale is delicious with the salty thick bacon and hints of roasted garlic and leek. Absolutely dreamy.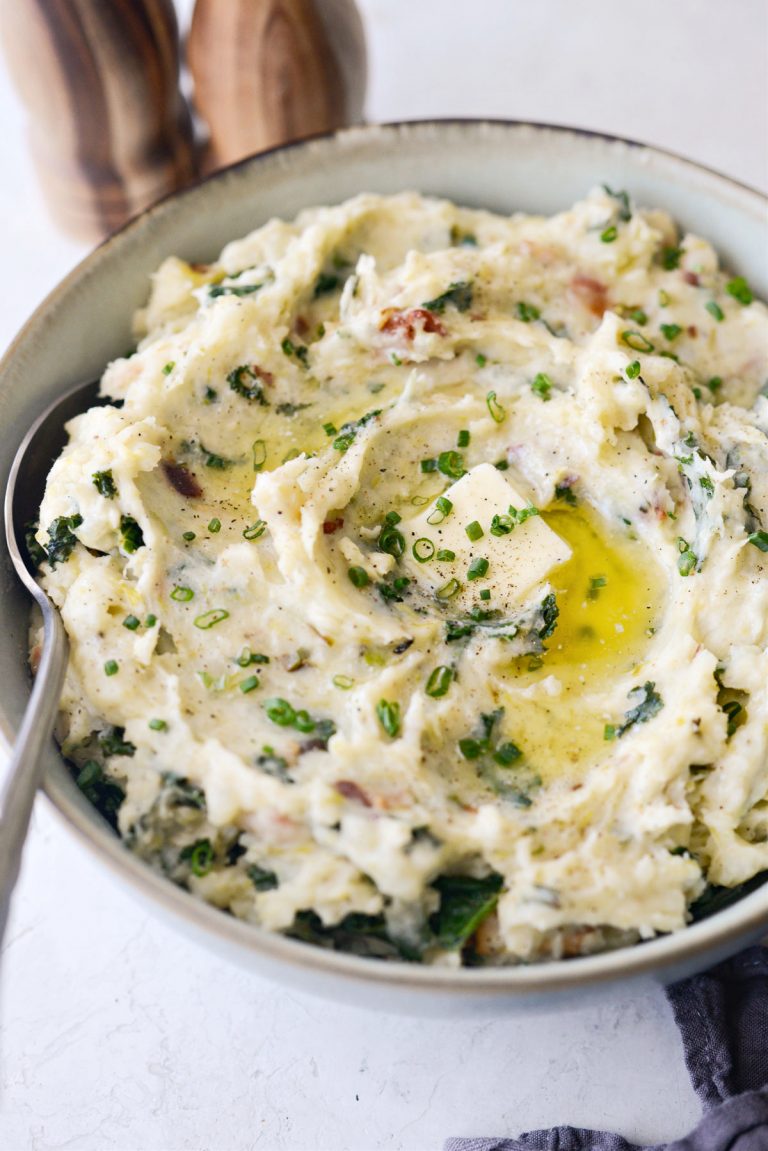 After shooting this recipe, I literally sat with a not-so-small bowl of it and ate it with a spoon.
I feel no shame.
To Make Colcannon You Will Need:
potatoes (redskin, russet or Yukon gold)
leeks
garlic
olive oil
kosher salt
freshly ground black pepper
thick cut bacon (I like applewood smoked)
kale
milk
sour cream
butter (not pictured because I totally dropped the ball)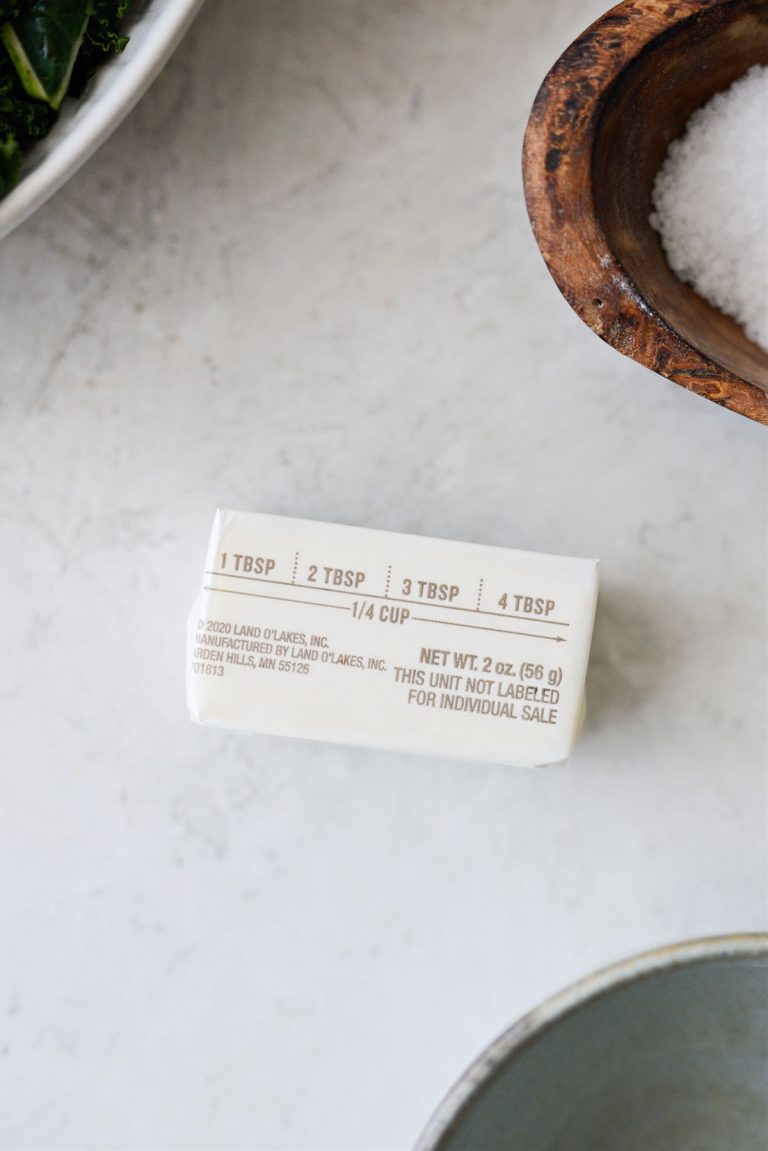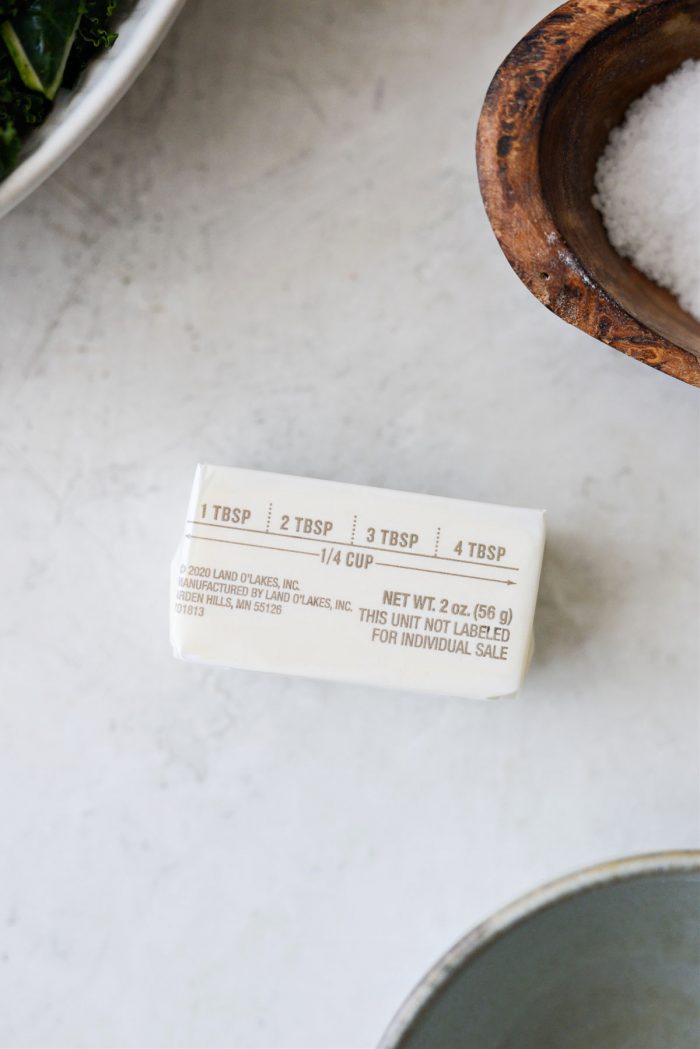 This is your sign to NOT forget the butter. You will need 4 tablespoons unsalted butter.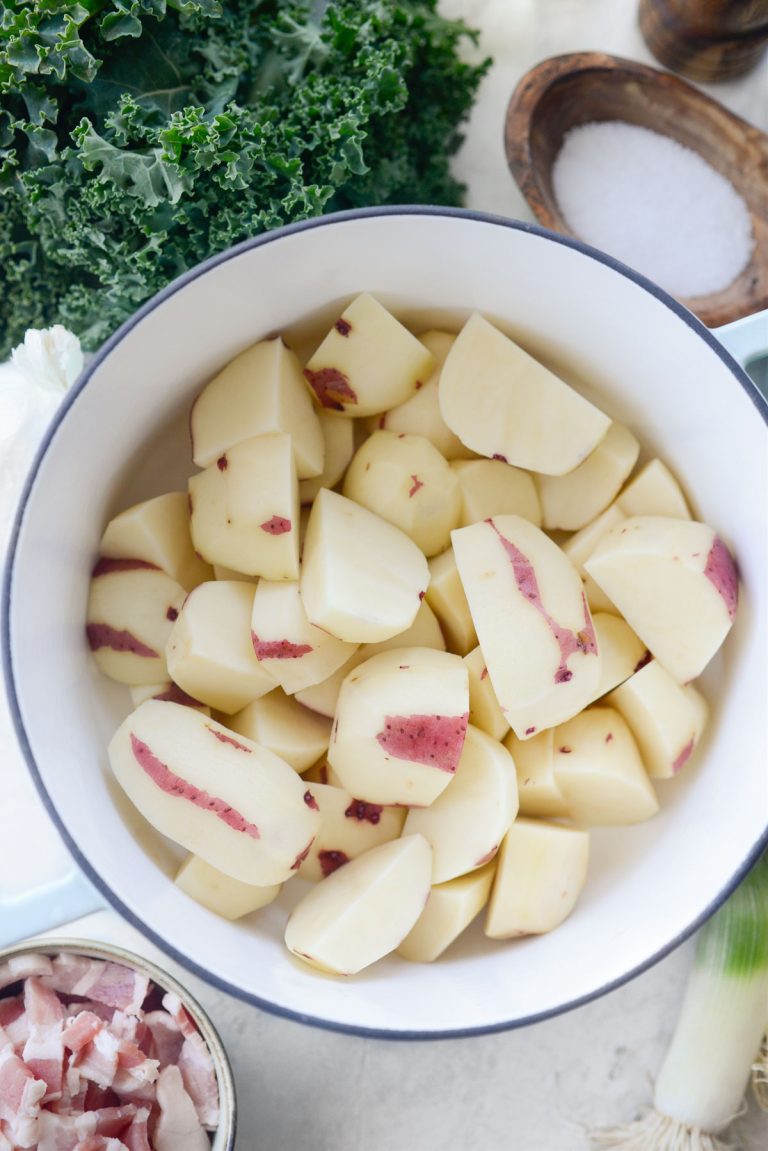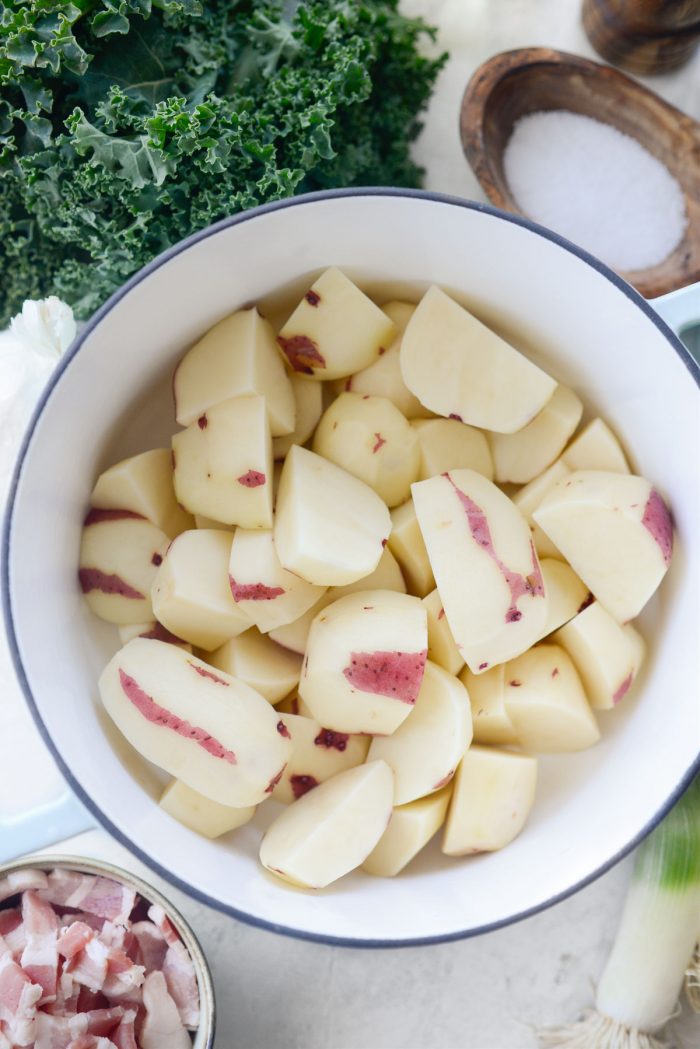 Preheat your oven to 400° and place 3 pounds of somewhat peeled potatoes in a stock pot or dutch oven.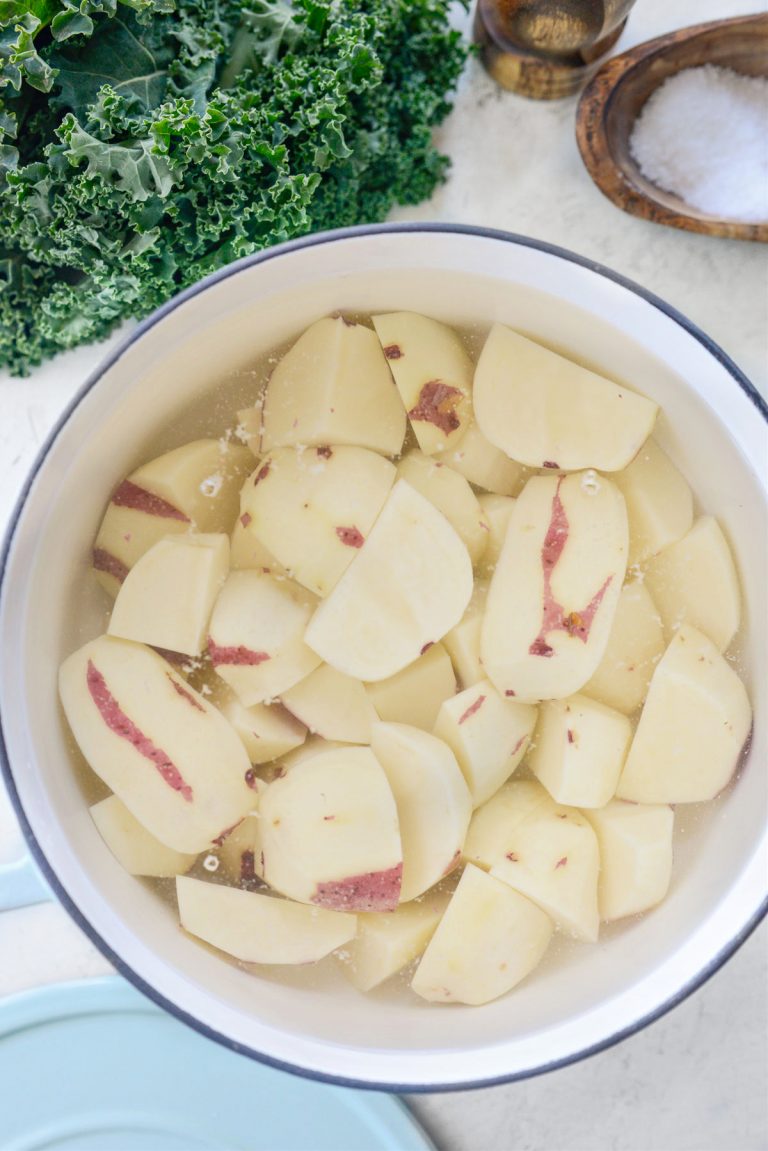 Cover potatoes with water by 2 inches.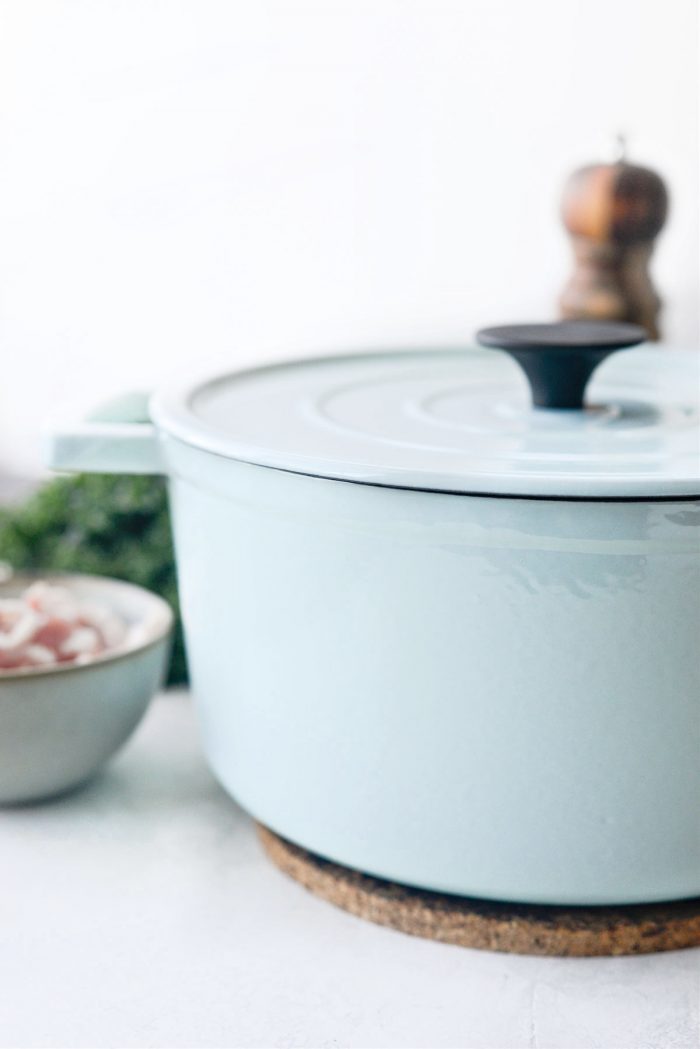 Cover and bring to a boil.
Once boiling, reduce heat to medium-high, crack the lid and cook until the potatoes until fork tender. About 20 -25 minutes.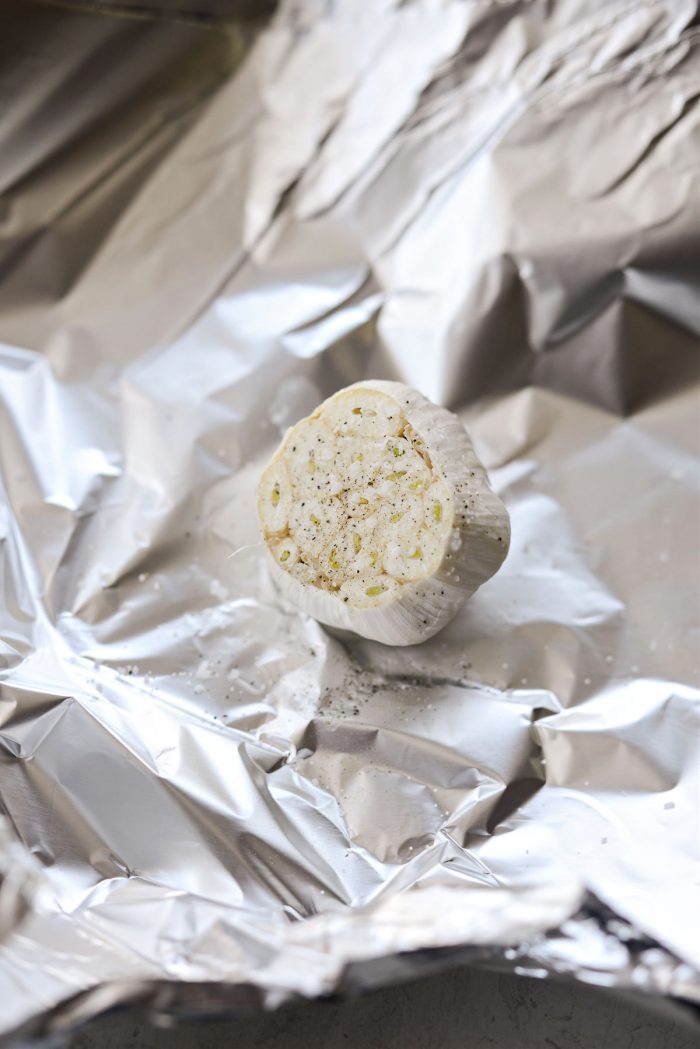 Remove as many loose outer layers of the head of garlic as possible while still keeping it intact.
Cut off the top third of the head of garlic to expose the cloves. Place on heavy duty foil or two layers of regular foil. Drizzle with olive oil and season with kosher salt and black pepper. Fold up the edges to form a purse. Place it on your middle oven rack and roast for 15 minutes.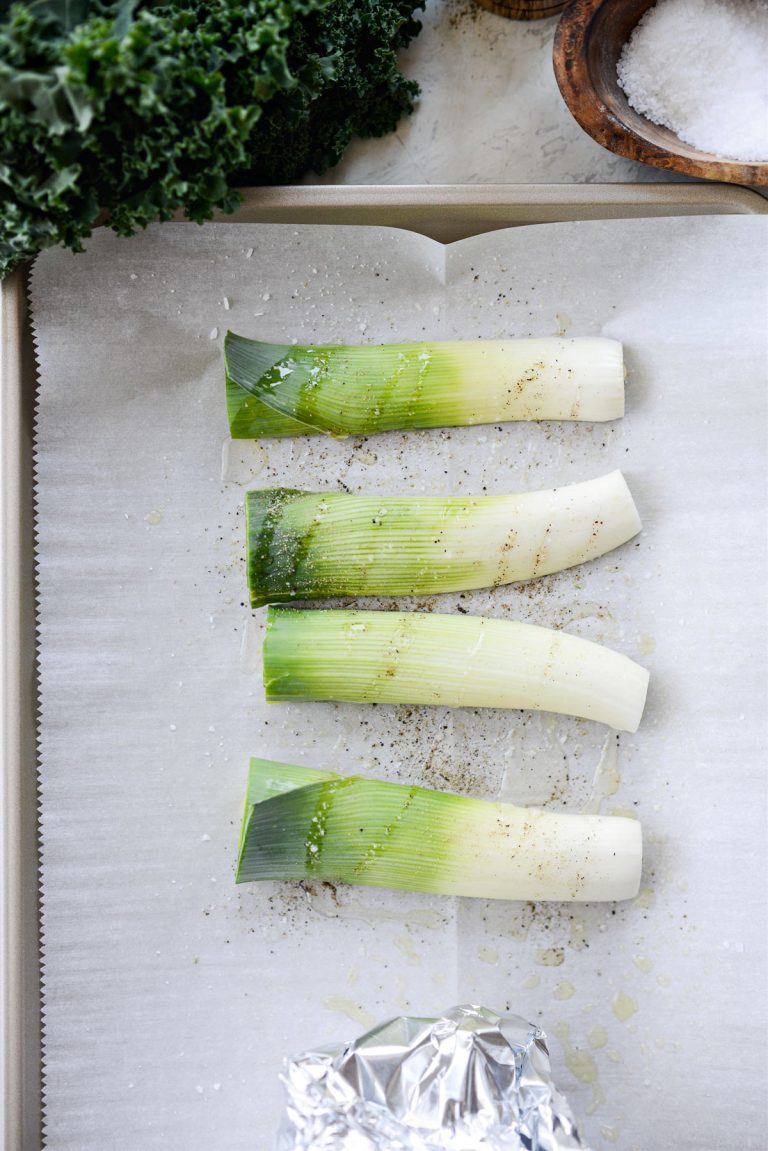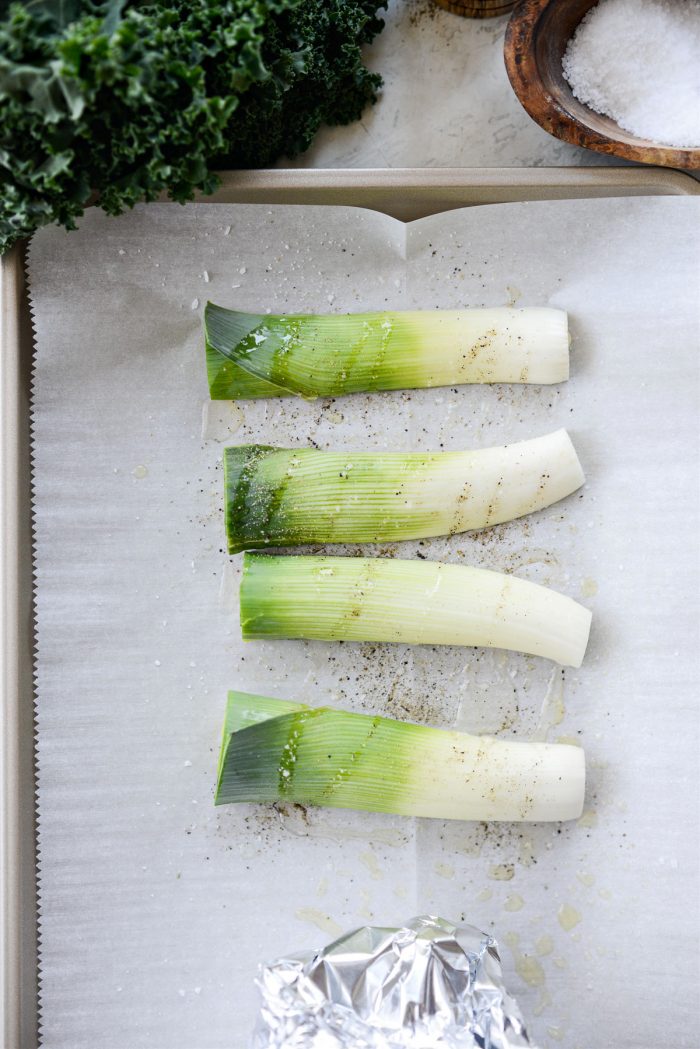 Meanwhile, slice 2 trimmed leeks in half (leaving the root end intact but trimming off the roots) lengthwise. Under a steady stream of water, pull back the layers to rinse the sandy dirt away. Pat dry and place on a lined rimmed baking sheet. Drizzle with oil and sprinkle with kosher salt and black pepper.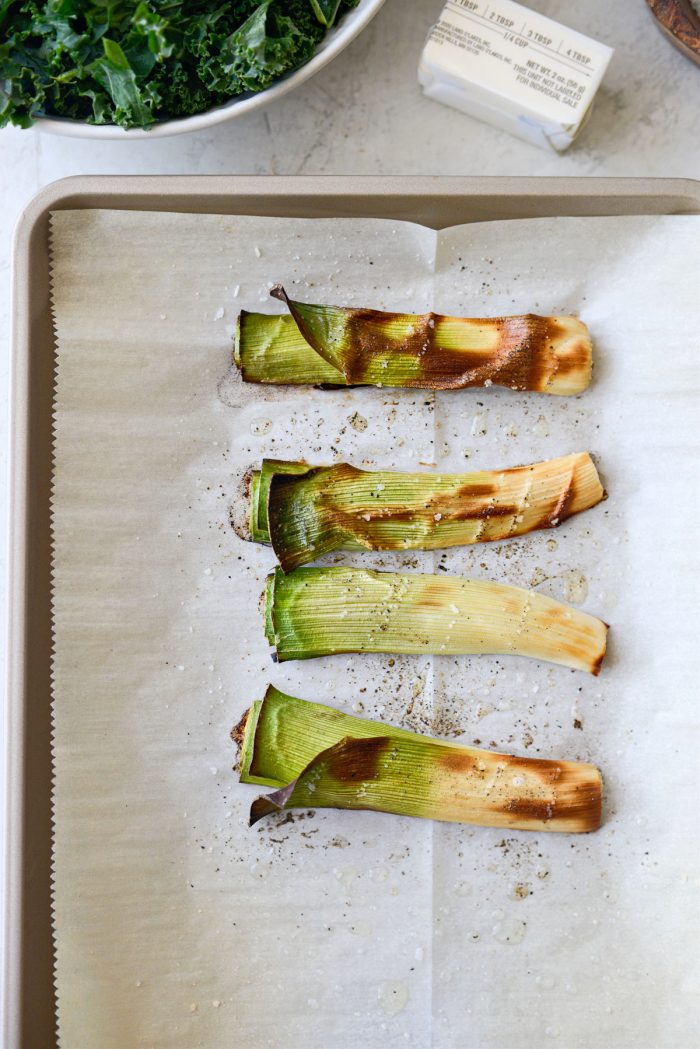 Use tongs or oven mitts to transfer the pouch of roasting garlic to the sheet pan with the leeks and continue roasting for 20 more minutes.
or until the leeks are caramelized.
While the potatoes are simmering and the leeks and garlic are roasting, add 4 strips of diced thick cut bacon to a skillet and cook until crispy over medium-low.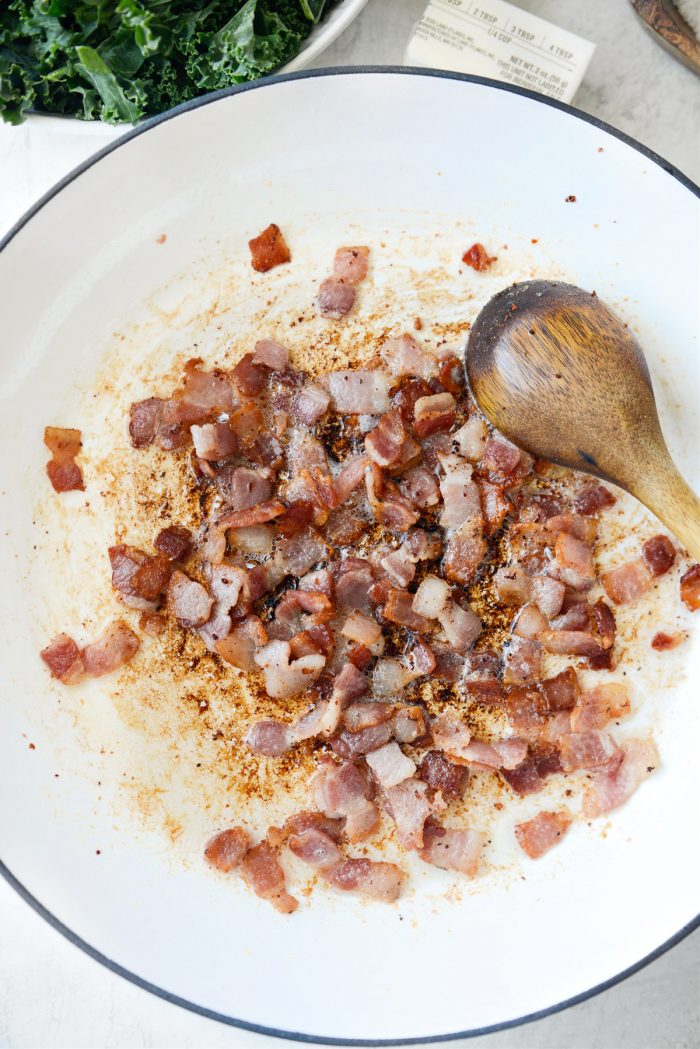 Stir occasionally.
Once crispy, remove all but 2 tablespoons bacon fat before adding in 3 cups (or 3 to 4 ounces) finely -not minced- chopped kale.
Stir and cook until wilted. Remove off of the heat and set aside.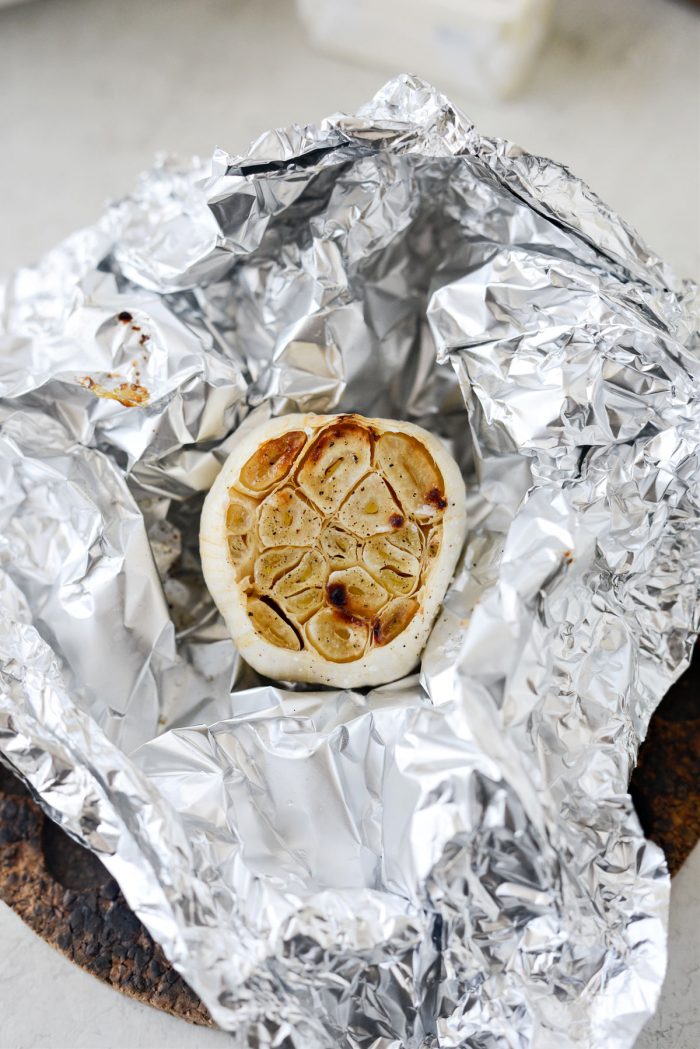 Right round now the garlic and leeks are roasted.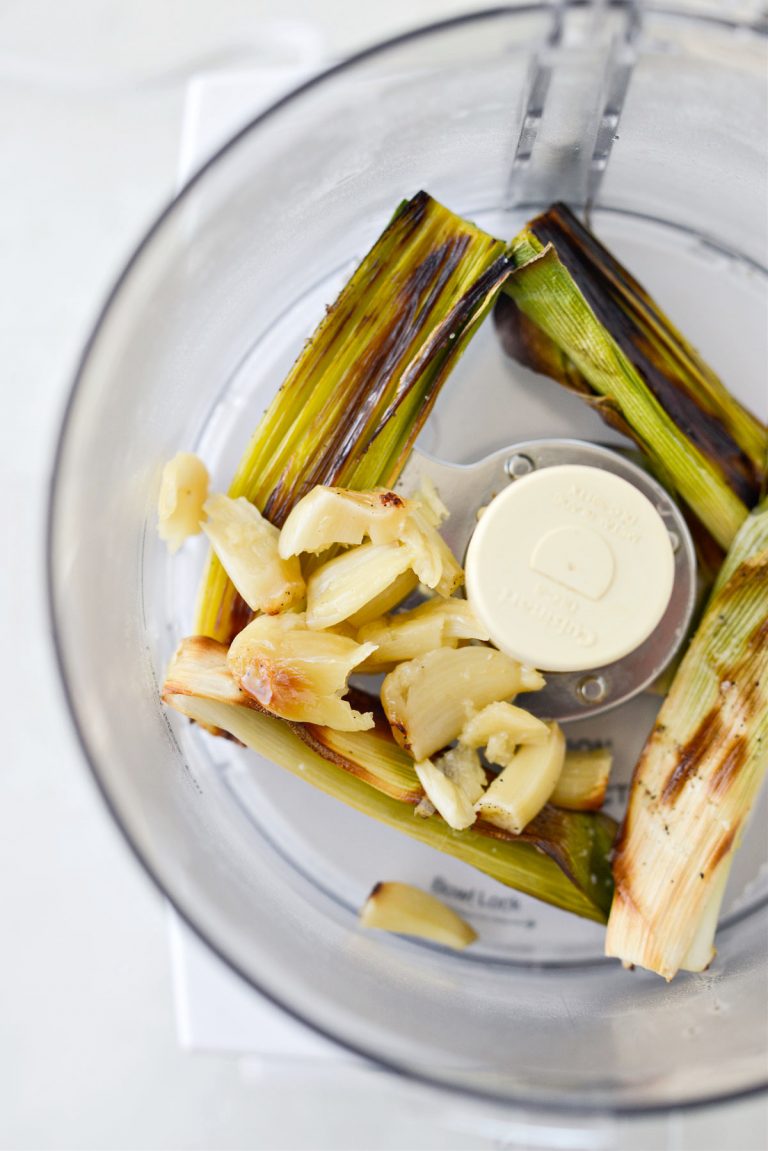 Add the leeks to the bowl of your food processor fitted with the blade attachment.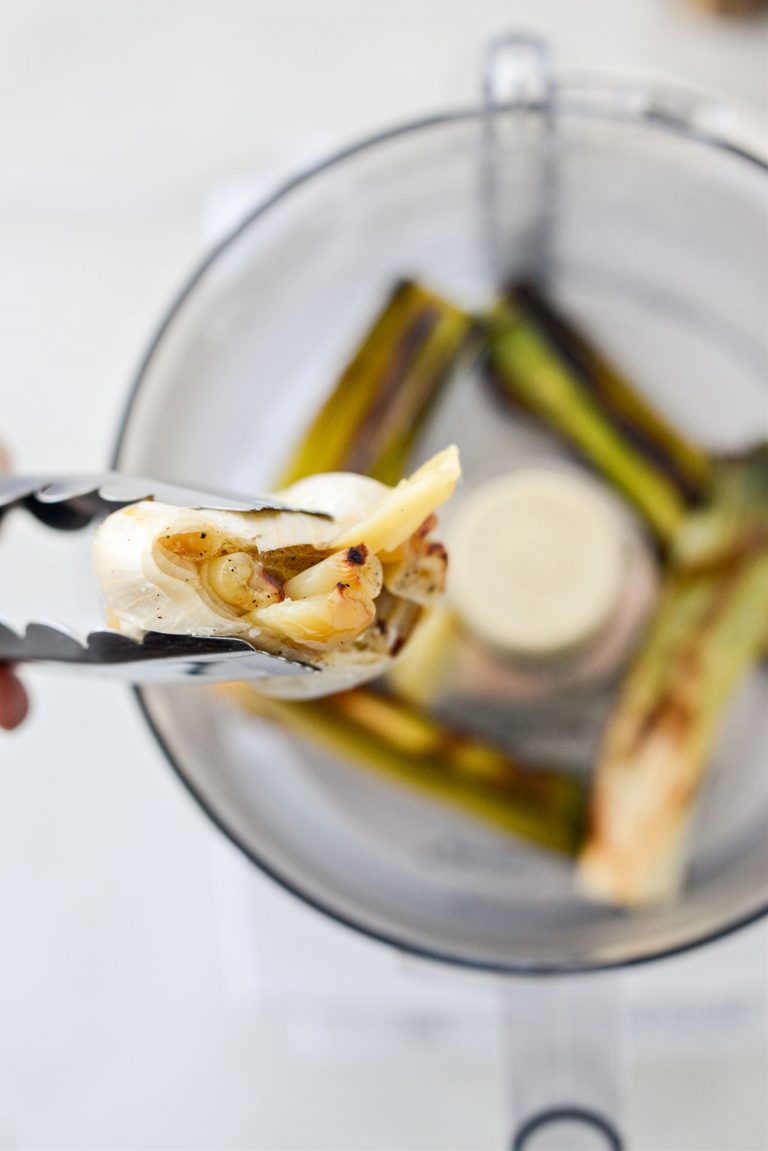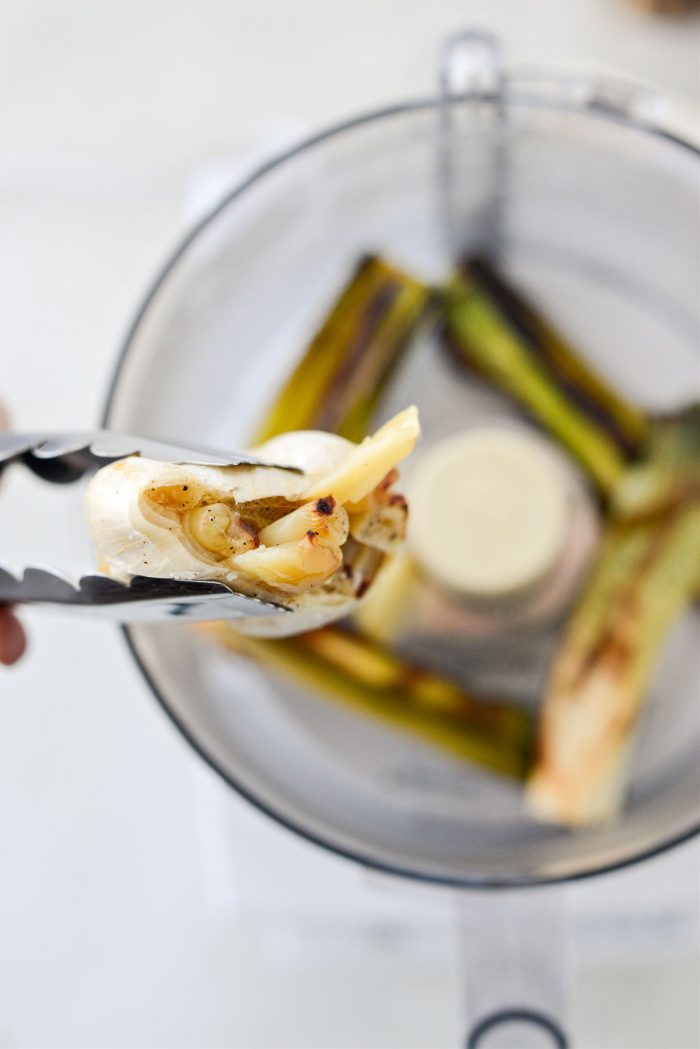 Use tongs to squeeze the warm garlic out of the cloves and into the food processor.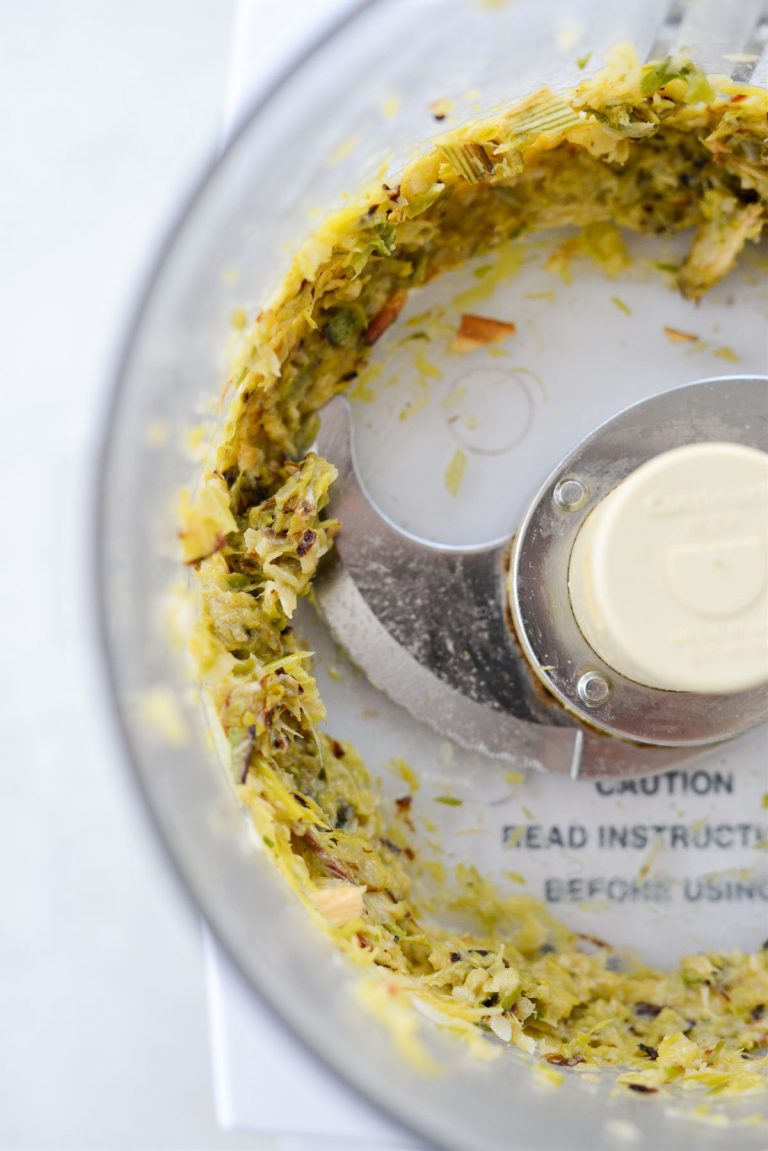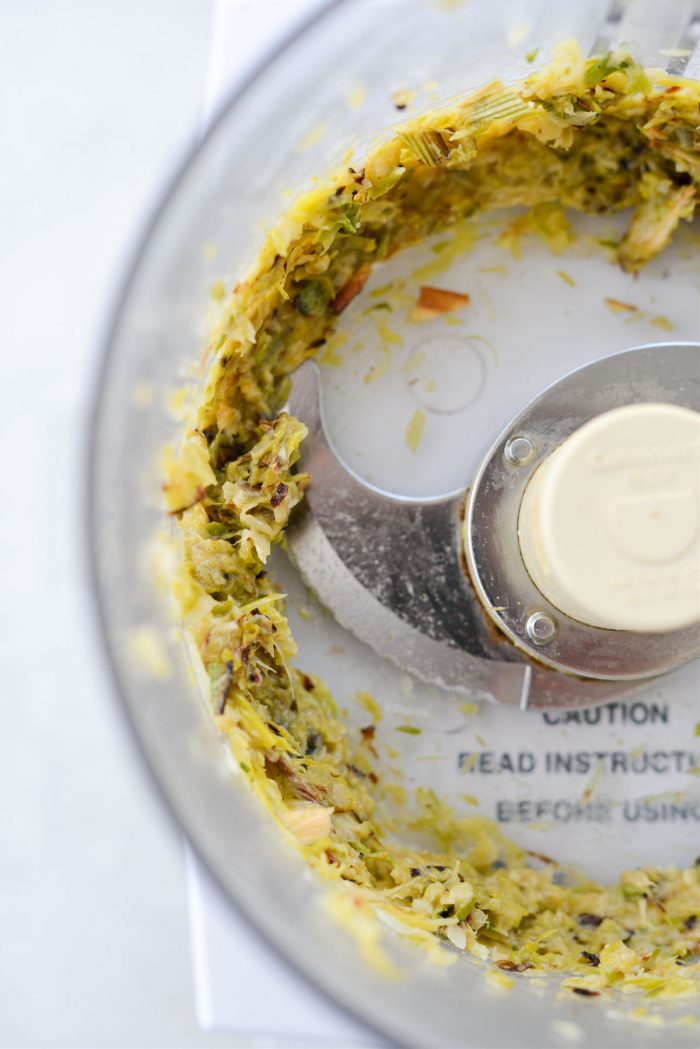 Secure the lid and process the leeks and garlic until the form somewhat of a paste.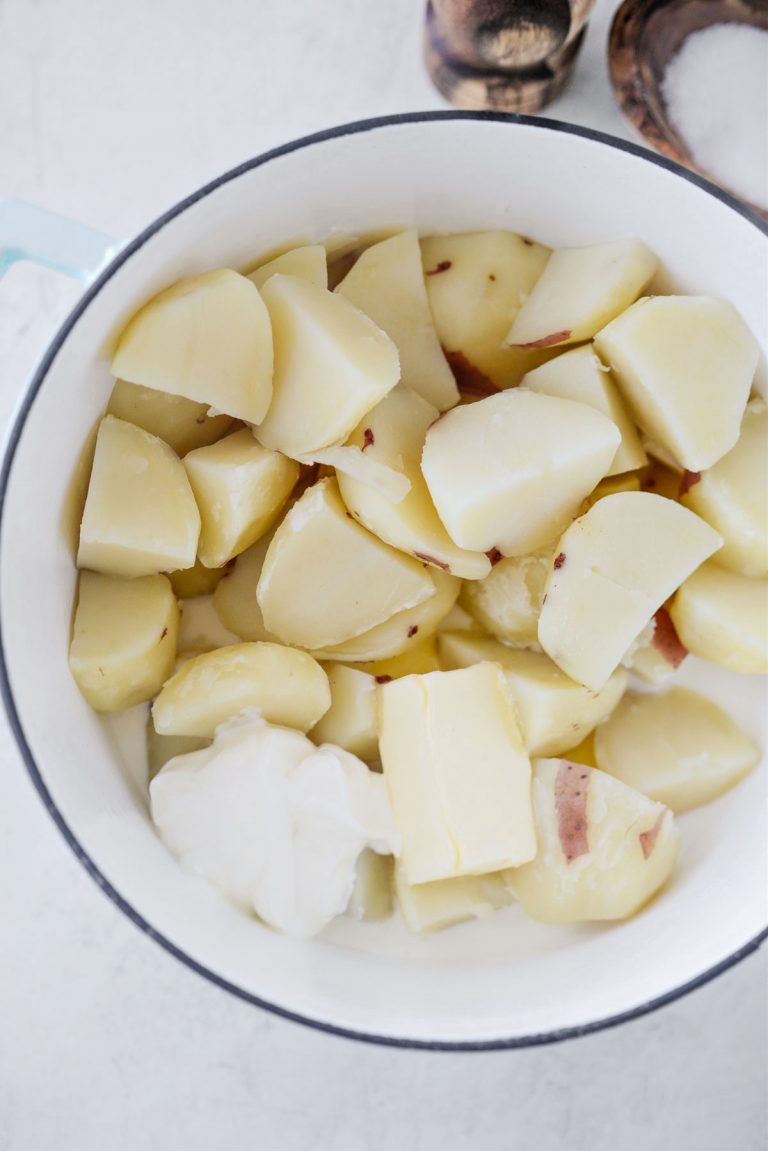 When the potatoes are tender, drain and add 1 cup milk, 1/4 cup sour cream and the 4 tablespoons unsalted butter.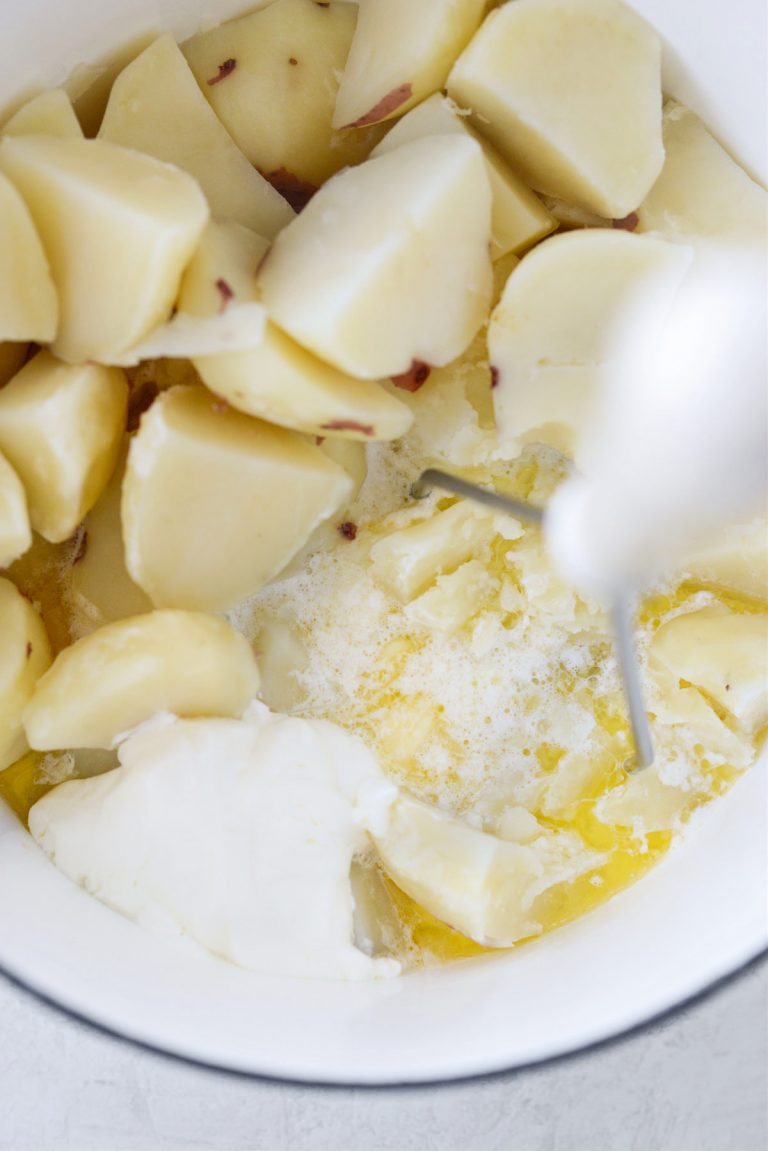 Mash potatoes, season with 2 teaspoons of kosher salt (more or less to taste) and some freshly ground black pepper. For a smoother mashed potato, press the potatoes through a potato ricer before adding in the milk, sour cream and butter.
We like lumps of potato in our mash.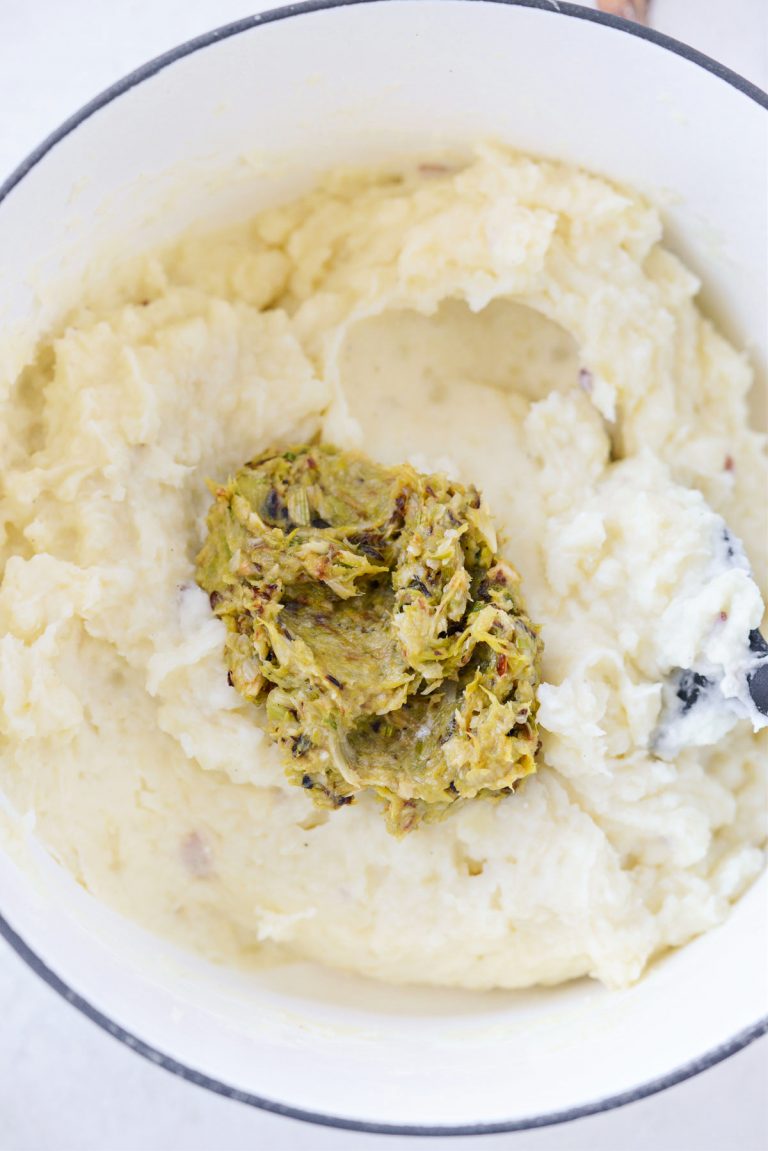 Next, stir in the roasted leek and garlic paste.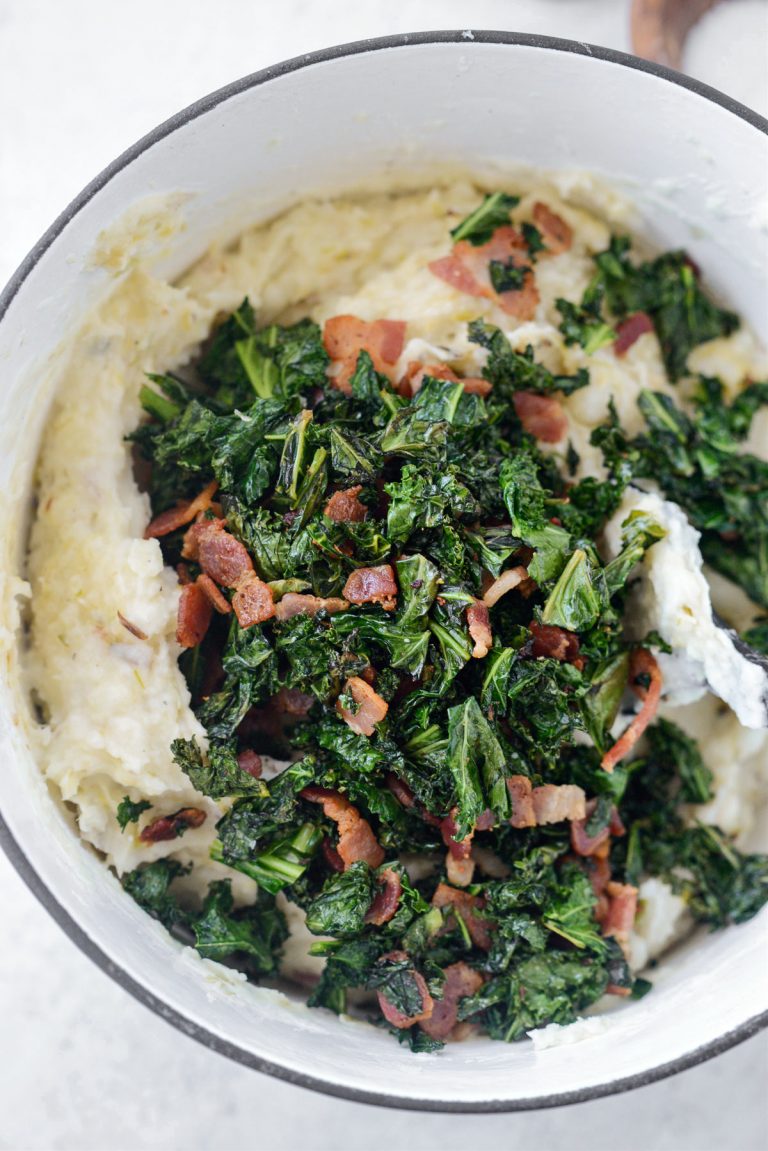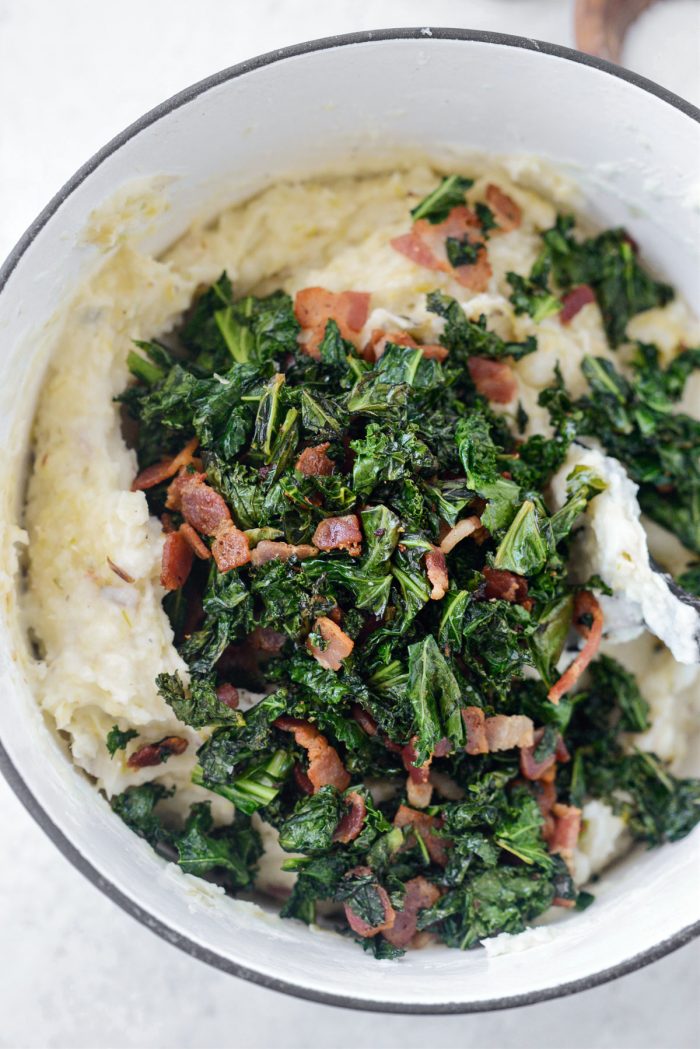 And lastly, stir in the sautéed kale and bacon.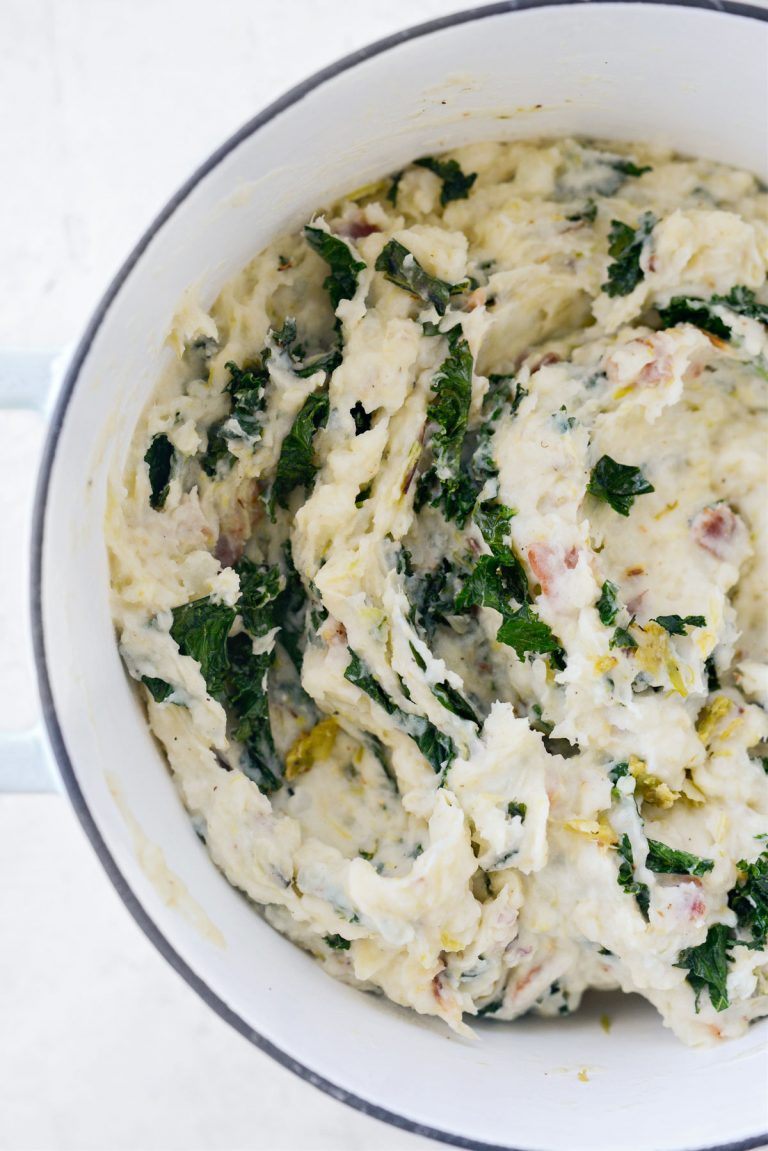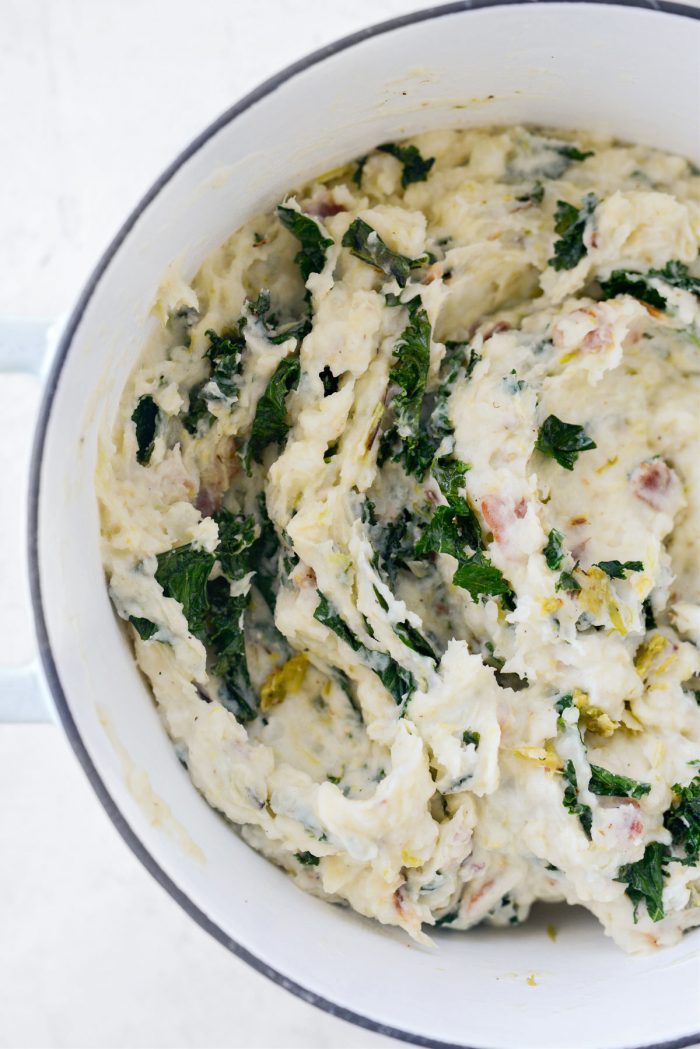 Taste one last time and add more salt if needed.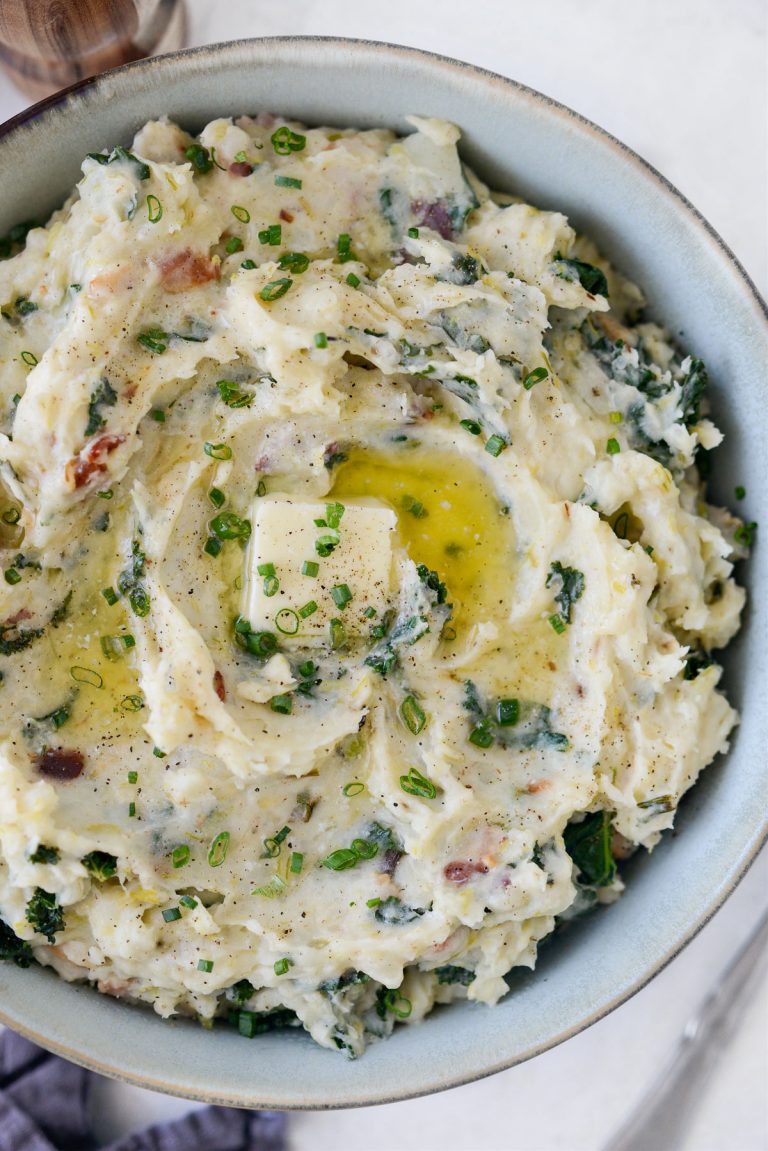 For garnish:
Serve with a sprinkling of finely sliced chives or the dark parts of a green onion.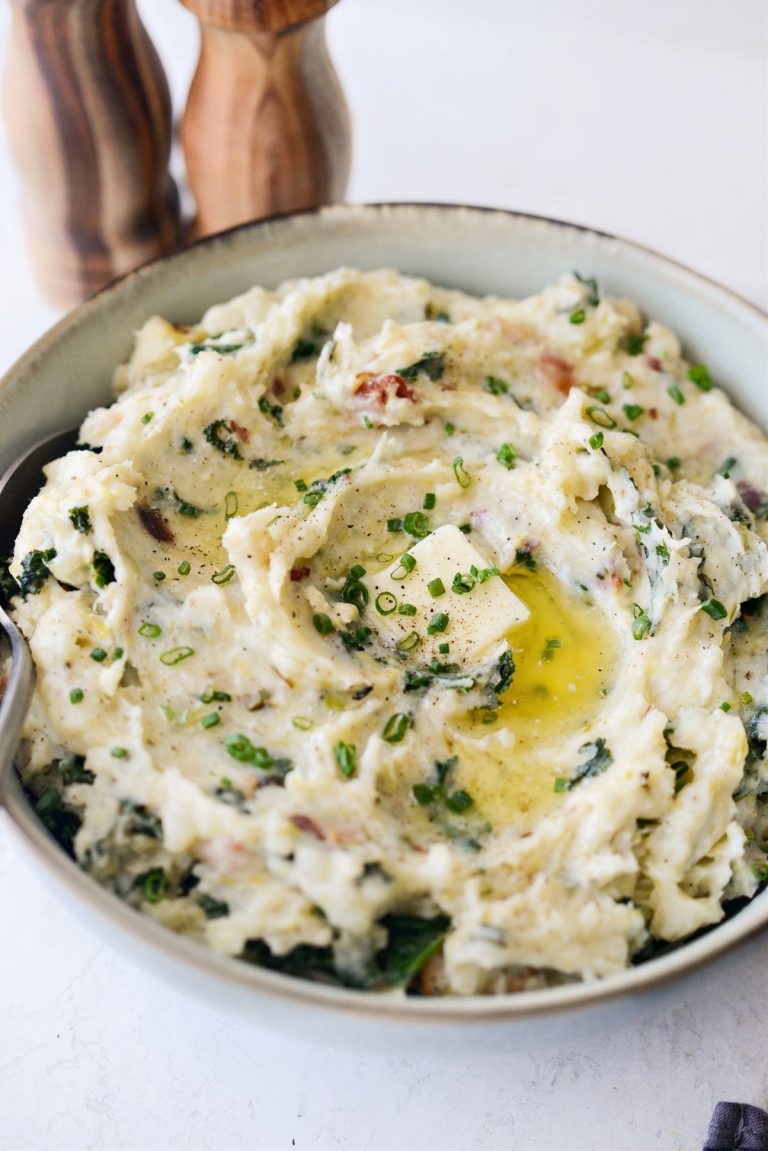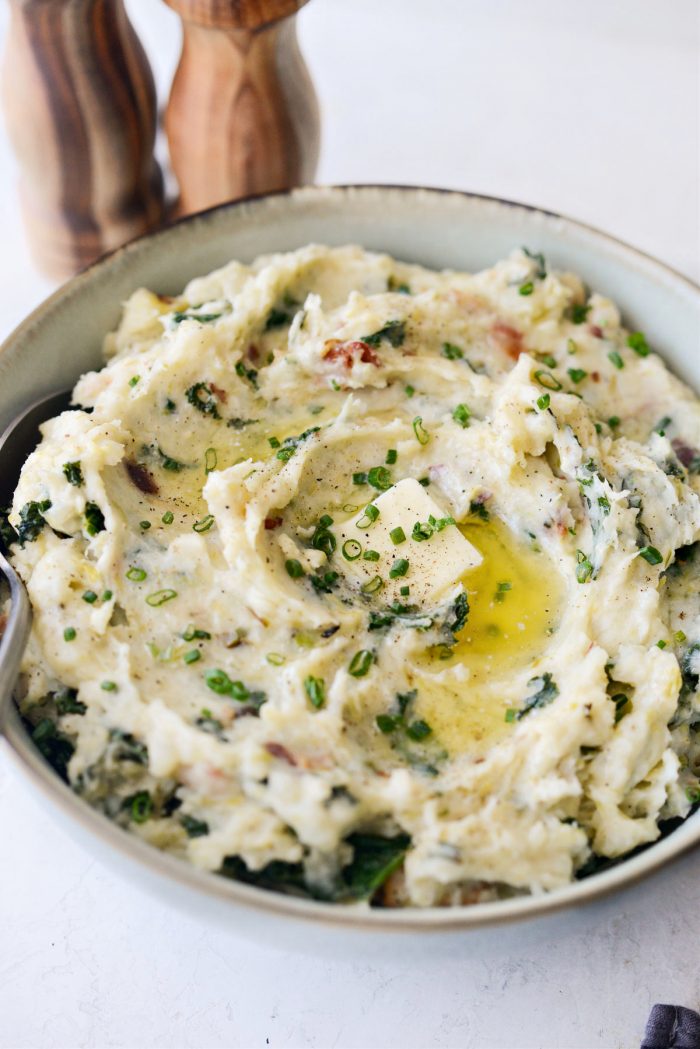 I also like to dress it up with a drizzle of melted butter and extra freshly ground black pepper.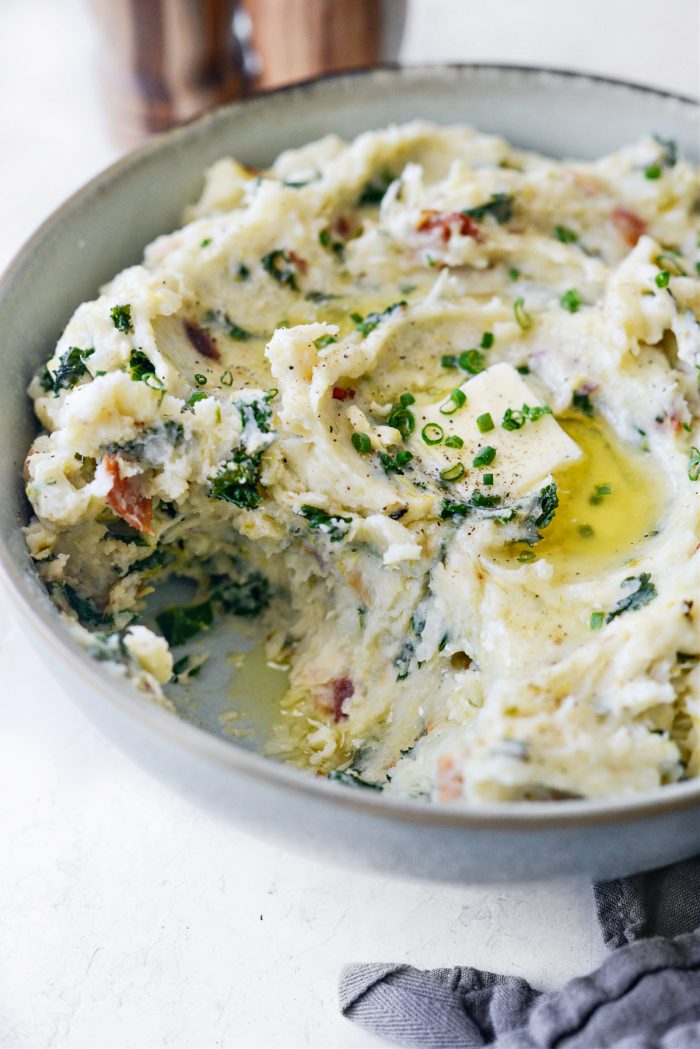 Although the servings say 6 to 8, I could easily make it serve 1.
Enjoy! And if you give this Colcannon recipe a try, let me know! Snap a photo and tag me on twitter or instagram!
This post may contain affiliate links.
Buy the Cookbook: Simply Scratch : 120 Wholesome Homemade Recipes Made Easy Now available on Amazon »
THANK YOU in advance for your support!