This Classic Coleslaw Recipe is completely homemade and so easy to throw together! Shredded green cabbage and carrots are tossed with a simple homemade creamy coleslaw dressing. Serves 12 depending.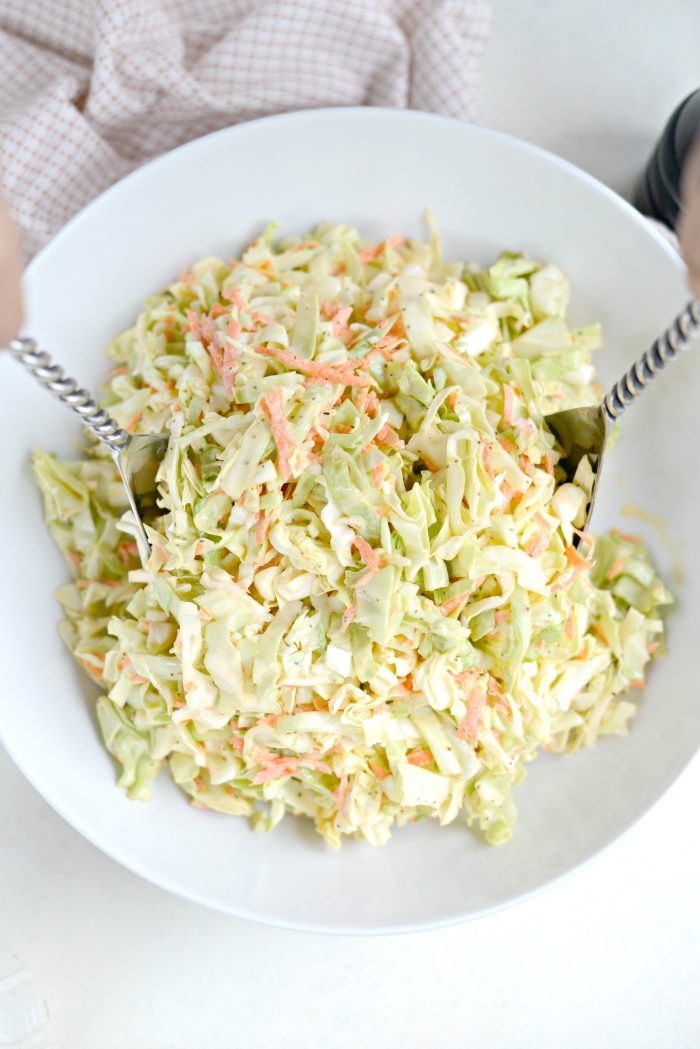 I've posted a few slaws on this blog over the years, but this is the debut of my classic coleslaw recipe!
I tried blogging it a couple years back, but the photos were just meh and I couldn't bring myself to share an ugly coleslaw. So I was brushing up on my sides to serve on the Fourth of July, I remembered that this recipe existed and thought to myself– now is the time!
I've always been a slaw fanatic. It probably started with my love for KFC coleslaw. What is it about that stuff that makes it so good?? Needless to say I have no preference on how I serve my slaw. It can be as the side to grilled or fried chicken or piled high on pulled pork. It doesn't matter to me because it's one of my favorite summer sides.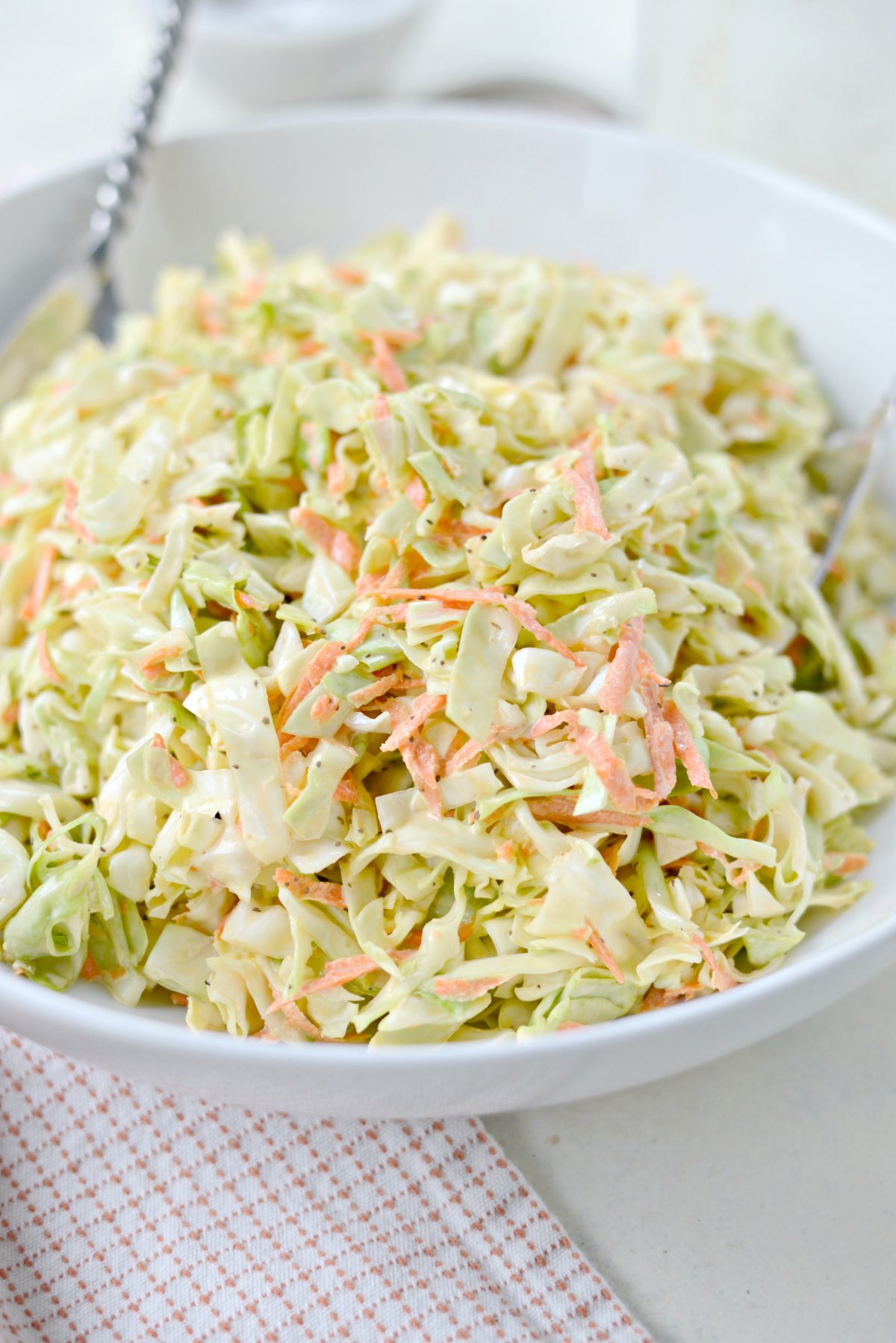 This is the slaw you want at your picnic or barbecue! It's cream, crunchy and deliciously homemade!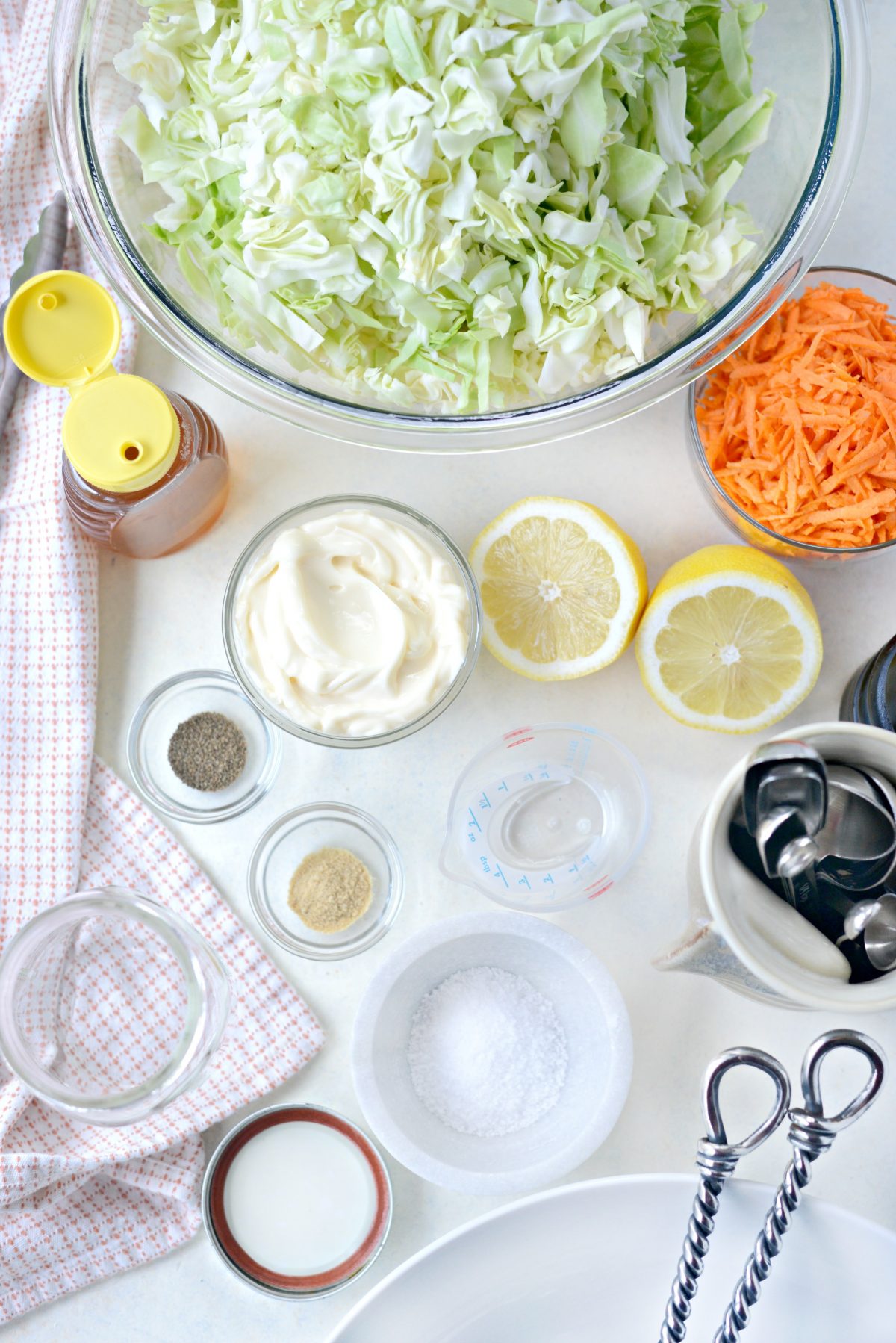 To Make This Coleslaw Recipe You Will Need:
mayonnaise – The base to this creamy homemade dressing. Can use homemade or store-bought.
lemon – Brightens up the dressing.
honey – For sweetness and flavor.
white distilled vinegar – This adds tang.
celery seed – Adds distinct earthy flavor.
dry ground mustard – For added depth and flavor.
kosher salt – You need this to balance flavors.
freshly ground pepper – This will add some subtle bite and flavor.
green cabbage – A classic ingredient in coleslaw.
carrot – Adds a pop of orange and earthy flavor.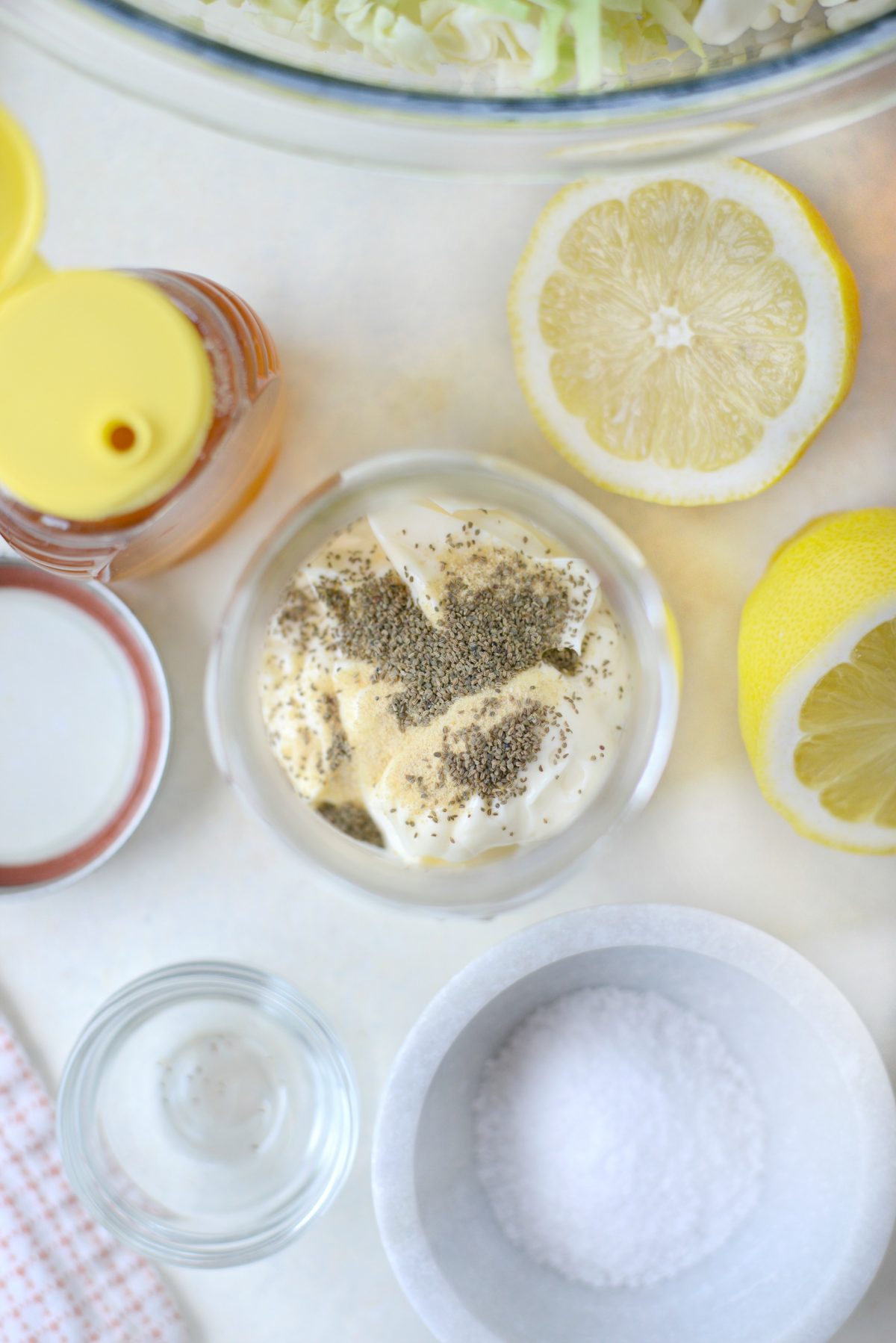 Make The Dressing:
In a glass jar or container that has a tight fitting lid, measure and add in the 3/4 cup mayo.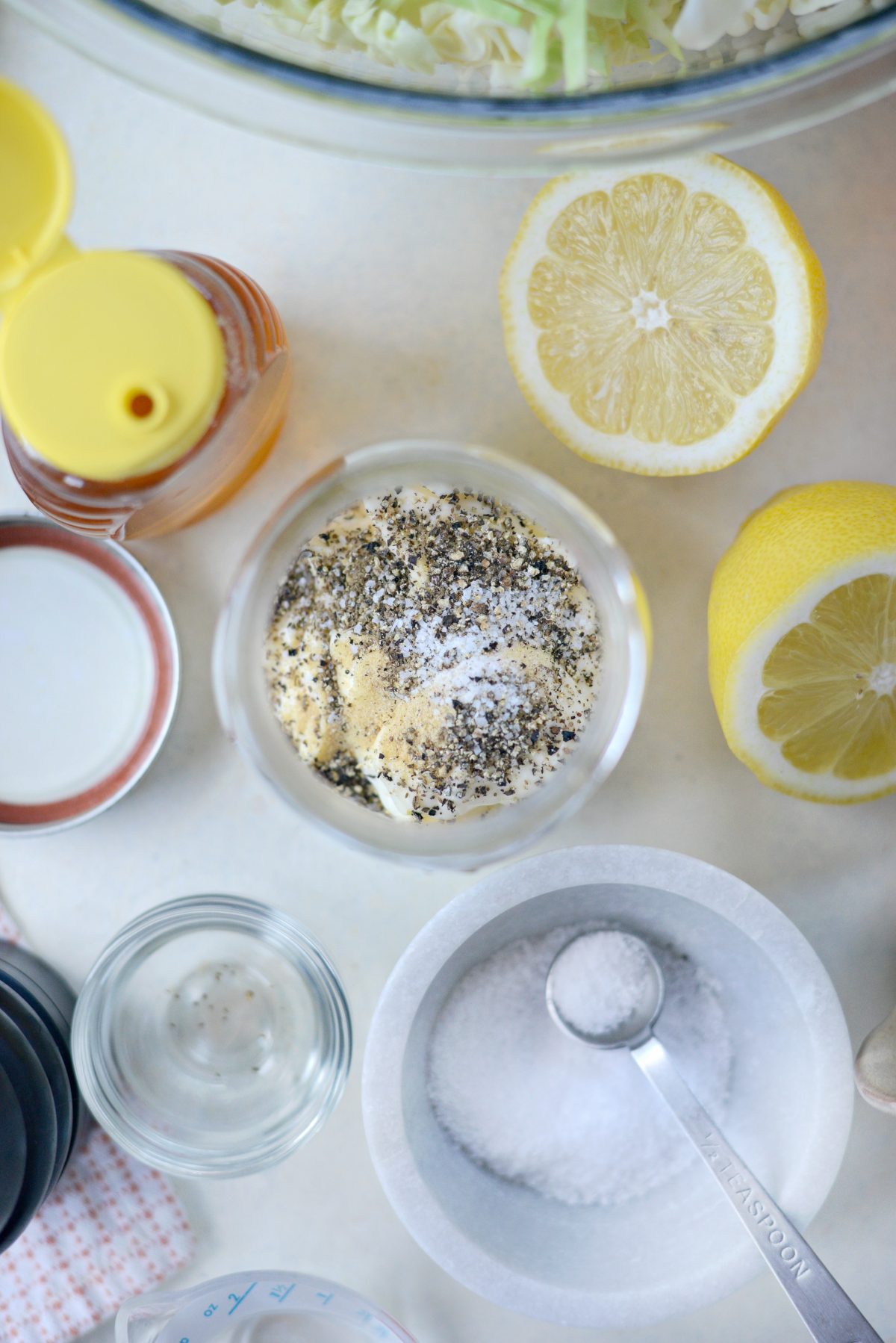 Then measure in 1/4 to 1/2 teaspoon of kosher salt (to taste) and then a half teaspoon of each; celery seed, dry mustard and pepper.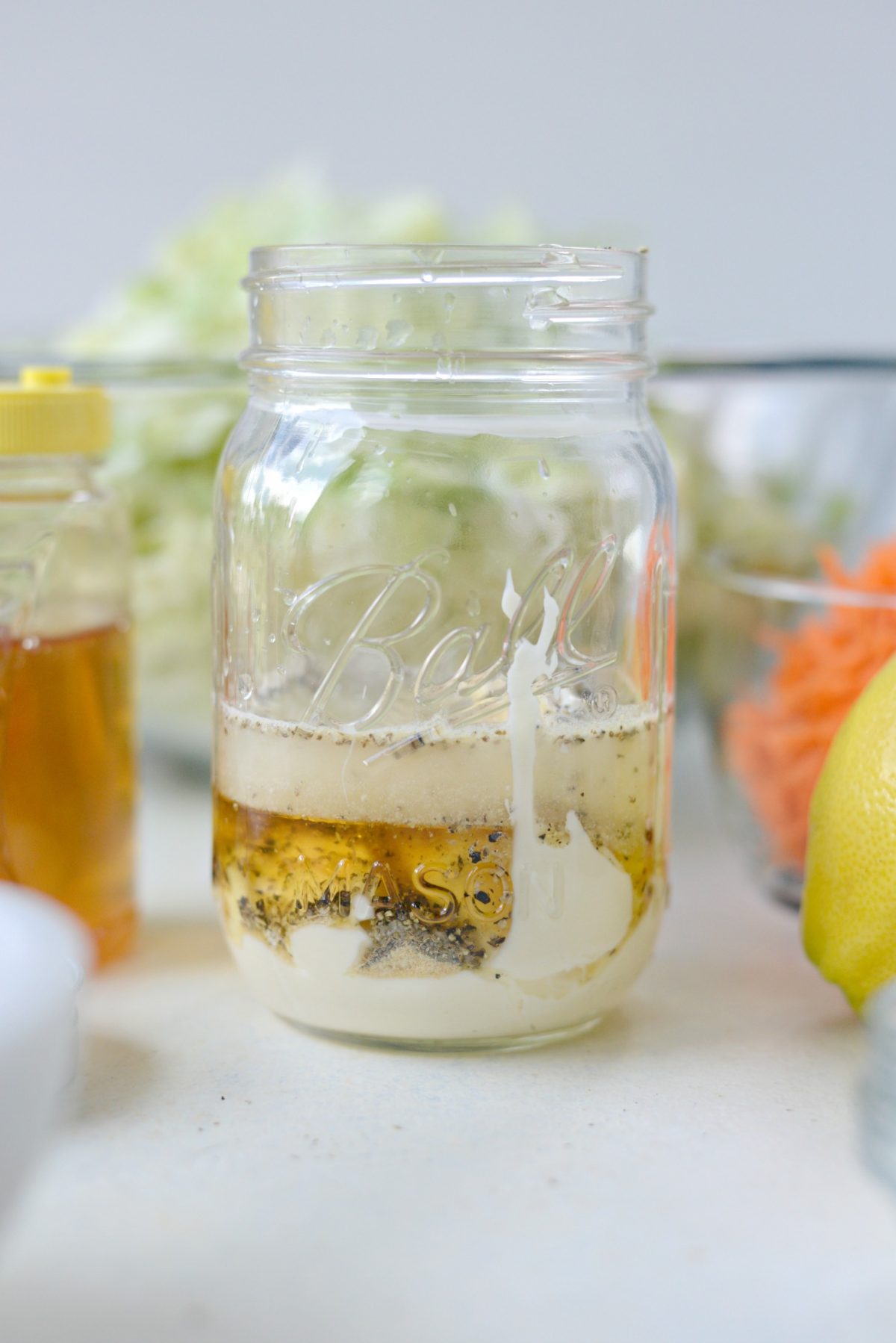 Next, add in the juice of half a lemon, 1-1/2 tablespoons honey and 1 tablespoon white vinegar.
Secure the lid and shake it really good and until the honey is incorporated through out. You may need to use a rubber spatula to get the inside edges of the jar.
Chill the dressing until ready to use.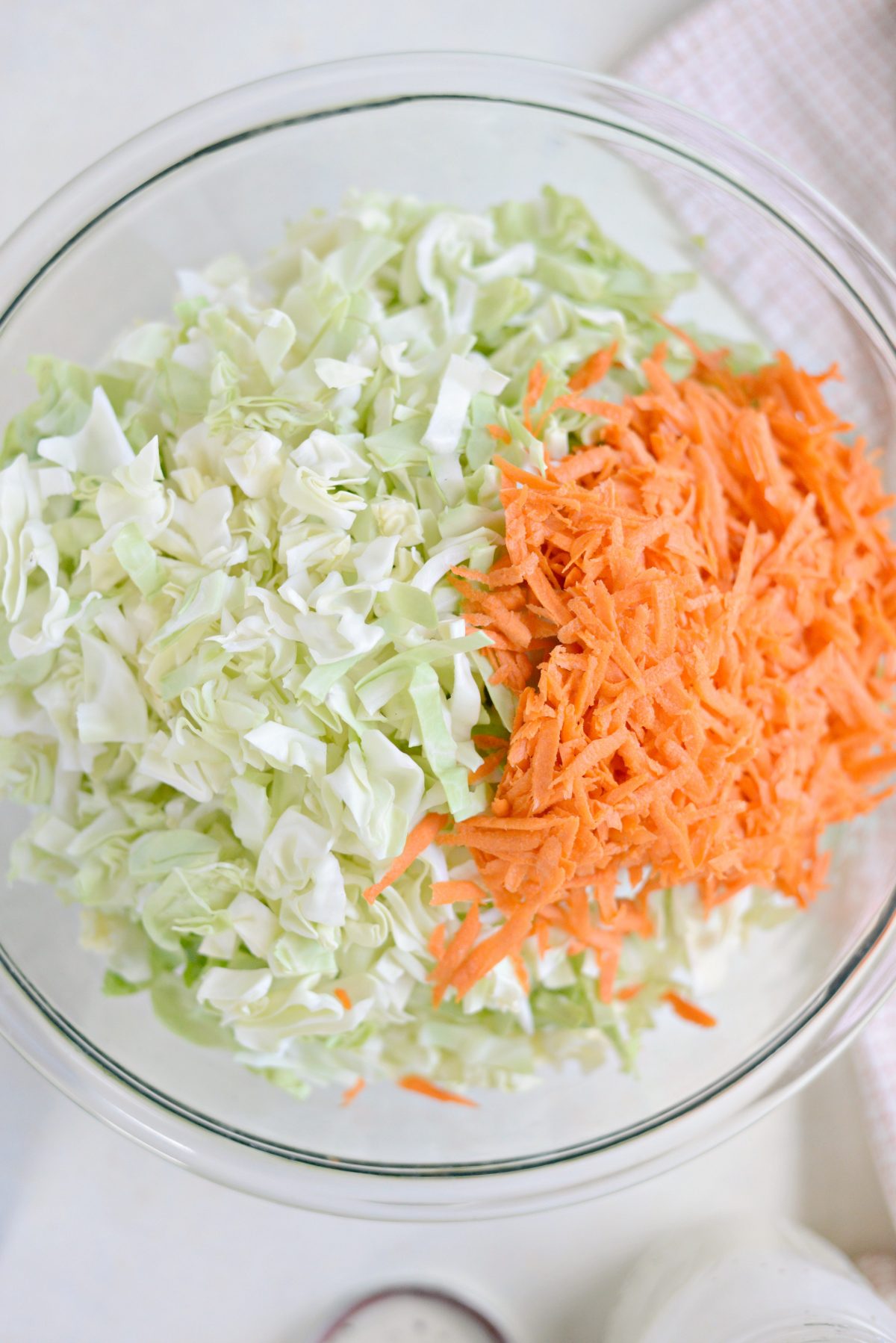 Make The Coleslaw:
In a large bowl add the shredded cabbage and carrots.
For the cabbage I quartered 1 large head of cabbage into 4 large pieces and then cut each piece in half again (lengthwise) to get a total of 8 pieces (essentially eighths) and then used my knife to shred the cabbage. For the carrots, I just peeled 2 small to medium sized and grated them on my box grater.
Then toss to combine.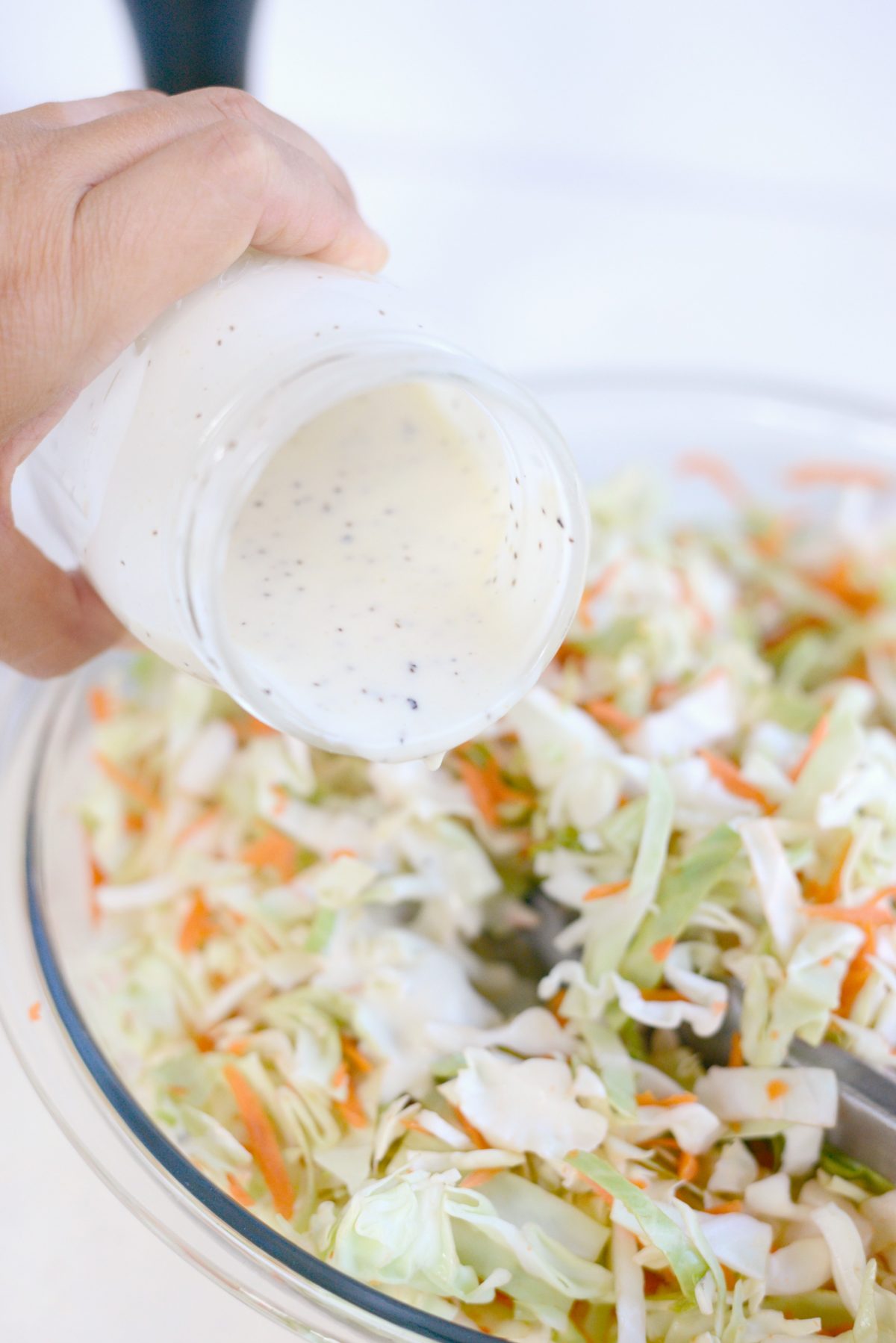 Combine the cabbage and carrots and then pour in the desired amount of dressing.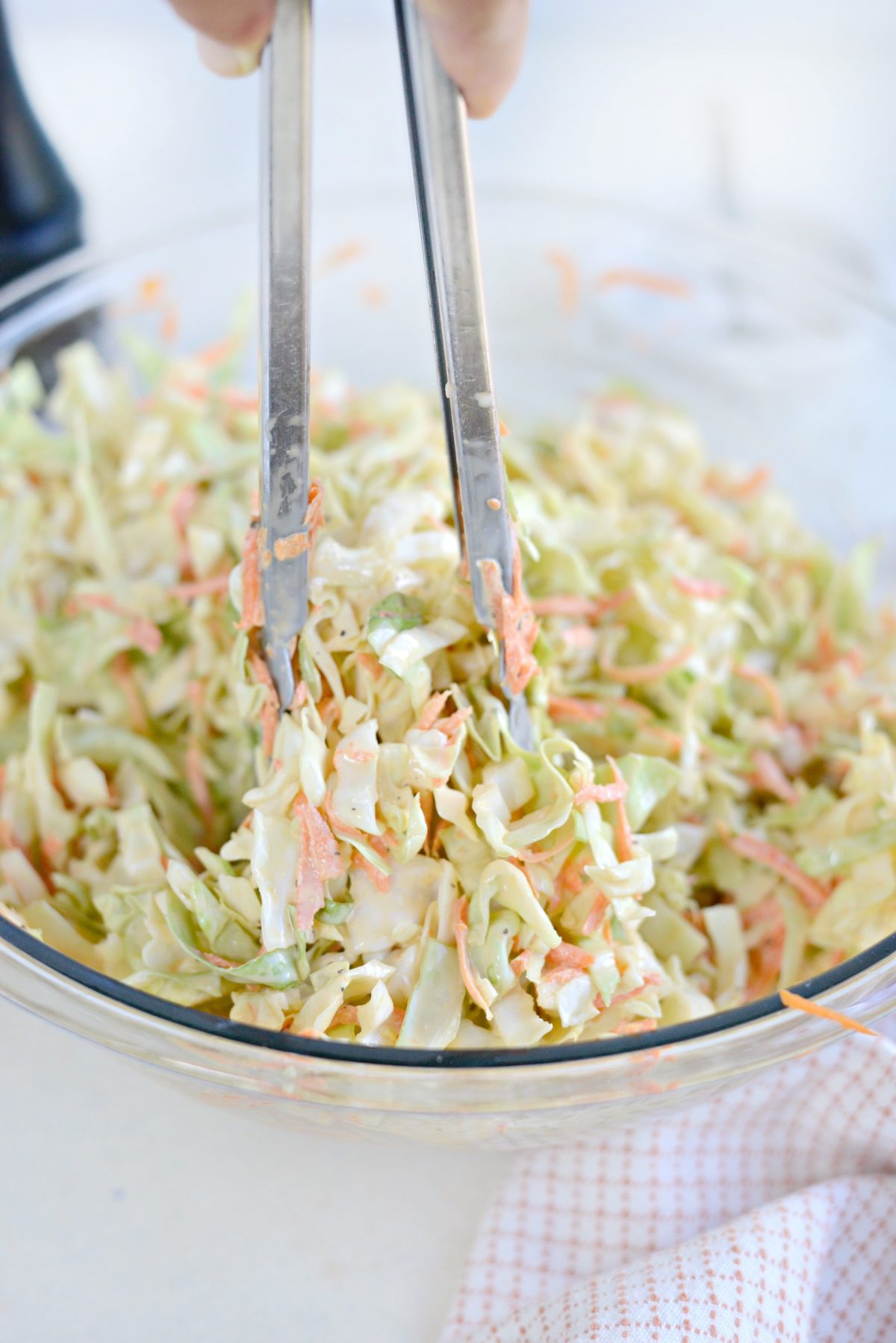 Toss again until the cabbage and carrots are coated generously with the coleslaw dressing.
Serve immediately! Crisp, sweet and a little tangy. This classic coleslaw recipe is my favorite for picnics and barbecues because not only is it delicious, but it can serve a crowd easily.
Click Here For More Slaw Recipes!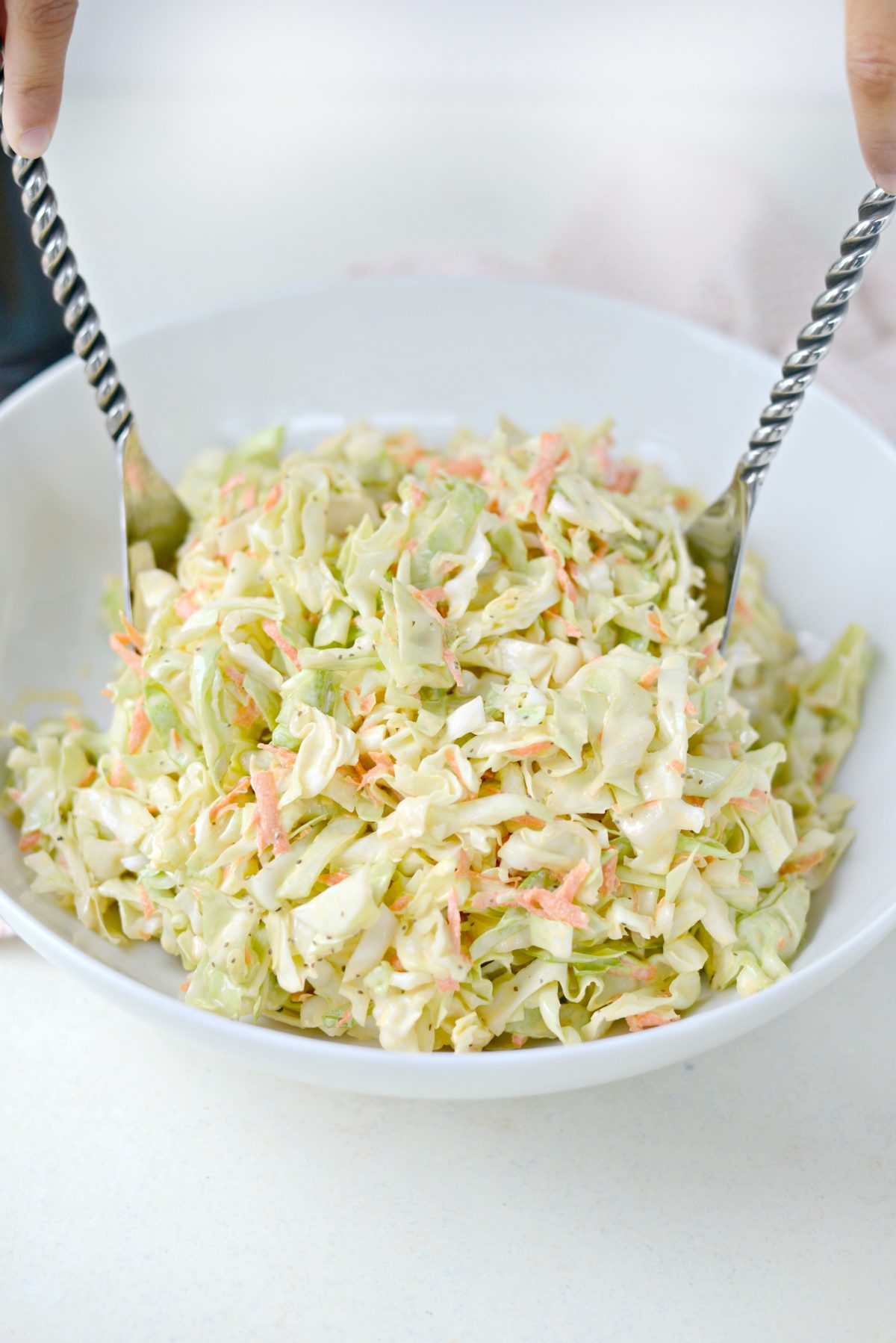 Enjoy! And if you give this Classic Coleslaw recipe a try, let me know! Snap a photo and tag me on twitter or instagram!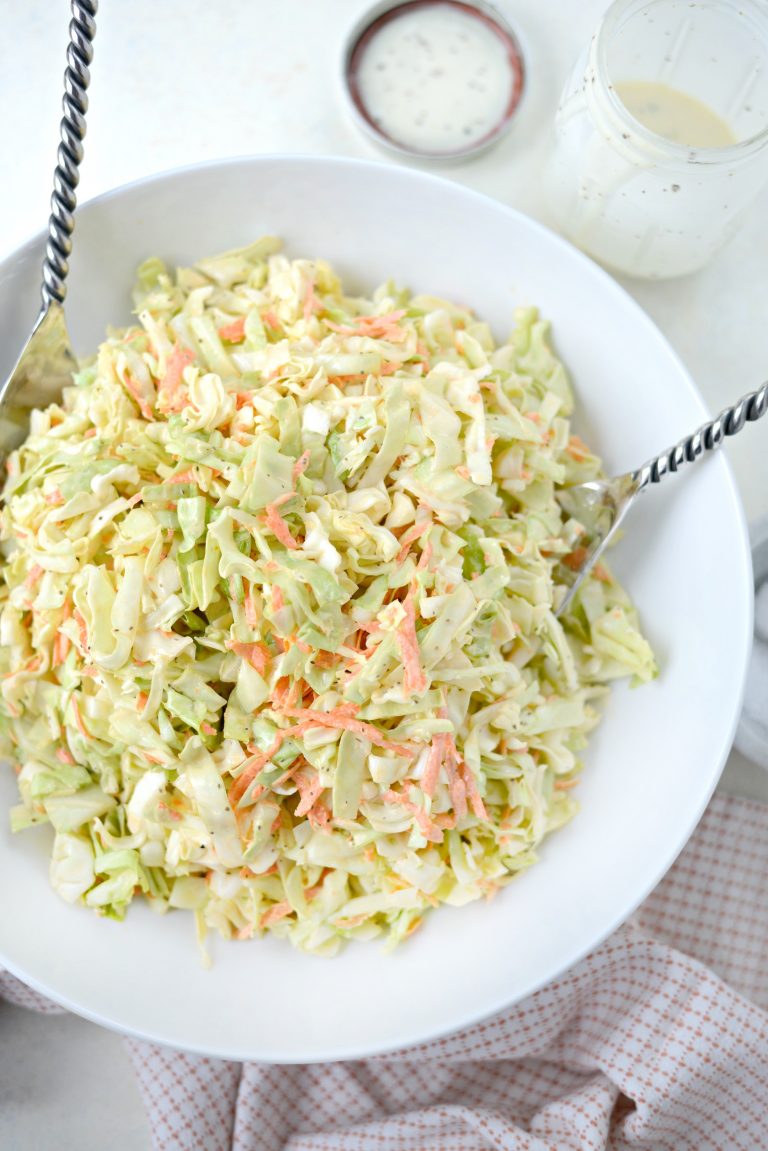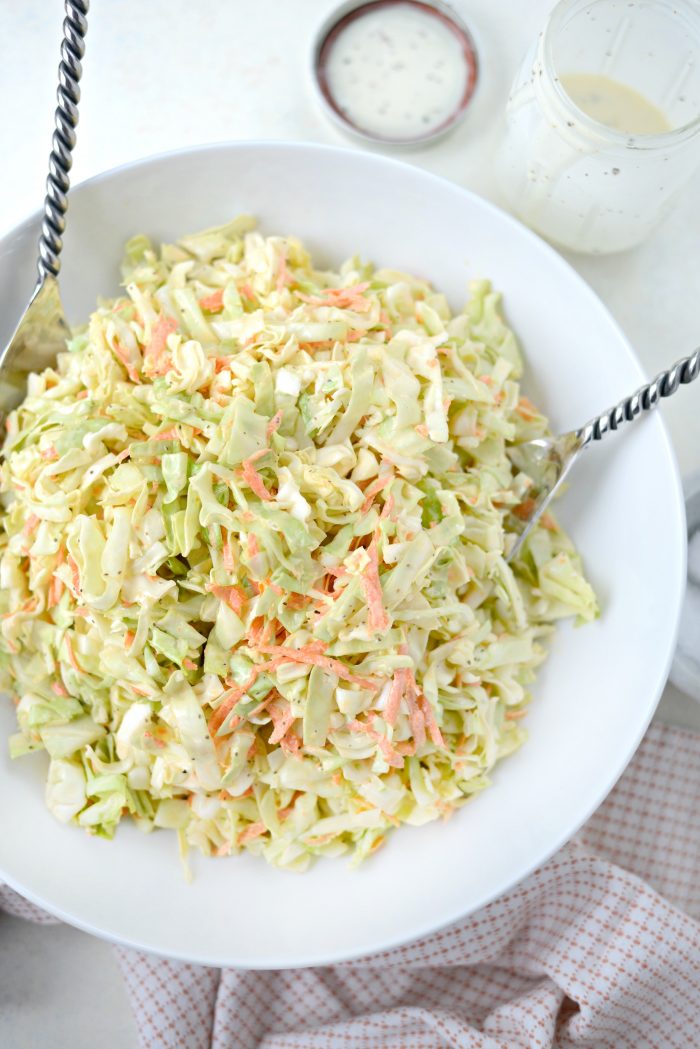 Yield: 12 servings
Classic Coleslaw Recipe with Homemade Dressing
This Classic Coleslaw Recipe is completely homemade and so easy to throw together! Shredded green cabbage and carrots are tossed with a simple homemade creamy coleslaw dressing.
Ingredients
1 head (large) cabbage, cut into eighths and thinly sliced
2 small carrots, grated (about 1 cup)
3/4 cup mayonnaise, homemade or store-bought
1½ tablespoons honey
2 tablespoons lemon, about 2 tablespoons
1 tablespoon white distilled vinegar
1/2 teaspoon celery seed
1/2 teaspoon dry ground mustard
1/4 teaspoon kosher salt, plus more to taste
1/2 teaspoon freshly ground black pepper
Instructions
Cut the cabbage into eighths so you have small wedges. Use your knife to "spread" or slice the cabbage into thin strips and add it into a large bowl.

In a glass jar or container with a tight fitting lid, combine the mayo, honey, lemon juice, vinegar, celery seed, ground mustard, salt and pepper.

Shake well, making sure the honey gets incorporated into the dressing, and refrigerate until ready to serve.

Toss the shredded cabbage and carrot together. Pour in desired amount of dressing, toss and serve immediately!
Notes
⭐️ Tips for making in advance: I like to make everything ahead and refrigerate separately. Then simply toss together right before I set it out to serve.
Serving: 1g, Calories: 134kcal, Carbohydrates: 9g, Protein: 2g, Fat: 11g, Saturated Fat: 2g, Polyunsaturated Fat: 6g, Monounsaturated Fat: 2g, Trans Fat: 1g, Cholesterol: 6mg, Sodium: 162mg, Potassium: 213mg, Fiber: 3g, Sugar: 6g, Vitamin A: 1504IU, Vitamin C: 40mg, Calcium: 48mg, Iron: 1mg
This post may contain affiliate links.
Buy the Cookbook: Simply Scratch : 120 Wholesome Homemade Recipes Made Easy Now available on Amazon »
THANK YOU in advance for your support!