Easy BBQ Chicken Drumsticks just in time for the 4th of July! In this super simple recipe, chicken drumsticks simmer in a quick homemade bbq sauce before being transferred to the grill for caramelization and a kiss of char. Serves 10 but could also serve 20 depending on the serving size.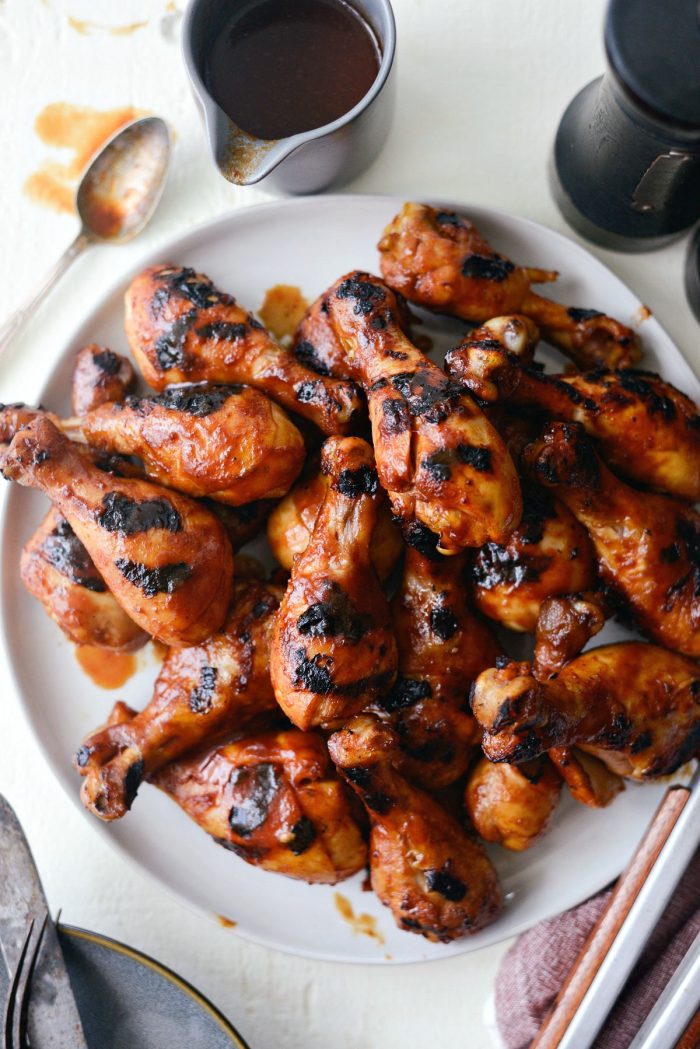 All I want is food that is grilled.
Like most, it's too hot to heat the oven and you can forget about standing over a pot of anything on the stove. Sure, most of have central air but it's so nice out and I strongly dislike having our air on (didn't I wait all winter for weather like this?) and would much rather having the windows open so I can hear the birds and smell the fresh cut grass.
With that said, thank heavens someone invented the grill because that is where we do 99.9% of the cooking in the summer months.
Whether having a low-key barbecue or just looking for a delicious uncomplicated weeknight meal, this recipe for bbq chicken drumsticks is ridiculously simple and yields moist and flavorful saucy chicken. It starts with a quick homemade barbecue sauce in which you will brilliantly simmer chicken drumsticks (drumsticks because they are the most fun to eat 😉) until they are fully cooked. Right before serving, the drumsticks take a quick trip to the grill where you will baste them with the reserved barbecue sauce until sticky and caramelized. Have mercy.
Any leftover barbecue sauce and be frozen for later or use throughout the week with grilled chicken, steak or seafood.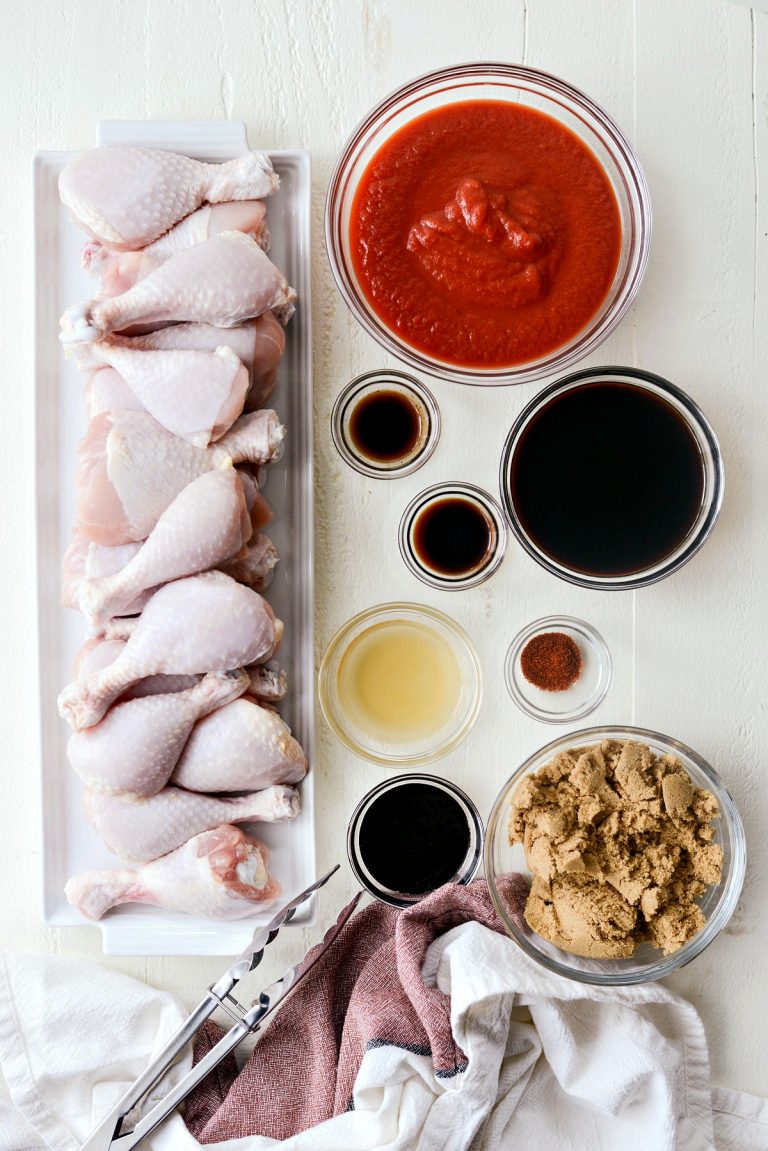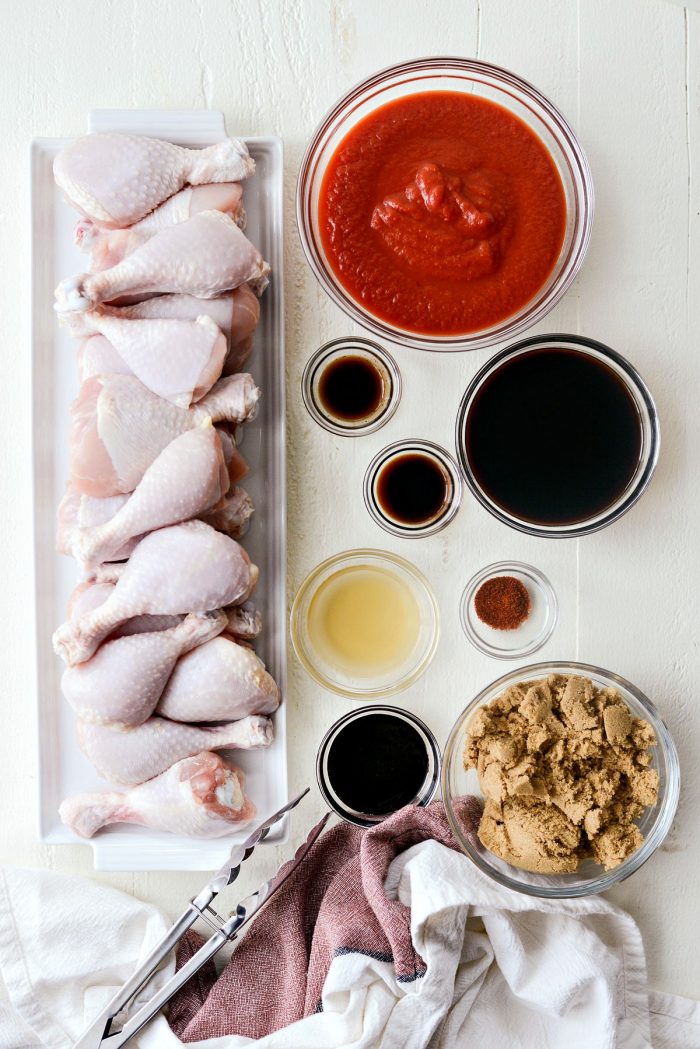 To Make This Easy BBQ Chicken Drumstick Recipe You Will Need:
tomato puree – The base for this sauce. Tomato-based sauces have a sweeter flavor which works well with meats such as pork ribs or chicken.
dark brown sugar – Adds sweetness, richness and will caramelize when grilled.
low-sodium soy sauce – Adds saltiness, umami and a hint of sweetness to the sauce.
apple cider vinegar – This will cut the sweetness while lending a little tang.
un-sulphured molasses – Will thicken the texture of the sauce and will lend sweetness.
liquid smoke – Will impart a smoky flavor.
Worcestershire sauce – Adds a mixture of sour, sweet and subtly spicy flavors.
chili powder – Adds flavor and can be mild to moderately spicy.
bone-in and skin-on chicken drumsticks – Dark and a fattier meat which tends to juicer and more flavorful in comparison to chicken breast.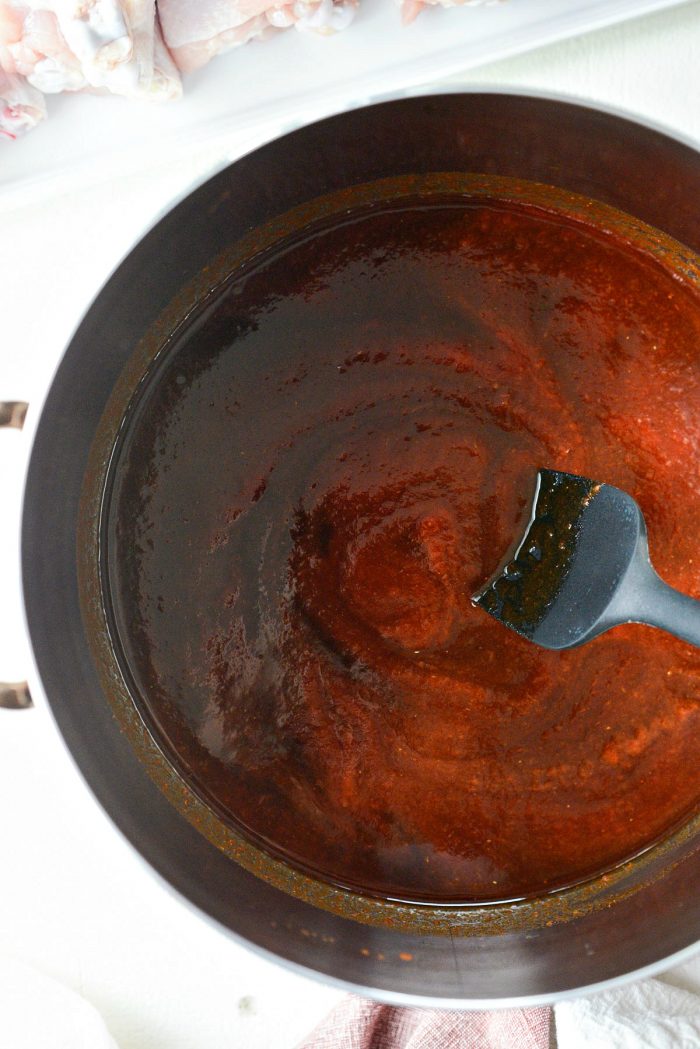 In a large pot measure and add; 2 cups tomato puree, 1 cup dark brown sugar, 1 cup low-sodium soy sauce, 1/4 cup apple cider vinegar, 2 tablespoons un-sulphured molasses, 2 tablespoons liquid smoke, 1/2 tablespoon Worcestershire sauce and 1 teaspoon chili powder
What Is the Difference Between Tomato Puree and Tomato Sauce?
The biggest difference is consistency. Tomato puree is thicker consistency and has a deeper flavor than sauce. Tomato sauce usually contains a form of seasoning (typically salt, garlic, onion and/or basil) whereas tomato puree does not.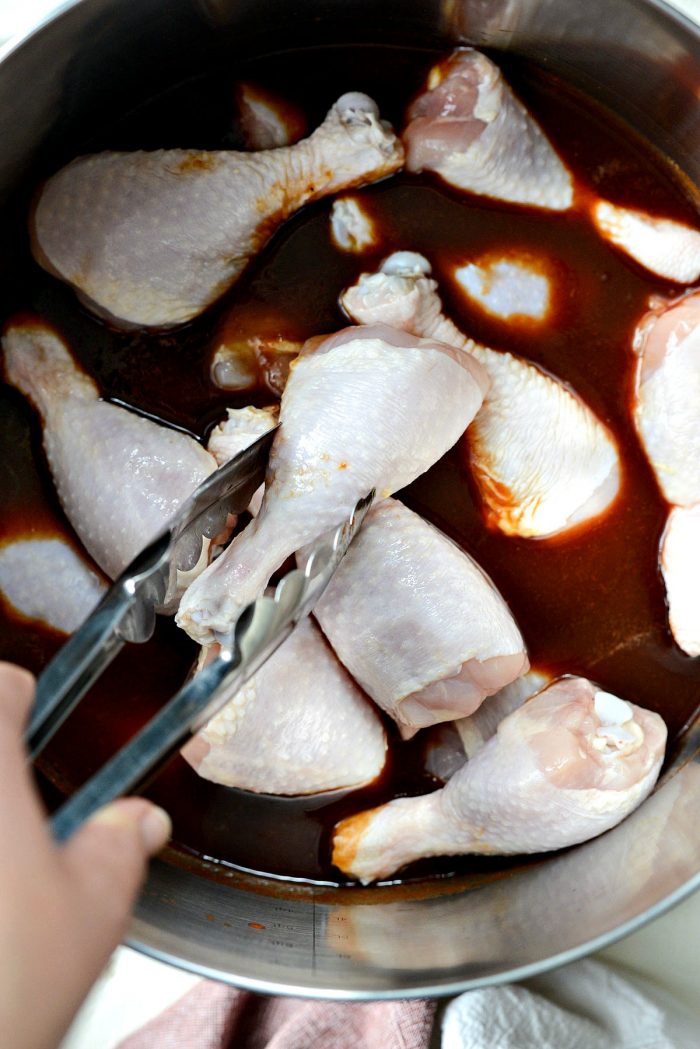 Bring the sauce to a low boil over medium-high heat. Using tongs, add 3 to 3-1/2 pounds of chicken drumsticks into the sauce.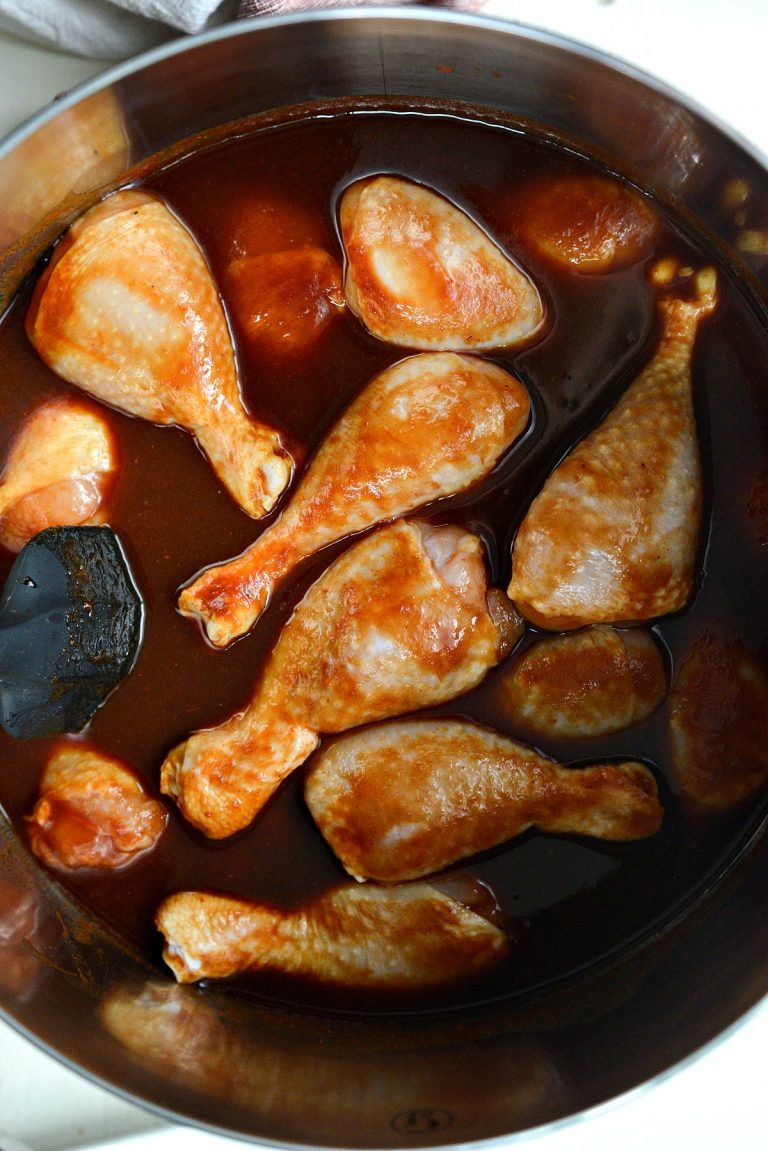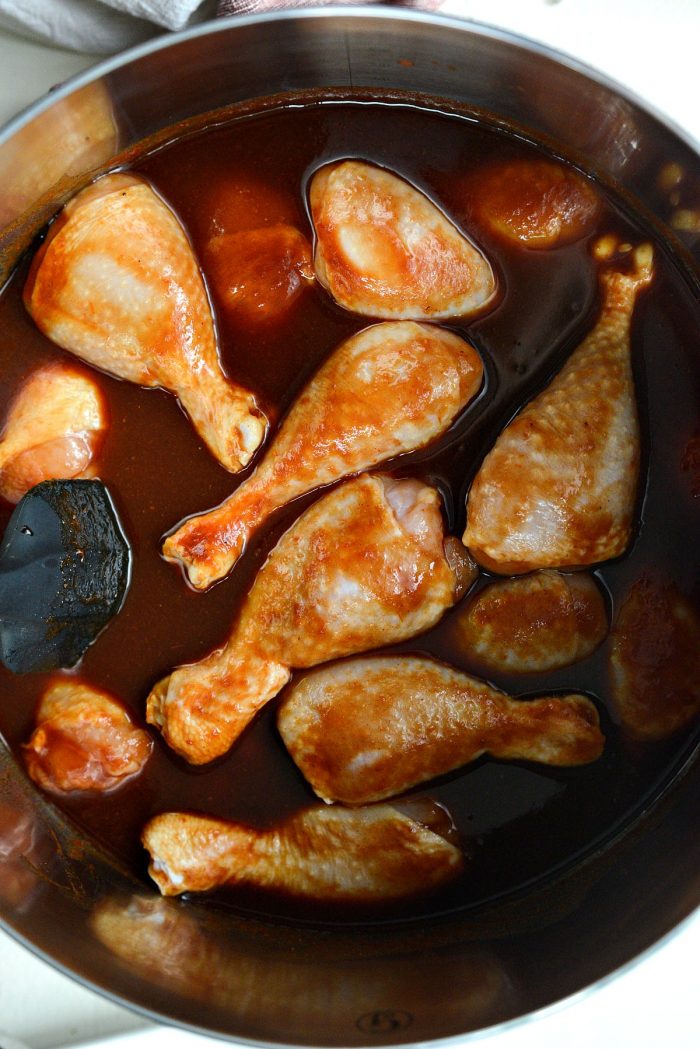 Toss to coat.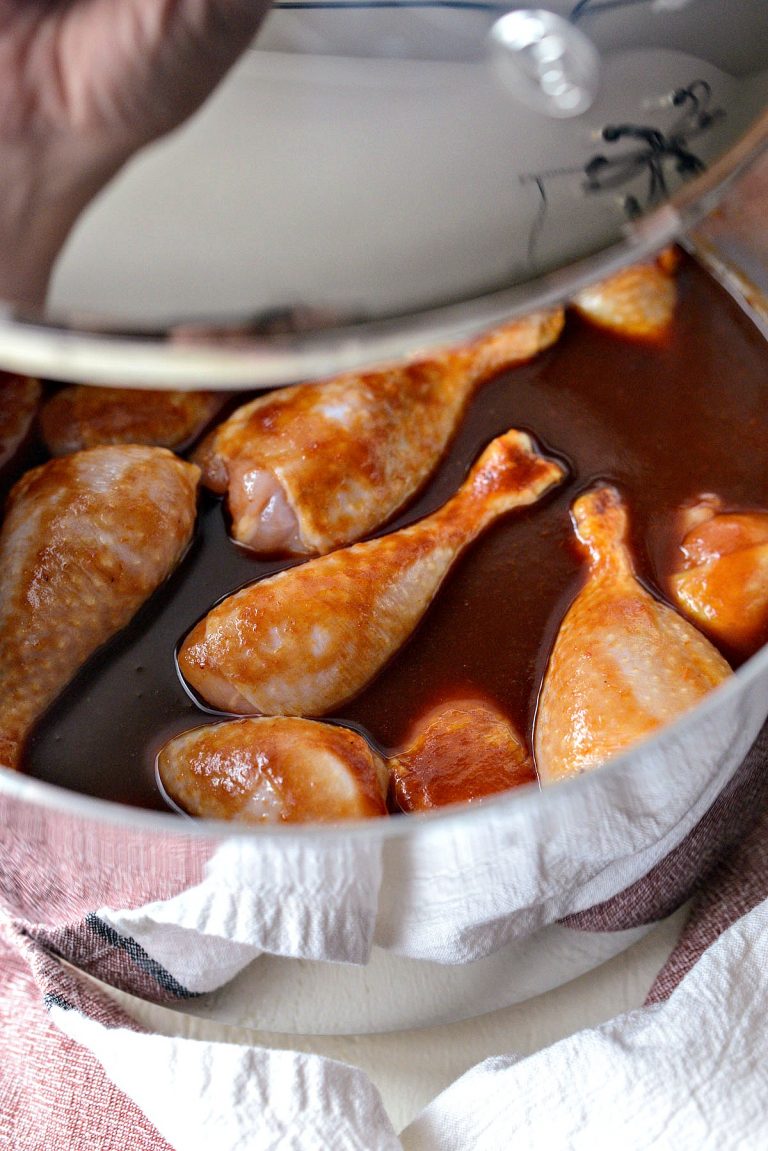 Reduce the heat, cover and simmer over low to medium-low heat for 30 to 35 minutes.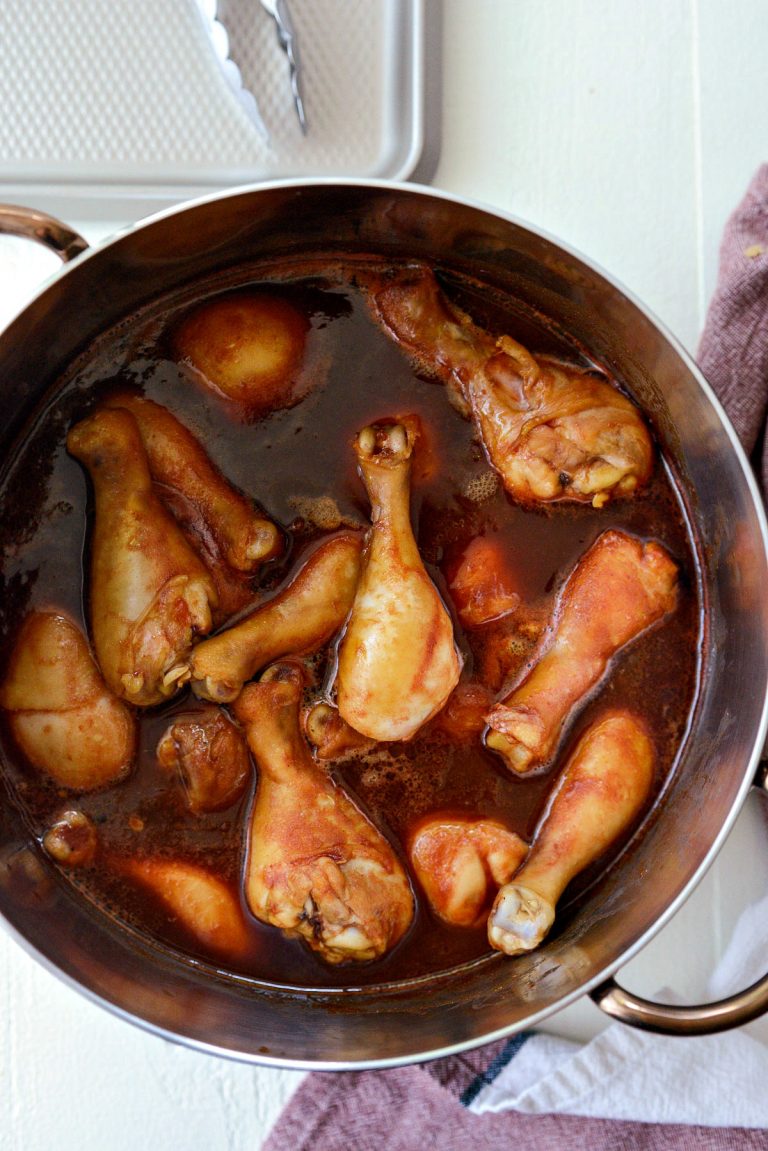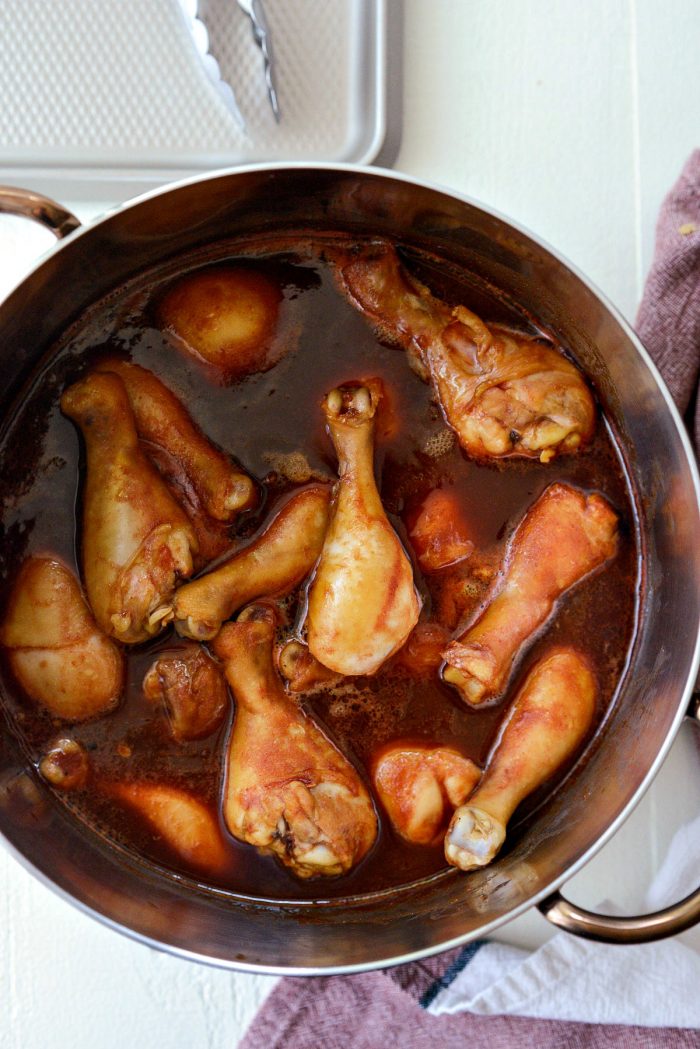 Ta-dah! Fully cooked and now ready for the grill!
But first, preheat your grill to 400-425°.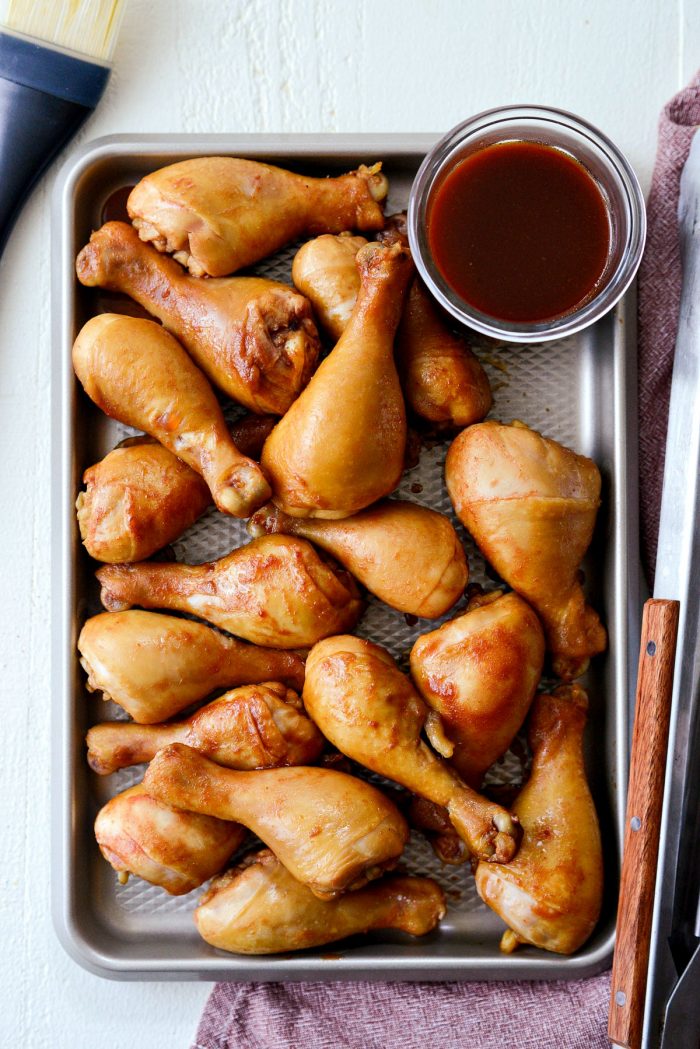 Transfer the cooked chicken drumsticks to a rimmed baking sheet along with 1 cup of that barbecue sauce.
Use tongs and a wad of paper towel that has been dipped into olive oil to grease the grill grates.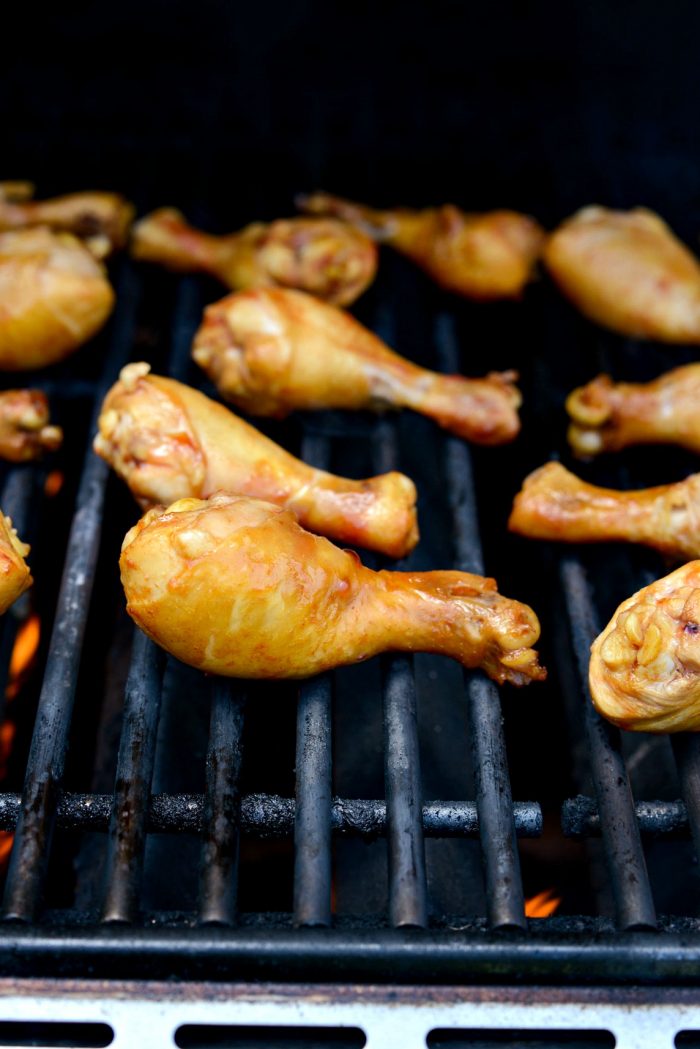 Grill the chicken until grill marks form and the chicken can easily be turned.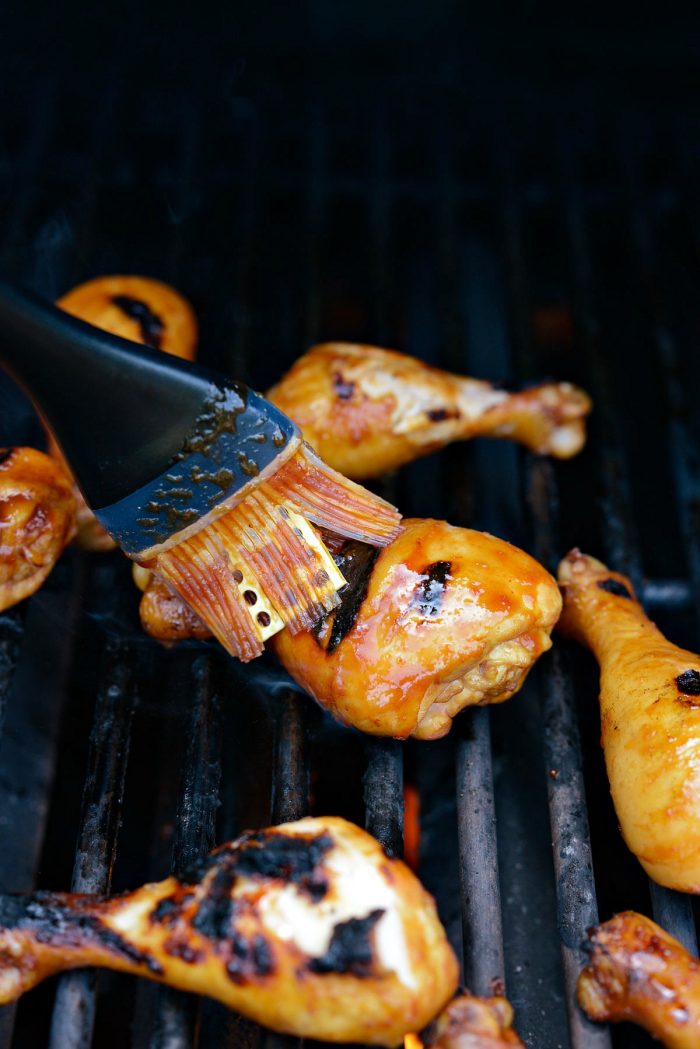 Brush with the sauce and repeat this until caramelized.
I cannot stress enough how important it is to grease the grates. Skin will stick, but it will be less if the grates are greased.
Once the chicken has been grilled and is saucy, remove the chicken and serve.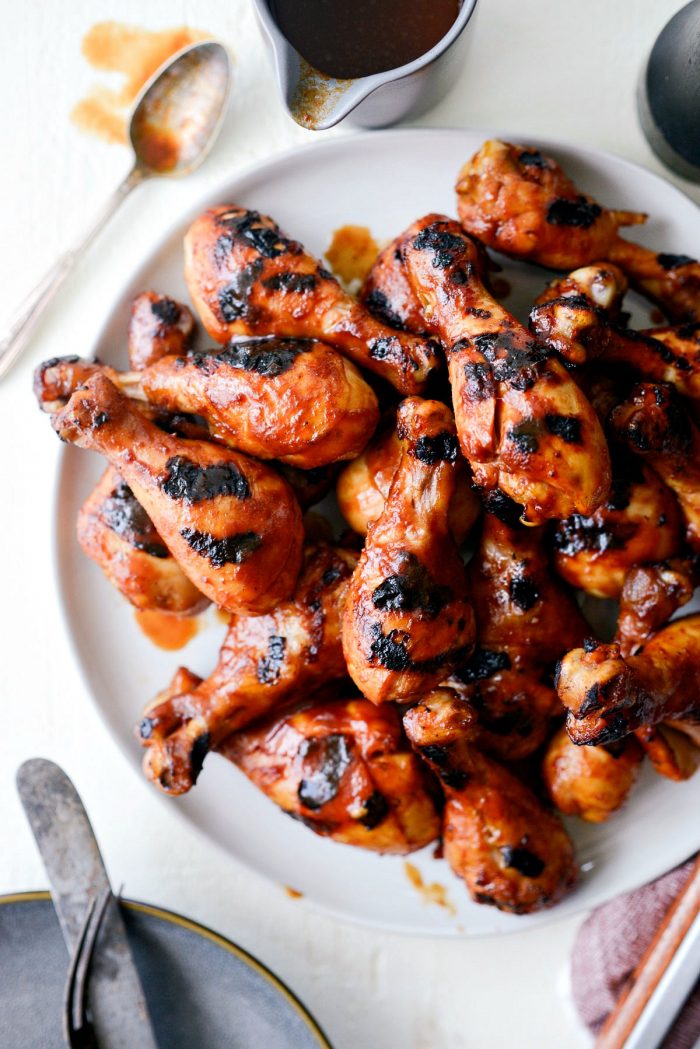 It's really that easy.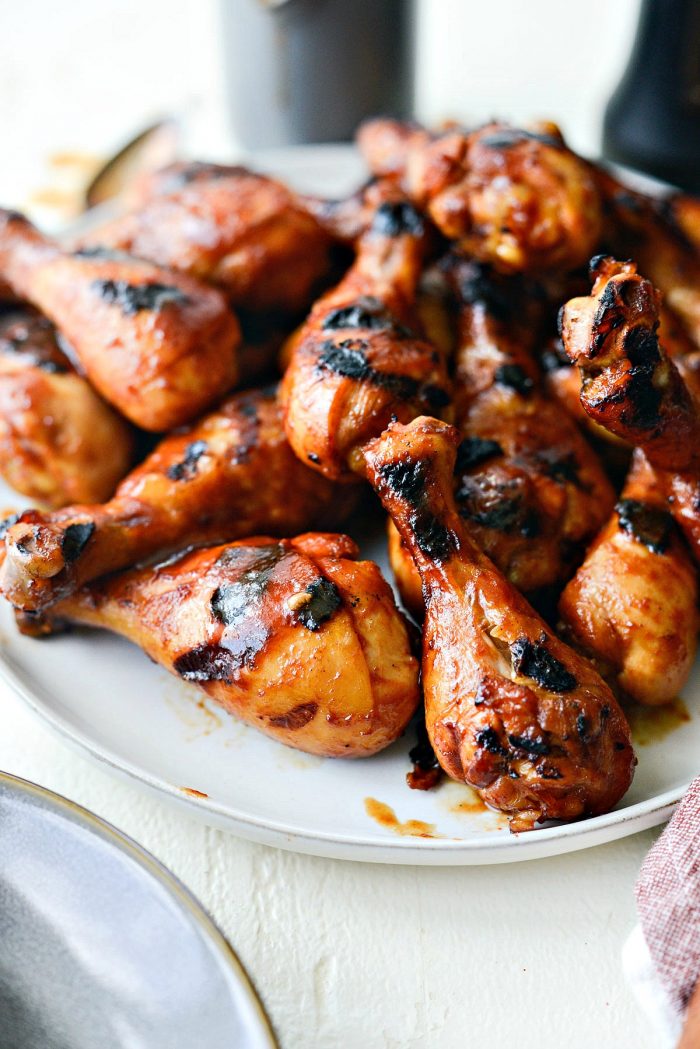 The sauce is SO good! It reminds me of old school Open Pit when I was little. However, it's been years since I've had that sauce but that's exactly where my tastebuds took me back to.
So GOOD. In under an hour you have made deliciously saucy chicken drumsticks that will no doubt have you licking your fingers after!
What To Serve With BBQ Chicken Drumsticks?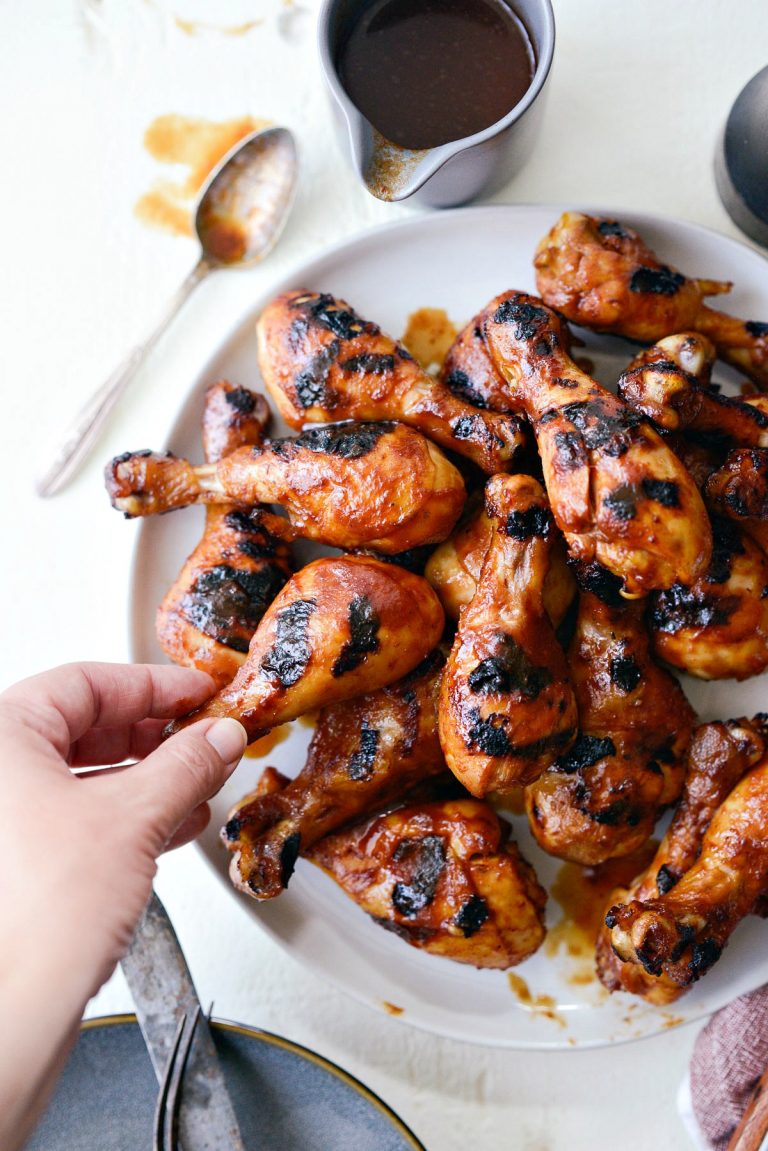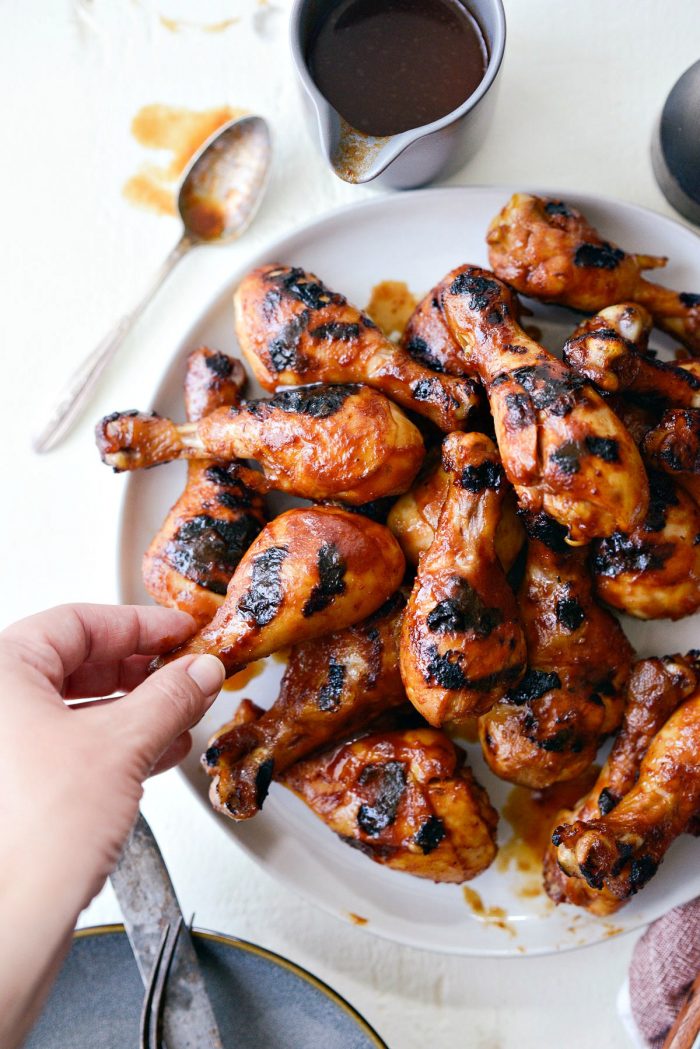 Enjoy! And if you give this Easy BBQ Chicken Drumsticks recipe a try, let me know! Snap a photo and tag me on twitter or instagram!
Yield: 10 servings
Easy BBQ Chicken Drumsticks
These are the easiest BBQ Chicken Drumsticks! Bone-in and skin-on chicken drumsticks simmer in a quick and delicious homemade bbq sauce before being transferred to the grill for caramelization and a kiss of char!
Ingredients
2 cups tomato puree
1 cup dark brown sugar
1 cup low-sodium soy sauce, or low-sodium tamari if gluten free
1/4 cup apple cider vinegar
2 tablespoon molasses
2 tablespoons liquid smoke
1½ teaspoons Worcestershire
1 teaspoon chili powder
3 to 3½ pound bone-in, skin on chicken drumsticks
Instructions
In a large pot or dutch oven, measure and add in the tomato puree, sugar, soy sauce, cider vinegar, molasses, liquid smoke, worcestershire and chili powder.

Bring to a low boil, reduce to medium-low and add in the drumsticks.

Cover and simmer for 30 minute or until fully cooked.

Preheat grill to 400 to 425°. Once preheated, grill the drumstick turning every few minutes when grill marks appear, baste with extra bbq sauce as they grill.

Serve hot with extra sauce on the side.
Notes
Have Leftover Sauce? Any leftover barbecue sauce and be frozen for later or used through out the week with grilled chicken, pork or seafood of choice. Nutrition Disclaimer: All information presented on this site is intended for informational purposes only. I am not a certified nutritionist and any nutritional information shared on SimplyScratch.com should only be used as a general guideline.
Serving: 1g, Calories: 335kcal, Carbohydrates: 31g, Protein: 28g, Fat: 11g, Saturated Fat: 4g, Polyunsaturated Fat: 2g, Monounsaturated Fat: 4g, Trans Fat: 1g, Cholesterol: 82mg, Sodium: 1028mg, Potassium: 831mg, Fiber: 1g, Sugar: 27g, Vitamin A: 334IU, Vitamin C: 6mg, Calcium: 68mg, Iron: 2mg
This post may contain affiliate links.
Buy the Cookbook: Simply Scratch : 120 Wholesome Homemade Recipes Made Easy Now available on Amazon »
THANK YOU in advance for your support!