This classic Beef Pot Roast recipe is as easy as it gets. Beef chuck roast cooks low and slow in a wine and herb infused broth until fall apart tender. Carrots and potatoes are added in the last 30 minutes and served in a bowl with warm bread and a quick gravy.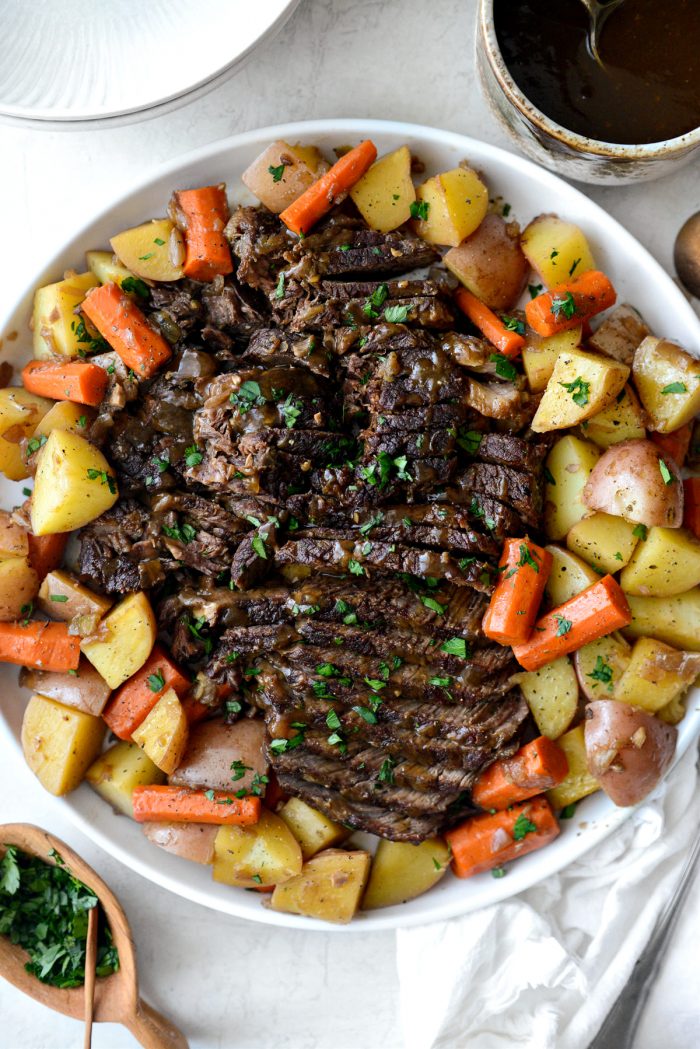 Comfort food and the reason why I love fall.
The moment there is a chill in the air, I crave comfort meals. Give me all the slow cooked, stick-to-your-ribs meals that are soul satisfying… like pot roast. Besides being simple and flavorful, pot roast is one of those meals that fills your home with that cozy aroma that lingers. Like a good hug.
This classic recipe is simple and straightforward, which is why I love it so much. It yields ultra tender beef, perfectly cooked vegetables and the most delicious pan gravy. Sear, sauté, simmer and off to the oven to finish cooking = my kind of recipe.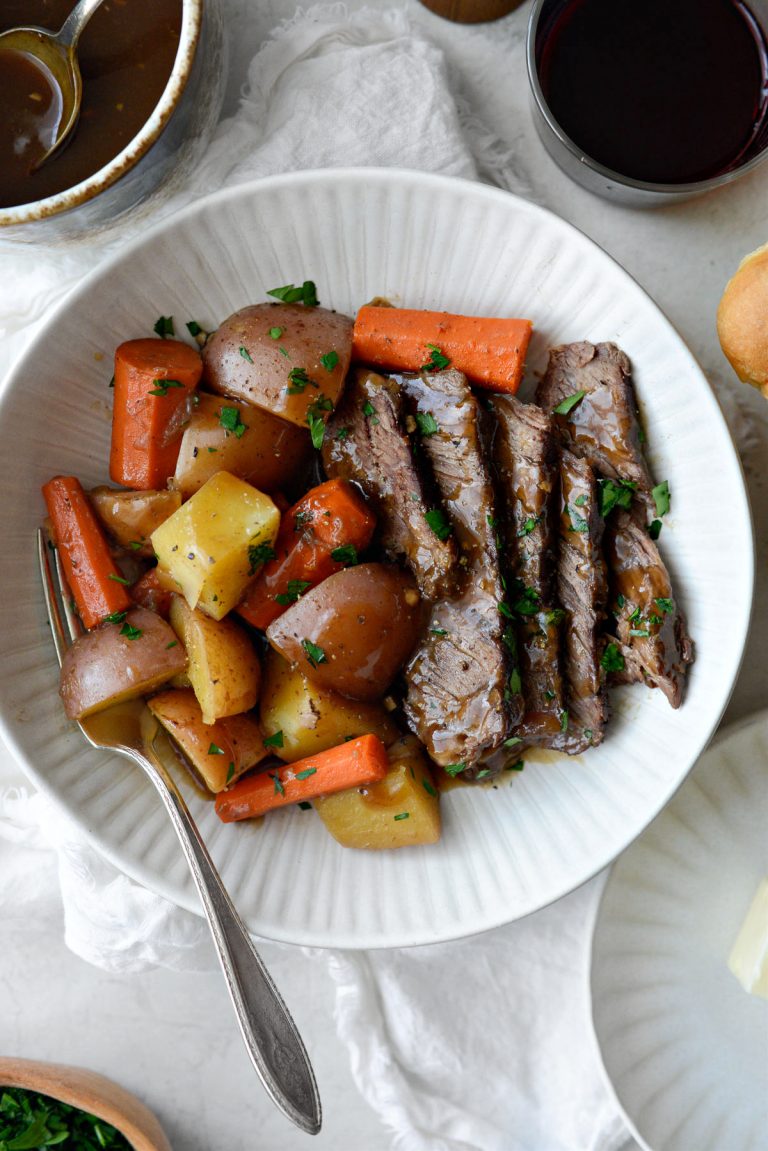 I've made quite a few different pot roasts in my life, but this one is my go-to. You can never go wrong with a classic.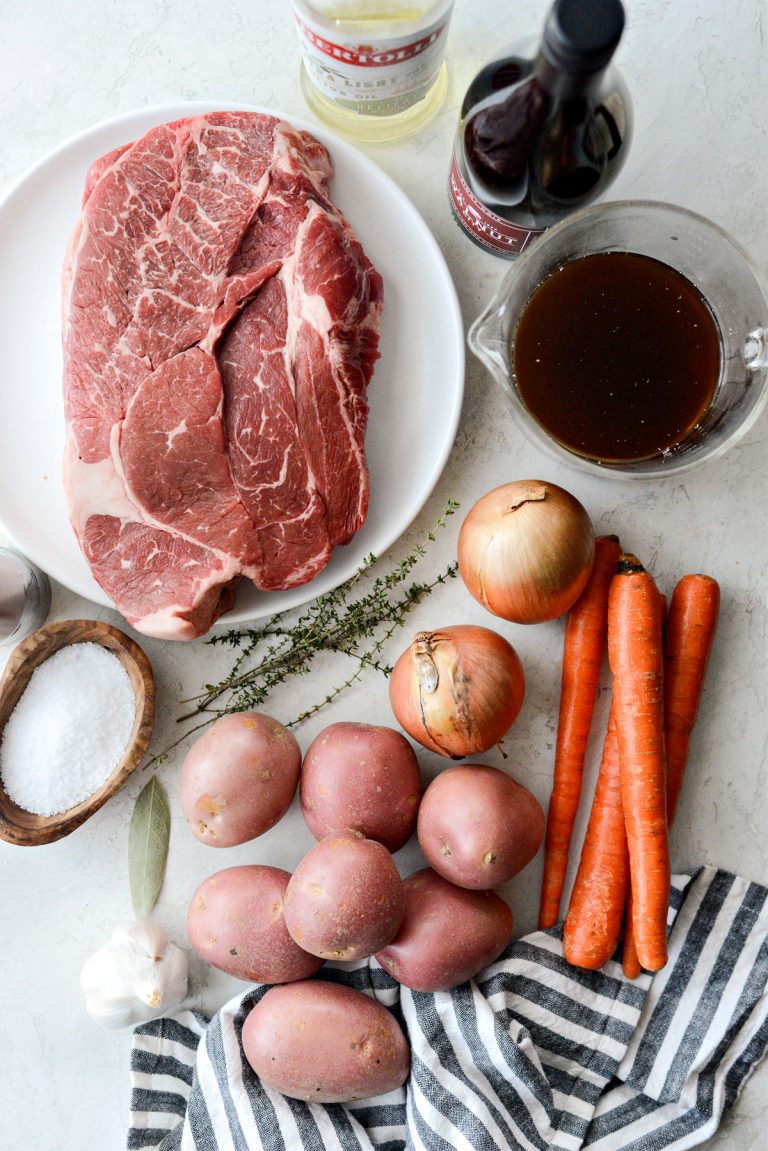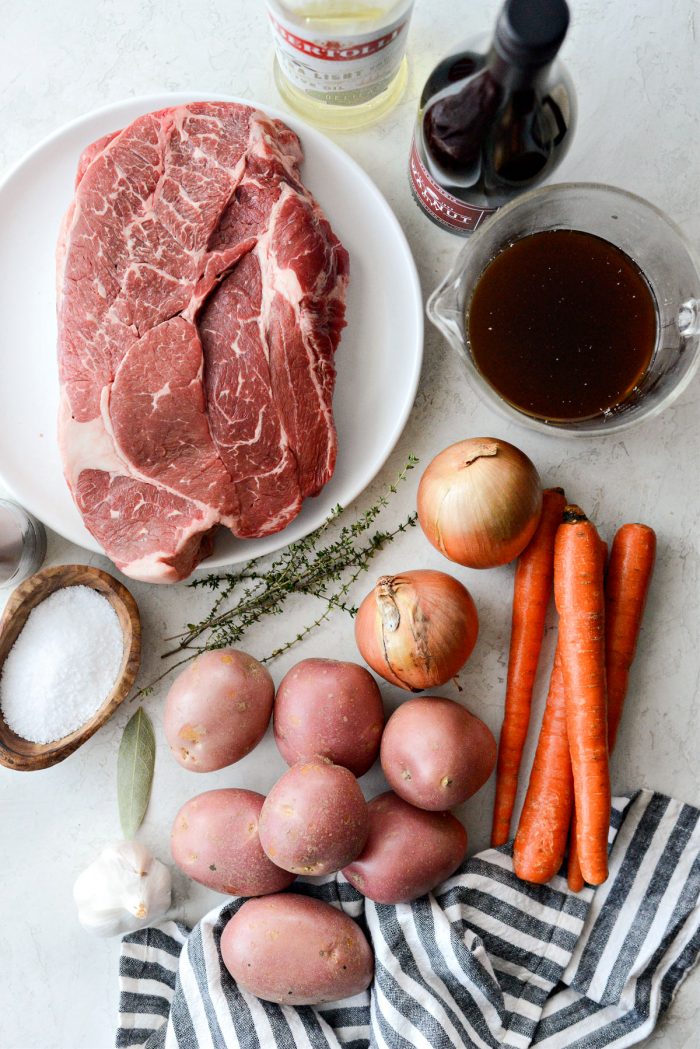 To Make This Classic Beef Pot Roast You Will Need:
extra light olive oil
beef chuck roast
kosher salt
yellow onions
garlic
pinot noir
beef broth
fresh thyme
bay leaf
ground black pepper
carrots
redskin potatoes
cornstarch
I've also included instructions, in the recipe printable, on how to make this slow cooker friendly!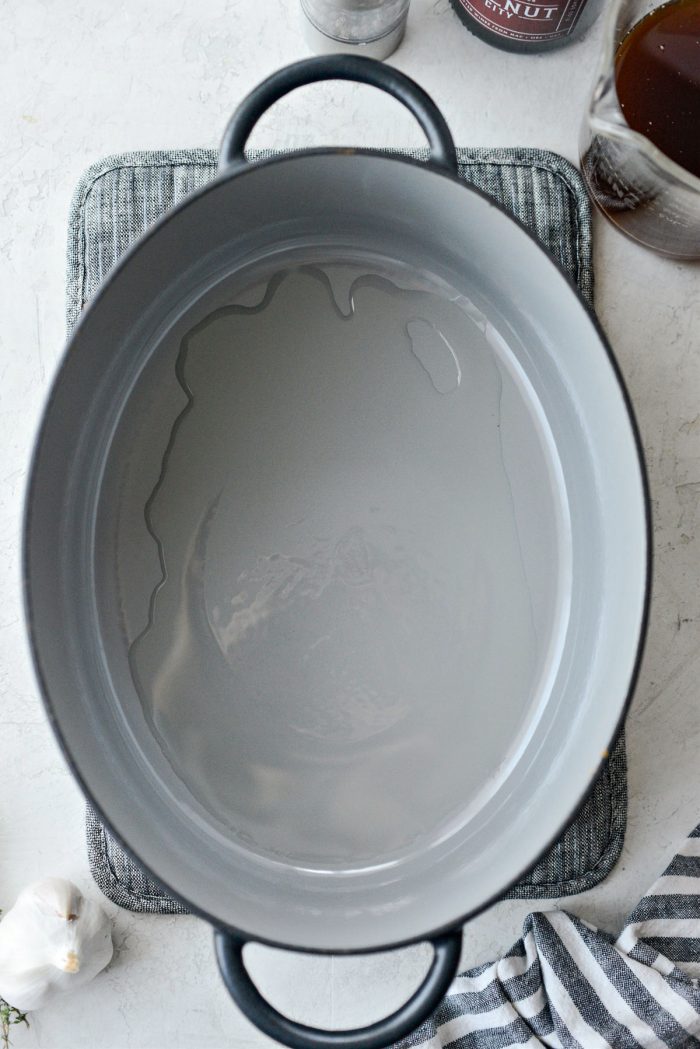 Start by heating 2 tablespoons of extra light olive oil in a large (5 qt. or larger) Dutch oven over medium-high heat.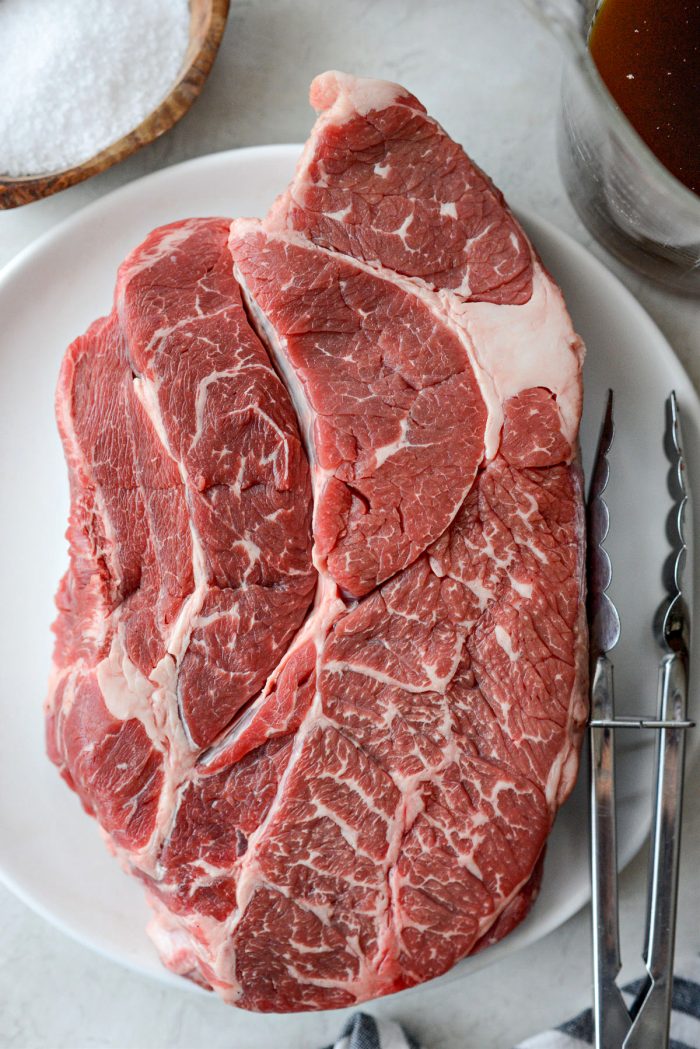 Meanwhile, pat dry a 3-1/2 pound beef chuck roast with paper towel.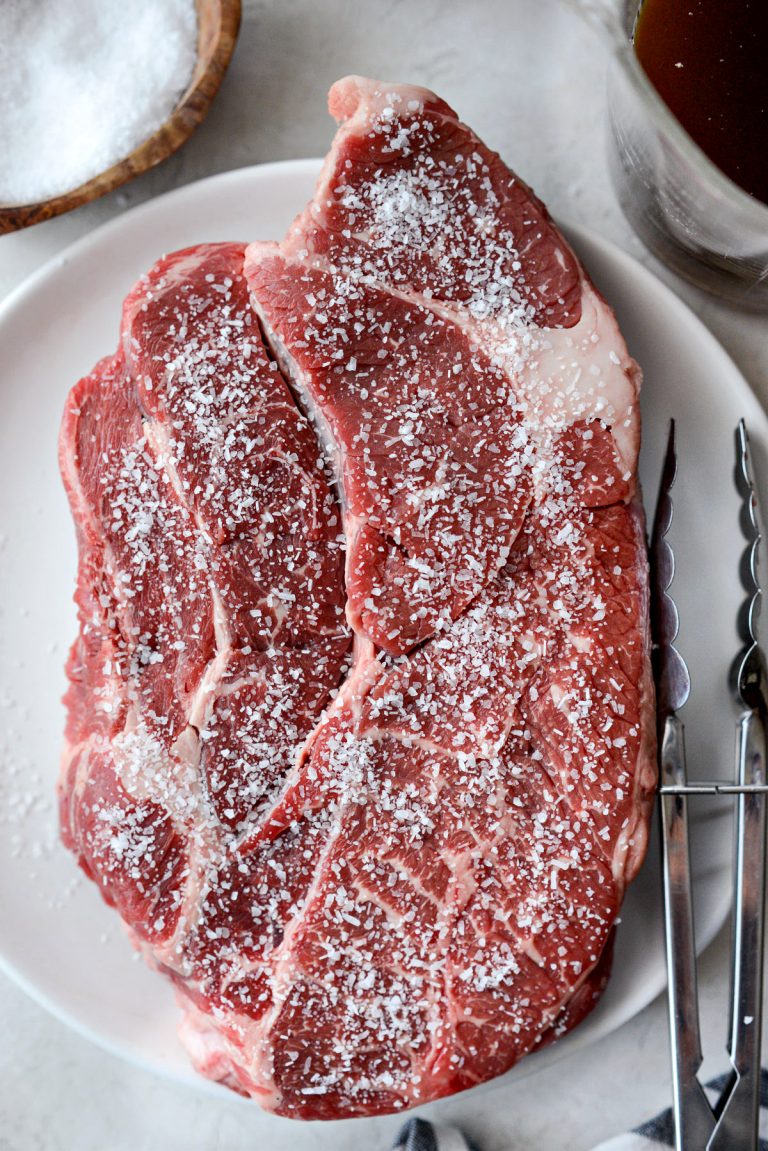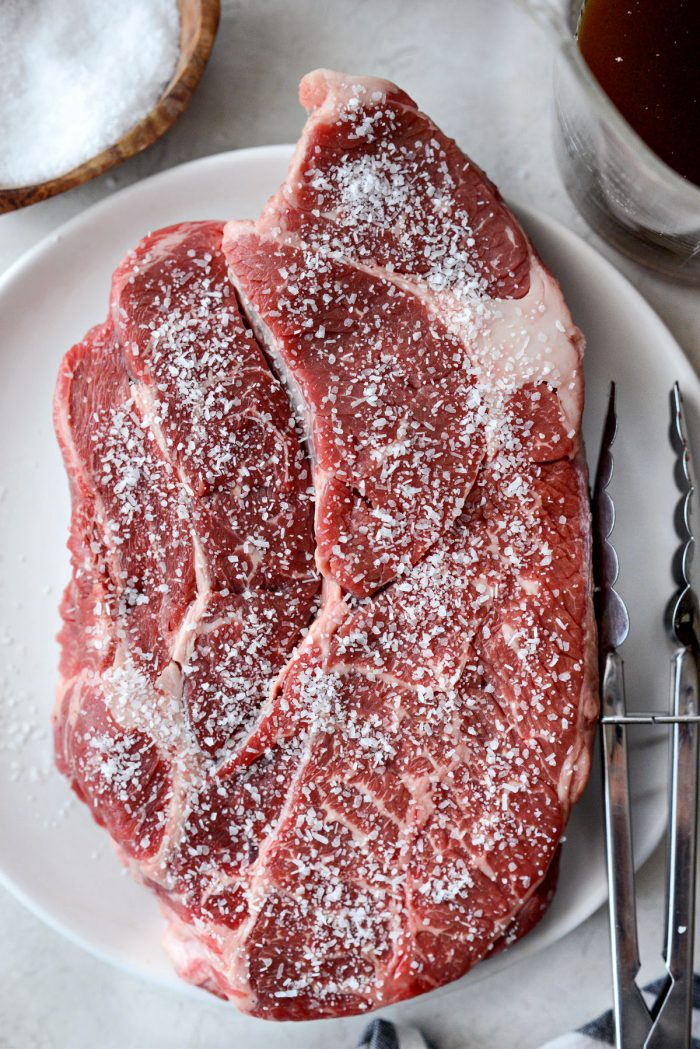 Season both sides with kosher salt. I personally don't pepper my roast because when the meat hits the hot pot it tends to burn the pepper, but I do add it in later on.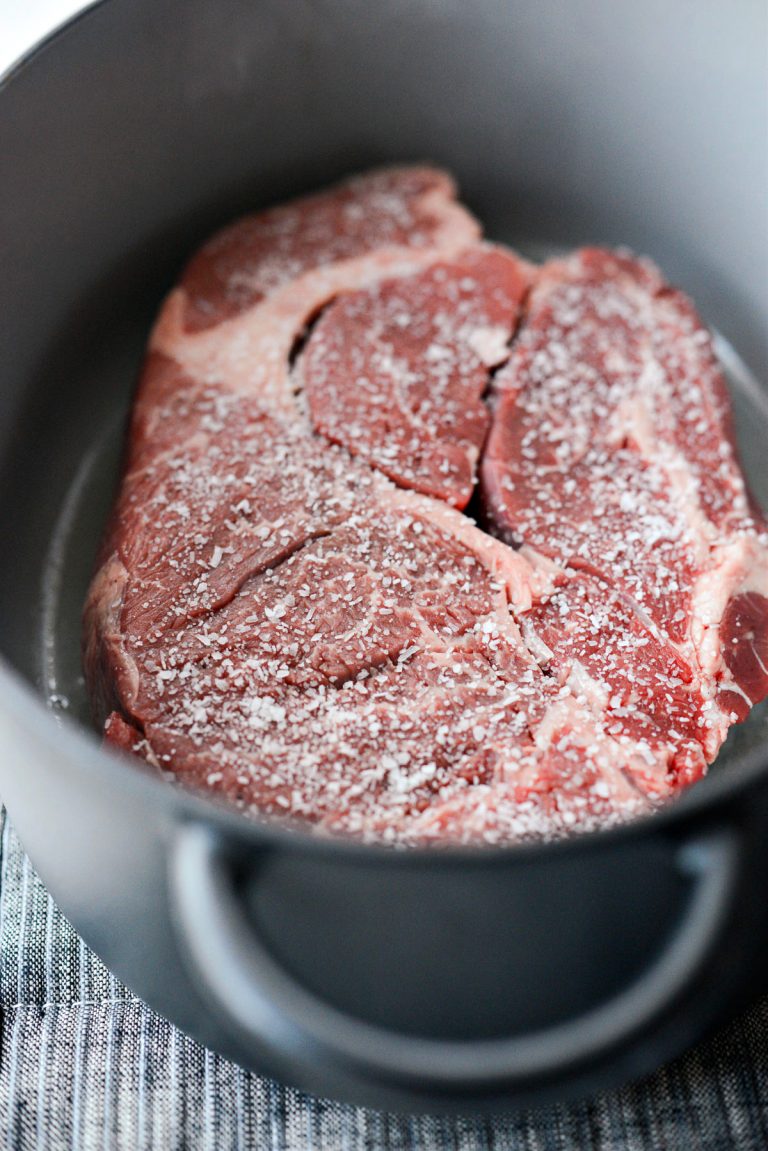 Once the pot is hot, sear the roast for 3 to 4 minutes.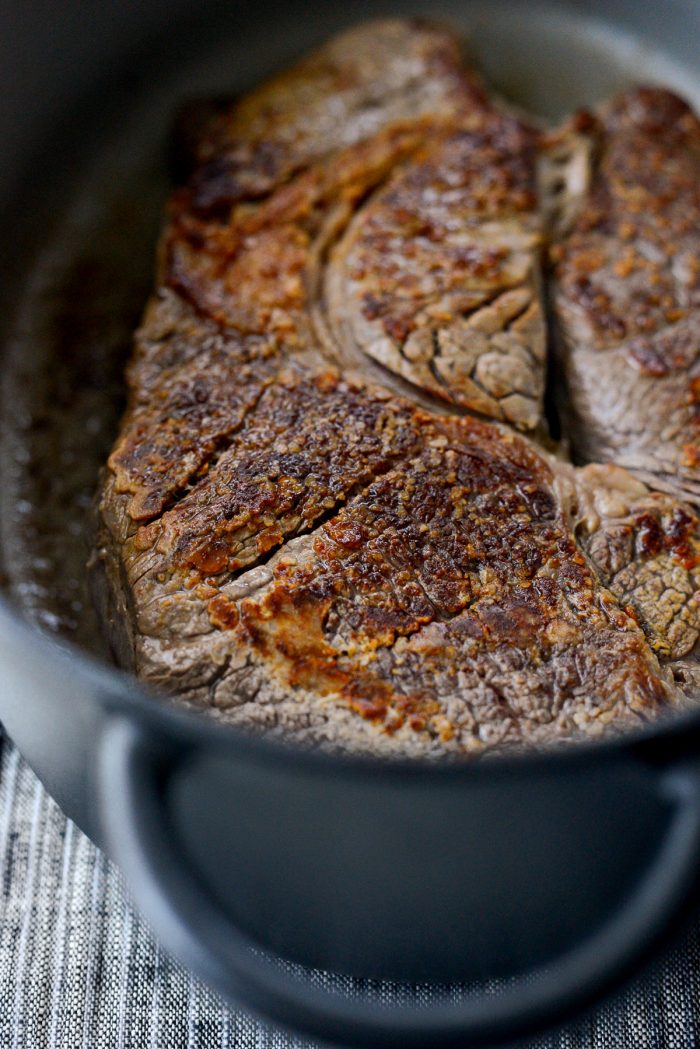 Turn the roast using tongs and repeat searing for another 3 to 4 minutes.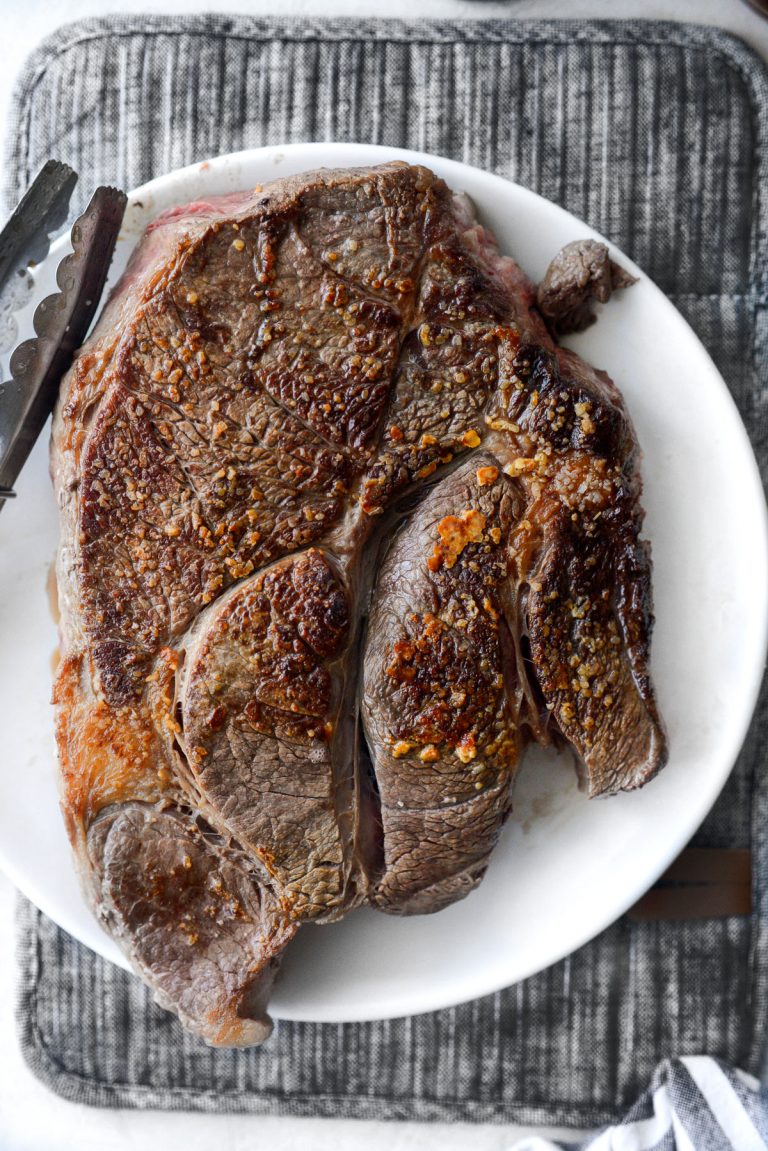 Once a good crust forms remove the roast to a plate.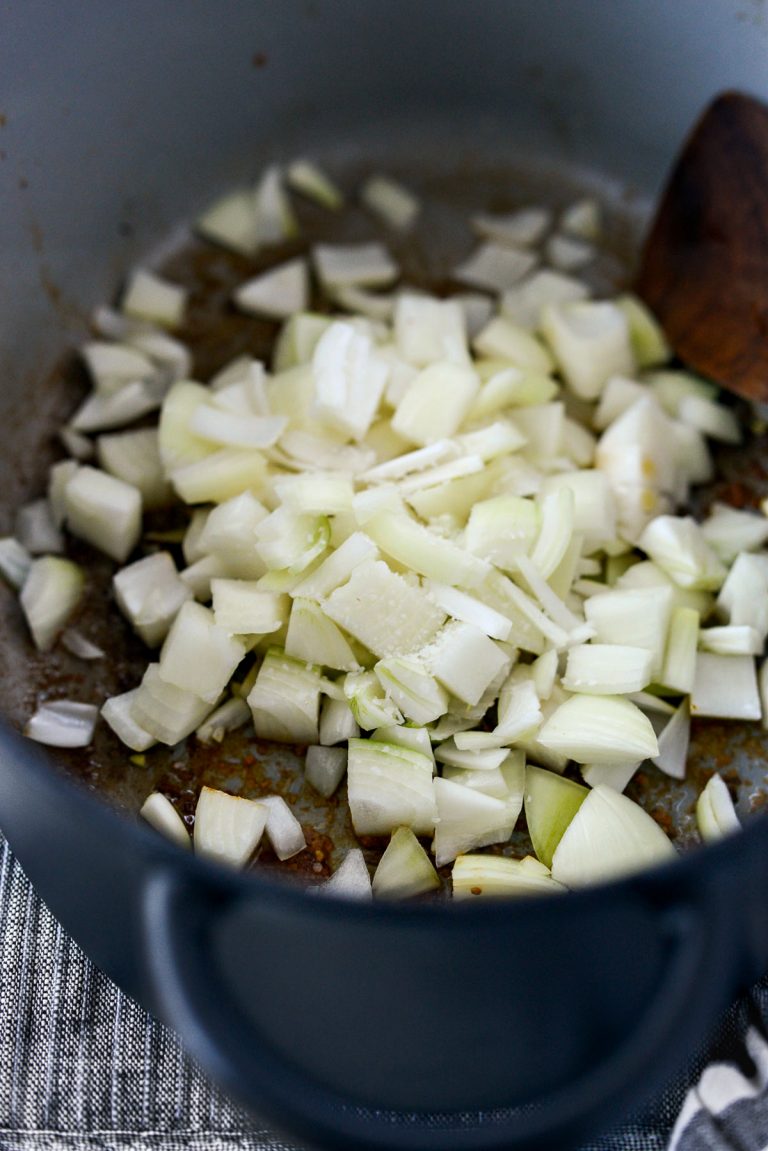 Reduce the heat to medium and add in 2 medium onions that have been roughly chopped. Stir and cook for 5 minute or until starting to soften.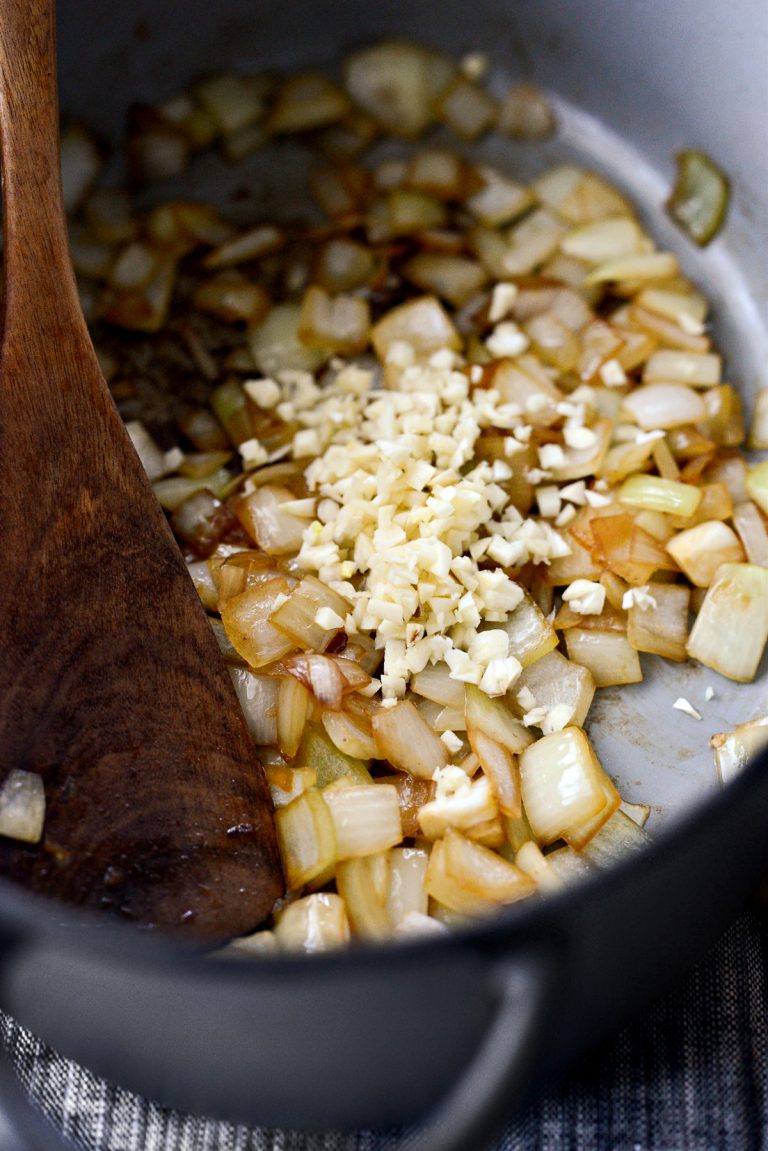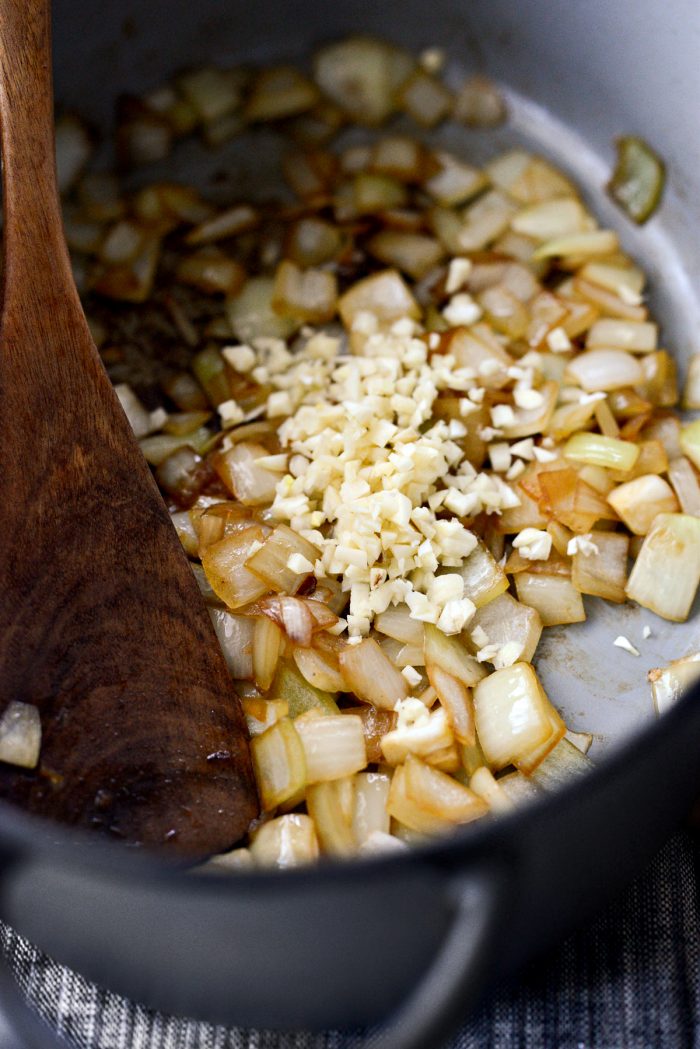 Next, add in 3 cloves of minced garlic. Stir and cook for 1 minute.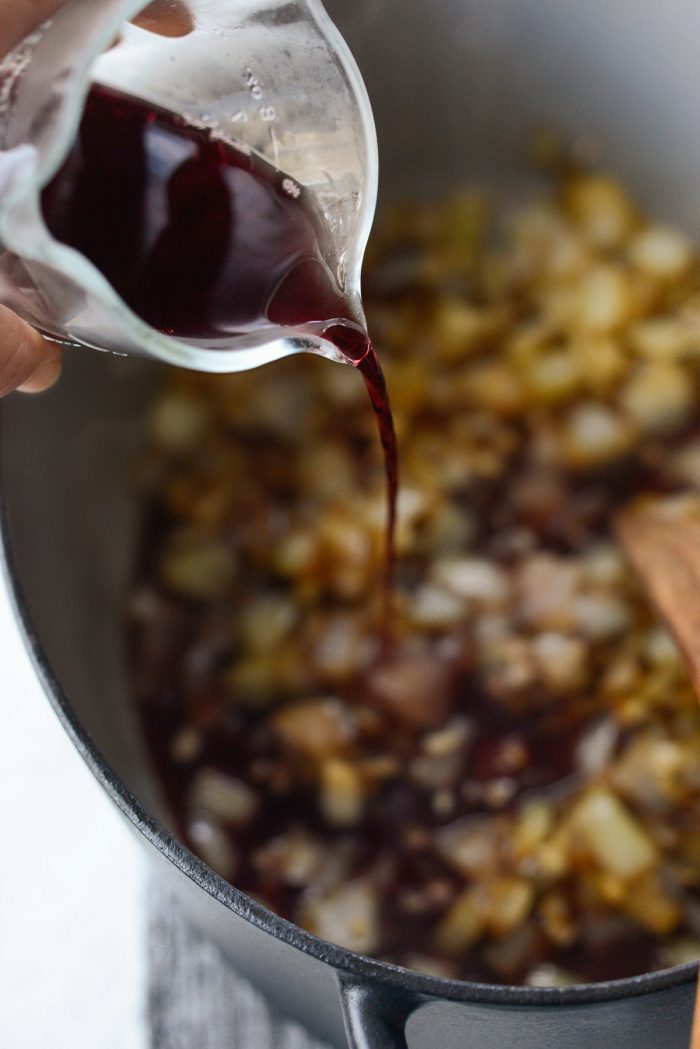 Deglaze with 1 cup Pinot Noir.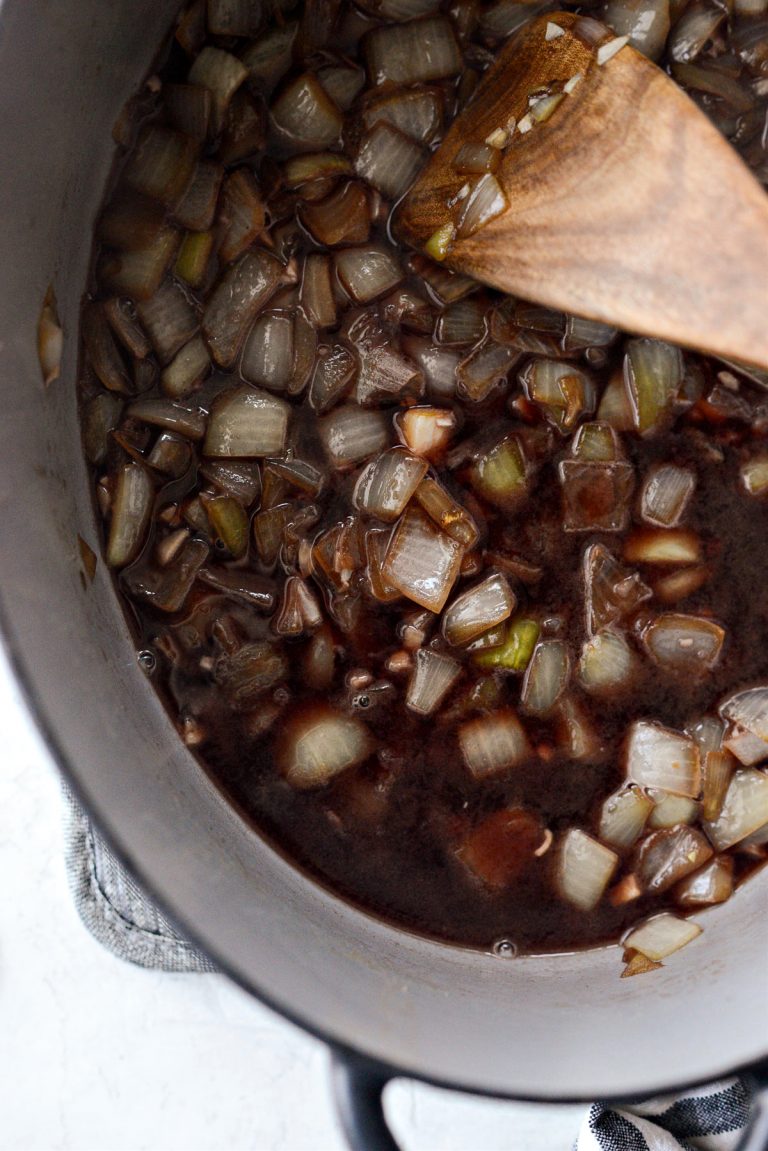 Use a wooden spatula to scrape all the brown bits up from the bottom of the pot.
Note: Here is where you can transfer everything to a slow cooker if you wanted to. Cook, covered in your slow cooker, on low for 6 to 8 hours.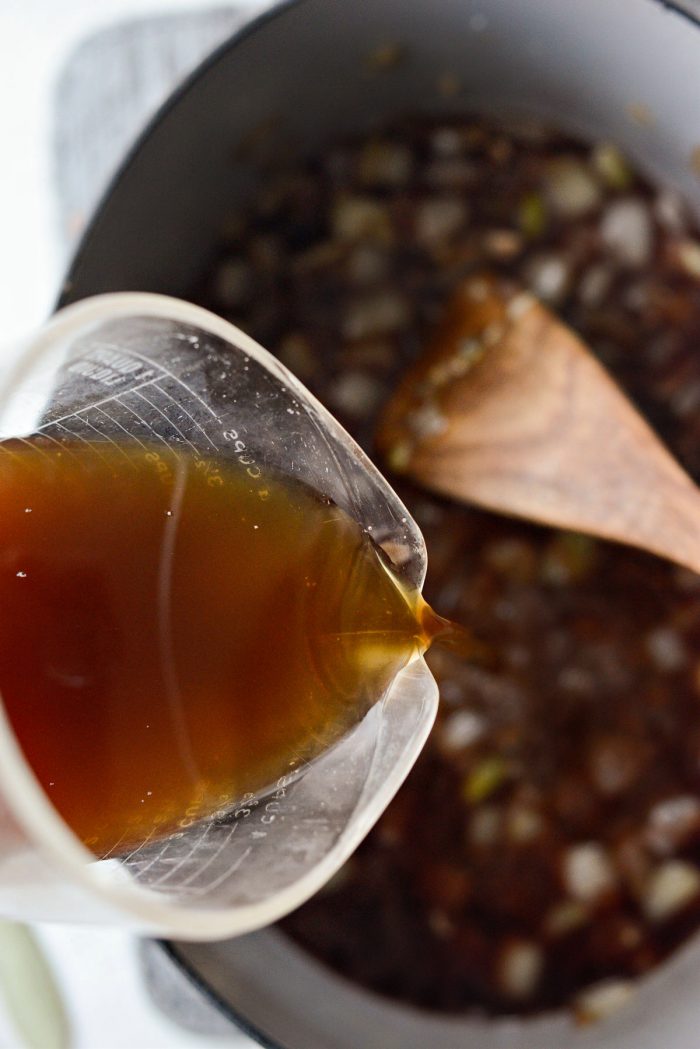 Then pour in 2 cups of beef broth and stir to combine.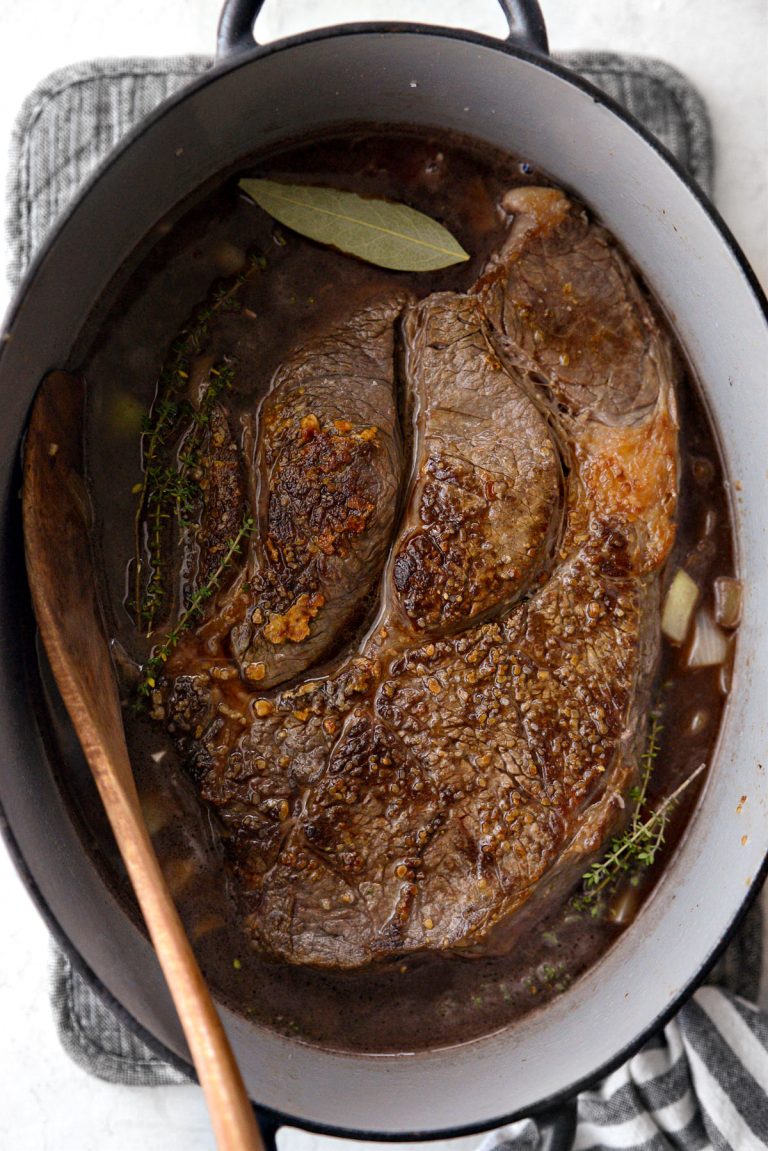 Place the seared chuck roast back into the pot and add the 6 sprigs of fresh thyme, 1 bay leaf and 1/2 teaspoon of black pepper. Cover and bring to a simmer before sliding the pot into a preheated 350° oven for 2 hours.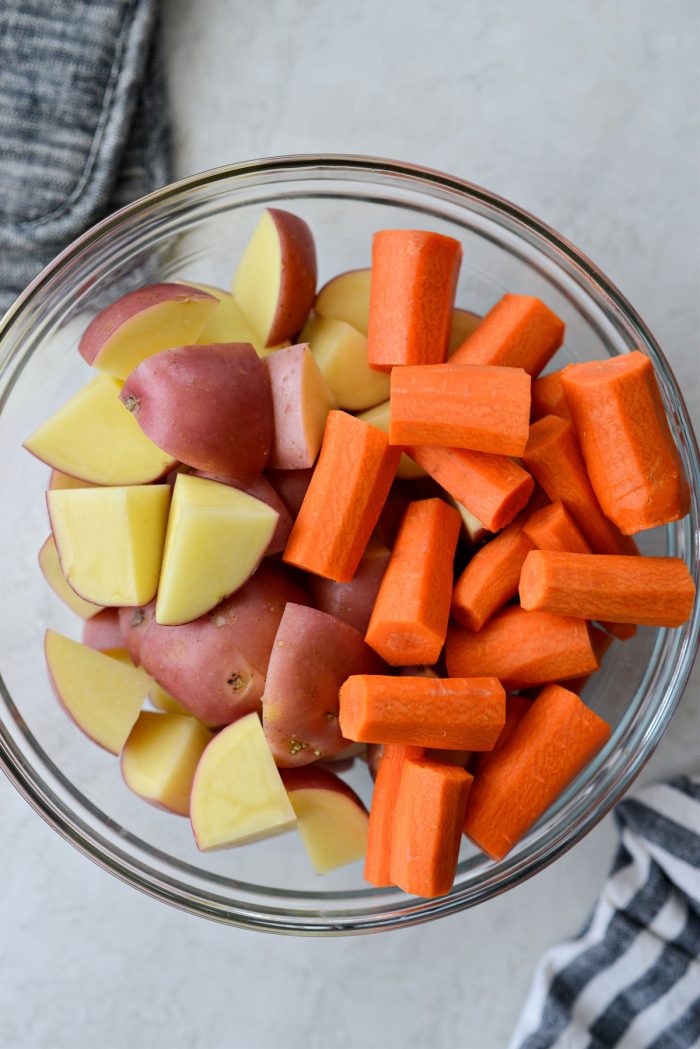 With 15 minutes left on the timer, wash and quarter up 2 pounds of red skin potatoes and peel 4 to 6 carrots before cutting into 1-1/2 to 2 inch pieces.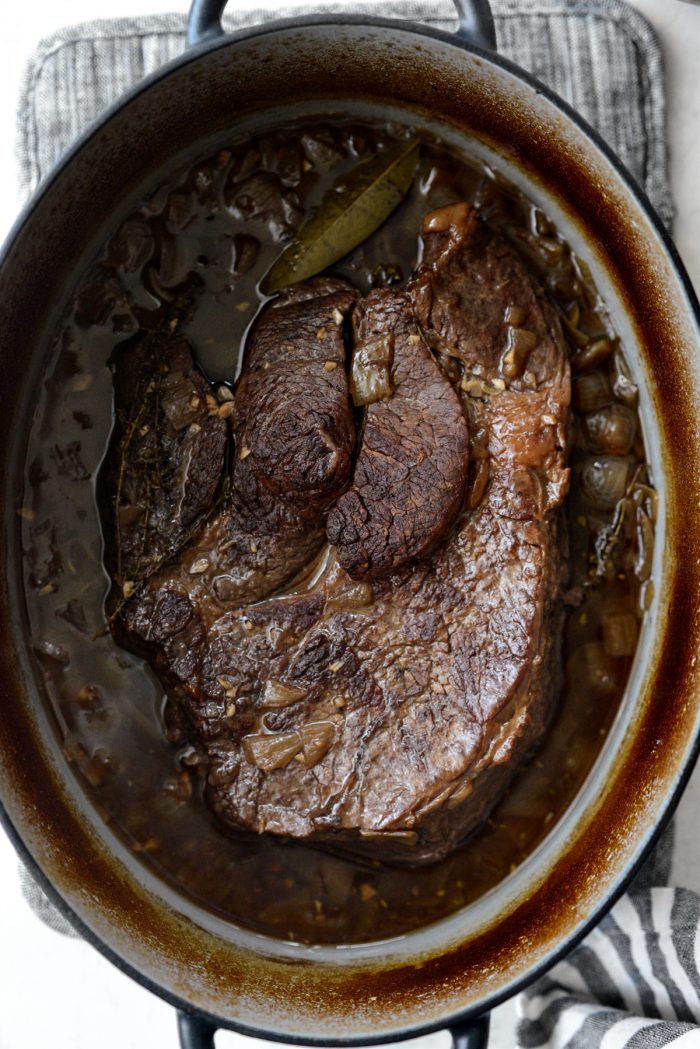 After the 2 hours are up, the roast is basically done and smells amazing.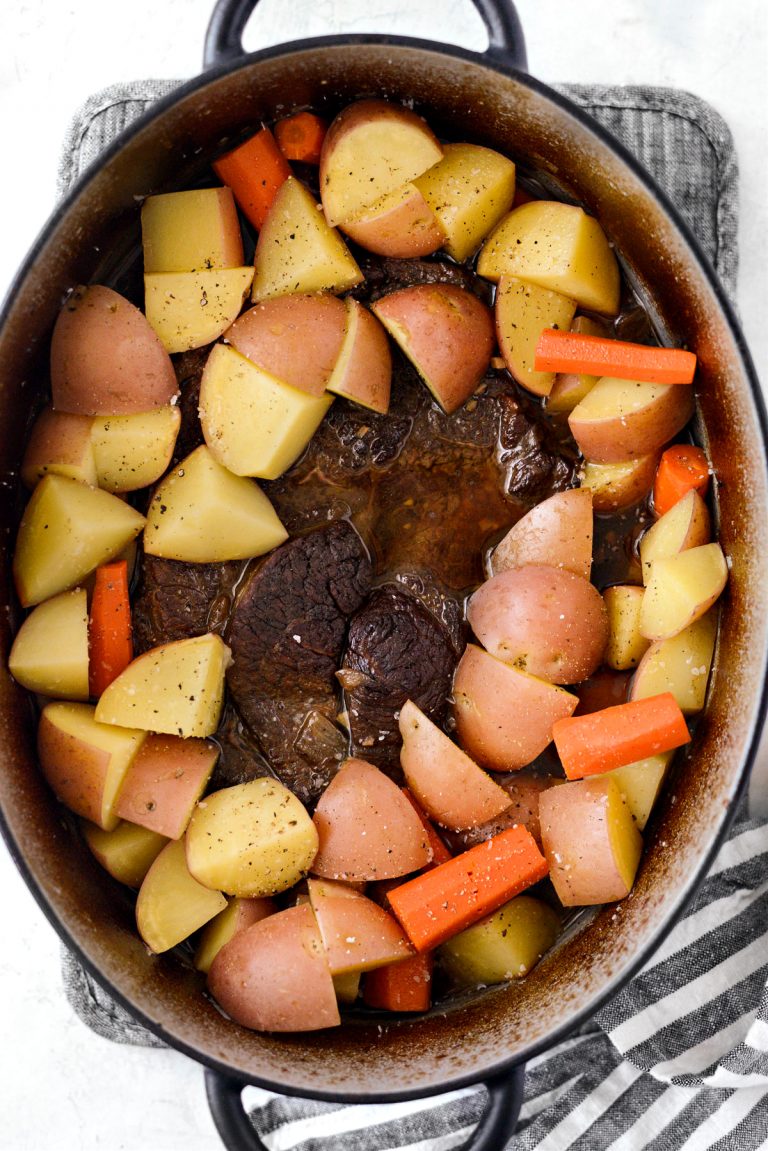 Add the quartered potatoes and the chopped, peeled carrots.
Cover and place back into the oven for 30 more minutes.
Once done, use a slotted spoon to transfer the carrots and potatoes to a serving bowl or plate and cover with foil to keep warm. Use tongs to transfer the pot roast to a carving board and slice. Cover that with foil also while you make the super simple gravy.
Pour the remaining liquids from the pot into a fat separator. Pull the plug in the spout and pour the drippings (leaving the fat in the cup) into a sauce pan. Bring to a boil (this takes only minutes) while you mix 1 tablespoon cornstarch with 1 tablespoon water. Once boiling, whisk while pouring in the cornstarch slurry. It should thicken immediately. Pour into a gravy boat or bowl.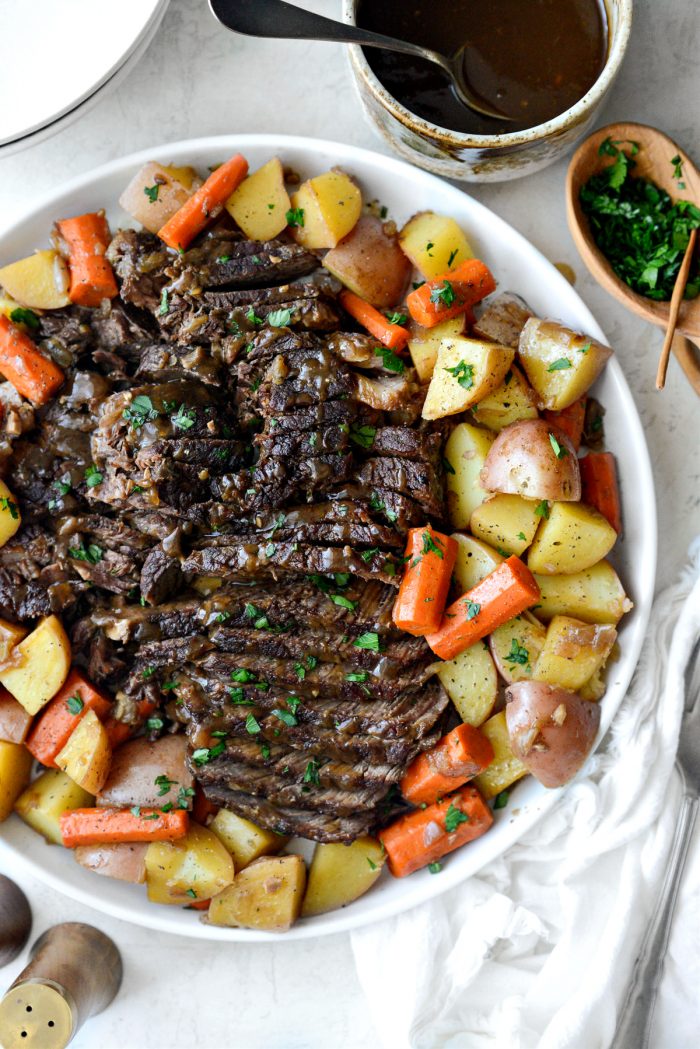 Serve with a sprinkle of minced fresh parsley.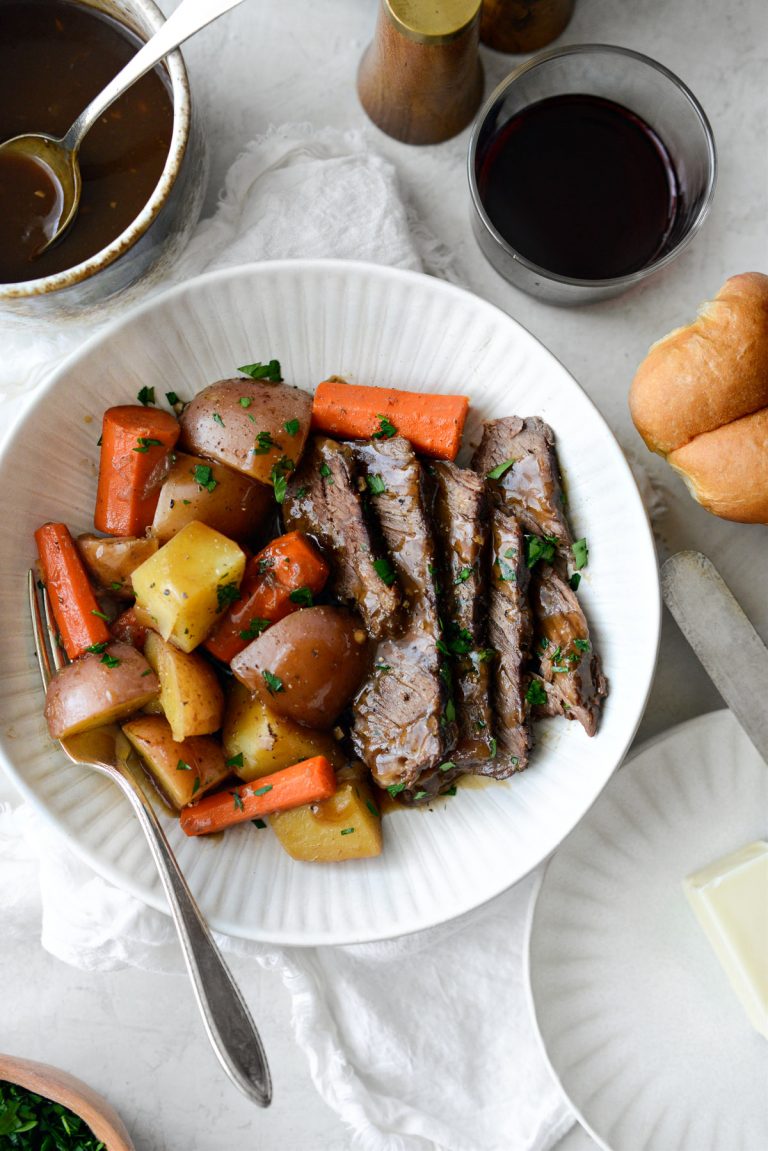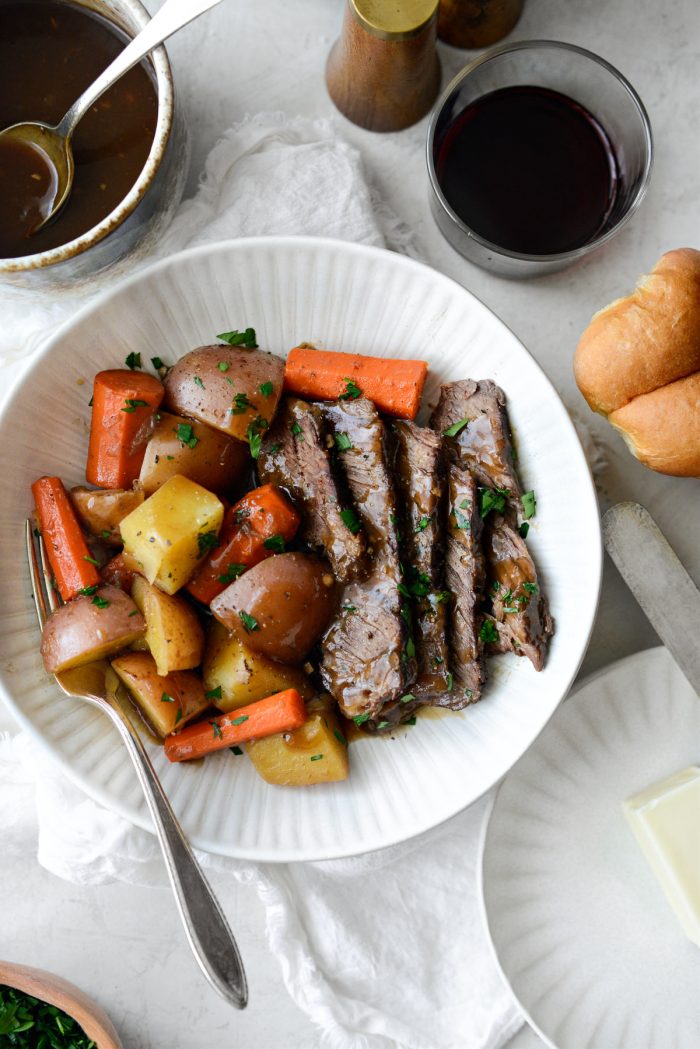 Perfection.
Serve this classic beef pot roast it in a bowl, a plate or a trough hung around your neck… just kidding. But what's not a joke, is how amazingly delicious this pot roast is.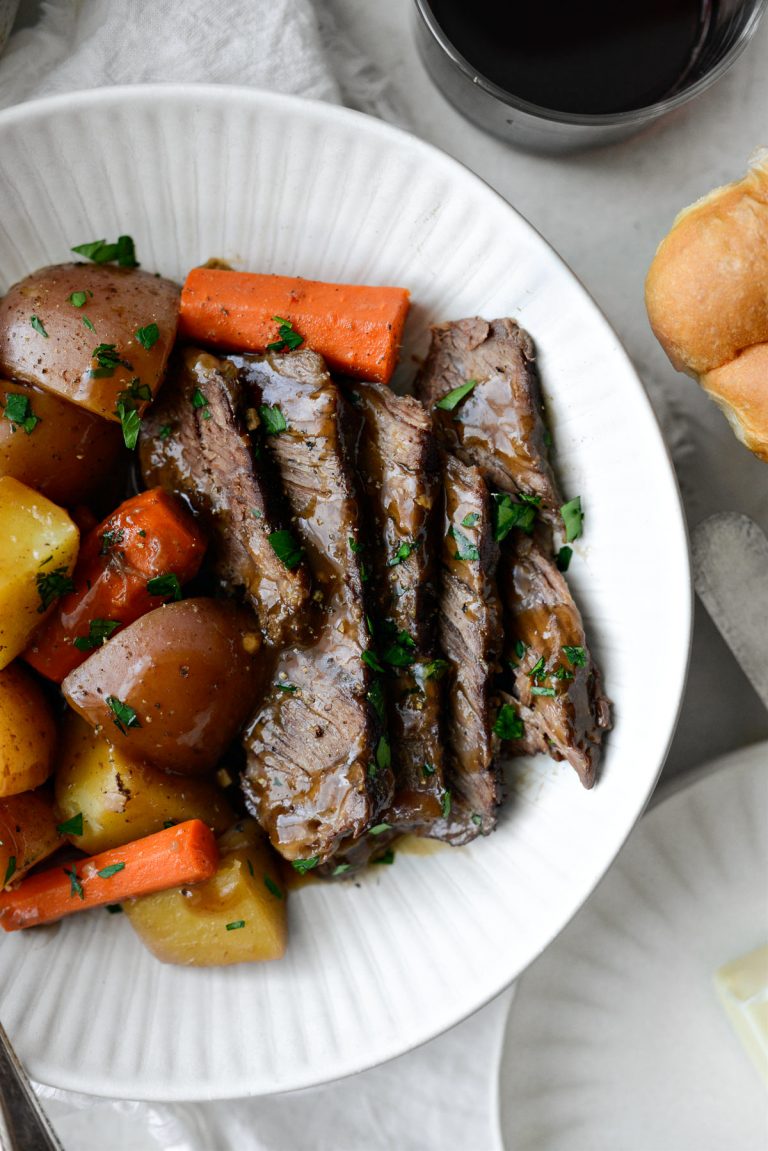 The beef is fall-apart-melt-in-your-mouth tender. Vegetables are perfect and the gravy is phenomenal. Like I may or may not have licked the bowl clean after I sipped the gravy from the bowls rim. #sorrynotsorry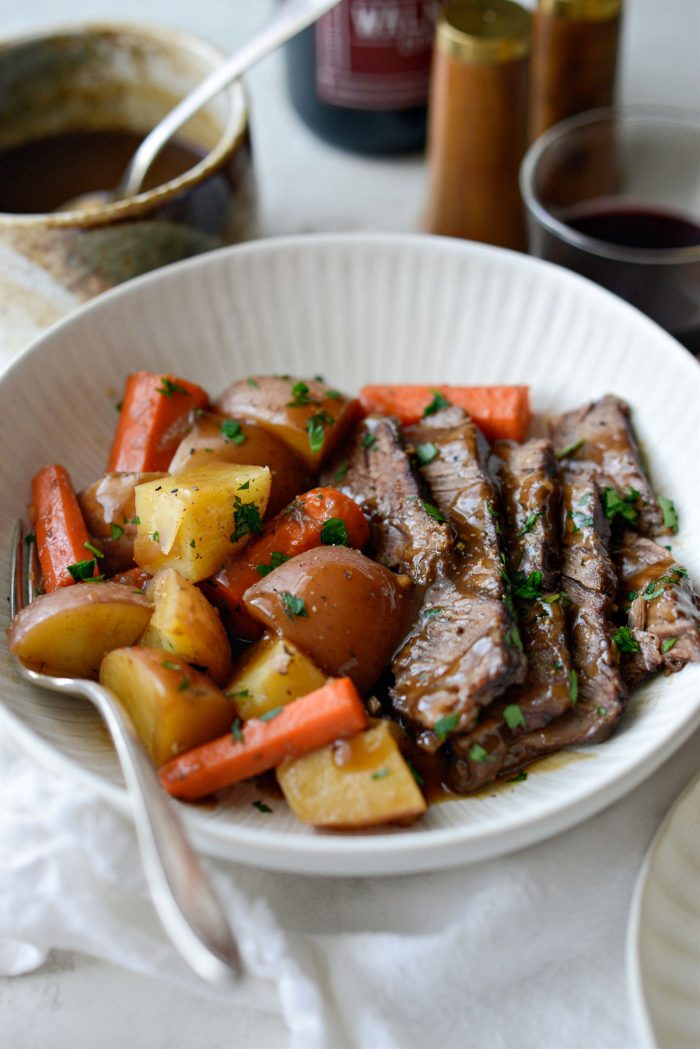 Oh and if you have leftovers, you must make this Pot Roast + Cheddar Grilled Cheese Sandwiches. In my opinion it's the best way to use up leftover pot roast!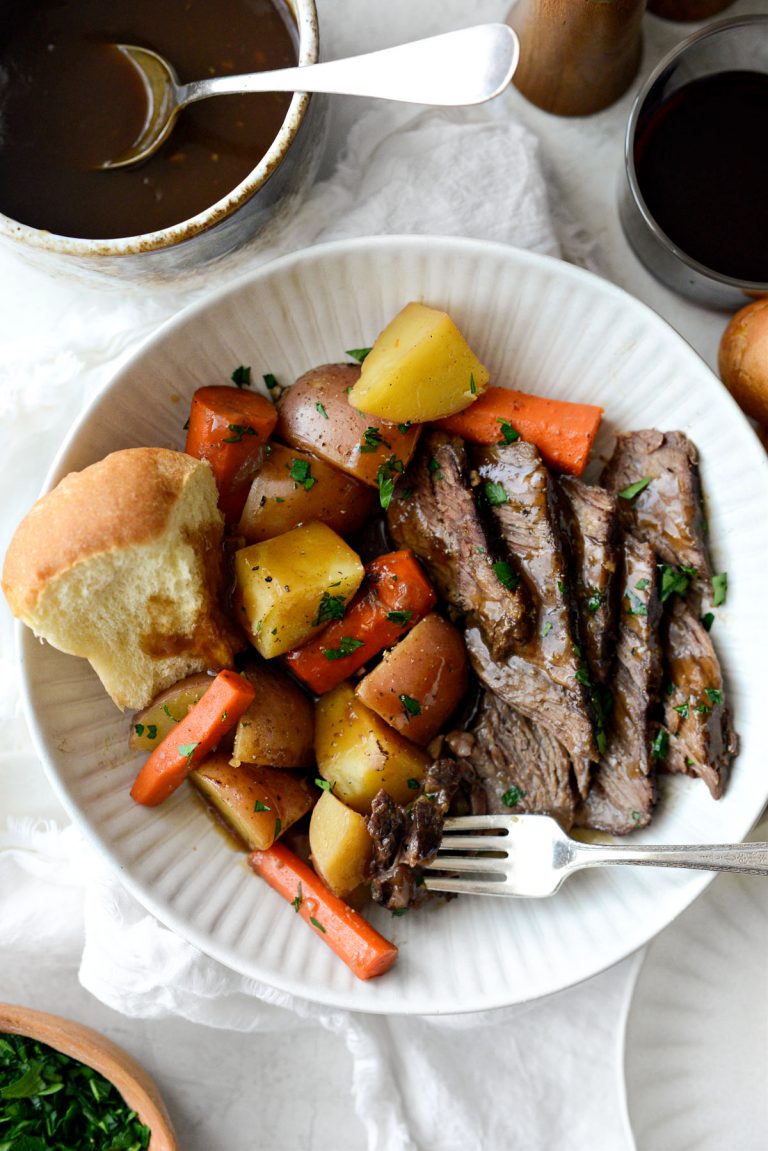 Enjoy! And if you give this Beef Pot Roast recipe a try, let me know! Snap a photo and tag me on twitter or instagram!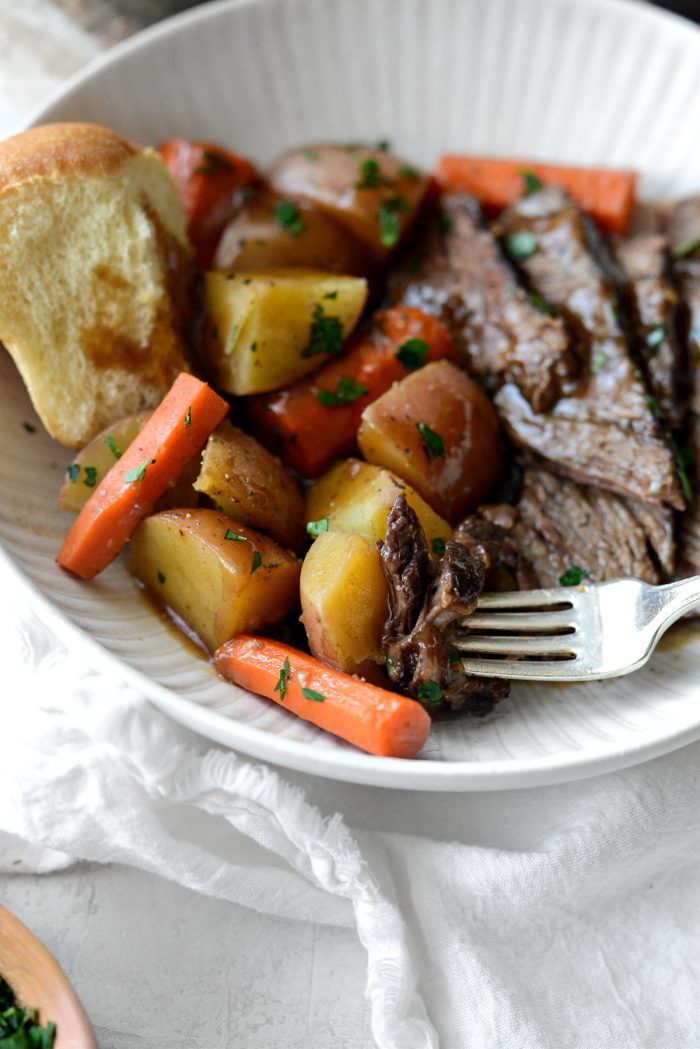 This post may contain affiliate links.
Buy the Cookbook: Simply Scratch : 120 Wholesome Homemade Recipes Made Easy Now available on Amazon »
THANK YOU in advance for your support!