Super moist, delicious and chocolaty! This chocolate chip banana bread is delicious warm with a cold glass of milk or cup of hot coffee.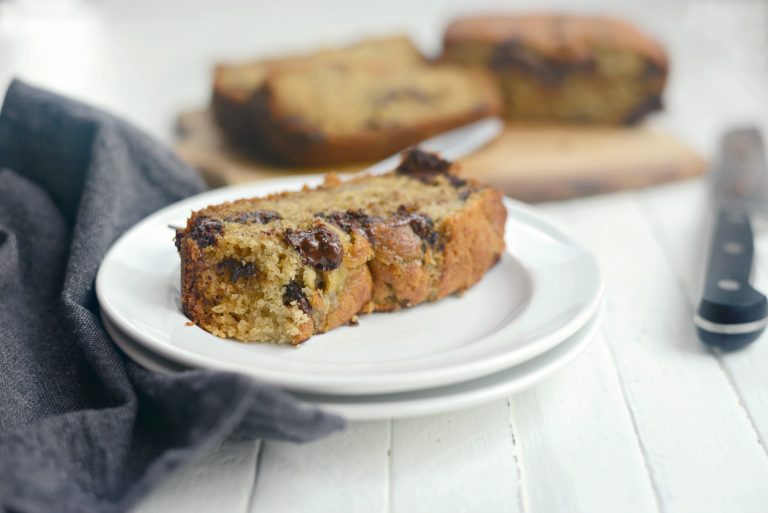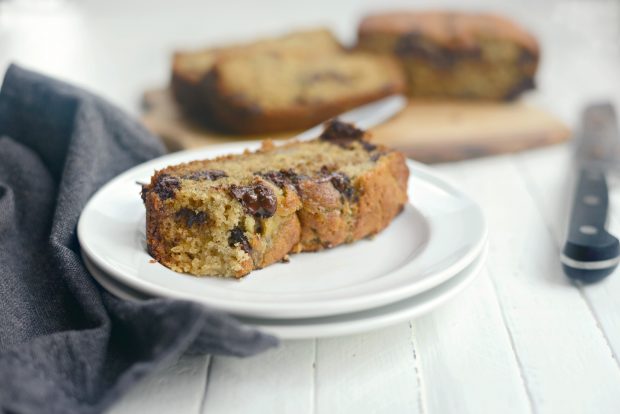 I'm totally winning at this back-to-school thing.
That's sarcasm for "My kids missed the bus because I refused to accept the time printed on the bus postcard". Why would I when it said the pick up time was going to be 6:25 am instead of 6:50 like it has been, oh for only the the past FOREVER!! It's fine though, really, I don't mind spending 45 minutes in the car taking each daughter to their respective school and sit in drop off lines and all that. I really wasn't looking forward to having the morning curled up on the couch, sipping my coffee and nibbling on a slice of this here chocolate chip banana bread.
Typically I avoid buying bananas in the summer, because it never fails that a few days later we have fruit flies. My girls are all "Please buy bananas! We like them in our smoothies or covered in Nutella!" but once I picked up a bunch they would just end up sitting there on the counter, browning. Meanwhile little gnats that fly around my face, little buggers that I can never seem to catch. And the annoyance only increases if I'm sipping a glass of wine and since that is most nights (wink!), I try avoid buying bananas unless it's to immediately peel and freeze for smoothies or for roasting and baking with.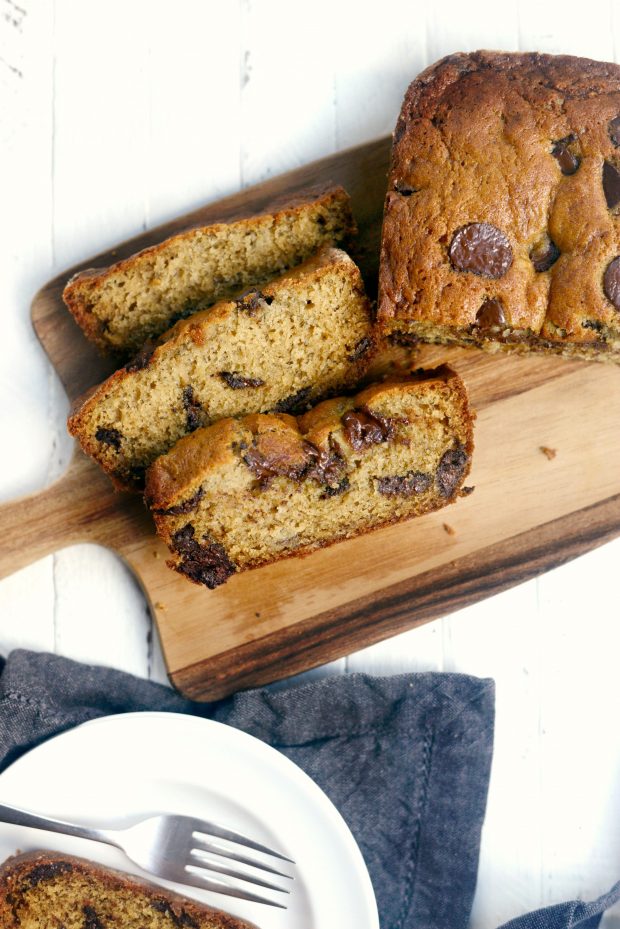 Last week I went and broke my no-buying-bananas-in-summer-rule because I wanted to make banana bread, chocolate chip style. But I didn't want to roast the bananas, so I waited for them to ripen on the counter. Big mistake. Fruit flies. Do yourself a favor and DO NOT Google the life cycle of fruit flies. Just don't. Instead, just snack on this super moist chocolate chip banana bread. K cool?
To Make This Chocolate Chip Banana Bread You Will Need:
softened unsalted butter
light brown sugar
granulated sugar
unbleached all-purpose flour
baking powder
and baking soda
kosher salt
cinnamon
nutmeg
ripe bananas
whole milk
eggs
vanilla extract
chocolate chips or wafers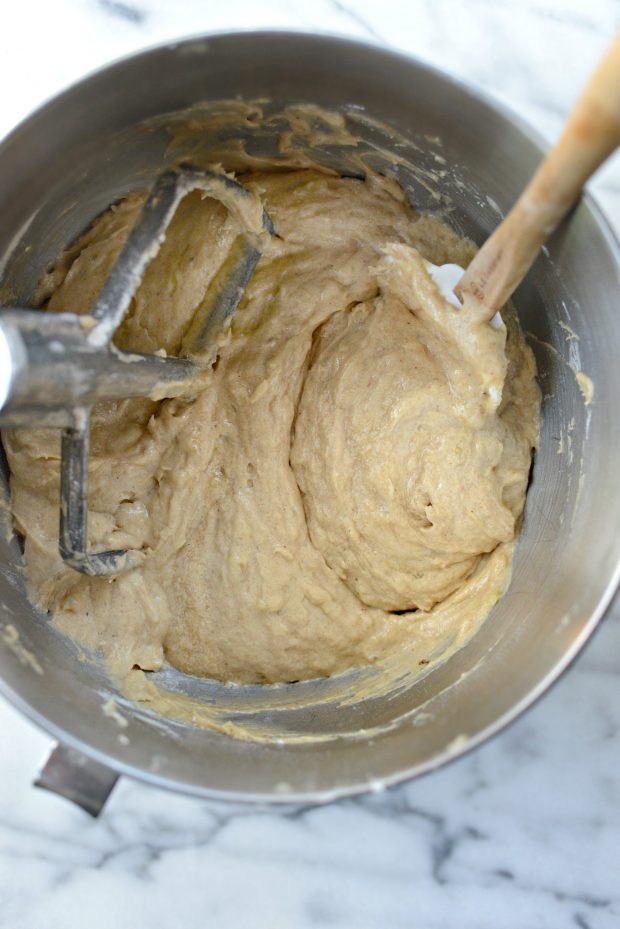 The batter for the banana bread is pretty easy and comes together quickly in your stand mixer. Add 1 stick of butter, 1/2 cup of both granulated and also light brown sugar into the bowl of your stand mixer. Cream until smooth and fluffy.
To that add, 2 eggs, 2 teaspoons vanilla extract, 3 mashed ripe bananas, 1 tablespoon milk. In a separate bowl, combine 2 cups unbleached all-purpose flour, 1 teaspoon baking powder, 1 teaspoon baking soda, 1 teaspoon kosher salt, 1 teaspoon ground cinnamon, 1/4 teaspoon ground nutmeg. With the mixer on low, gradually add the flour mixture, mixing until incorporated.
Lastly, add 1 cup dark, semi-sweet or milk chocolate wafers or 1/2 to 3/4 cup chocolate chips.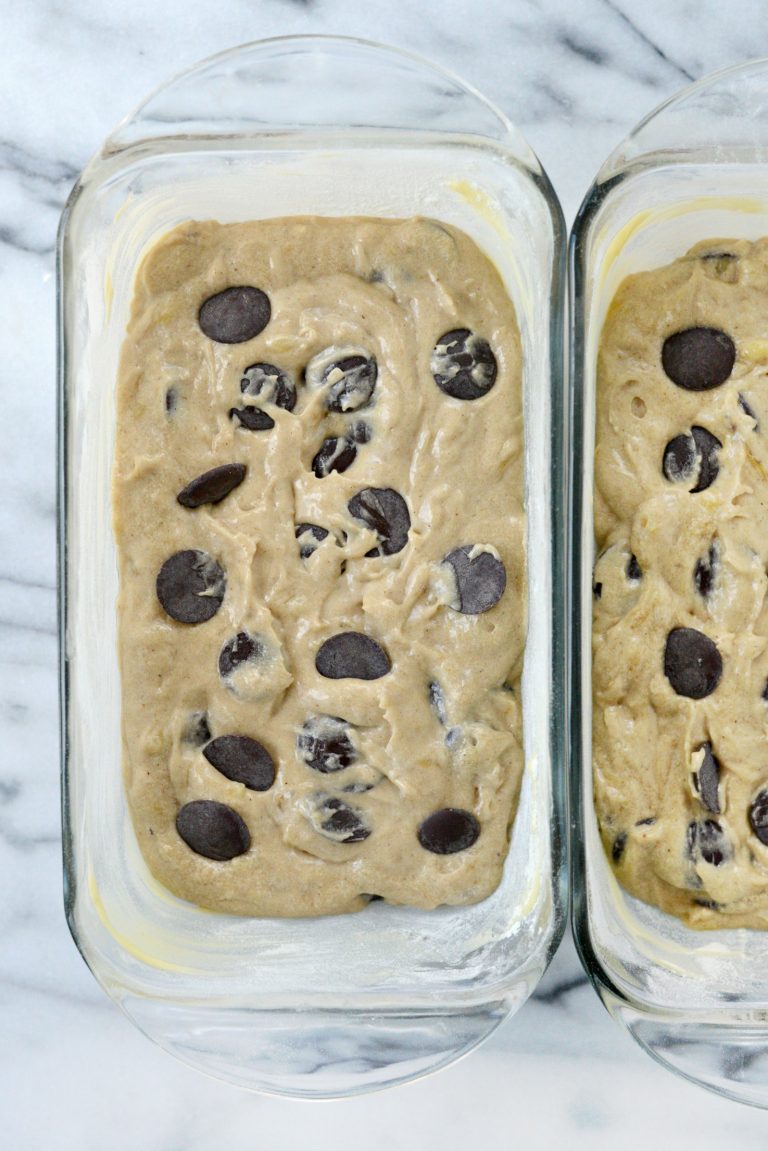 I divided the banana bread batter among two buttered and floured loaf pans and slid into a preheated 325° oven for 30 to 40 minutes. My oven tends to run hot, so I keep and eye on them. The chocolate chip banana bread is done when a toothpick or cake tester comes out with only a few crumbs attached.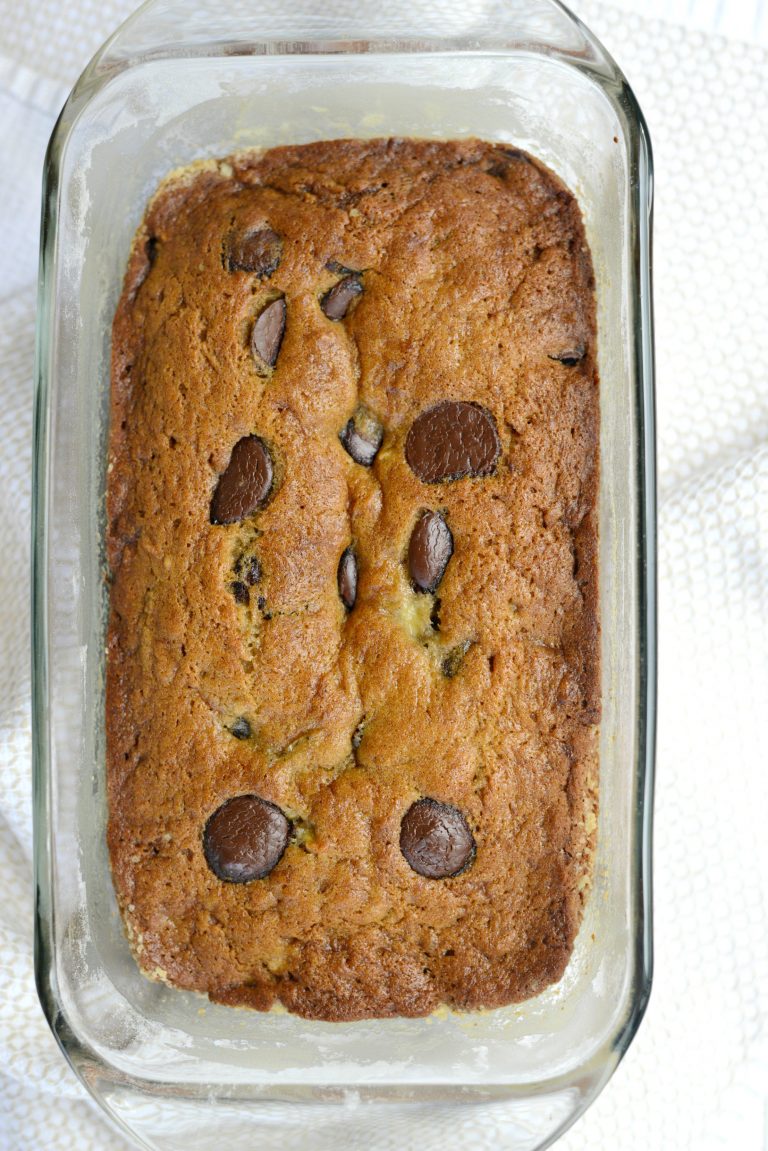 Like this golden beauty.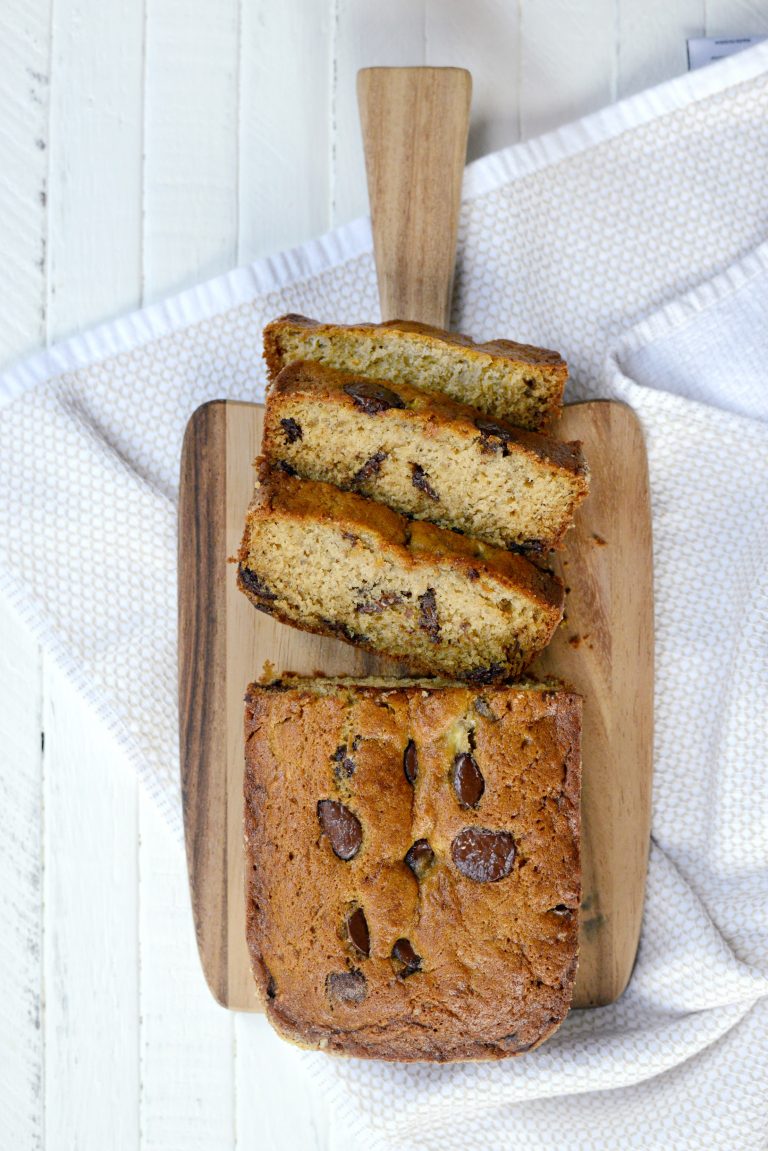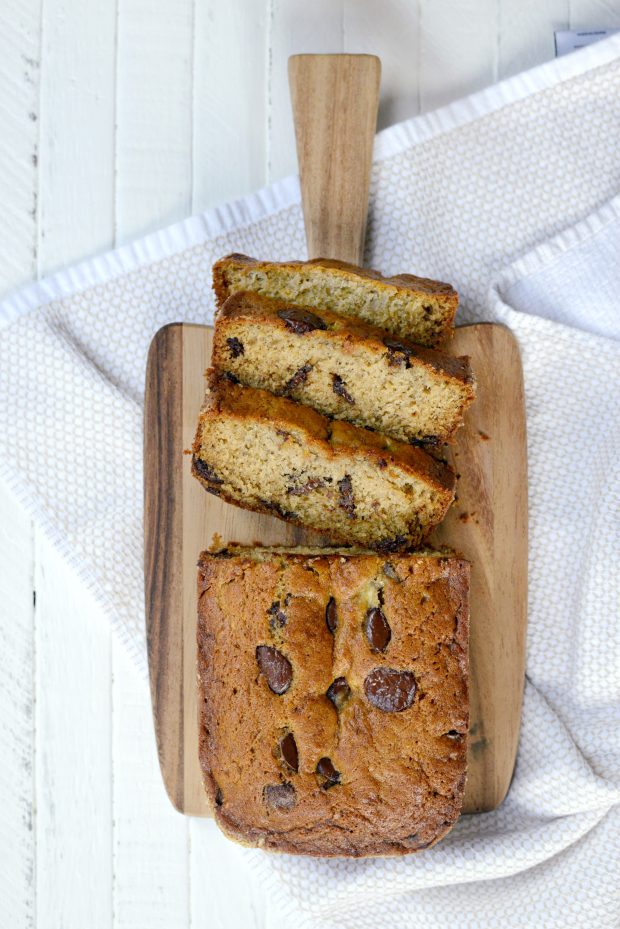 Cool on a wire rack for 20 minutes before carefully removing each loaf from the pan.
Slice and serve with a tall glass of milk or a steaming cup of coffee or tea. With coffee is how I prefer it, but only when it's the next day and the chocolate chips have had a time to firm back up. Don't get me wrong, I still like a warm, gooey slice. But the next day is my favorite.
For More Banana Bread Recipes Click Here!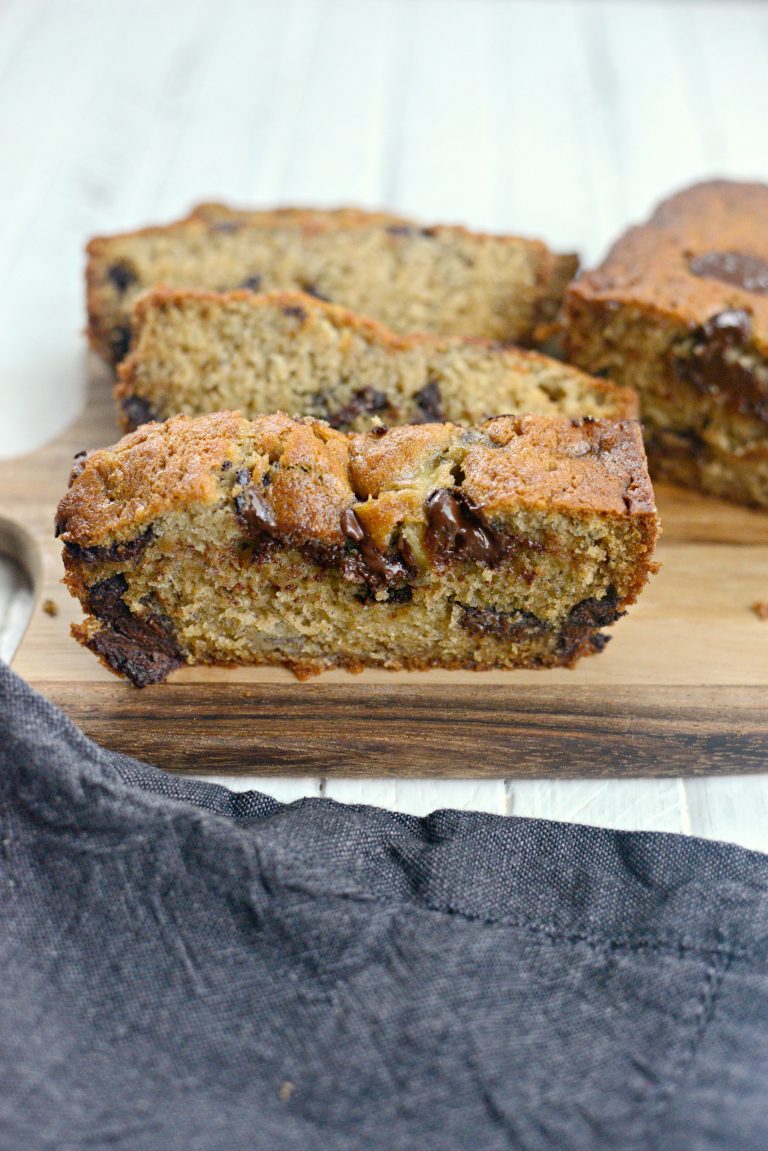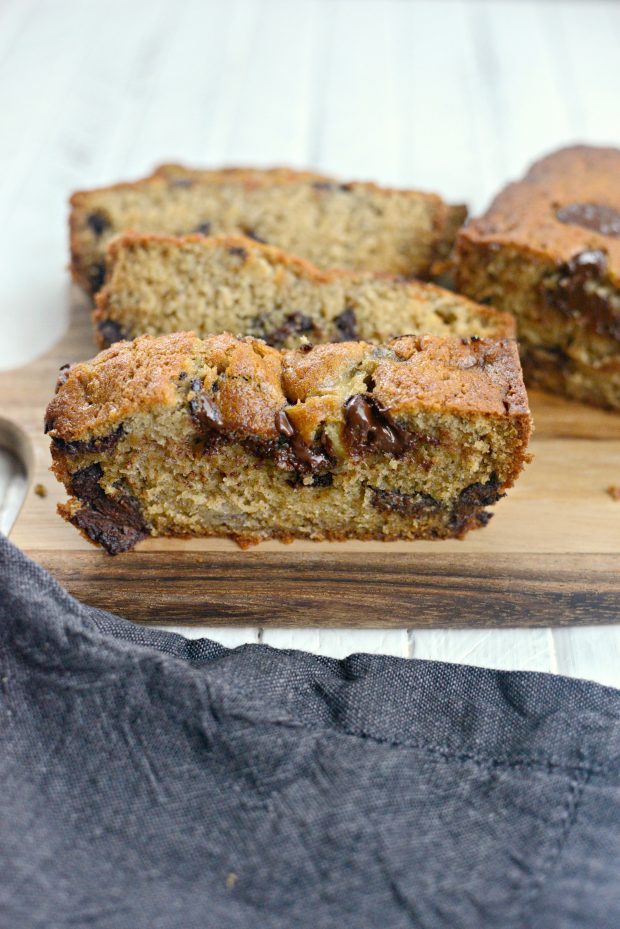 Enjoy! And if you give this Chocolate Chip Banana Bread recipe a try, let me know! Snap a photo and tag me on twitter or instagram!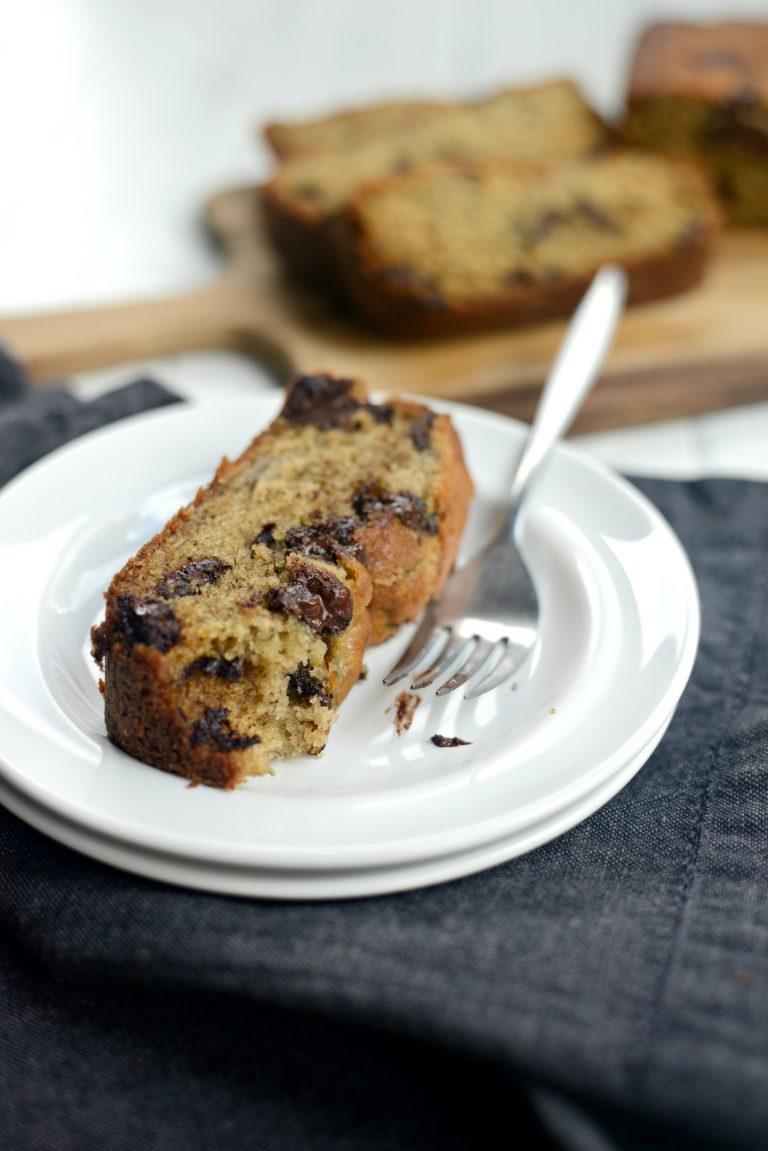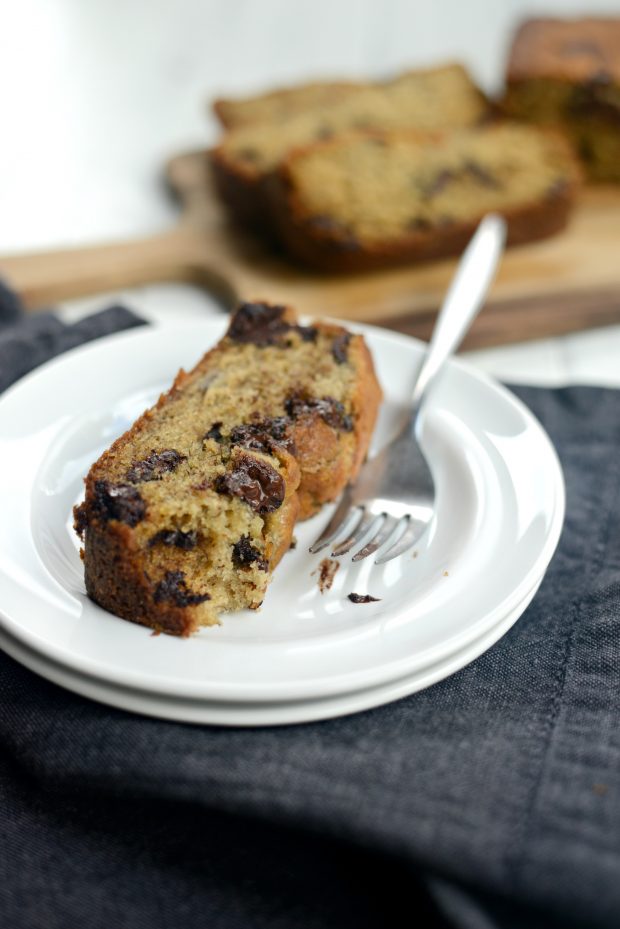 This post may contain affiliate links.
Buy the Cookbook: Simply Scratch : 120 Wholesome Homemade Recipes Made Easy Now available on Amazon »
THANK YOU in advance for your support!