Chipotle Pomegranate Glazed Roasted Pork Tenderloin; pork tenderloin is glazed in the most deliciously smoky-sweet chipotle pomegranate glaze.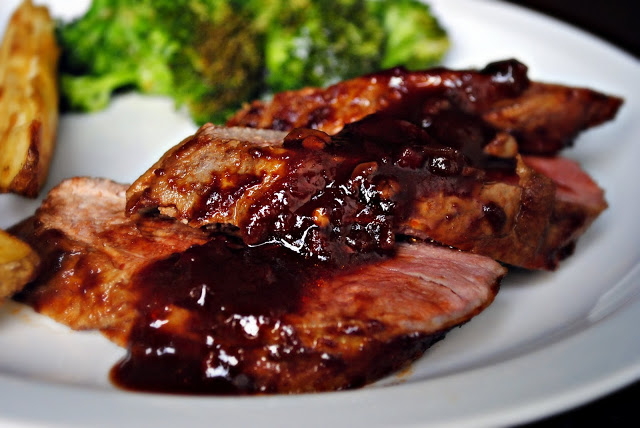 I have since made this recipe two different ways.
Once I marinated the tenderloin for just under an hour in some of the glaze and brushed the reserved glaze on before roasting. The second time I omitted the marinating step, yet I still brushed some on before and during the roasting process, but this time I saved the remaining glaze to top the tenderloin medallions after they were plated. Guess which method I chose? Yup, the second one. Both methods yielded delicious results, but the second was a whole lot easier and looked so much prettier on the plate!
Needless to say I've had lots of time to find uses for my pomegranate juice. And today I am thrilled to share with you this deliciously smoky-sweet pork tenderloin recipe aka heaven on a plate.
To Make This Chipotle Pomegranate Glazed Roasted Pork Tenderloin You Will Need:
garlic cloves
chipotle peppers in adobo sauce
reserved adobo sauce (from canned chipotle peppers)
tomato paste
unsulphured molasses
dark brown sugar
dried mustard
pomegranate juice
juice of half a lemon
pork tenderloins
bacon fat or olive oil for searing pork
The makings of this glaze are pretty standard pantry ingredients. I'm mean who doesn't always have a can of chipotles on standby?
Smash, peel and mince 2 garlic cloves, you know the drill.
Open the can of chipotle peppers and remove three good size peppers. I think three is the magic number here. I tried it with two and the smokiness was lost. So definitely three, more if you want it hotter. But three gives the glaze just the right amount of heat to warm your mouth, but safe enough that my six year old handled it just fine.
Give it a good rough chop.
Then add them right back in the bowl with one to two teaspoons of the adobo sauce.
In a 2 quart sauce pan, heat up some olive oil over moderate heat. You want about 2 teaspoons, just enough to coat the bottom of the pan with a thin layer.
Add in the minced garlic and cook just until it's soft.
Watch carefully, they shouldn't be golden or brown and definitely not black… just soft.
Next add in the 3 minced chipotles and the 2 teaspoons adobo sauce along with the 2 tablespoons tomato paste.
Also add in 1 tablespoon dark brown sugar and 1/2 teaspoon dried mustard.
Lastly add the 2 tablespoons molasses and 1 cup of pomegranate juice.
Give it a good stir.
Heat the glaze over medium heat until it starts to simmer.
Reduce by a third to a half or until slightly thick about 15 minutes.
Remove and kill the heat. Squeeze in the juice of half a lemon… just watch out for the seeds.
Set it off to the side and get working on the pork.
Pork tenderloin marinates well and is pretty easy to cook and in a relatively short period of time. If you are going to marinate; the thing to know is to be careful not to do it for too long a period of time. Especially if you are marinating in citrus or acidic marinades. Why? Well I guess it can get mealy and mushy or something. But just keep it under an hour and you'll be good.
Then pat it dry with some paper towel.

Next, heat up a heaping tablespoon of some of that bacon fat you keep in your fridge. If you aren't a bacon fat hoarder like myself then just use some olive oil, but there is something about the way this pork smells when it hits the hot bacon fat… maybe it's just me… the bacon fat hoarder.
In a large skillet heat the bacon fat or olive oil over medium/ medium-high heat.
Then sear each side of both tenderloins adjusting the heat accordingly so you don't burn the meat.
Next after you have seared the pork tenderloins on all sides; place them on a foil lined rimmed baking sheet. Foil just helps with easy clean up… and the fewer dishes I have to wash the better. Amen.
Then slather the pork tenderloins with some of that chipotle-pomegranate goodness, roast in a preheated 425 degree oven for 10 minutes.
Next, remove and repeat with some more of the glaze, and place it back in the oven for 5-10 more minutes or until an instant thermometer reads 145-155 degrees.
The National Pork Board suggests cooking to a final internal temperature of 160 degrees.
I like mine at 145 degrees, I then let it rest for 5 minutes because the temperature will rise several degrees during the resting stage. But hey… do what you want.
Finally, slice and top with some of the remaining glaze then serve! I promise this pork will not only please the ladies but the gentlemen as well.
It's sweet, smoky and the pork is deliciously moist.
Enjoy! And if you give this Chipotle Pomegranate Glazed Roasted Pork Tenderloin.recipe a try, let me know! Snap a photo and tag me on twitter or instagram!
This post may contain affiliate links.
Buy the Cookbook: Simply Scratch : 120 Wholesome Homemade Recipes Made Easy Now available on Amazon »
THANK YOU in advance for your support!