Cheesy Spinach Bacon Frittata is loaded with crispy bacon, sautéed spinach and cheesy. This can be whipped up quickly and makes a delicious breakfast!
First things first, today's post is my 100th Post!! It's kinda dorky, but I can't believe I have 100 posts on here!!
It's been quite a busy couple of weeks. I've been in my kitchen A LOT! I found a plethora of recipes that I've been itching to make and with that come dishes. Lots of LOTS of dishes. Now this dish is a 1 "pot" meal. Unless you're a blogger then you'll probably have like ten. Needless to say my hands hurt. They are all banged up from doing all these dang dishes. I need a hand transplant or something. Do they even have those? Thanks to my mom, I already have genetics against me because anything and everything chaps my hands. That on top of dish washing, I'm in some serious need of new hands. Or I should just shut up and by some rubber gloves?
Now back to breakfast. Frittatas are so yummy. Just the name FRITTATA is fun and so was making it! Just a few ingredients and POOF! Deliciousness!
To Make This Cheesy Spinach Bacon Frittata You will Need:
bacon
Monterey Jack cheese
spinach
eggs
freshly ground black pepper
It's really that simple my friends!
Start by placing 5 strips of bacon in a skillet…
… and cook until it is crispy.
Place the four eggs in a small dish, season with desired amount of fresh pepper. I'm telling you I'm really into that McCormick mixed pepper corns, it's amazing.
Now go on and beat those eggs senseless.
After the bacon is done and all crispy set it aside… you can chop it up if you'd like. I broke mine in to pieces.
Measure out 4 cups of baby spinach. It will seem like a ton but it will cook down so much that you won't believe your eyes!
In the same pan that you cooked your bacon… yup you guessed it…
Add your baby spinach! I know! To the bacon drippings!!! CRAZINESS!
See… told you so! This is what four cups of baby spinach looks like after you cook it down. Whoa.
Add the crumbled bacon pieces and give it a stir.
Get that cheese ready. You'll need a heaping 1/4 of a cup.
Sprinkle it evenly over the spinach and bacon.
Pour the eggs over top of all that goodness, cover and let it sit for 6 minutes or until the center of the eggs is set.
And there you have it… a one pan frittata!
Say it with me… FRITTATA!
Remove it to a cutting board to slice. I'm not sure how that clump of bacon got on that side of the frittata, but I'll let you in on a little secret. That was my piece :)))
Slice in to wedges, stack and serve.
Enjoy! And if you give this Cheesy Spinach Bacon Frittata recipe a try, let me know! Snap a photo and tag me on twitter or instagram!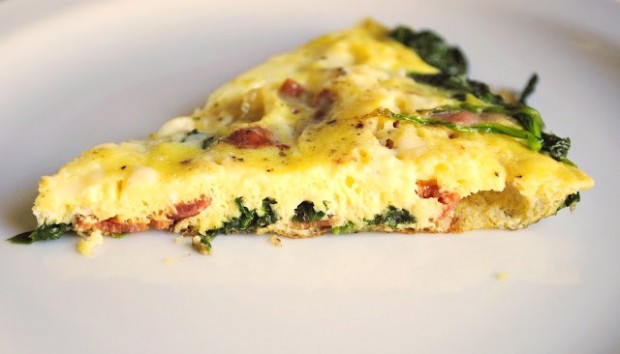 This post may contain affiliate links.
Buy the Cookbook: Simply Scratch : 120 Wholesome Homemade Recipes Made Easy Now available on Amazon »
THANK YOU in advance for your support!