This Cheesy Fried Ham Potato Skillet is easy and deliciously comforting. Serve this potato, crispy ham and pepper hash with a fried egg on top!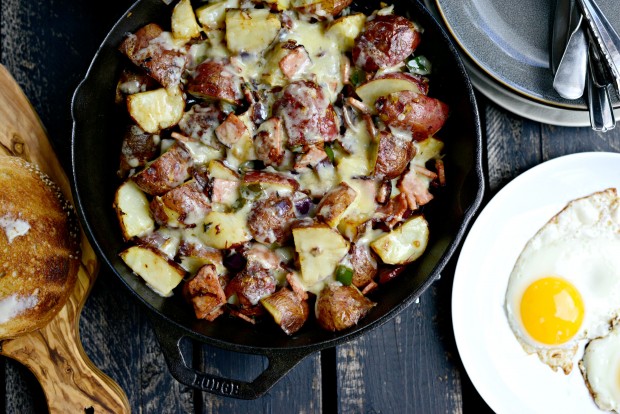 I love nothing more than a good skillet breakfast. One skillet filled with all things breakfasty.
I save these sort of recipes for when everyone is home, otherwise I'd just eat all the evidence and suffer with guilt in silence. On Sunday's I usually go in all-out breakfast-making-mode and pull out all the stops. Breakfast skillets are just so darn easy yet look and taste like you've spent hours preparing it.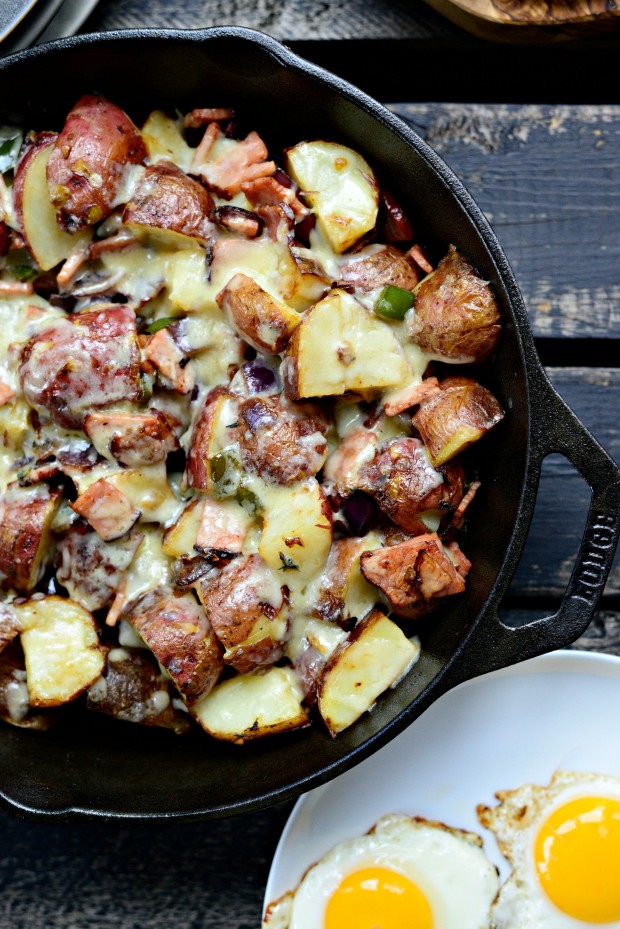 I made this super simple breakfast skillet just this past weekend.
And I called dibs on staying home while Pat took Haileigh to her softball practice. I knew I had a sliver of time to whip up something so that when they walked into the house they were hit with the cozy aroma of breakfast, and because I'd knew they'd be hungry.
They walk in, I plop it down in the center of the table and we go at it like vultures with spoons. I prefer mine piled onto my plate and then I top it with a crispy-edged, runny-yolked, fried egg. Pat and Malloree like to cut everything up, mix it around to coat in the silky egg yolk, then they scoop it onto buttered toast, fold it in half and eat it like a sandwich. To each their own and all that, I guess.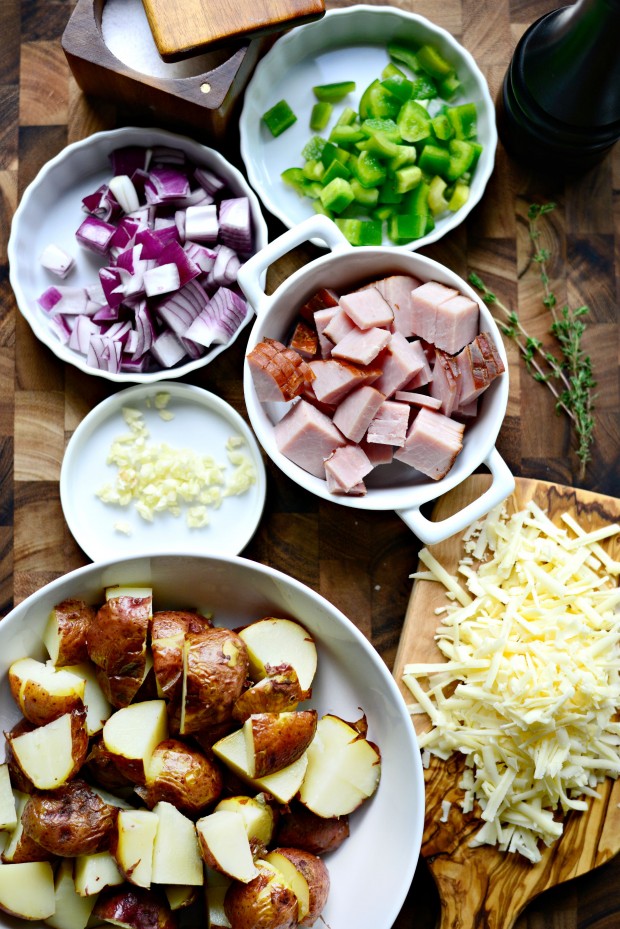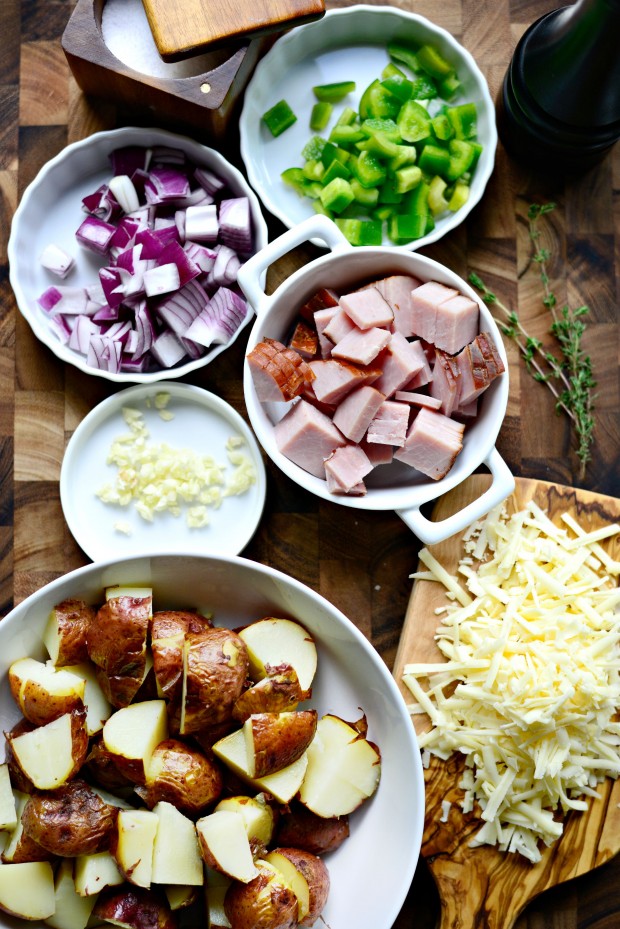 To Make This Cheesy Fried Ham Potato Skillet You Will Need:
bacon fat
ham (hickory or applewood smoked)
red onion
green pepper
garlic
thyme
8 leftover redskin potatoes (previously roasted)
extra sharp white cheddar cheese
Breakfast skillets are great for using leftover ingredients from previous meals.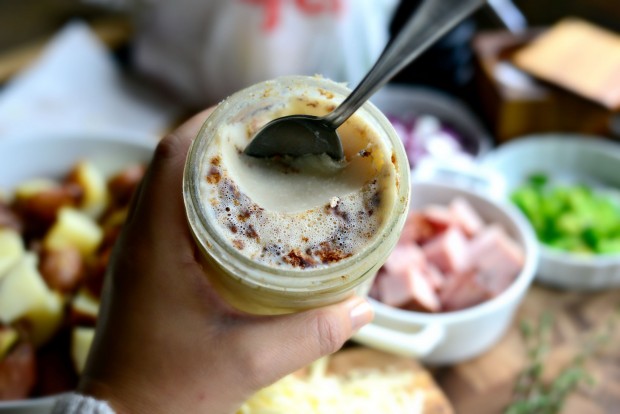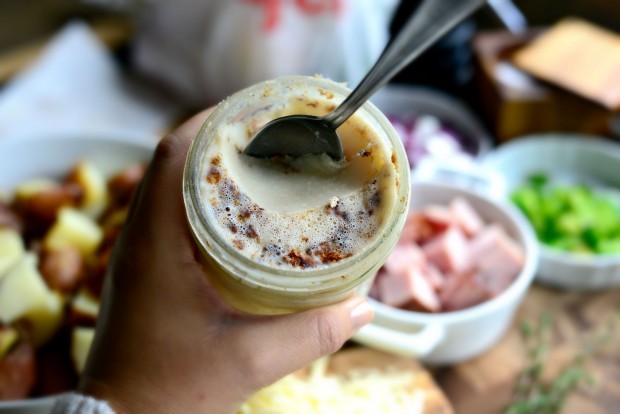 First things first, reached into your fridge for the jar-o-bacon fat. This is actually one of two jars I keep on hand… I do love my bacon fat.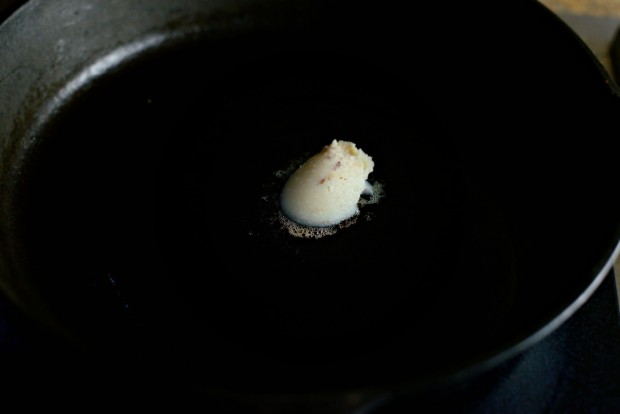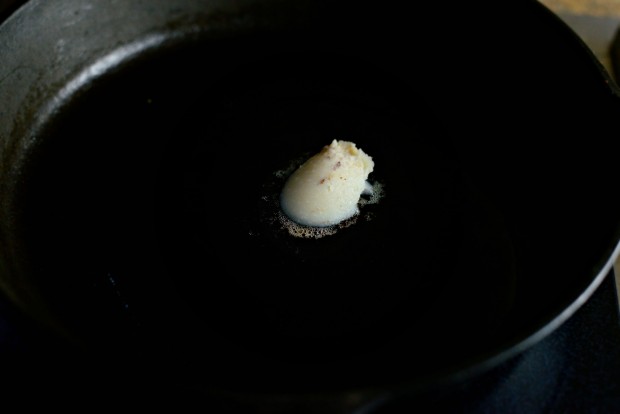 Preheat a large oven-safe skillet on medium heat. Scoop out a tablespoon of bacon fat, slap it into a pan.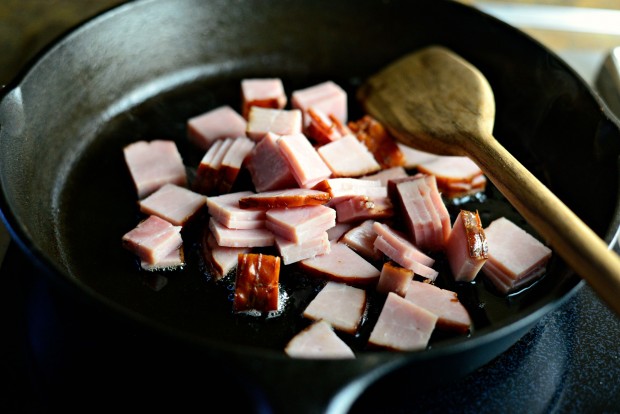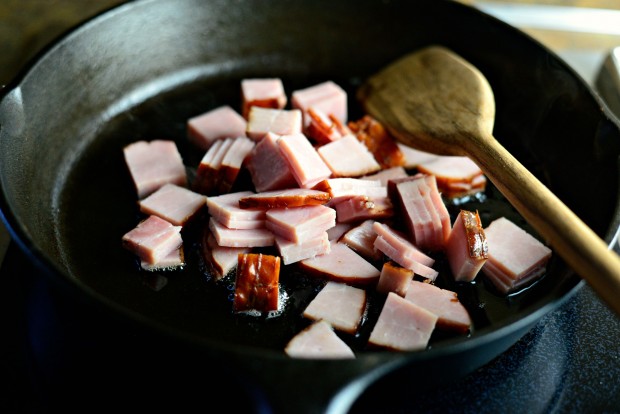 Once hot, add in 1 heaping cup of chopped ham. This is hickory-smoked but applewood would work just fine too.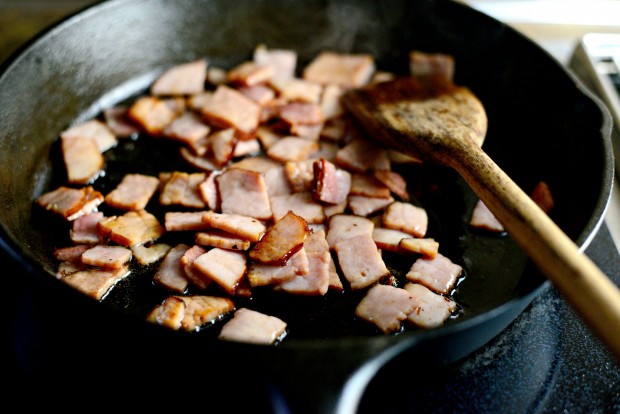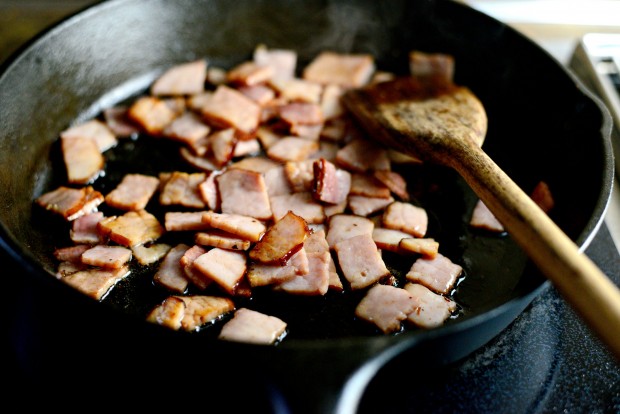 Fry the ham in the bacon fat, stirring occasionally, until the edges brown and the ham gets all crispy.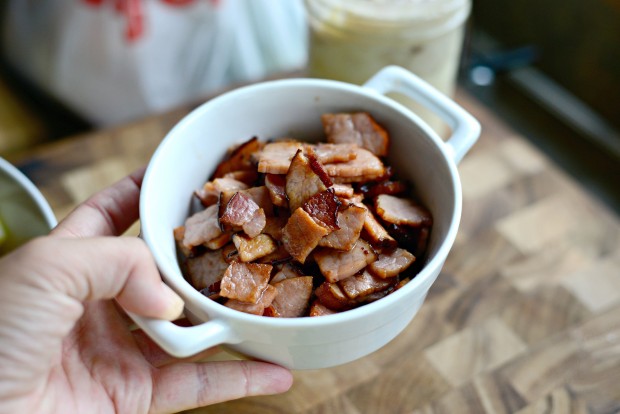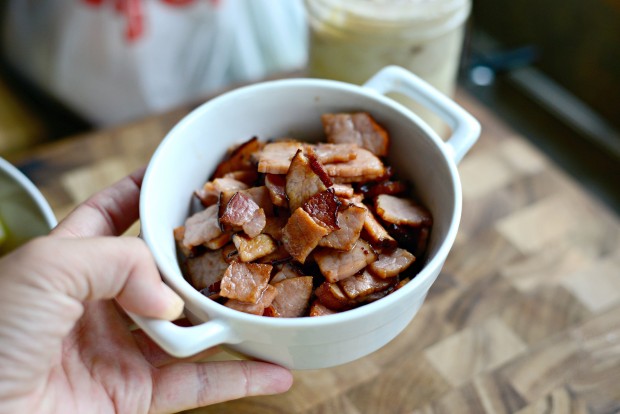 Transfer the fried ham out of the pan (with a slotted spoon) and into a dish, then set it off to the side.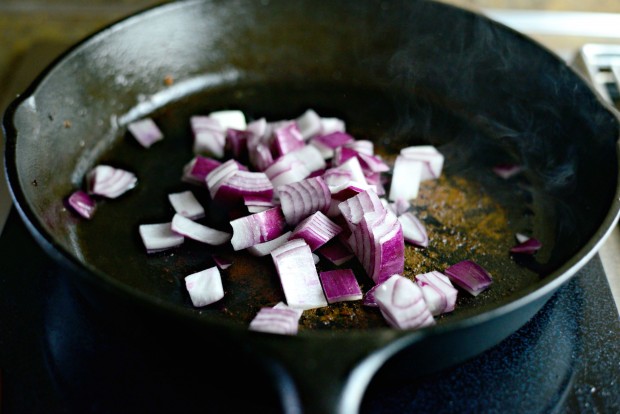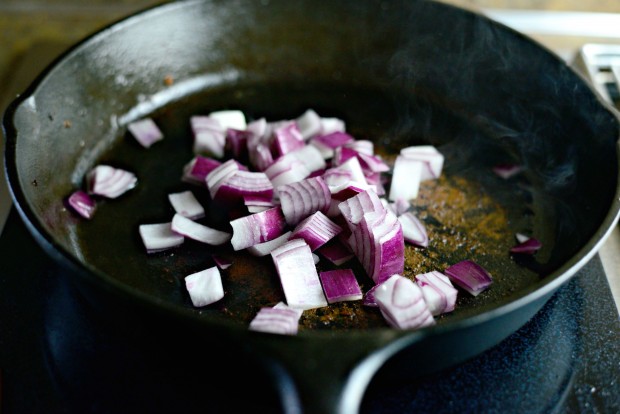 Drop in the 1/2 cup of diced red onion. If the pan is pretty dry after frying the ham, you can add in a little more bacon fat.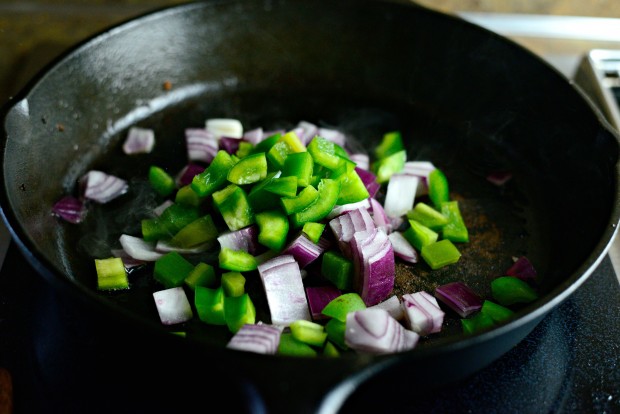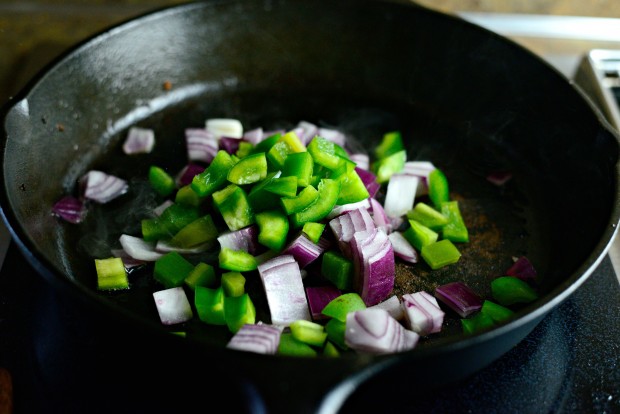 With the red onion, add the 1/3 cup of green pepper.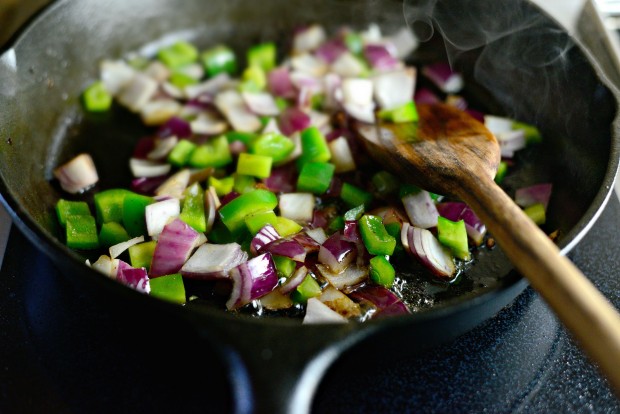 Season with a pinch or two of salt and a few grinds of black pepper, then stir to coat the veggies in the bacon fat.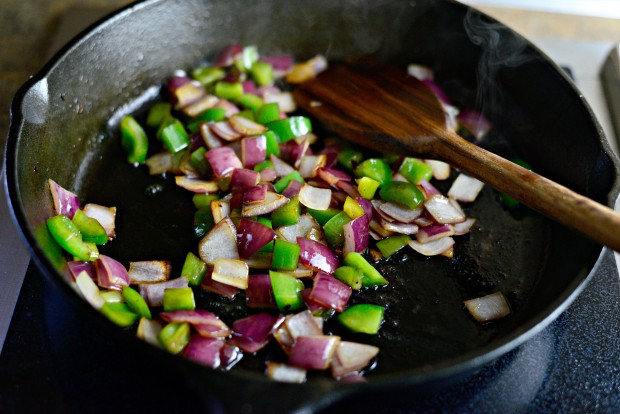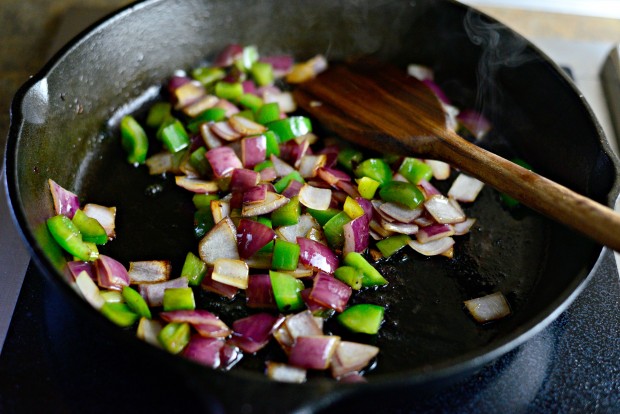 Cook 4 to 5 minutes until the edges start to brown a bit.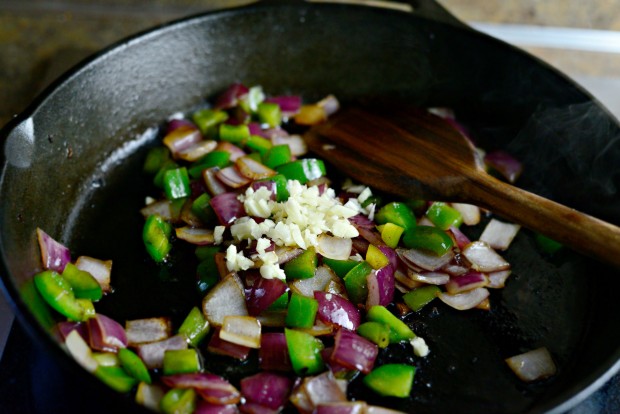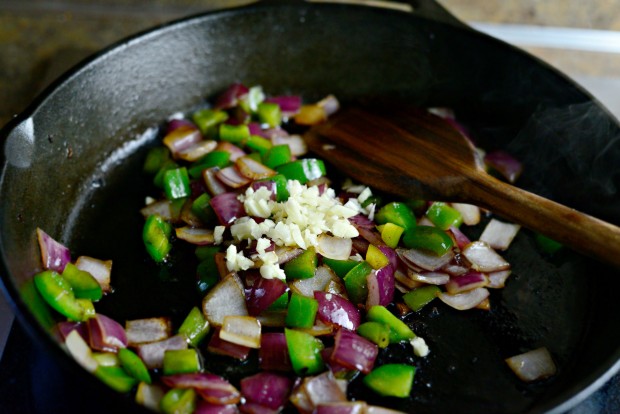 Then add in a clove of minced garlic…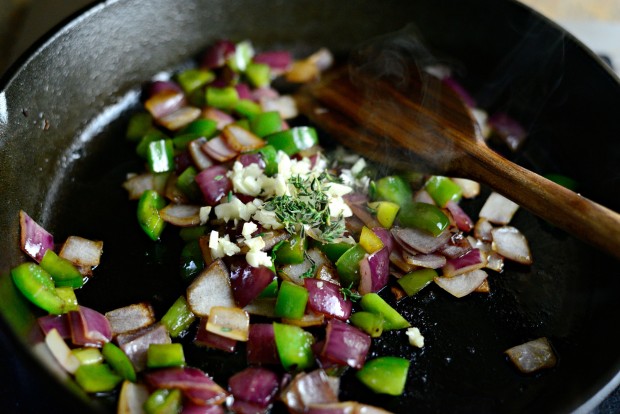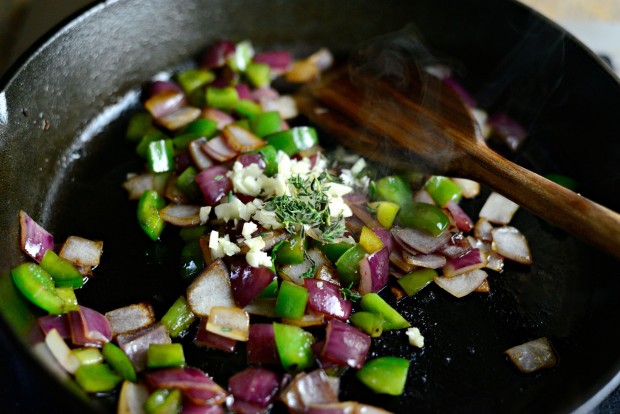 Leaves from two small thyme sprigs…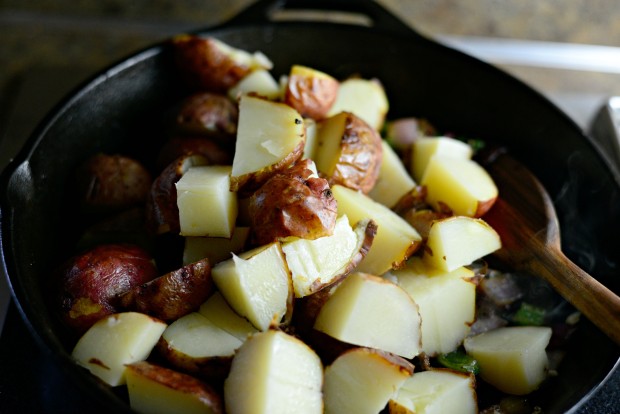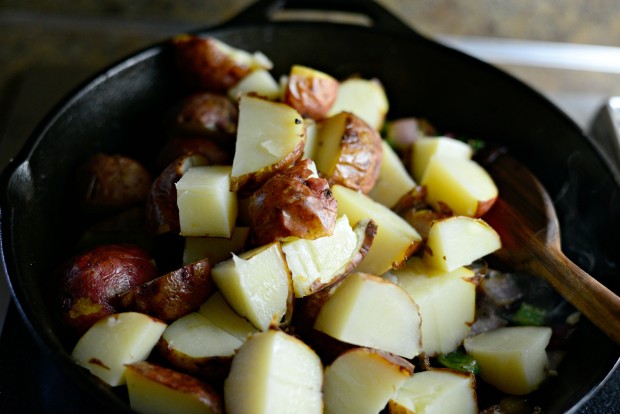 Give that a stir and then add in the chunks of potato…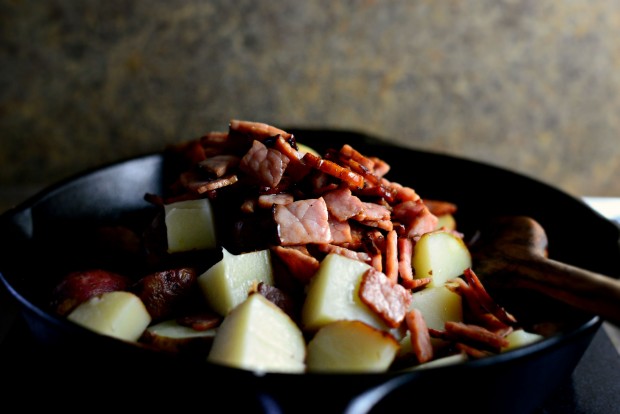 …and crispy ham.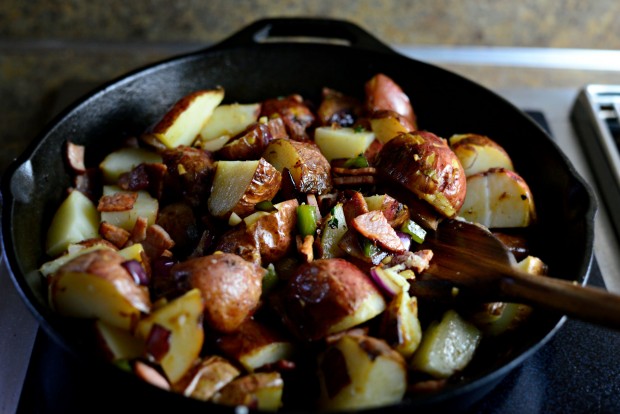 Carefully toss it all together until the potatoes are heated through. Then give the pan a little shake to settle it all into an even layer.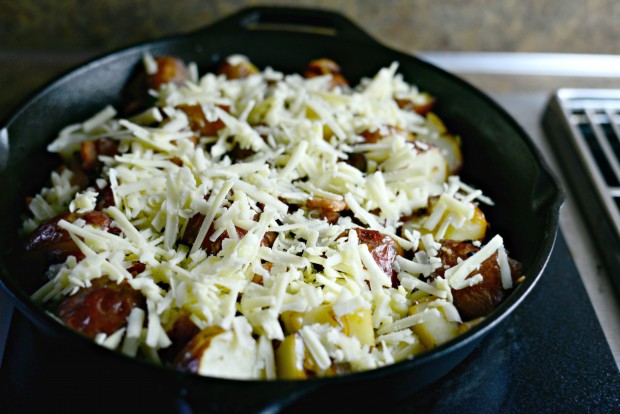 Top with 1 heaping cup of grated sharp white cheddar.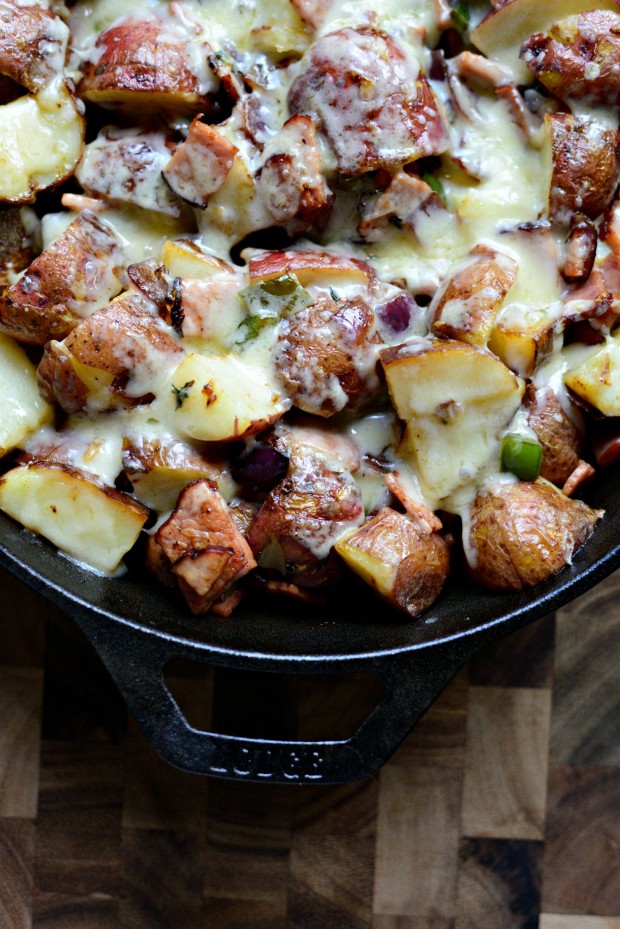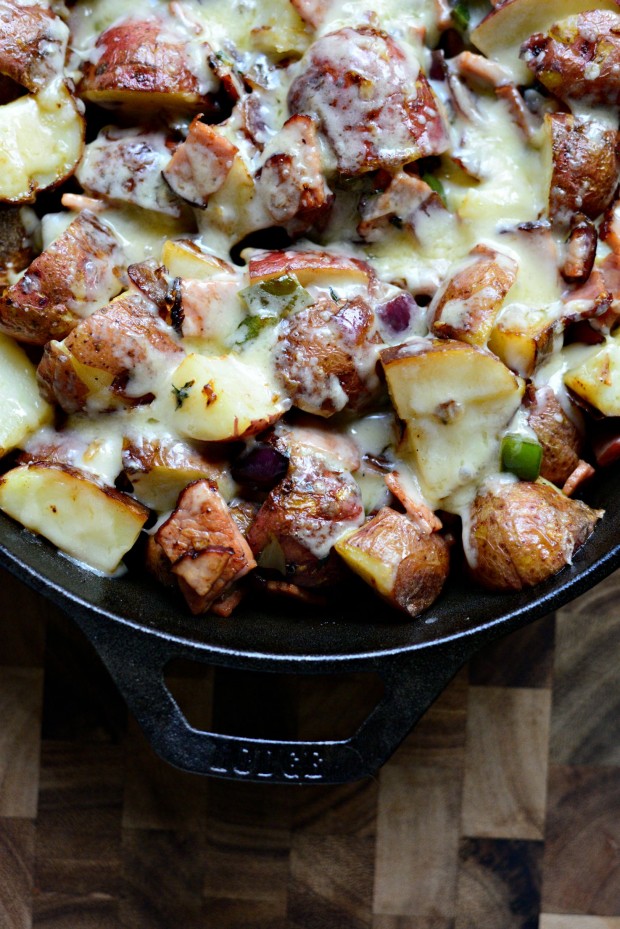 Slide the whole think into your oven, on the highest rack and right under the broiler. Broil until the cheese melts and starts to bubble and brown.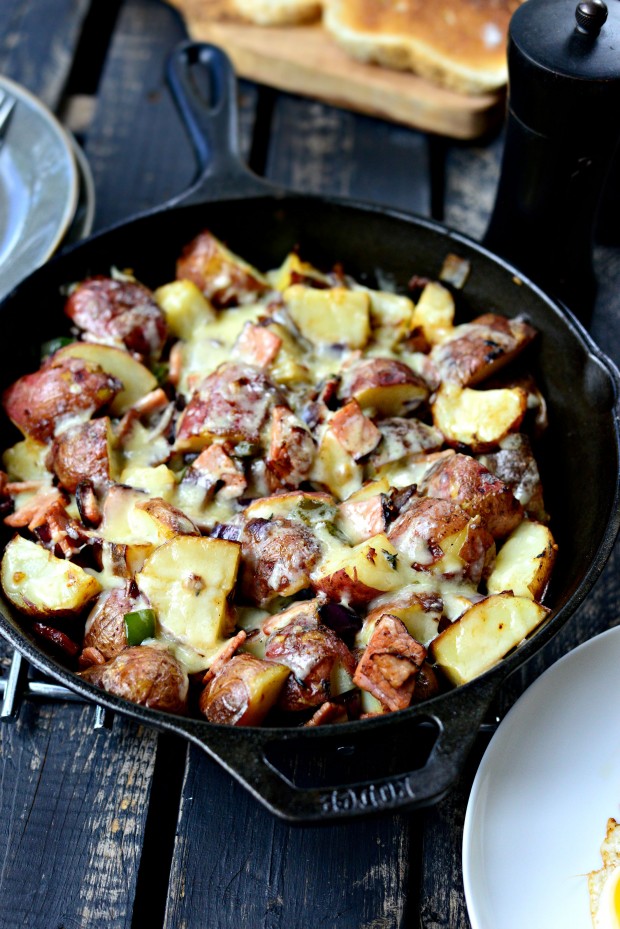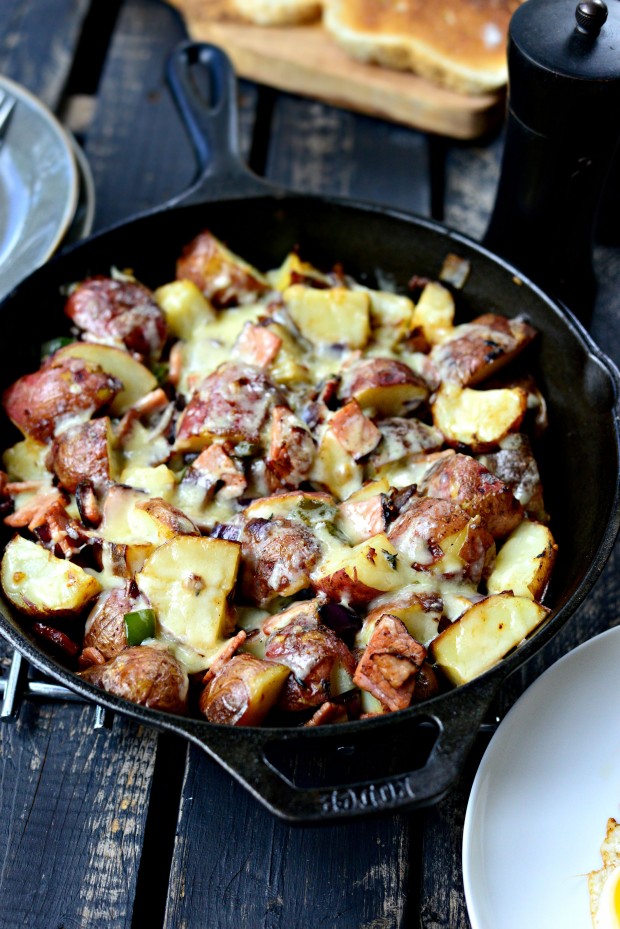 Can we now just take a moment and appreciate the beauty that is this skillet??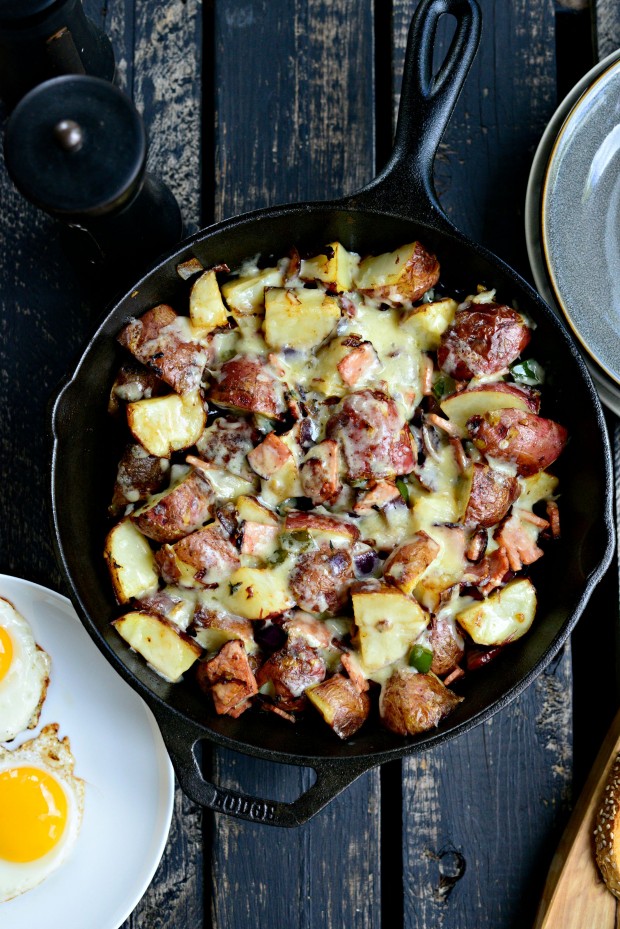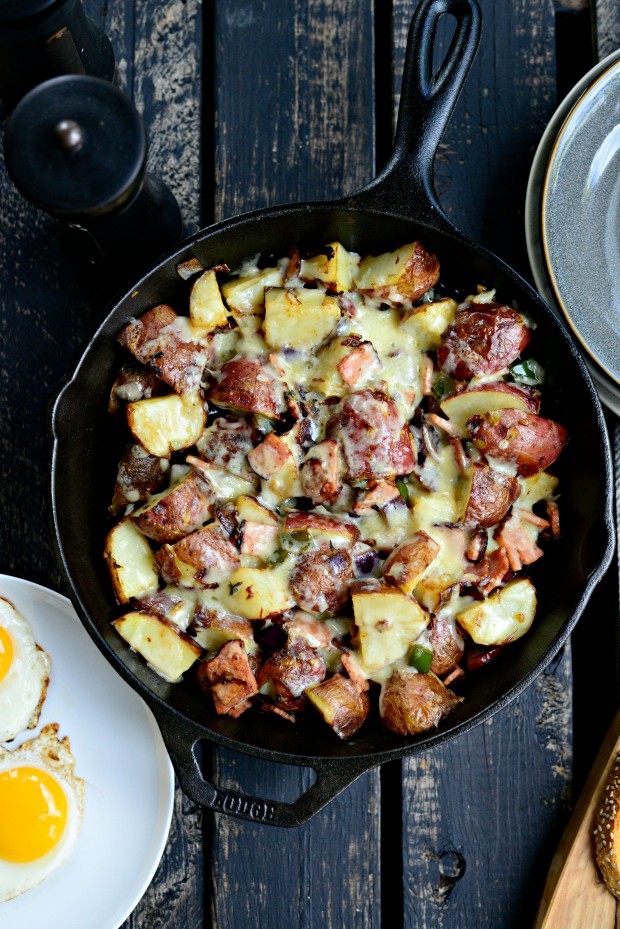 Amen.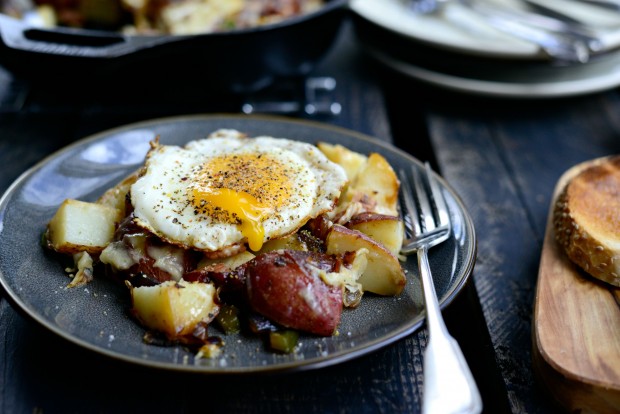 Have mercy!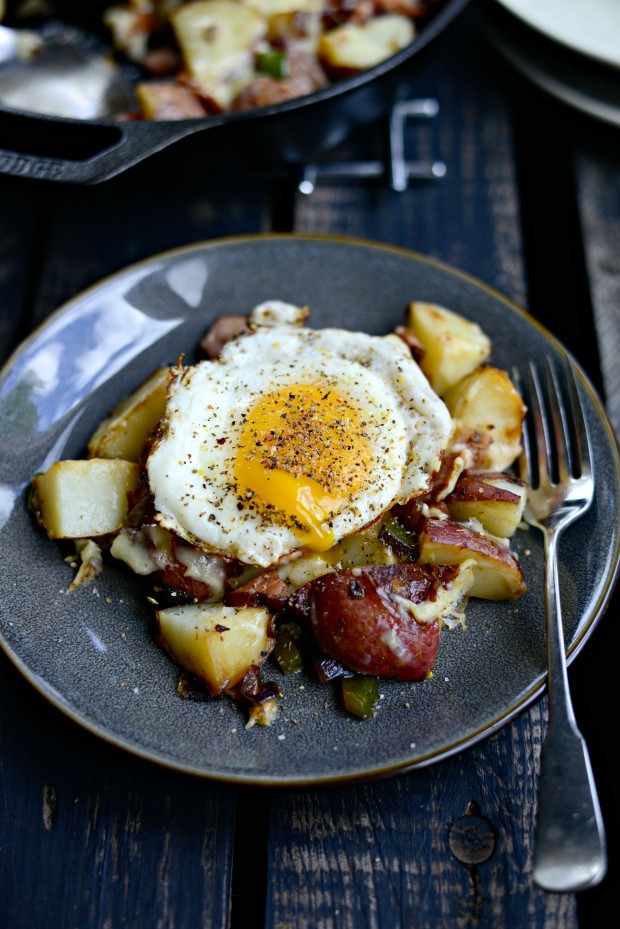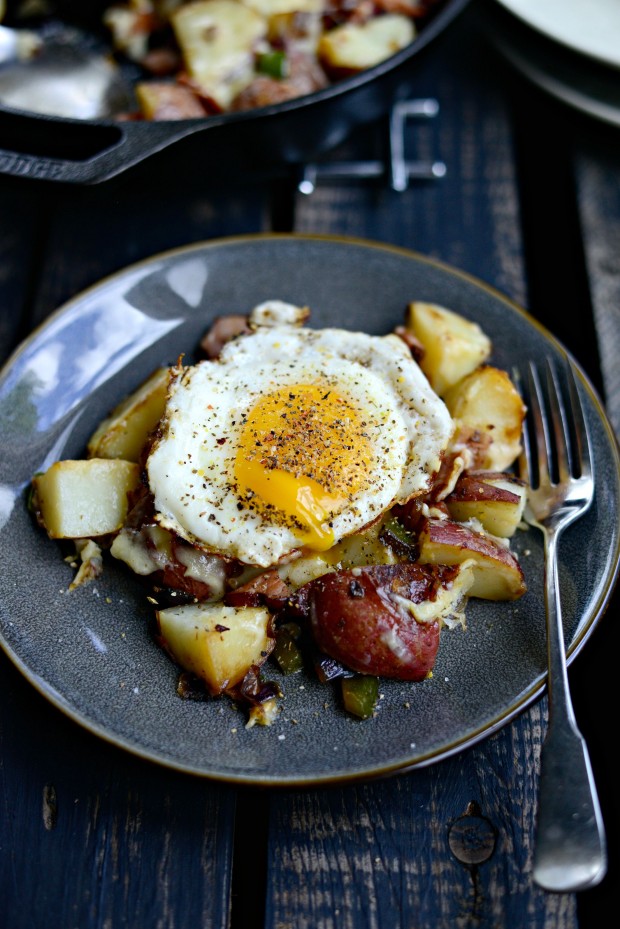 Okay obviously I take way to many pictures. But that runny yolk…
Enjoy! And if you give this Fried Ham Potato Skillet recipe a try, let me know! Snap a photo and tag me on twitter or instagram!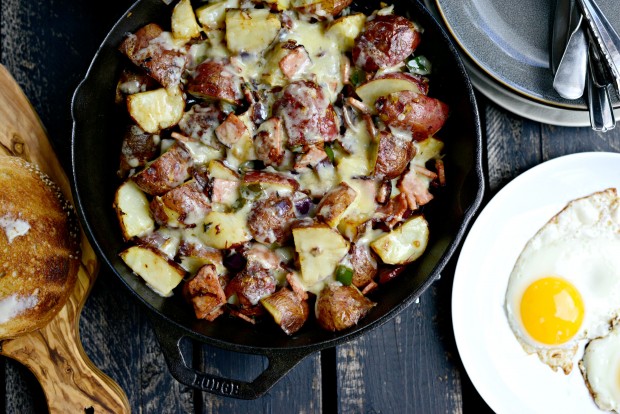 Yield: 4 servings
Cheesy Fried Ham and Potato Breakfast Skillet
Ham, peppers and onions fried in bacon fat and mixed with leftover red skins and topped with sharp white cheddar- and a fried egg. Breakfast doesn't get much better than this.
Ingredients
1 tablespoon bacon fat
1 cup diced ham, hickory or applewood smoked
1/2 cup diced red onion
1/3 cup diced green pepper
1 clove garlic, finely minced
1/2 teaspoon chopped fresh thyme
8 medium cooked redskin potatoes, cut into eighths
1 cup grated extra sharp white cheddar cheese
Instructions
Preheat broiler and move the rack to the highest position.

In a 10-inch oven-safe skillet melt bacon fat over medium heat. Once hot, add in the ham and cook until crispy and golden, about 6 minutes, before transferring it to a small dish.

Add the onion and pepper to the skillet, stir and cook for 5 minutes or until just starting to soften. Add in garlic and thyme and cook for 1 minute.

Add the potatoes and ham to the skillet gently mix them into the onions and peppers until the potatoes are heated through. Give the pan a shake to settle everything into an even layer. Top with cheese and slide under the broiler for 2 to 3 minutes. Watch carefully so it does not burn.

Serve with eggs cooked how you prefer and buttered slices of toast.

*I roasted my potatoes at 400 degrees for about an hour or until a fork can pierce them easily. Let them cool before cutting into eigths.
Serving: 1g, Calories: 486kcal, Carbohydrates: 71g, Protein: 21g, Fat: 15g, Saturated Fat: 7g, Polyunsaturated Fat: 1g, Monounsaturated Fat: 4g, Cholesterol: 48mg, Sodium: 676mg, Potassium: 2013mg, Fiber: 8g, Sugar: 7g, Vitamin A: 340IU, Vitamin C: 43mg, Calcium: 257mg, Iron: 4mg
This post may contain affiliate links.
Buy the Cookbook: Simply Scratch : 120 Wholesome Homemade Recipes Made Easy Now available on Amazon »
THANK YOU in advance for your support!