Carne Asada Tacos are delicious and so flavorful! Marinated skirt teak is grilled to perfection and topped with cilantro, avocado, grilled onions and sprinkled with cotija.
I am a steak loving person. And I'm absolutely 100% with-out-a-doubt in food-love with carne asada tacos.
Carne asada basically translates to grilled meat.
Typically beef (flank or skirt steak) is rubbed with a mix of spices and sometimes citrus juice, or can be as simple as a little salt and pepper, then grilled until a good crusty exterior is created. If you know me at all then you know crispy charred bits are my bff.
So my recipe for carne asada goes a little something like this: first it starts with a marinade that has lots of garlic, citrus, a generous amount of cilantro and a mix of different spices. The meat marinates for a good couple of hours so the citrus works its acidic-magical-fingers tenderizing the meat. Once the meat hits the smokin' hot grill, the garlic, herbs and spices that's still clinging to the meat will sear, locking in all this amazing flavor.
When I make carne asada I like to make a big batch. Because truth be told, I could eat Mexican cuisine all day every day and not even bat an eye. I can be all "let's have TACOS for dinner!?!" and my girls will be like "Ughhhh! Didn't we have nachos last night and enchiladas two nights ago?!"
They can't be my children.
So yes this recipe makes quite a bit so it's great for a crowd and even better if there are leftovers for lunch.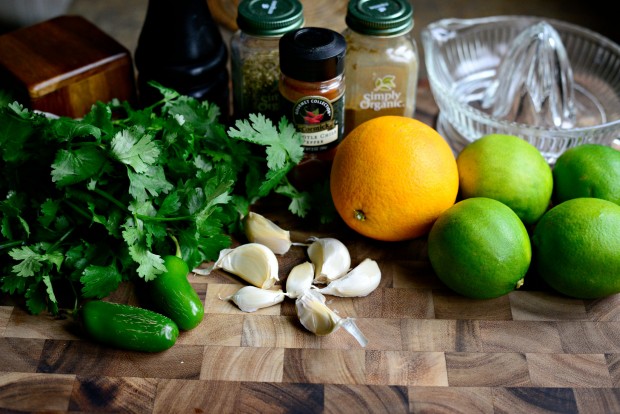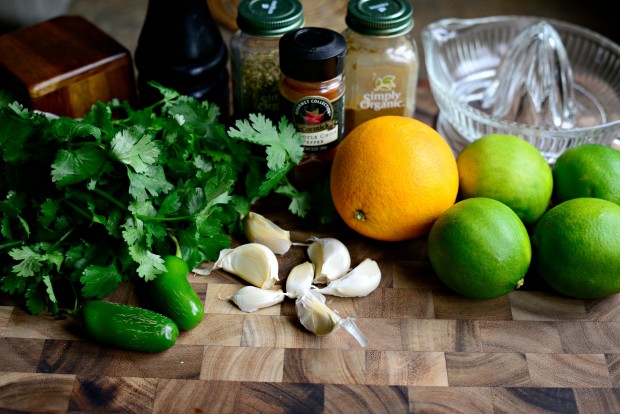 Gather all the citrus, garlic, jalapenos, cilantro and spices.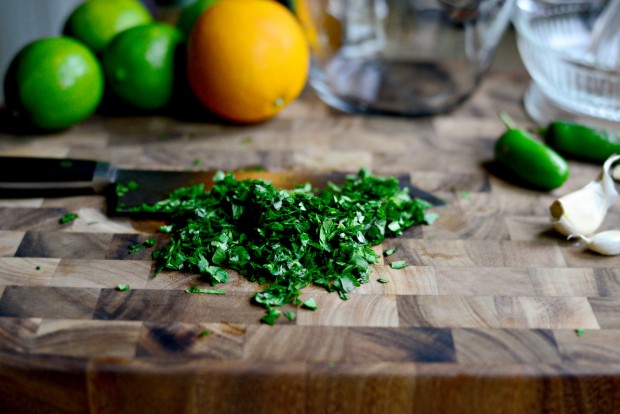 Start by finely chopping up 1/3 cup of cilantro.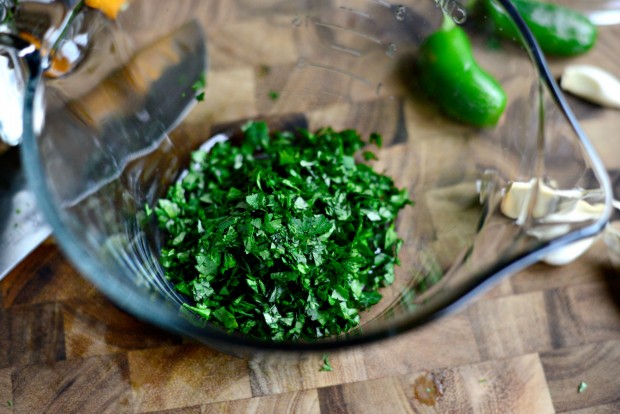 And throw that into a large bowl or liquid measuring cup.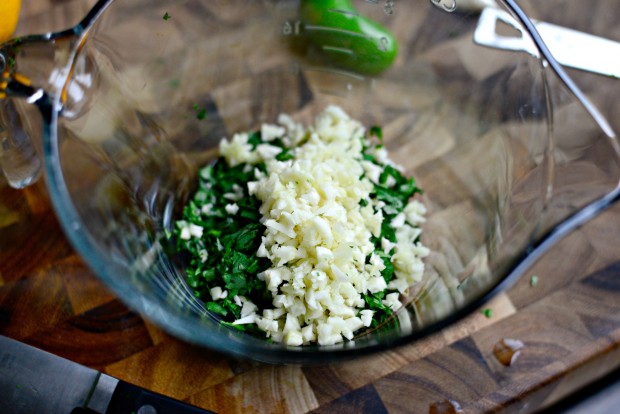 Add the finely chop 6 cloves of fresh garlic…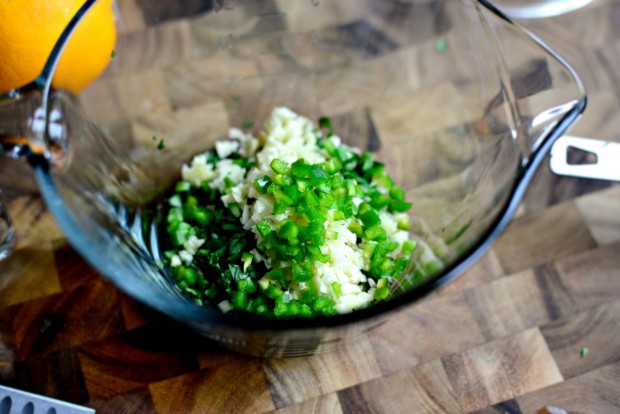 I only diced up 1 jalapeno, discarding the rib membrane and seeds. BUT if you like it real, real hot… go on and add in all or some of the seeds and ribs.
Measure and add in 1-1/2 teaspoons ground cumin…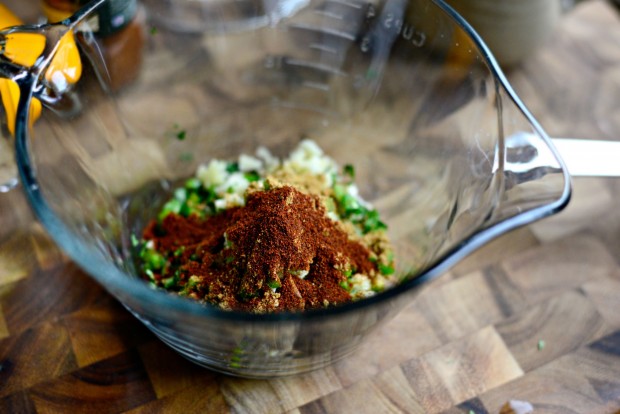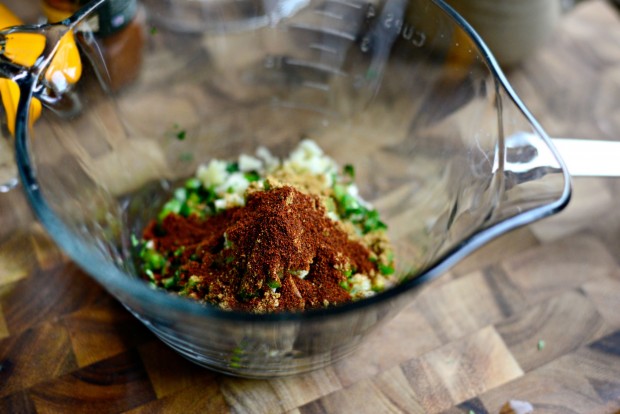 …and 3/4 teaspoon of chipotle powder…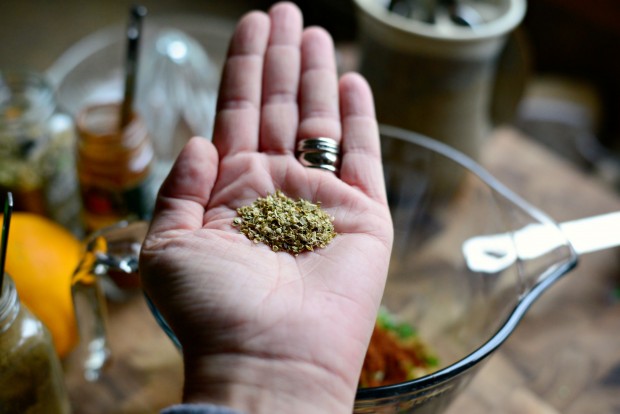 Measure a heaping 3/4 teaspoon of dried oregano into your palm…
…then use your other palm to finely ground the oregano right on into the bowl.
Lastly add in 1 teaspoon kosher salt and 1/2 teaspoon freshly ground black pepper.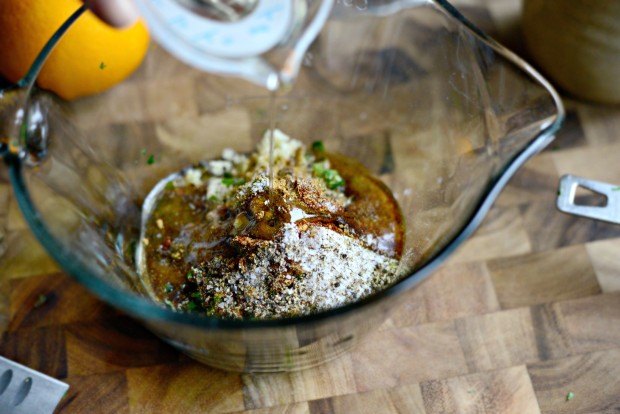 Then drizzle in 2 tablespoons sunflower or extra light olive oil.
Juice 4 limes…
…and 1 orange.
Then add both juices into the bowl. I don't even bother to strain the pulp out.
Stir to combine and set it off to the side for a moment.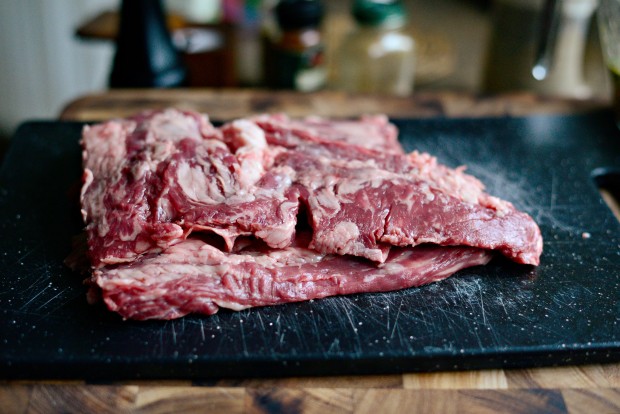 You're looking at a one and a half pounds of skirt steak that I've cut in half width-wise. For me it's easier to fit into the dish this way and it's easier to grill.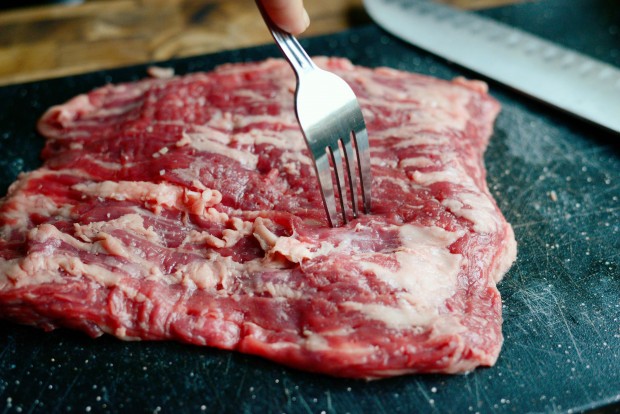 Then graob a fork and stab the steak all over and on both sides.
Place it into a shallow dish or re-sealable bag and pour the marinade over top.
Oh gosh this marinade smells amazing!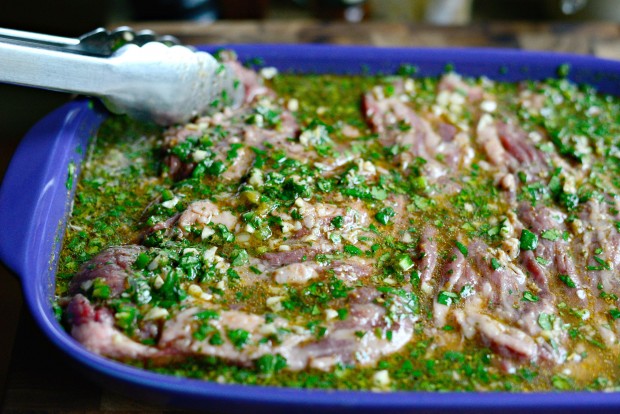 Give it a flip and nestle the steak into the marinade.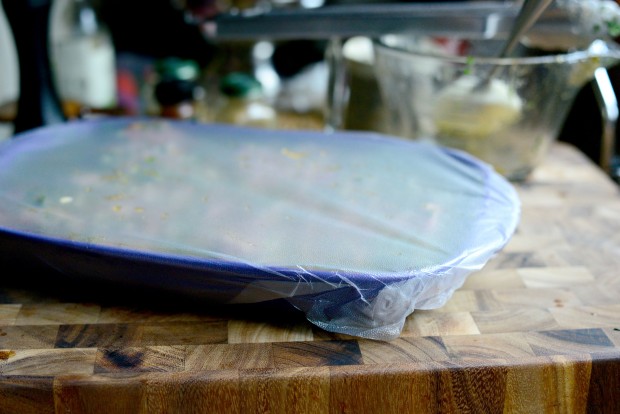 Cover with plastic wrap and refrigerate for 2 to 3 hours.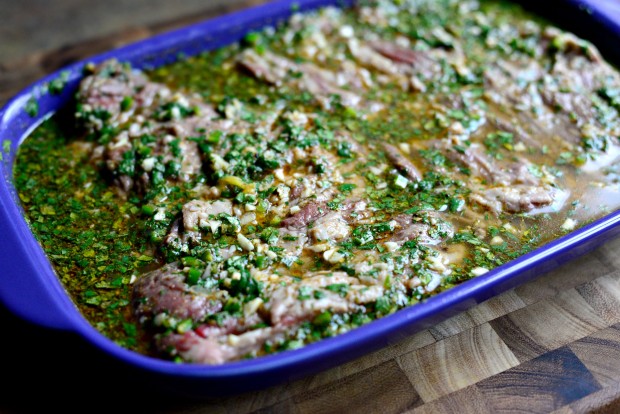 I pull my steak out about 30 minutes before grilling, to take the chill off and all that.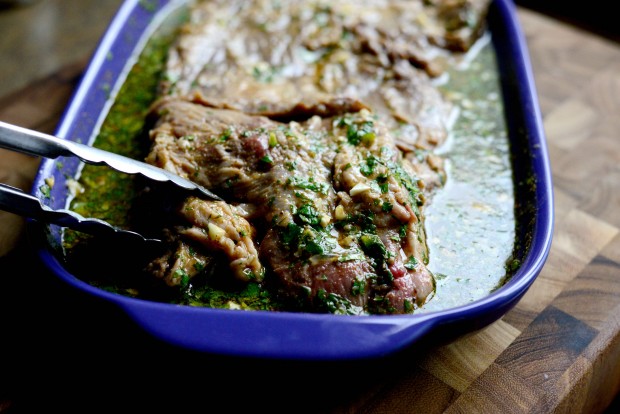 From time to time, give the steak a flip or two and preheat your grill to medium/medium-high heat.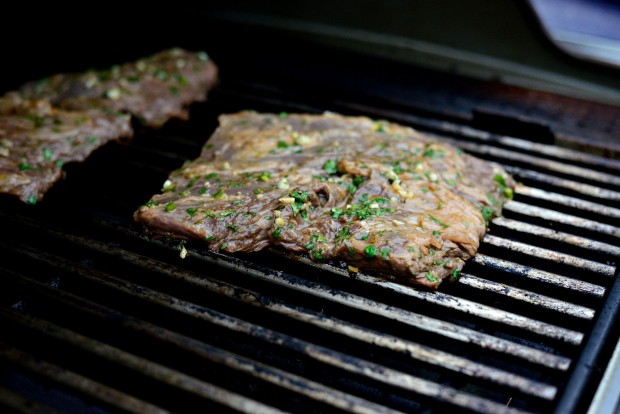 Once your gill is all hot and ready, place the marinated steak onto the grill grate.
Grill for 4 to 6 minutes…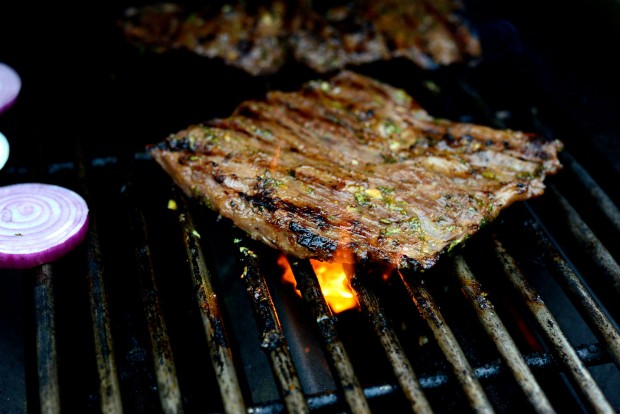 Flip and cook for an additional 4 to 6 minutes or until the steak has reached your preferred doneness.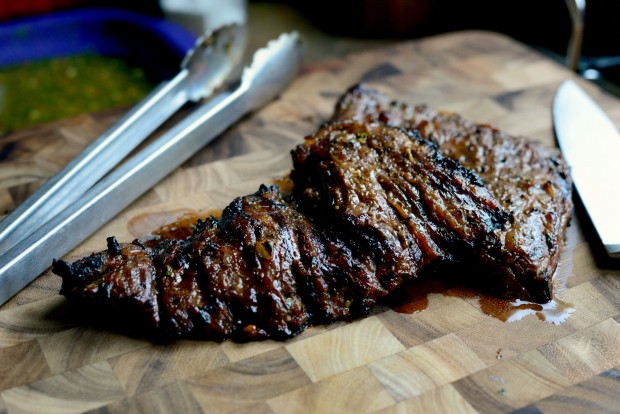 Transfer the steak to cutting board and let it rest for 5 to 8 minutes under tented foil.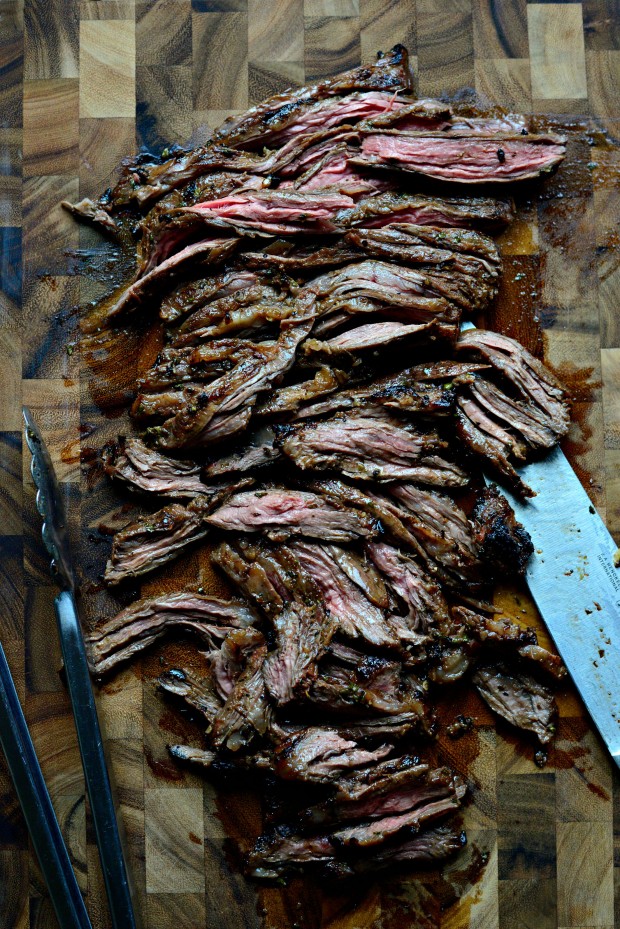 Once the steak has rested, use a sharp knife and slice it into thin strips going against the grain of the meat. The meat it so tender and juicy, which makes it realy easy to slice.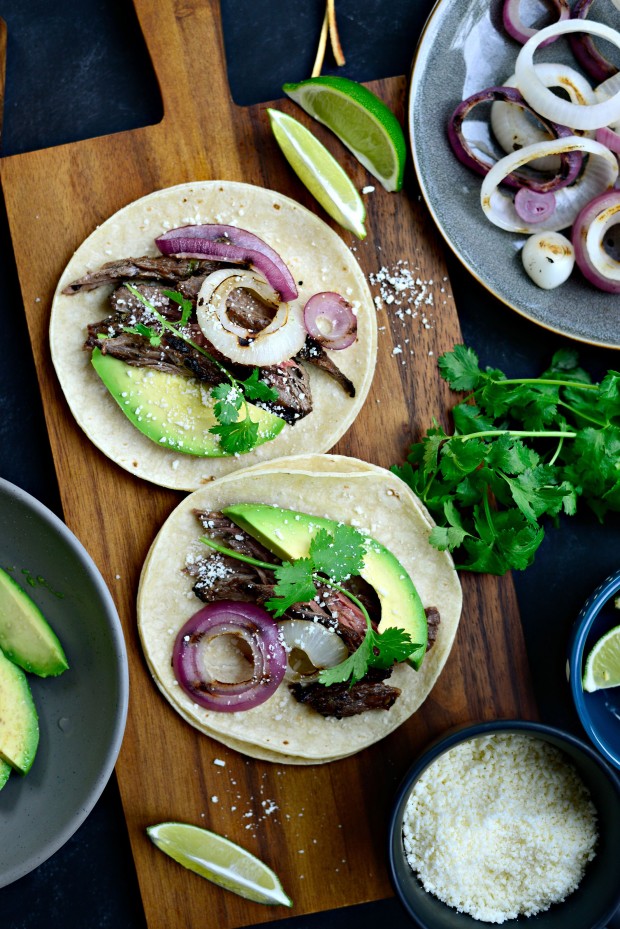 I should mention that while the steak was grilling I also grilled some onions. Just slice the onions thick, brush both sides lightly with oil and grill until soft with good grill marks.
I double up and use two corn tortillas and pile it with steak, squeeze a little bit of lime juice over top and then top that with a few grilled onions, sliced fresh avocado, a leafy cilantro stem or two and a sprinkling of cotija cheese.
So fresh and flavorful and the steak melts in your mouth. I am speechless. I am literally without speech. These carne asada tacos are just so superb!
Feel free to load these up however you see fit. Maybe a little fresh pico, shredded lettuce or some smashed black or pinto bean action. The options are endless.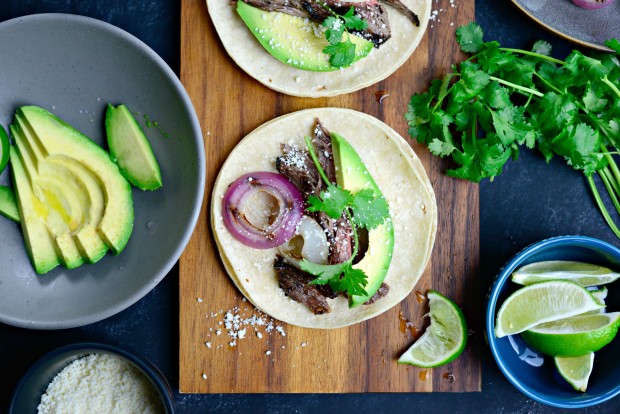 Enjoy! And if you give this Carne Asada Tacos recipe a try, let me know! Snap a photo and tag me on twitter or instagram!
This post may contain affiliate links.
Buy the Cookbook: Simply Scratch : 120 Wholesome Homemade Recipes Made Easy Now available on Amazon »
THANK YOU in advance for your support!