In this lemon basil hummus, fresh lemon juice, basil leaves and an array of spices are blended with garbanzo beans for a silky and tasty hummus.
I almost have as many hummus recipes as I do grilled cheese recipes on this little ol' blog.
What can I say? I'm a fan.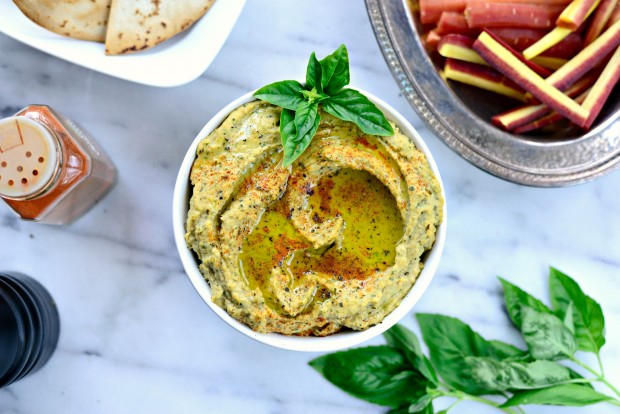 As most of us say goodbye to the warm weather months, we also find ourselves saying goodbyes to our beloved gardens. I know I've already had a heart-to-heart with my cherry tomato plant and this weekend it's my beautiful big basil plants turn to face the music. I plan to use its leaves for pesto (that I'll freeze), make a big batch of basil chips and I'm even going to try drying the leaves and crushing them for soups and sauces. Don't worry- I'll keep you posted.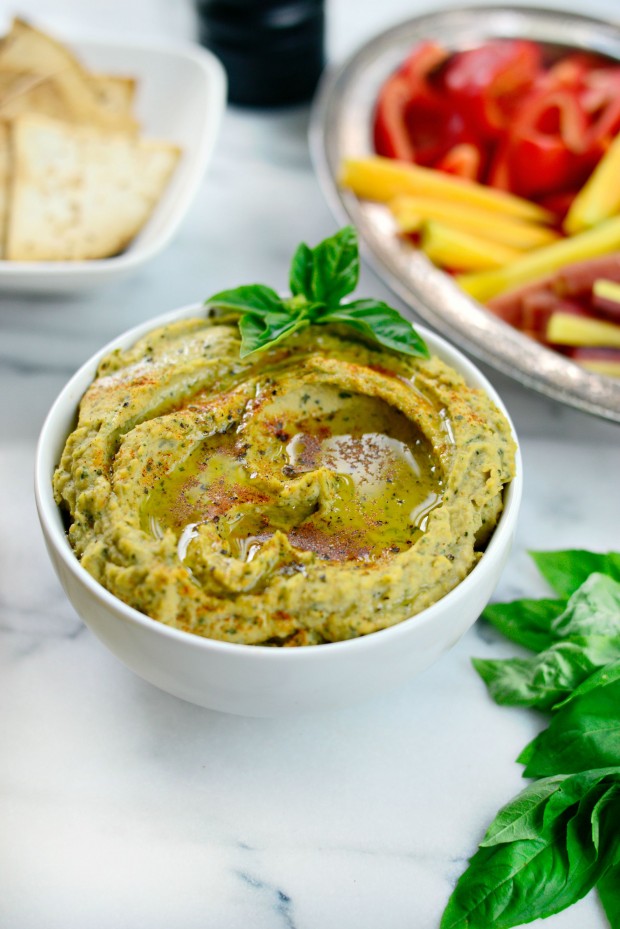 But another GREAT way to use up some of that basil is to stuff it in hummus.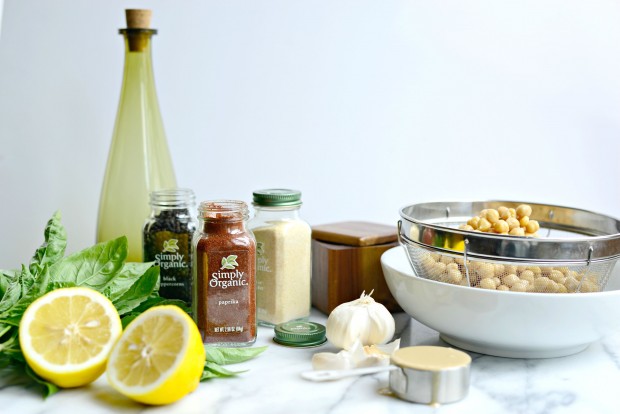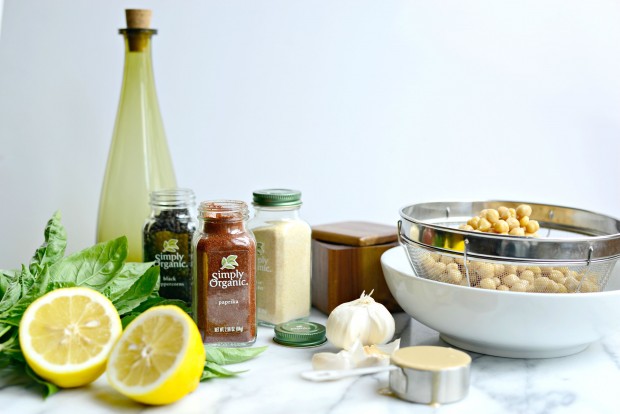 This is a light and bright twist on traditional hummus by using fresh basil, LOTS of lemon juice and spices. There's also the typical hummus-making suspects like chickpeas, tahini and garlic. All these goodies marry well and make for a fantastic hummus for dipping pita chips and veggies or for spreading on sandwiches.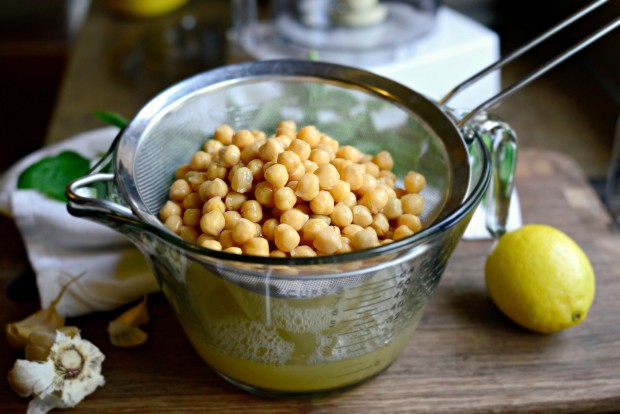 Start by draining two cans of chickpeas (garbanzo beans). I like to use my handy-dandy strainer and set it into a bowl to collect the liquids from the can, you'll want to reserve at least 1/2 to 1 full cup.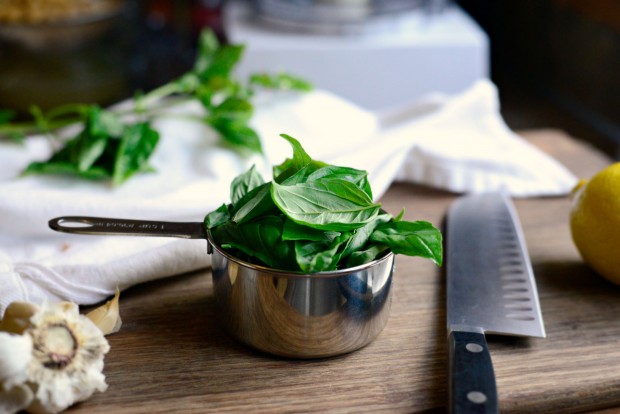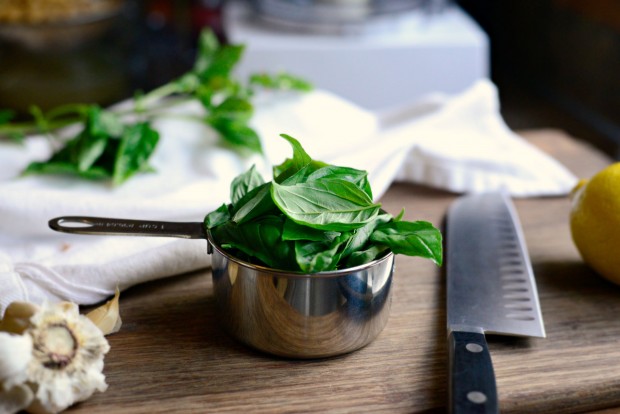 Measure out 1 full cup of fresh basil leaves that have been rinsed and patted dry.
Throw the basil and the peeled clove of garlic into your food processor.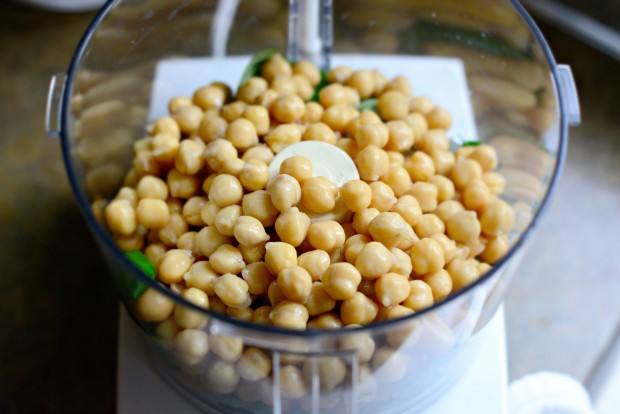 Add in the drained chickpeas…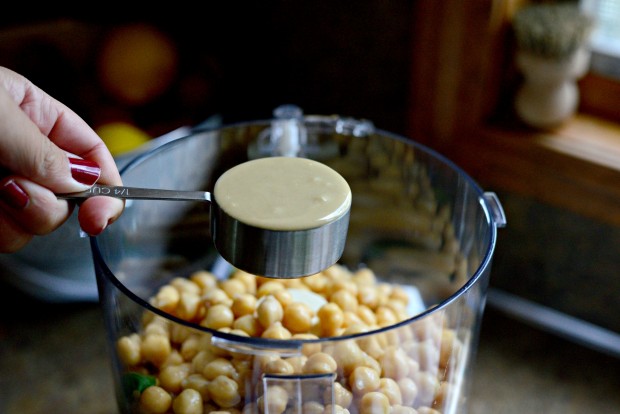 …and 1/4 cup of tahini.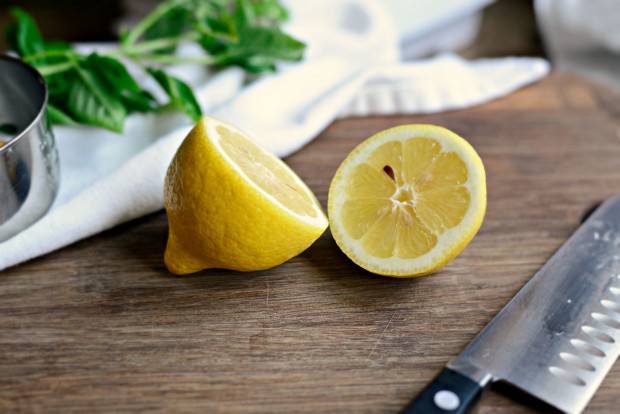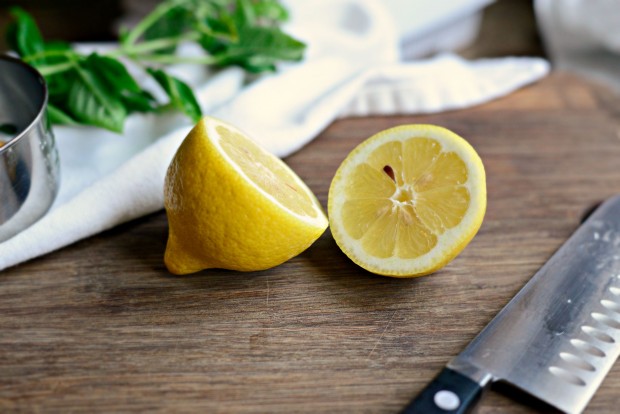 Slice a big, fat, juicy lemon in half. I tend to pick out softer lemons as supposed to hard lemons. I just find them to be juicier.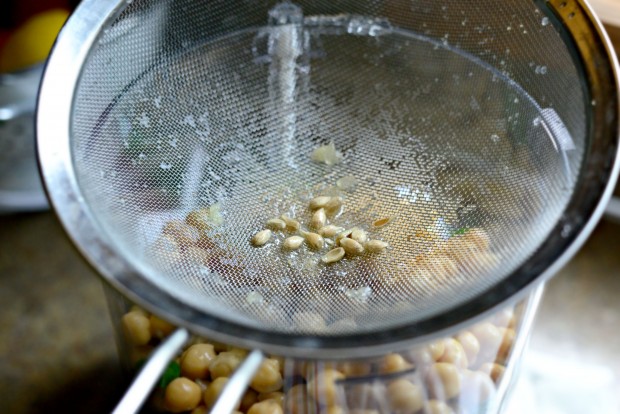 Set the same strainer that you used for the beans over your food processors work bowl and put the squeeze on the large lemon. The strainer will catch the seeds and you can use both hands to get the max out of that lemon.
Add in the sea salt, freshly ground black pepper…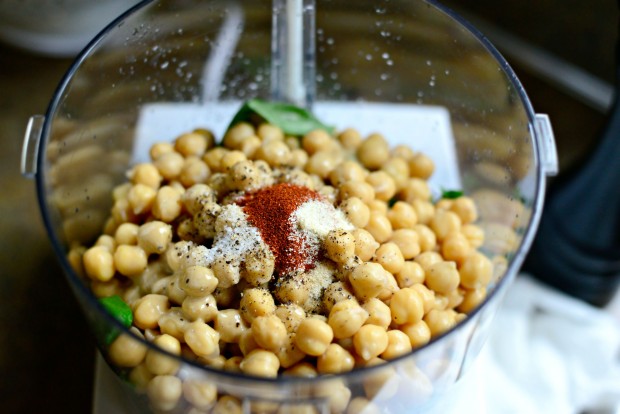 …paprika and onion powder.
Secure the lid and pulse until coarsely chopped.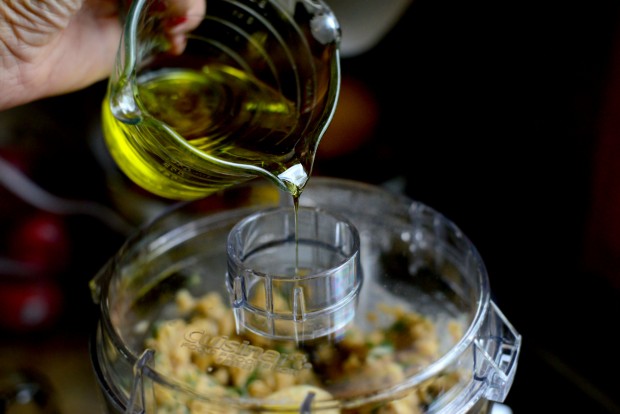 With the food processor running, slowly drizzle in the olive oil.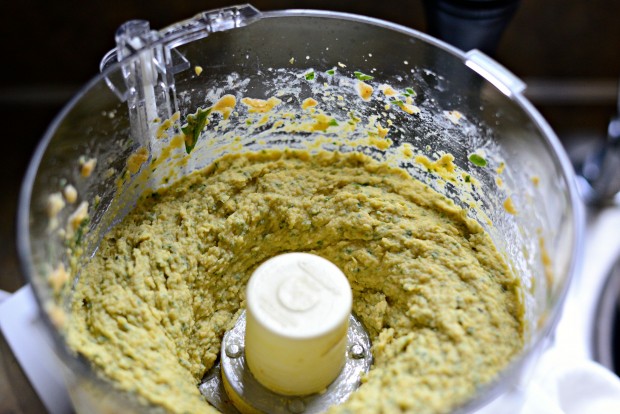 It should be thick and still a bit lumpy. That's totally okay!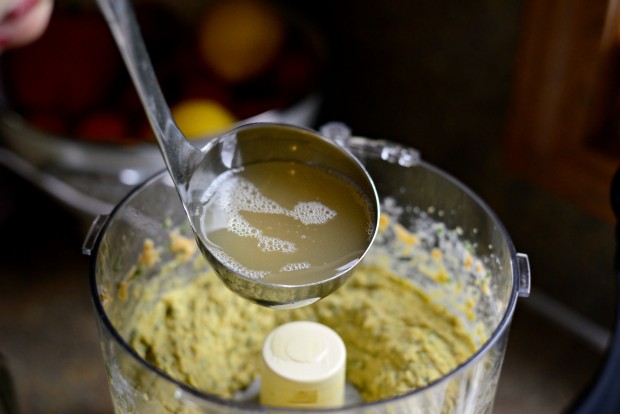 I add a ladle which is about 1/2 cup of the reserved liquids to the hummus and continue to process until smooth. Feel free to add more for a thinner hummus or less for a more rustic, textured hummus.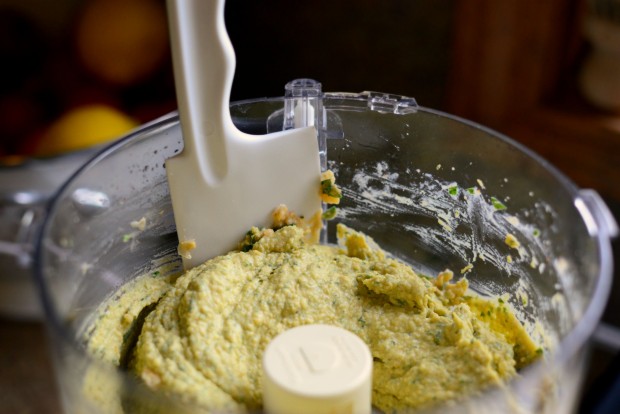 Scrape down the sides of the bowl, pulse a few times to make sure all is smooth and serve.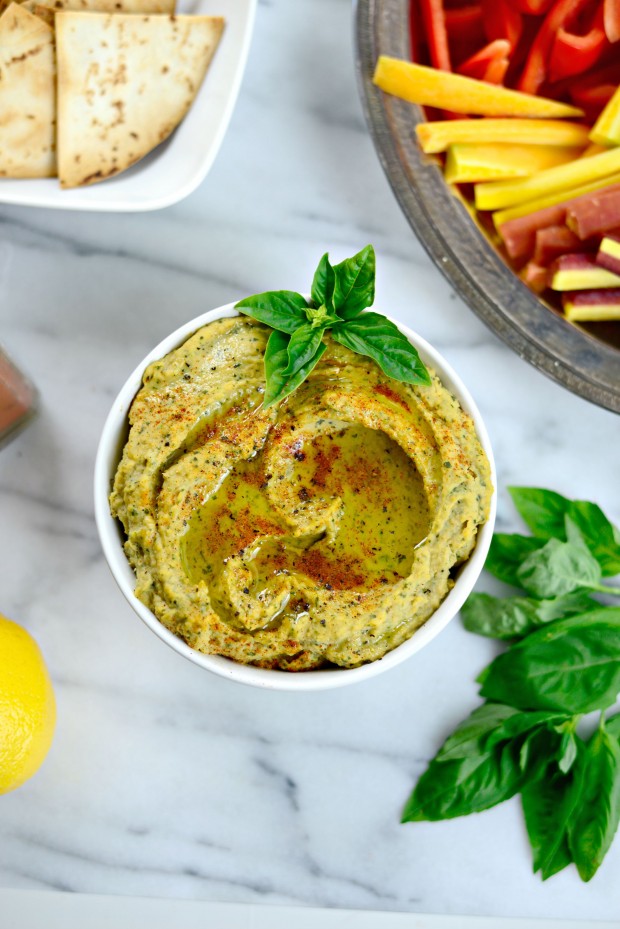 So if you're wondering to yourself if you'll like this hummus, because let's face it, basil in hummus may sound a little strange. Let me tell you a little ditty about my daughter Haileigh, aka: The Hummus Hater. So yeah, my fourteen year old is a lover of salads, fruits and vegetables and has for the most part been a spectacular eater. Except she loathes hummus. It may be a consistency thing, I'm not quite sure. But I still make her try things because that's not only the rule in our house but I know from personal experience (ahem, goat cheese) that sometimes you need to try things more than once to develop a liking for it.
SHE LOVED THIS HUMMUS! I'm not even kidding!! She, and I quote, said "This takes like hummus meets pesto." (the girl likes her pesto) then she followed it up with a "This is really good Mom."
Like I didn't already know, but STILL! I converted yet another hummus hater… one recipe at a time.
Ways To Use Hummus:
You can serve it as a dip with cut veggies or toasted pita or naan shards.
Use it as a base for a 7-layer hummus dip.
As a spread on sandwiches, burgers or in wraps.
Add it to salads or grain bowls when you want a touch of creaminess.
Mix into salad dressings.
Love Hummus? Click Here For More Hummus Recipes!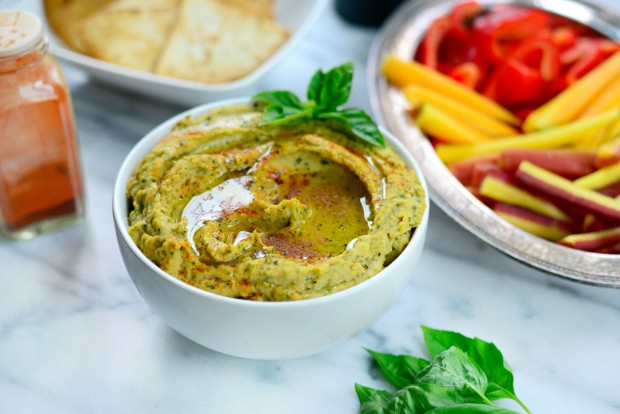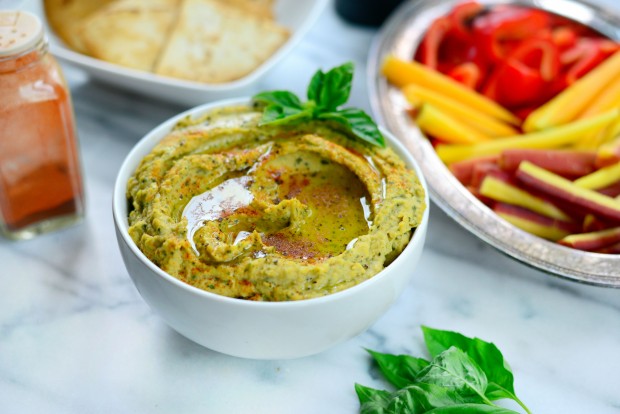 This recipe was developed especially for my friends at Simply Organic. I consistently use there spices in all my cooking and no, they don't pay me to say that. So I can confidently tell you that you will enjoy this hummus! To grab the recipe for this lemon basil hummus and make it this weekend, because I know you want too!
Enjoy! And if you give this lemon basil hummus recipe a try, let me know! Snap a photo and tag me on twitter or instagram!
Yield: 16 servings
Lemon Basil Hummus
In this lemon basil hummus, fresh lemon juice, basil leaves and an array of spices are blended with garbanzo beans for a silky and tasty hummus.
Ingredients
2 (15 ounce) cans chickpeas, drained (reserve the bean liquid)
1 cup fresh basil leaves, stems removed
2 cloves garlic, smashed and peeled
1/4 cup tahini
1½ teaspoons salt
1 teaspoon paprika, plus more for garnish
1/2 teaspoon onion powder
1/4 teaspoon freshly ground black pepper, plus more for garnish
1 lemon, juiced
1/2 cup olive oil, plus more for garnish
Instructions
In your food processor, fitted with the blade attachment, basil, garlic, tahini, salt, paprika, onion powder and black pepper.

Squeeze in the lemon juice and olive oil.

Secure the lid and process until smooth. Add 1/4 cup or more of the bean liquids to reach a desired consistency.

Spoon into a serving dish and make swoops with the back of your spoon. Drizzle with a little olive oil and garnish with extra paprika and black pepper.

Serve with cut veggies and/or toasted pita wedges.
Serving: 2tablespoons, Calories: 85kcal, Carbohydrates: 2g, Protein: 1g, Fat: 9g, Saturated Fat: 1g, Polyunsaturated Fat: 2g, Monounsaturated Fat: 6g, Sodium: 220mg, Potassium: 35mg, Fiber: 1g, Sugar: 1g, Vitamin A: 93IU, Vitamin C: 5mg, Calcium: 11mg, Iron: 1mg
This post may contain affiliate links.
Buy the Cookbook: Simply Scratch : 120 Wholesome Homemade Recipes Made Easy Now available on Amazon »
THANK YOU in advance for your support!