Grab a cup of coffee and sit down with a piece of this Blueberry Crumb Cake! Studded generously with plump blueberries and topped with a simple crumb topping that gives this cake delicious texture!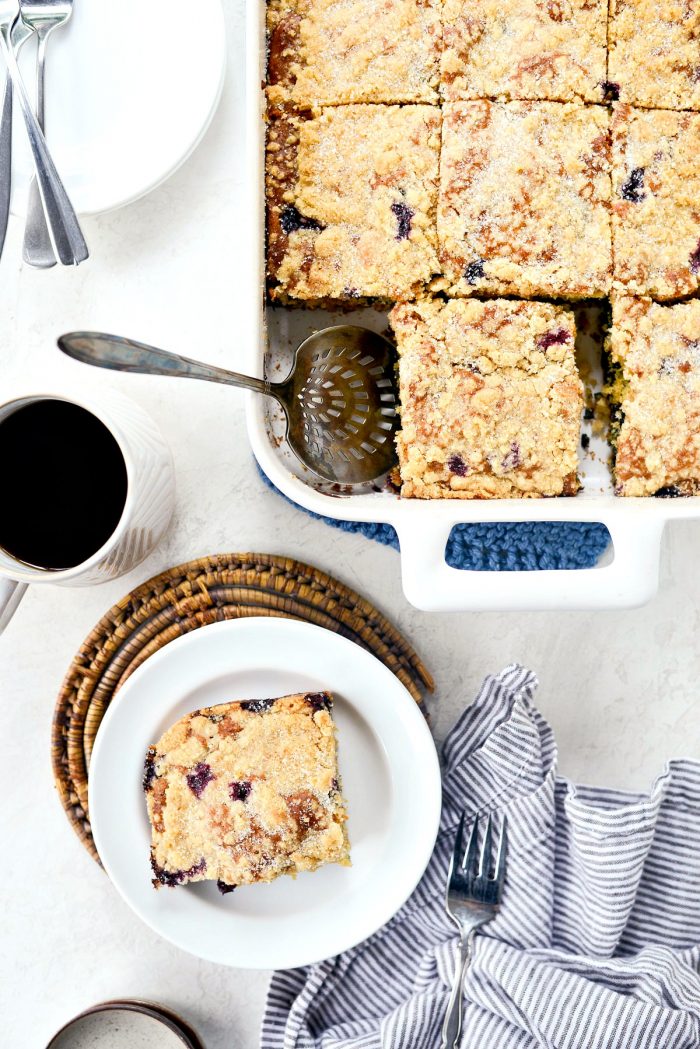 You know how bakery muffins have that crumbly sugar topping? Well, so does this cake. It's like a blueberry muffin in cake form and I'm so in love with it.
A simple cake batter studded with blueberries is topped with a crumbly topping and baked to perfection. Immediately after being baked, I sprinkle the entire cake with sugar for even more crunchy texture and some spark.e
Blueberries in desserts is my favorite. Blueberries in cake with a crunchy crumb topping is my weakness.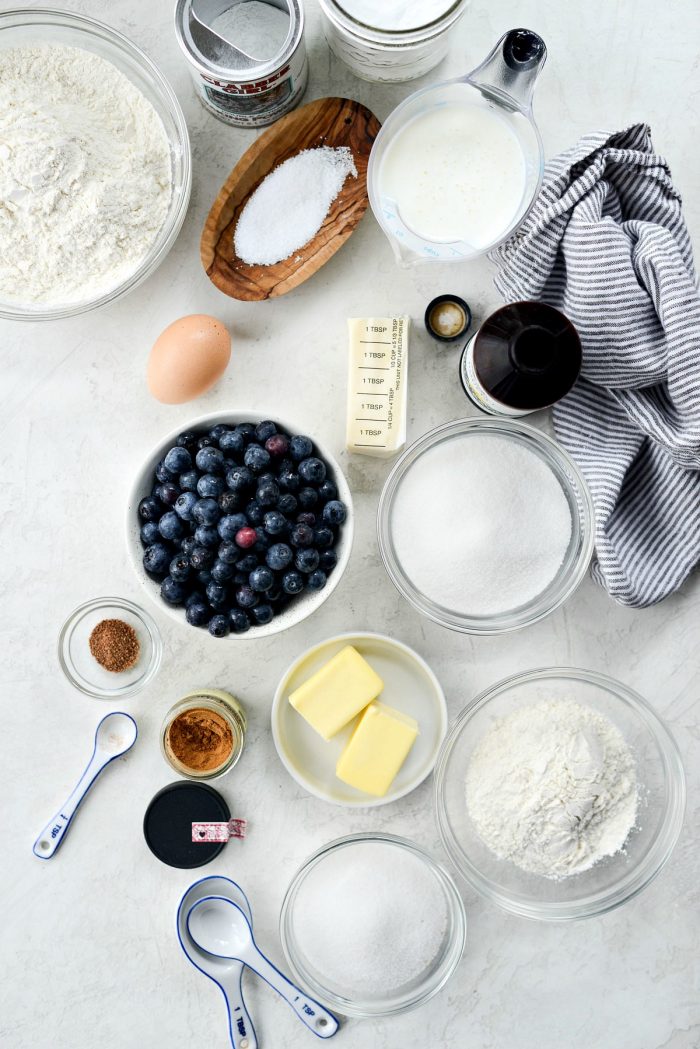 To make this Blueberry Crumb Cake you will need:
2 cups unbleached all-purpose flour
1 teaspoon baking soda
1/2 teaspoon baking powder
a 1/2 teaspoon kosher salt
1/2 teaspoon ground cinnamon
1/4 teaspoon ground nutmeg
5 tablespoons unsalted butter
3/4 cup sugar
1 large egg
1/2 teaspoon vanilla extract
1 cup buttermilk
fresh blueberries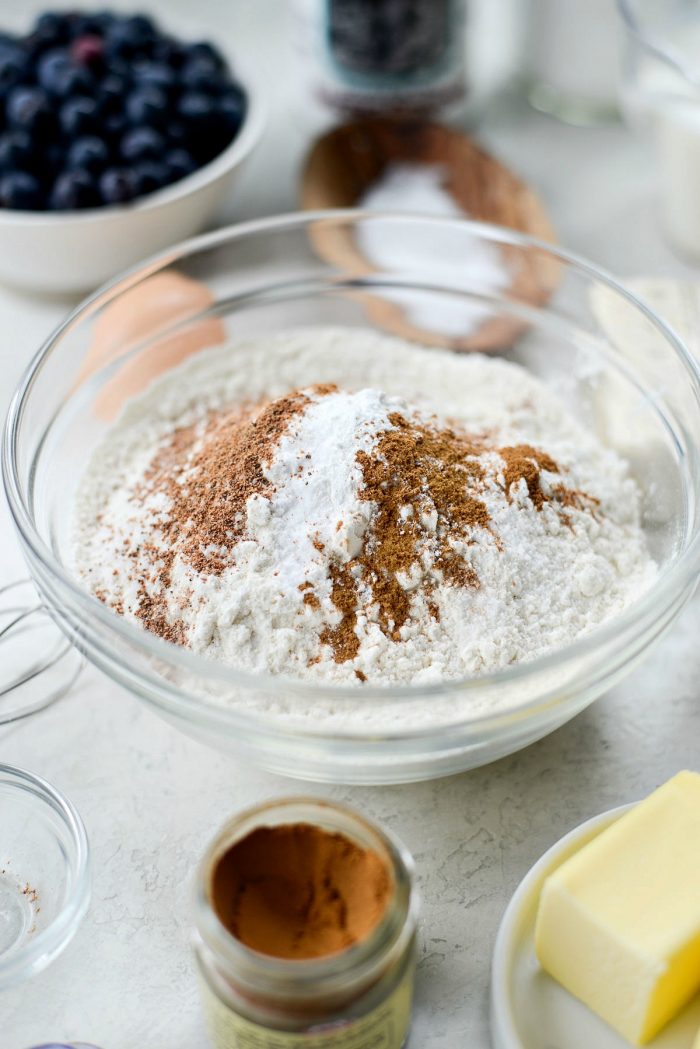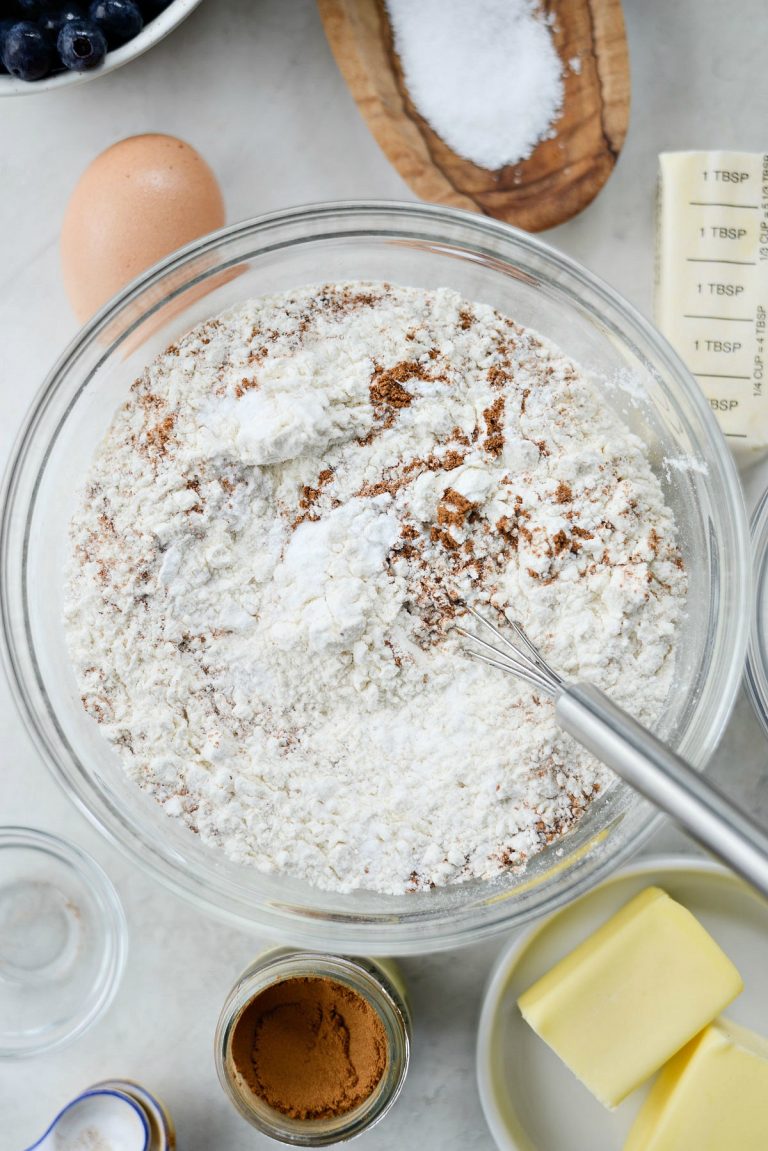 Start by adding the flour, baking soda, baking powder, kosher salt, ground cinnamon and nutmeg into a mixing bowl. Whisk until combined and then set it off to the side.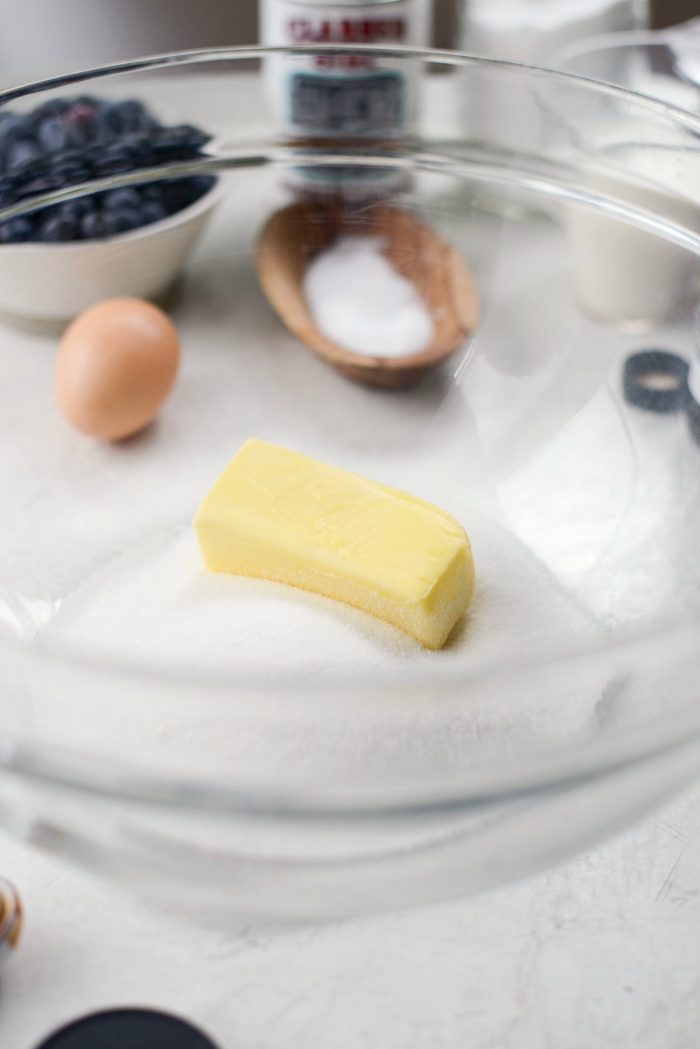 In a larger mixing bowl, add the butter and sugar and using a hand mixer, mix until combined. It should look a little crumbly at first, but that's okay.
Then add in the large egg and vanilla extract and mix until combined.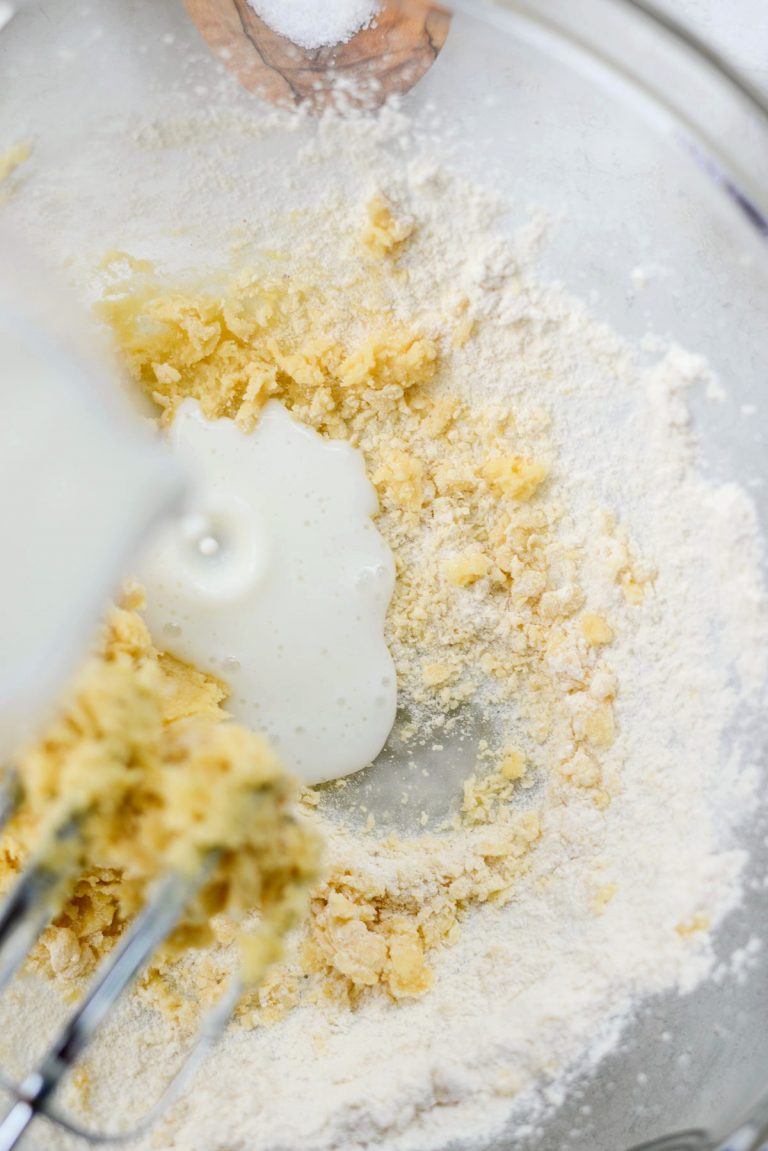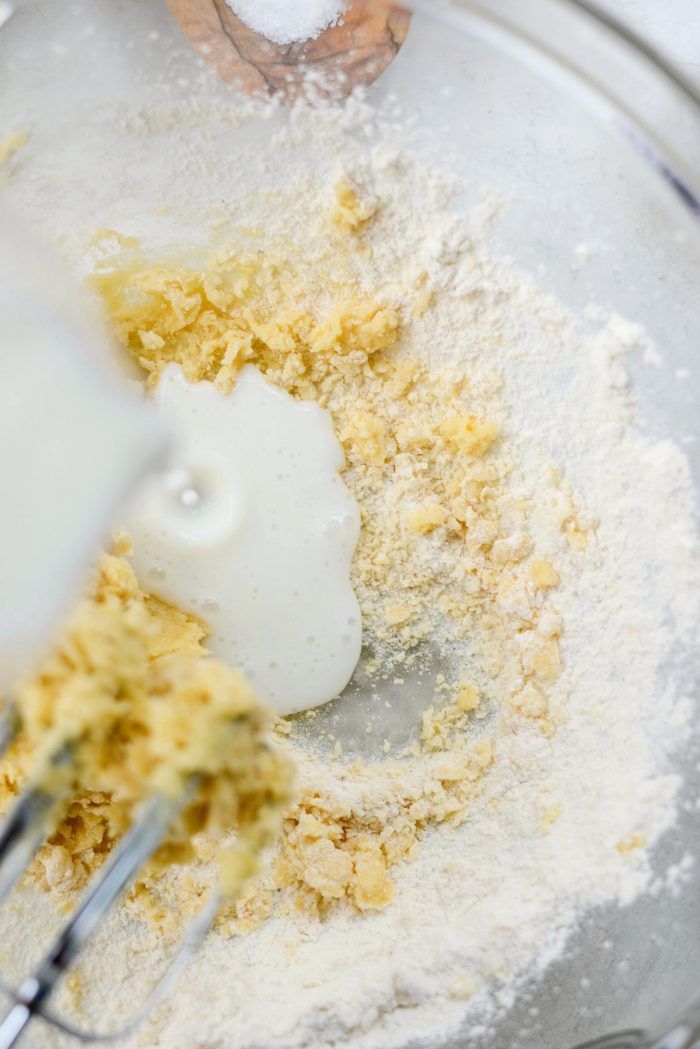 Next add in 1/3 of the flour mixture and mix until just incorporated. Then add in 1/3 of the buttermilk and mix until just combined. Alternate adding these two ingredients until both are incorporated.
Do not over mix.
Cake batter perfection.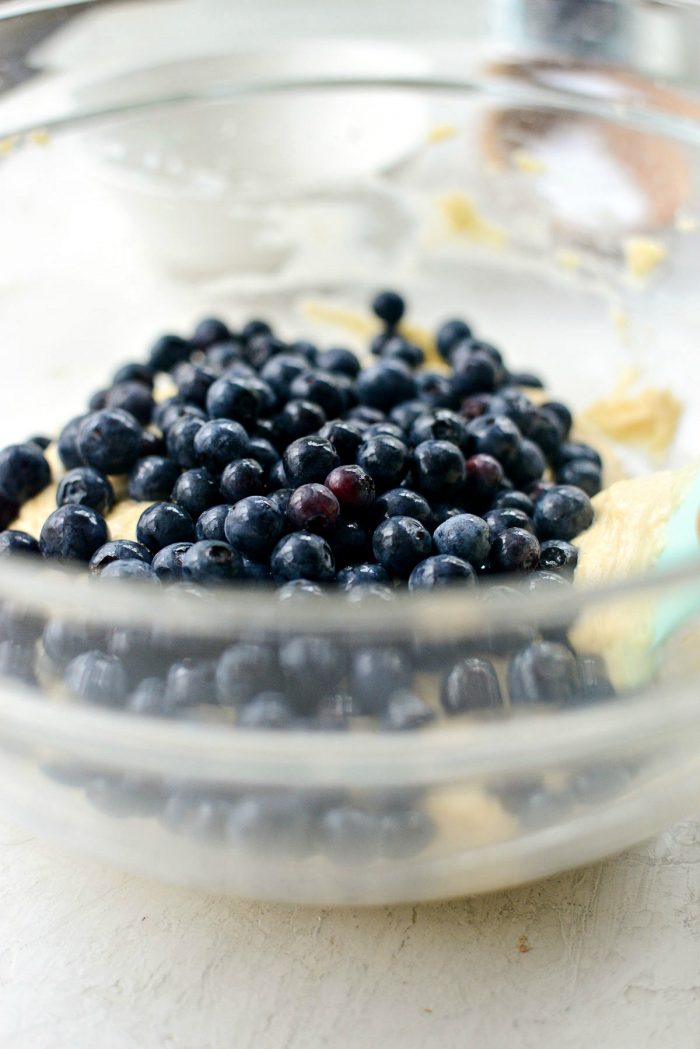 To the batter, add the blueberries, and use a spatula to gently fold them into the batter. You DO NOT want to use your mixer because your blueberries will explode and your cake batter will be a purple-blue color. Stop as soon as all the blueberries are incorporated.
Now, preheat your oven to 350° and grease a 9×13 baking pan.
After that, pour the cake batter into a lightly greased 9×13 baking dish.
Set this aside and let's get started on the crumble topping!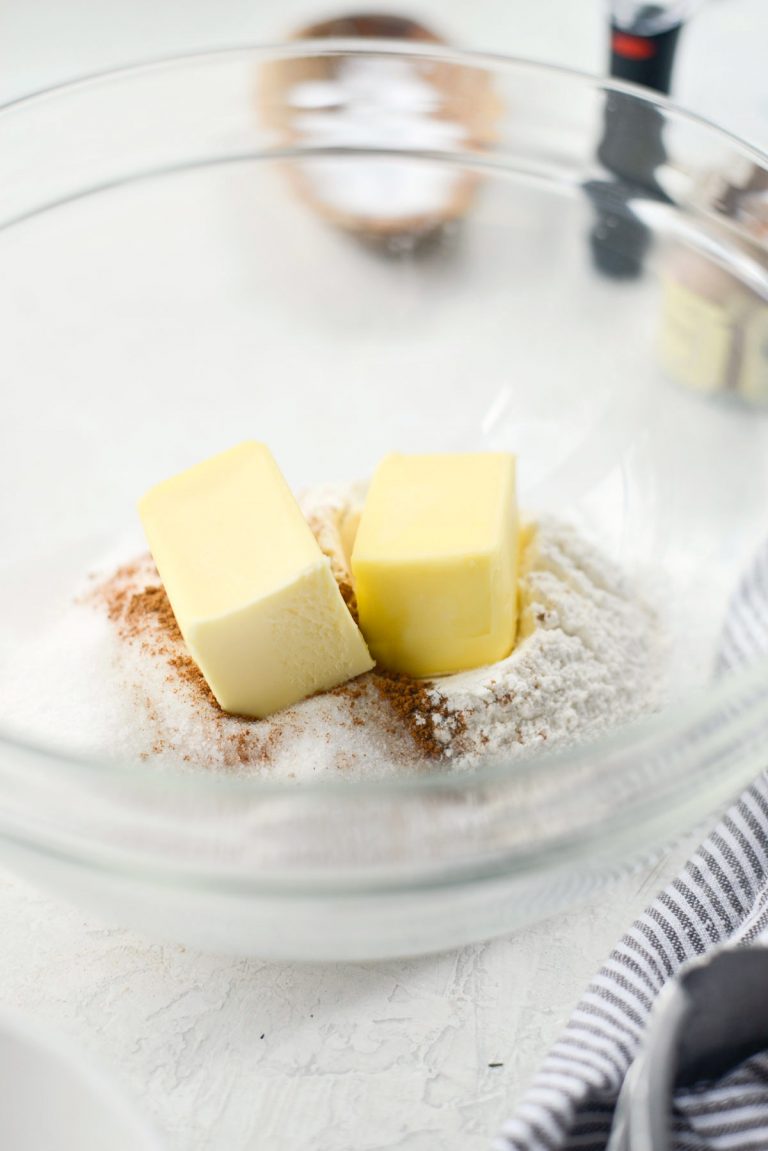 TO make the crumb topping you will need:
6 tablespoons unsalted butter
1/2 cup both sugar and flour
1/4 teaspoon ground cinnamon
pinches of kosher salt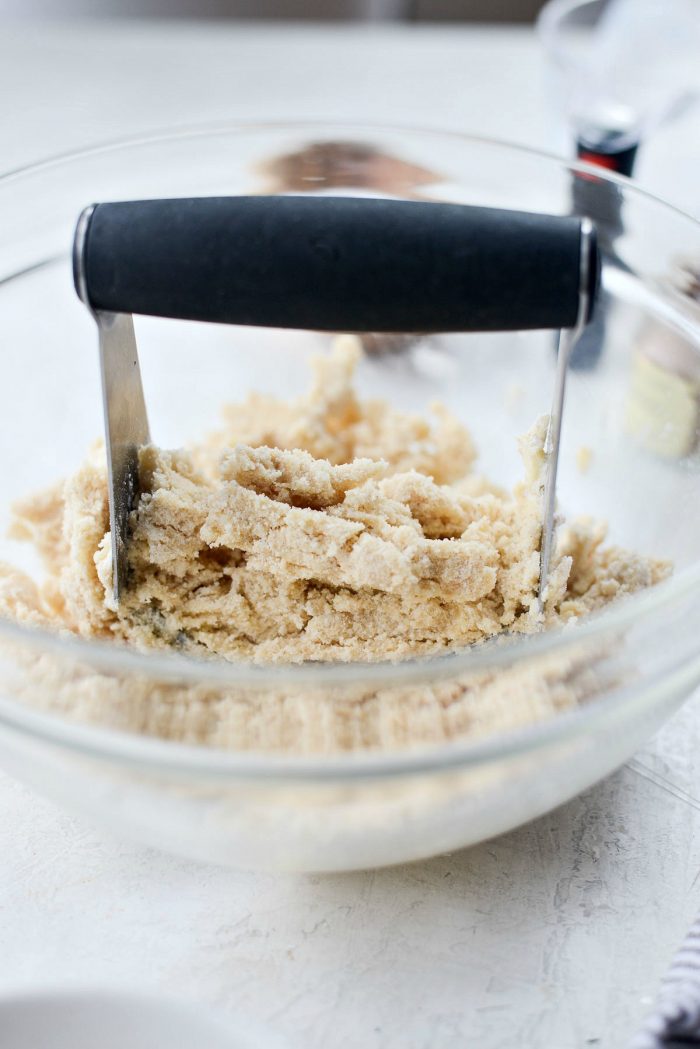 After that, use a pastry blender, to cut the butter into the flour and sugar mixture until blended and resemble a fine crumb.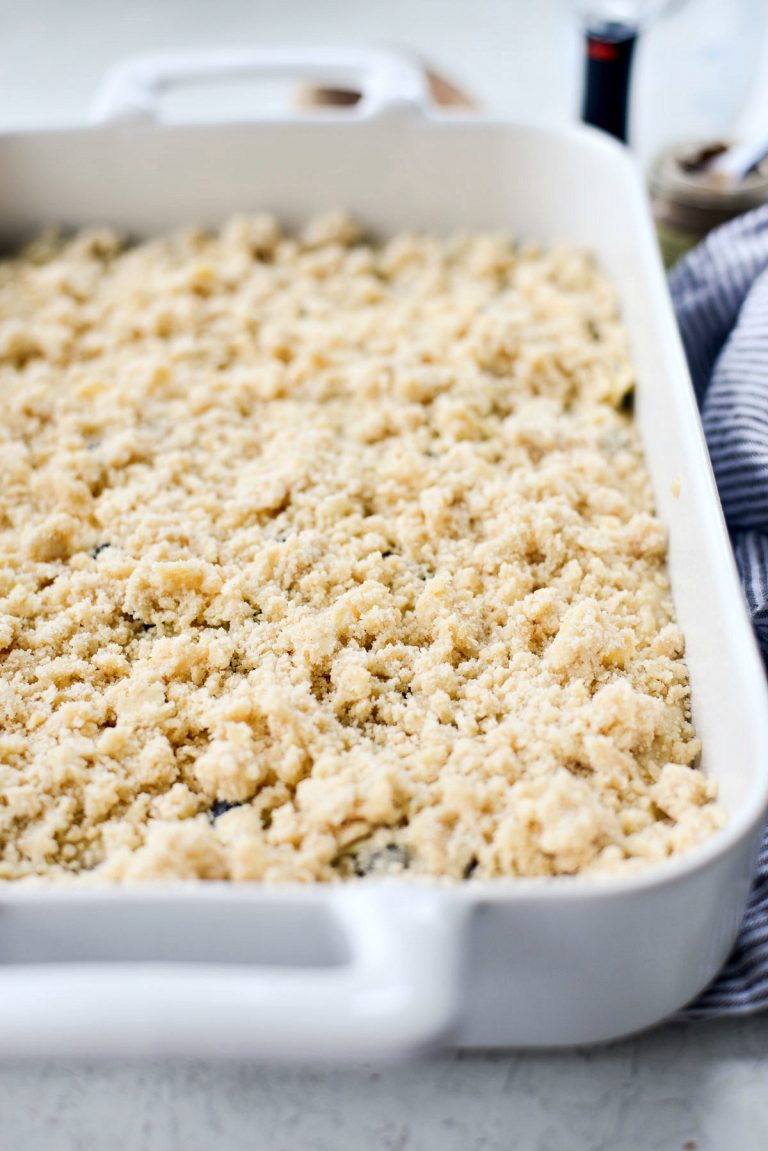 Sprinkle an even layer of the crumb topping over the blueberry cake batter and place the baking dish on the middle rack of your preheated 350° oven. Bake for 40 to 45 minutes.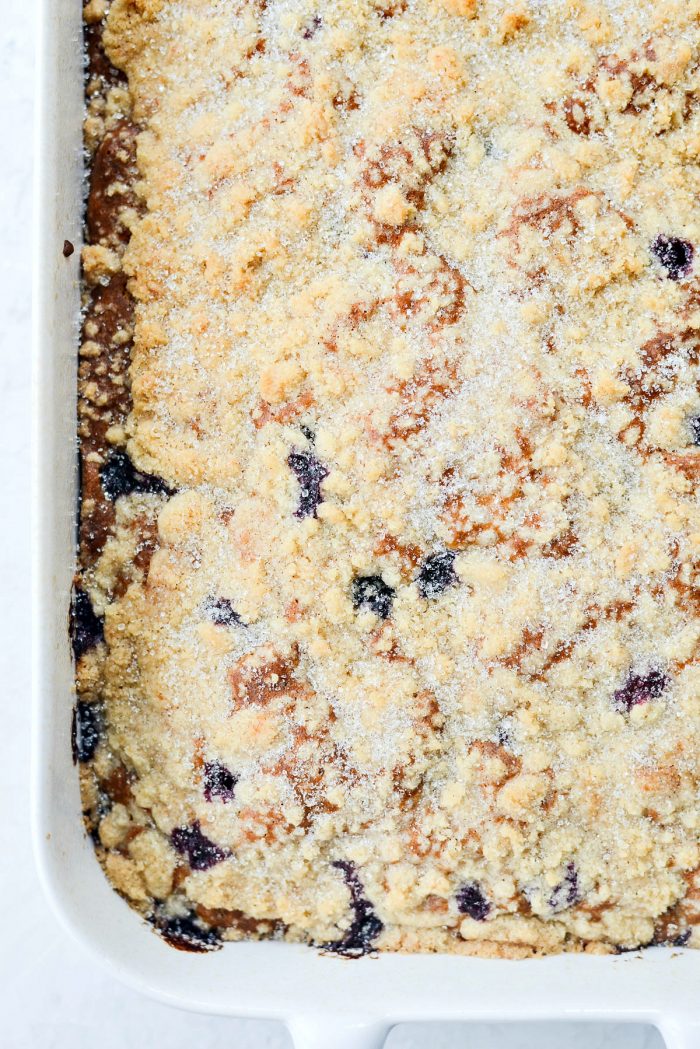 Lastly, pull the blueberry crumb cake out of the oven and immediately sprinkle with 1 tablespoon granulated sugar. The sugar will give the top some extra crunchy texture but it also makes it sparkle.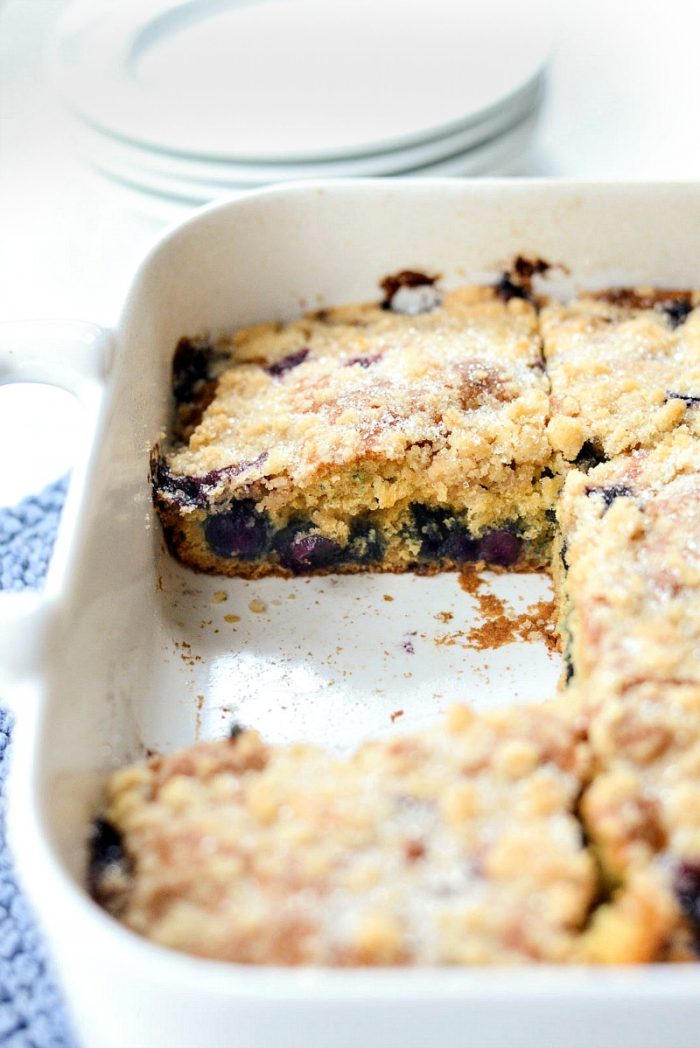 Finally, serve with coffee or tea and maybe a scoop of vanilla ice cream or whipped cream. Because there are no rules here.
It smells like baked blueberry heaven in my house and I can't wait to dive into it and eat my way out. This blueberry crumb cake is moist and bursting with blueberries. However the crumble topping gives the cake some crunch which is a nice contrasting texture.
Got blueberries? Make this crumb cake! I have no doubt that you will love this one as much as we do!
Enjoy! And if you give this Blueberry Crumb Cake recipe a try, let me know! Snap a photo and tag me on twitter or instagram!
This post may contain affiliate links.
Buy the Cookbook: Simply Scratch : 120 Wholesome Homemade Recipes Made Easy Now available on Amazon »
THANK YOU in advance for your support!