To say this is the Best Chicken Caesar Wrap is no mistake. Wrapped together is a healthy blend of baby kale and spinach lightly dressed in Caesar dressing, topped with the most delicious and perfectly cooked chicken and crunchy Parmesan crisps!
You guys, I've made these wraps once a week for the last month.
Not just because they're easy, but because my whole entire family absolutely loves them. They're great on the nights Malloree has volleyball and we get home later in the evening. I've also made these in bulk for lunches in the weeks. I kept everything separate and we just build and wrap throughout the week.
This whole idea came from Malloree. She was with her best friends and they all went to Tropical Smoothie Cafe for lunch. Mal texted me saying "MOM" –they do all caps when it's important — after my "what?" reply, she sent another text "I just had the BEST chicken Caesar wrap!" and then told me how important it was that I make them one day soon. So I did and that's another reason why I put "best" in the title.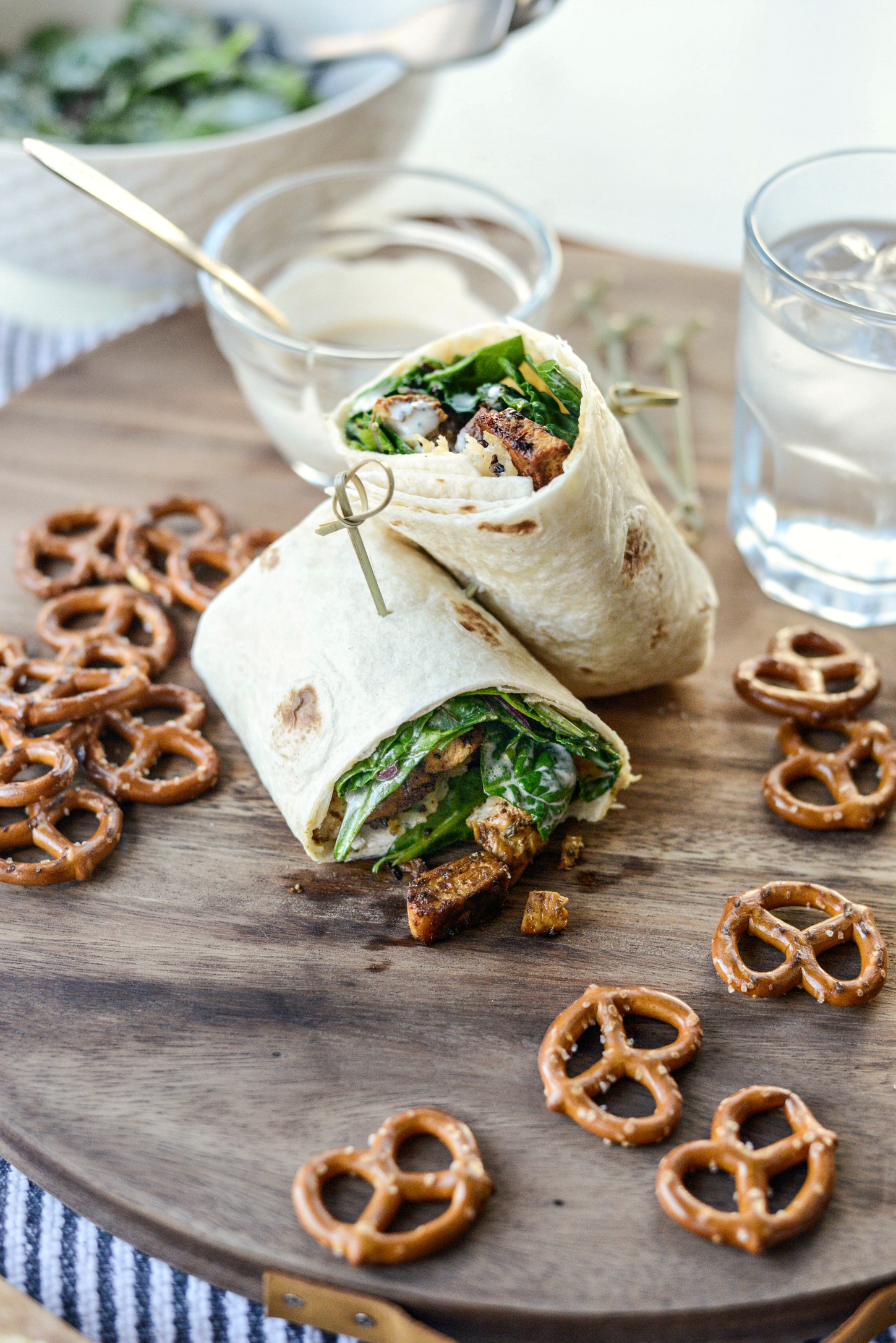 Because Malloree said so.
To Make The Best Chicken Caesar Wraps You Will Need:
a power blend of baby kale and baby spinach (brands I've used in the past have been Earthbound and Simple Truth)
caesar dressing, I have made my own and if in a pinch I'll use the brand Newman's Own
freshly grated Parmesan cheese
chicken breasts halves (thin cut)
lemon juice
olive oil
garlic powder
kosher salt
First up, the Parmesan crisps!
Preheat your oven to 400℉ (or 200℃).
Line a rimmed metal baking sheet with either parchment paper or a silicon baking mat. Then using a tablespoon, measure out 8 mounds of finely grated Parmesan cheese an inch apart.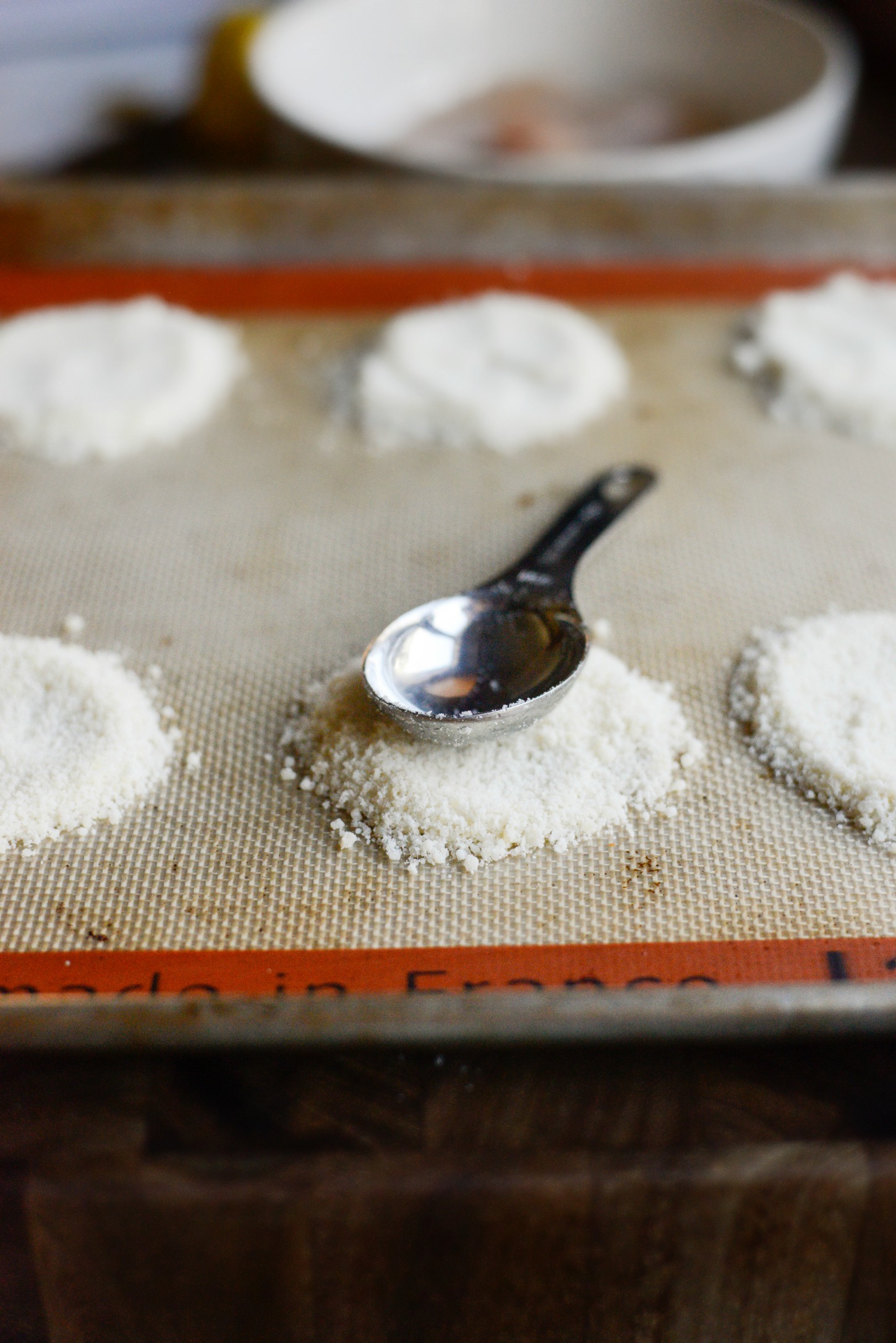 Use the back of the spoon to smooth it out a little.
Bake for 2-1/2 minutes before rotating and baking for another 2 to 2-1/2 minutes. Let them cool completely before using an offset spatula or sharp knife to lift each one off of the pan.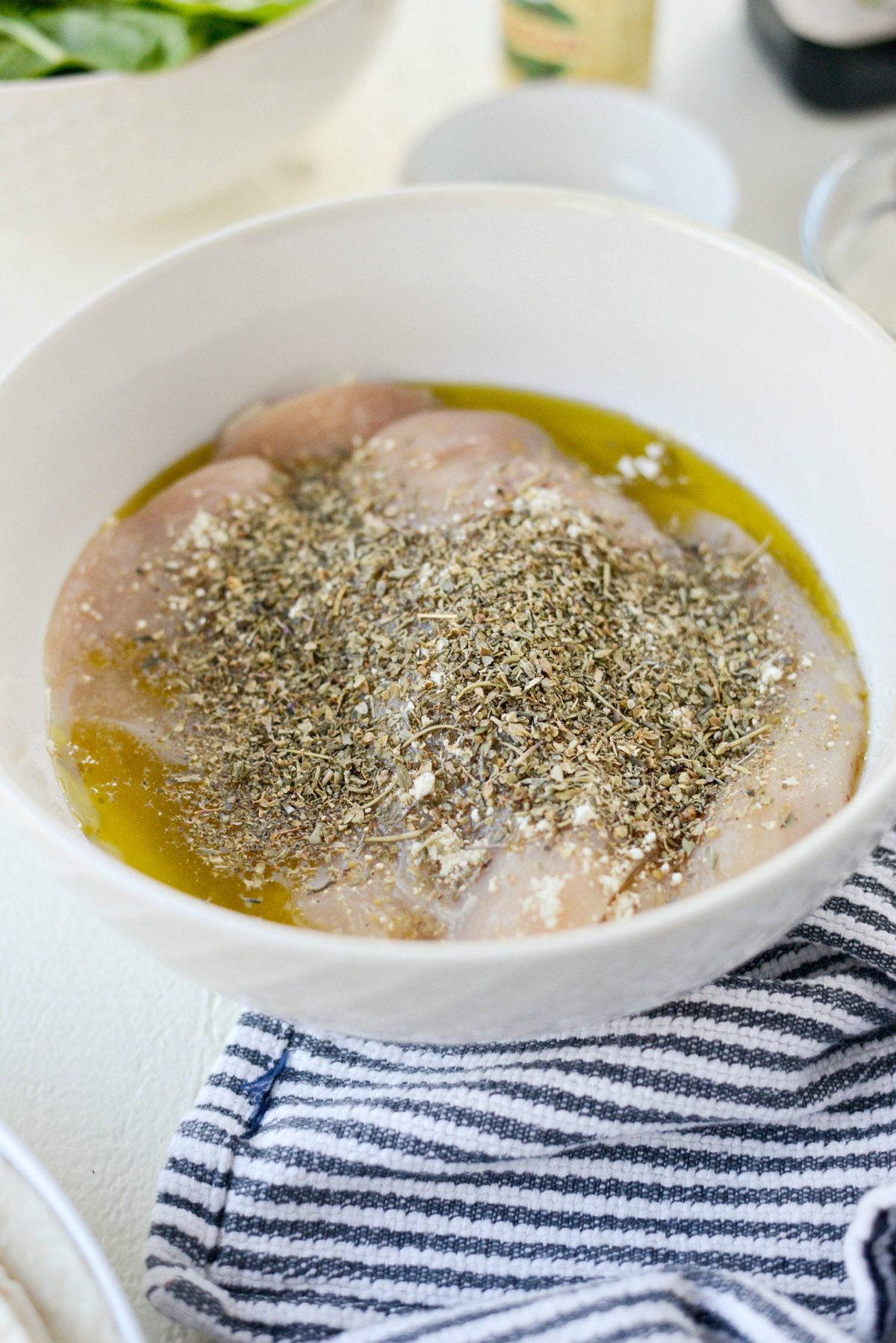 Meanwhile, add the chicken to a bowl and pour in 2 teaspoons of olive oil (I eyeball it), squeeze in 1/2 of a large lemon, measure in 1 tablespoon Italian seasoning and 1/2 teaspoon garlic powder and a pinch of kosher salt.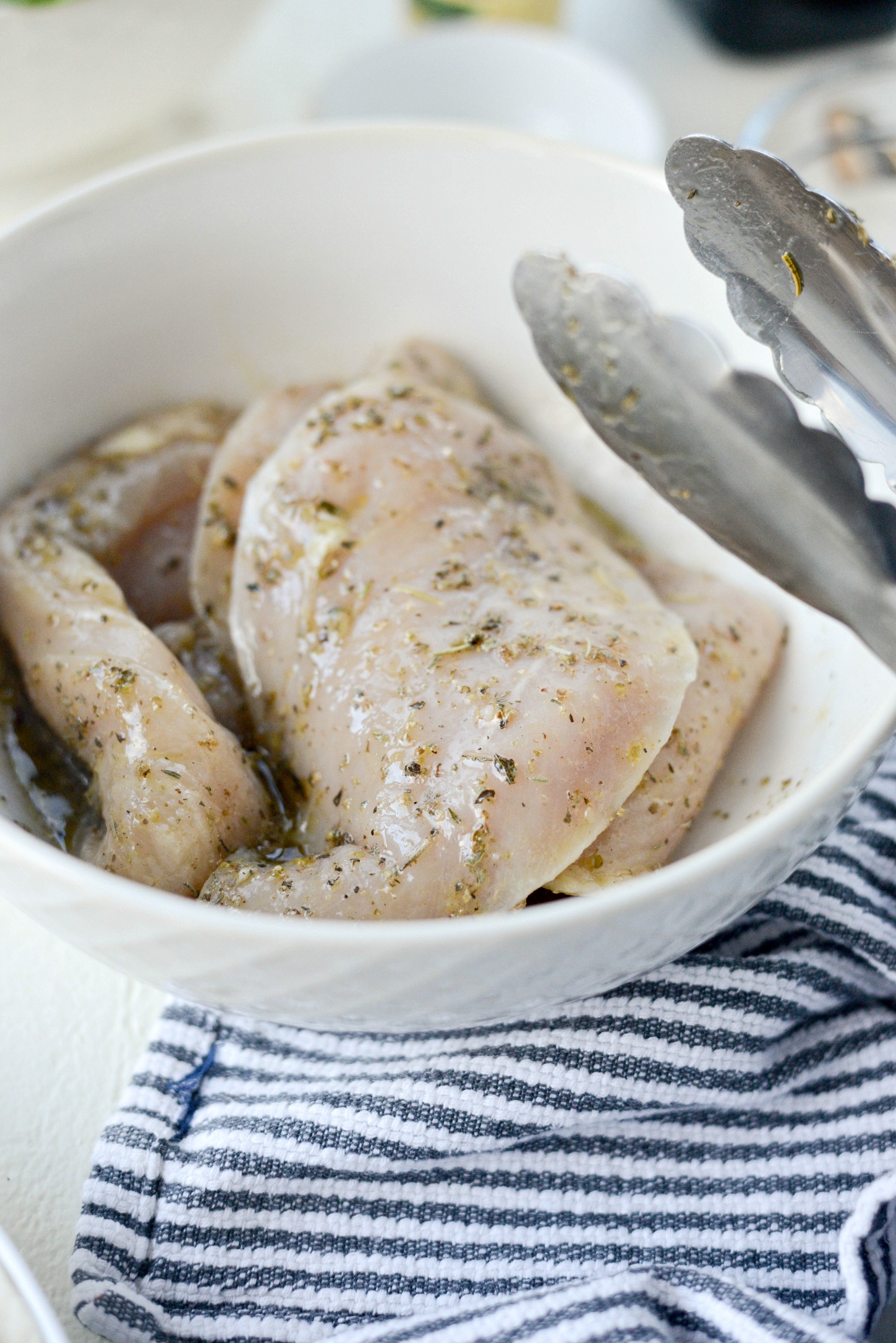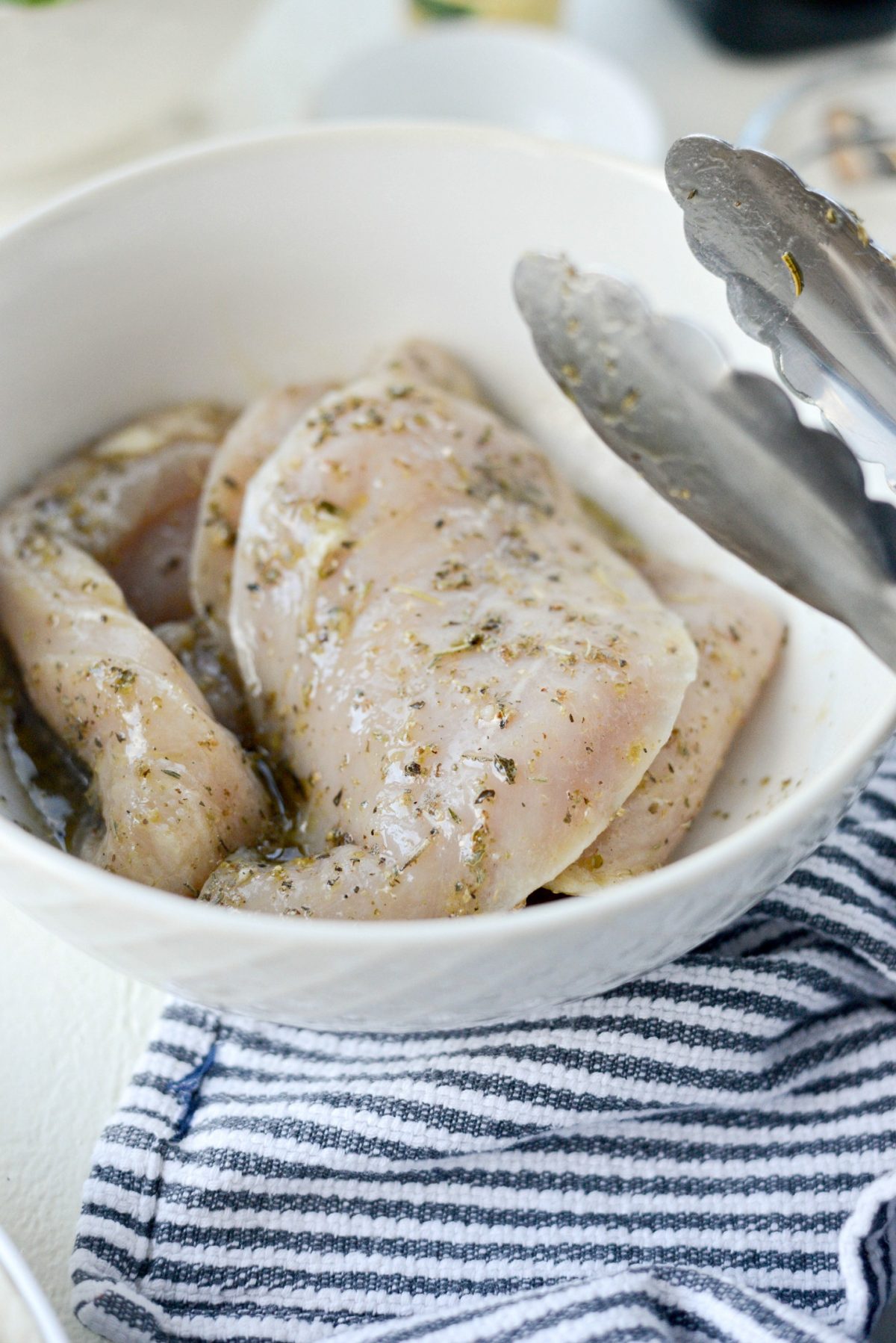 Toss to combine and let the chicken marinate on the counter while a little olive oil preheats in a large 12-inch skillet over medium-high heat.
Work in batches, cooking the chicken breast halves for about 6 minutes per side. Remove and let rest for 4 minutes.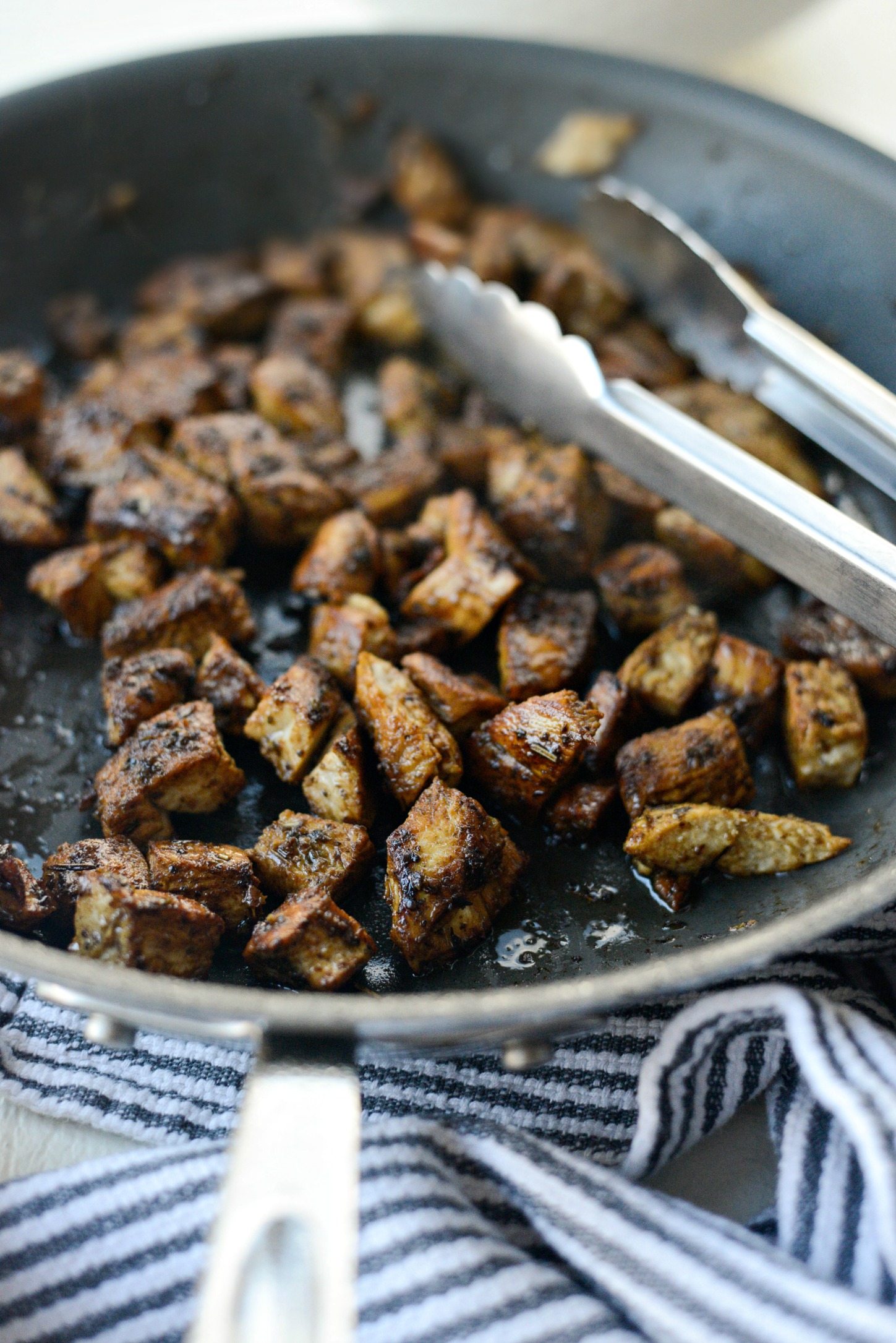 Then slice and dice the chicken into bite-size pieces and add back into the skillet to cook for a few minutes. The chicken will pick up all that delicious flavor on the the bottom of the pan and making them somewhat saucy in a way.
You do not want to skip this step!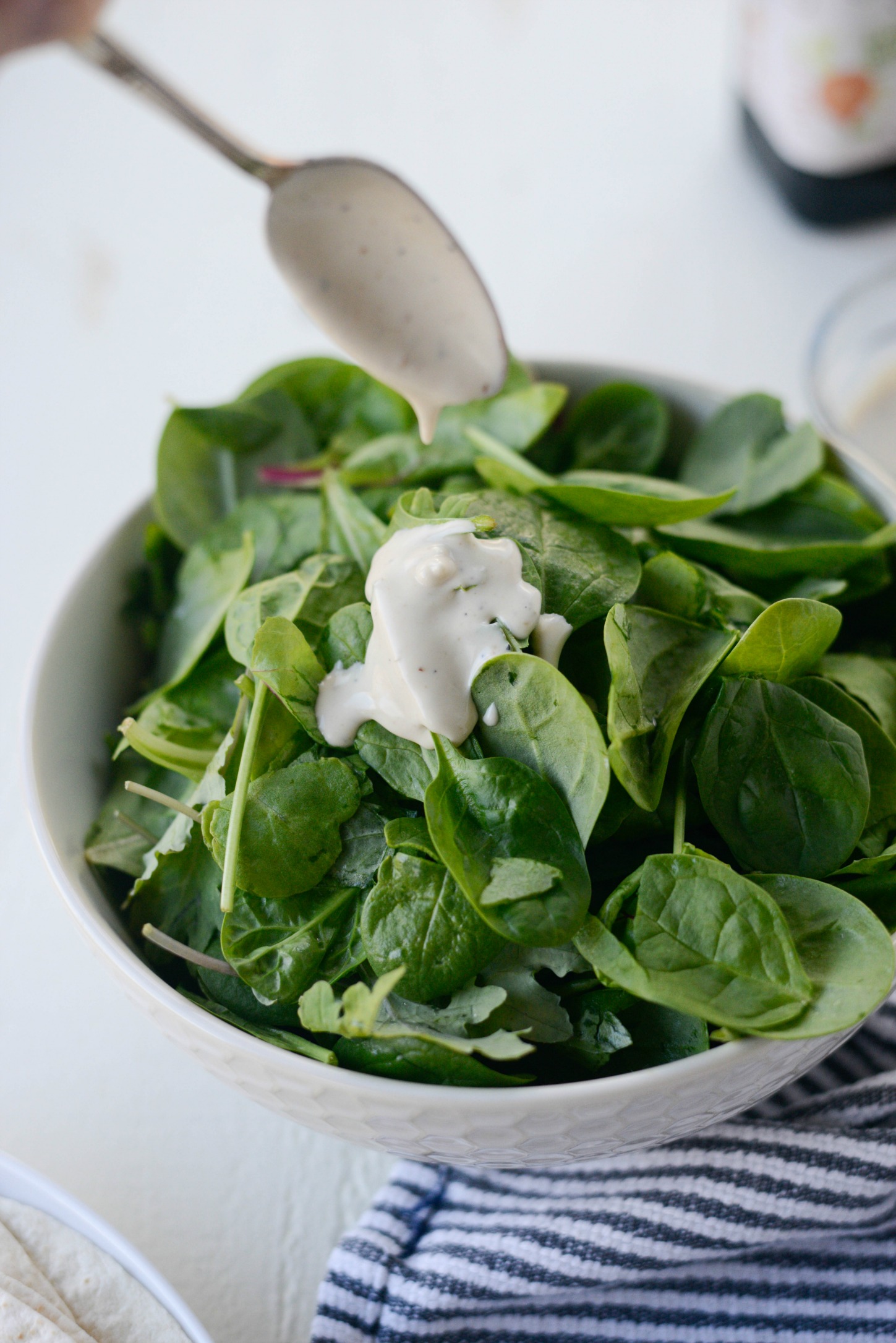 Meanwhile, toss the greens with a tablespoon or so of Caesar dressing.
Use wraps or lavash and on the left side of the wrap, top it with the lightly dressed greens and with some of the chicken.
Drizzle with a little more of the dressing if you prefer it.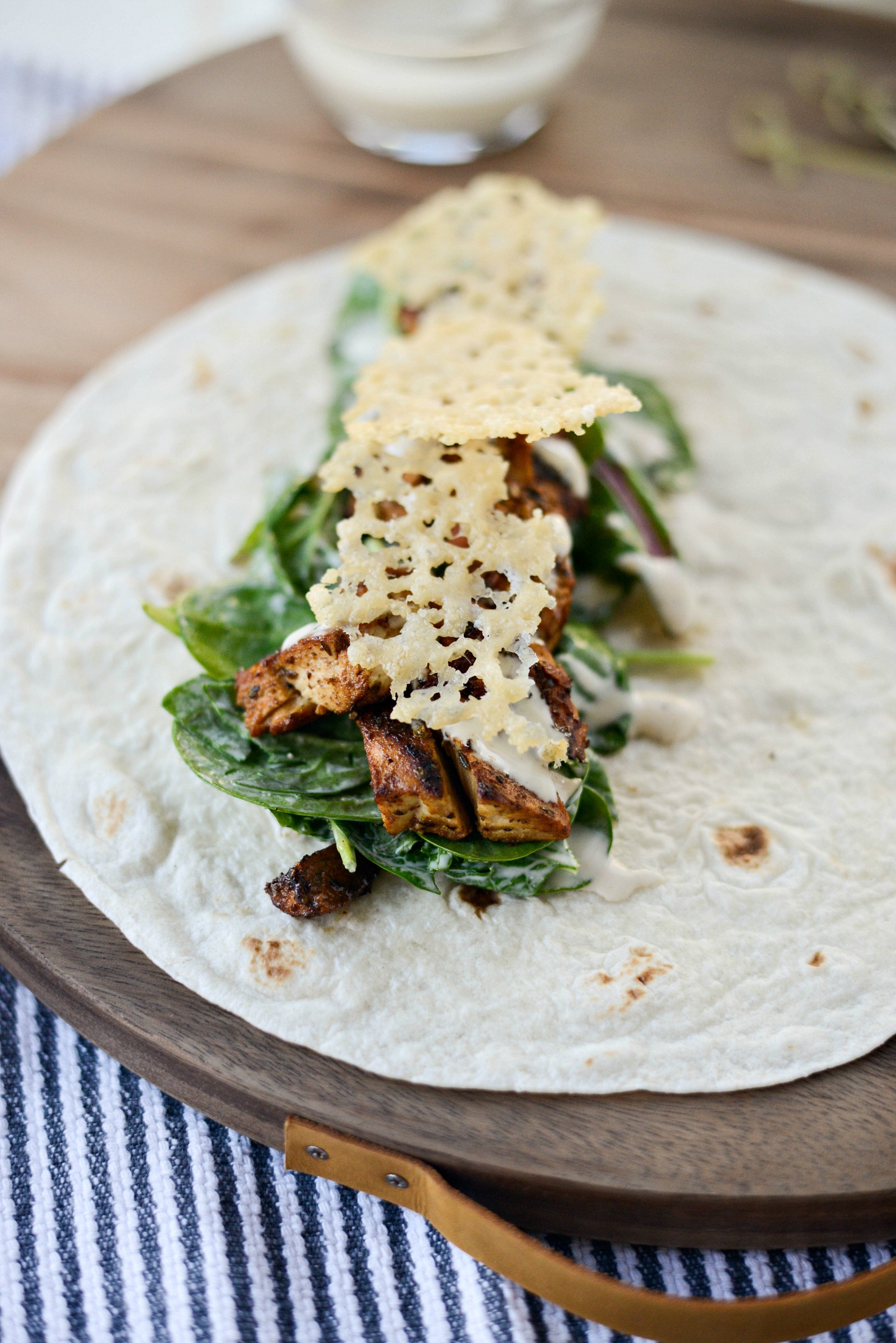 Lastly top with a few of the parmesan crisps. I break them in half to fit better in the wraps but do what works.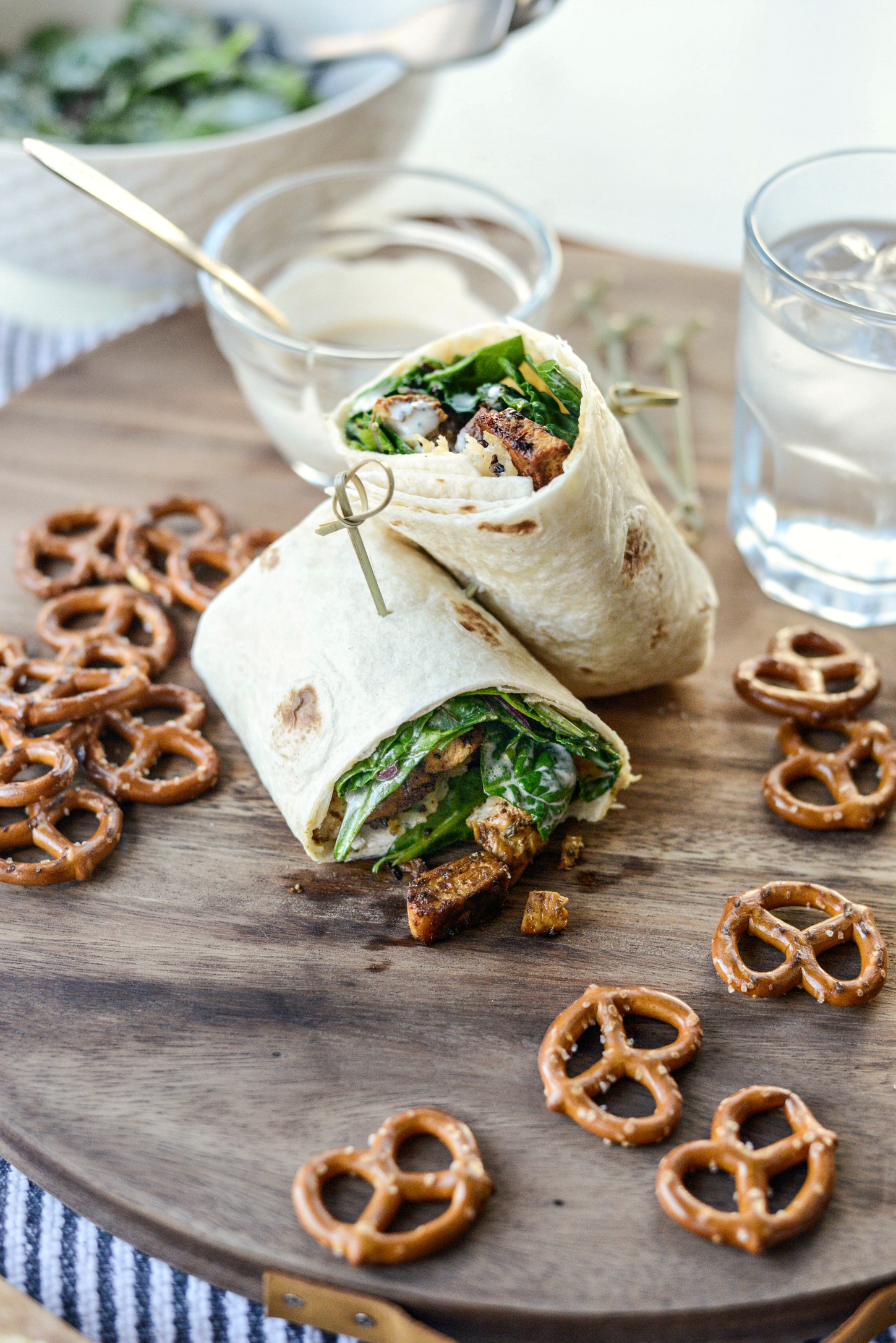 Cut the best chicken caesar wrap in half and get ready to fall in love.
The chicken is beyond amazing, and the crunch from the Parmesan crisps is just what this wrap needs.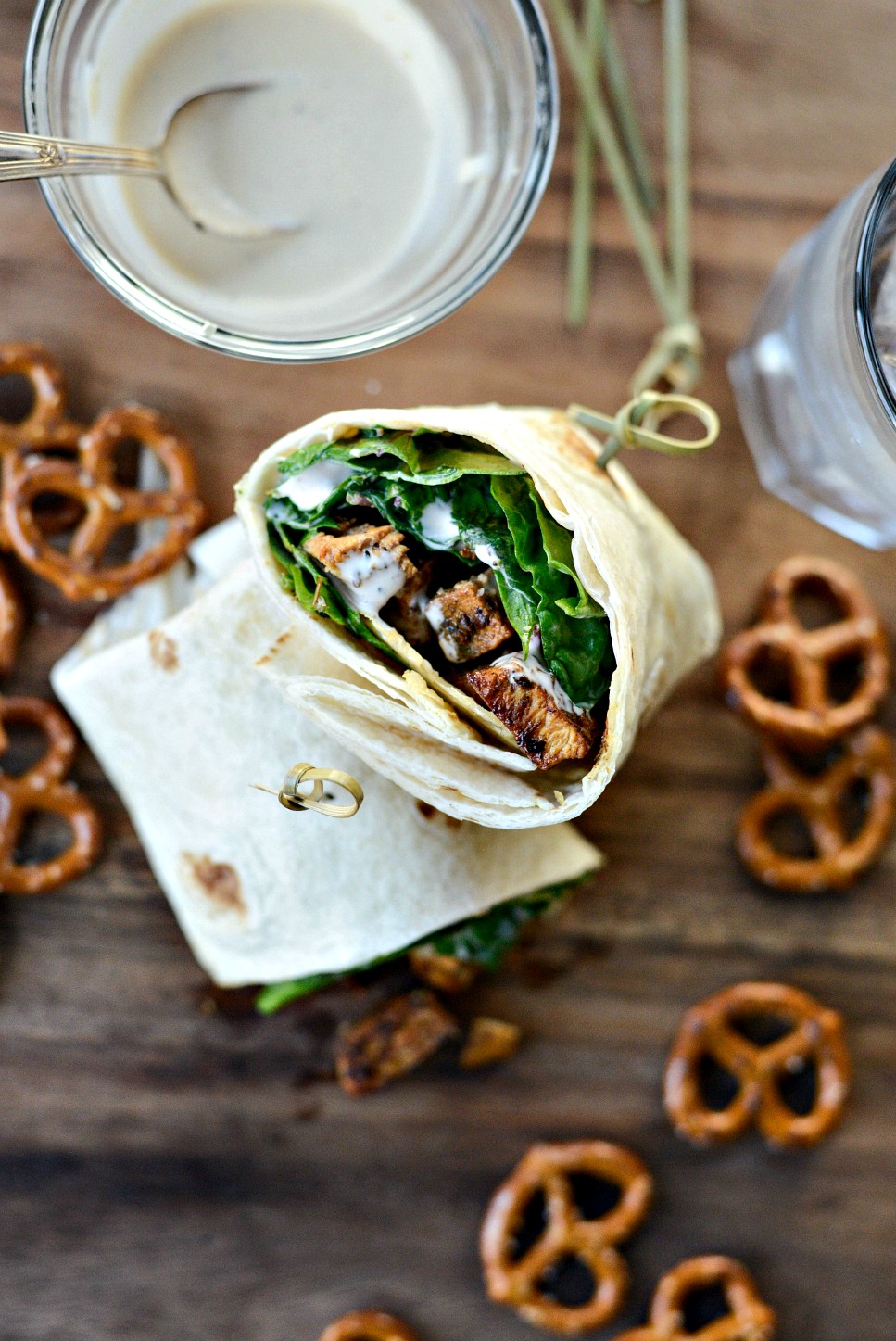 Enjoy! And if you give the Best Chicken Caesar Wrap recipe a try, let me know! Snap a photo and tag me on twitter or instagram!
Yield: 6 wraps
Best Chicken Caesar Wrap
To say this is the best chicken caesar wrap is no mistake. Wrapped together is a power green blend of baby kale and spinach lightly dressed in Caesar dressing, topped with cooked chicken and Parmesan crisps!
Ingredients
1/2 cup finely grated Parmesan
4 boneless skinless chicken breast halves
4 teaspoons olive oil, divided
1/2 large lemon, juiced
1 tablespoon italian seasoning
1/2 teaspoon garlic powder
1 pinch kosher salt
5 ounces power greens blend, baby spinach and baby kale
Caesar dressing, homemade or store-bought
6 large wraps
Instructions
Preheat your oven to 400℉ (or 200℃).

Line a metal rimmed baking sheet with parchment or a silicone liner.

Measure 8 one-tablespoon mounds of Parmesan onto the prepared pan. Use the back of your spoon to slightly spread out the cheese into a 1½ to 2-inch round circles.

Bake for 2½ minutes, rotate pan and bake for an additional 2 to 2½ minutes. Remove and let the Parmesan crisps cool completely.

Toss the chicken with 2 teaspoons olive oil, lemon juice, Italian seasoning, garlic powder and kosher salt. Heat the remaining olive oil in a large 12-inch skillet on medium-high heat. Let the chicken marinate on your counter while the pan preheats.

Once your pan is hot, place the chicken in the skillet (I do two at a time) and cook about 6 mintutes per side. Turn and continue to cook until no longer pink and the chicken is fully cooked. Repeat with remaining chicken.

Allow the chicken to cool for 4 to 5 minutes before dicing into bite-size pieces and returning to the skillet. Shake the pan so the chicken picks up the browned goodness on the bottom of the skillet and cook for 2 to 4 more minutes.

Divide the dressed greens among the wraps and top with chicken, more dressing if desired and parmesan crisps before wrapping tightly.

Alternatively store ingredients (do not toss the greens in the dressing) and build and eat throughout the week.
Serving: 1g, Calories: 288kcal, Carbohydrates: 25g, Protein: 24g, Fat: 10g, Saturated Fat: 3g, Polyunsaturated Fat: 1g, Monounsaturated Fat: 3g, Trans Fat: 1g, Cholesterol: 56mg, Sodium: 514mg, Potassium: 356mg, Fiber: 4g, Sugar: 2g, Vitamin A: 379IU, Vitamin C: 11mg, Calcium: 197mg, Iron: 2mg
This post may contain affiliate links.
Buy the Cookbook: Simply Scratch : 120 Wholesome Homemade Recipes Made Easy Now available on Amazon »
THANK YOU in advance for your support!