A simple Bagel and Lox Brunch Spread is easy to pull together. In this post I share how to build the ultimate, bright and colorful spread with different bagels, lox (or smoked salmon) fresh and pickled condiments and different cream cheeses. Serves 8.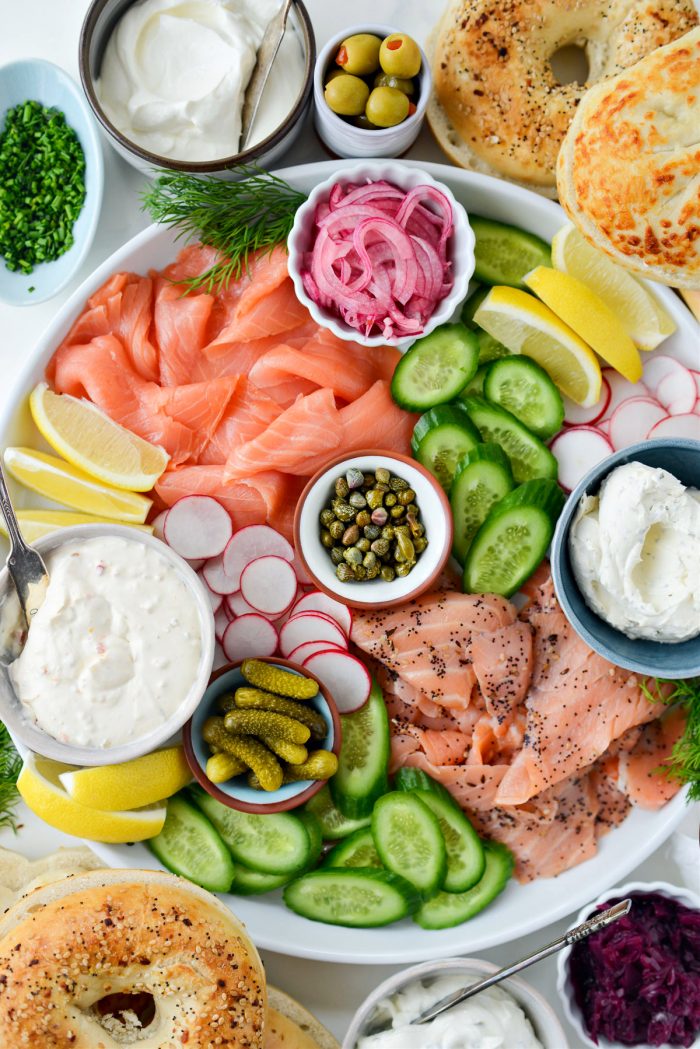 I had an epic bagel and lox brunch spread in Utah a few years back.
Actually it was 2016 when I flew out to Park City, Utah and met up with several other food blogger for a retreat. We ate. Sipped wine. Talked and learned a lot. One of the mornings, a gorgeous brunch spread was served. All types of muffins, pastries, beet hummus avocado toasts along with the most epic bagel and lox spread you ever did see.
Which is exactly what inspired this post today.
FOR THE BAGELS:
I like to have a variety of different bagels. Everything bagels are a must in my opinion but I also like asiago cheese, plain, onion, salt or jalapeño cheddar – get a few of each or one of everything.
For the fresh ingredients:
Really it get what you like. Personally I like sliced radish, cucumber, tomatoes (which I totally for got to use when making this one today), lemon wedges, fresh dill and chives.
What is Lox?
Traditional lox, also known as "belly lox", is salmon cured in salt. This was a common method used before refrigeration. Traditional lox is extremely salty – which from what I've read, is why it's paired with cream cheese and bread – as a way to tone it down I suppose.
Nova lox which is what I primarily find in grocery stores is cold smoked salmon. Nova specifies the geographical location where the salmon was caught – Nova Scotia. And it also signifies that the salmon was first cured and then lightly smoked. It's most likely what are having when enjoying with our bagels and cream cheese.
Gravalax is salmon that is cured in sugar and salt and not smoked at all.
Kippered salmon is hot smoked salmon.
Until I've learned how to make my own, I purchase a local brand I enjoy immensely. You want about 2 ounces of lox per person.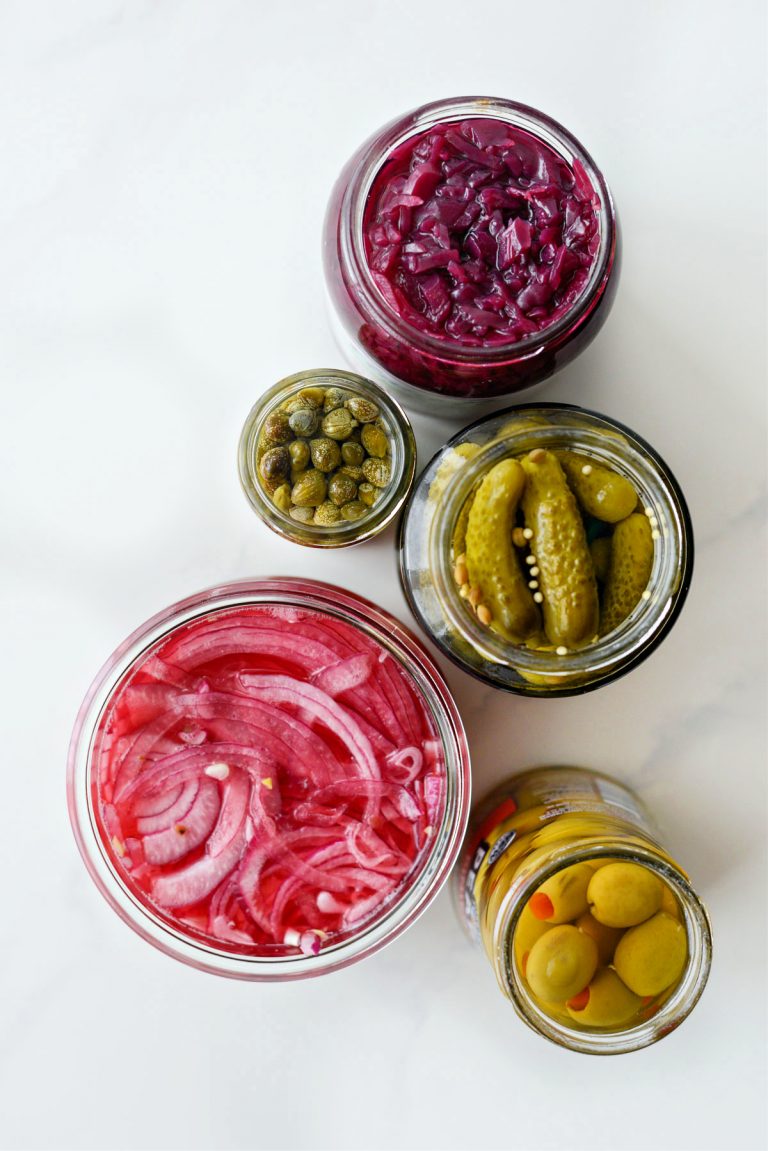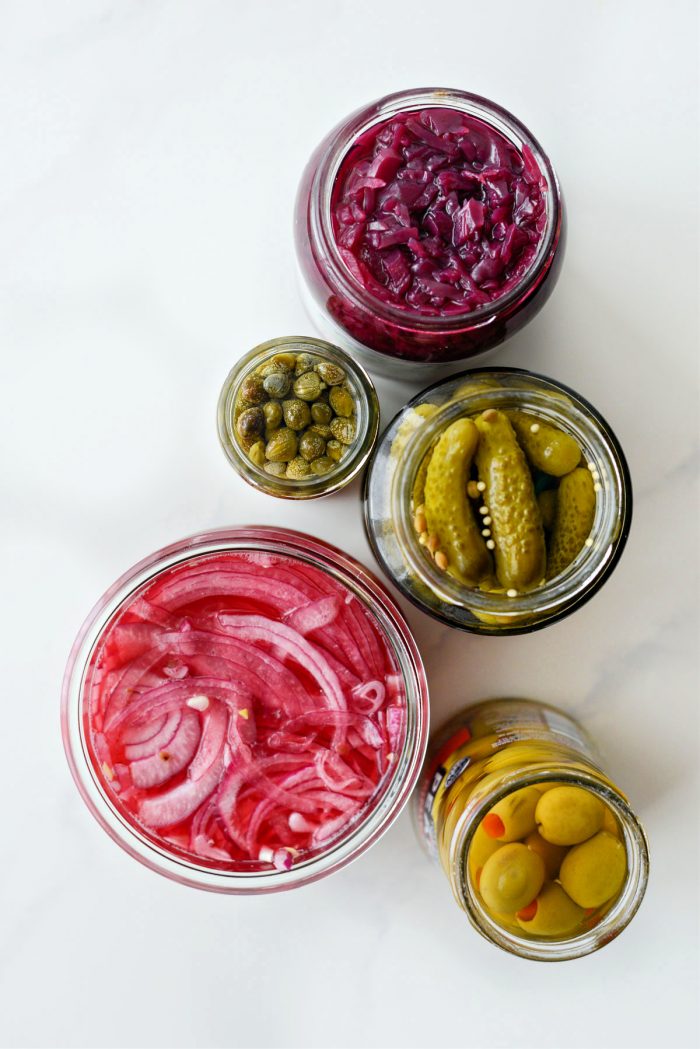 Pickled condiments:
Anything pickled usually works in a bagel and lox spread. My go-to's are pickled red onion, olives, cornichons, capers and sweet and sour red cabbage.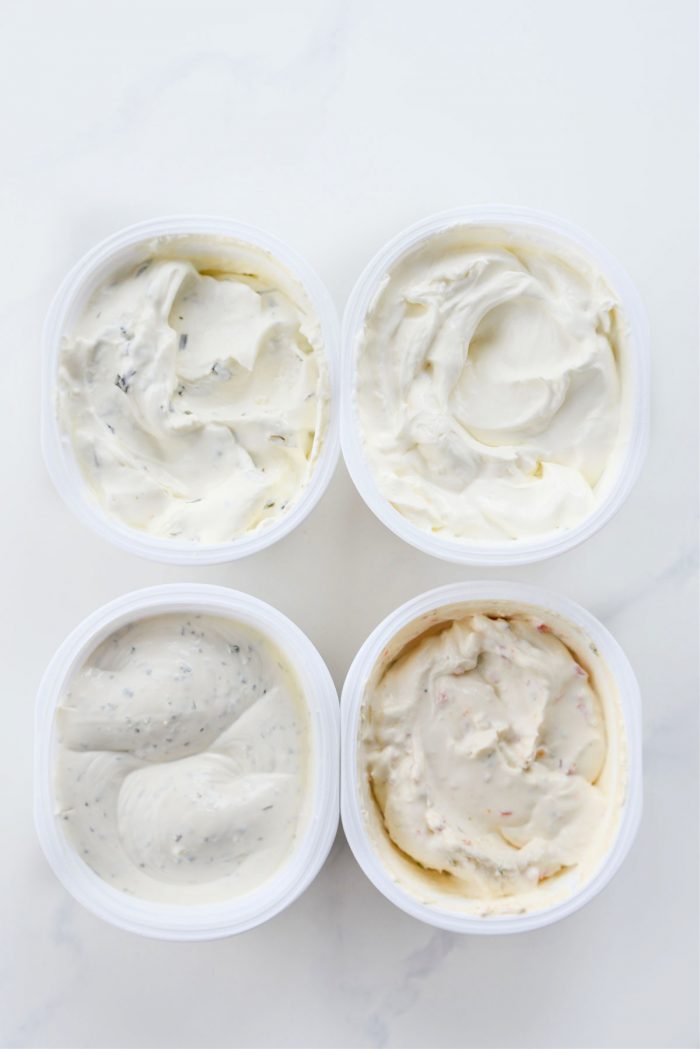 For Spreading:
Have I ever mentioned that I attempted to make my own cream cheese before? I did! It was a disaster and too much work, if you ask me. I leave this up to the experts. Not only is it much easier than making your own, but you can find a large variety. I like to serve garlic herb, green onion and chive, garden vegetable and original plain cream cheese.
Grab a large platter and first lay down the slices of lox, nestle in little bowls of different pickled ingredients, cream cheeses and sliced fresh cucumber, radish and if I remember (lol!) tomatoes. Tuck in lemon wedges, which when squeezed over top of your finished bagel, adds bright freshness. Lastly add fresh dill and snipped chives and surround the platter with bagels that have been sliced horizontally.
This way guests can build their own perfect bagel and lox open faced sandwich. Personally, I start with an everything bagel, with a smear to two of garlic herb cream cheese, topped with New York style lox, pickled red onion, sweet and sour cabbage, capers and a little dill and chives. I squeeze lemon over top and enjoy pickles, olives and cornichons on the side – I'll even add them to the sandwich when taking a new bite.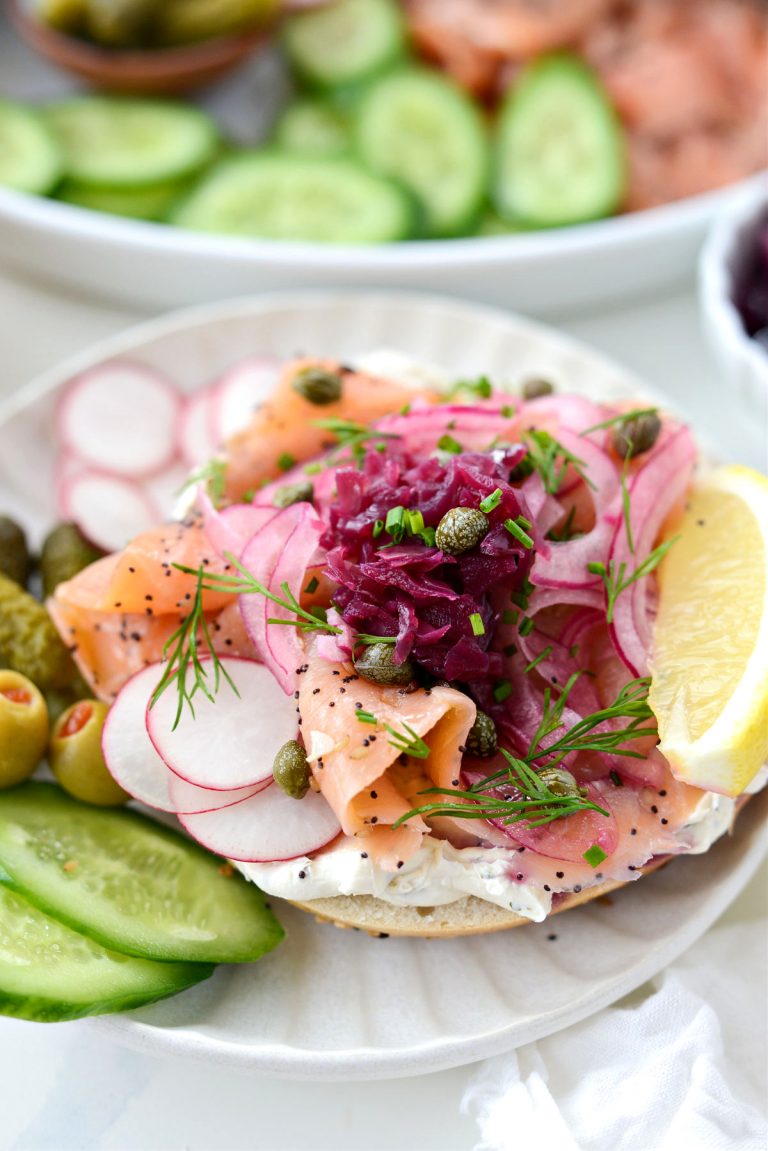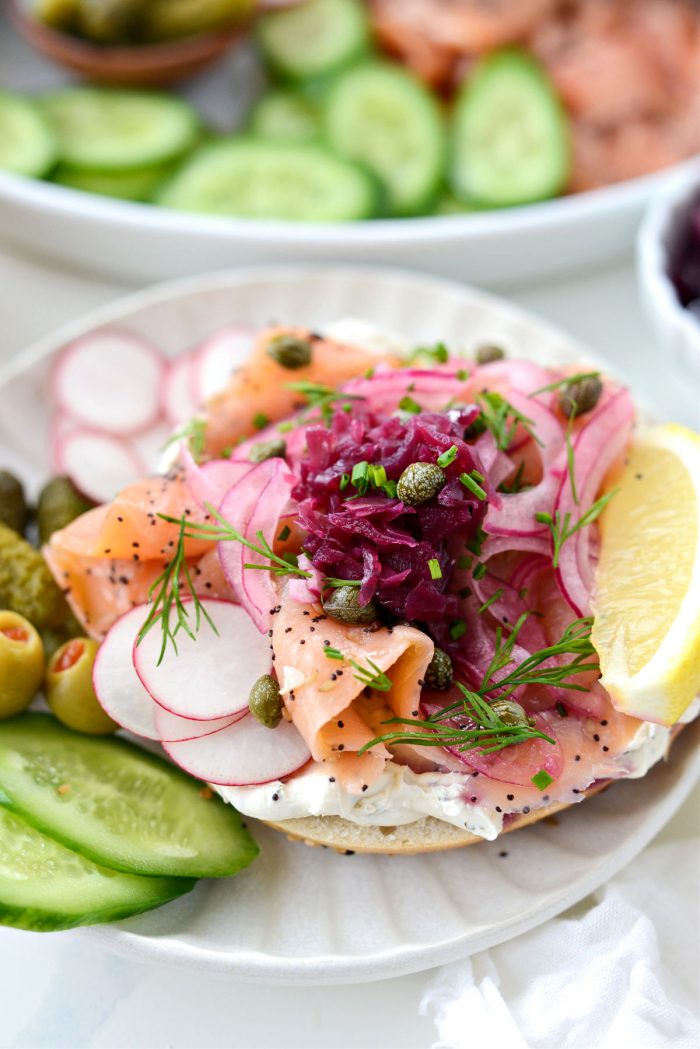 Enjoy! And if you give this Bagel and Lox Brunch Spread recipe a try, let me know! Snap a photo and tag me on twitter or instagram!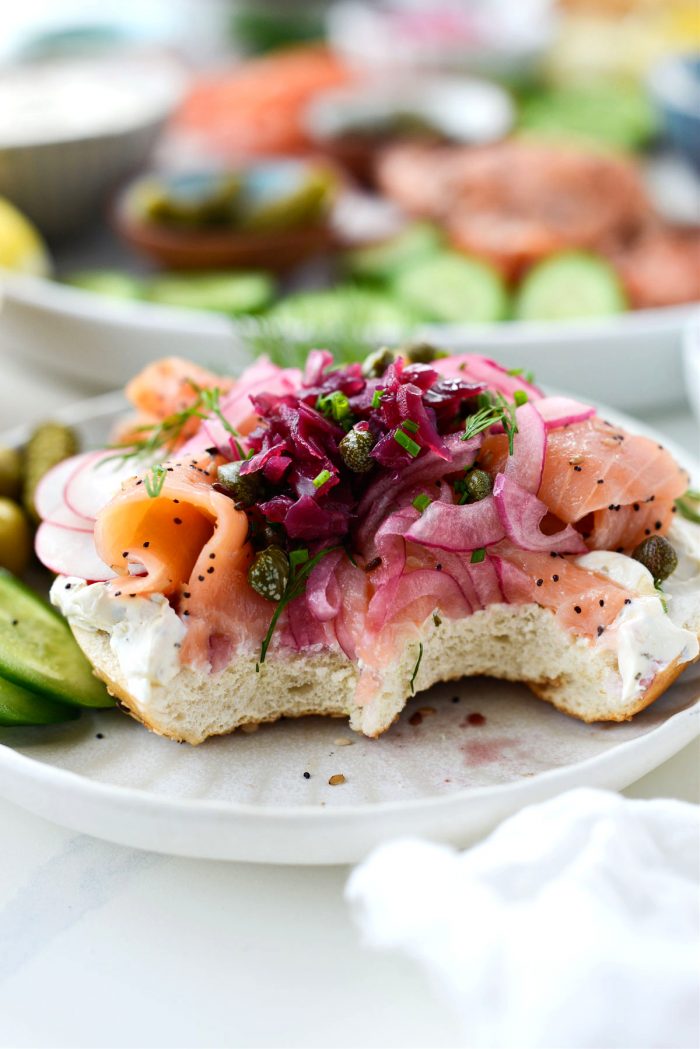 Yield: 8
Bagel and Lox Brunch Spread
A simple Bagel and Lox Brunch Spread is easy to pull together. In this post I share how to build the ultimate, bright and colorful spread with different bagels, fresh and pickled condiments and different cream cheeses.
Ingredients
4 bagels, cut in half horizontally
16 ounces cream cheese, like plain, chive and green onion or garlic herb containers
16 ounces lox or smoked salmon
OPTIONAL FRESH INGREDIENTS:
cucumber, sliced
tomatoes, sliced
radish, sliced
lemon wedges
fresh dill
snipped fresh chives
OPTIONAL PICKLED INGREDIENTS:
olives
capers
cornichons
pickled red onions
sweet and sour cabbage
Instructions
Arrange lox and fresh ingredients on a large platter.

Place cream cheese spreads in bowl and pickled ingredients in small bowls and arrange around fresh ingrdients.

Serve with sliced bagels.
Serving: 1g, Calories: 477kcal, Carbohydrates: 36g, Protein: 32g, Fat: 23g, Saturated Fat: 12g, Polyunsaturated Fat: 9g, Trans Fat: 1g, Cholesterol: 73mg, Sodium: 2000mg, Fiber: 2g, Sugar: 8g
This post may contain affiliate links.
Buy the Cookbook: Simply Scratch : 120 Wholesome Homemade Recipes Made Easy Now available on Amazon »
THANK YOU in advance for your support!