This bacon Gorgonzola guacamole is the guac that turned my husband into a guacamole LOVER! Salty bacon, creamy gorgonzola and some heat from jalapeno and chipotle. Go grab yourself a bag of chips!
I know what's running through your mind. "Laurie, what are you thinking?!?"
I get it. This sounds absolutely crazy! But, then again so did this recipe and I hope I made believers out of some of you. So let's discuss.
This is none other than a kick-butt guacamole all jazzed up with bacon and blue cheese with a little smoky heat from chipotle chile powder and a little kick from a smidgen of cayenne. I see those wheels turning. The avocado is the backbone of this recipe, but the unexpected flavors of bacon and blue cheese really make this extra special. So special that it made a guac-hater into a guac-lover, aka my husband. In his words; this sh** is crack.
(sorry not sorry)
To Make This Bacon Gorgonzola Guacamole You Will Need:
bacon
avocados
roma tomato
diced red onion
garlic
jalapeño
lime juice
cilantro
hot sauce
Gorgonzola
chipotle chili powder
cayenne pepper
corn tortilla chips
Because someone out there in the world ran out of cheddar and threw in some Gorgonzola and for that I thank them. It all started with a "Best Thing I've Ever Ate" episode where it was mentioned that bacon, blue cheese and sage were involved with some guacamole. I know right? Sounds Bizzzare. But it's so not.
Start by sizzling up 4 strips of bacon, three for the recipe and one for you to snack on. You're welcome.
Finely dice up 1/2 a small red onion… or about 1/4 cup.
Smash and peel 1 garlic clove.
And give it a good mincing.
Halve 1 roma tomato, scoop the innards out with a spoon and discard.
Slice into strips and dice them into small cubes.
And then do the same with 1/2 of a jalapeño.
Next, remove the seeds and white membranes (because that's where all the heat) and dice it up pretty fine. Now go wash your hands and avoid all kinds of injuries.
Then drop all that into a small bowl and set it off to the side.
Next halve 2 large or 4 small avocados and remove the silly little pit in the center. My avos are a little on the small side so I use four… if yours are leaning on the larger side use 2 to 3.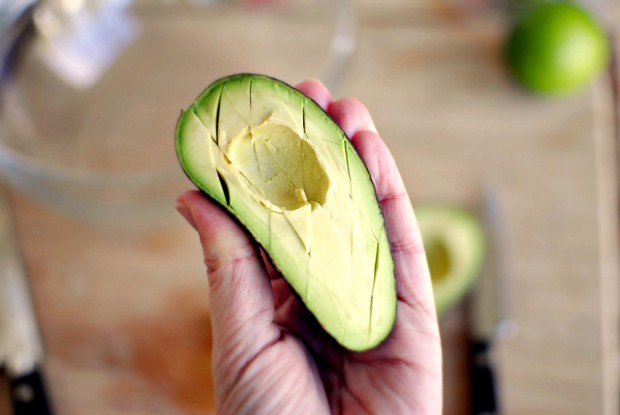 Then make a few slashes and scoop out the insides into a bowl and mash.
Because the first two avos are mashed, leave the second two in chunks and season with just a tad bit of salt.
Next grab a spoon and give it a little stir.
Then squeeze in the juice of 1/2 a lime. Gently toss it to combine.
Next add in the diced veggies and garlic.
Then add in some chopped cilantro about 1-2 tablespoons.
Next add a little hot sauce of your choice. Totally optional but delicious!
Then chop up the bacon strips.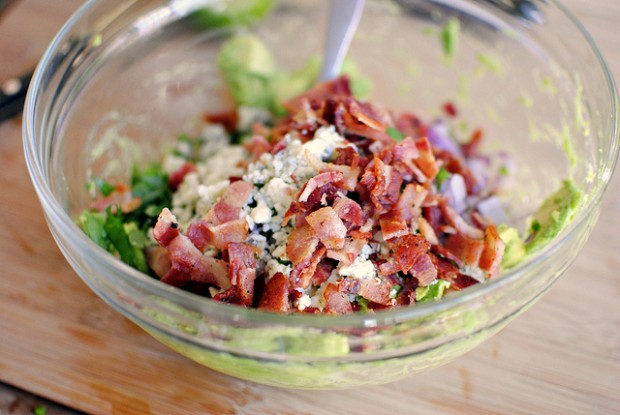 Next add the bacon and a third cup of Gorgonzola cheese.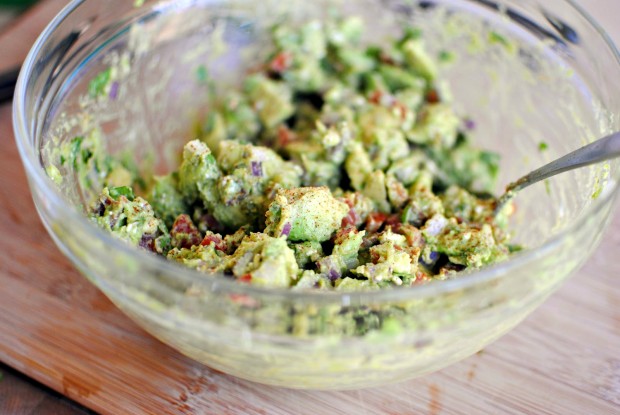 Lastly, sprinkle with the chipotle chile powder and cayenne. Then taste as you go so you can adjust it to your preference. Give it a final toss and do a little happy dance. You know you want to.
I know, it sort of looks like regular guac doesn't it?
But it's so not! It's freakin' amaaaaazing! Make this Bacon Gorgonzola Guacamole ASAP!
Enjoy! And if you give this Bacon Gorgonzola Guacamole recipe a try, let me know! Snap a photo and tag me on twitter or instagram!
Yield: 8 servings
Bacon Gorgonzola Guacamole
This bacon Gorgonzola guacamole is the guac that turned my husband into a guacamole LOVER! Salty bacon, creamy Gorgonzola and some heat from jalapeño!
Ingredients
4 small avocados
3 slices bacon, cooked and chopped
1 roma tomato, seeded and diced
1 clove garlic, smashed, peeled and minced
1/2 jalapeno, seeded and diced small
1/3 cup Gorgonzola cheese, crumbled
1/4 cup diced red onion
1/2 lime, juiced
1-2 tablespoons chopped cilantro, roughly chopped
1 tablespoon hot sauce, like Frank's Red Hot or Cholula
1 pinch ground chipotle chili powder, to taste
1 pinch cayenne pepper, to taste
Instructions
In a large bowl mash two avocados.

Slice the remaining two and add to the bowl.

Squeeze with half a lime and a pinch of kosher salt. Add in diced tomatoes, garlic, onion, jalapeno, Frank's Red Hot, Gorgonzola, bacon and chopped cilantro.

Sprinkle with chipotle chile powder and cayenne to taste.

Gently stir and serve with corn tortilla chips.
Serving: 1g, Calories: 186kcal, Carbohydrates: 10g, Protein: 3g, Fat: 16g, Saturated Fat: 3g, Polyunsaturated Fat: 2g, Monounsaturated Fat: 10g, Cholesterol: 4mg, Sodium: 117mg, Potassium: 534mg, Fiber: 7g, Sugar: 1g, Vitamin A: 273IU, Vitamin C: 14mg, Calcium: 40mg, Iron: 1mg
This post may contain affiliate links.
Buy the Cookbook: Simply Scratch : 120 Wholesome Homemade Recipes Made Easy Now available on Amazon »
THANK YOU in advance for your support!