Bacon Cheddar Ranch Pub Burgers is totally a thing. Thick burger patties, grilled and topped with cheddar, bacon and a homemade ranch ailoi.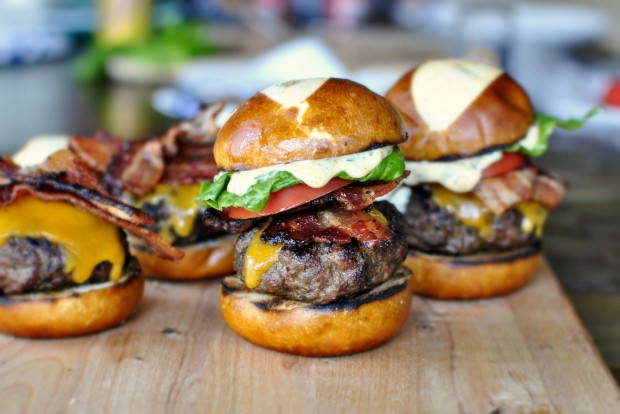 But I can guess what you're thinking: 'ummmm Laur, aren't these sliders?'
Well yessss and no. Yes they are small and technically sliders, but to me a pub burger is something you aren't quite sure how you're going to wrap your mouth around it without looking completely ridiculous and making a huge mess. It's a burger that's simple yet has a little somethin-somethin that you just can't put your finger on. Lastly, they have a fancy bun so they're too big for your face. Did I already say that?
To Make The Ranch Aioli You Will Need:
whole egg plus an egg yolk
juice of 1/2 a lemon
grainy mustard
parsley – fresh
dill – fresh
garlic
dried onion flakes
kosher salt
1/2 teaspoon dried oregano
1/2 teaspoon paprika
The aioli is pretty basic; one whole egg yolk plus an egg yolk, a 1 heaping teaspoon of grainy mustard, juice of half a lemon (minus the seeds of course). Turn the lid on and s-l-o-w-l-y drizzle in a cup of light olive oil or grapeseed oil.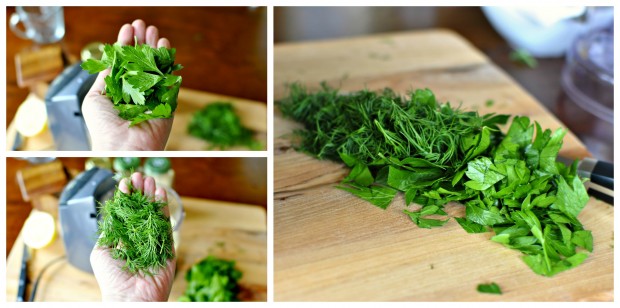 Now here comes the add-ins. Fresh 1 handful fresh parsley and dill, about a handful of each. Give them a rough chop.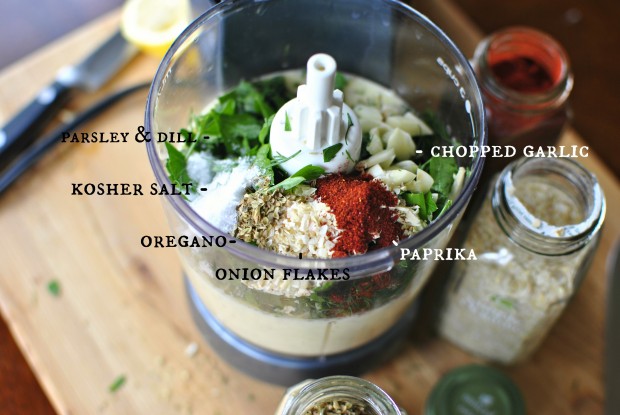 And then throw them in along with 1 teaspoon kosher salt, 1/2 teaspoon dried oregano, 1 tablespoon onion flakes, 1/2 teaspoon paprika and of course. Lastly, throw in a clove of garlic that has been roughly chopped.
Turn your mini food processor on and blend until the herbs and garlic are blended through the aioli errr mayoli.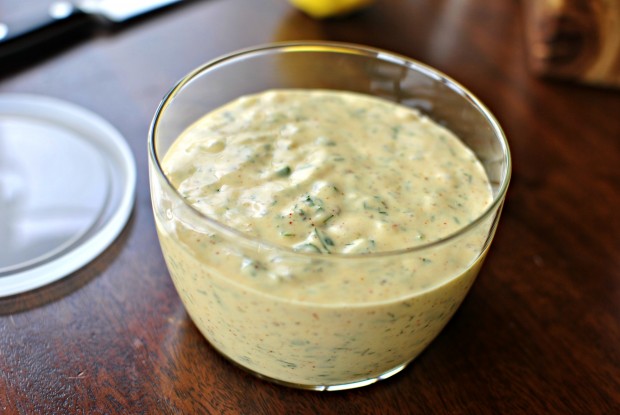 Pour it into a small dish with a tight fitting lid and pop it in the fridge for a few hours (over night would be best, if possible). There will be leftovers of this magical aioli so feel free to slather it on a sandwich or wrap. Maybe even dunk these or this in it?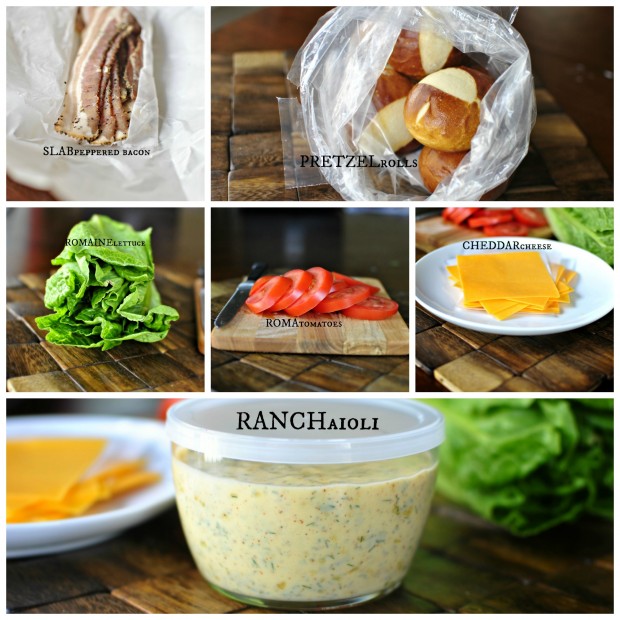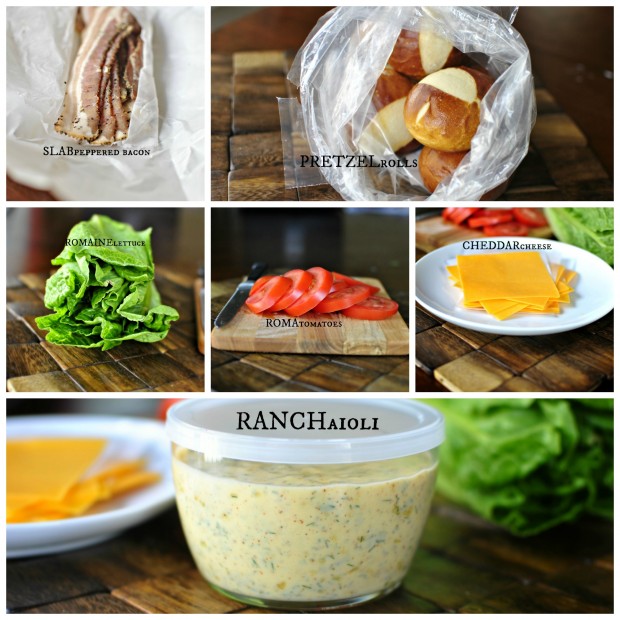 Fo your Bacon Cheddar Ranch Burgers You Will Need are:
peppered bacon (or any slab bacon)
pretzel rolls
lettuce
tomato
cheddar cheese
the ranch aioli
ground hamburger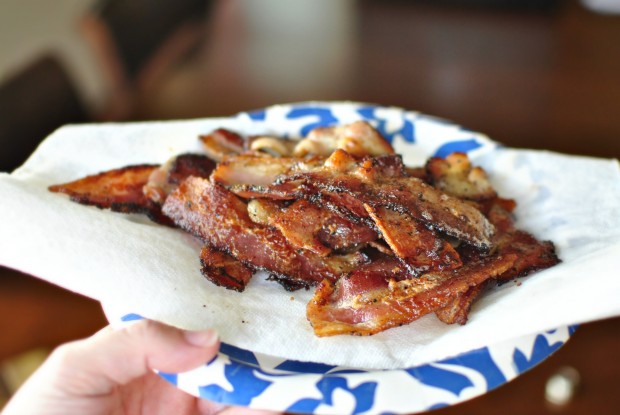 I cooked the bacon first. Cut the sliced in half and cook until crispy.
Then add 2 pounds of ground chunk into a big bowl.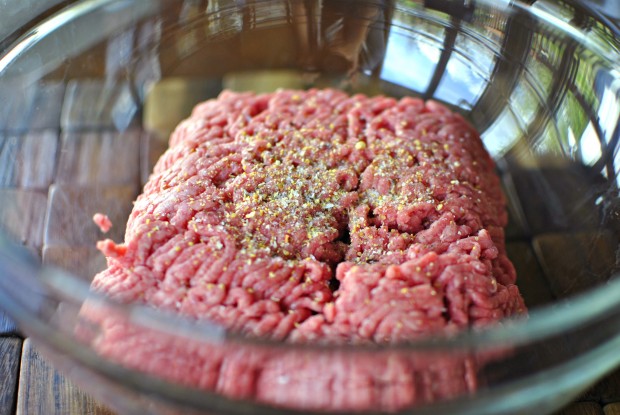 Season it with your favorite all purpose seasoning salt.
Next, divvy out the meat into 8 equal portions before making them into patties.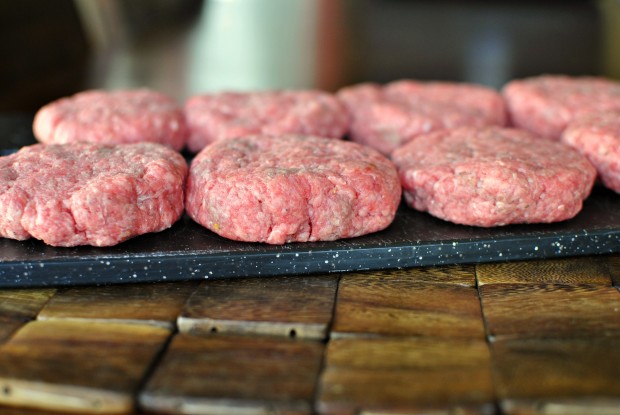 Keep them thick and a little bigger than what you think would fit on one of those pretzel buns as they will most definitely shrink a bit. Ps. I feel pub burgers require a thick patty. Amen.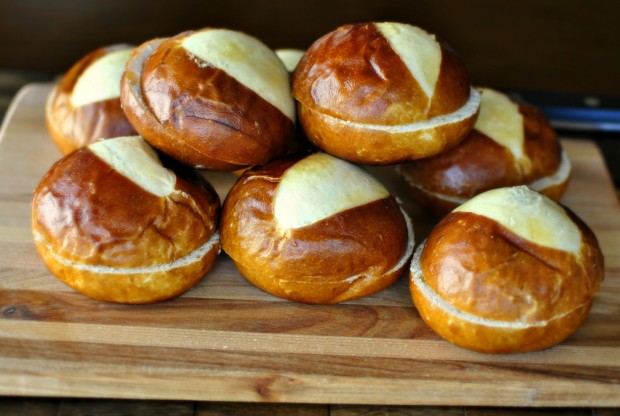 Hello pretzel rolls, I love you. I cut these rolls in half horizontally, and toasted them on the grill for only a minute or two.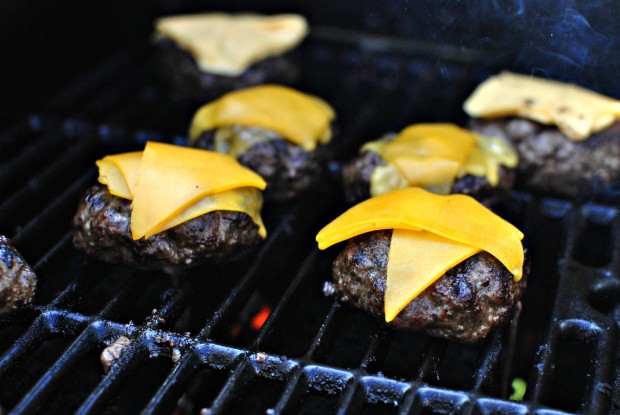 Next, preheat a grill to medium-high. Cook the burgers for 5-7 minutes a side or until fully cooked.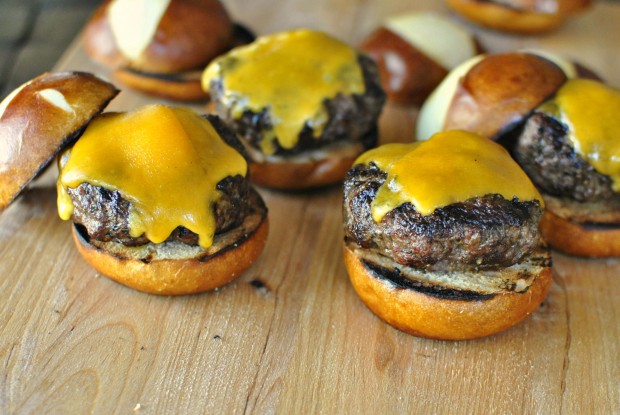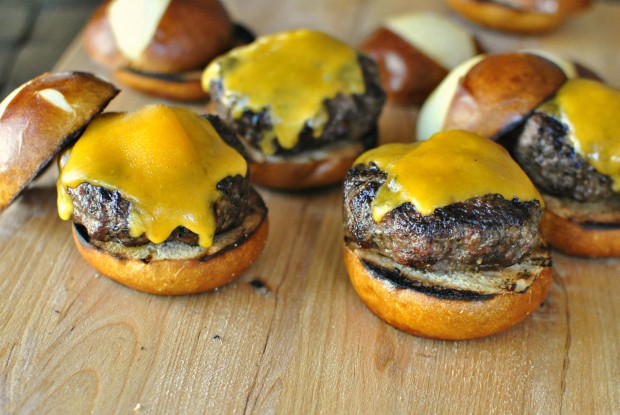 Stack…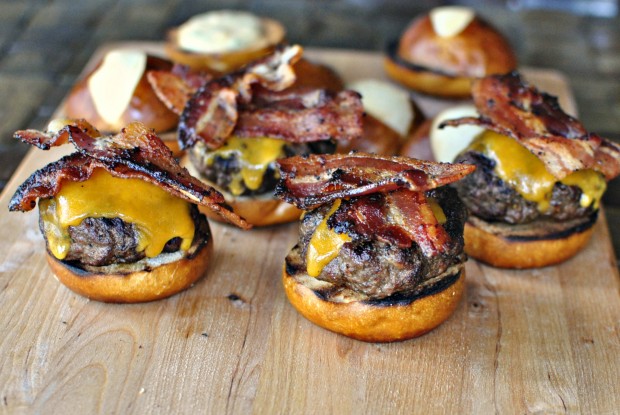 Then top with some bacon. oh sweet baby Jesus.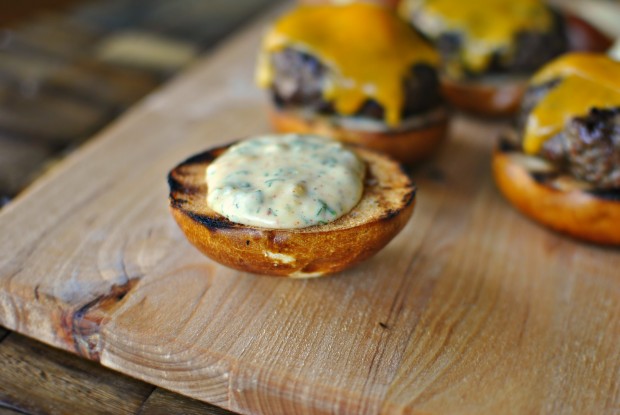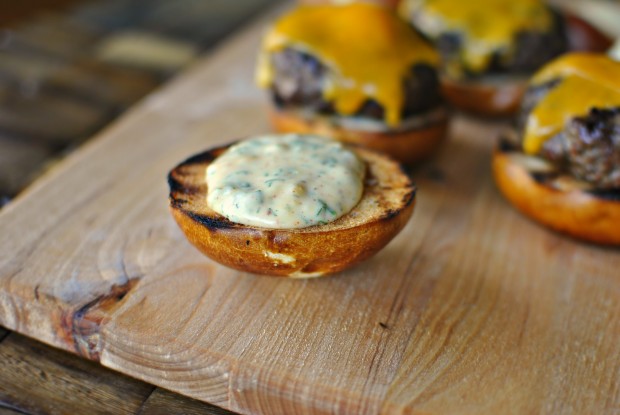 Next, stack on the tomato and lettuce and then swipe a little of that mayoli on the top bun.
I couldn't stop taking pictures of these bacon cheddar ranch pub burgers. Even Malloree took my camera and snapped pictures, they are truly something to stare at no?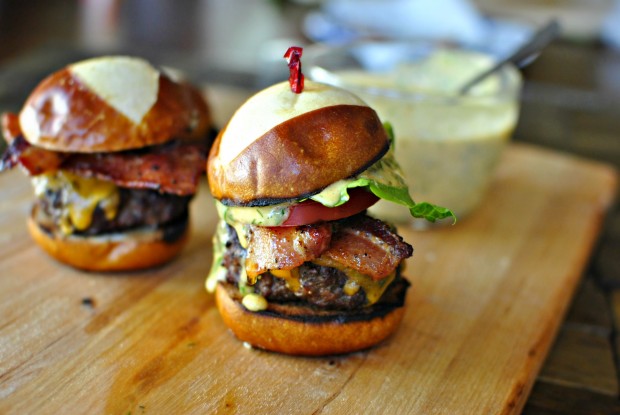 All you have to do is figure out a way to unhinge your jaw and cram this baby in.
If I can do it, so can you.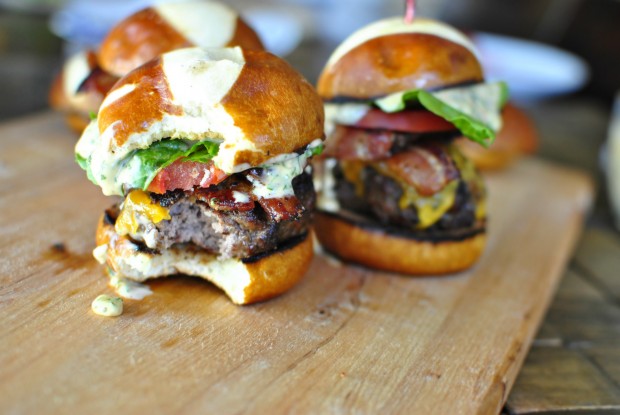 See proof I've got a big mouth! Ha-umm-wait.
I love everything about these bacon cheddar ranch pub burgers; the mayoli (look what I've started), the bacon and the gooey cheddar. These pub burgers are now on a permanent rotation in our house and hopefully in your house too.
Enjoy! And if you give this Bacon Cheddar Ranch Pub Burger recipe a try, let me know! Snap a photo and tag me on twitter or instagram!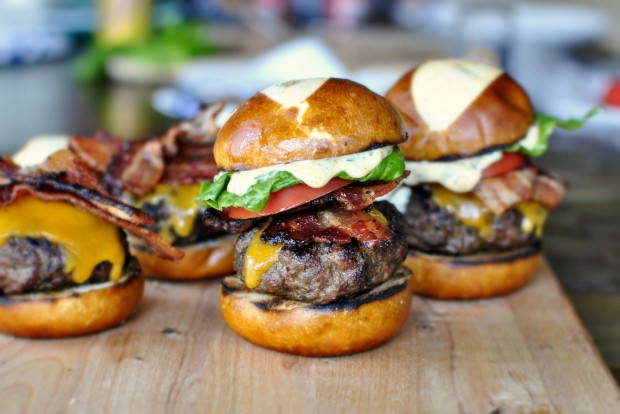 This post may contain affiliate links.
Buy the Cookbook: Simply Scratch : 120 Wholesome Homemade Recipes Made Easy Now available on Amazon »
THANK YOU in advance for your support!