This Spicy Salmon Maki Bowl is sushi inspired and has everything we all love deconstructed into a fabulous, healthy and wholesome bowl. Sushi rice, a zippy cabbage slaw, sliced avocado, cool crisp cucumbers and broiled marinated salmon. Sprinkled with crushed nori, sesame seeds, a crunchy panko topping and drizzled with an incredible spicy mayo. This recipe serves 4 and is also great for meal prep!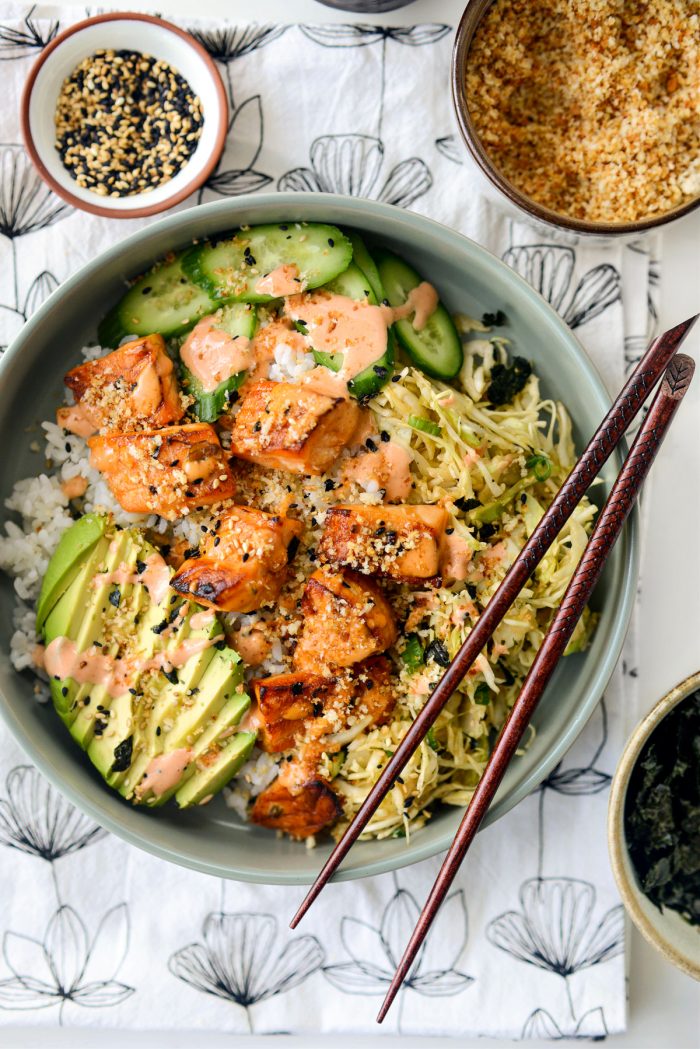 Think Deconstructed California Roll.
Sushi, sashimi and maki are definitely one of my all time favorite things to eat. Some of my most favorite moments in life include friends, family and platters of different types of each. And I always stop to pick up an order crunchy spicy California rolls after I get my hair done. It's become a thing.
So I decided to turn my love of the California roll into a bowl featuring salmon, spicy mayo and a crunchy garlicky topping. Which to me is the best part.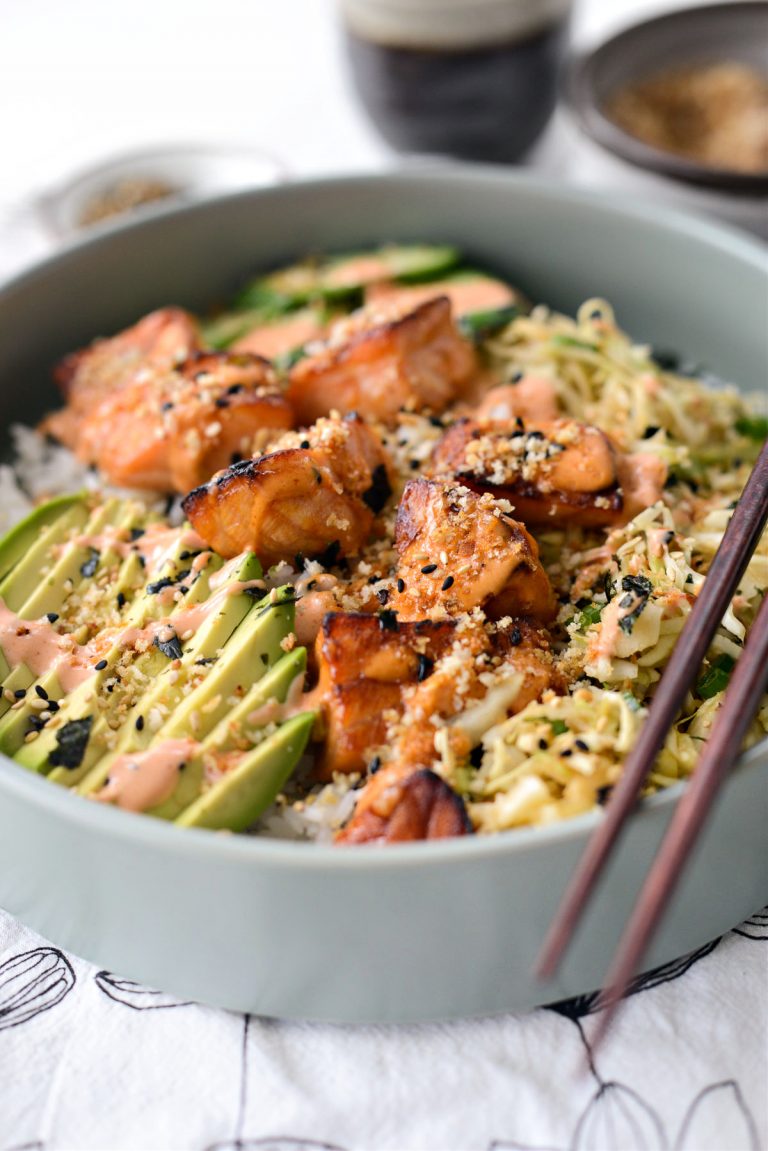 And this bowl is quite possibly the best thing I have ever made.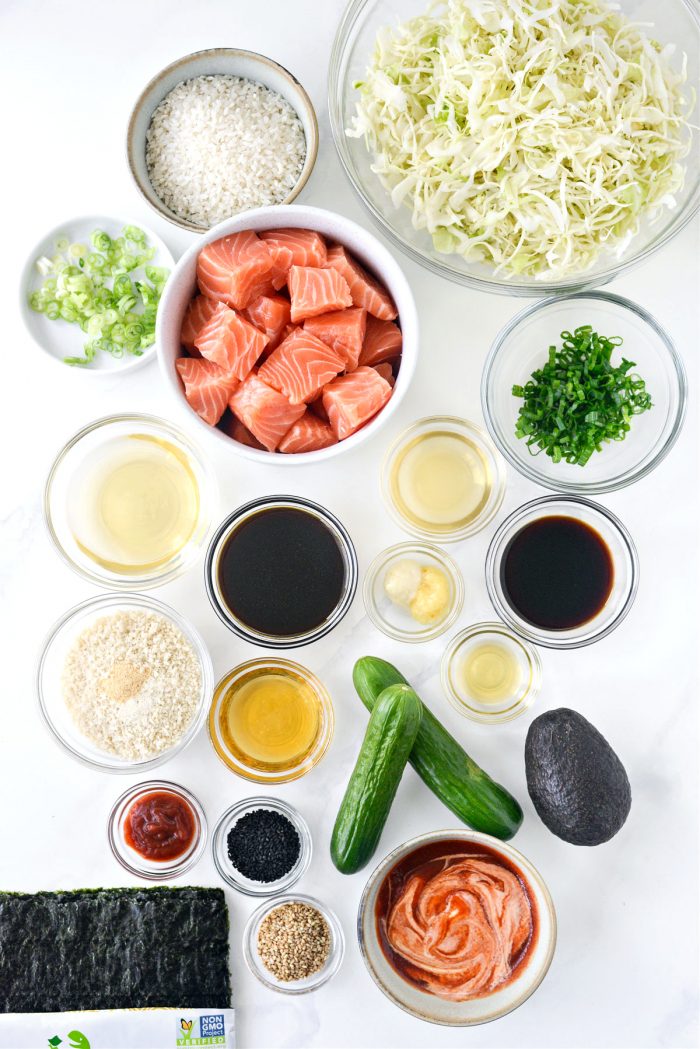 To Make These Spicy Salmon Maki Bowls You Will Need:
for the spicy mayo
for the salmon
salmon
coconut aminos
rice vinegar
toasted sesame oil
sriracha
green onions (light green/white parts)
for the quick pickled slaw
shredded cabbage
green onions (dark green parts)
tamari
rice vinegar
toasted sesame oil
ginger
garlic
for the crunchy topping
toasted sesame oil
panko breadcrumbs
garlic powder
onion powder
for building the bowl
cooked sushi rice (2 cups or more if desired)
avocado
mini cucumbers
nori (about 1/2 to 3/4 of a sheet)
toasted and/or black sesame seeds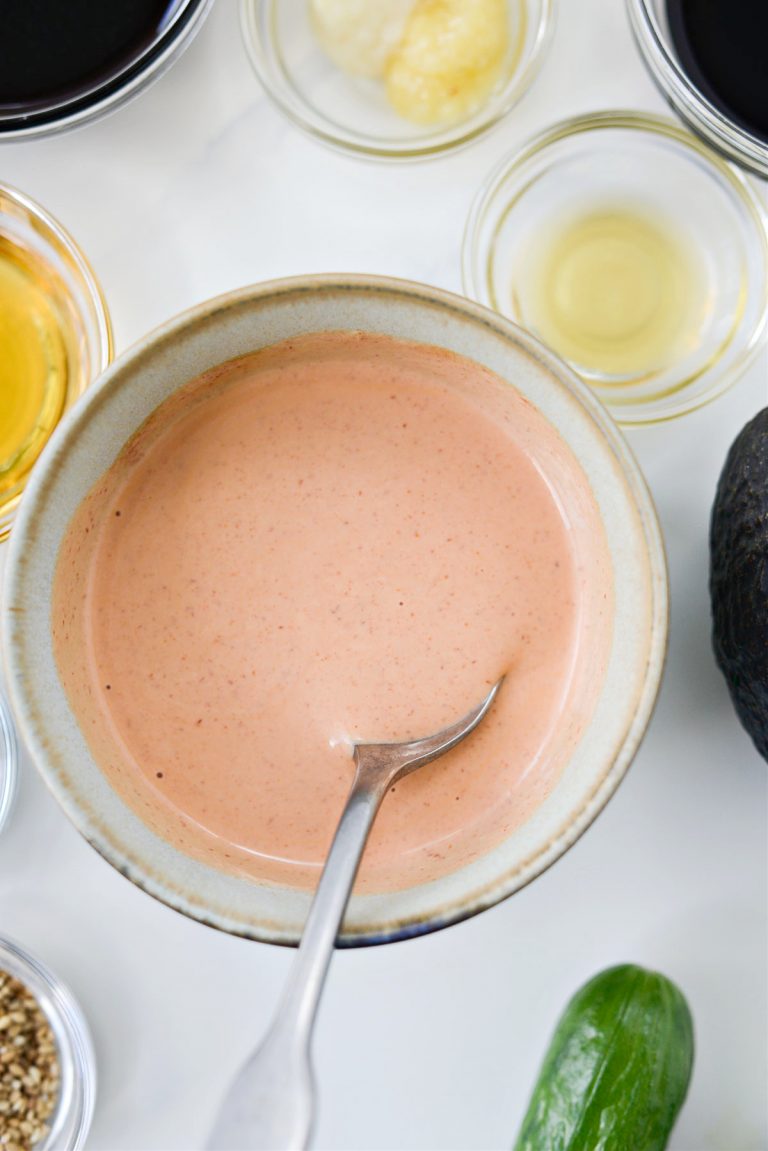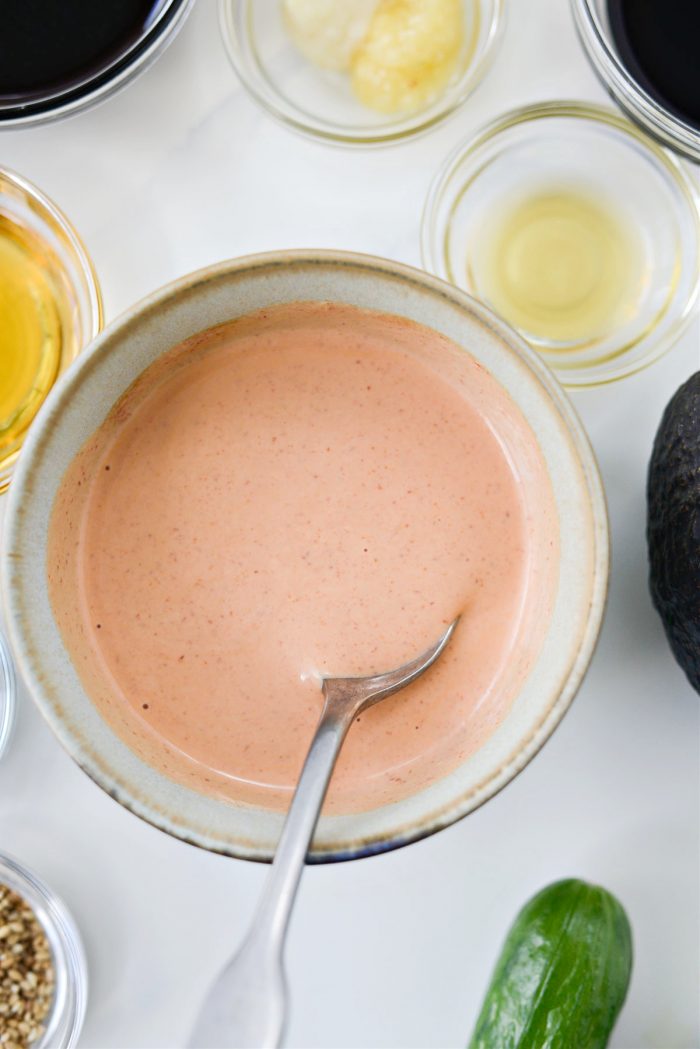 Ever wondered how they make that spicy mayo that zigzags your favorite rolls? It's simple, you need equal parts Japanese mayonnaise and sriracha. Since it's hard for me to find Japanese mayo where I live, I order it online. But it's a must if you want to recreate that sauce. For this recipe, I mix 2 tablespoons of each together.
As for the salmon, you will want 1 pound skinless (wild caught is best) salmon. I just so happened to go shopping on a Monday morning and all I could find were these salmon steaks. So I cubed them into 1 to 1-1/2 inch cubes. Worked great!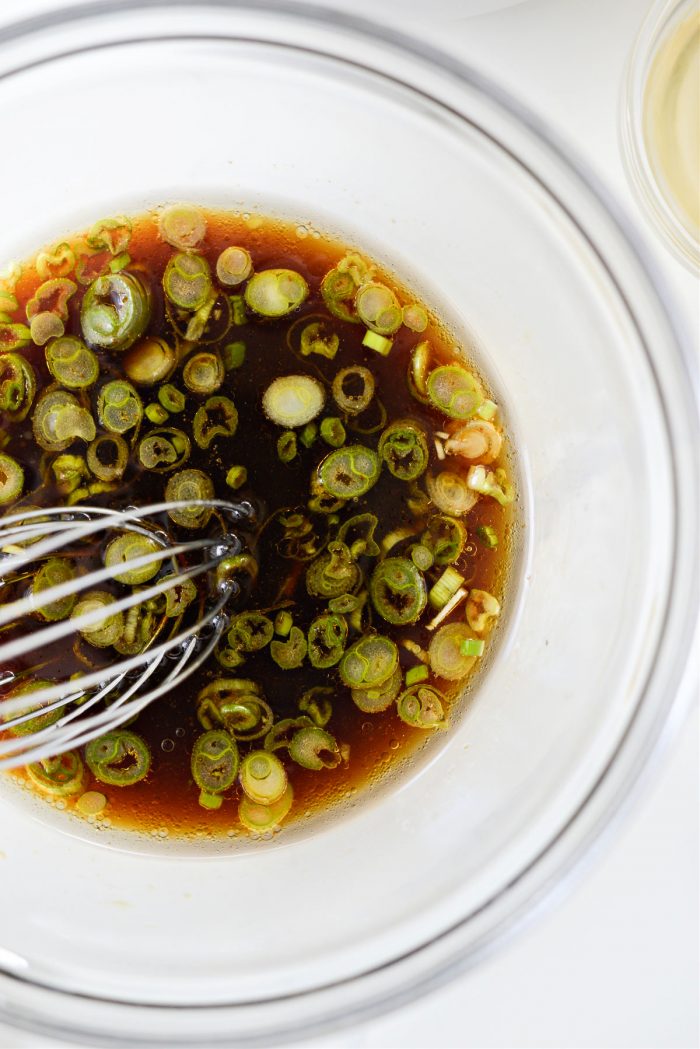 Next whip up the salmon marinade. It consists of 1/4 cup coconut aminos, 1/4 cup unseasoned rice vinegar, 1 tablespoon toasted sesame oil, 1 tablespoon sriracha and the light/white parts of 3 green onions. Whisk to combine.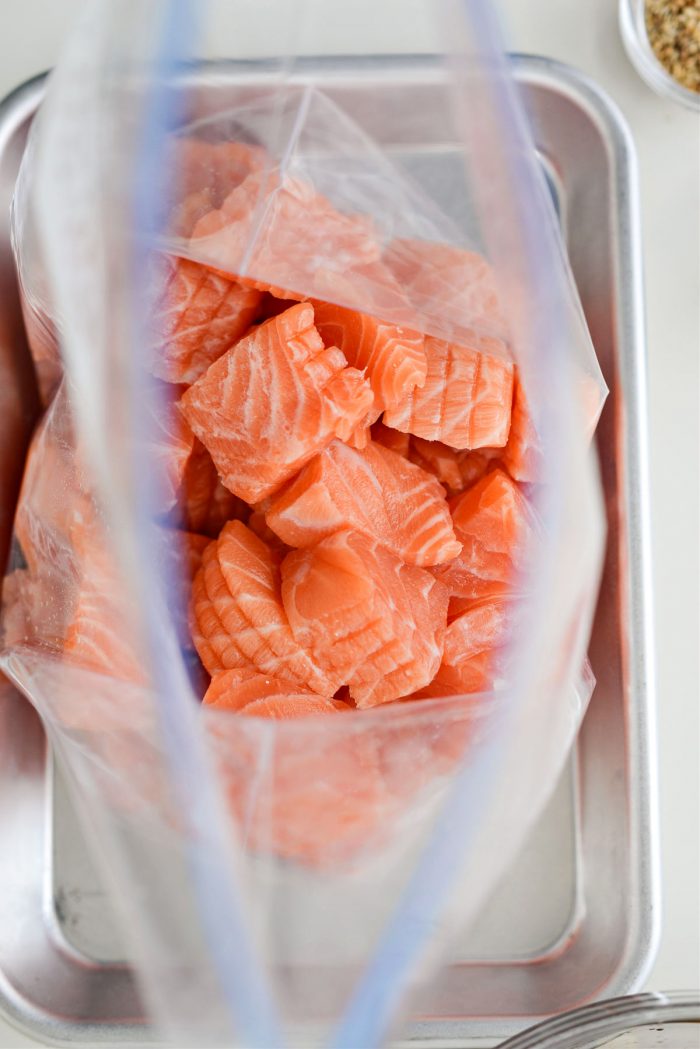 Add your salmon to a re-sealable bag.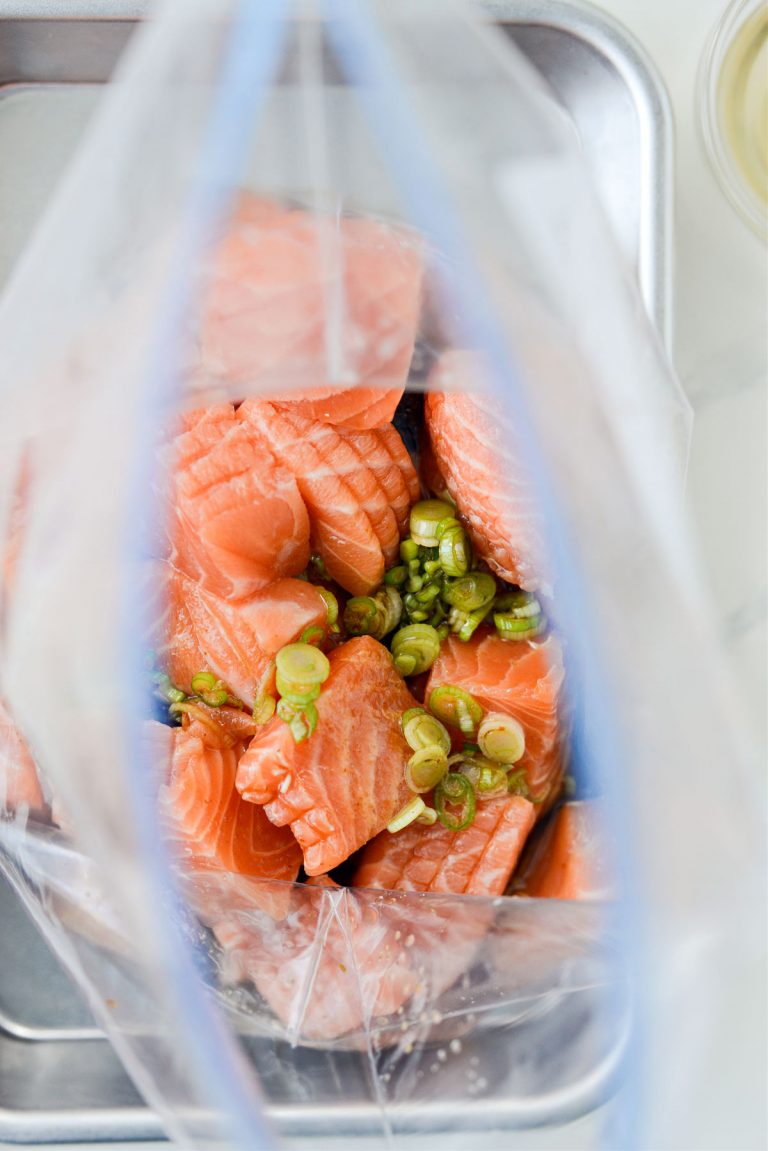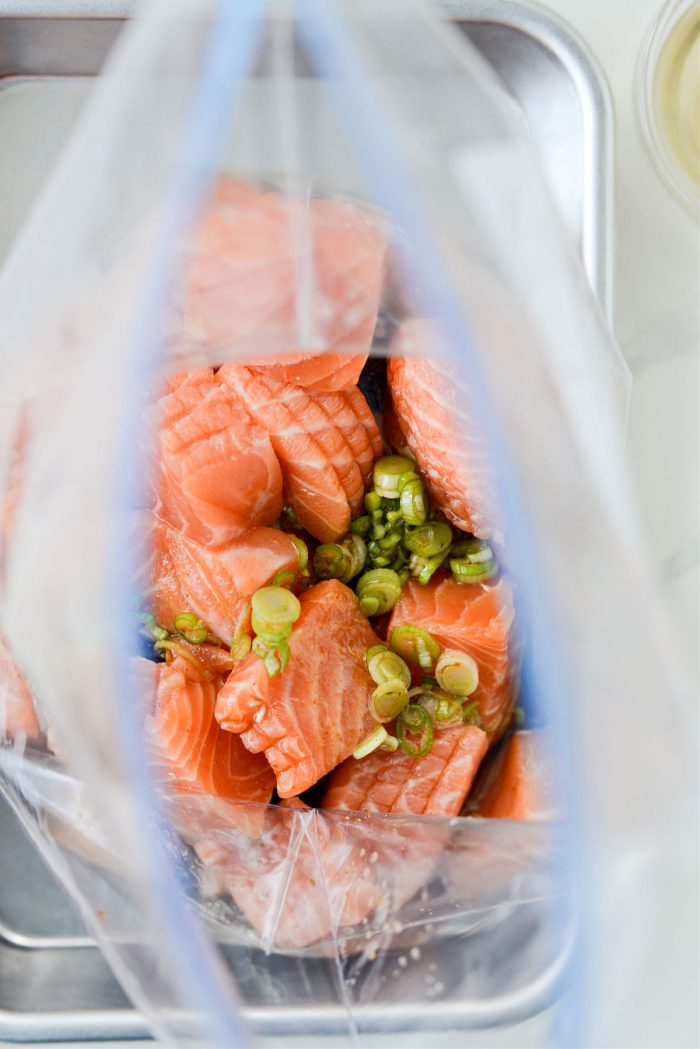 Pour the marinade over top.
Squeeze out as much air as possible and seal to close. I like to place it on a small tray or pan just incase the bag leaks. Pop this into your fridge to marinated for 30 to 45 minutes.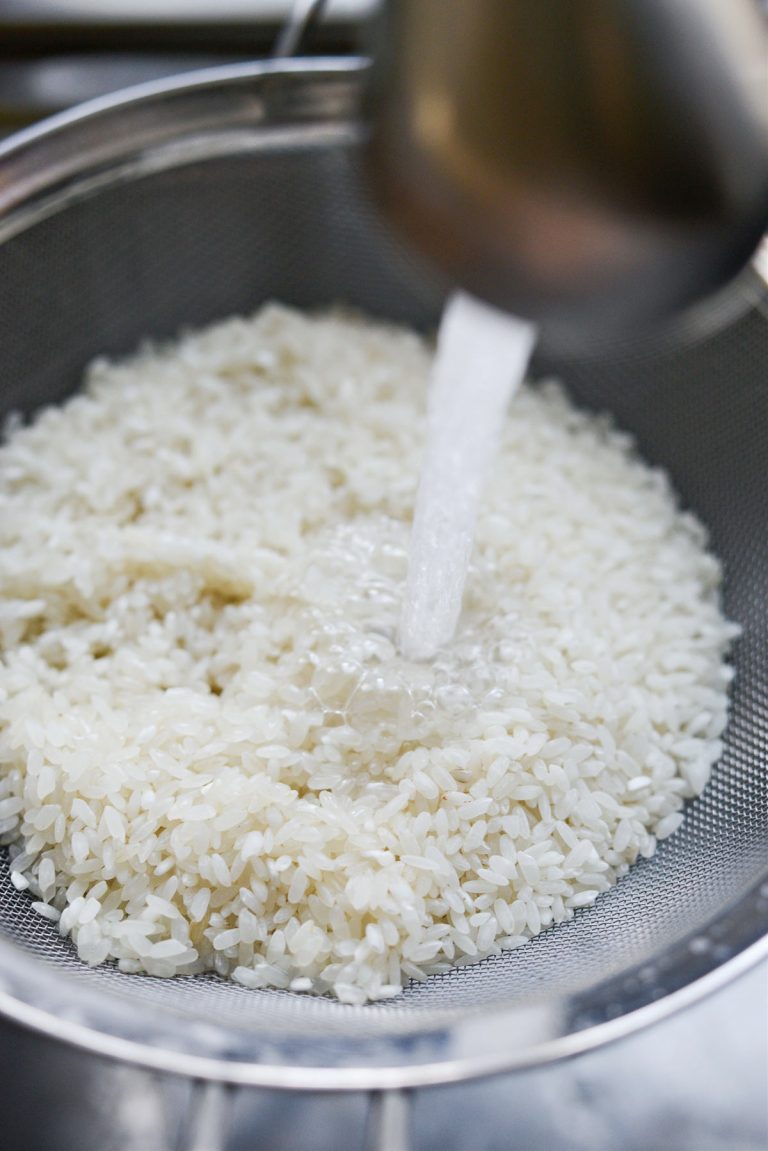 This is when I start the rice.
First rinse your rice until the water runs clear. Then follow the package instructions for preparing the rice or use your rice cooker. I always make rice in my slow cooker. With that said, I used the rice cooker cup to measure 2 "cups" and added it to my rice cooker, filled it up to the 2nd line and let the cooker work its magic. I also measure my cooked rice before serving.
If using the stovetop method, use a standard 1 cup measure. That should yield 2 cups sushi rice.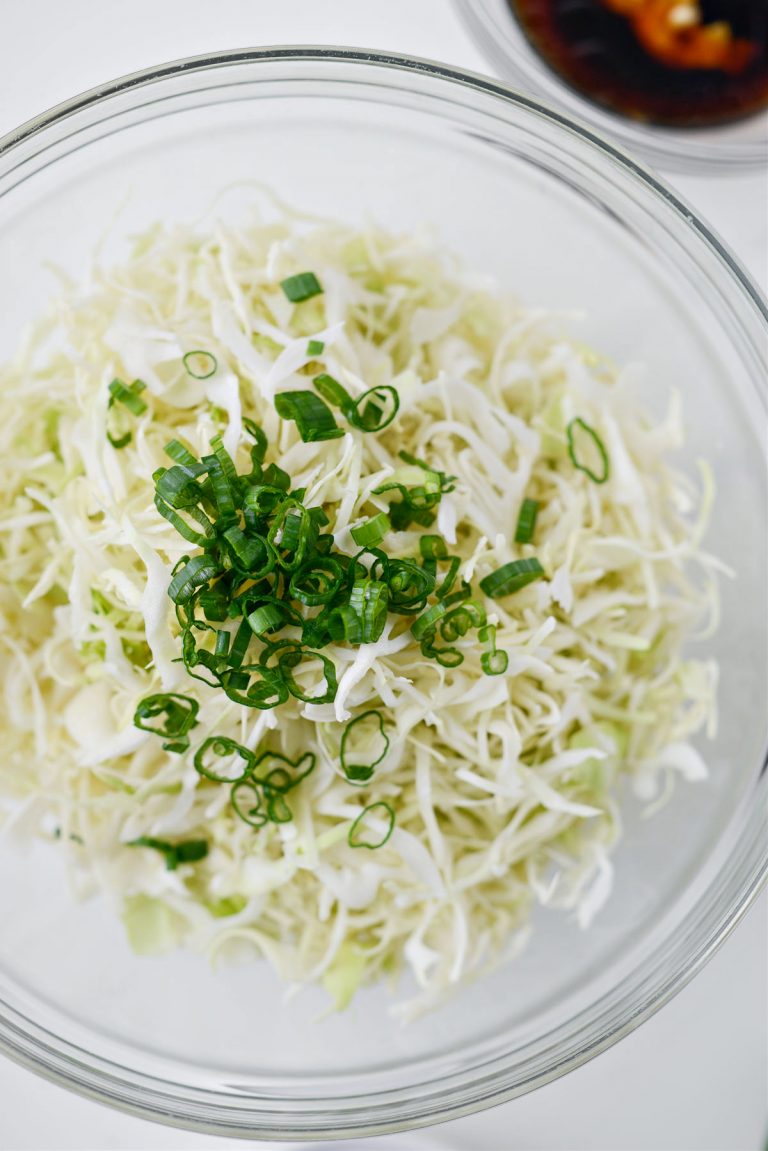 While rice is cooking and salmon is marinating, prepare the cabbage slaw. Add 4 cups thinly shredded cabbage plus the dark green parts to the onion (reserved from making the marinade) to a bowl.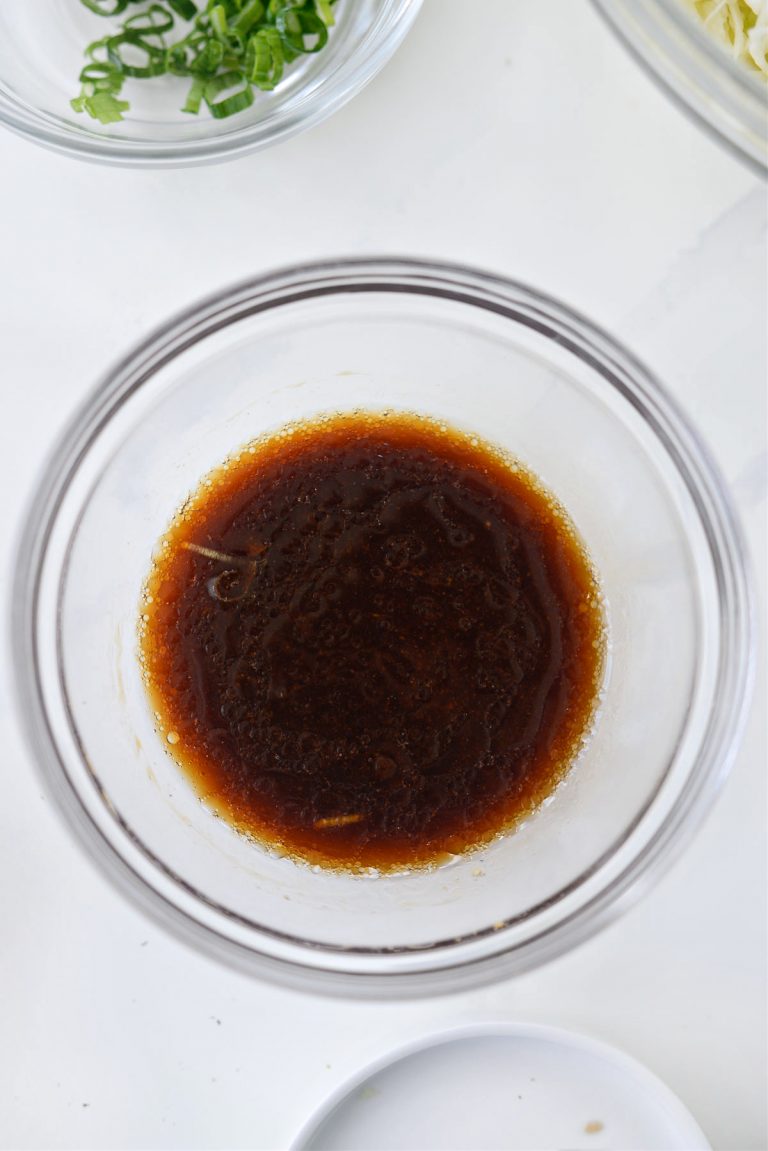 Make the dressing by whisking together 2 tablespoons tamari, 2 tablespoons rice vinegar, 1 teaspoon toasted sesame oil, 1 teaspoon both grated ginger and grated garlic.
Pour in all of the dressing.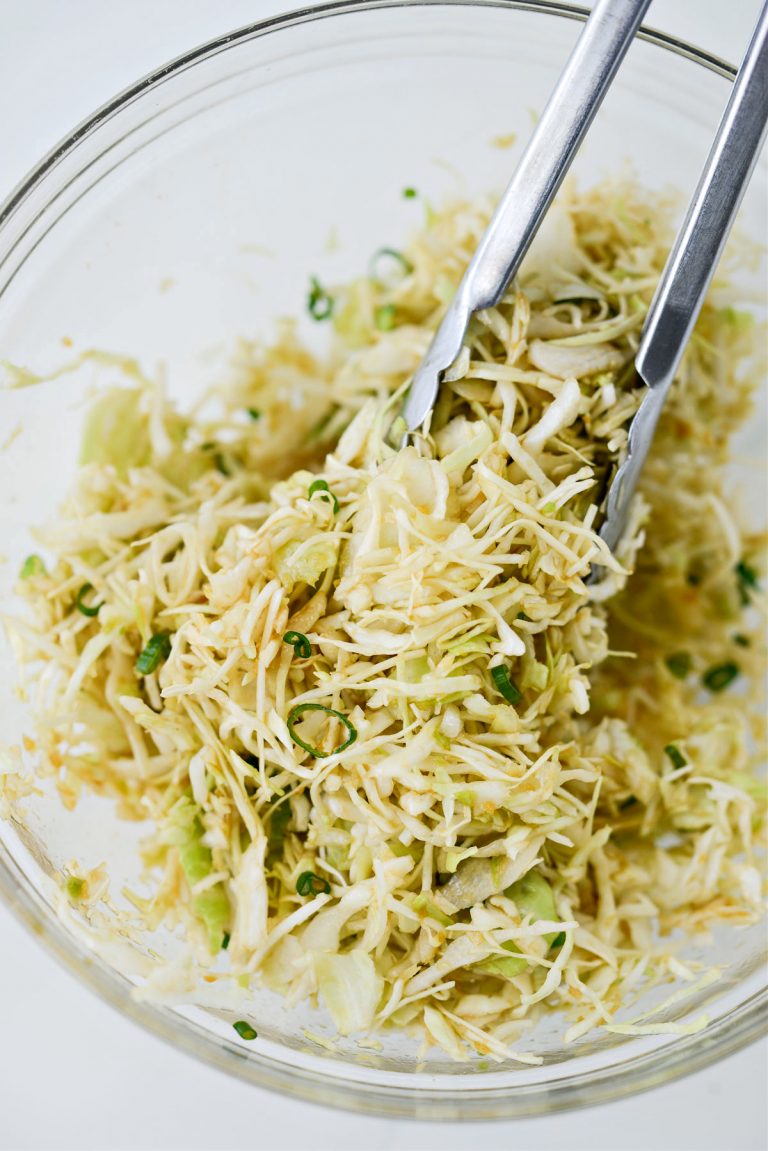 And then toss to combine.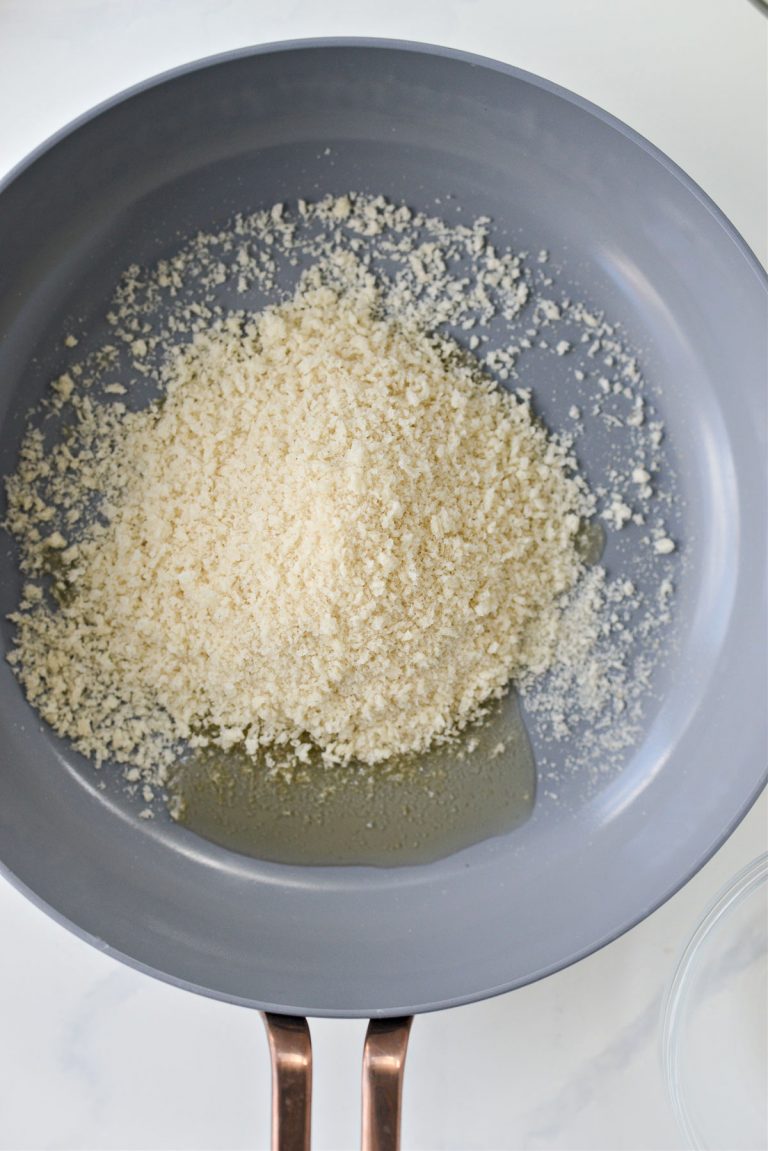 Moving on to the crunchy topping. Add a teaspoon of toasted sesame oil to a small non-stick skillet. Measure and add 1/2 cup panko bread crumbs and 1/4 teaspoon each garlic and onion powder.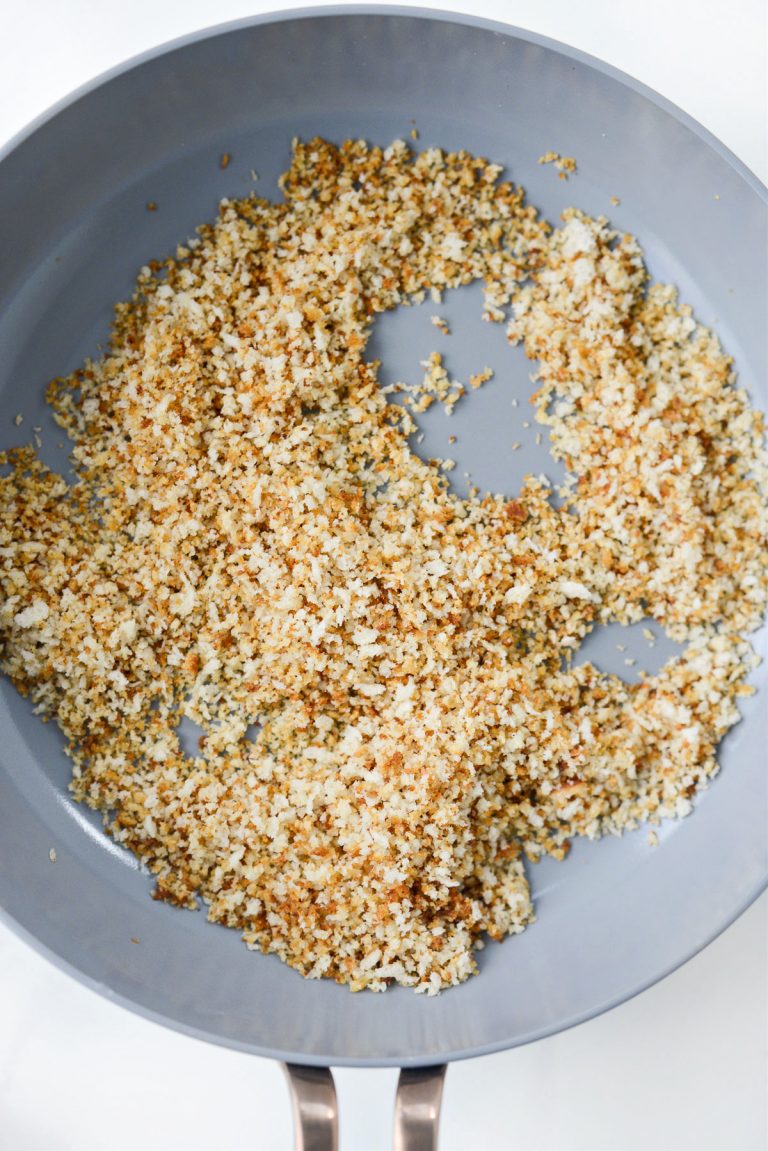 Stir over medium-low heat until golden brown. Remove off of the heat and set aside.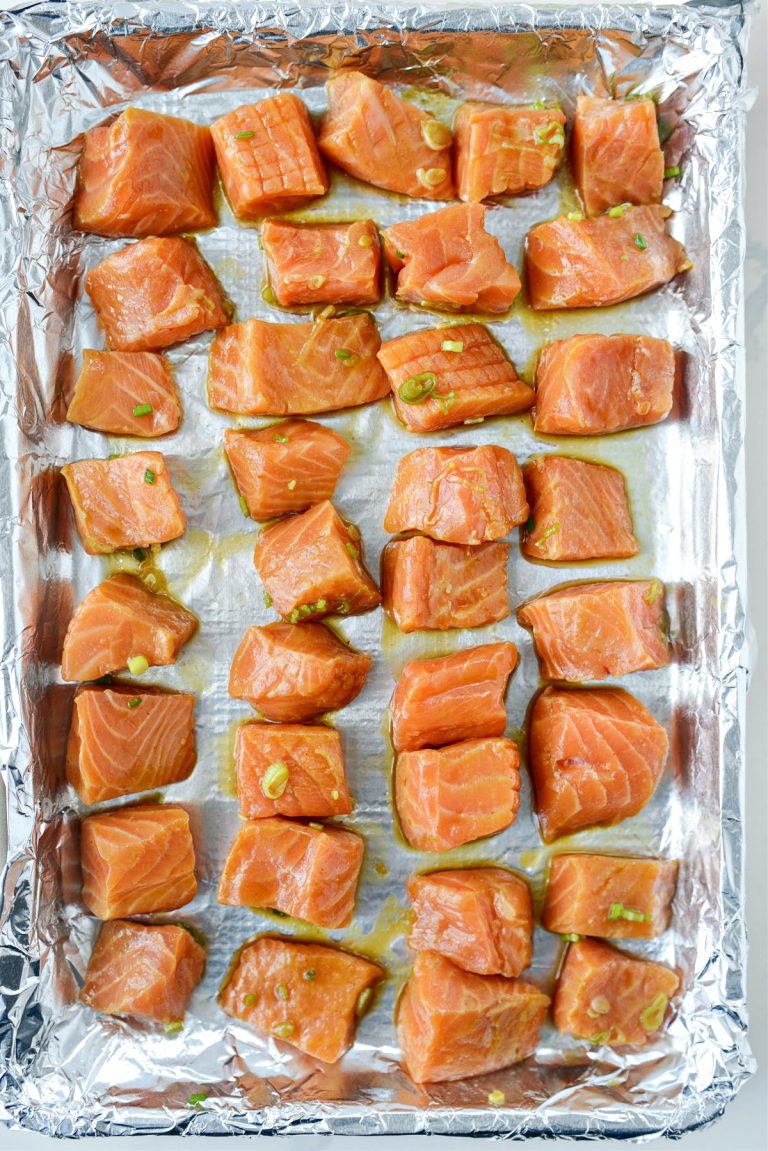 Preheat your oven to 400°.
Line a rimmed baking sheet with foil, lightly spray with olive oil and arrange the marinated salmon. Discarding any leftover marinade.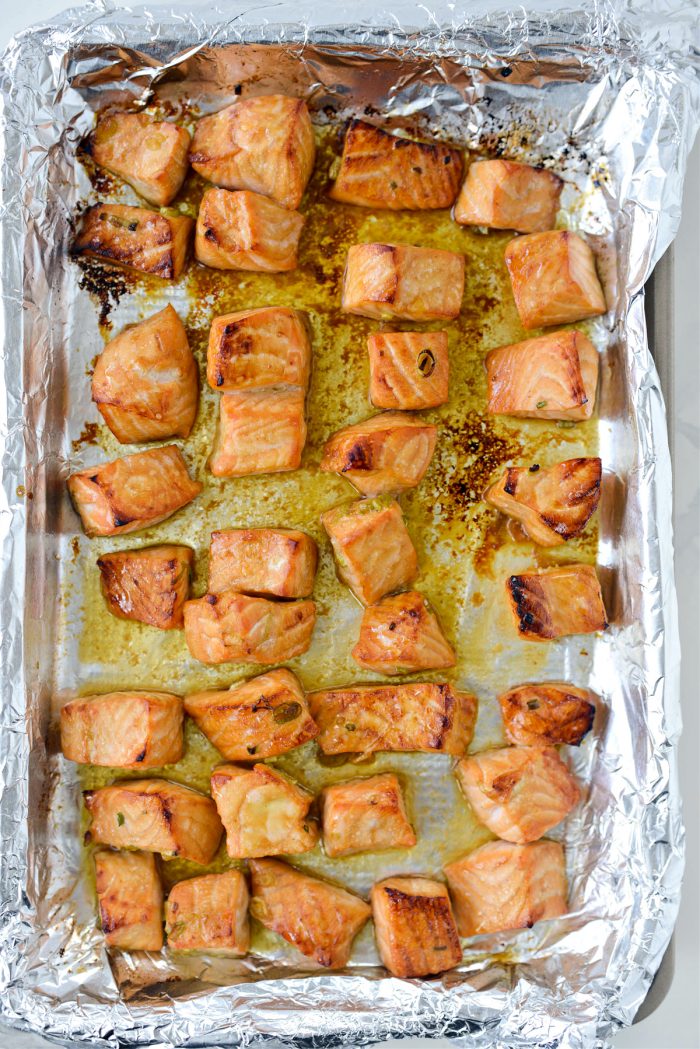 Slip the salmon onto the middle rack and bake 6 to 8 minutes. Then remove and (using oven mitts) move the oven rack to the highest position. Turn on the broiler on high and broil until crispy, about 1 minute or so. Watch carefully, rotating the pan as needed to ensure equal browning.
FYI as for reheating leftovers, this salmon crisps and reheats beautifully in the air fryer. (4 minutes or so at 390°)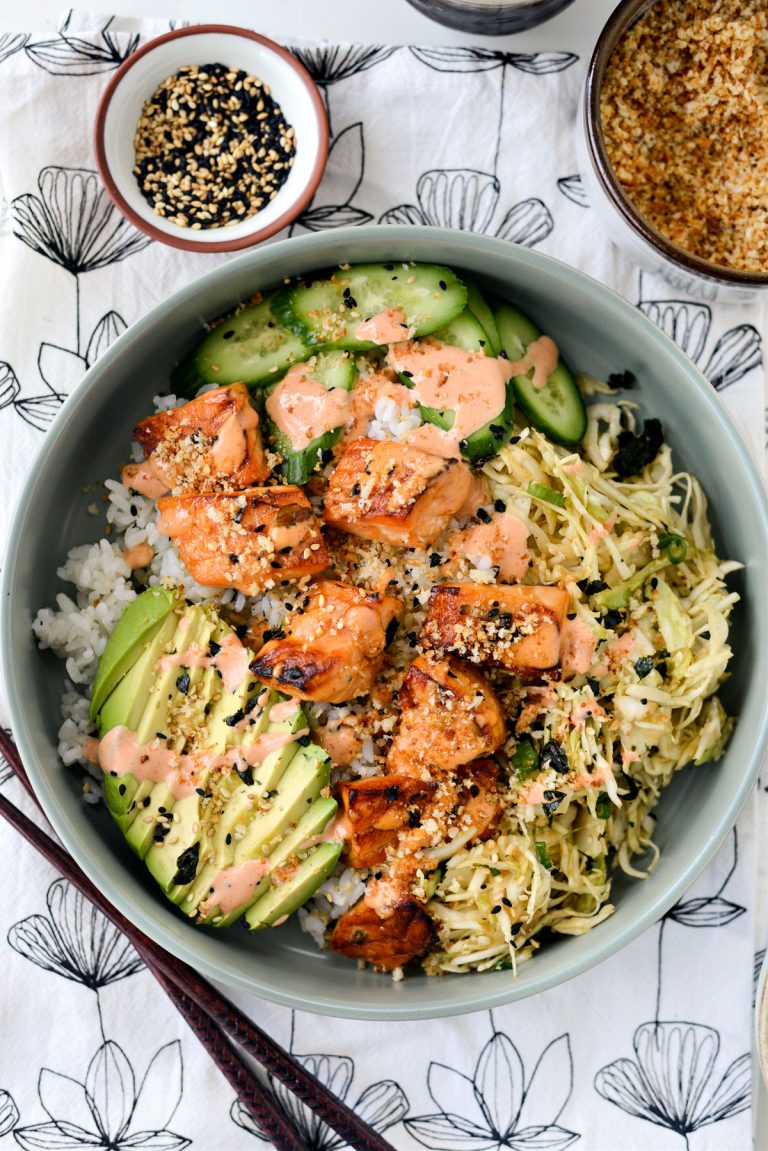 Build your bowl!
Divide rice among 4 bowls and top with slaw, salmon, avocado and cucumbers. Sprinkle with crush nori, toasted sesame seeds and the crunchy panko topping.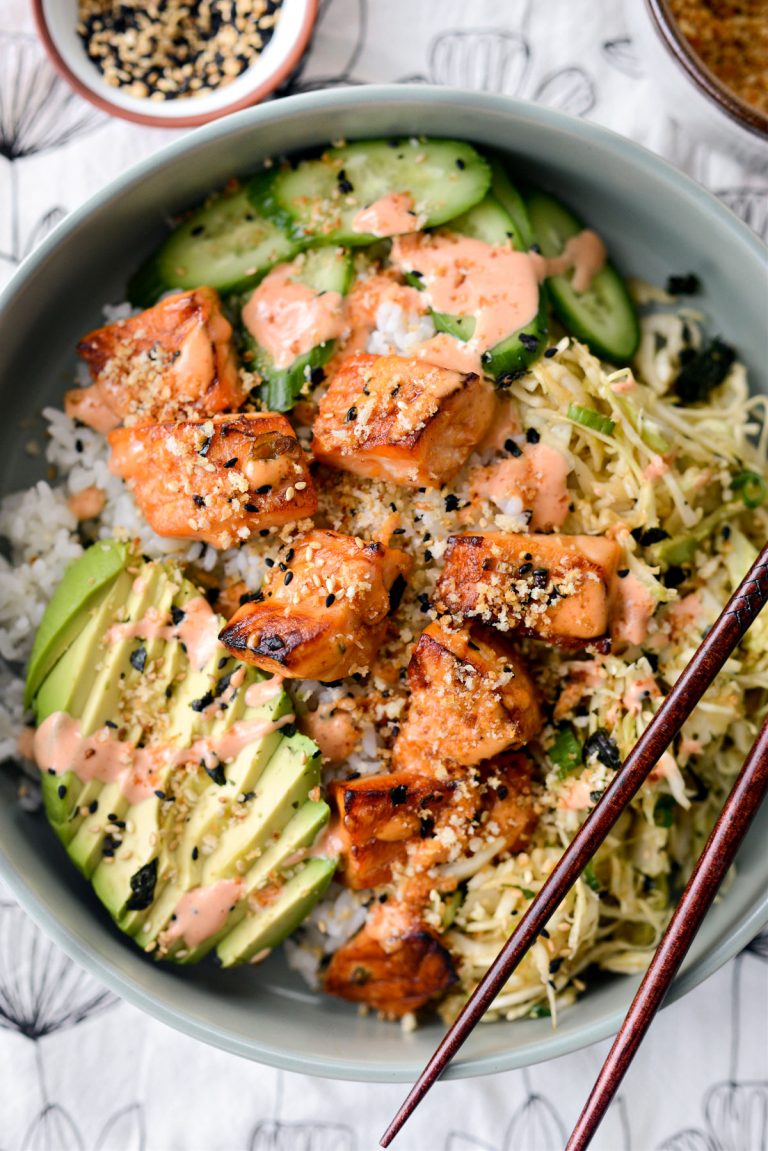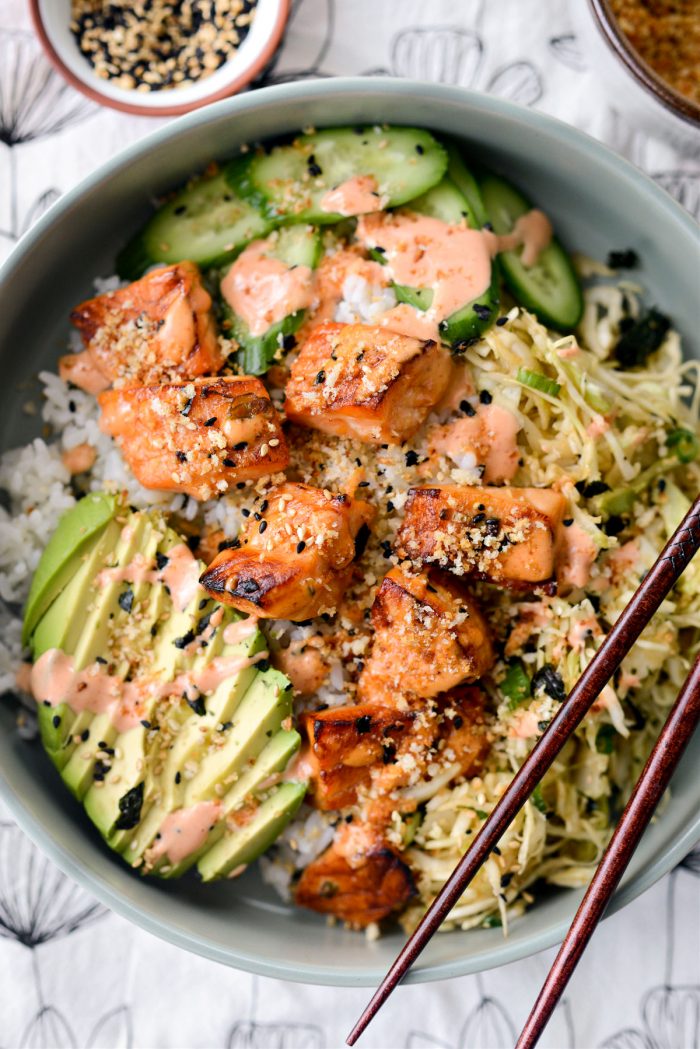 Lastly, drizzle with the spicy mayo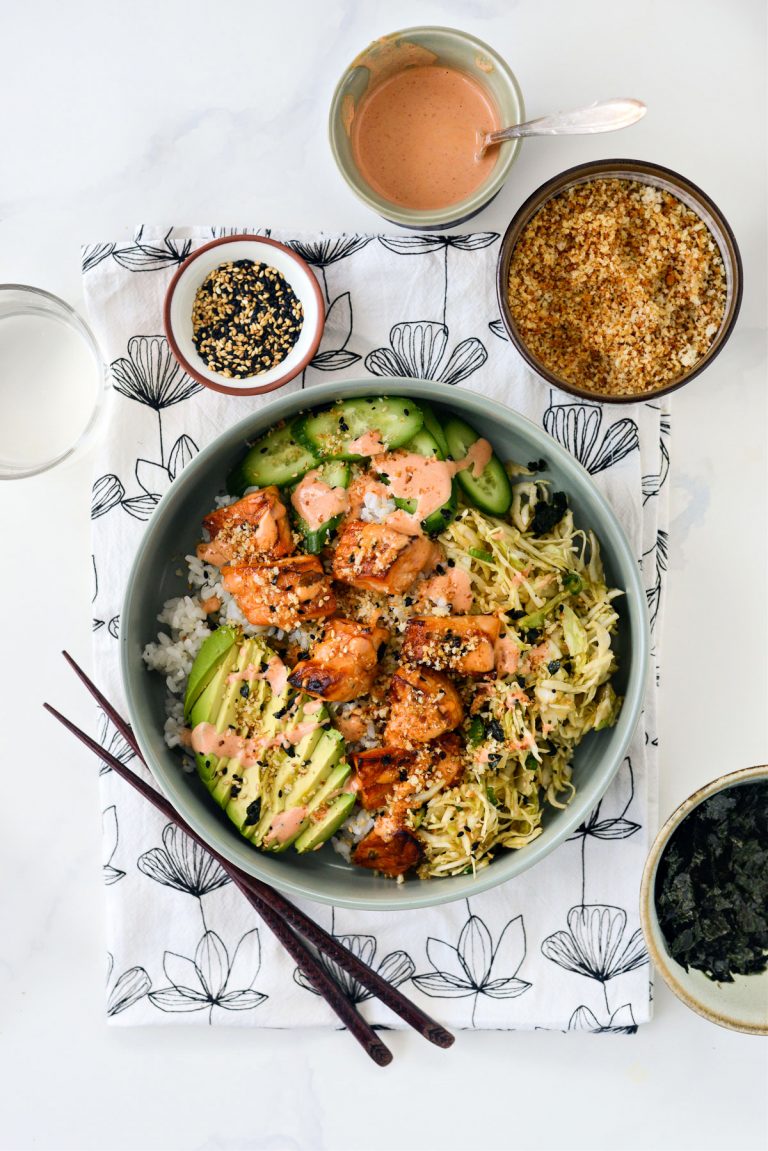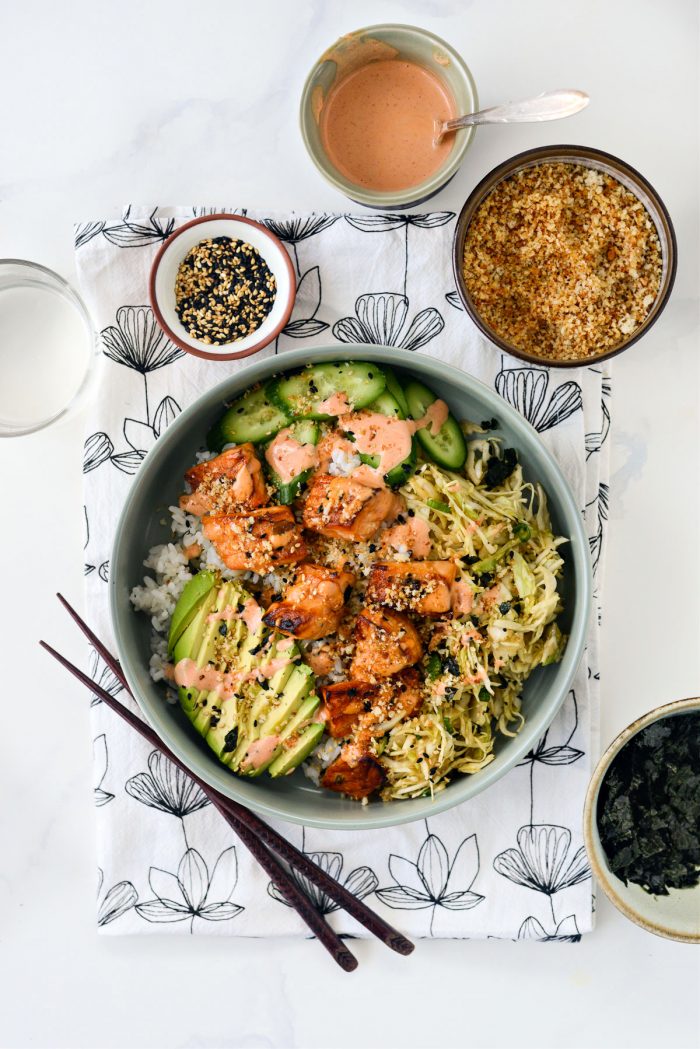 The flavors!! Oh my goodness the flavors of this bowl are exceptional. The sushi rice and salmon with the creamy avocado, cool cucumber and spicy mayo are out of this world. The crunchy panko hits this dish out of the park.
Prepare to fall in love.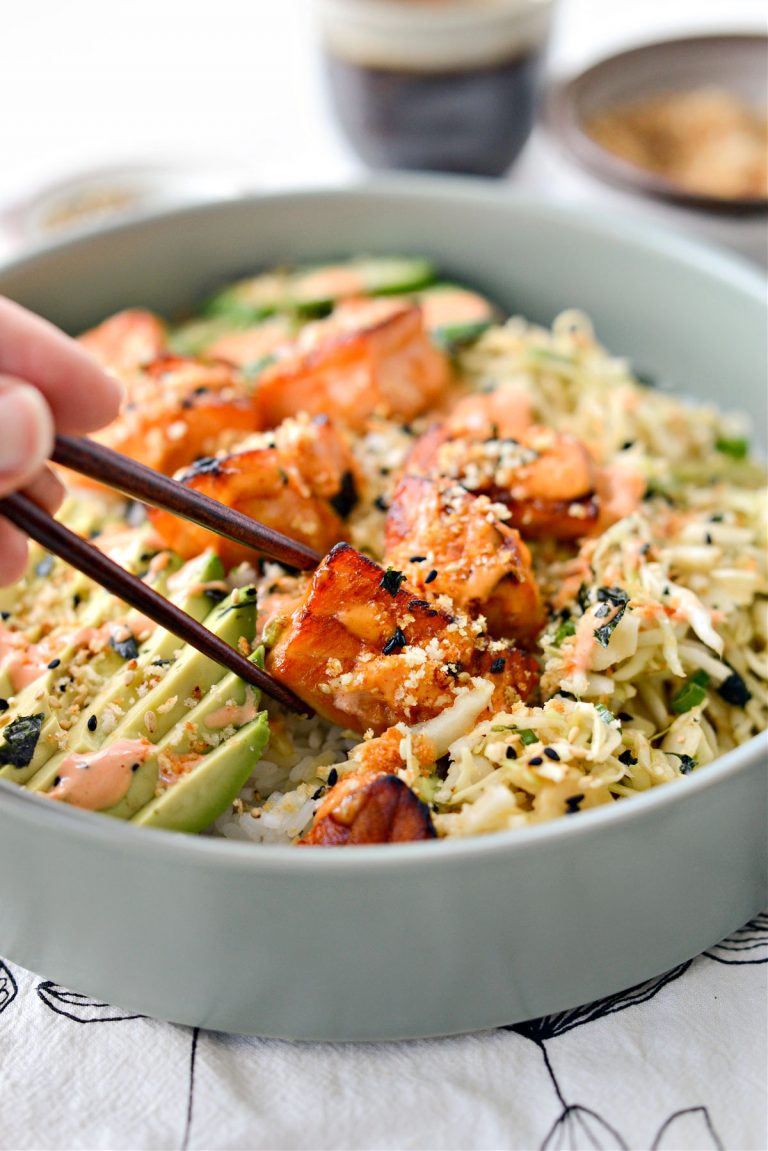 Enjoy! And if you give this Spicy Salmon Maki Bowl recipe a try, let me know! Snap a photo and tag me on twitter or instagram!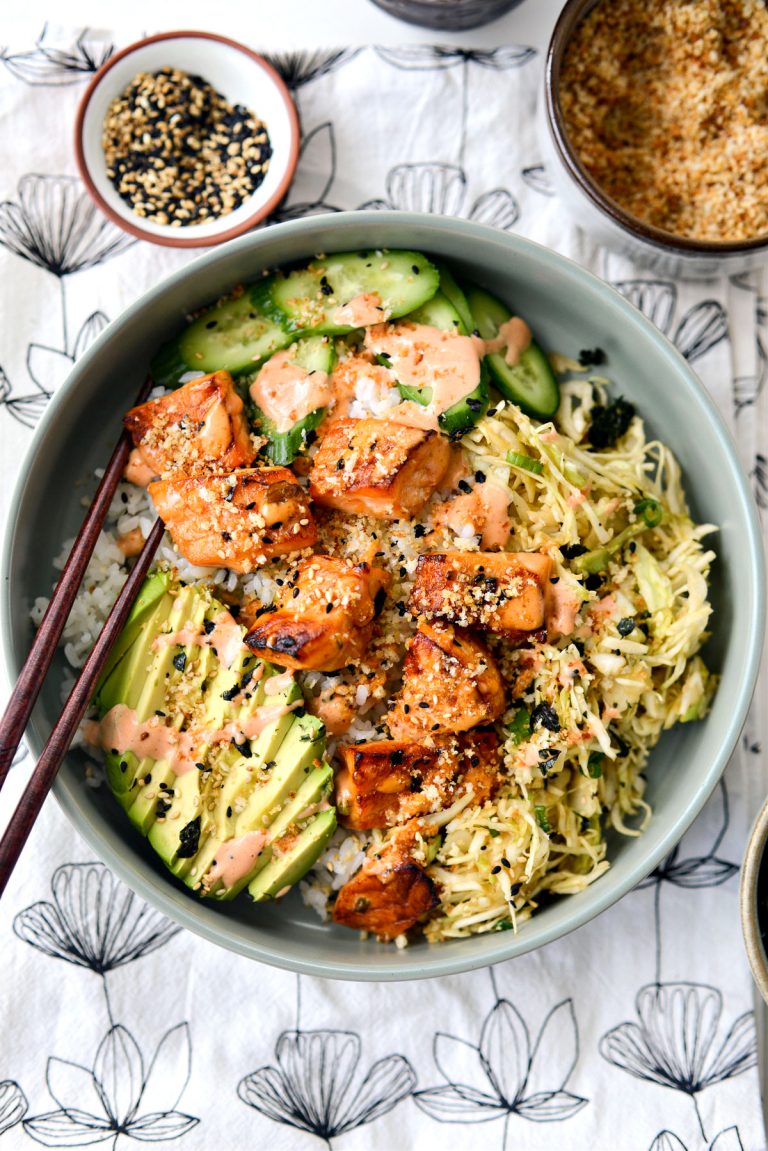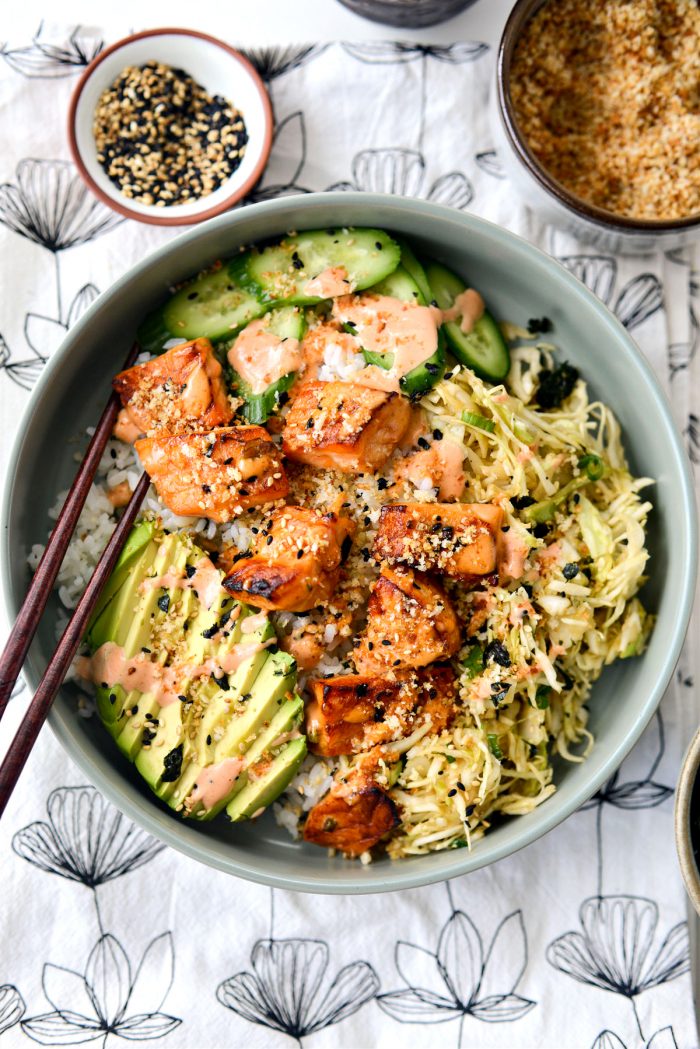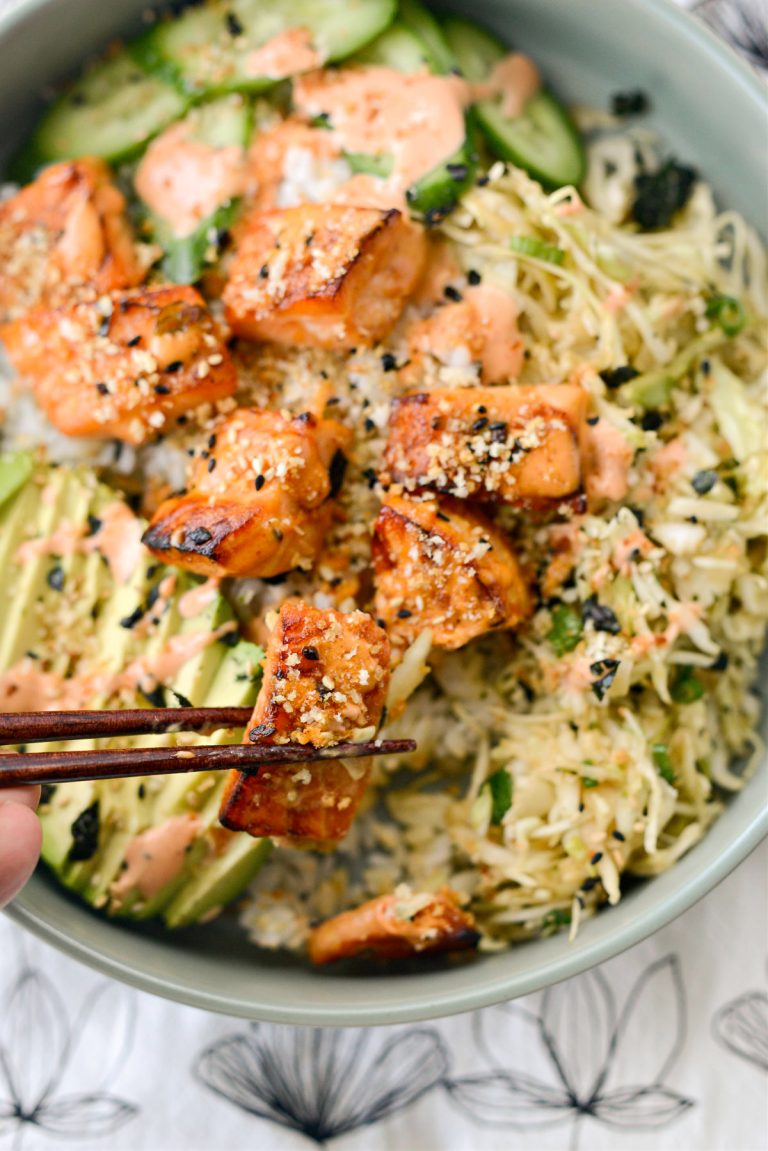 This post may contain affiliate links.
Buy the Cookbook: Simply Scratch : 120 Wholesome Homemade Recipes Made Easy Now available on Amazon »
THANK YOU in advance for your support!