In this Huli Huli Chicken Rice Bowl, boneless skinless chicken thighs marinate in a simple yet flavorful ginger garlic marinade before being grilled and brushed with reserved marinade. This sticky, sweet and slightly spicy chicken is served on top of cooked jasmine rice with roasted broccoli and topped with fresh pineapple salsa. We add more sriracha for an extra spicy bowl. Recipe serves 4.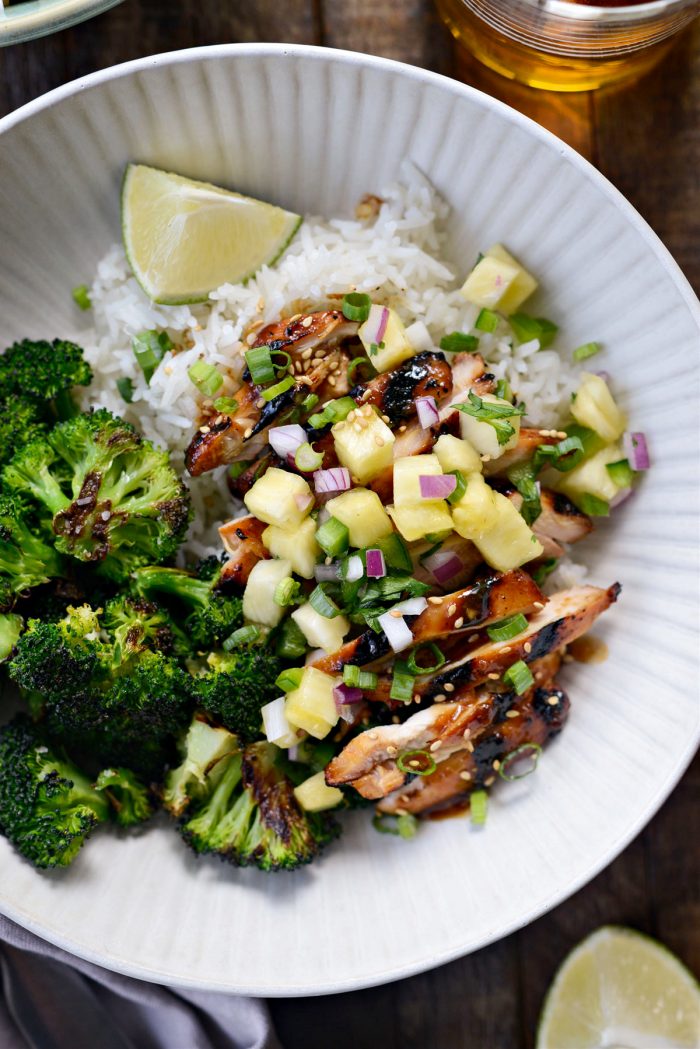 Huli Huli Chicken is a flavor explosion for your tastebuds.
It's also the first recipe I made the moment the weather started warming up. I first had this years ago in Florida and remember that it was sweet, spicy and deliciously sticky. Of course I was at a resort and they were slowly grilling/roasting whole chickens on a spit. Although our grill has a spit, I wasn't too keen on using whole chickens. So I did a little internet searching and compared lots of different variations. I started testing this recipe by using boneless skinless chicken breasts and then thighs. Obviously thighs won. I also cut back on the sugar and significantly reduce some of the higher calorie ingredients. My goal was to lower the calories without sacrificing flavor.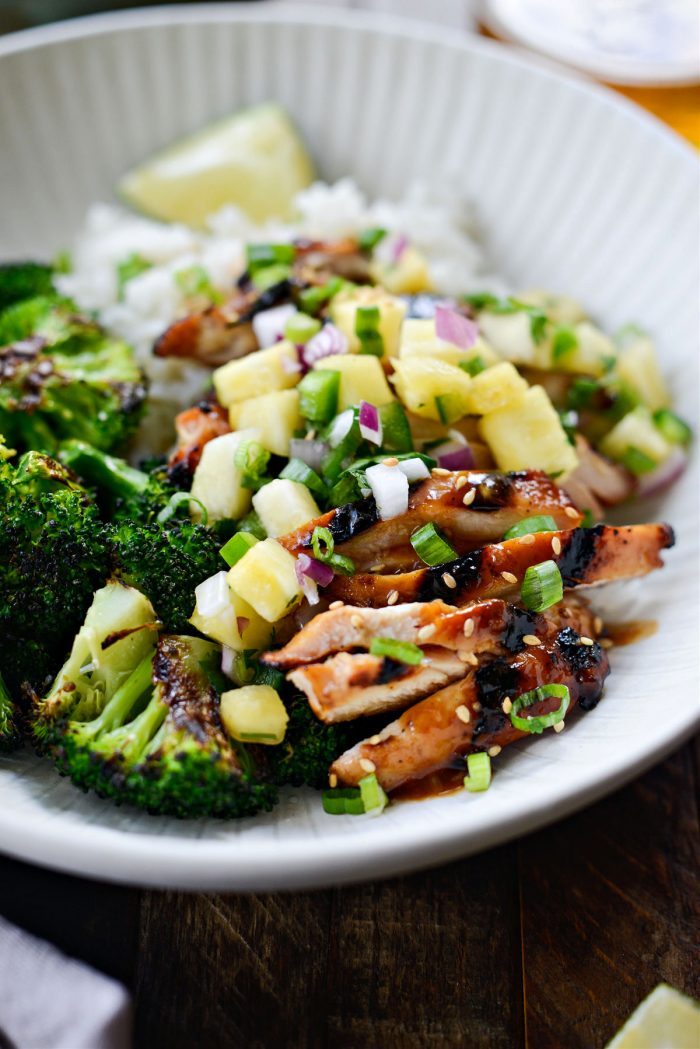 Since Huli literally means "turn", this recipe is a nod to the original, yet making it more family friendly and perfect for any night of the week. Cooking the chicken on a outdoor grill, turning and basting with the sauce is key to this magical recipe.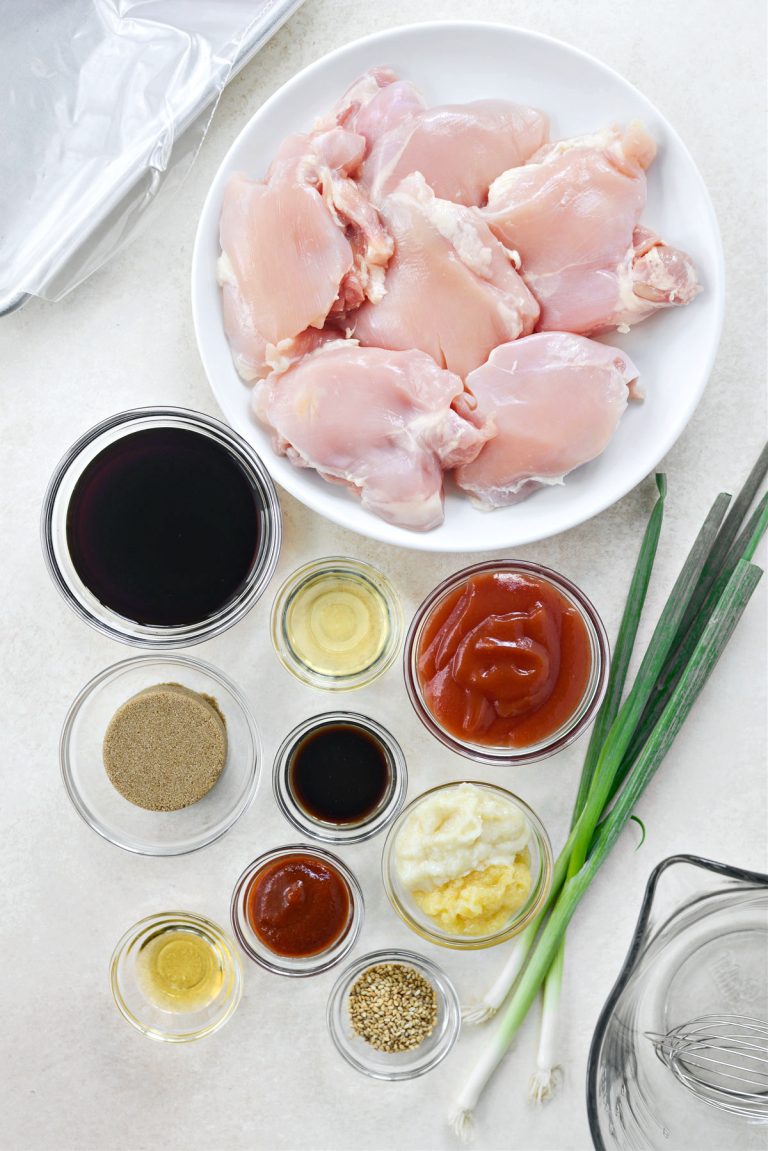 To Make Huli Huli Chicken Rice Bowls You Will Need:
for the marinade
ketchup (I use unsweetened)
low-sodium tamari or low-sodium soy sauce
rice vinegar (unseasoned)
worcestershire – homemade or store-bought
sriracha
toasted sesame oil
brown sugar
grated fresh ginger
grated fresh ginger
for serving
cooked jasmine rice
toasted sesame seeds
green onions
sriracha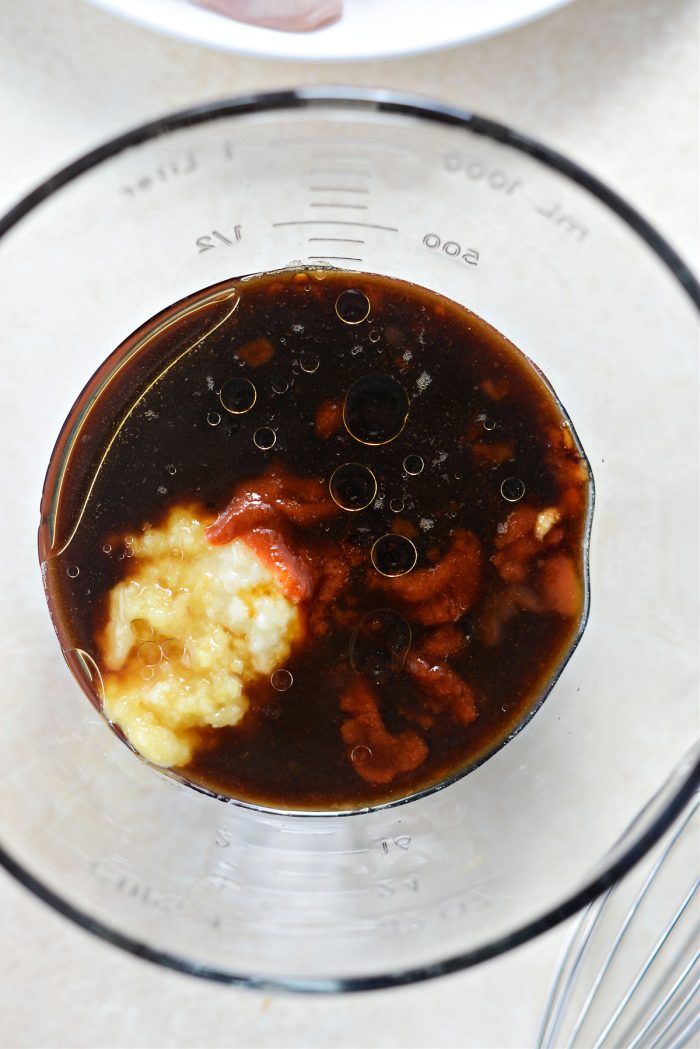 Start by preparing the marinade.
In a large liquid measuring cup, measure and add in 1/3 ketchup, 1/4 cup low sodium tamari or soy sauce, 2 tablespoons unseasoned rice vinegar, 1 tablespoon Worcestershire sauce, 1 tablespoon sriracha and 1-1/2 teaspoons toasted sesame oil. Lastly add in 1/4 cup brown sugar, 2 tablespoons each grated fresh ginger and garlic. For this I like to use a short cut and use the pre-grated tubes you can find in the produce section.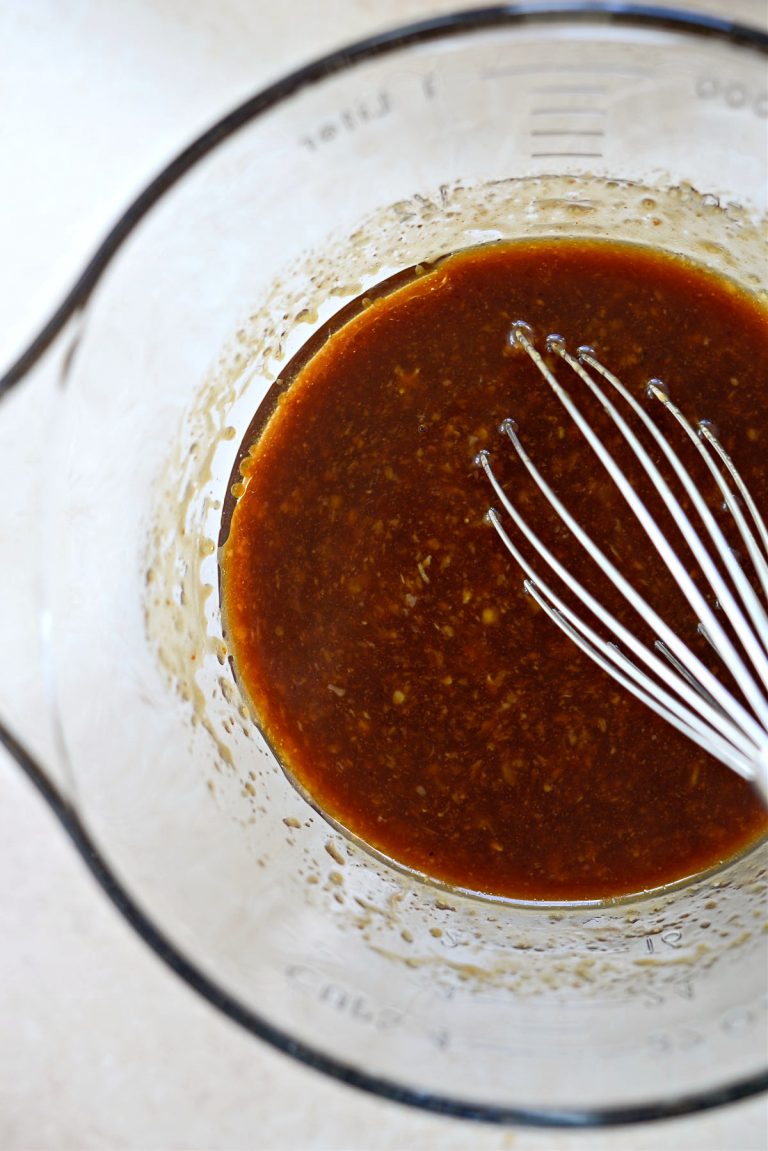 Whisk well to combine.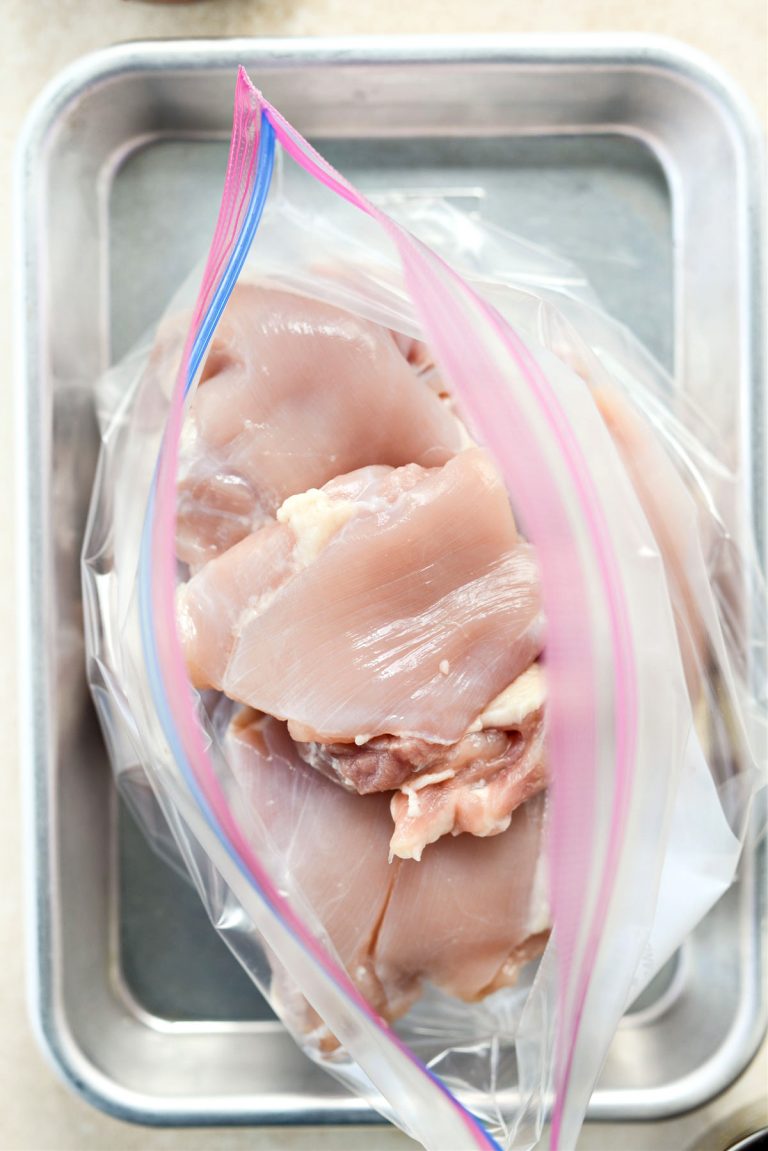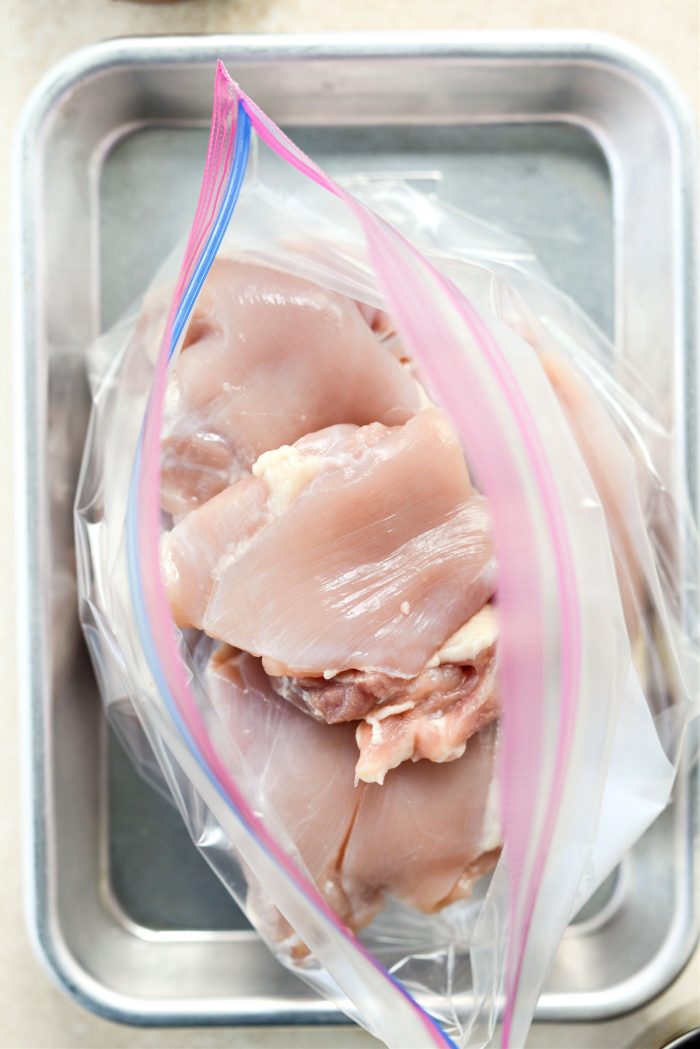 Place 1-1/4 pounds boneless skinless chicken thighs to a re-sealable bag or bowl.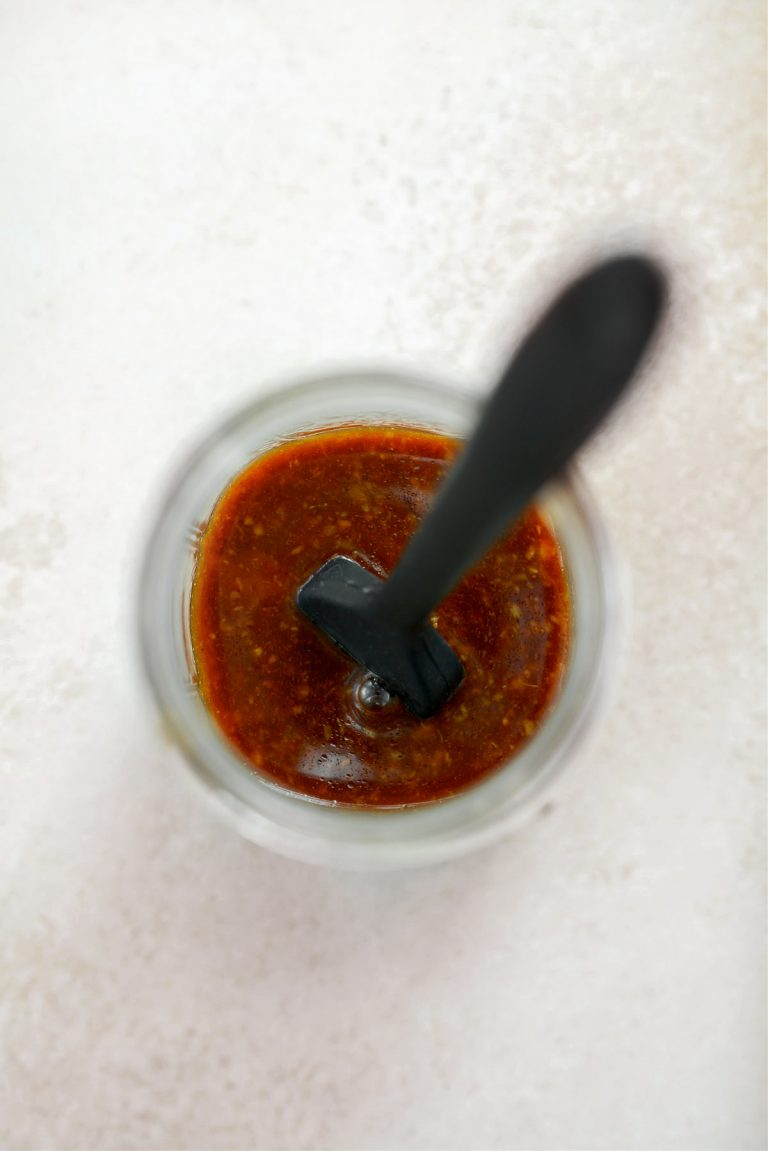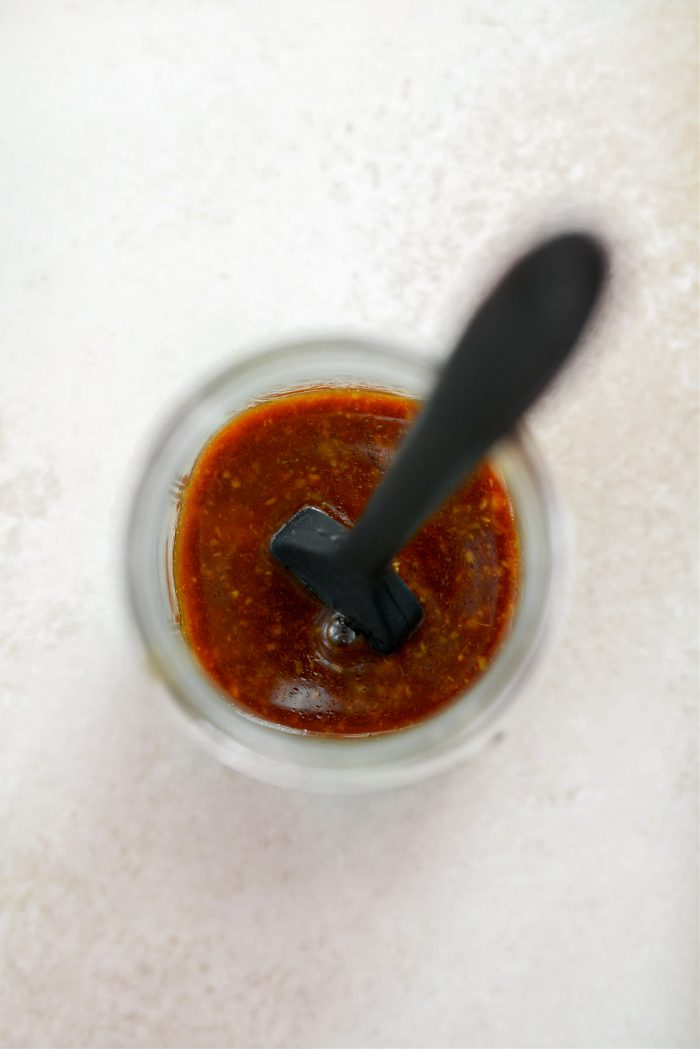 Reserve 1/2 cup of the marinade and set off to the side. You'll use this to baste the chicken after it's grilled.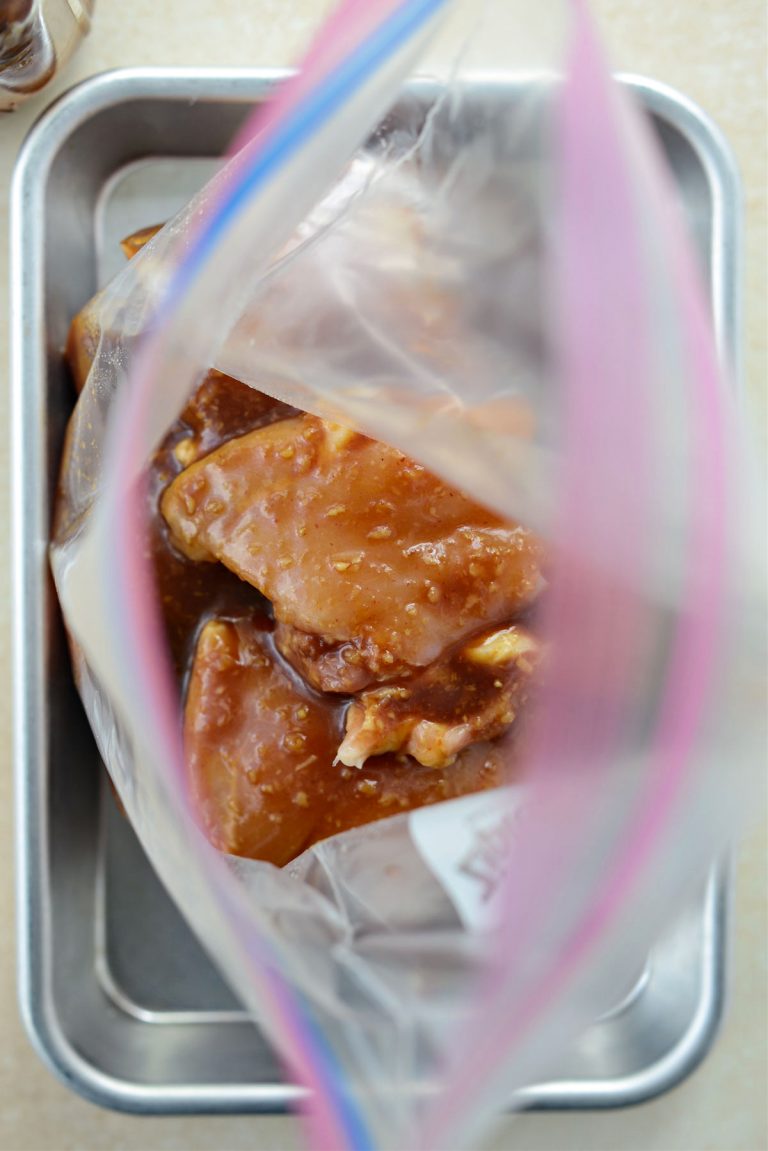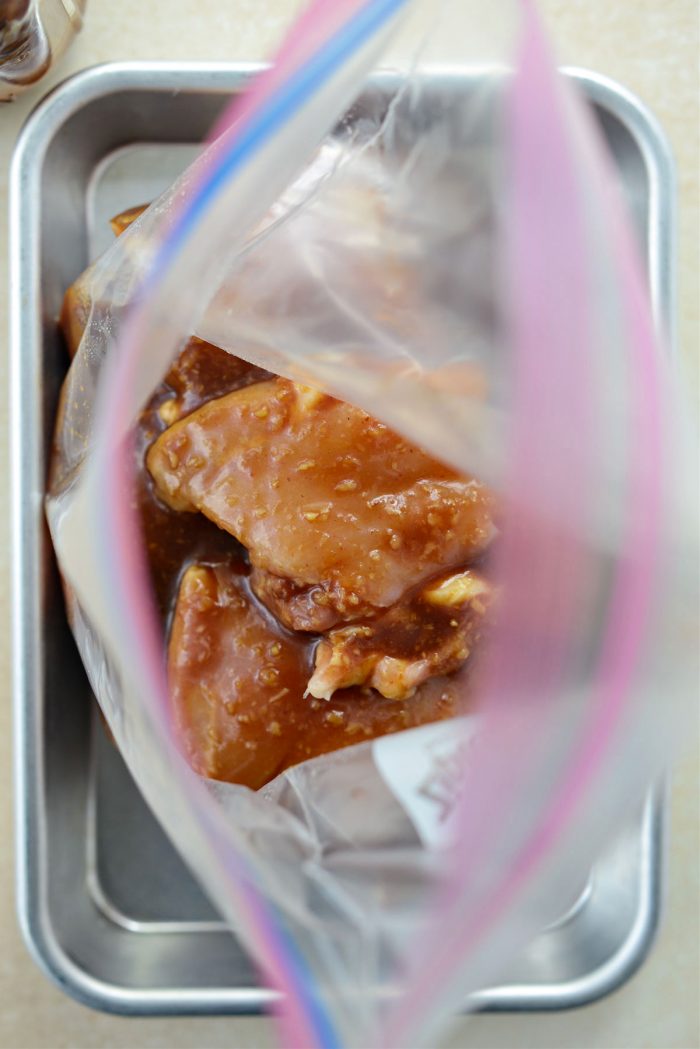 Pour the remaining sauce over the chicken.
Squeeze the bag to coat the chicken, press out any air and seal. If using a bowl cover tightly with plastic wrap or a lid. Refrigerate for 2 hours or overnight. If in a pinch, 45 minutes to an hour will suffice.
Once the chicken has marinated, remove while you preheat your outdoor grill to 500°.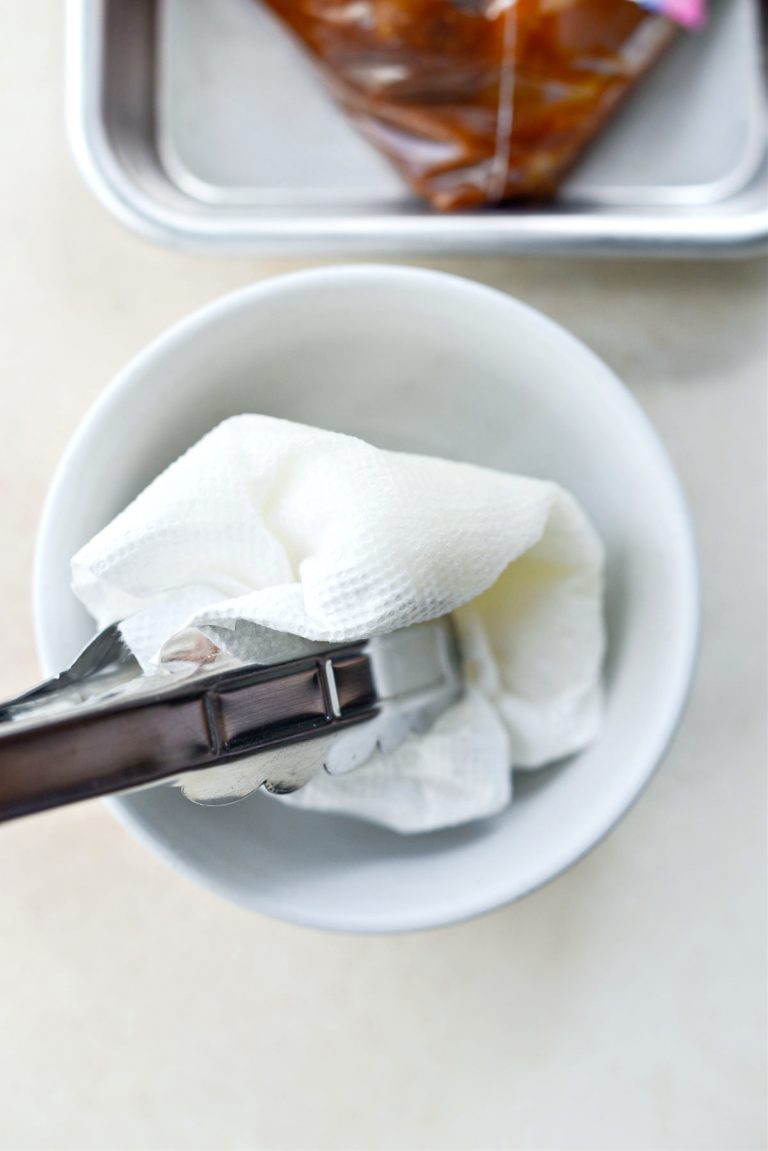 When the grill is hot, dip paper towel or an old kitchen towel in a shallow dish of extra light olive oil. Brush the grates with the oil soaked towel, be careful of any flair-ups.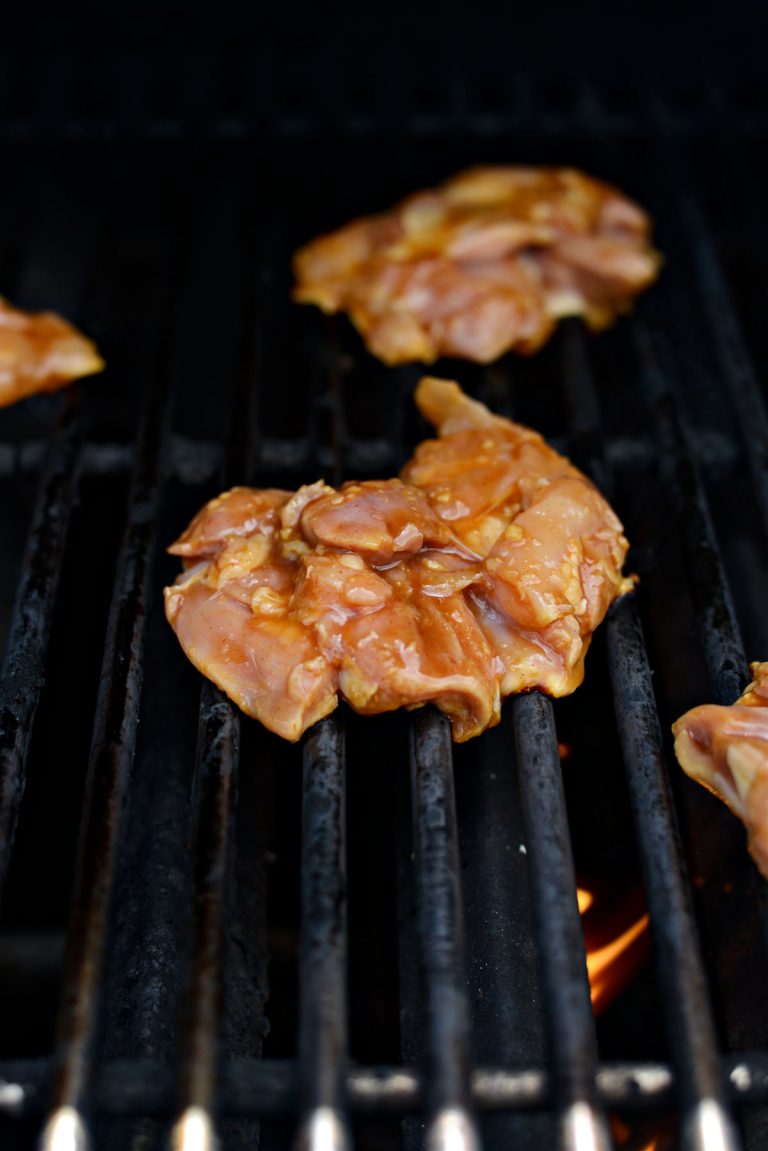 Use tongs to remove the chicken thighs from the marinade and place on the oiled grill grates. Close the lid and grill for 3 to 4 minutes, adjusting the temp as needed to avoid burning.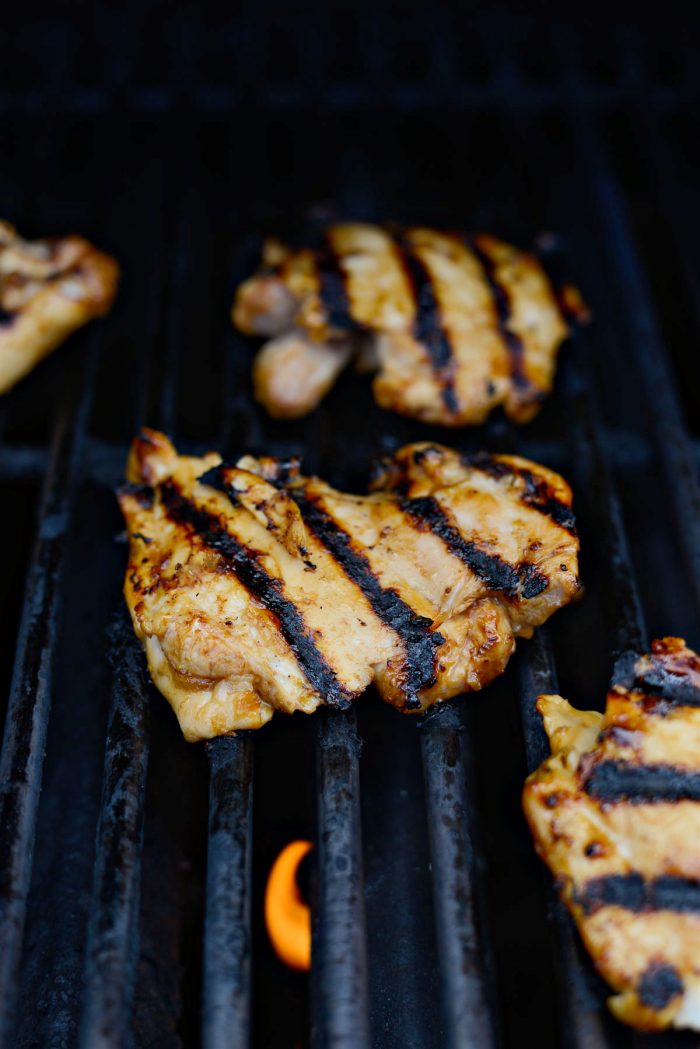 Use sturdy tongs to really get under the thighs (as even though the grates were oiled, this chicken likes to stick) to turn. Cover, and continue grilling for 3 to 4 minutes or until fully cooked.
An instant read thermometer should read 165° when inserted into the middle of the thickest part.
Once the chicken is fully cooked, brush with reserved marinade from earlier.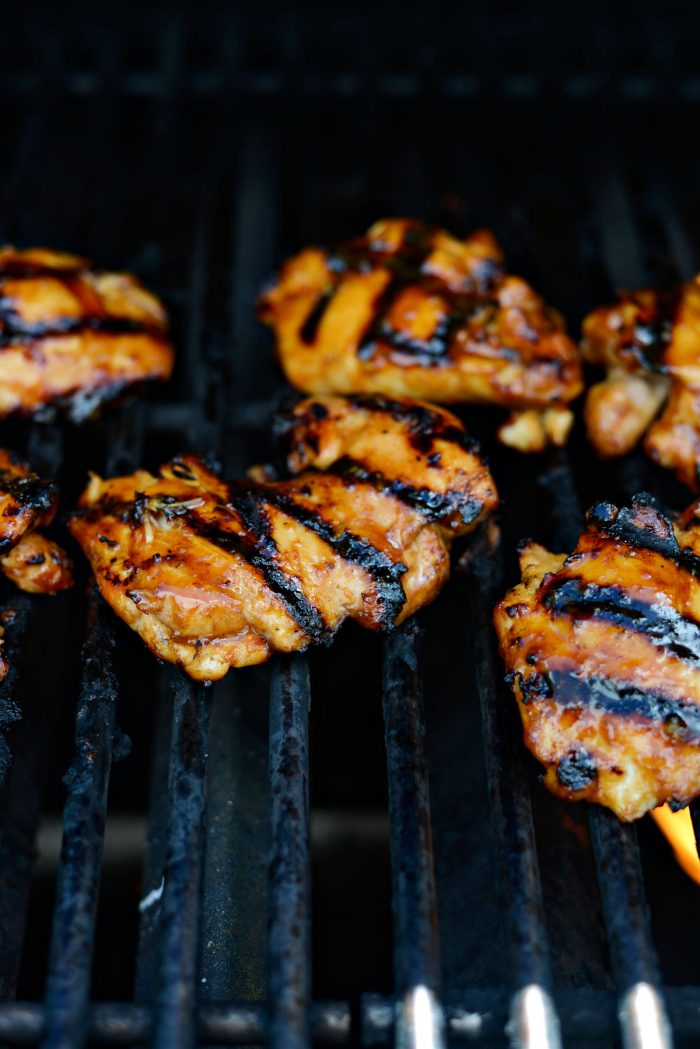 Turn as you go until the chicken is glazed and sticky.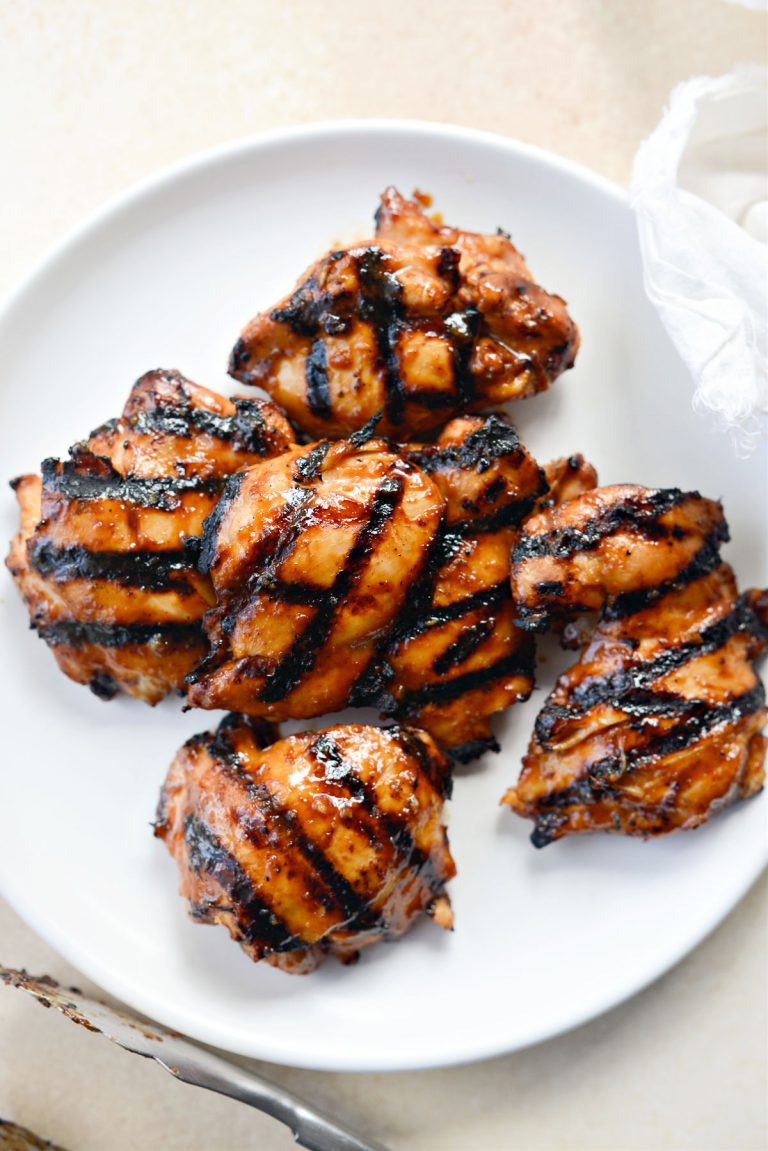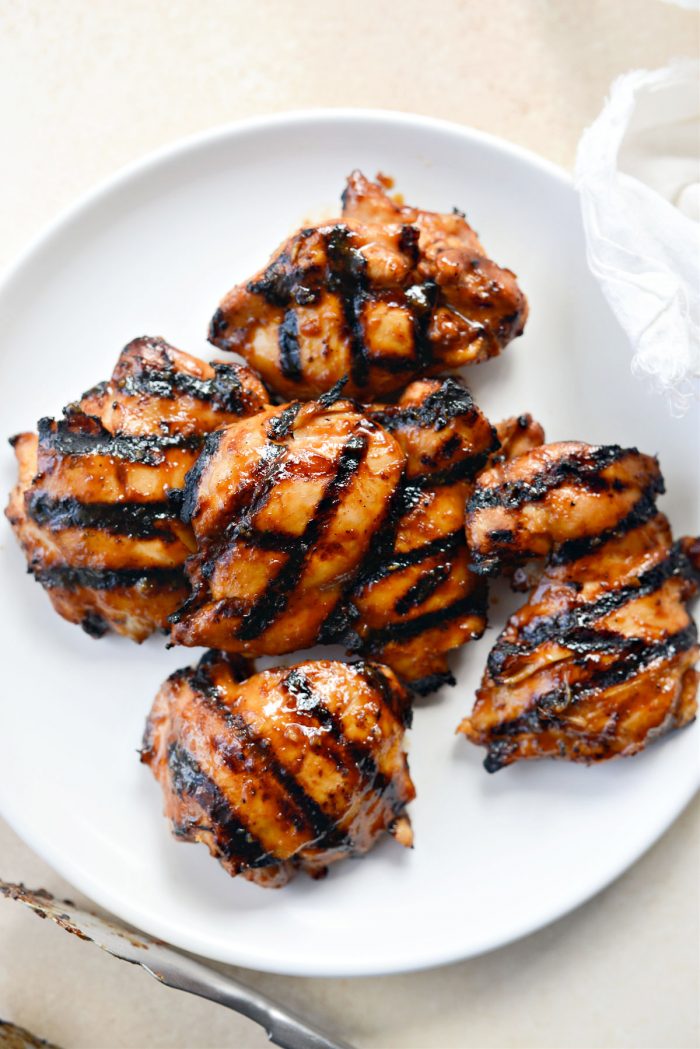 Remove off the grill and let rest before slicing.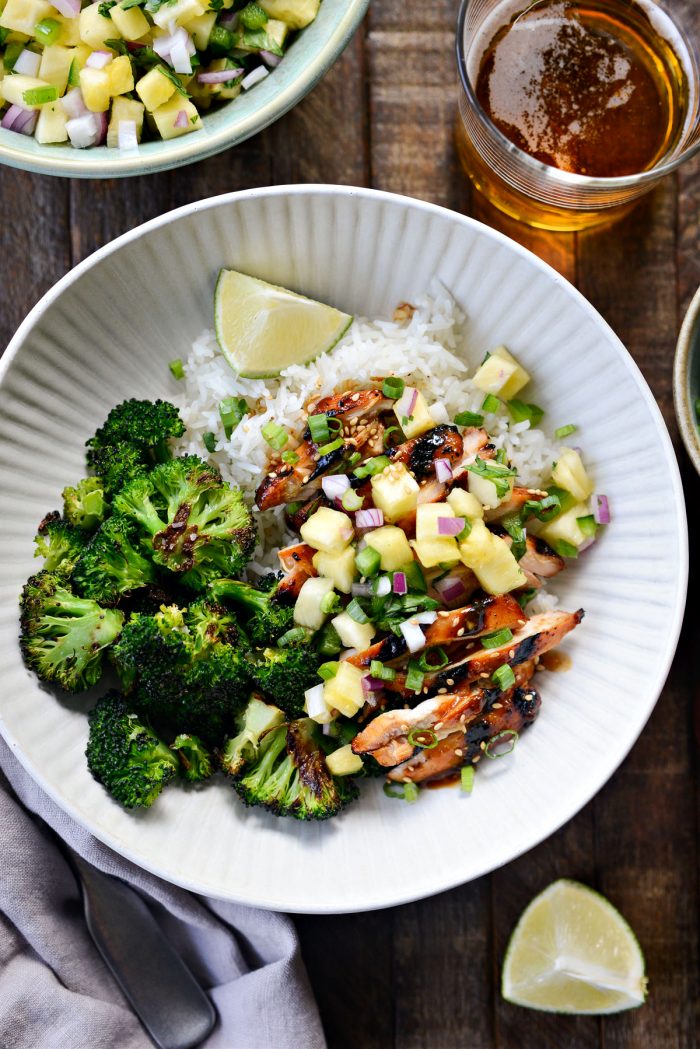 Divide cooked jasmine rice among bowls, top with sliced Huli Huli chicken, spoonfuls or remaining marinade/glaze and pineapple salsa. Sprinkle with toasted sesame seeds, sliced green onions and serve with my go-to side, 10-minute roasted broccoli.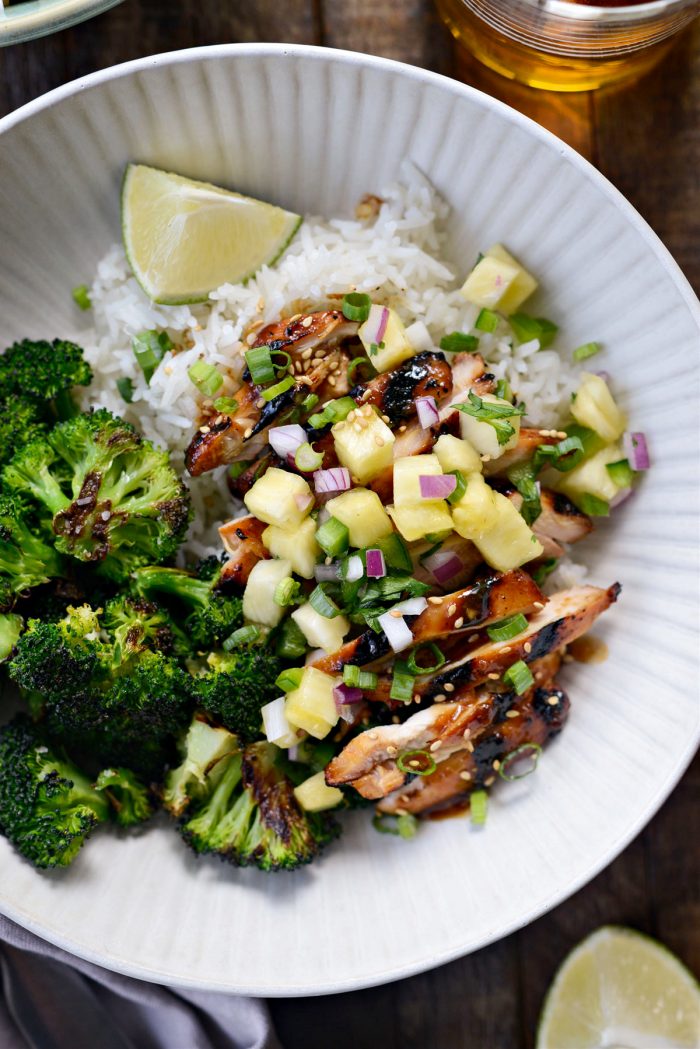 Enjoy! And if you give this Huli Huli Chicken Rice Bowl recipe a try, let me know! Snap a photo and tag me on twitter or instagram!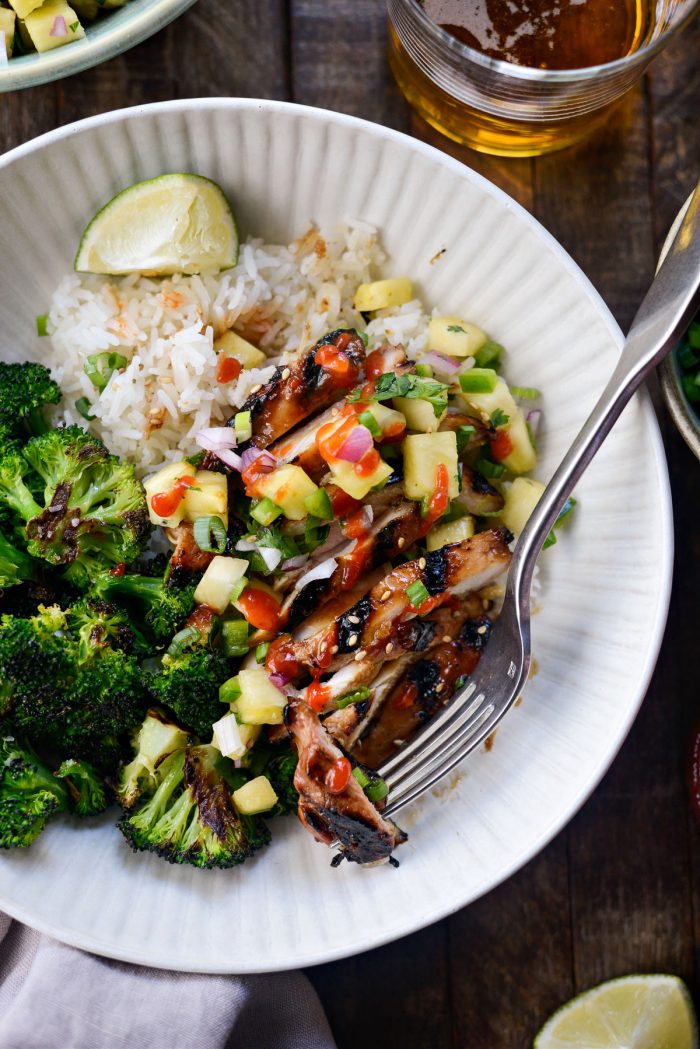 This post may contain affiliate links.
Buy the Cookbook: Simply Scratch : 120 Wholesome Homemade Recipes Made Easy Now available on Amazon »
THANK YOU in advance for your support!