This St. Patrick's Day spike your coffee mugs with Homemade Baileys Irish Cream! This recipe calls for simple ingredients, only takes a few minutes and yields 3-1/2 cups. Did I mention it's delicious?! It should last up to 2 months in the fridge if stored in an air-tight container.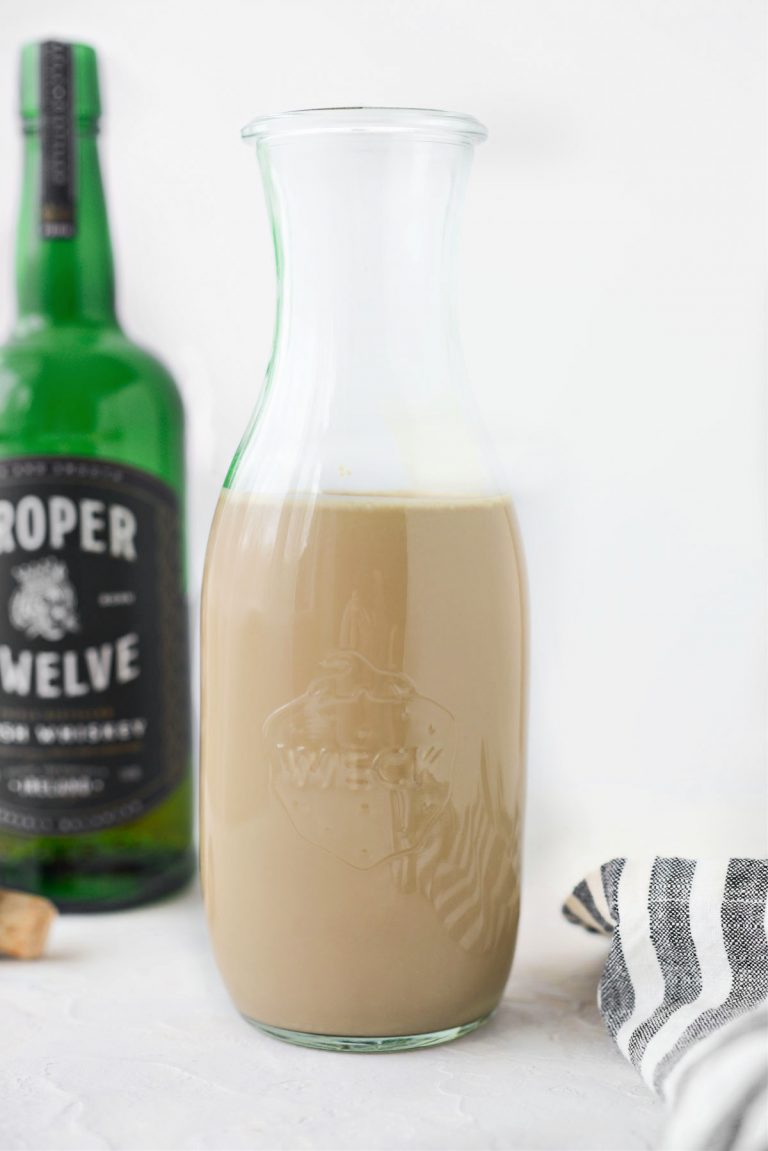 With the last name McNamara there's no wonder as to why I love St. Patrick's Day.
And before I became a McNamara, I was a Rafferty. In honor of my Irish heritage, I've always made a big deal out of St. Patrick's Day. I'd get our girls cute little t-shirts with shamrocks and/or leprechauns on it from Target to wear to school. I make allthefood and treats and Guinness is stocked in our basement fridge. And it's also a rule that you have to wear green on this day or you risk getting pinched.
Speaking of my husband Pat … again when our girls were super little, they would wish him Happy Father's Day on St. Patrick's Day. They thought since his name is Patrick and it was in the name of the holiday, that it was a day just for him. Somehow this made complete sense to them, and do you think I ever corrected them? Not once.
To Make Homemade Baileys Irish Cream You Will Need:
sweetened condensed milk
chocolate syrup (homemade or store-bought)
vanilla extract
instant coffee granules
Irish whiskey
heavy cream
Start by pouring 1 (14 ounce) can sweetened condensed milk into a mixing bowl, preferably with a spout. I've attempted many times to make my own sweetened condensed milk and cannot get it to the right thickness. So until I've got it down, canned it will have to be.
Next pour in 3 tablespoons chocolate syrup. Feel free to play with the amounts here. Want less chocolate? Add 1 to 2 tablespoons. Like more of a chocolaty flavor? Add 4 to 6 tablespoons.
Measure and add in 1 teaspoon vanilla extract and 1 heaping teaspoon instant coffee granules. I use the coffee granules to enhance the chocolate flavor, but is totally optional.
Pour in 1 cup Irish whiskey. I had Proper No. Twelve on my shelf so that's what I use. Other popular brands of Irish whiskey would be Jameson and Tullamore D.E.W.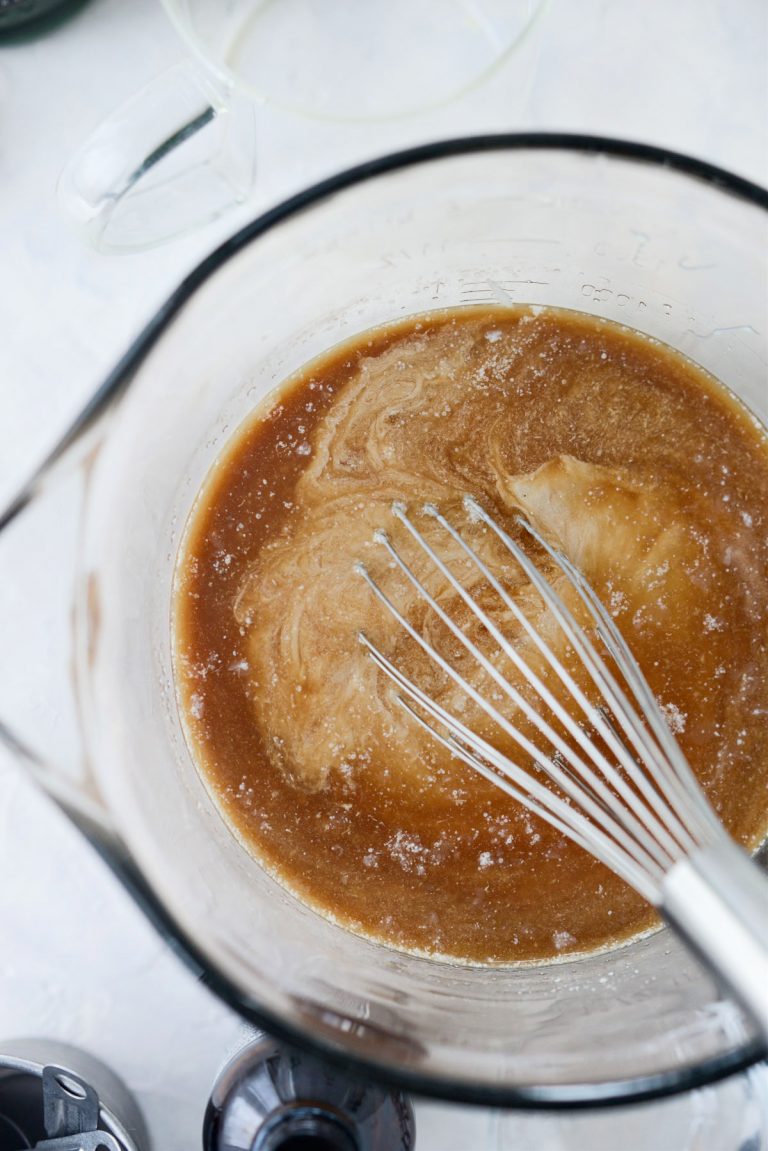 Grab your whisk and get to whisking.
Whisk until the instant coffee granules dissolve. Since the Irish cream is cold (and not boiling) this could take a little bit.
Pour it into a juice jar or container with a tight fitting lid and keep refrigerated.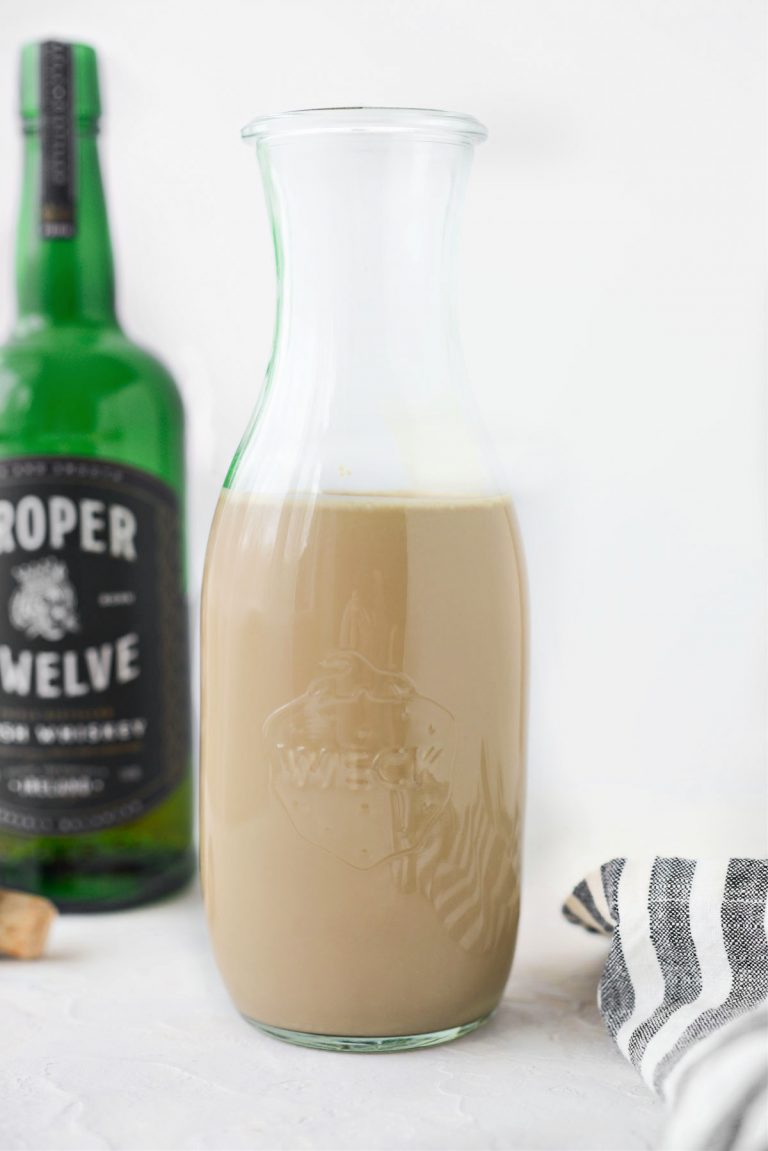 If stored in an air-tight container, it should last in the fridge for up to 2 months.
What can you make with Homemade Baileys Irish cream?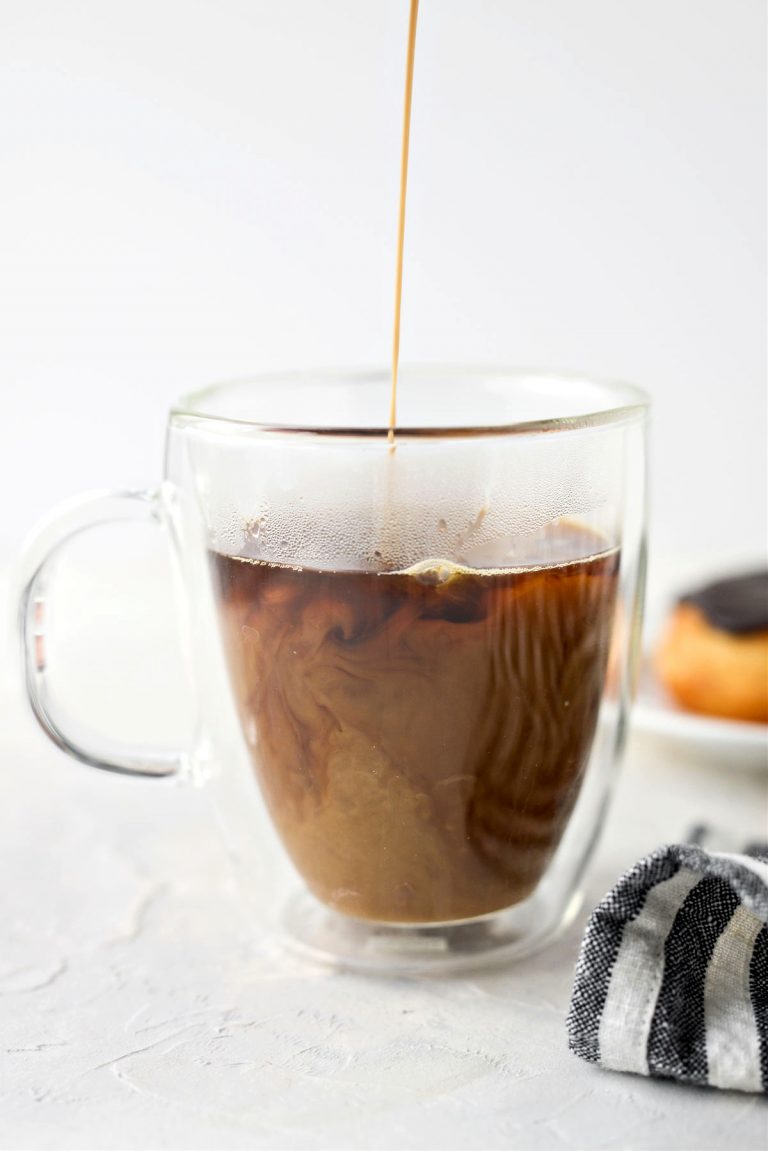 Enjoy it in hot coffee! Stir 2 to 3 ounces of the Baileys into an 8 ounce cup of coffee.
For iced coffee, fill a large glass or jar with ice and pour over a shot of espresso. Froth (or simply combine) 2 to 3 tablespoons of Baileys with 1/2 cup whole milk and pour that over top.
Is it even St. Patrick's Day if you're not sipping on a boozy Baileys and Coffee Milkshake? Coffee ice cream is blended with milk, chocolate syrup, cold coffee and Baileys Irish cream until thick. Serve in chilled glasses topped with whipped cream for a deliciously cool adult shake.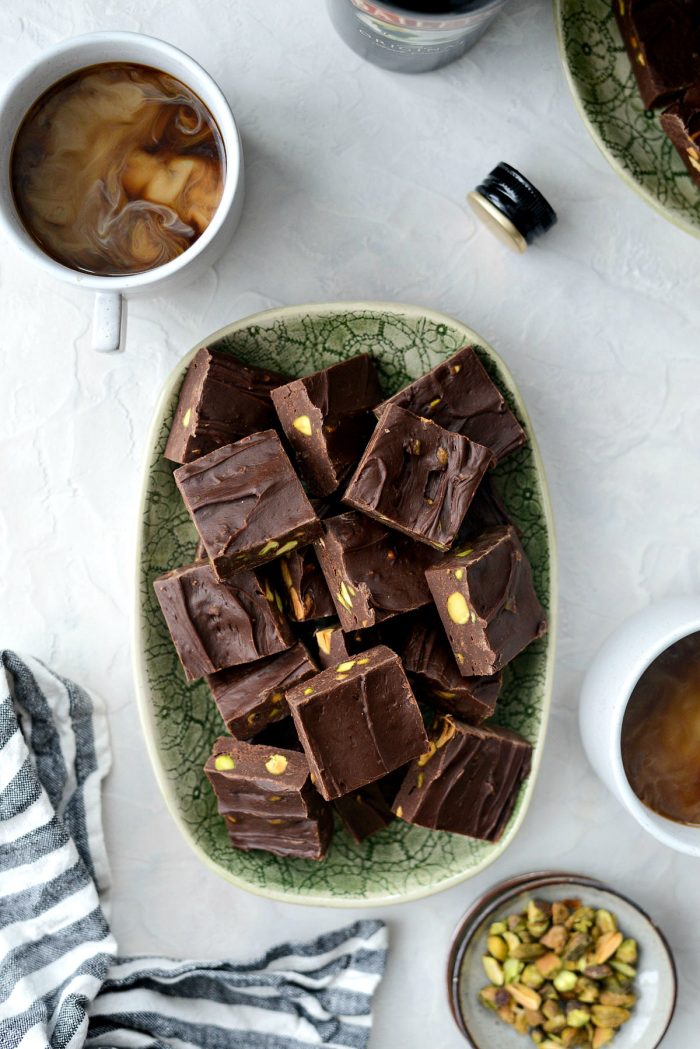 Bailey's Chocolate Pistachio Fudge is boozy chocolatey perfection! A velvety, Irish cream liqueur infused chocolate fudge studded with lightly salted chopped pistachios.
You can also serve it in a rocks glass over ice.
No matter how you use it or serve it, it's delicious.
Enjoy! And if you give this Homemade Baileys Irish Cream recipe a try, let me know! Snap a photo and tag me on twitter or instagram!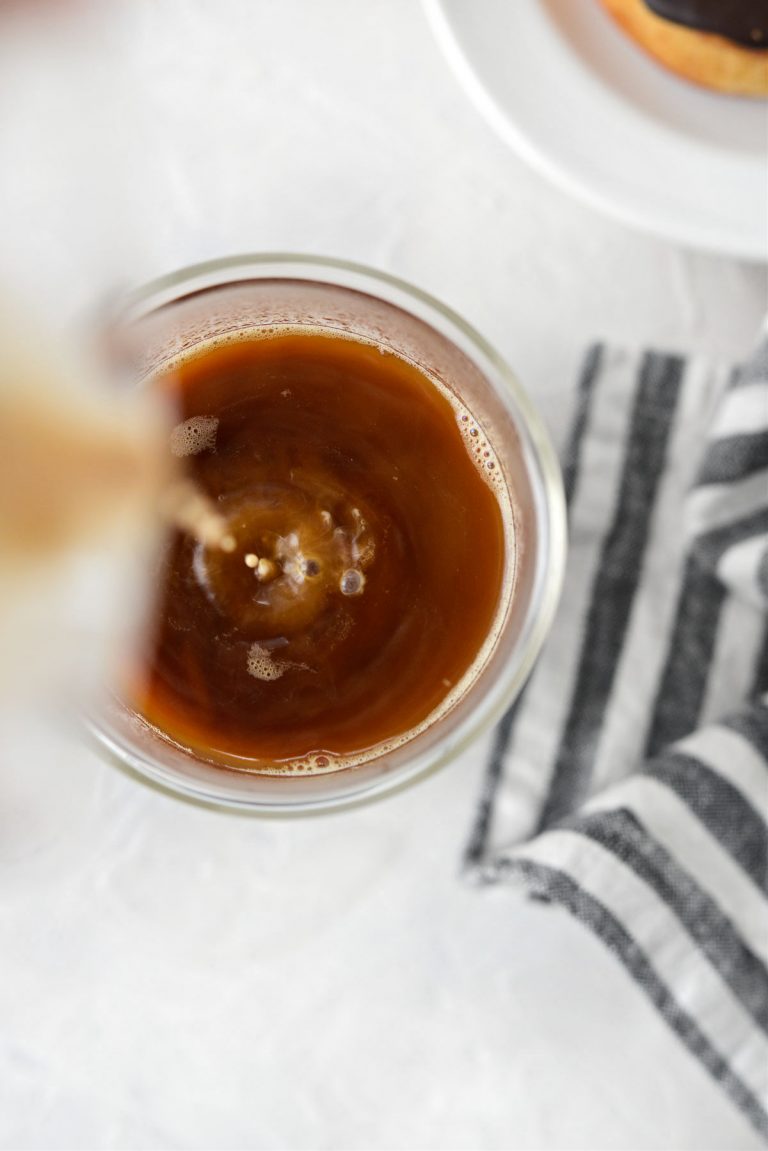 This post may contain affiliate links.
Buy the Cookbook: Simply Scratch : 120 Wholesome Homemade Recipes Made Easy Now available on Amazon »
THANK YOU in advance for your support!