Is it even St. Patrick's Day if you're not sipping on a boozy Baileys and Coffee Milkshake? Coffee ice cream is blended up with milk, chocolate syrup, cold coffee and Baileys Irish cream until thick. Serve in chilled glasses topped with whipped cream for a deliciously cool adult shake.
It's been forever and since I had Baileys. I remember the first and only time I had it which was 16 years ago 😳. It was Christmastime and Pat's Aunt Debbie offered me a Baileys and coffee. Since I'm never one to turn down a cup of coffee, I said sure! and it was divine. Hot coffee with a shot of Irish cream, is heaven! The person who put these two together is brilliant and therefore I thank you.
The ultimate comfy coziness in a mug.
Fast forward 16 years and I found myself asking: why don't I ever have Baileys in my fridge??
It just one of those things I never think to buy but always wish I had on hand for things like coffee or milkshakes. It seems like a no brainer, but last week I bought my first bottle (so grown up!) with plans for St. Patrick's Day. I also picked up a pint of coffee ice cream. It was about to go down.
This Baileys and Coffee Milkshake is obviously a riff on the classic hot coffee beverage. I used coffee ice cream (yum!) and blended it up with a few other ingredients and in just a few minutes I had the BEST Baileys and coffee milkshake. Like move over McDonald's shamrock shake, there's a new favorite in town. Not that the shamrock shake is even good anymore, unless you make this one. Because Homemade is best. #justsayin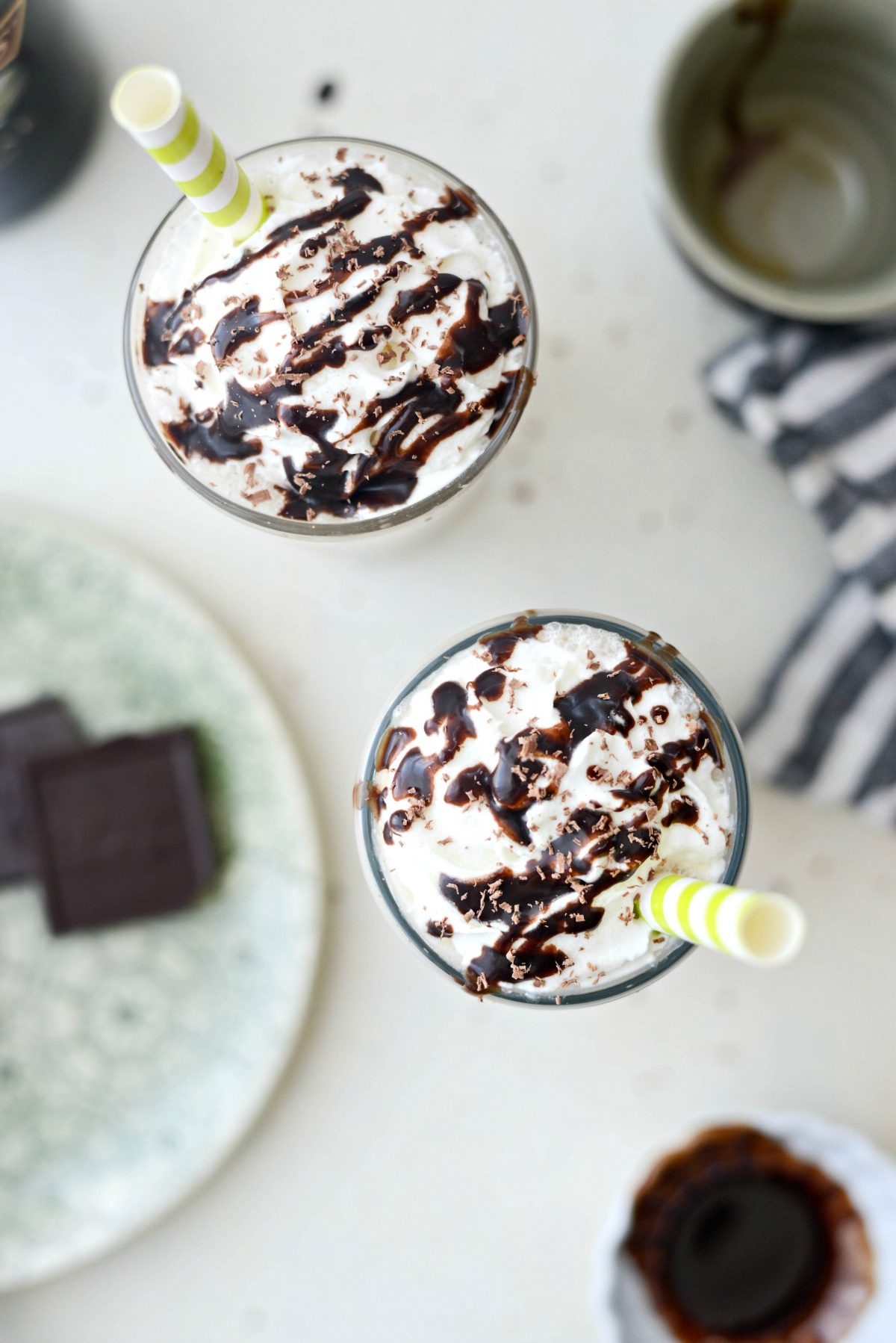 It's a milkshake I could drink everyday. If there wasn't such things as calories or regret. BUT it's definitely one I will be happy to sip out of a big fat straw this St. Patrick's Day.
To Make These Boozy Bailey's and Coffee Milkshake's you will need:
1 pint (or 2 cups) coffee ice cream [homemade or store bought]
3/4 cup whole milk
1/4 cup cold (brewed) coffee
1/4 cup Baileys Irish cream
1 to 2 tablespoons chocolate syrup [homemade or store-bought], plus more for serving
Optional Garnishes:
whipped cream
chocolate shavings
sprinkles
mini chocolate chips
caramel sauce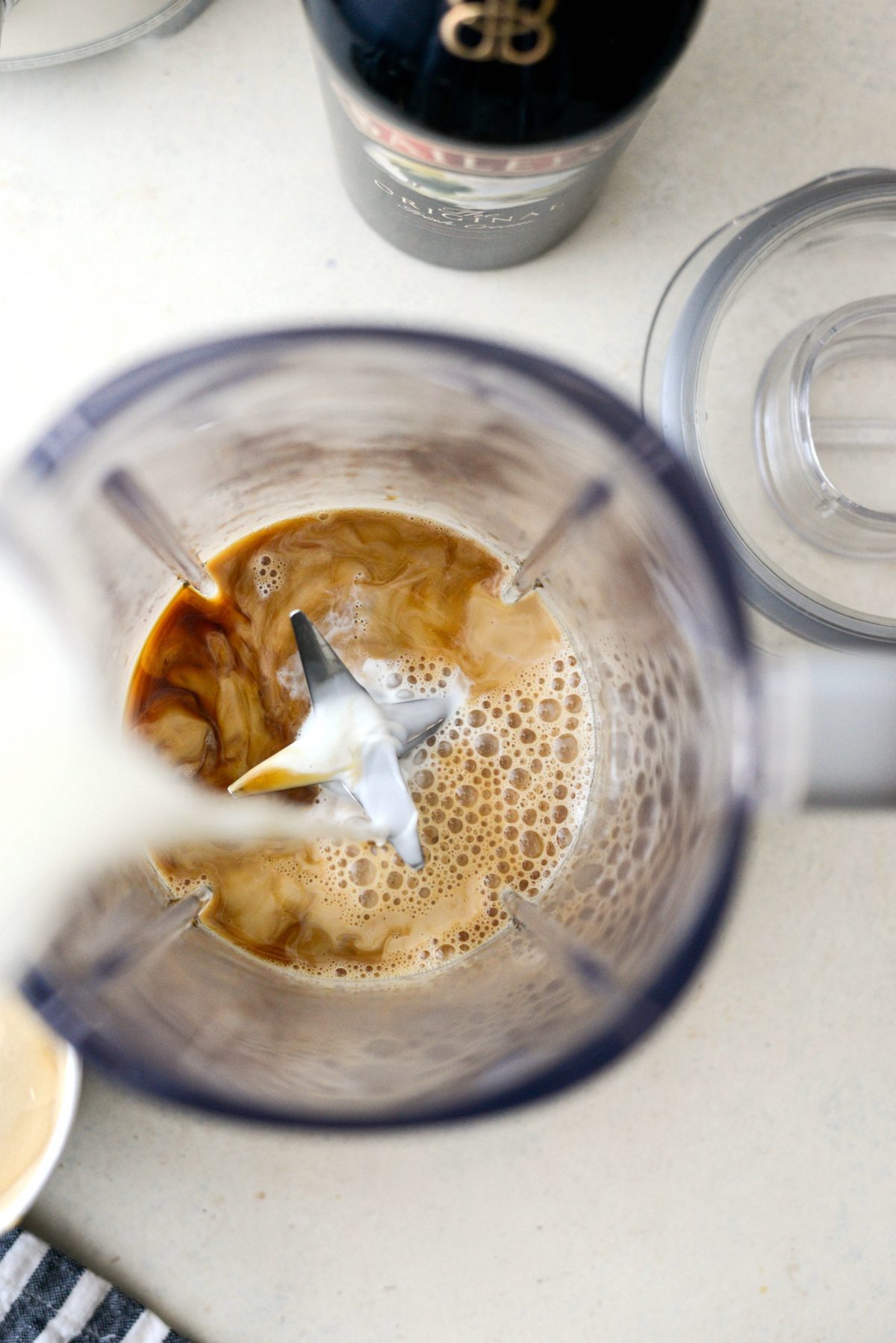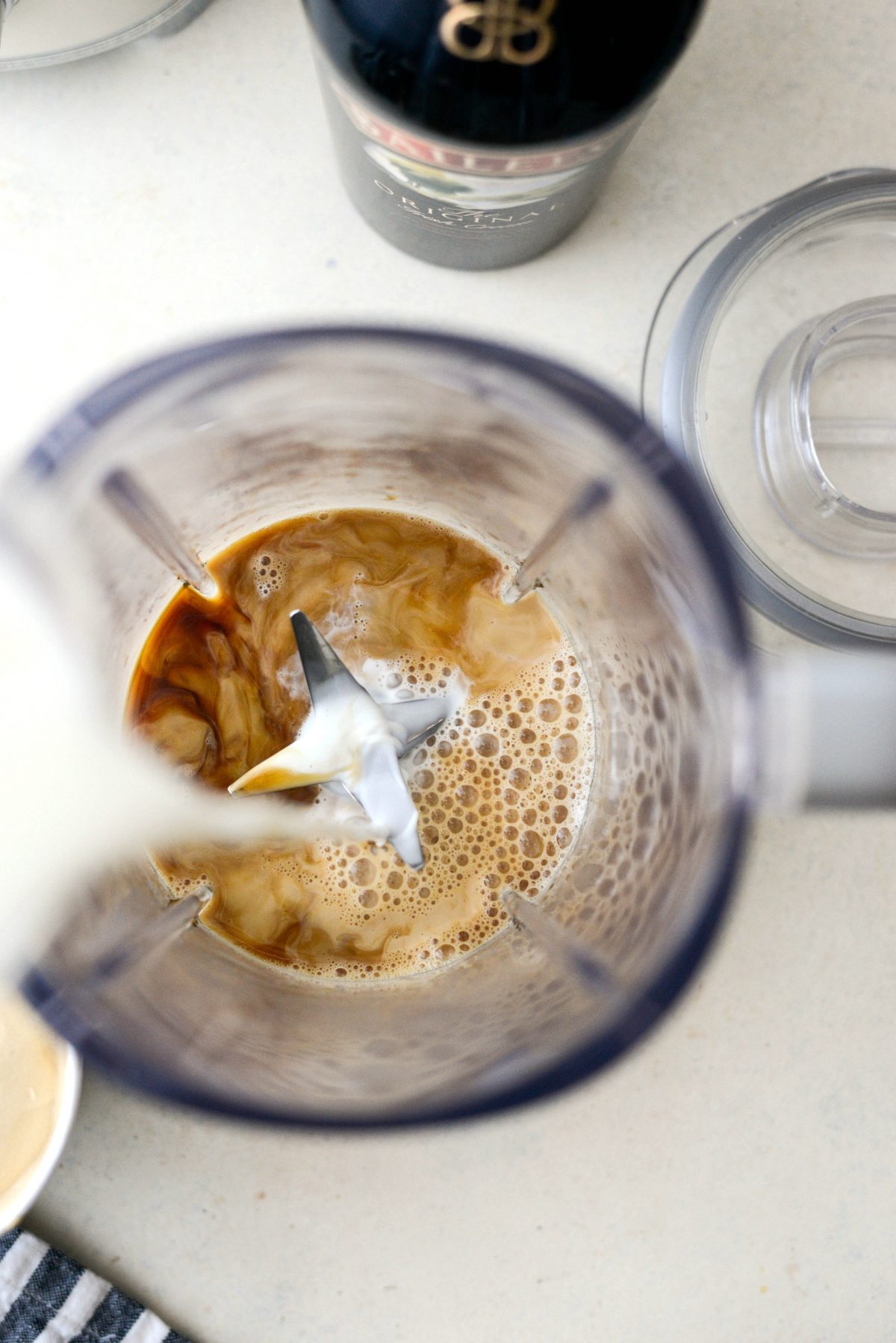 First, measure and add the 1/4 cup of cold coffee and 3/4 cup whole milk into your blender.
Note: It's a good idea to wait until the coffee has cooled, otherwise the ice cream may melt when you add it.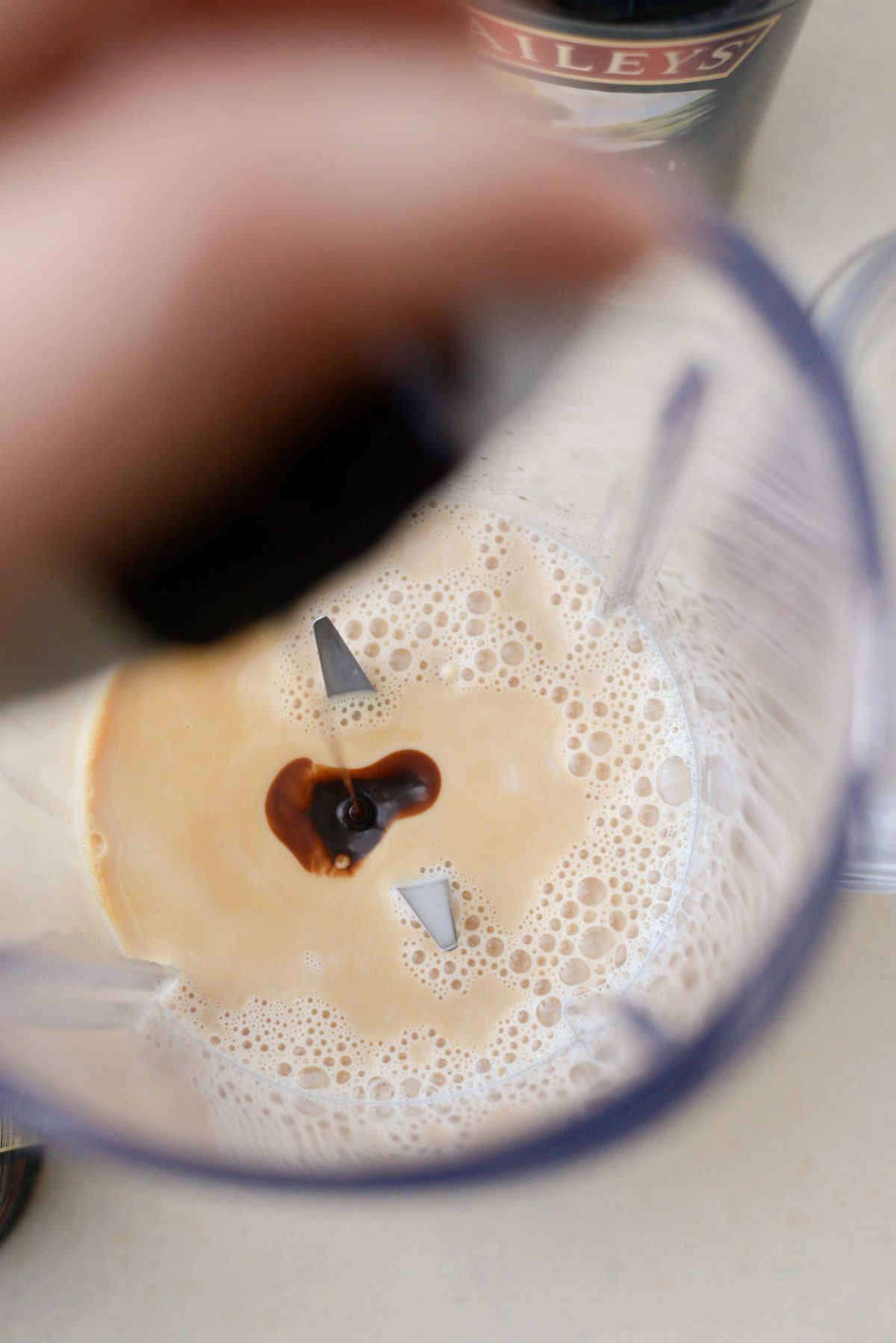 Then add in 1 to 2 tablespoons of chocolate syrup and then pour in 1/4 cup Baileys Irish cream.
A few years ago I made my own, homemade chocolate syrup and it's ridiculously good. But hey, I totally get it if you want the squeeze bottle stuff. It's cool. This is a judgment free zone, remember?!
And ps. I bought the coffee ice cream🤫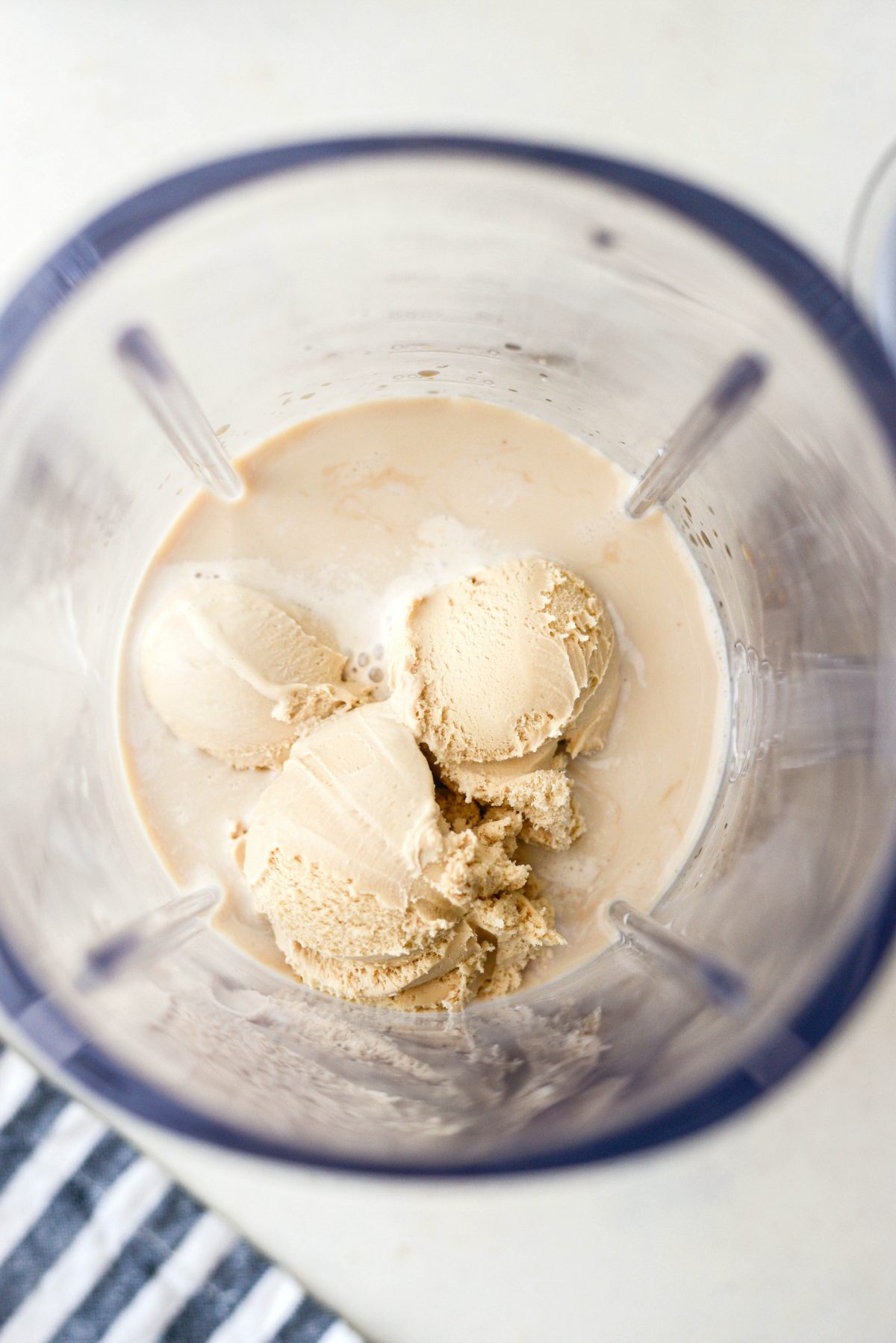 Speaking of coffee ice cream!!
Lastly, add in 2 cups (or 1 pint) of coffee ice cream. Then secure the lid to your blender and blend on high speed until thoroughly combined.
Your milkshake should be thick and frothy and tempting you to drop in a straw to drink it straight out of the pitcher.
Finally, pour the milkshake into chilled glassed and then top with whipped cream and more chocolate syrup. Shave dark chocolate over top or add sprinkles if you're in the mood.
Homemade milkshakes are where its at! Especially boozy shakes. Obviously. But oh-muh-lord is this shake so SO good! Coffee with a hint of chocolate and that subtle liqueur flavor is absolutely too.die.for. And is the perfect St. Patrick's Day drink.
Enjoy! And if you give this Baileys and Coffee Milkshake recipe a try, let me know! Snap a photo and tag me on twitter or instagram!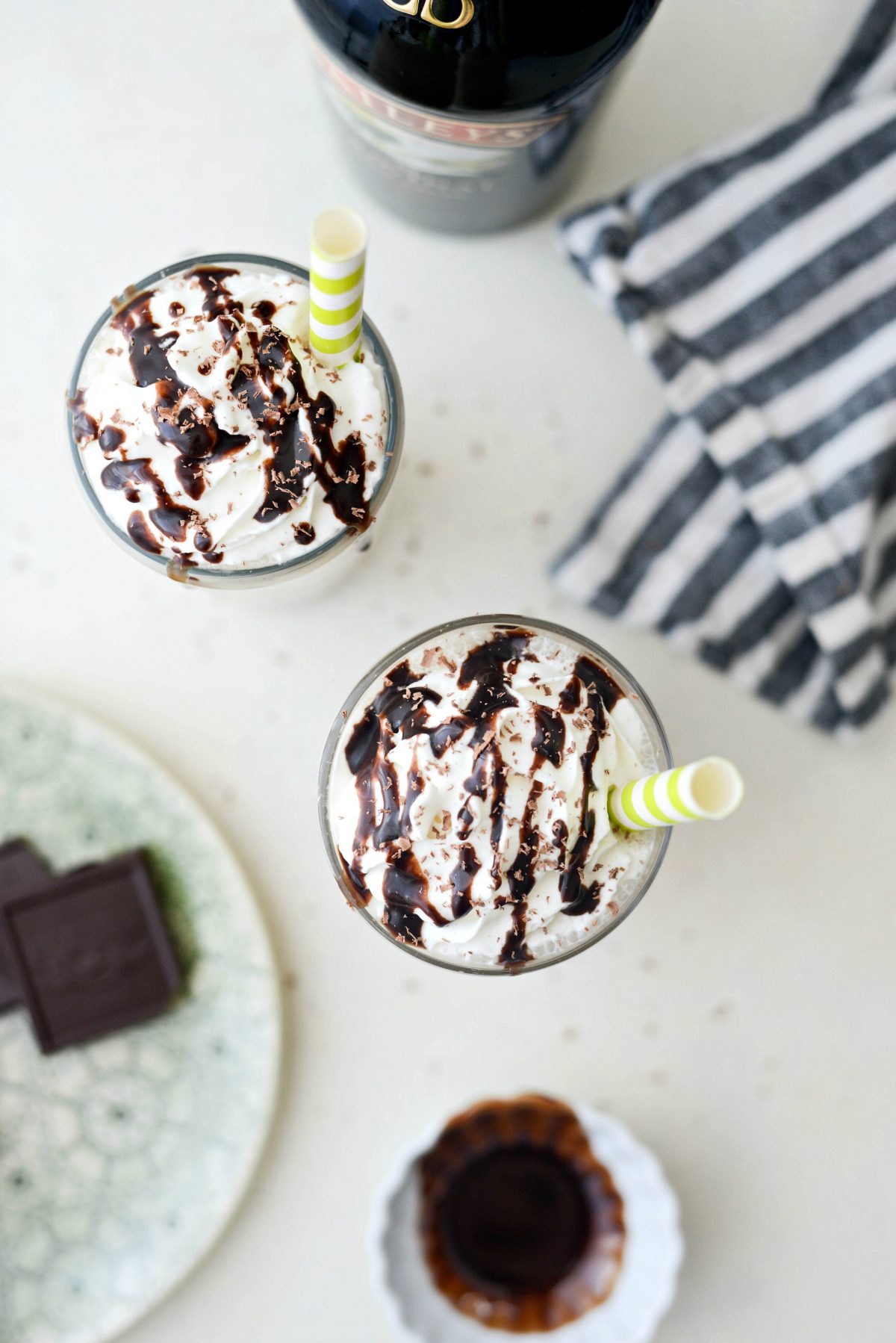 Please remember to drink responsively and never drink and drive.
This post may contain affiliate links.
Buy the Cookbook: Simply Scratch : 120 Wholesome Homemade Recipes Made Easy Now available on Amazon »
THANK YOU in advance for your support!