This Homemade Chocolate Syrup is delicious! Squeeze it into a cold glass of milk, drizzle it over ice cream or pie. You can't go wrong.
I have a confession to make.
I Laurie, the blogger behind this here from scratch blog, bought from the store, for the first time in my life (I think?) Hershey's chocolate syrup.
I didn't want to, trust me! But Haileigh had her boyfriend (<—– I know right?!) over and she wanted to make (meaning she wanted me to make) chocolate milkshakes. I didn't have any of the homemade stuff in the fridge or the time to make any from scratch because we were gone all day shopping… so yes, I bought some. I looked over my shoulder as we checked out waiting for someone to say "ah-ha! busted!!!" but that didn't happen because nobody knows who I am around these parts or any parts for that matter.
So the next day I made a batch and threw out the store-bought bottle. But not before making my family do a blind taste test. 3 out of 4 chose my homemade over store bought! I thought Hershey's was too sweet and my daughter who voted for it though it was mine because it was runnier and that's why she voted for it. So perhaps it's now 4 out of 4?
Soul = cleansed.
Homemade chocolate syrup is the bomb dot com.
It's a million-trillion times better (duh) than store bought, plus you can pronounce all of the ingredients that's in it, which is always a good thing.
Squeeze this chocolate syrup into a glass of cold milk, over ice cream, pie or dip fresh fruit into a bowl of it. Seriously this chocolate sauce should be a staple in everyone's fridge, for when one of those chocolate cravings strike or your daughter wants to make milkshakes for her boyfriend.
If you've ever wondered how to make the chocolate syrup, well then this is the post for you.
TO Make Homemade Chocolate Syrup You will need:
sugar
water
Dutch cocoa powder or (cocoa powder processed with alkali)
corn syrup
vanilla ice cream
sea salt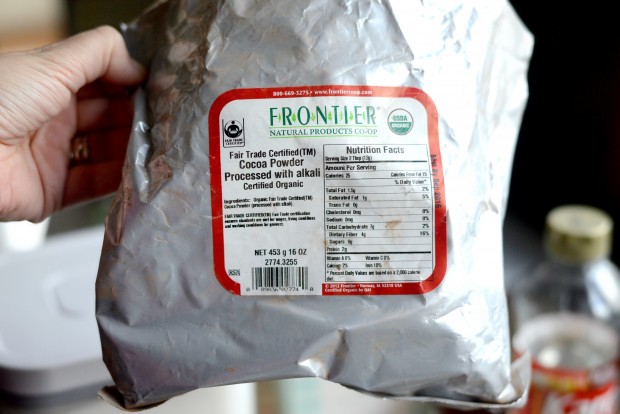 I used Frontier Natural Products. Unsweetened Dutch cocoa = unsweetened natural cocoa processed with alkali. Why is it that natural, unsweetened, non-alkali won't do? For a few reasons but mostly because its color (you want a dark syrup!) and it's too acidic.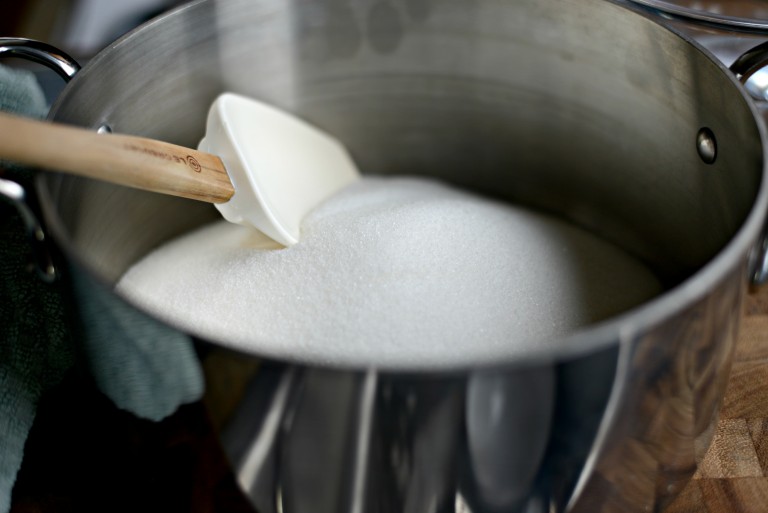 Add 2-1/2 cups of sugar into a heavy bottom pot. I know this seems like a lot of sugar, but this recipe makes around 3-1/2 cups, plus you only drizzle a little (like a tablespoon-ish?) into milk or on ice cream. So it's not too-too bad.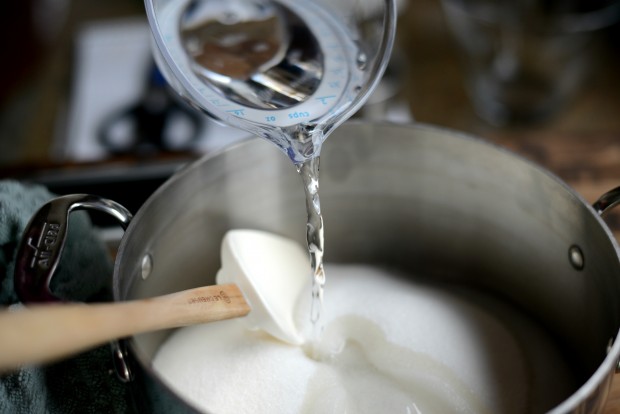 Pour in 1-1/2 cups of water…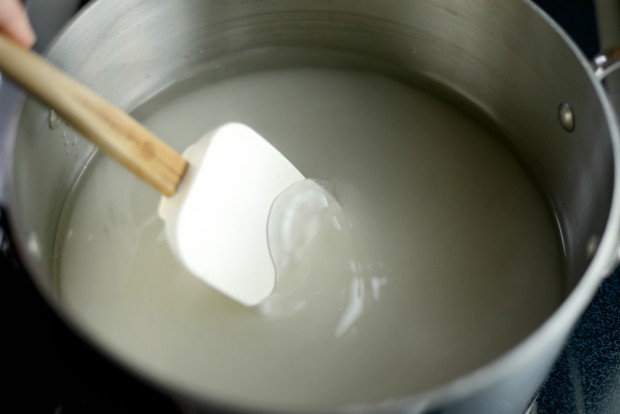 Stir to combine and heat over high.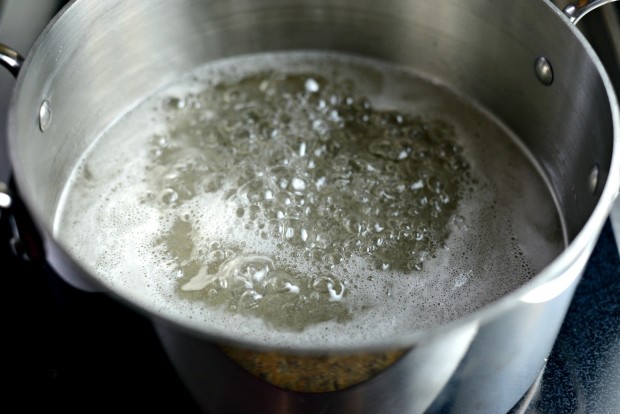 Once the sugar/water mixture has come to a boil…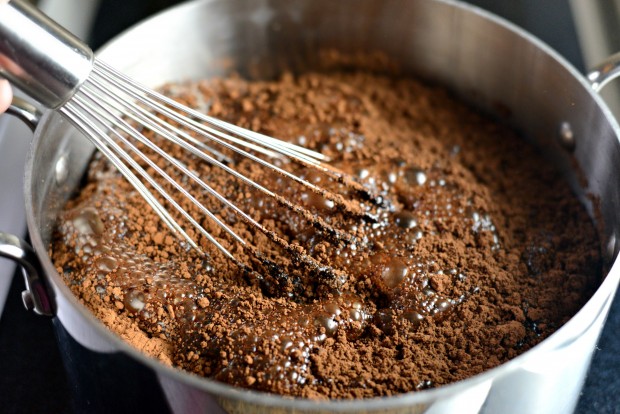 Gradually (be careful not to splatter yourself!) whisk in the Dutch cocoa powder.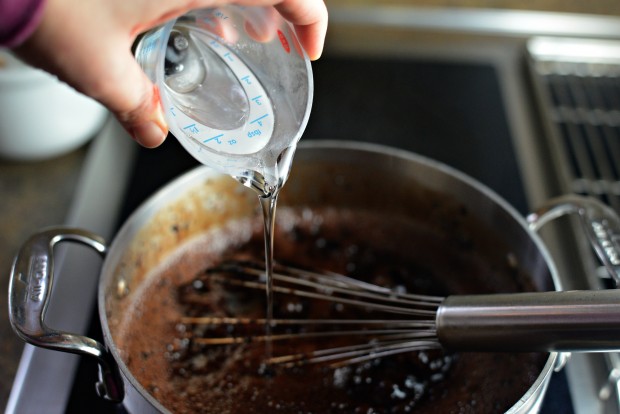 Next pour in the corn syrup…
…and continue to whisk until the chocolate sauce has thickened slightly.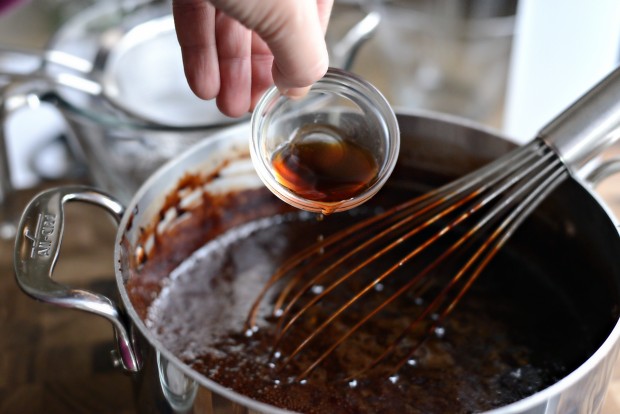 Remove off of the heat and whisk in the tablespoon of vanilla…
…and 1/4 teaspoon sea salt.
Pour the chocolate syrup through a mesh strainer that is set into a large bowl.
This will collect any lumps of cocoa that didn't get whisked in.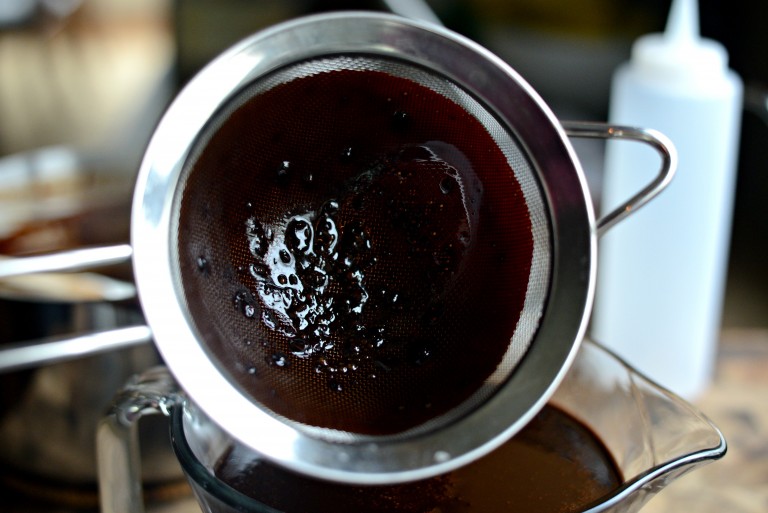 Liiiike this.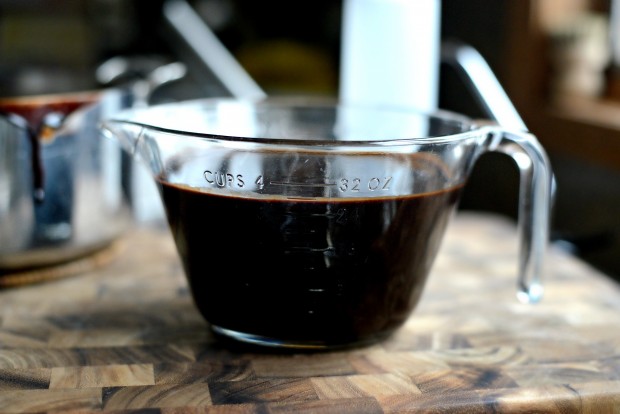 Leave the chocolate syrup out on the counter until it's cooled down to room temperature.
Once it has cooled, you can pour it into a squeeze bottle (I found mine at Sur la Table but I think Target has them too) or into a glass jar and store in the fridge for a couple of months.
Once it cooled a bit, I then treated myself to a midday bowl of ice cream.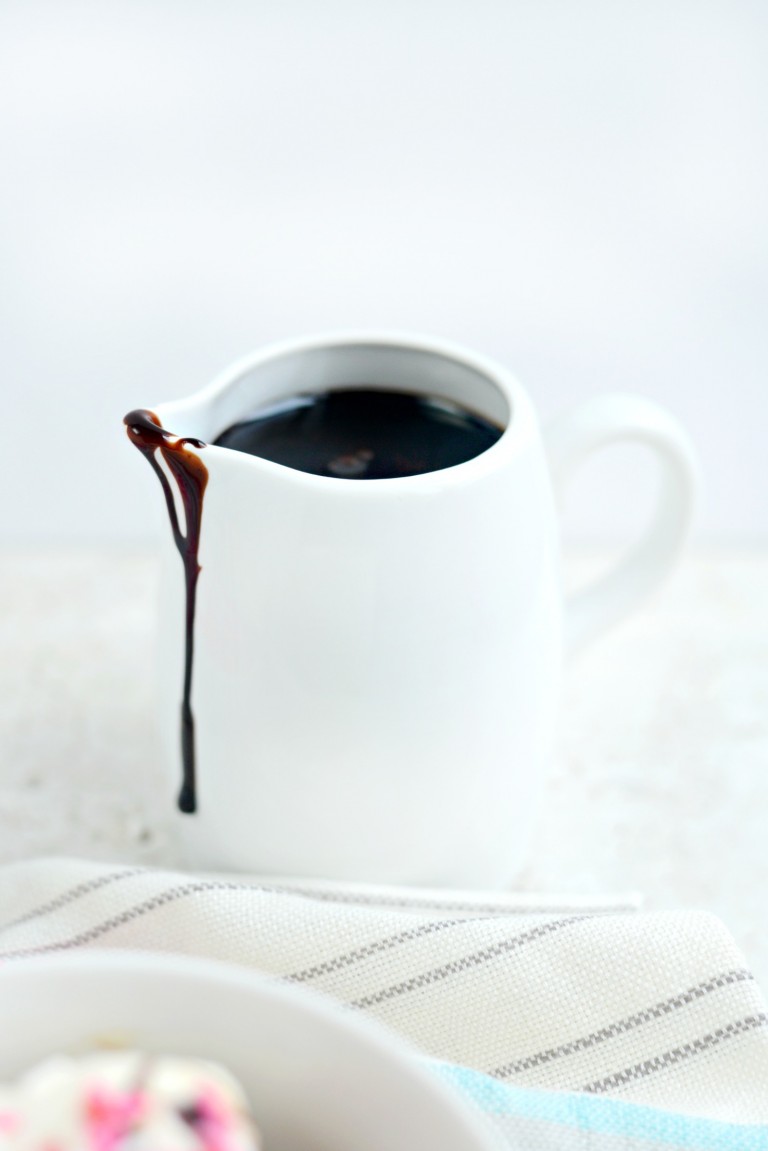 Words cannot express my love for the flavor of this homemade chocolate syrup… it's phenom! I'm not a fan of overly sweet things (hence why I don't love Hershey's chocolate syrup), and this is just perfect to me.
And what bowl of ice cream is complete without sprinkles?
I found these super cute Valentine's Day sprinkles in my hoarder collection that I currently have going on in my pantry. They use to have little kissy-lip candies among the sprinkles in this jar, but I think some little fingers might have picked them all out when I wasn't looking. But, hey the hearts are super cute!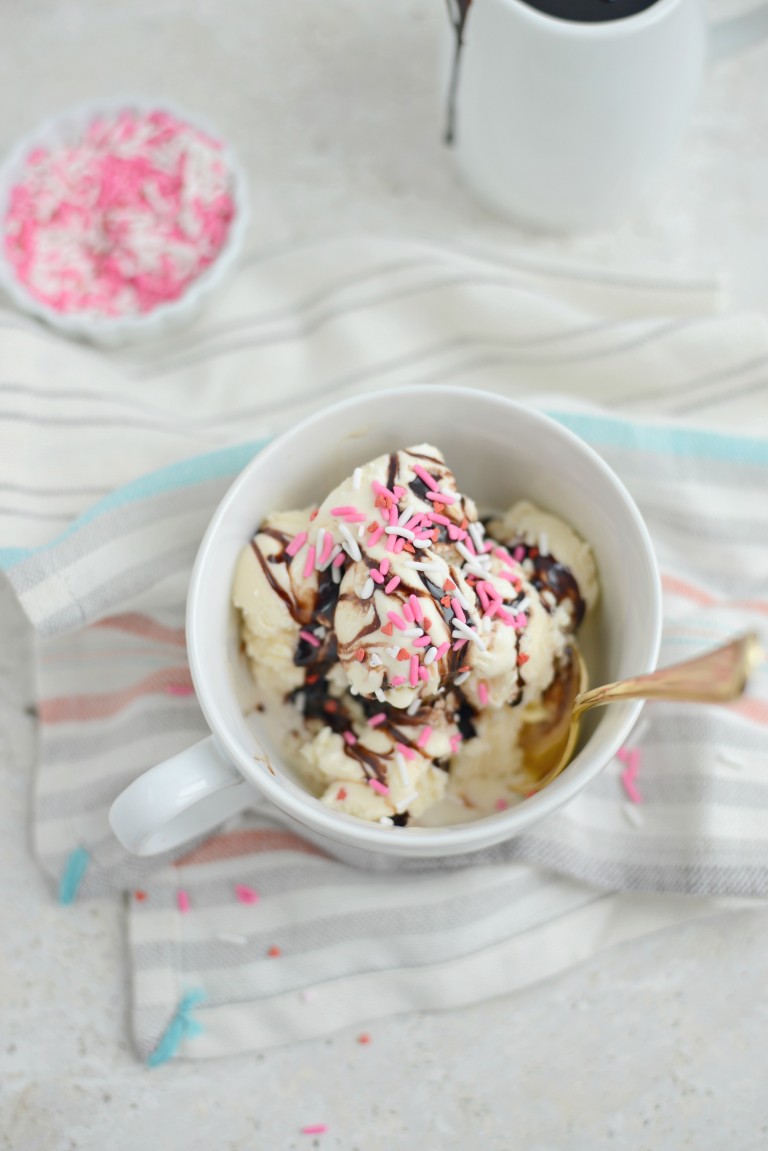 And because my good friend Heidi eats her ice cream in a coffee mug, we now do the same thing in our house. It makes eating ice cream while in bed a lot more comfortable and a ton easier.
For More Homemade dessert Toppings Click here!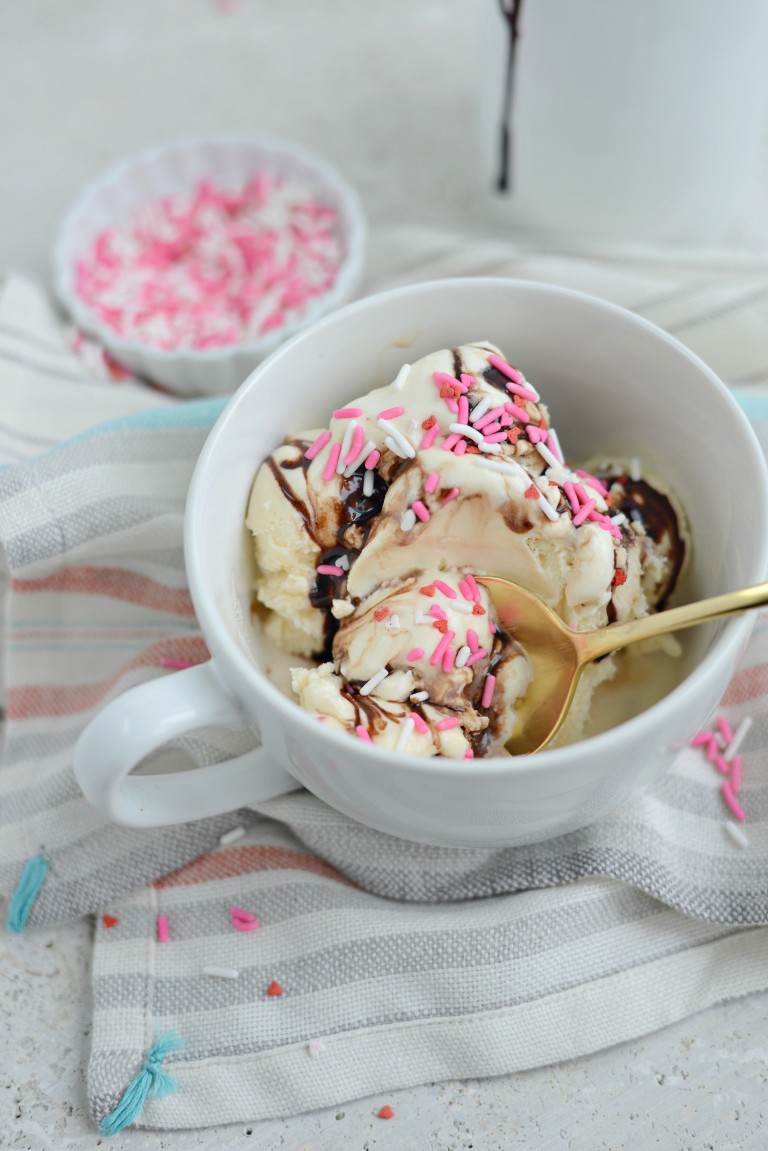 Enjoy! And if you give this Homemade Chocolate Syrup recipe a try, let me know! Snap a photo and tag me on twitter or instagram!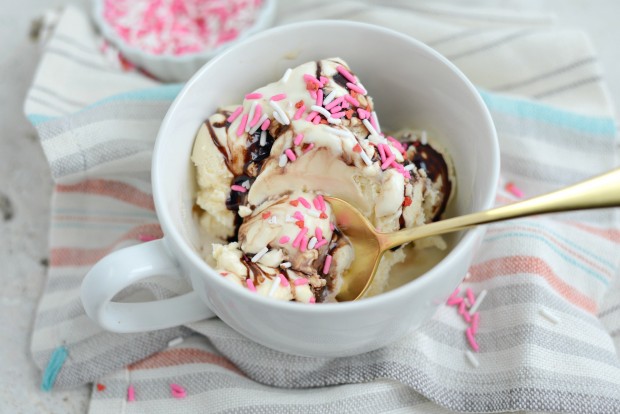 This post may contain affiliate links.
Buy the Cookbook: Simply Scratch : 120 Wholesome Homemade Recipes Made Easy Now available on Amazon »
THANK YOU in advance for your support!