Ina Garten's Winter Minestrone is a beloved recipe in my home. Tender vegetables like carrots, celery, onion and butternut squash with pancetta, cannellini beans, pasta and spinach. It's the perfect soup for a cold winters day. Serves 6 – 8.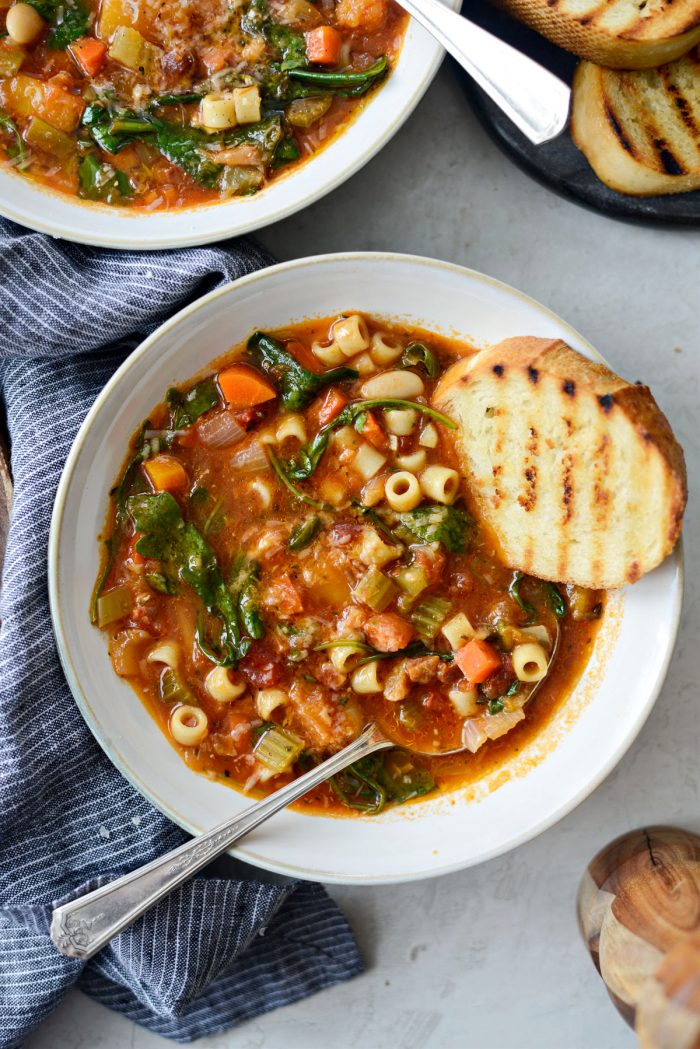 When a soup recipe is so good, it needs to be shared.
And that's exactly how I feel about Ina Garten's Winter Minestrone. I've made it so many times over the years and I've only adapted it slightly and I mean slightly – like upping the pancetta. Because I do love a hearty soup and this doesn't disappoint. It's loaded with vegetables, beans, spinach, pancetta and pasta – no bite is the same as the one before it.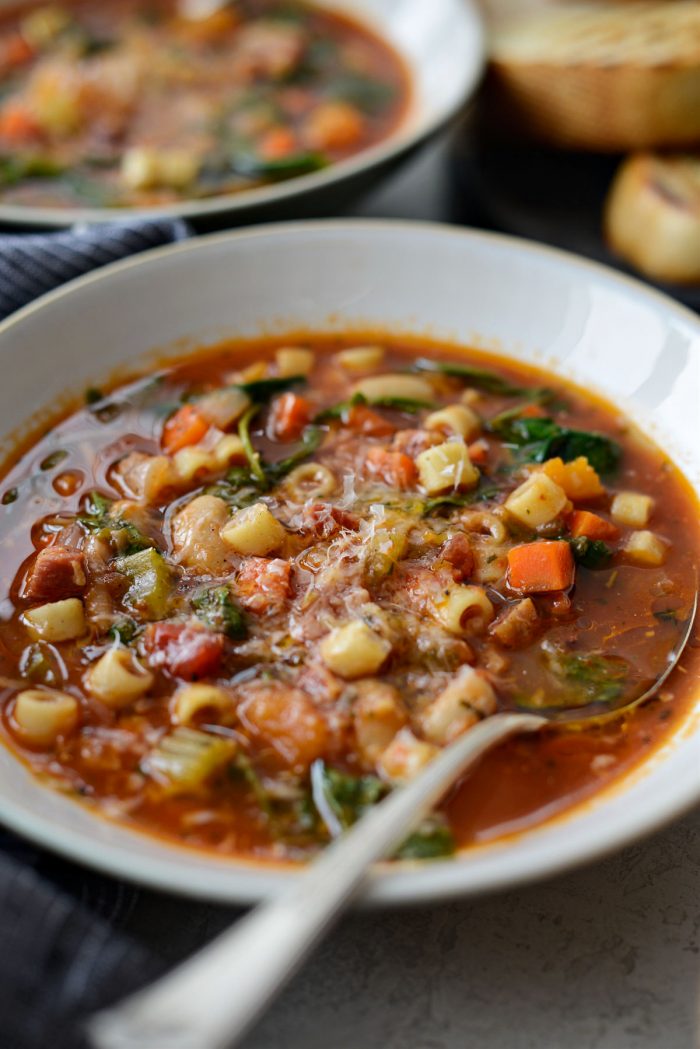 And it's pure perfection served with grilled bread and parmesan cheese. Seriously, what's not to love?
To Make Ina Garten's Winter Minestrone Soup You Will Need:
olive oil spray
pancetta
carrots
onion
celery
garlic
fresh thyme
kosher salt
butternut squash
crushed tomatoes
bay leaf
freshly ground black pepper
cannellini beans
small pasta
baby spinach
dry white wine
parmesan cheese, for serving
Start by lightly spraying the bottom of your dutch oven with olive oil spray. Add in 5 ounces diced pancetta.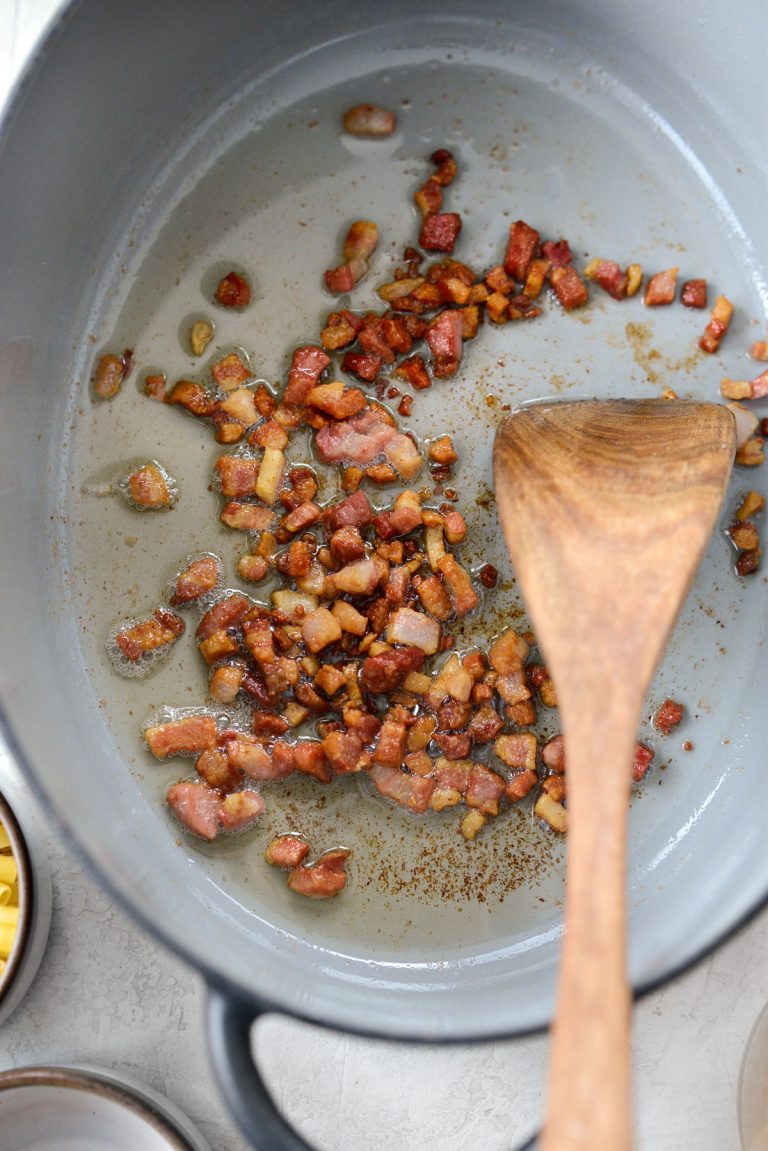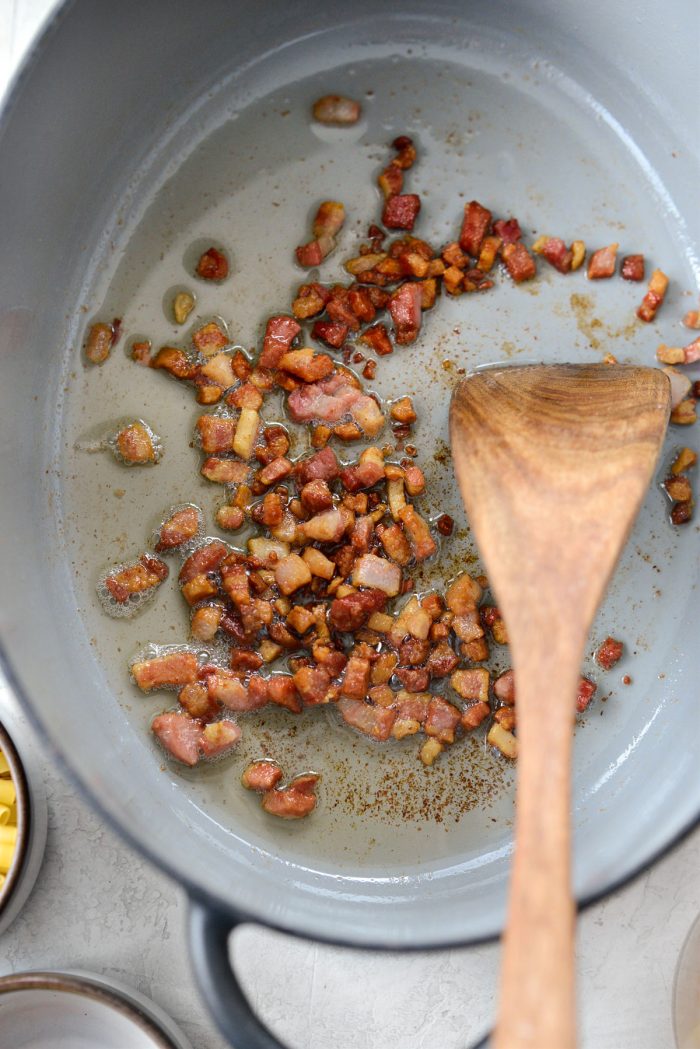 Cook until crispy. This takes about 8 to 10 minutes.
Meanwhile, prep the veggies. You will need 2 cups both diced carrots and celery and roughly 2-1/2 cups diced yellow onion, 4 cloves minced fresh garlic and 2 teaspoons chopped fresh thyme leaves.
Once the pancetta is crisp, transfer it to a paper towel lined plate, leaving the fat in the pot.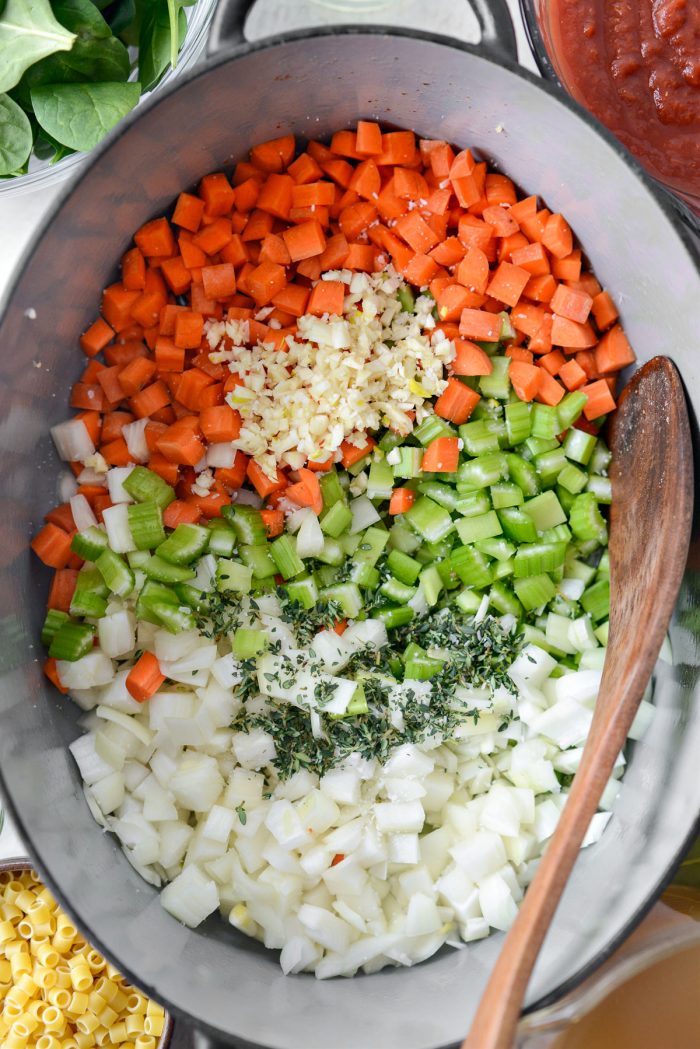 Next add in all the prepared veggies, garlic and thyme with a pinch of kosher salt. If using fresh butternut squash, add it in here (roughly 12 ounces or 2-1/2 cups) with the vegetables. I only had frozen (steam-able) butternut squash on hand and I believe it's previously steamed? So I add it in later.
Stir and cook for 8 to 10 minutes.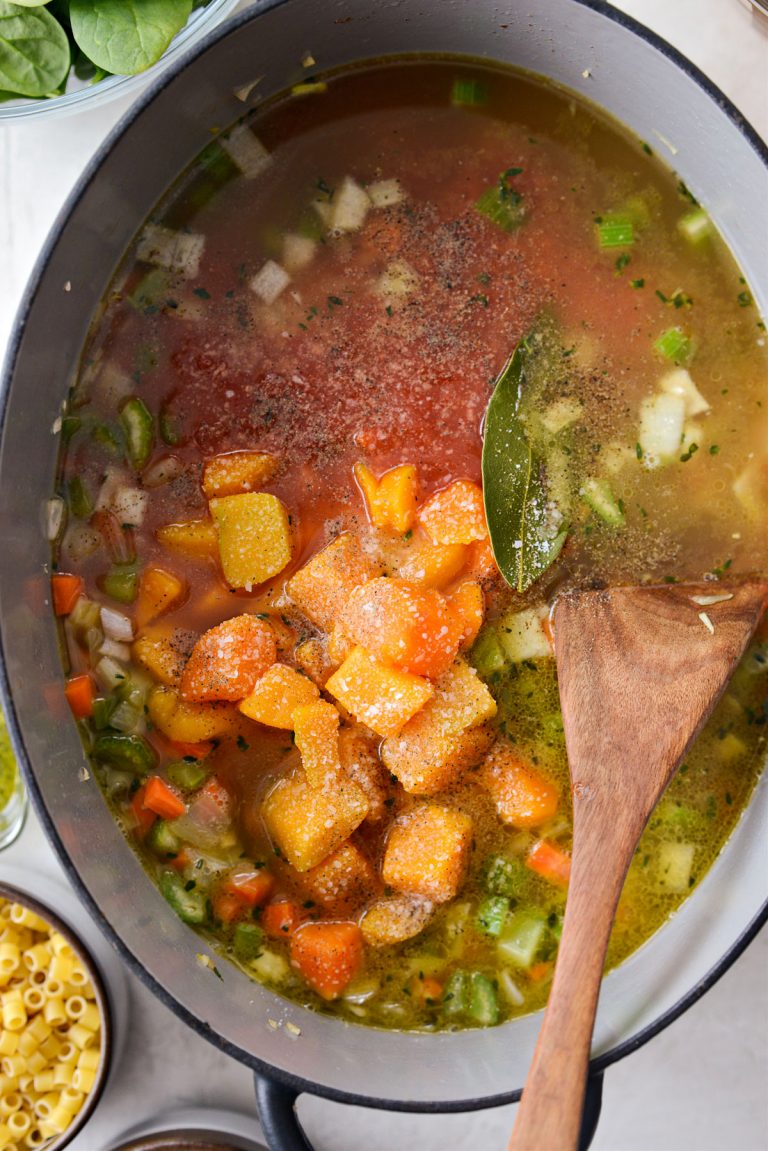 Next add in 2-1/2 cups (or 12 ounces) diced butternut squash, 6 cups unsalted chicken broth, 1 (28 ounce) can crushed tomatoes, 1 bay leaf, 2 teaspoons kosher salt and lots of freshly ground black pepper.
Give it a stir to combine. Cover with the lid askew and bring to a boil. Reduce to low and simmer for 30 minutes.
Halfway through, bring a (covered) medium pot of salted water (small palmful of sea salt) to a boil. Add in 1 cup ditalini pasta and cook following the package directions. Try to time it so that it is done when the soup is done simmering.
Once al dente, drain the pasta into a colander.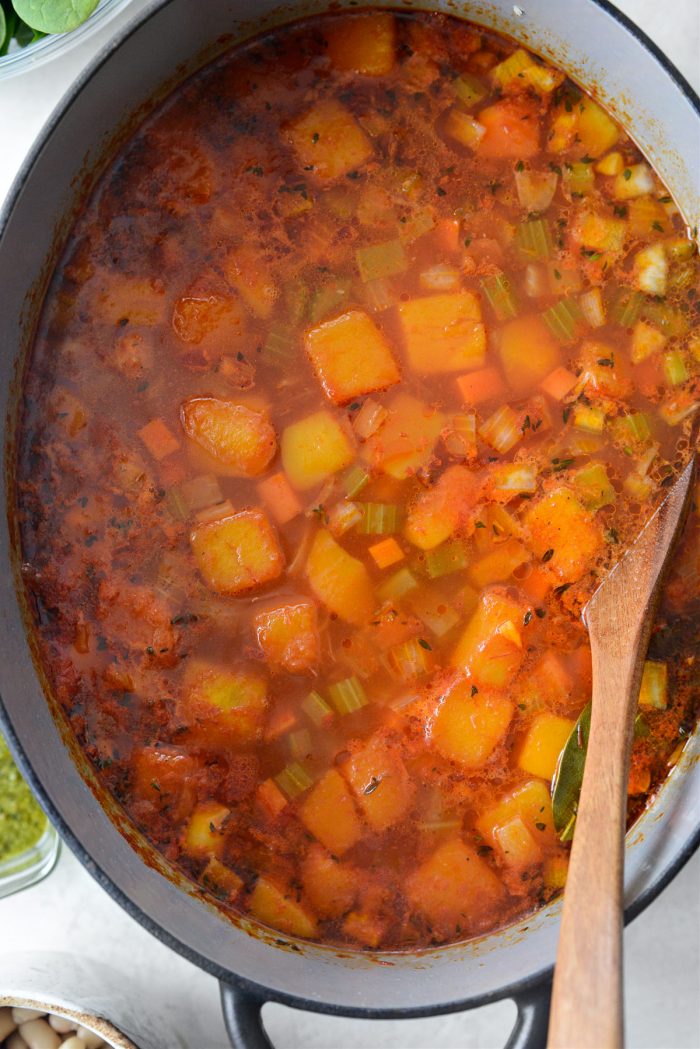 Once the soup has simmered, remove the bay leaf.
Add in the cooked pasta, 1 (15 ounce) can rinsed and drained cannellini beans and the crispy pancetta.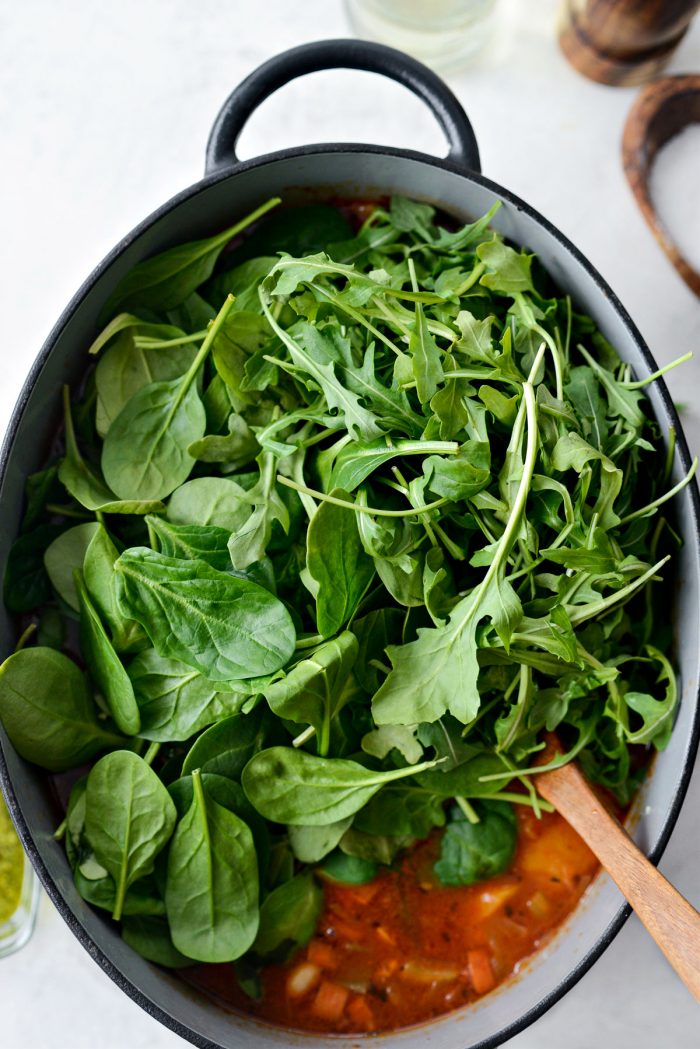 Add in 5 ounces of baby spinach, arugula or baby kale. Typically I just do spinach or kale, but I had baby arugula in the fridge that needed to be used so I added that in instead. Personally, I prefer baby spinach or kale.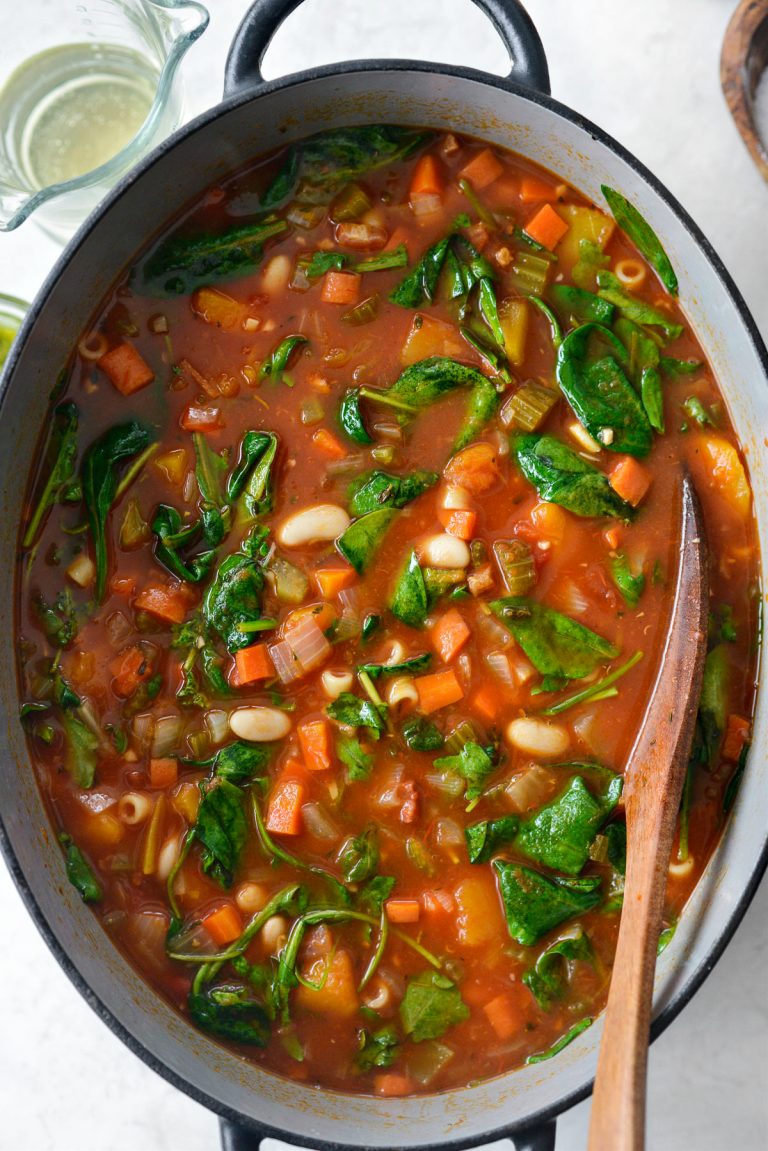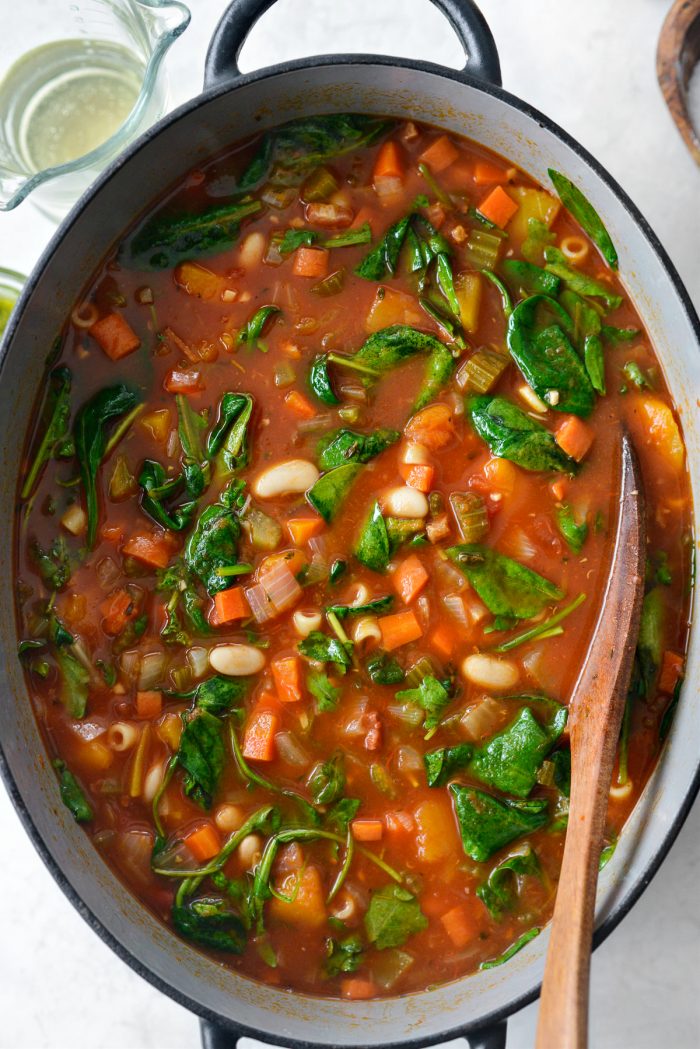 Stir until the greens wilt.
Lastly pour in 1/2 cup of dry white wine. I use sauvignon blanc, however chardonnay that you like to sip will be perfect!
And add in 2 tablespoons basil pesto. Every summer I make a batch of pesto and freeze it in ice cube trays so I can enjoy it all year round.
Give it a stir and a taste.
For me, I usually add in another teaspoon kosher salt and a few more grinds of black pepper. However, season to your personal taste.
Keep in mind, this soup should be thick. However add some or all of the remaining 2 cups broth, if the soup is too thick.
Ladle soup into bowls and top with grated fresh parmesan cheese.
I love grilled bread with minestrone. However this cheesy garlic bread would also be delicious.
This soup is soul warming and hearty. Wholesome and delicious. I absolutely adore the butternut squash in this soup and of course the pasta and pancetta.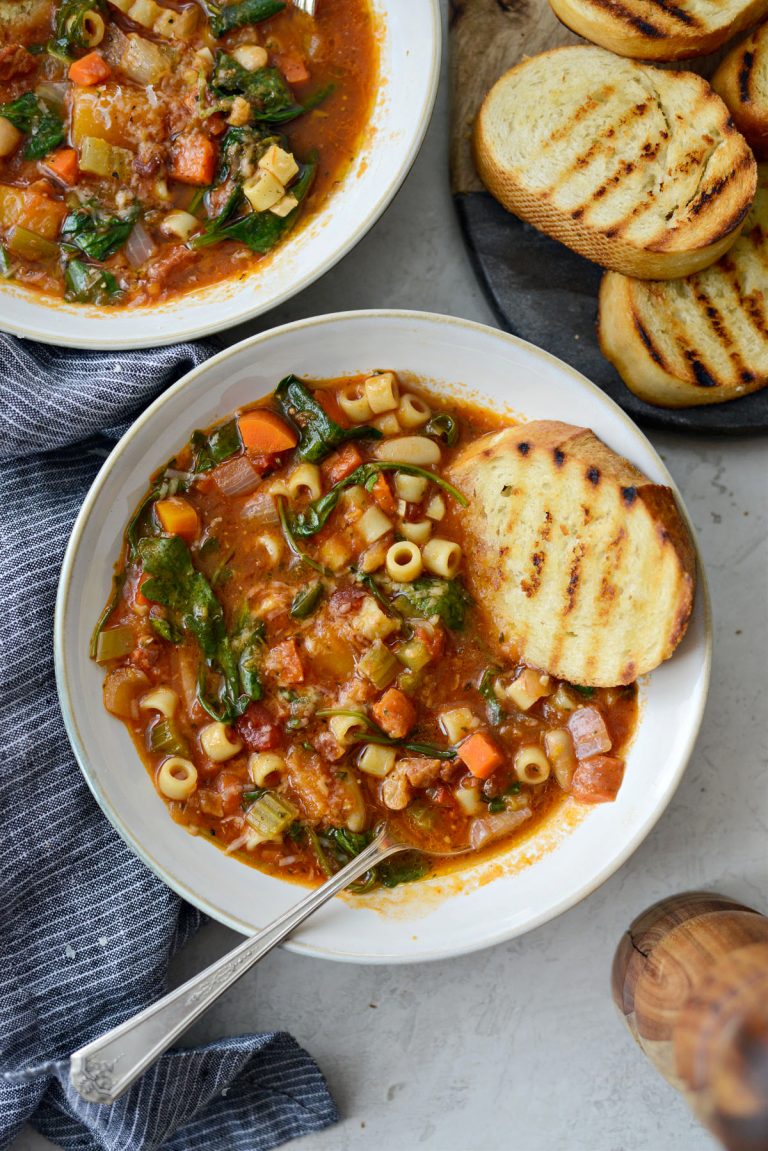 Enjoy! And if you give this Winter Minestrone recipe a try, let me know! Snap a photo and tag me on twitter or instagram!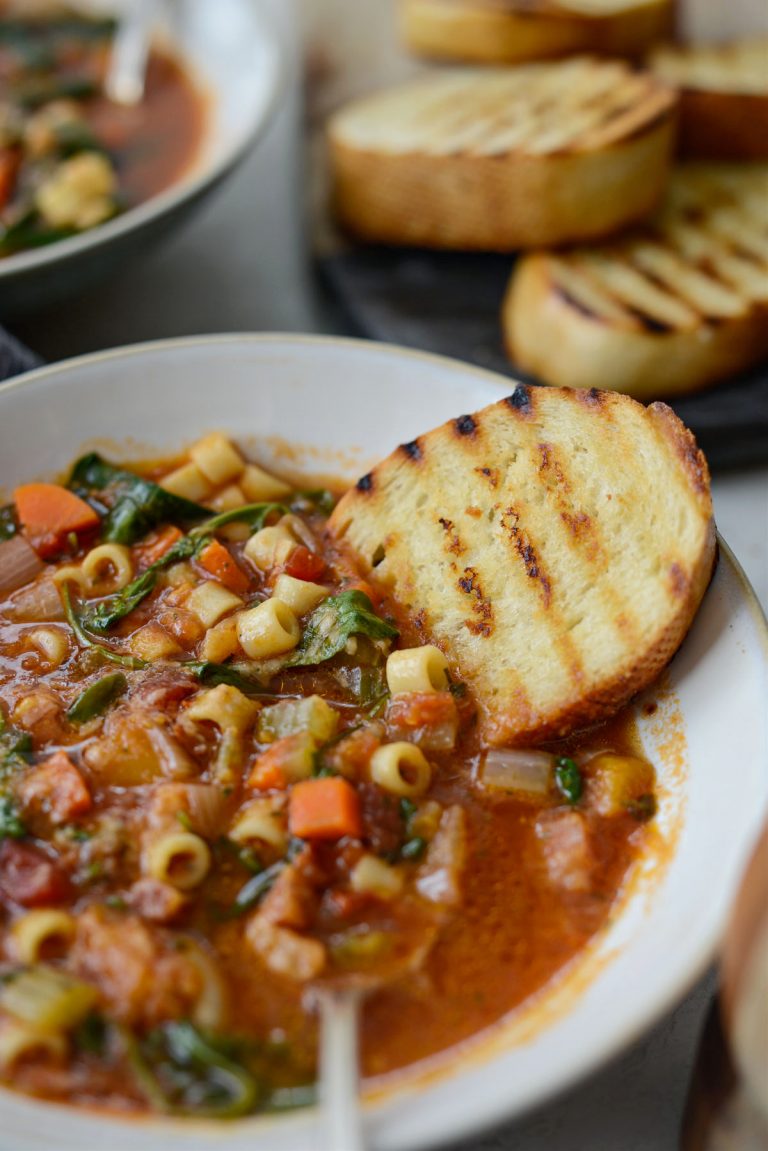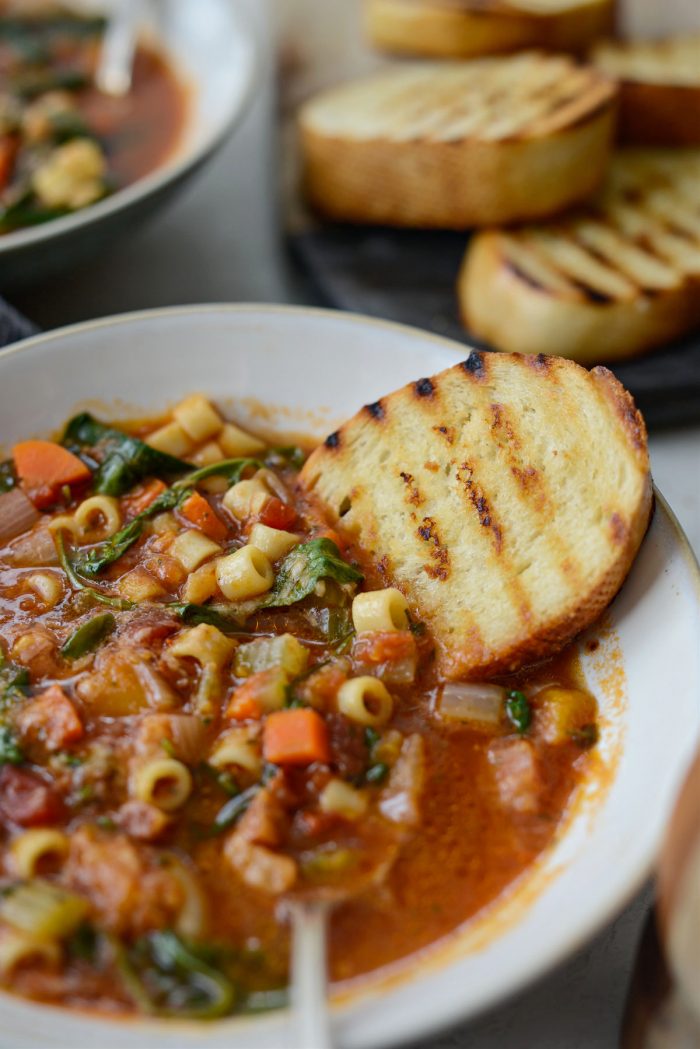 This post may contain affiliate links.
Buy the Cookbook: Simply Scratch : 120 Wholesome Homemade Recipes Made Easy Now available on Amazon »
THANK YOU in advance for your support!