Air Fryer Falafel is jammed packed with healthy, wholesome goodness and so much flavor. Finely minced red onion, garlic, parsley and mint is blended with chickpeas and spices. After rolling into balls, they get air fried until crisp and golden brown on the outside and tender on the inside.
It's not Monday but we're going meatless!
Have you ever had falafel? My earliest memory was of my mom making it for us when I was little. I was way too little to give it a chance, so I didn't care for it. It wasn't until I was older that I really gave it a chance and fell in love.
Since falafel is typically deep-fried (uh hello deliciousness!) I wanted to make a healthy version using my air fryer instead a pan of oil.
What is Falafel?
Falafel is a traditional Middle Eastern food. It consists of finely ground chickpeas (or fava beans), fresh herbs, onion and garlic, which gets shaped into either balls or patties and fried. It's commonly stuffed into a pita or wrapped into flatbread.
If I'm making a wrap or using pita, I will shape them into flat patties. However if I'm having it as a salad or in a bowl (like above) I make the falafel balls. Plus, the balls are easier to air fry at once.
To Make The Air Fryer Falafel You Will Need:
red onion
parlsey
mint
garlic
chickpeas
whole wheat flour
kosher salt
cumin
coriander
white pepper
turmeric
olive oil spray
In the bowl of your food processor, fitted with the blade attachment, add 1 small red onion (about 3/4 to 1 cup), 1/4 cup each loosely packed fresh parsley and mint, plus 3 cloves peeled fresh garlic.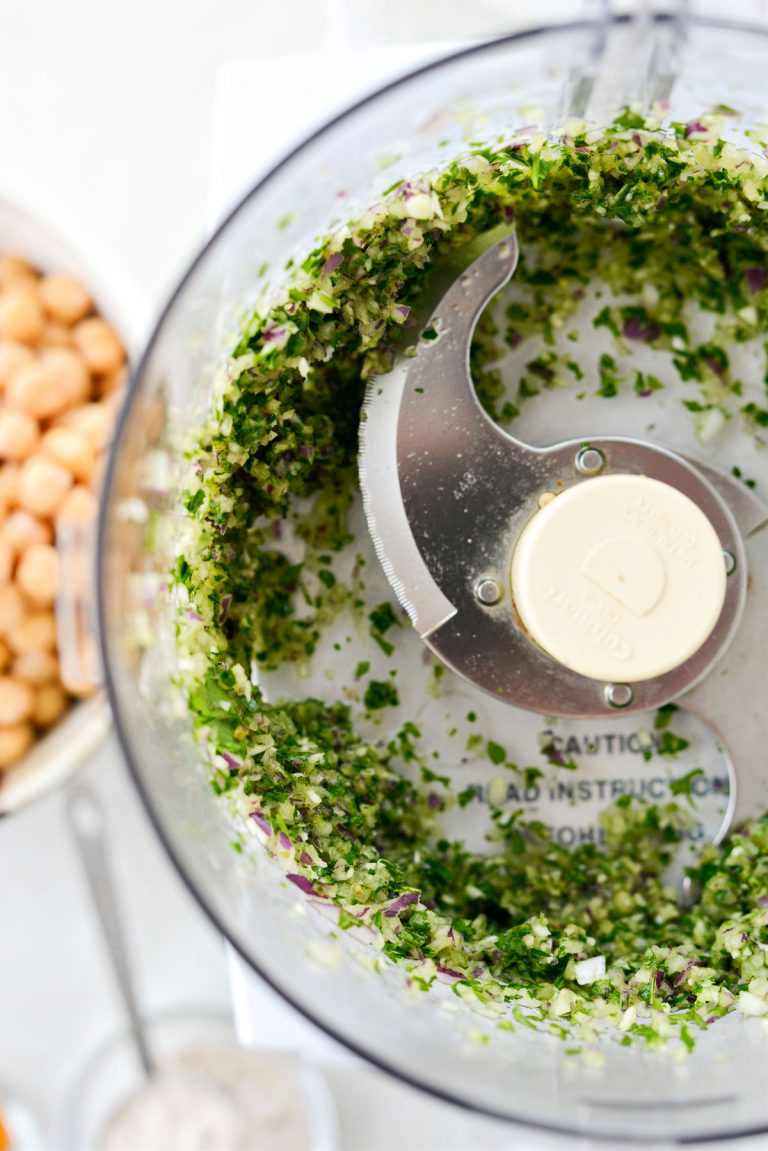 Secure the lid and pulse until finely minced. Scrape down the sides of the bowl as you go.
Once minced, add in 2 (15 ounce) cans of (rinsed and drained) garbanzo beans.
Again, secure the lid and pulse until finely ground. You want this mixture to be kind of loose, not smooth.
Transfer the chickpea mixture to a bowl. Measure and add 2 tablespoons whole wheat flour, 1 teaspoon kosher salt, 1 teaspoon ground cumin, 1/4 teaspoon each ground coriander, white pepper and turmeric.
Mix until all ingredients are incorporated. Cover the bowl tightly with plastic wrap and refrigerate 1 to 2 hours or overnight.
Remove the chilled falafel mixture. And use a scoop to measure out the falafel mixture and roll into balls.
Place on a parchment paper lined rimmed pan and pop into the fridge while you preheat your air fryer to 360°.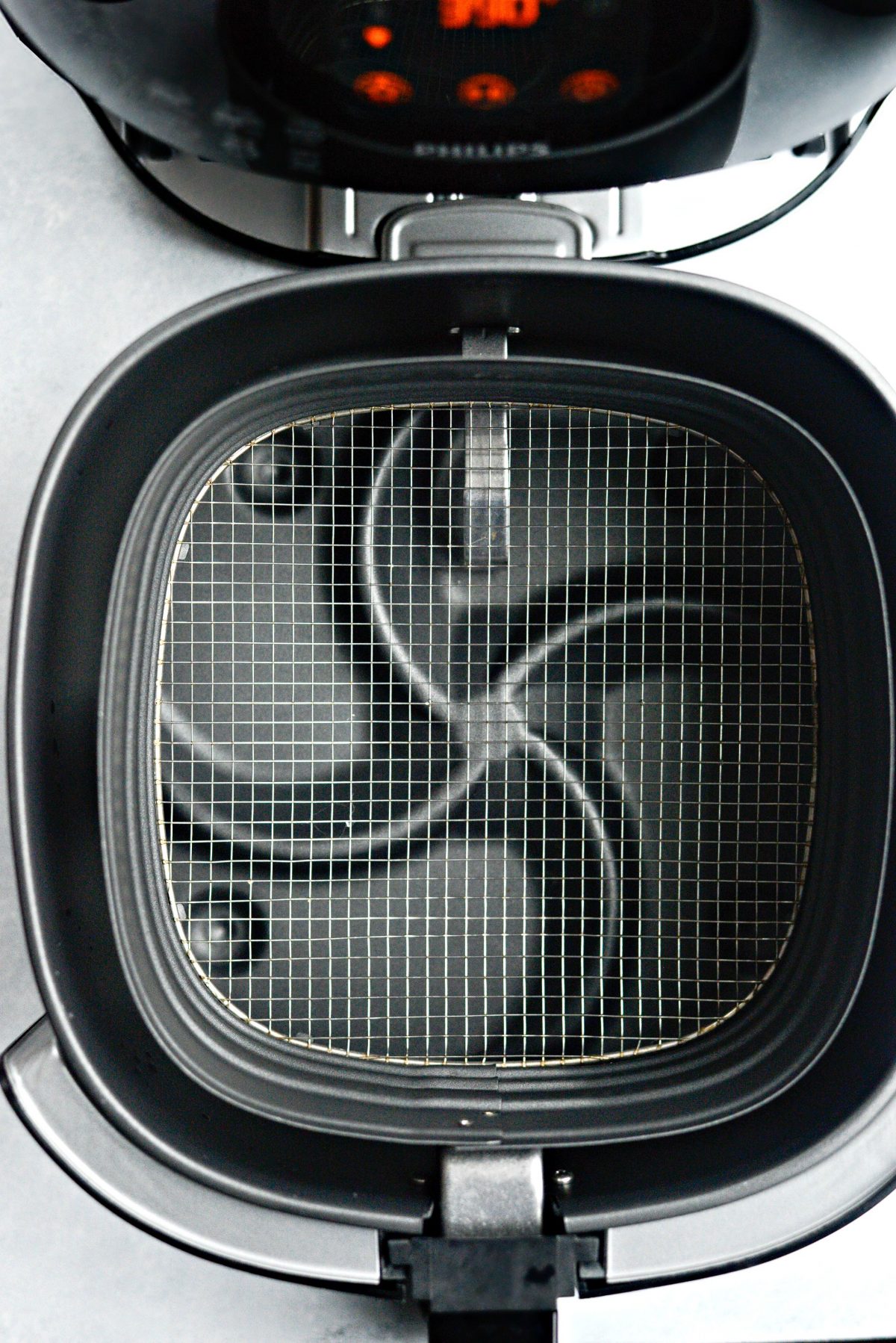 What Is Air Frying?
An air fryer is a counter top appliance that requires less oil (anything from a few spritz to 1 tablespoon) yet produces crispy food that rivals most deep fried foods. By using circulating hot air, it moves at a high speed so the food tends to cook in a fraction of the time.
There are a bunch of different makes and models of air fryers. My husband did the research (as he's known to do) and found this air fryer [affiliate] to be one of the best. But do your research and purchase one that fits your lifestyle.
How is Air Frying Healthier?
Air frying is healthier because only a thin layer of oil coats the food and when the hot air comes in contact it will crisp. Saving you a ton of fat and calories (without sacrificing any flavor!) because food is not being submerged in a vat of hot oil.
Keep in mind, not all air fryers are equal. Some preheat and some do not. Some are smaller than others therefore you may need to work in smaller batches to air fry.
For more Air Fryer recipes, click here for my growing collection.
Once your air fryer has preheated, spray the basket with olive oil and add the chilled, rolled falafel.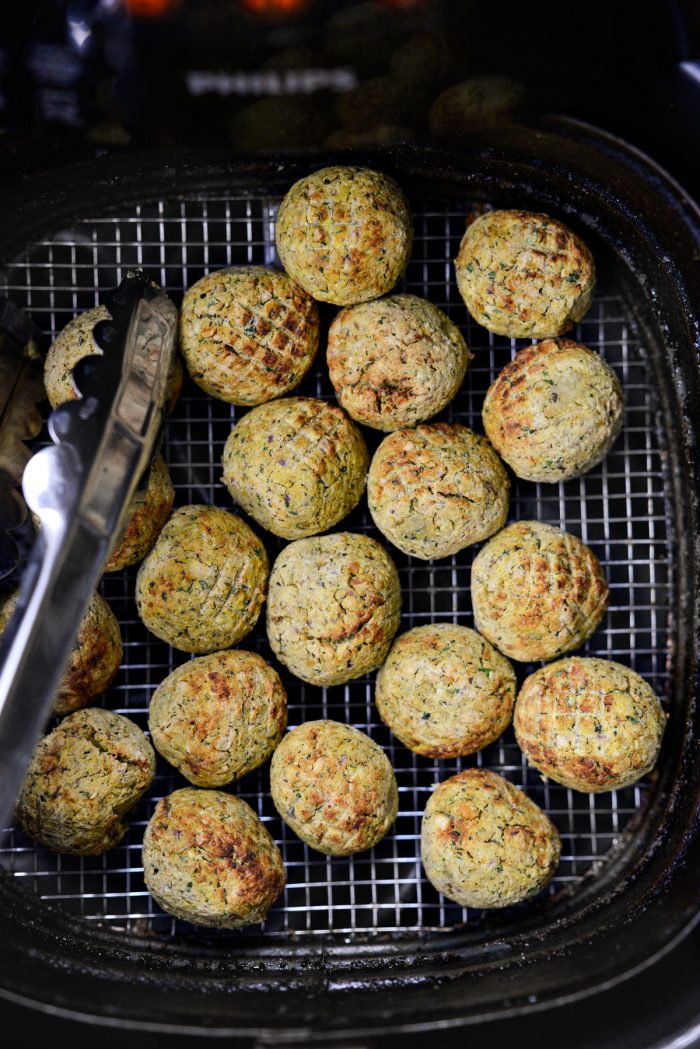 Air fry for 15 minutes before using tongs to turn each one.
Continue air frying for 4 to 5 more minutes.
Serve in pita with onion, tomato and cucumber with hummus or tahini. Or make it a bowl with bibb lettuce, pickled red onion, hummus and pita. I also like to drizzle a little garlicky yogurt sauce over top. That recipe you can find here.
Enjoy! And if you give this Air Fryer Falafel recipe a try, let me know! Snap a photo and tag me on twitter or instagram!
This post may contain affiliate links.
Buy the Cookbook: Simply Scratch : 120 Wholesome Homemade Recipes Made Easy Now available on Amazon »
THANK YOU in advance for your support!