Lamb Kofta Open-Faced Pita Sandwiches are a delicious and flavorful lunch or dinner. Start by combining onion, parsley and fresh mint with a plethora of dried spices and mix it with ground beef and lamb. The kofta is baked on skewers and is served on warm pita with all the fixings.
Nothing like starting Monday after the best weekend ever. On Friday, Pat and I ran all our errands. Pat's errands consisted of going to the bank and a hair cut appointment. My errands meant stopping into 5 different stores to buy plants. I purchased 4 new plants and I'm SO in love.
On Saturday I made this for lunch and after we had an impromptu visit from friends later that day. Then on Sunday, the weather was 50° and we went on a long 4 mile hike. We stumbled on the old Haven Hill House ruins, which at one time was owned by Edsel Ford (son of Henry Ford) before being donated, and hiked the entire property. I'm sure I'll share the photos when I post my Year In Review but it was breath taking.
It was such a jam-packed weekend but the good kind. And now, it's currently late Sunday evening and I'm just getting to writing up this post and thinking about the leftovers I'll have for lunch tomorrow.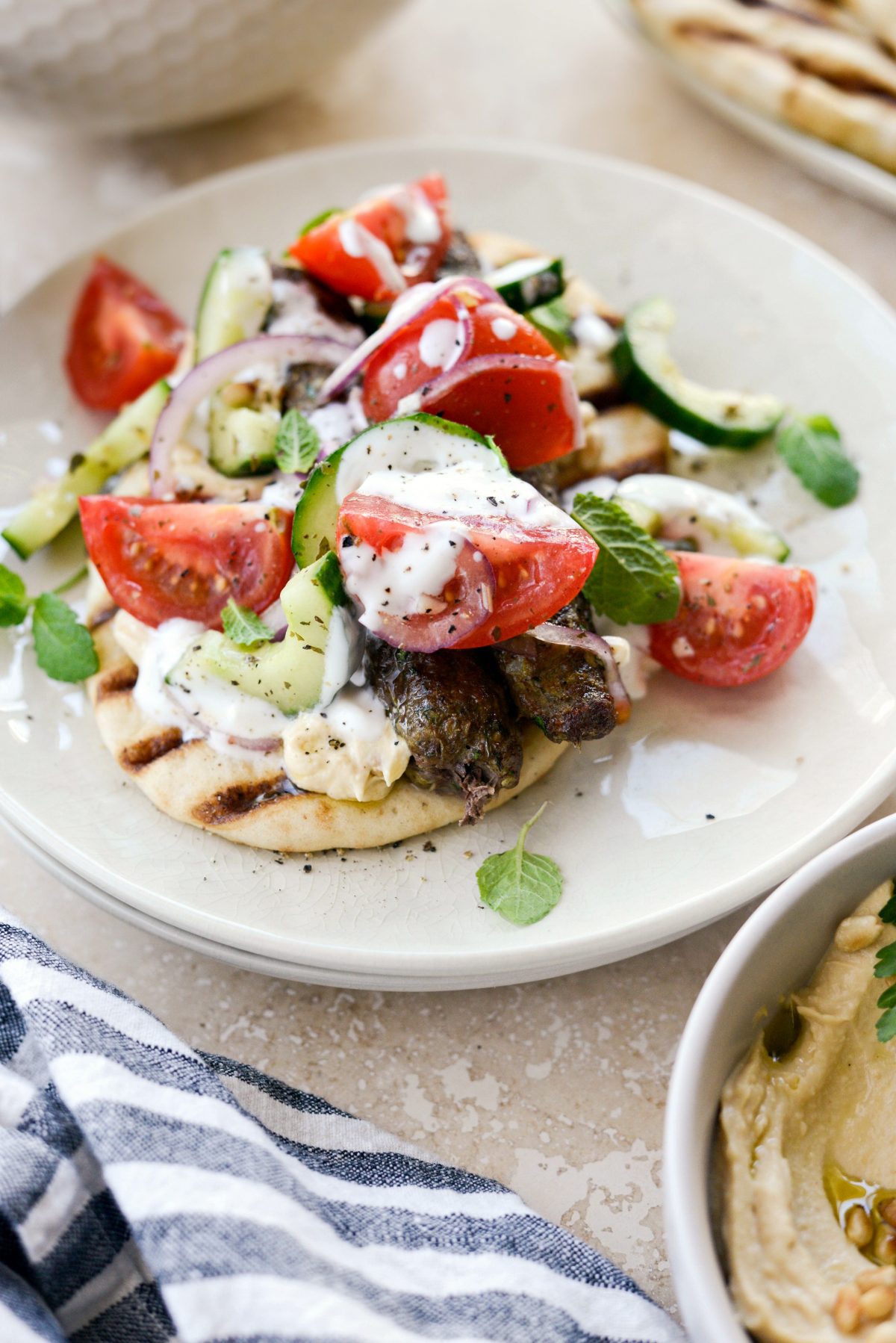 The lamb kofta sits atop hummus slathered warm pita bread and is topped with fresh topping and the most delicious garlic yogurt sauce.
Delish.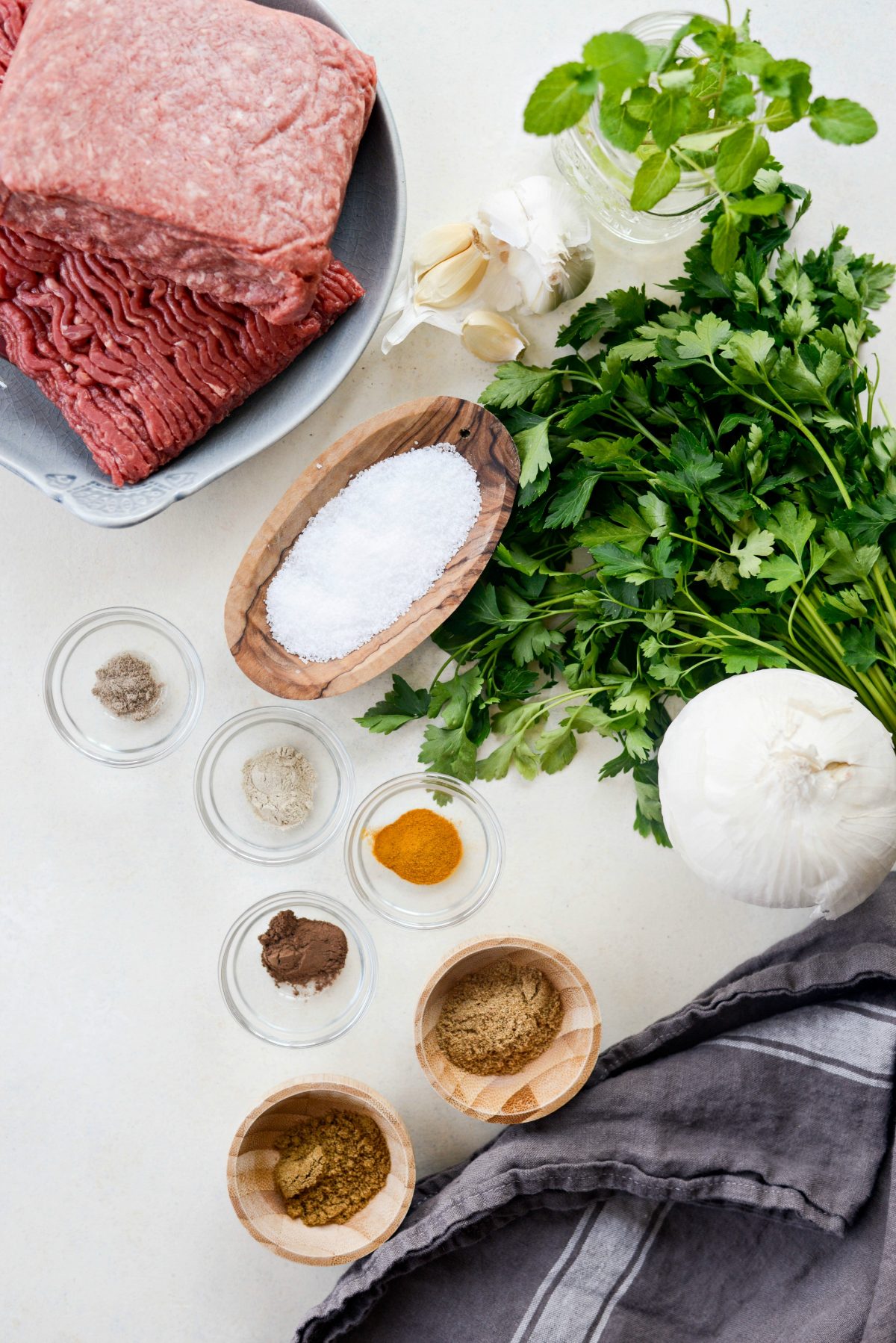 Make the garlic yogurt sauce first. I didn't photography this because it's literally just throwing 1 cup plain non-fat Greek Yogurt in a bowl with 2 tablespoons mayo, 2 grated cloves of garlic, juice from 1/2 a lemon, a 1/2 teaspoon each of sugar and white pepper, plus kosher salt to taste – about 1/4 to 1/2 teaspoon.
For the lamb kofta you will need:
1 pound each of ground lamb AND ground beef
2/3 cup fresh parsley leaves
1/4 cup fresh mint leaves
1 medium white onion
3 cloves peeled fresh garlic
1-1/2 teaspoons kosher salt
and 1-1/2 teaspoons ground coriander
1 teaspoon ground cumin
3/4 teaspoon allspice
1/2 teaspoon ground white pepper
and 1/2 teaspoon ground turmeric
1/4 teaspoon ground cardamom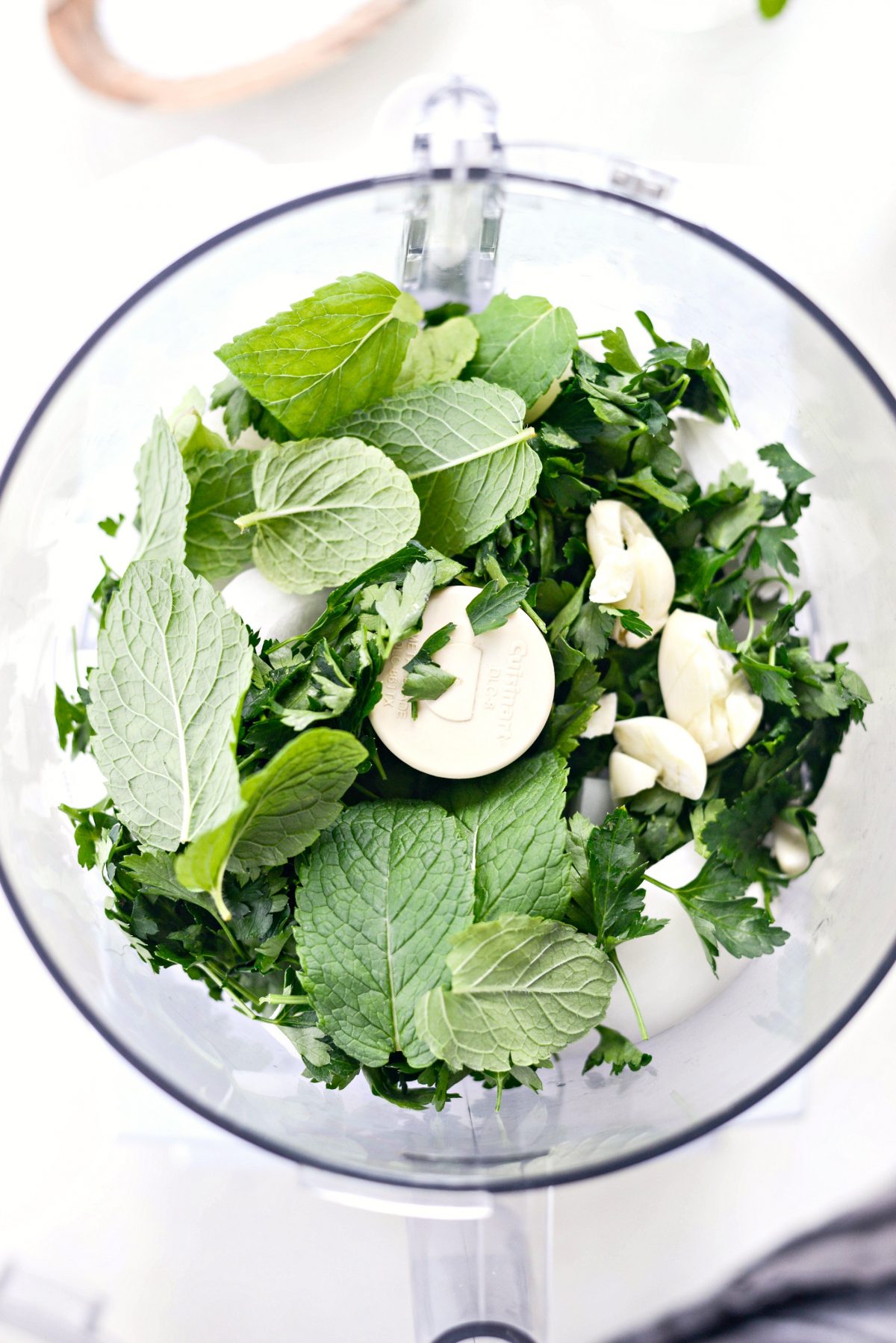 Into the bowl of your food processor, fitted with the blade attachment, add the onion, parsley, mint and garlic. Then pulse until finely minced.
This smells incredible!
Next, in a large mixing bowl, add the pound of lamb and lean ground beef and the onion/parsley mixture.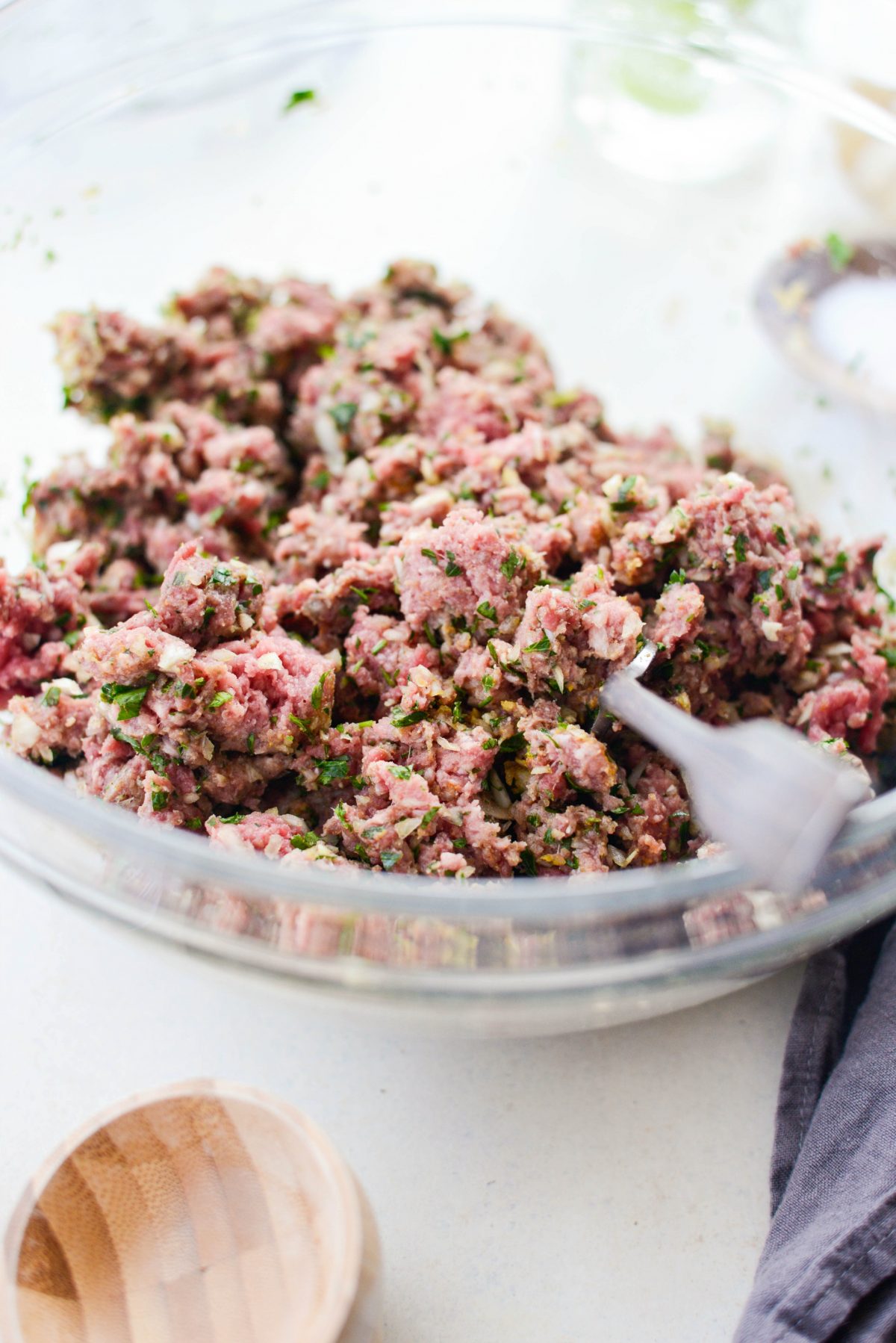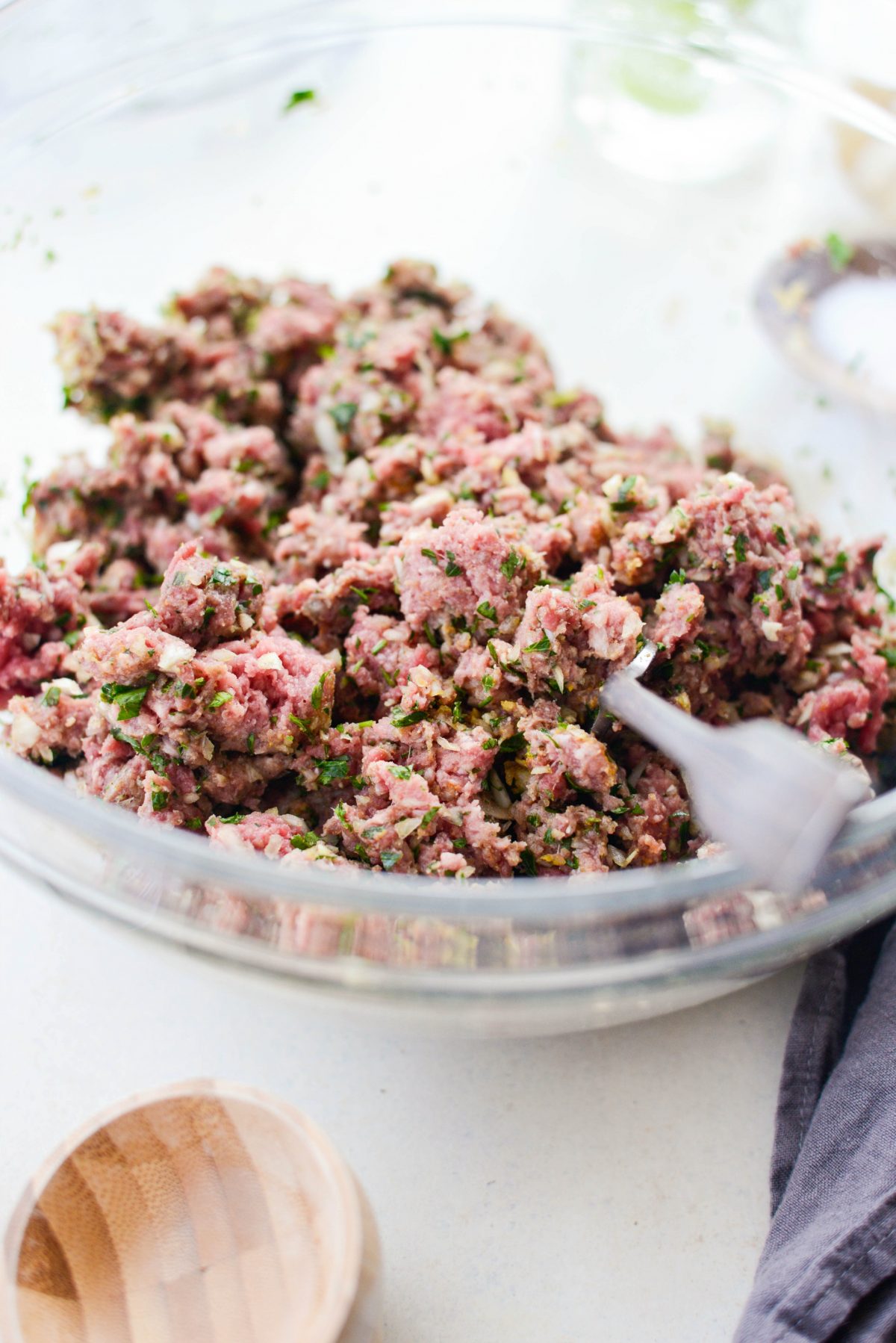 Then season with salt, coriander, cumin, allspice, white pepper, turmeric and cardamom. Next, using a fork, mix until combined.
So simple!
Next, take a palmful of the lamb mixture and form oblong patties onto metal (or wooden skewers that have soaked in water for at least 30 minutes). Place on a lightly sprayed wire rack that is set into a rimmed baking sheet. Repeat with the remaining mixture and preheat your oven to 400°.
Bake the lamb kofta for 2o to 25 minutes or until browned on top and fully cooked.
Once baked (and smelling amazing), top warm pita or naan with hummus, lamb kofta and any other toppings your heart desires. Drizzle with the garlicky white yogurt sauce and extra black pepper.
I served a tomato cucumber salad over top, which I hope to share with you tomorrow!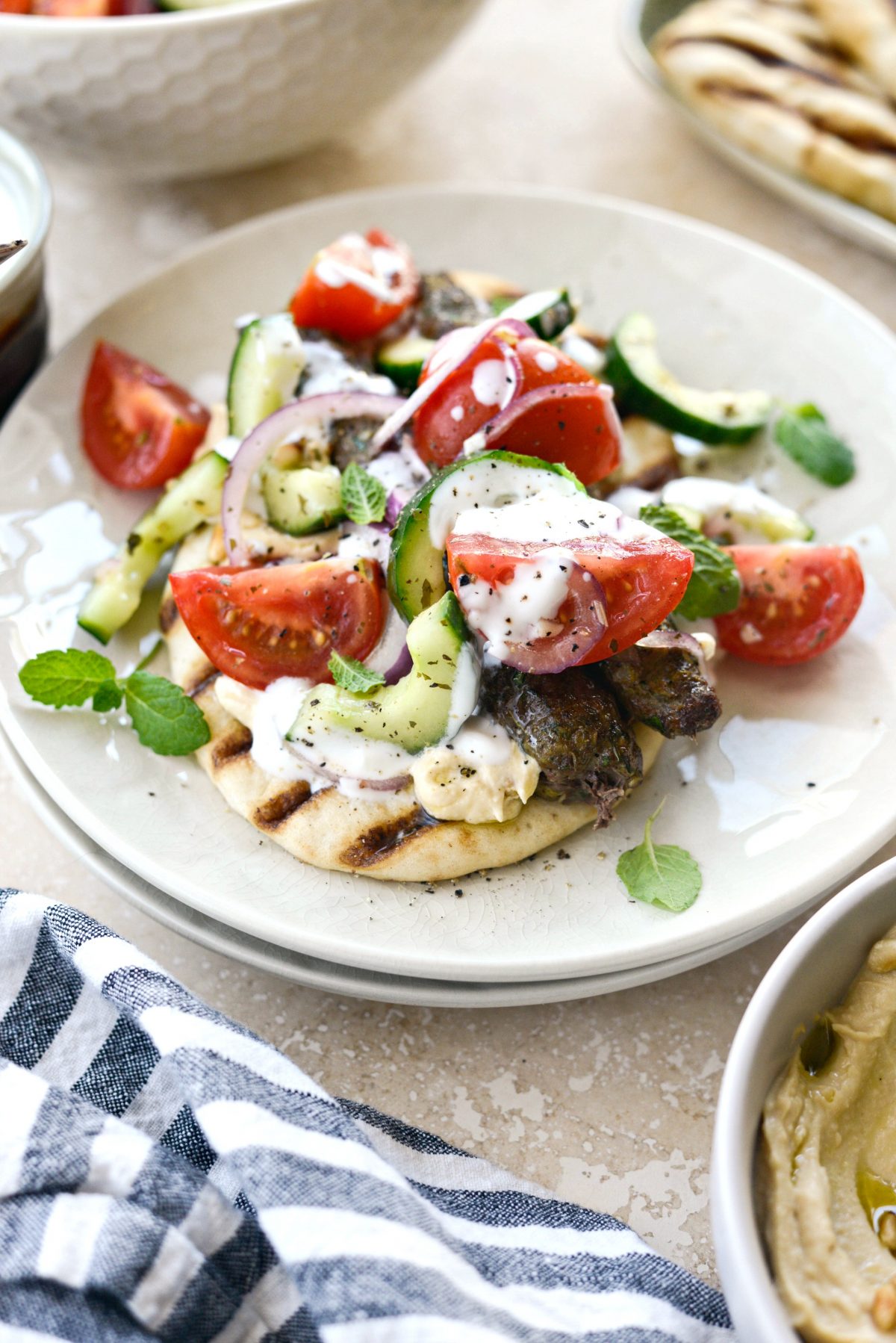 Fresh produce meets deeply spiced meet and it makes for one delicious meal.
Enjoy! And if you give this Lamb Kofta Open-Faced Pita Sandwiches recipe a try, let me know! Snap a photo and tag me on twitter or instagram!
This post may contain affiliate links.
Buy the Cookbook: Simply Scratch : 120 Wholesome Homemade Recipes Made Easy Now available on Amazon »
THANK YOU in advance for your support!