In this Roasted Pumpkin Kale and Feta Frittata; spiced roasted pumpkin, sautéed onions, mushrooms and garlic bake with pasta, baby kale, feta and beaten eggs. This satisfying meatless breakfast option is great for meal prep or a low-key breakfast. Serves 4 to 8 depending.
Me and breakfast are basically bff's.
This really isn't much of a secret. But I especially love days when I "blog" or shoot a breakfast recipe because that means I eat breakfast twice. Once for actual breakfast and then again for lunch. And after standing over this skillet all afternoon I couldn't wait to sink my fork into this frittata.
If you can believe it, I prefer roasted pumpkin over butternut squash. Don't get me wrong, I love butternut squash in soups and such – but mostly soups. However roasted pumpkin plus kale and feta in a frittata? It's incredible.
This frittata is loaded with vegetables and incredible flavor. It's so satisfying and makes a delicious healthy option for breakfast… or lunch.
To Make This Roasted Pumpkin Kale and Feta Frittata You Will Need:
olive oil
pie pumpkin
ground sage
paprika
kosher salt
freshly ground black pepper
olive oil spray
red onion
garlic
sliced button mushrooms
baby kale
leftover cooked pasta
eggs
crumbled feta cheese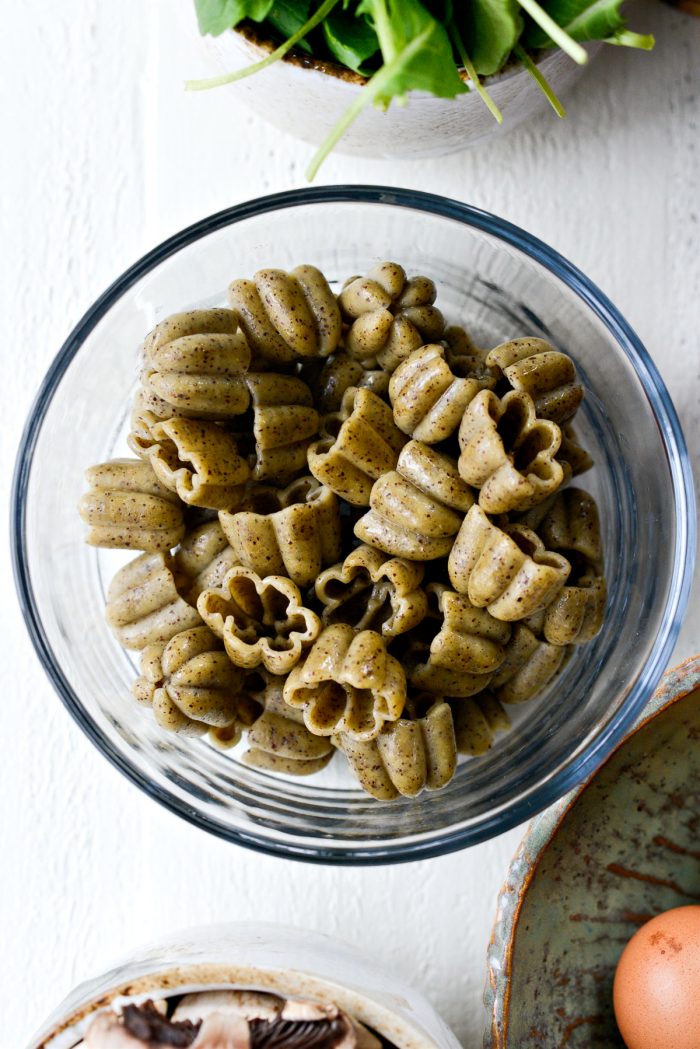 For this size of pasta, I measured a heaping cup dried which roughly yielded 1-1/2 cups of cooked. However, you can use any leftover pasta you wish. You will just need 1-1/2 cups cooked which is about 2 to 3 ounces dried. I had these cute shaped hemp zucca on hand. Zucca means pumpkin in Italian, which I thought was fitting.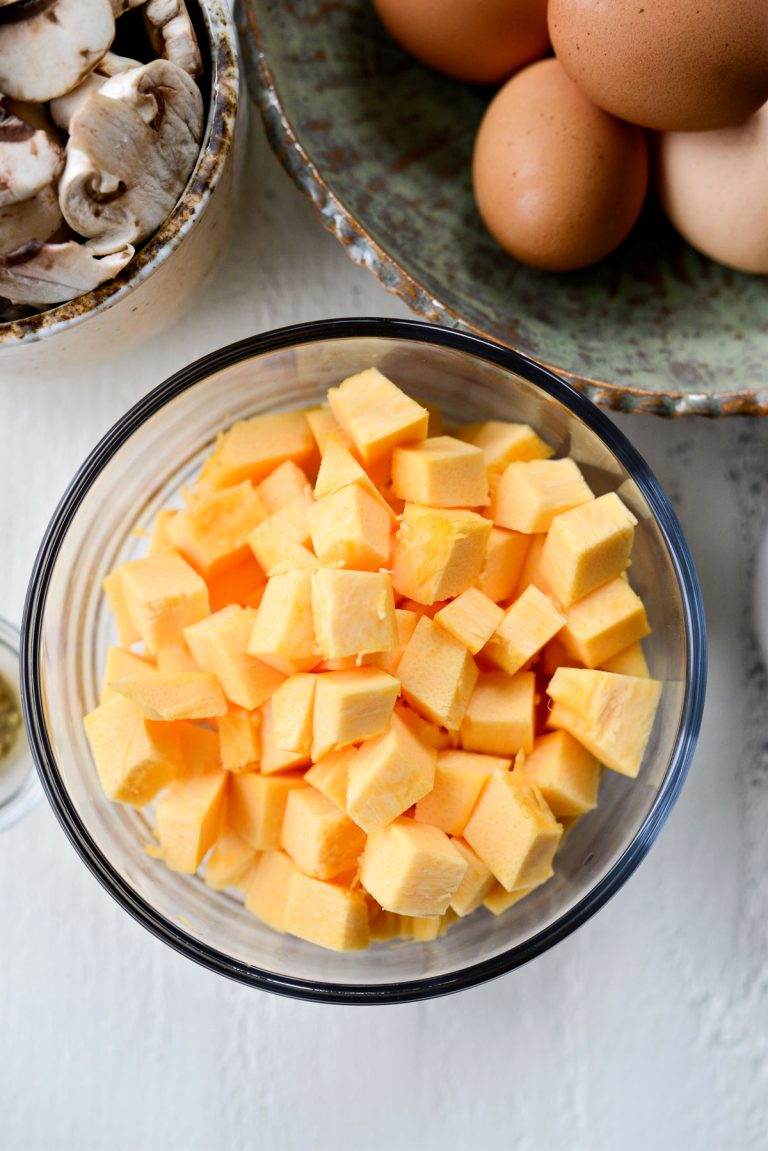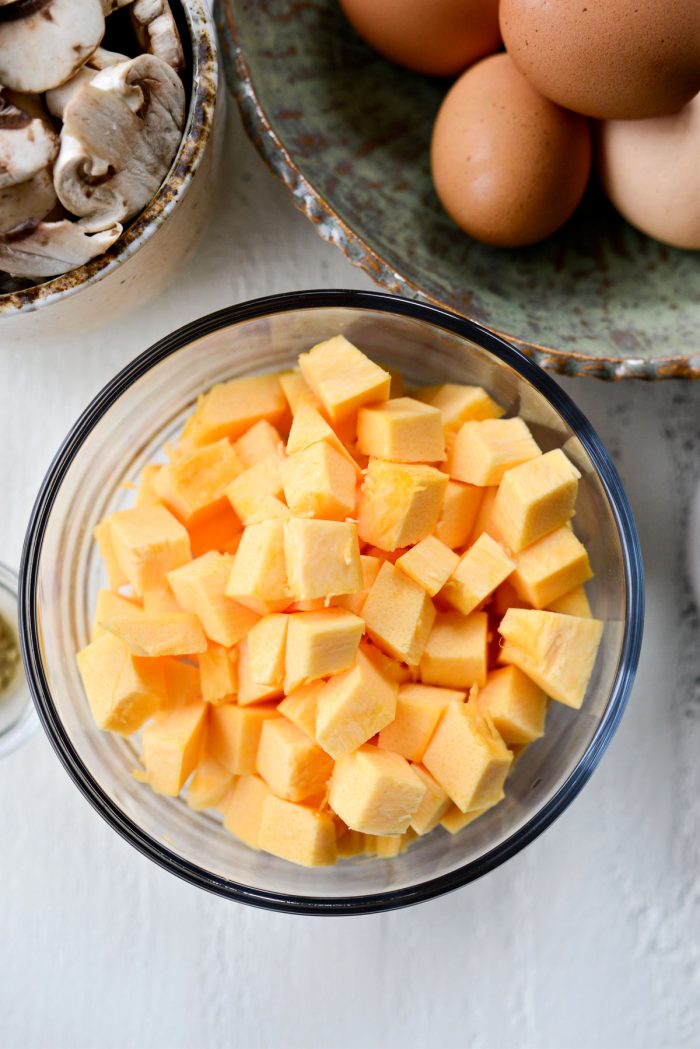 HOW TO DICE PUMPKIN:
Wash the outside of the pumpkin and wipe clean with a kitchen towel. Slice off the stem and cut the pumpkin in half from top to bottom. Scrape out the seeds and either use or discard.
Flip the pumpkin, cut-side down onto the cutting board and slice into roughly 1/2-inch thick slices (smaller or larger depending on the recipe). Cut each slice into roughly 1/2-inch pices and trim off the skin of the pumpkin. For my sized pumpkin I used about 1/2 of it to yield 3 cups diced.
Preheat your oven to 400° and line a rimmed metal baking sheet with parchment paper.
Place 3 cups diced pumpkin onto the prepared pan. Drizzle with 1 tablespoon olive oil and season with 1 teaspoon ground sage, 1/2 teaspoon paprika and a generous pinch of kosher salt. Toss well to combine and spread out evenly.
Roast on the middle rack in your preheated for 20 minutes or until tender.
Remove the pan and reduce the oven temperature to 350°.
Meanwhile, the inside of a 10-inch nonstick skillet with olive oil before measuring and adding 1 teaspoon olive oil. Because the frittata is baked in this skillet, I like to spray it with olive oil to insure the frittata won't stick. Then, to the skillet, add 1/2 a diced medium red onion, 1 minced clove of garlic and a pinch of kosher salt.
Stir and cook 3 to 4 minutes or until the onions start to soften.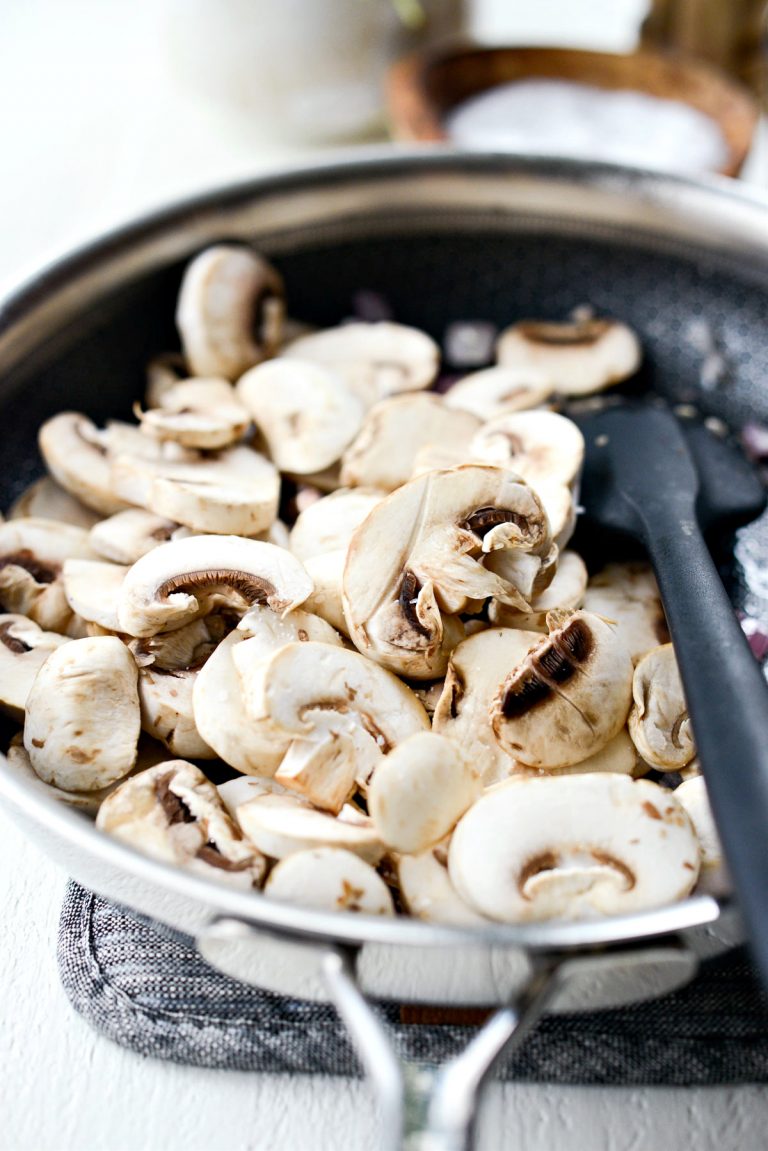 Next, add in the sliced button mushrooms with a small pinch of salt.
Stir and cook until tender. Increase the heat to medium-high and cook until any liquids from the mushrooms is gone and the mushrooms are golden in spots. About 10 minutes.
Remove the skillet off the heat and add 2 to 3 handfuls of baby kale.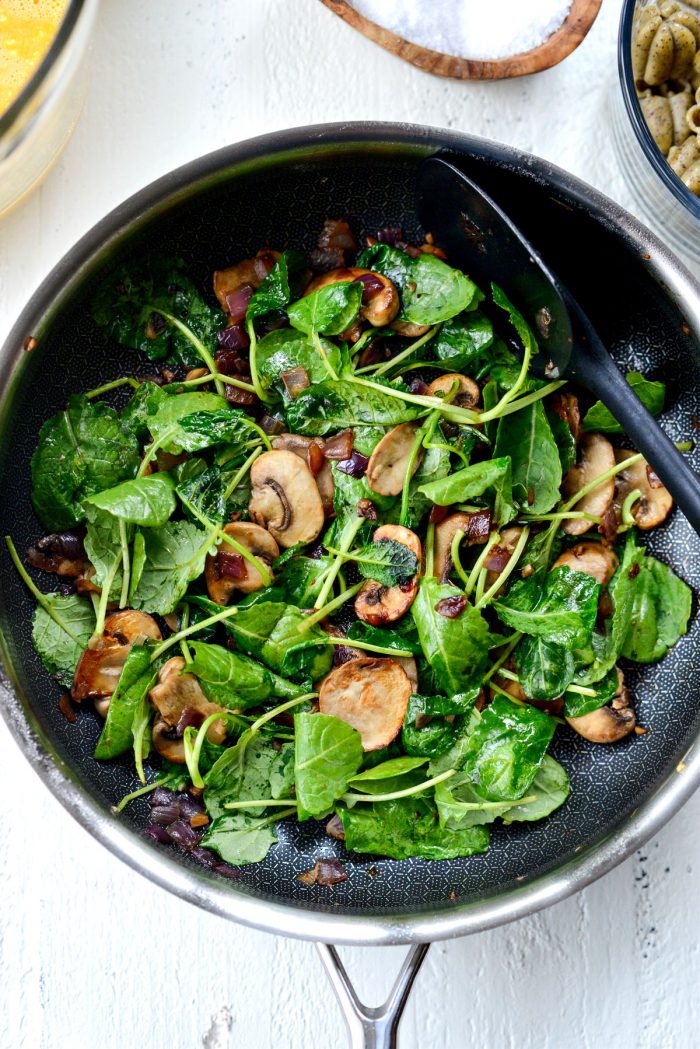 Stir until the baby kale starts to wilt.
To the skillet, add the roasted pumpkin and leftover cooked pasta.
Meanwhile, crack 8 eggs into a mixing bowl and season with kosher salt and freshly ground black pepper.
Whisk well until combined and add in 2 tablespoons crumbled feta cheese.
Pour the egg mixture over top the vegetables in the skillet.
Give it a little stir so the egg mixture is throughout the frittata.
Sprinkle with 2 additional tablespoons of crumbled feta.
Bake the frittata on the middle rack in your preheated 350° oven for 18 to 22 minutes or until the eggs are set.
Gorgeous!
Sprinkle with thinly sliced green onion and minced parsley before slicing and serving.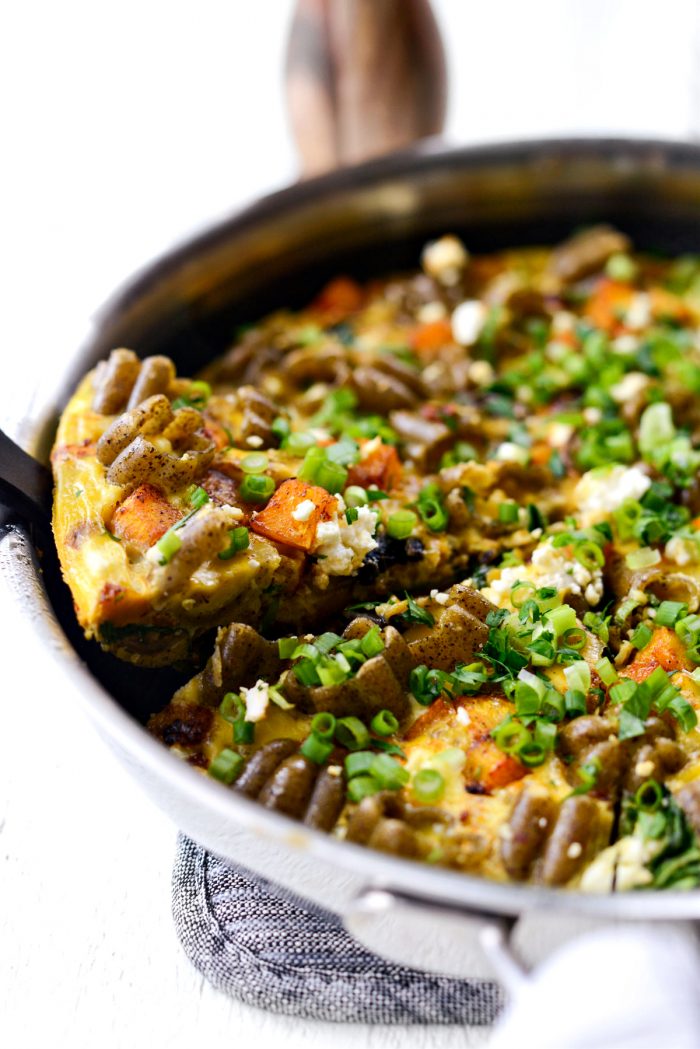 Serve as is with buttered toast (I like rye!) and even a simple arugula salad. Perfect for meal prep or for a serving a small group for brunch.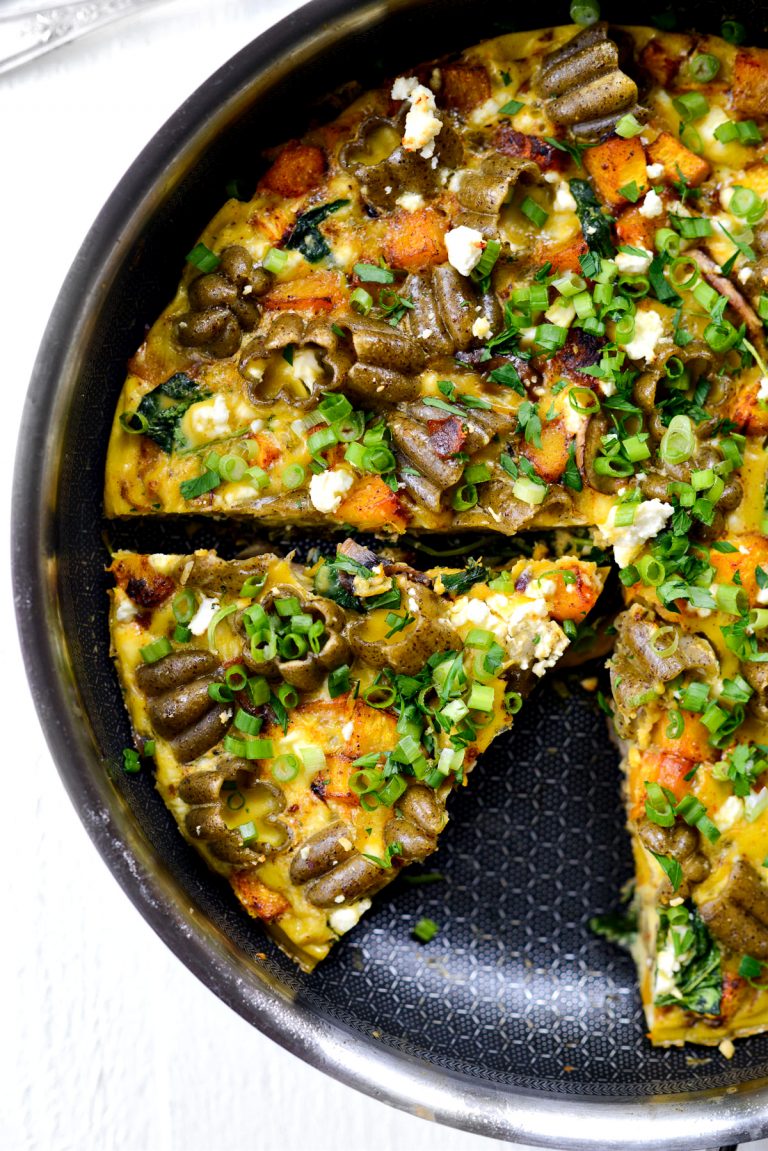 Enjoy! And if you give this Roasted Pumpkin Kale and Feta Frittata recipe a try, let me know! Snap a photo and tag me on twitter or instagram!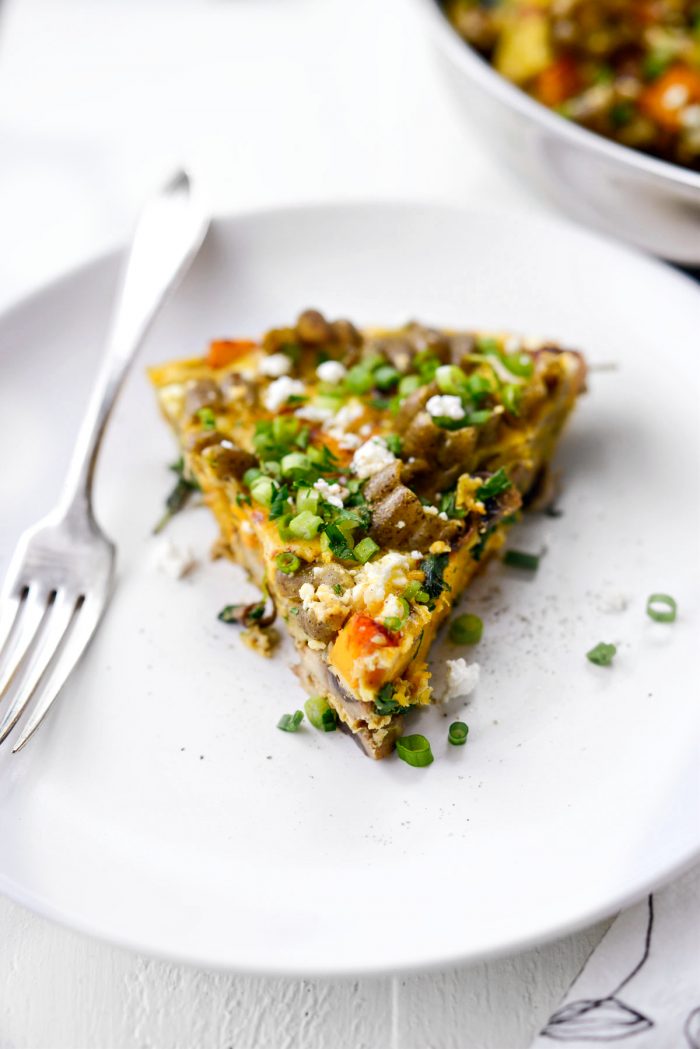 This post may contain affiliate links.
Buy the Cookbook: Simply Scratch : 120 Wholesome Homemade Recipes Made Easy Now available on Amazon »
THANK YOU in advance for your support!