To say I grew up on Detroit-style pizza is no exaggeration. Since I can remember, my mom has been making her infamous version of this pizza before "Detroit-Style" pizza ever became a thing. Detroit-Style Pizza is this; a square deep-dish pizza, where the pepperoni is underneath shredded brick cheese, topped with a simple tomato sauce in three parallel strips and is baked until the cheese golden and the crust is crisp.
For my mom, the story begins when she lived in Hamtramck which is a city just north of Detroit. A family friend told her father (my grandfather) about Buddy's Rendezvous. Back then, Buddy's was a tavern and because of that, my mom and one of my Aunts would have to wait in the car while my grandfather picked the pizzas up. She said it felt like for ever, sitting and waiting for him to bring the pizzas. Now, looking back, my mom questions if the reason it took him so long was because my grandpa was enjoying a beer at the bar while waiting.
When he would finally emerge with two piping hot pizzas, the smell of the freshly made pizza would fill up the car, making it even harder to wait. So to pass the drive time while making their way back home, my mom told me that she and my aunt would play a game of "who can keep the hot box of pizza on their lap the longest".
Fast forward a few years…
to when my grandparents moved their family to Berkley (a small city in Oakland County). There wasn't a Buddy's chain yet, so my grandfather would travel all that way back just to get his pizza fix. Obviously my grandfather favorite pizza was Buddy's so I believe it's safe to say the drive was worth it.
When my mom was newly married, my parents moved and built my childhood home in Ortonville, Michigan. Ortonville is a good hour [or more] north of Detroit. There definitely wasn't a Buddy's that far north either, so my mom made it her mission to recreate her own Buddy's pizza in her very own kitchen. One evening when my parents had my grandparents over to play cards, my mom made her version of Buddy's pizza for my grandpa and he sang her praises, saying it was the closest to Buddy's he's ever tasted. My grandpa isn't one to hand out empty compliments, so she knew he meant it.
Now, there's a Buddy's Pizza all over the metro-Detroit area and you can find similar Detroit-style pizza in other restaurants and pizza chains as well. But Buddy's will always be the originator of the square deep dish pizza.
Last week, I spent an hour on the phone with my mom perfecting my notes on what I remembered of her recipe; making sure I had the layering of toppings down, the specific type of cheese, sauce ingredients etc. I wanted to make sure I had my facts straight before sharing my mom's recipe with you all.
EEEP! I'm super excited about this!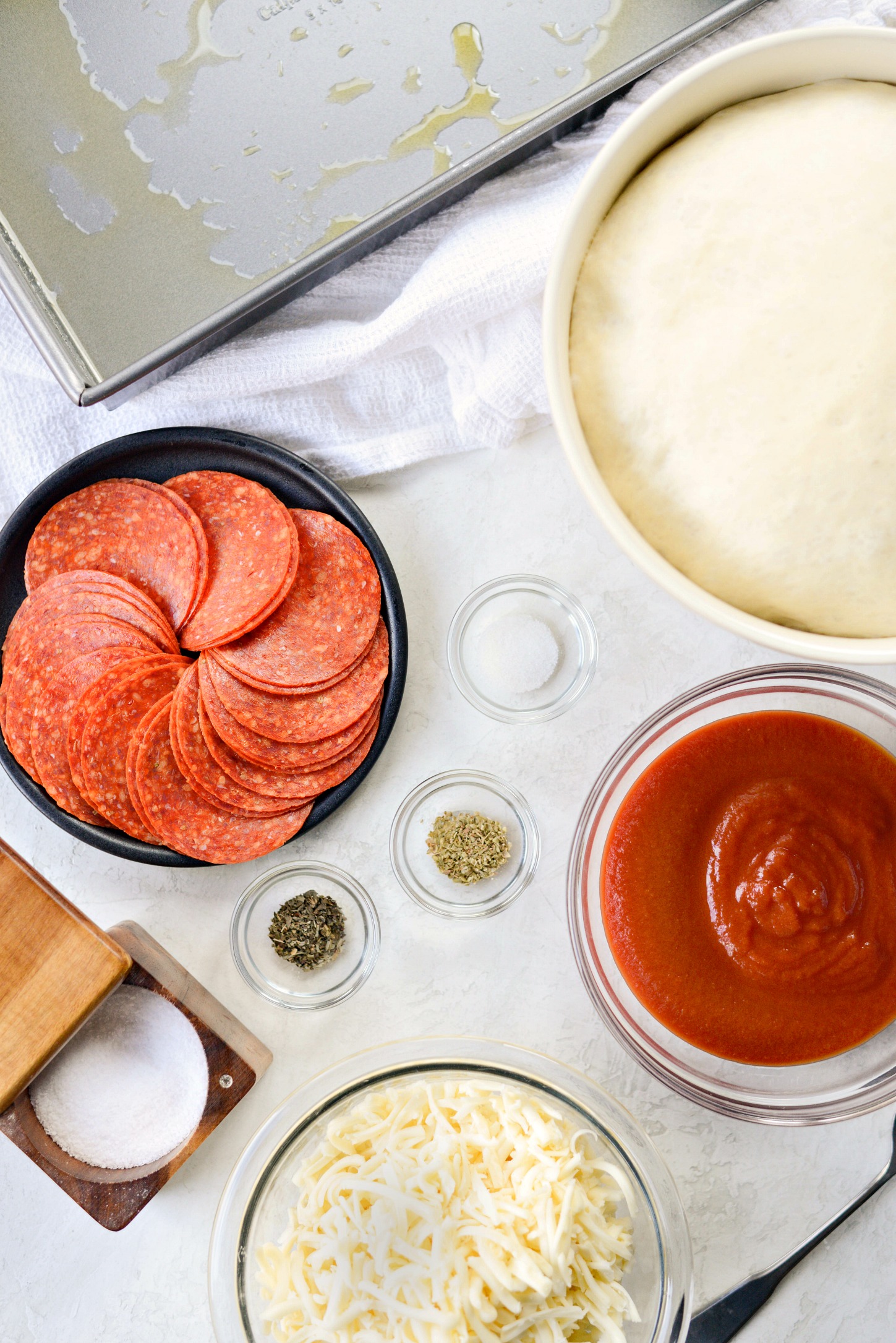 To Make Detroit-style pizza You will need:
Use room temperature ingredients when making Detroit Style Pizza. Bring them all out of the fridge when starting to make the pizza dough.
Start by generously greasing two 8×8 pans with olive oil. You want the pizza crust to get nice and crispy, so about a tablespoon or more per 8×8 pan. Using a pastry brush will help coat the sides and bottom of the pan easily. My mom would always use the pepperoni grease from the wax paper that comes in the deli zip locked bag. Sadly, my pepperoni wasn't greasy at all ☹️ so I just used about 1 to 1-1/2 tablespoons of olive oil, eyeball it.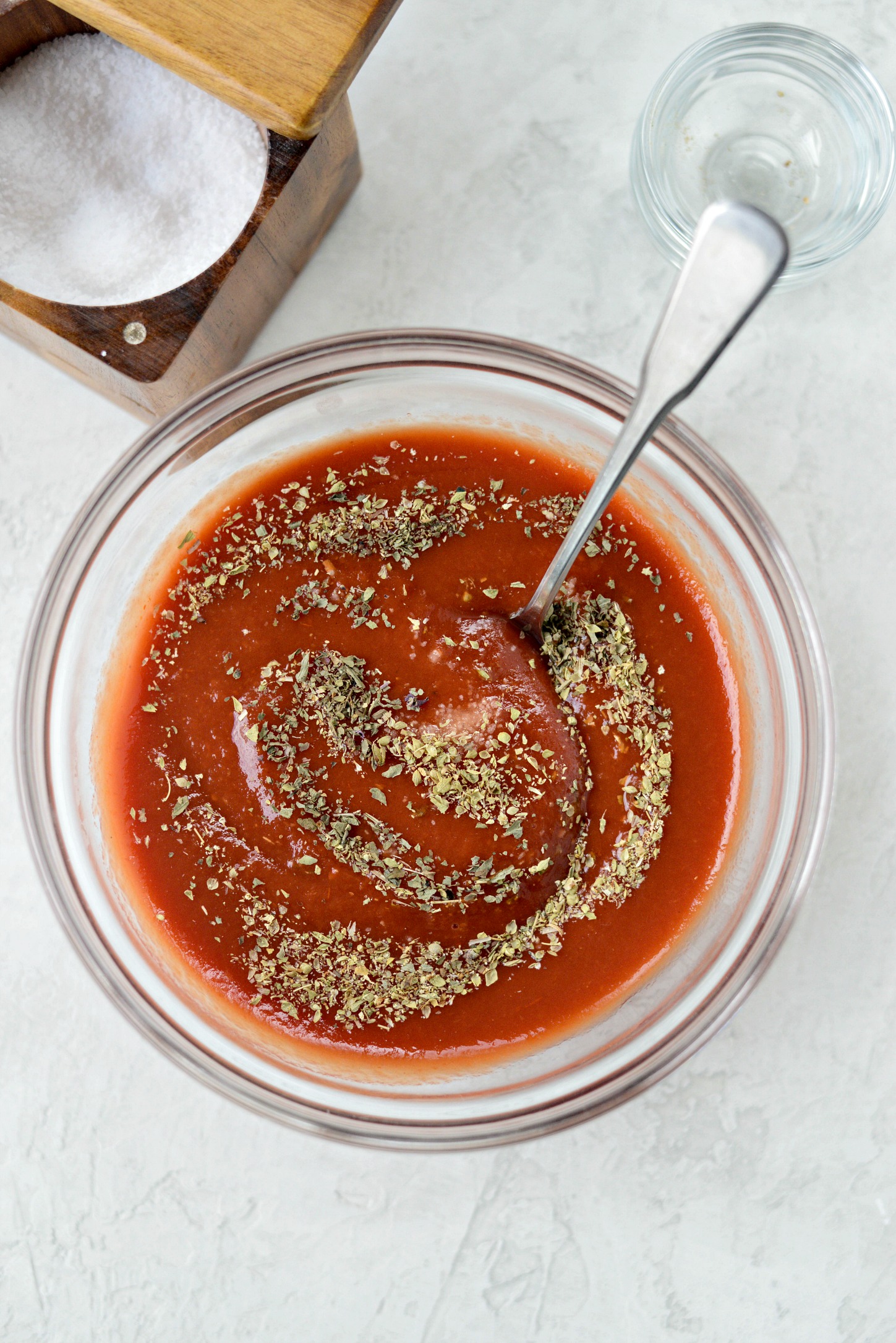 Then to make the simple pizza sauce, pour a 15 ounce can of tomato sauce into a bowl and stir in a pinch of sugar, 1/4 teaspoon of kosher salt and 1/2 teaspoon of both dried basil and oregano. That's it.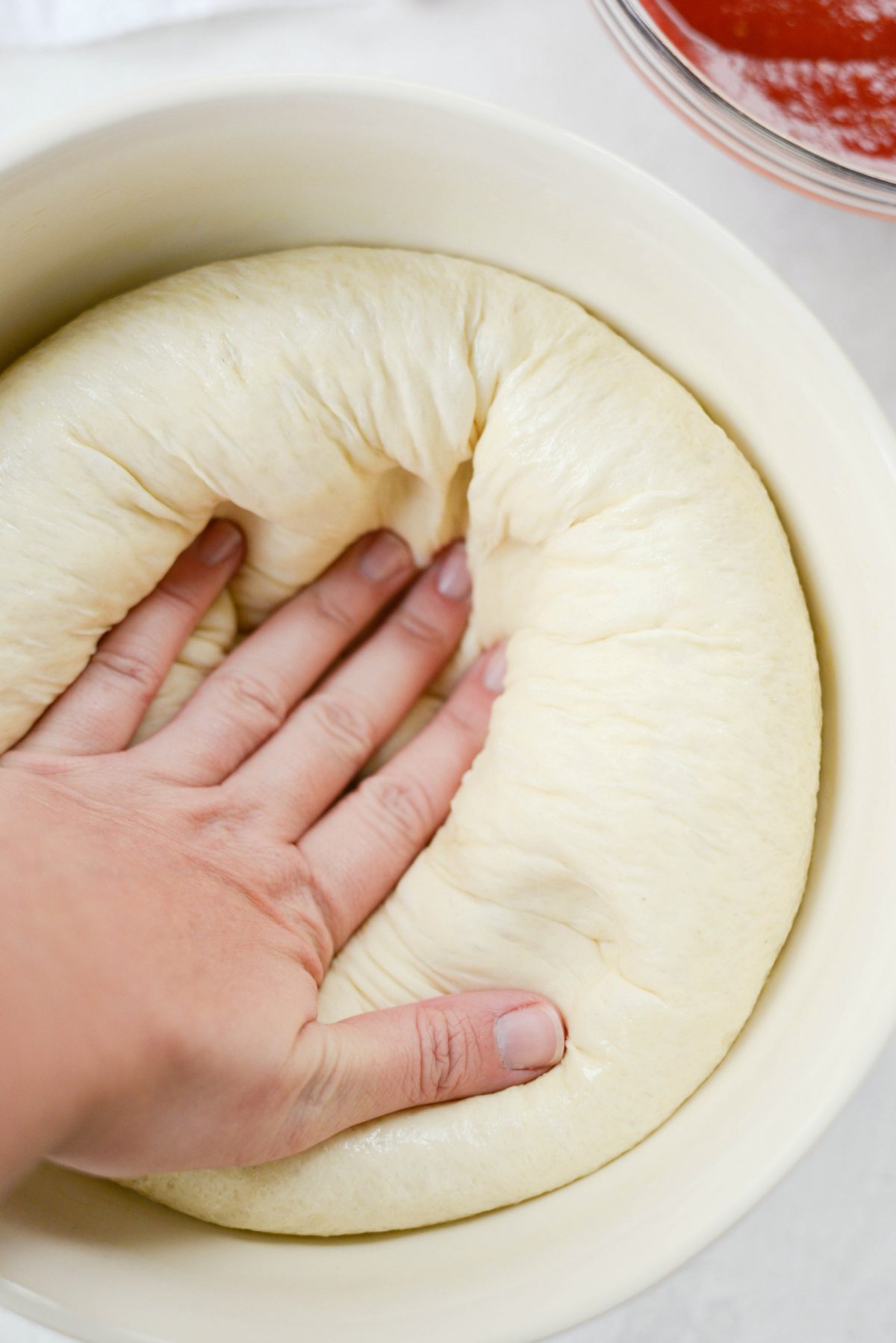 Once the pizza dough has risen. Punch each one down to deflate.
After making the pizza dough, divide it in half and place each in a separate well oiled boil. Cover with a tea towel and place in a warm spot to rise.
Working on one pizza at a time, stretch one of the deflated balls of dough to fit an 8×8 pan. Next, arrange the pepperonis [and it has to be sandwich pepperoni you would get at your deli counter] overlapping and then gently pressing the pepperoni into the pizza dough. Do this same step with the last of the dough. Then let the dough rise for a second time for 20 more minutes before you sprinkle each pizza with 2 cups of freshly grated brick cheese. Make sure you get the cheese right up to the edge of the pan, so when it bakes it gets golden and crispy.
If you ask me, brick cheese is so much better than mozzarella.
It has this buttery, creamy-ness and is utterly delicious on pizza and what makes Detroit-style pizza. In a pinch, mozzarella would do. I guess. 😉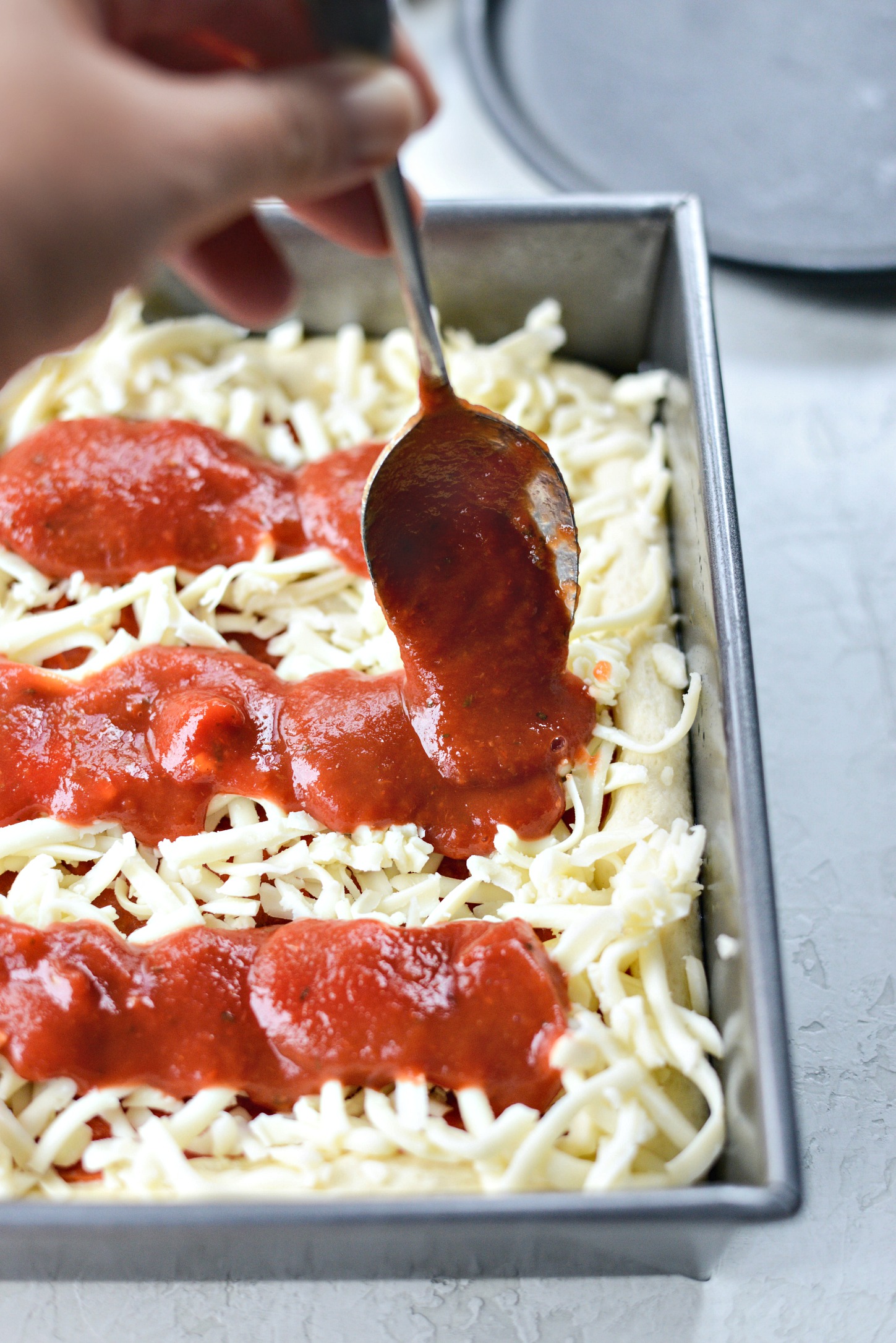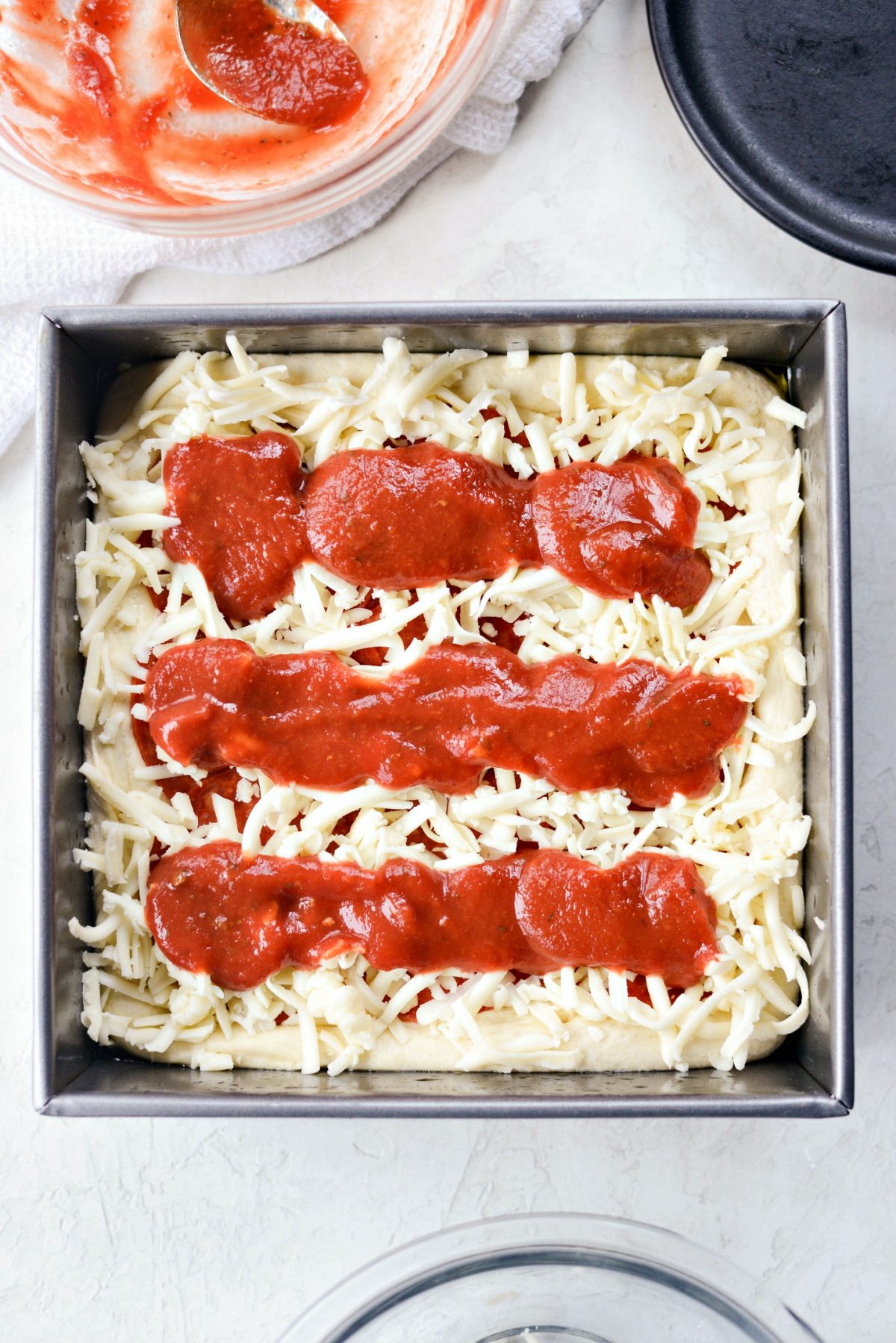 Besides being deep-dish, what makes a pizza a Detroit-style pizza is that the sauce is on top. On top of the cheese that's on top of the pepperoni. And you spoon it on in three parallel strips.
If you wanted any toppings [like mushrooms, onions, peppers] those go onto of the cheese and underneath the sauce.
Bake the first pizza in your preheated 425° oven for 15 to 18 minutes or until the cheese is golden brown. Remove and then bake the second pizza while the first pizza cools slightly in the pan.
Run a knife around the edge of the pizzas to loosen any cheese that may have stuck. Then transfer the pizza to a cutting board to cut into 4 qual pieces. Serve with salad!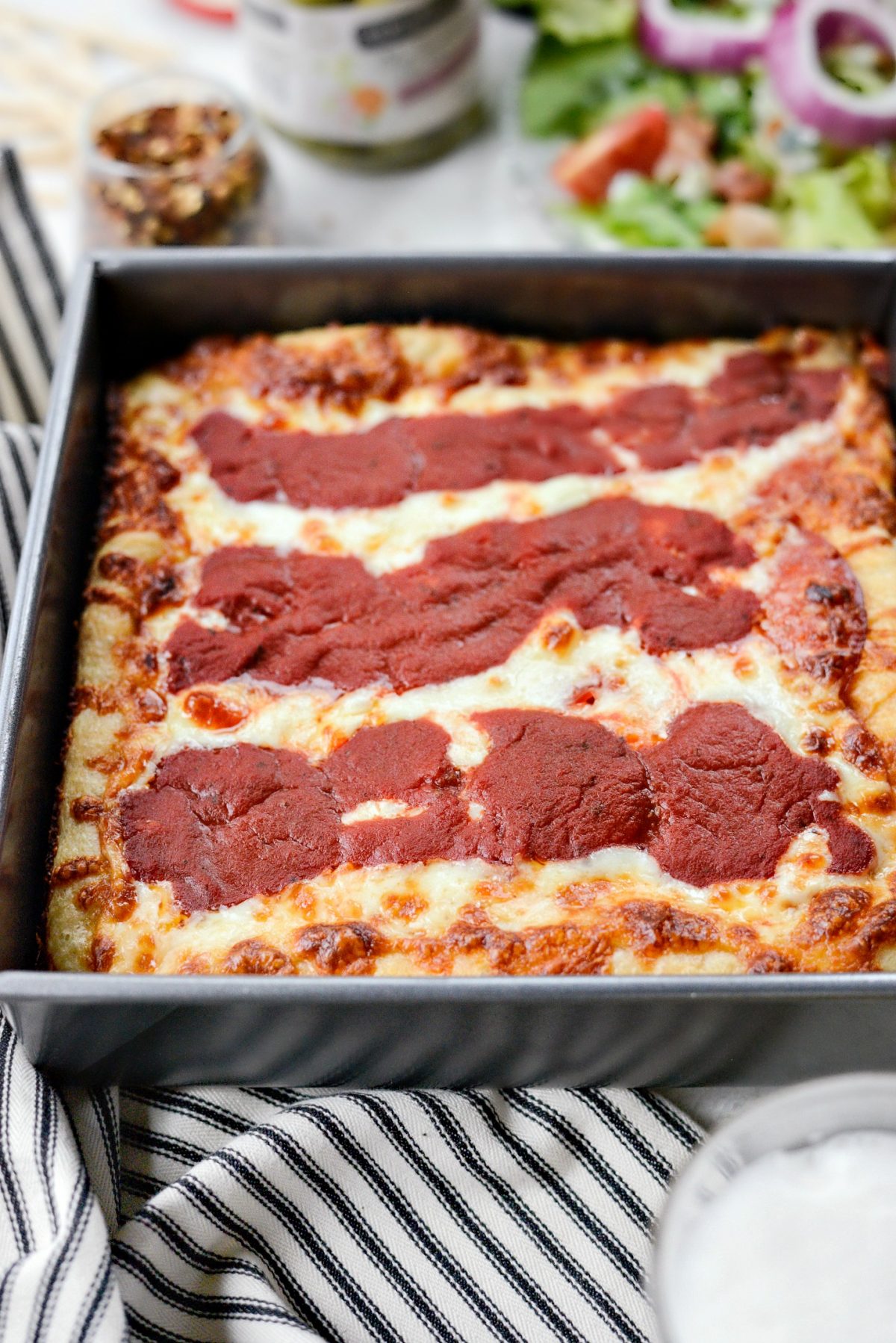 Pizza Friday may quickly become Detroit-Style Pizza Friday!
Ps. this is why you sprinkle the entire pizza with cheese [see below photo]. #crispy #bestpizzaever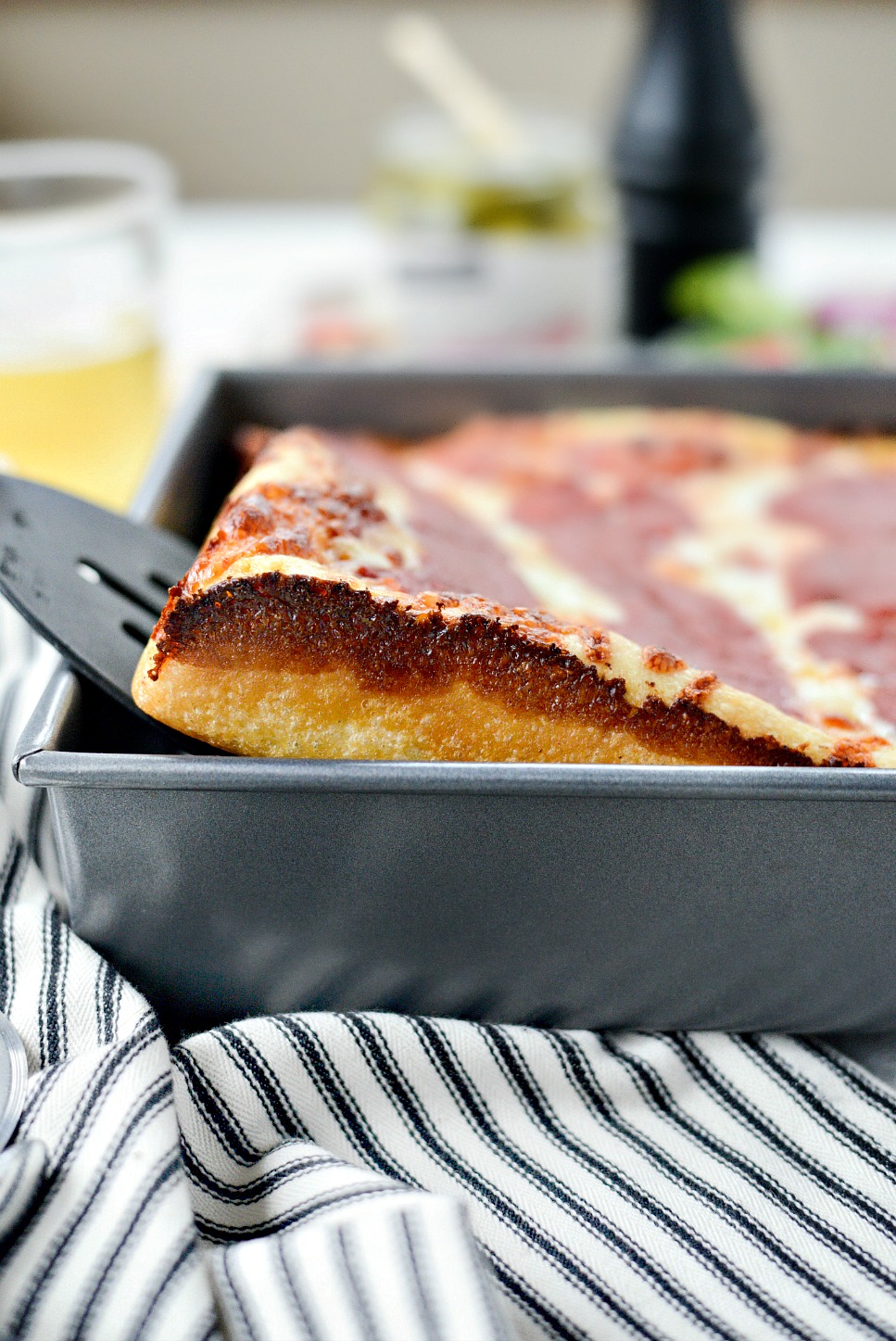 Enjoy! And if you give this Detroit-Style Pizza recipe a try, let me know! Snap a photo and tag me on twitter or instagram!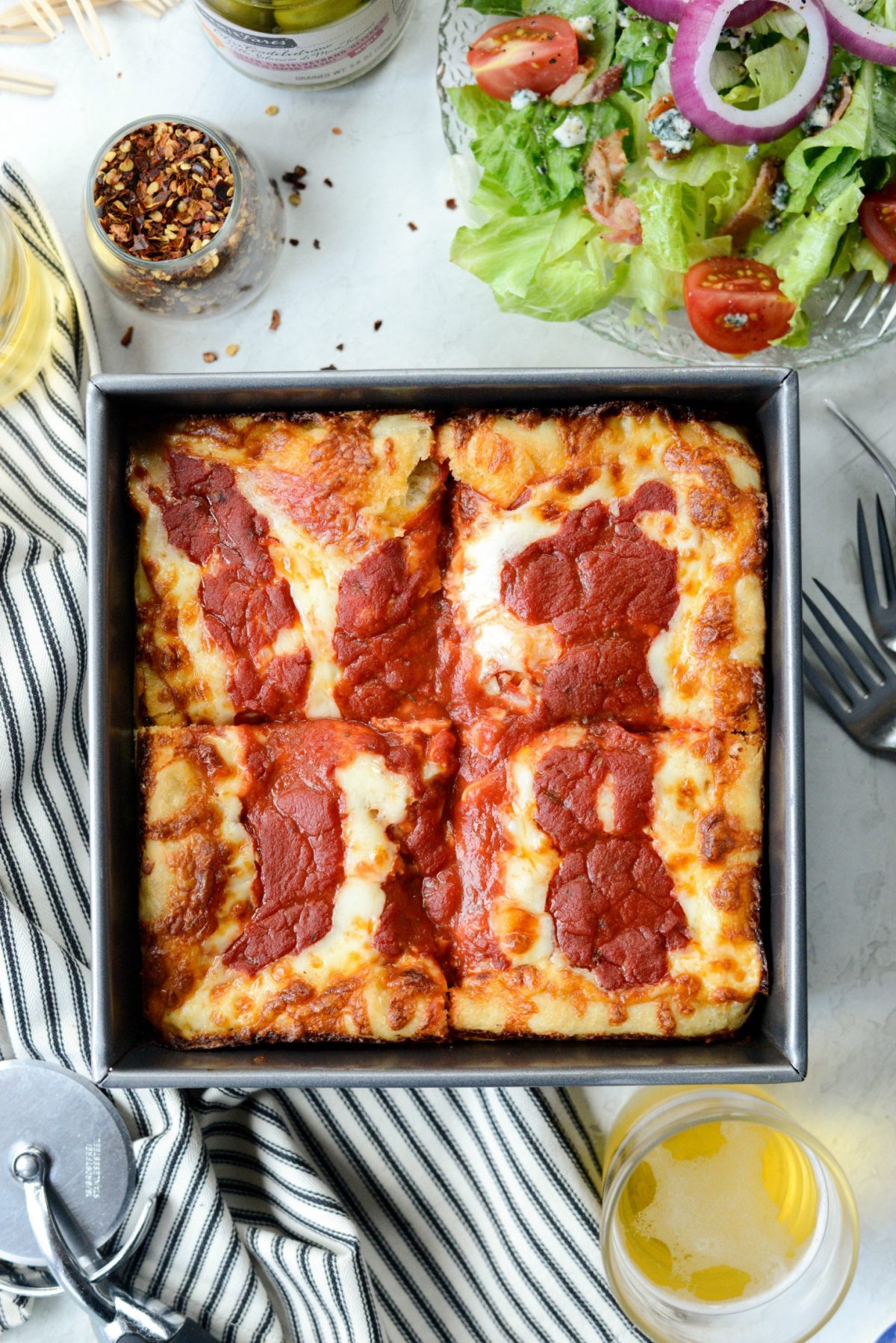 This post may contain affiliate links.
Buy the Cookbook: Simply Scratch : 120 Wholesome Homemade Recipes Made Easy Now available on Amazon »
THANK YOU in advance for your support!