Essentially Detroit style coney dogs consist of a steamed hotdog with a natural casing nestled into a soft bun and is topped with seasoned (no-bean) beef chili, yellow mustard and finely diced white onion. Yields 8 coney dogs in about 40 minutes.
You may be asked the question: Flint or Detroit style when ordering a coney dog in Metro-Detroit Coney Island. Obviously Flint and Detroit are cities here in the southeast region of the mitten state, but it's also different ways you can order a coney dog.
Depending on what you prefer, you can usually order both at most coney islands in the surrounding Detroit area. And in Michigan, we have plenty of coney restaurants to choose from.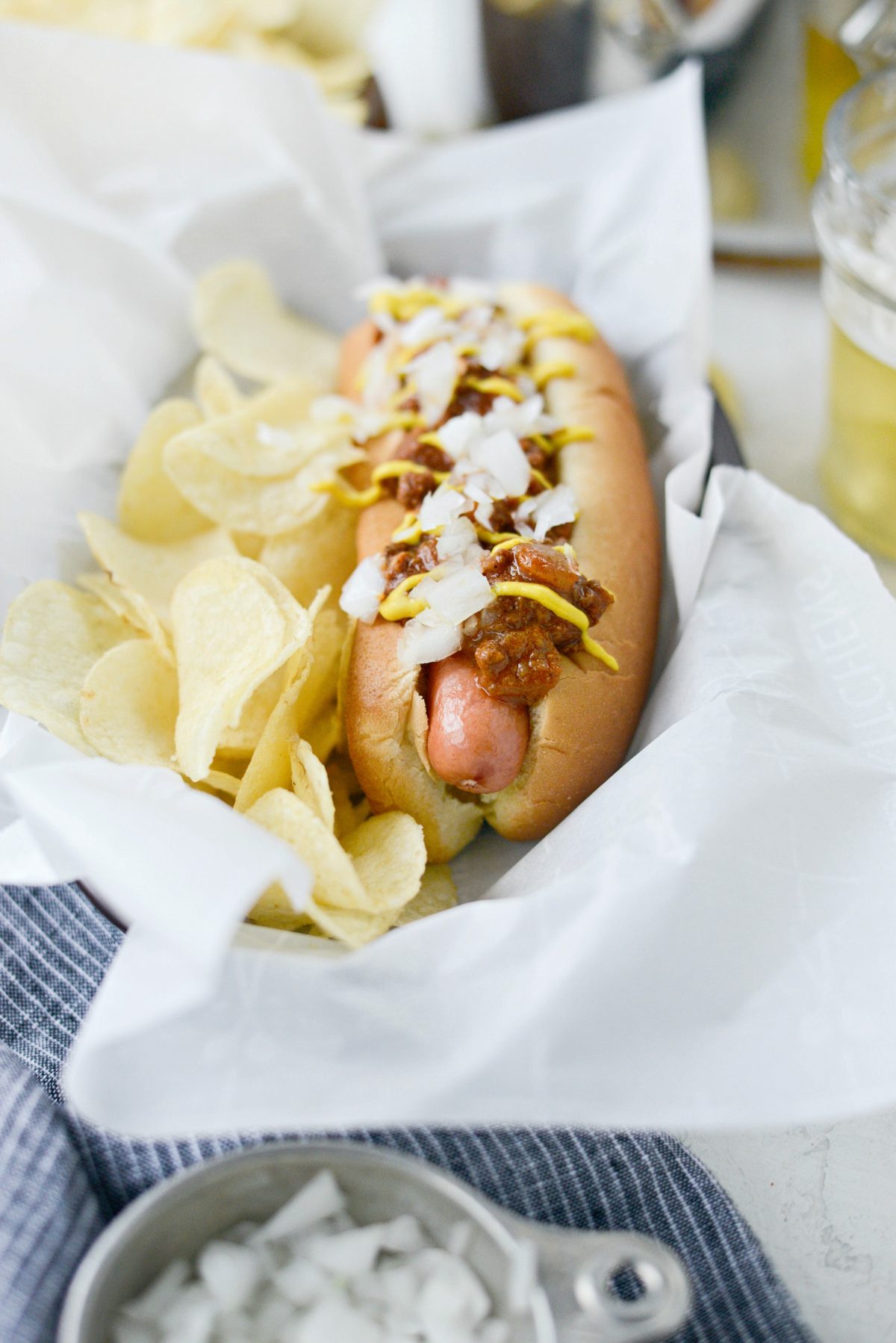 Personally, I'll take two steamed hotdogs topped with the creamy-tomato-based-no-bean chili, mustard and finely minced onions over a Flint-style any day. Oh and a side of chili cheese fries.
Because really why not?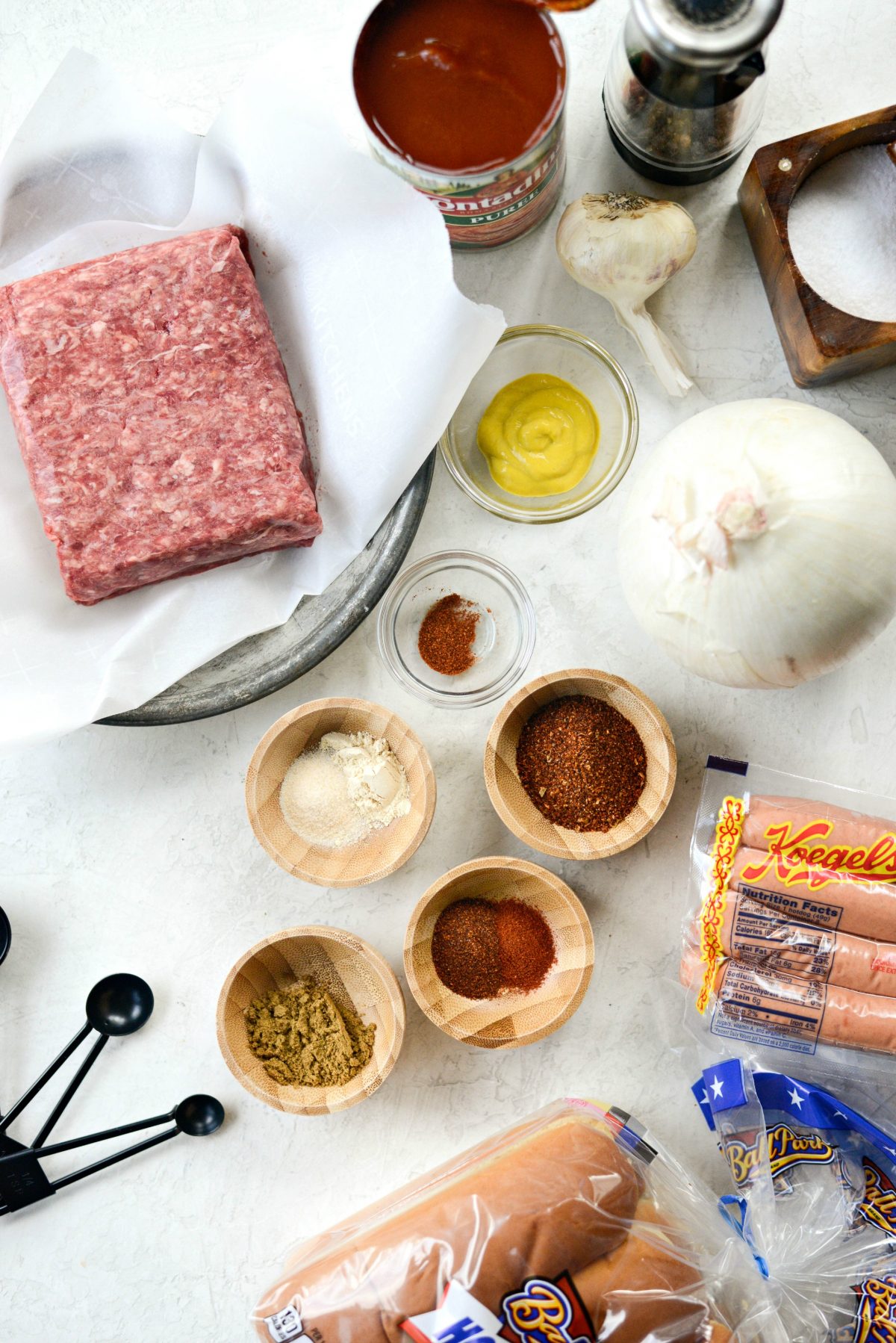 To Make These Detroit Style Coney Dogs You Will Need:
ground beef
white onion
fresh garlic
tomato puree
yellow mustard
regular chili powder
kosher salt (or to taste)
ground cumin
paprika
smoked paprika
onion powder
garlic powder
freshly ground black pepper
a few pinches of sugar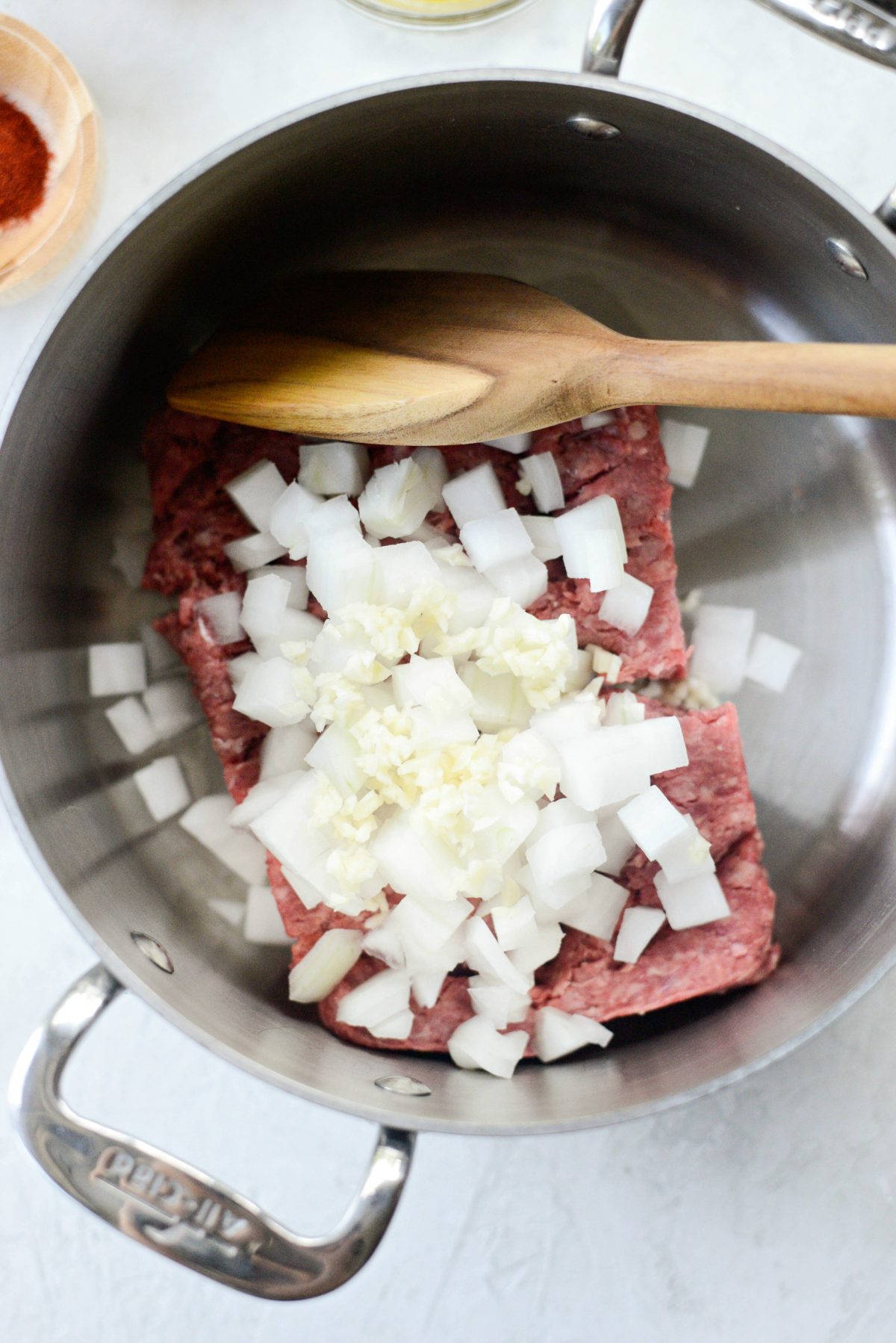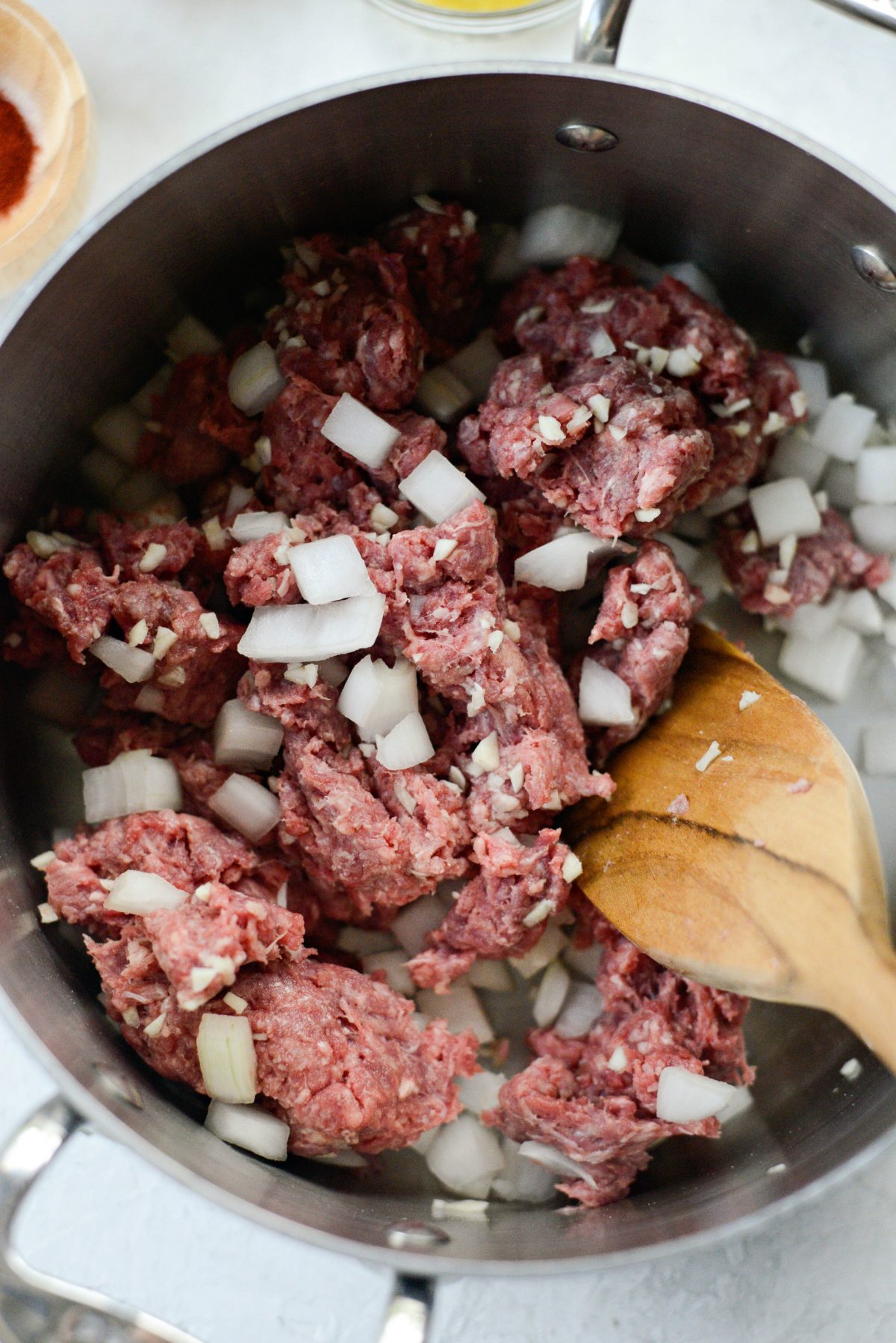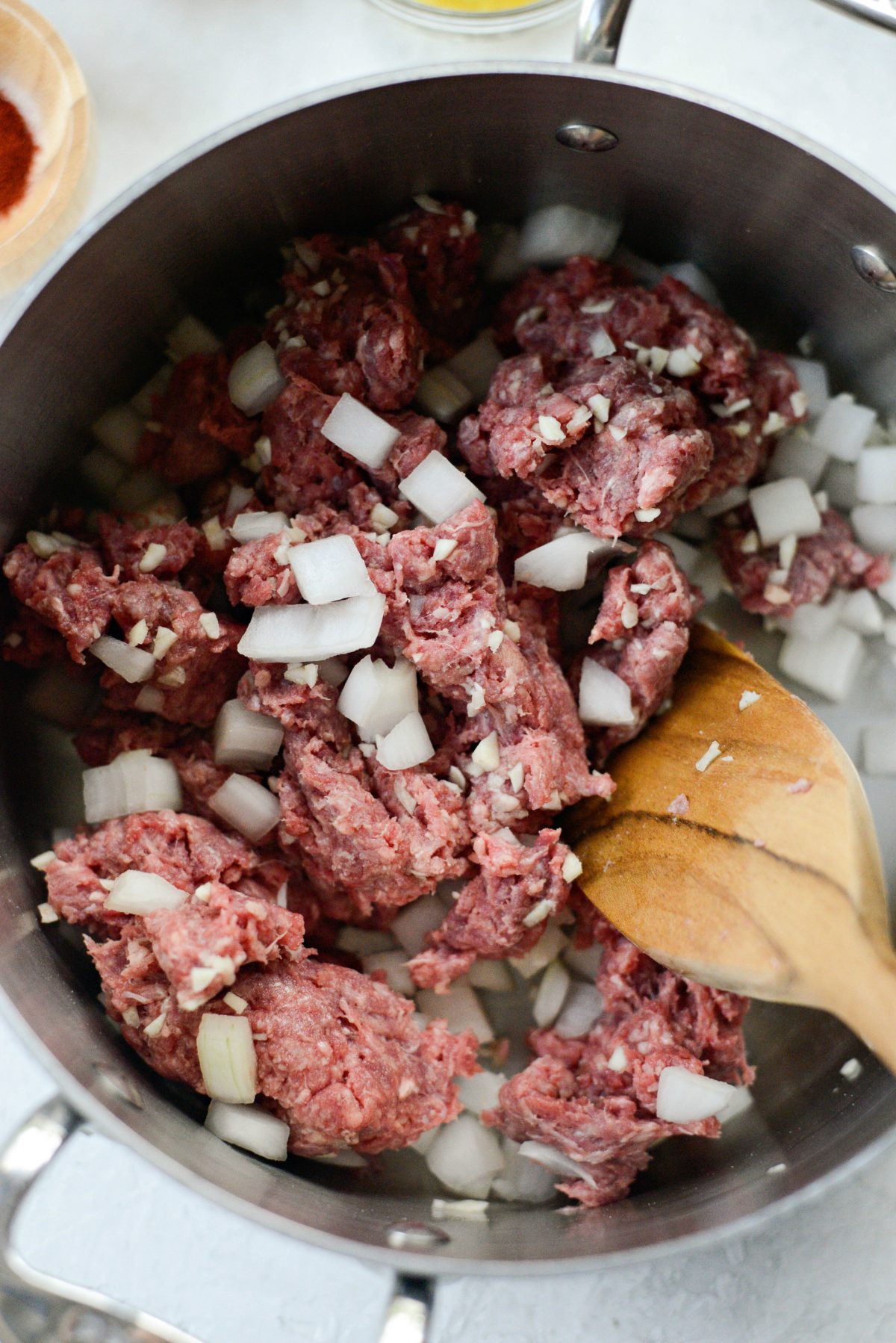 To start, add the pound of ground beef (I use 85/15), 1 cup diced white onions (save the remaining onion for serving later) and 2 cloves of minced fresh garlic into a medium pot or small dutch oven. Cook over medium heat, using a wooden spatula to break up the meat into small crumbles. Continue to cook until the beef is no longer pink and the onions are tender. About 10 to 12 mintues.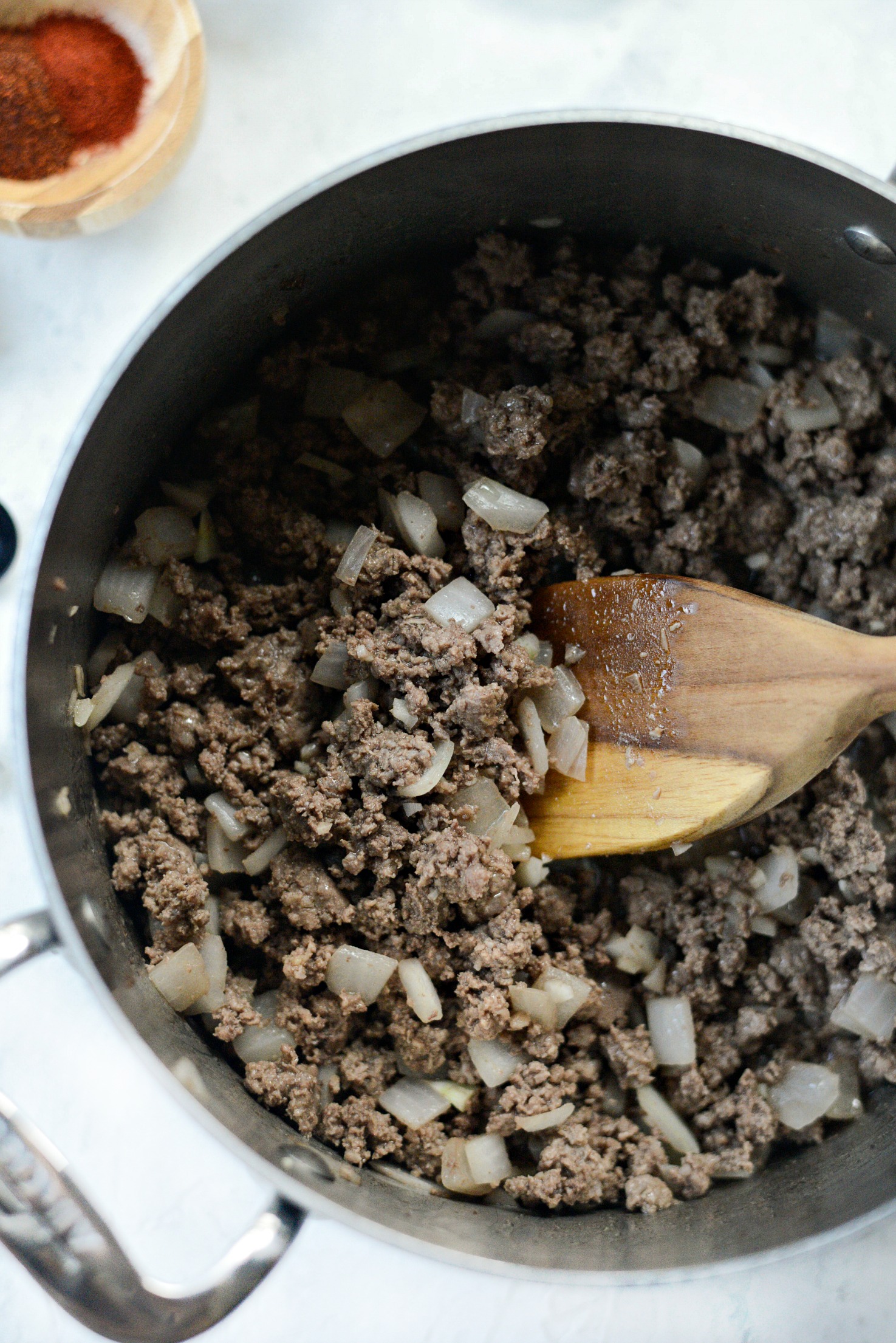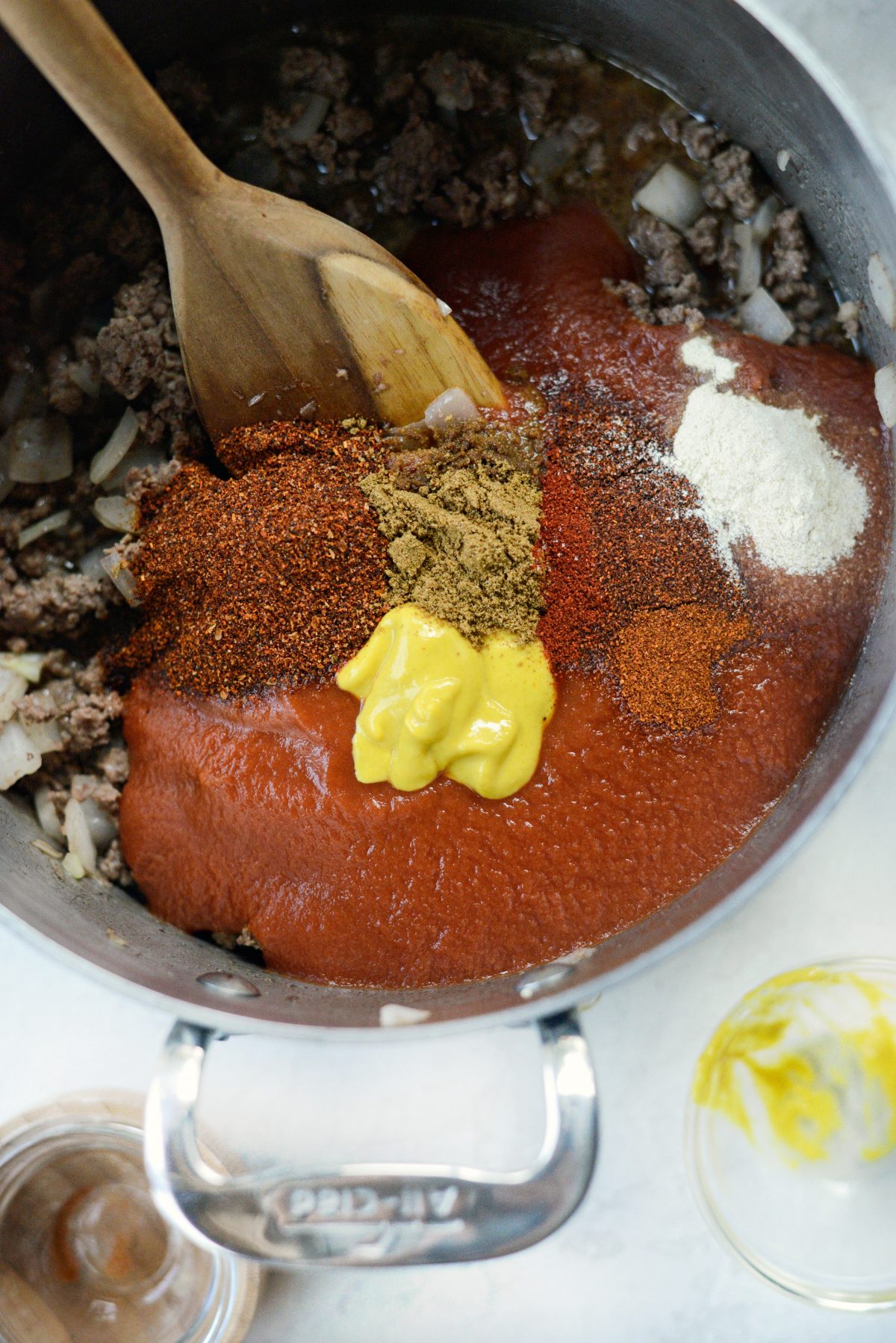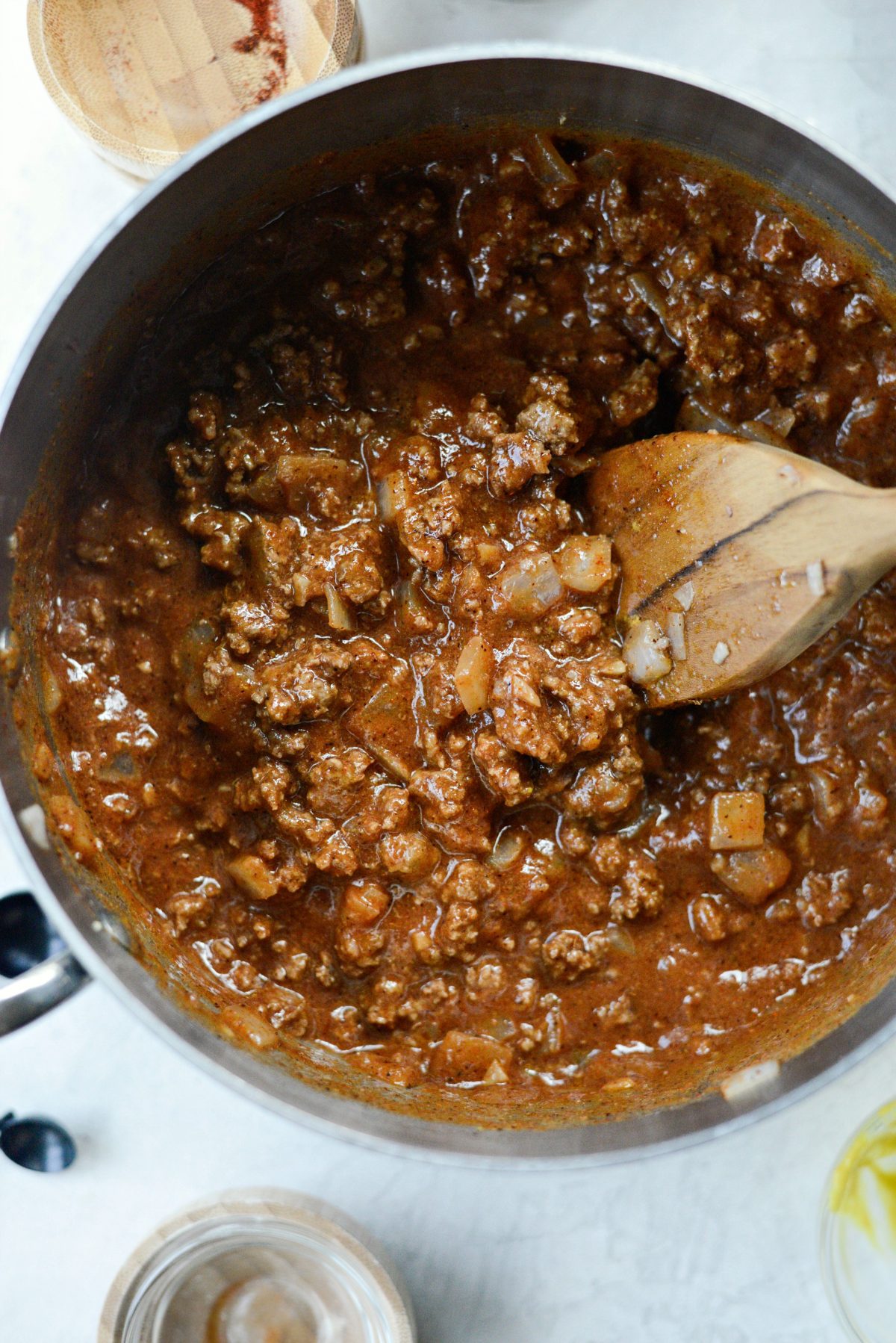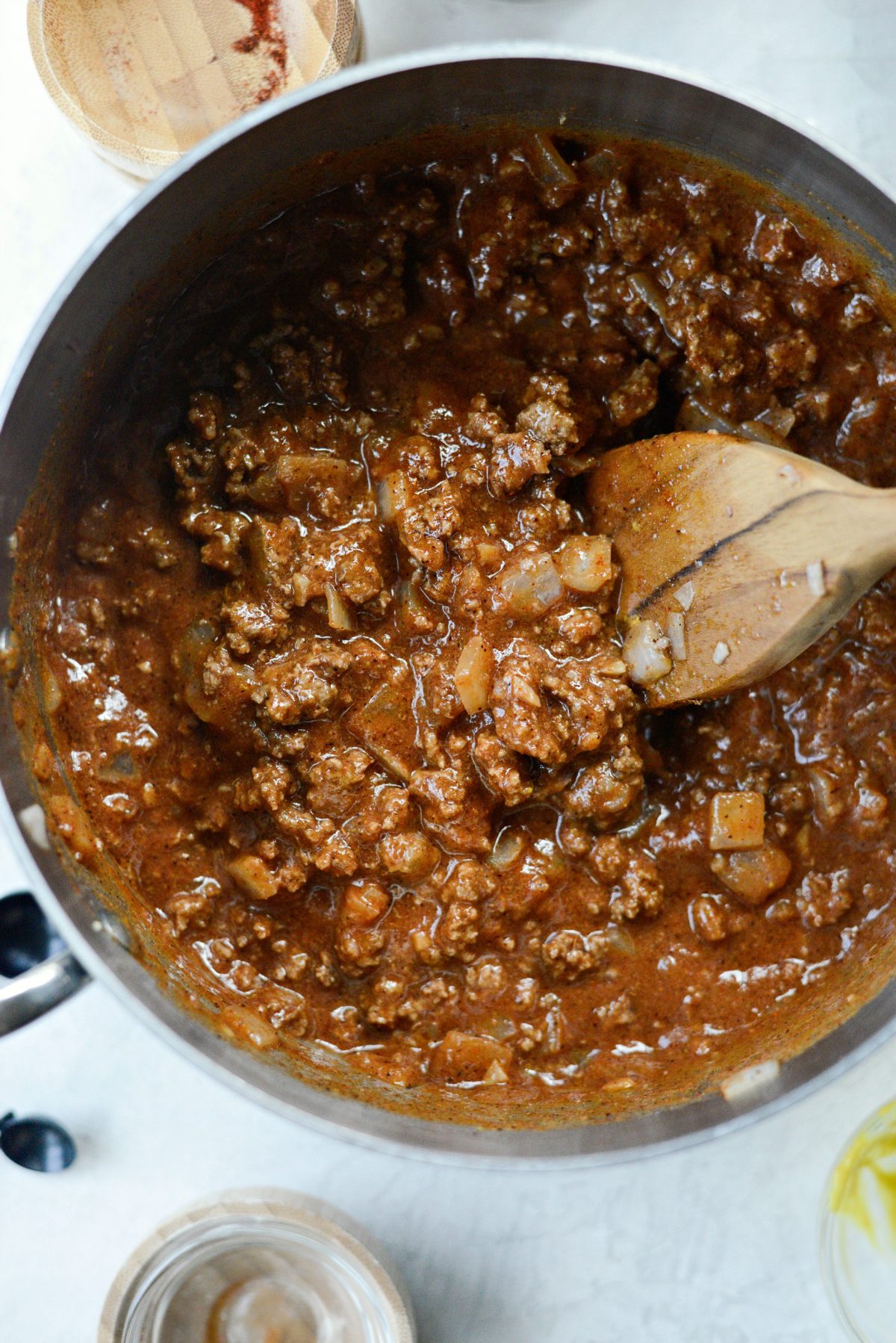 Now's the time to add all the spices. Measure and add in 1-1/2 tablespoons chili powder, 1-1/2 teaspoons kosher salt, 1 teaspoon of cumin, 3/4 teaspoon of paprika plus 1/2 teaspoon smoked paprika, 1/2 teaspoon of onion and garlic powder and freshly ground black pepper. Add a few shakes of cayenne and a few pinches of sugar.
Stir and add in 1 (15 ounce) can of tomato puree – not tomato sauce. Measure and add in 3 to 4 tablespoons of prepared yellow mustard and 1/4 cup of water.
If you're wondering if you need to drain off the fat, the answer is no.
Fat is flavor and traditional Detroit coneys make it the same way. With that said, you do not want a ton of fat in your chili. This is why we use lean ground beef.
Stir, cover and simmer on low-heat for 30 minutes, stirring occasionally. Then remove the lid and simmer for an additional 10 minutes so the chili can thicken up a tad.
A lot of people have their opinion on how to make the no-bean chili for chili dogs, which is totally fine. Some may argue that coney dogs are not "true Detroit Style Coney Dogs" unless you have used beef heart in the chili. (yeah, no thanks). I'm a home cook who doesn't want to use beef heart in chili nor do I want to attempt to convince my family to eat it.
So Please don't leave me a comment about there not being beef heart in this recipe. I'm aware and feel free to add it with the ground beef if you wish. 🙂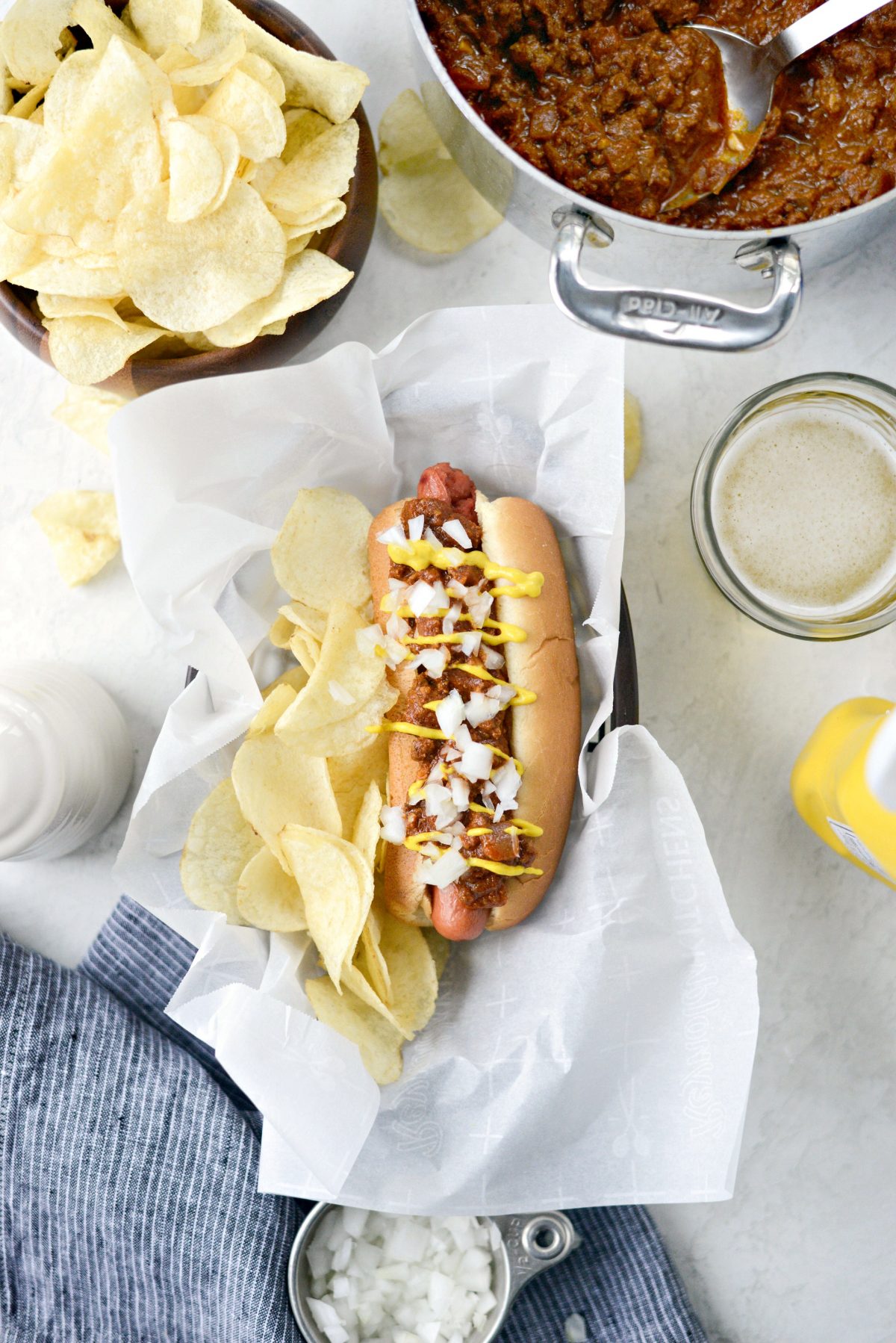 Finally place steamed hotdogs into buns and top as much chili as your heart desires. In my opinion, it's totally normal for one to need/use a fork and knife in order to eat Detroit style coney dogs. Lastly, zigzag few stripes of yellow mustard and top with finely minced white onion.
If you're gluten free you can still enjoy a Detroit coney! Besides using gluten free buns, once I topped two hotdogs (no buns) with coney chili. Then loaded them up with crushed Fritos, diced jalapeños, mustard, onion and cheddar cheese.
Technically it wasn't a coney dog (perhaps you'd call it a coney bowl?) but still an amazingly delicious experience nonetheless.
What's the difference between Flint and Detroit style?
"Flint-style" is more of a loose beef topped hot dog while Detroit-style is a chili dog with mustard and onion. Detroit style coney dogs are also a Football Sunday standard in our home. I've done research, and once read that both types originated right here in Michigan [woot!] and not in Coney Island, NY [who knew?!] like one may think.
I hope you fall in love with these coney dogs. We think they are pretty darn delicious.
Serve with chips, fries, coleslaw and or potato salad.
Enjoy! And if you give this Detroit Style Coney Dogs recipe a try, let me know! Snap a photo and tag me on twitter or instagram!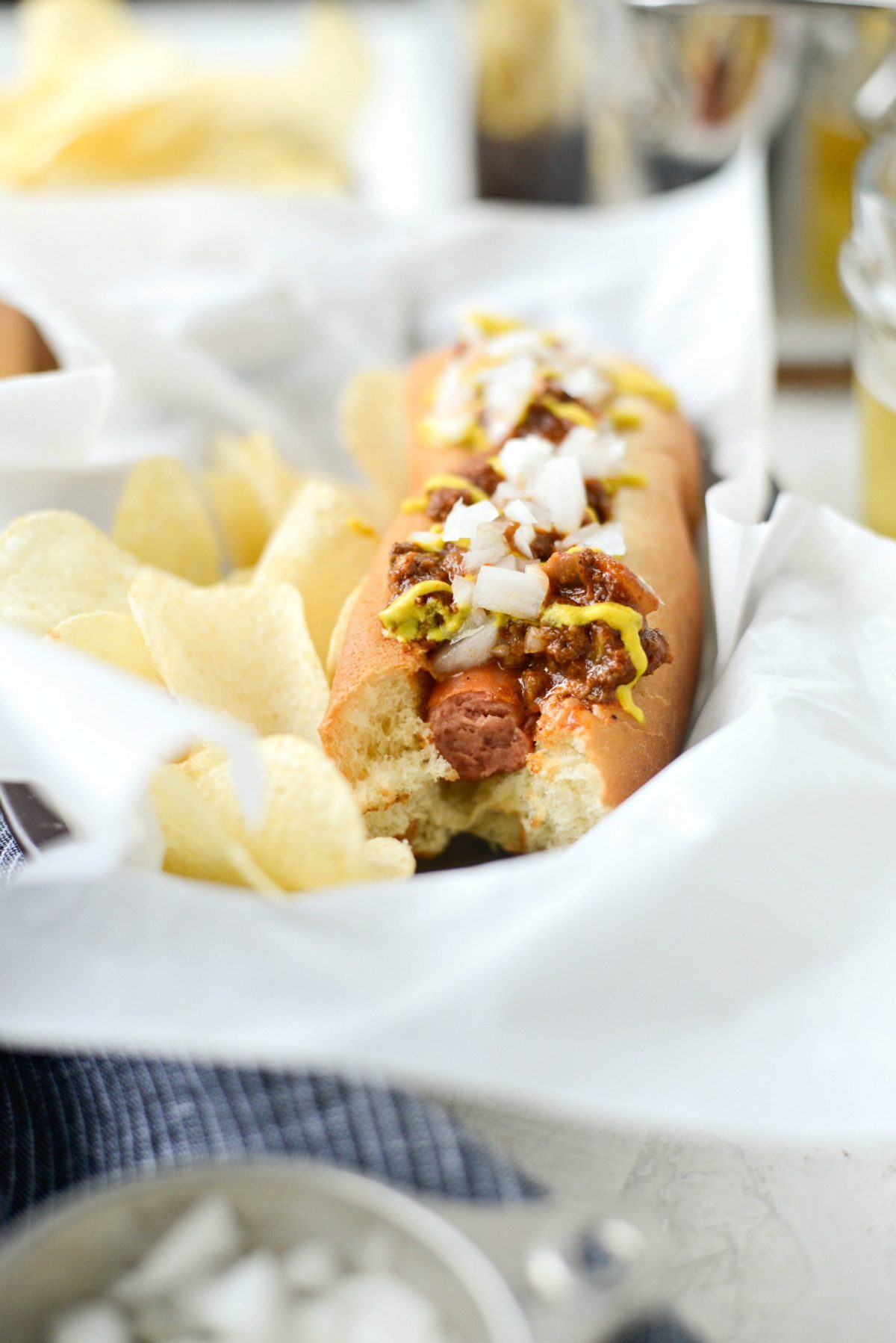 This post may contain affiliate links.
Buy the Cookbook: Simply Scratch : 120 Wholesome Homemade Recipes Made Easy Now available on Amazon »
THANK YOU in advance for your support!