Smoked Brisket Breakfast potatoes are easy, delicious and made on a sheet pan in your oven. Onions, peppers and potatoes are tossed in garlic olive oil and roasted with herbs before tossing with leftover brisket and adding a perfectly fried egg on top.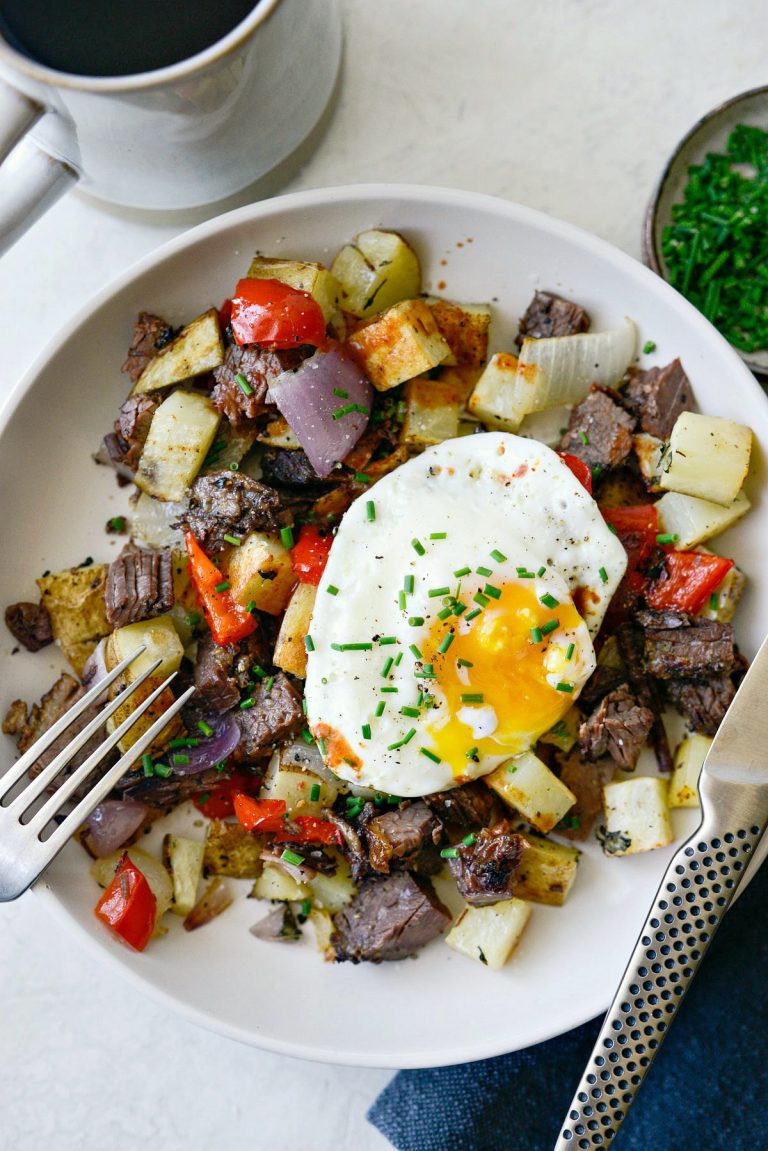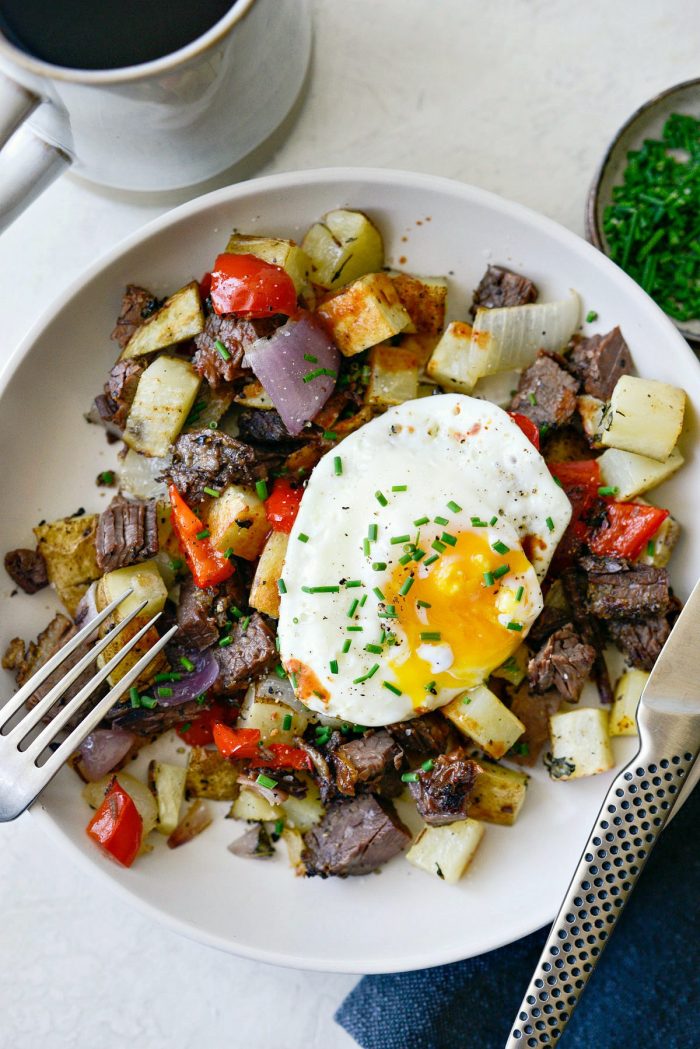 A few months ago, Pat and I bought a smoker.
Best decision ever.
Since, we've smoked a pork butt and most recently a brisket. We have lots of plans for so much more – which I will most definitely be sharing with your in the near future.
If you smoke any huge cut of meat, you will most likely have leftovers afterward. Since my not-so-secret magical power is making something new out of leftovers, I was excited to make something with leftover smoked brisket. It starts with potatoes and ends with a cascading egg yolk. In other words… HASH! Nothing is more delicious than a plate of peppers, onions and small cubed potatoes topped with an egg on top. Remember this prime rib hash? SO GOOD! Well this brisket hash is phenomenal as well.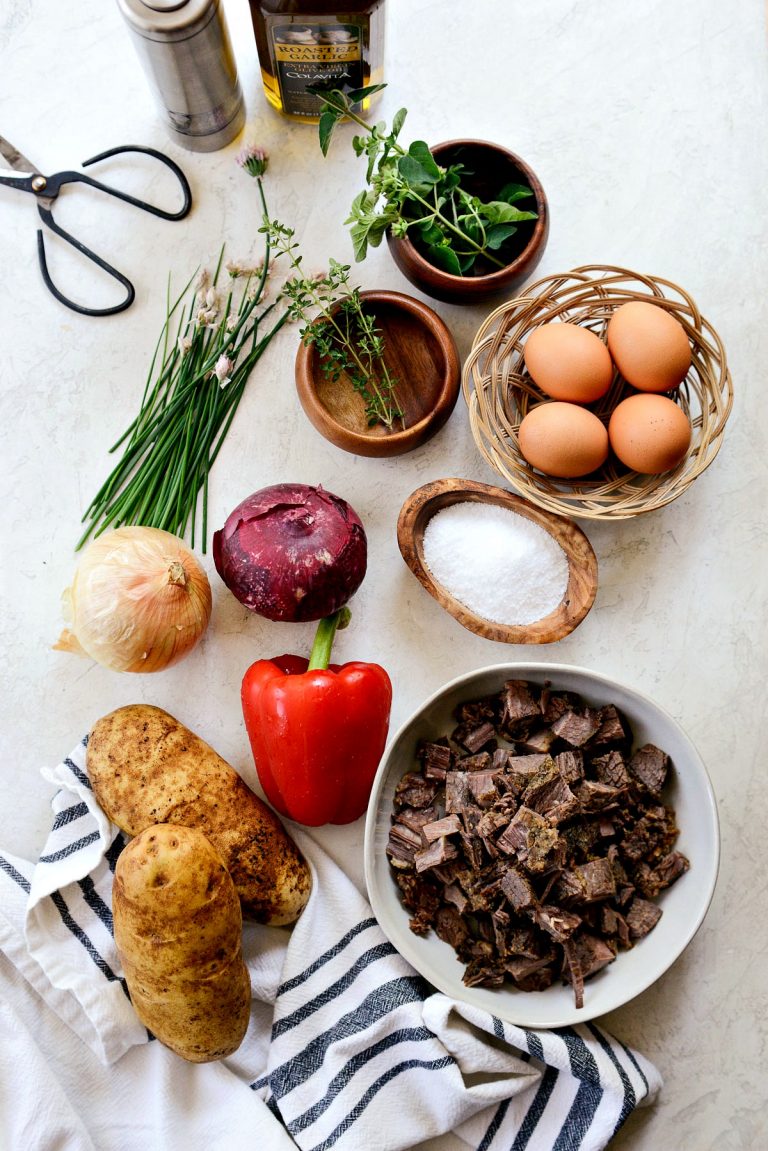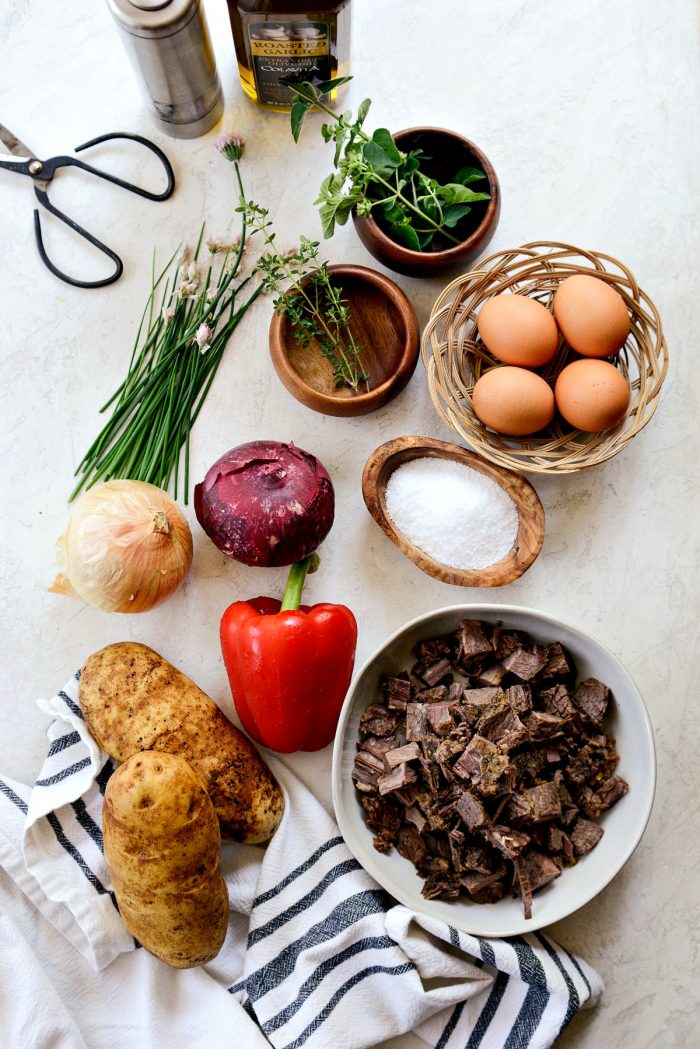 To Make This Smoked Brisket Breakfast Potatoes You Will Need:
leftover smoked beef brisket
yellow onion
red onion
bell pepper
russet potatoes
garlic infused olive oil
kosher salt
freshly ground black pepper
thyme (fresh)
oregano (fresh)
eggs
fresh chives
hot sauce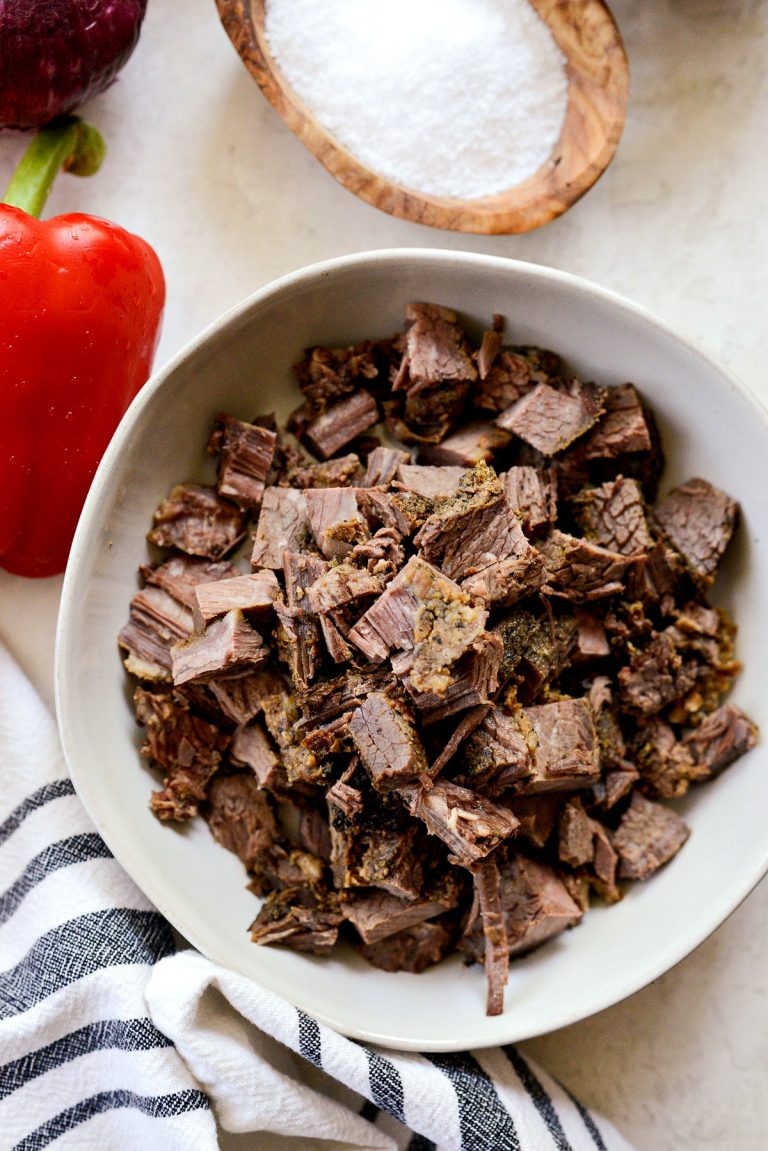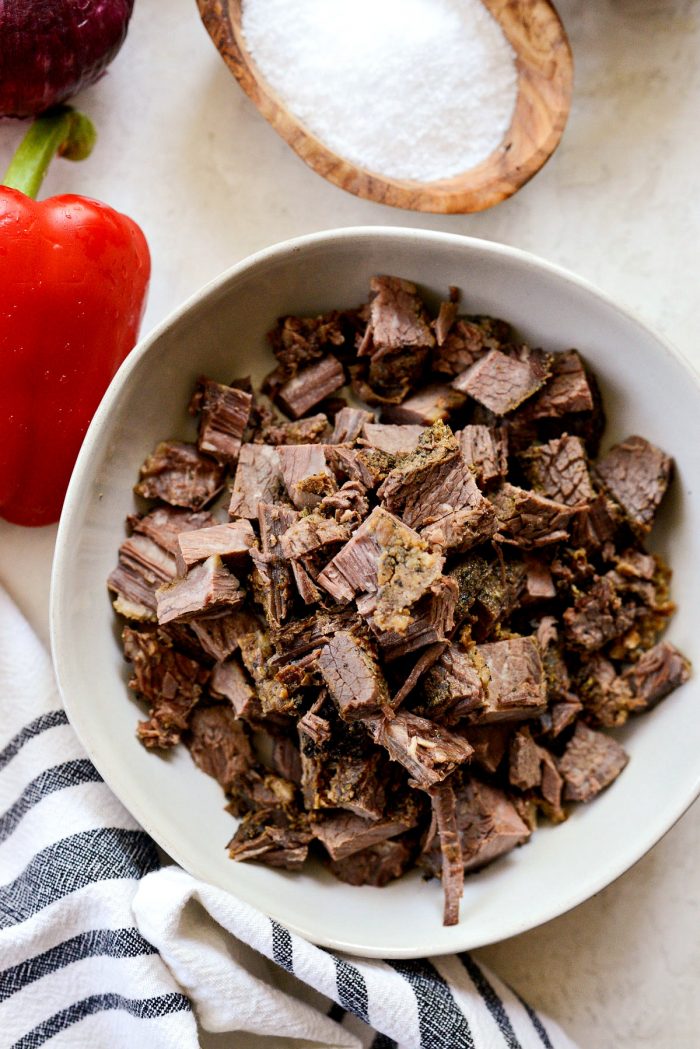 Start by dicing up 12 ounces of smoked beef brisket and set it off to the side.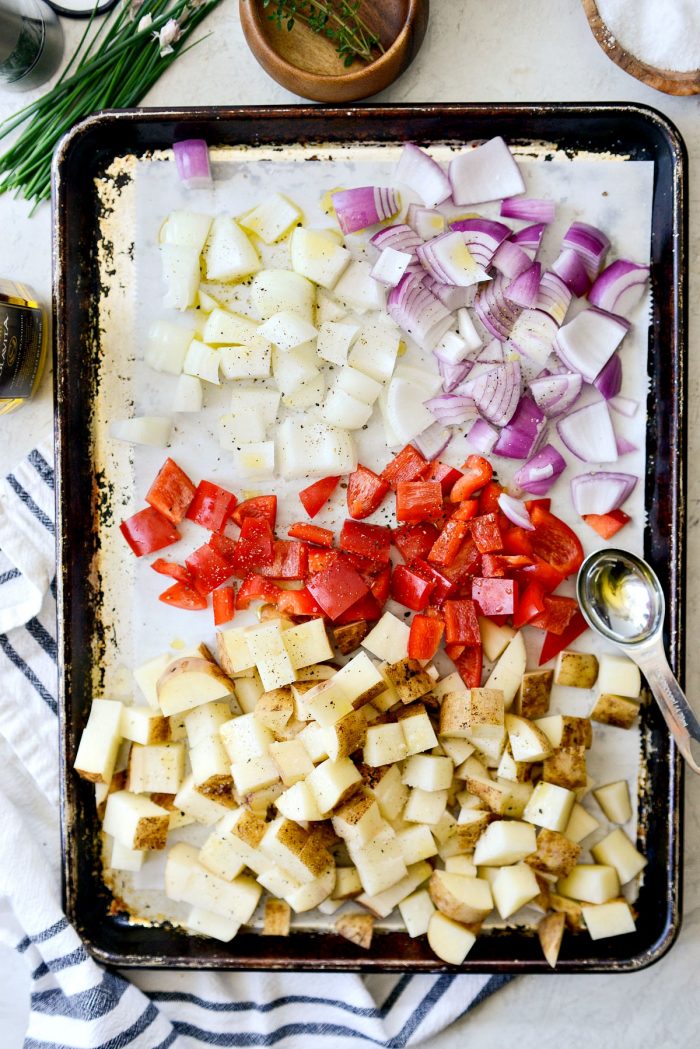 On a rimmed metal baking sheet that is lined with parchment paper, add 1 chopped yellow and red onion, a red bell pepper and 2 russet potatoes – about 1-1/2 pounds. The parchment paper helps keep the vegetables from sticking to the pan.
Next, drizzle it with garlic infused olive oil and season with a few pinches kosher salt and freshly ground black pepper to taste. I picked up a bottle of garlic infused olive oil on my recent Costco trip and I've used it for all the things. #costcodoesitagain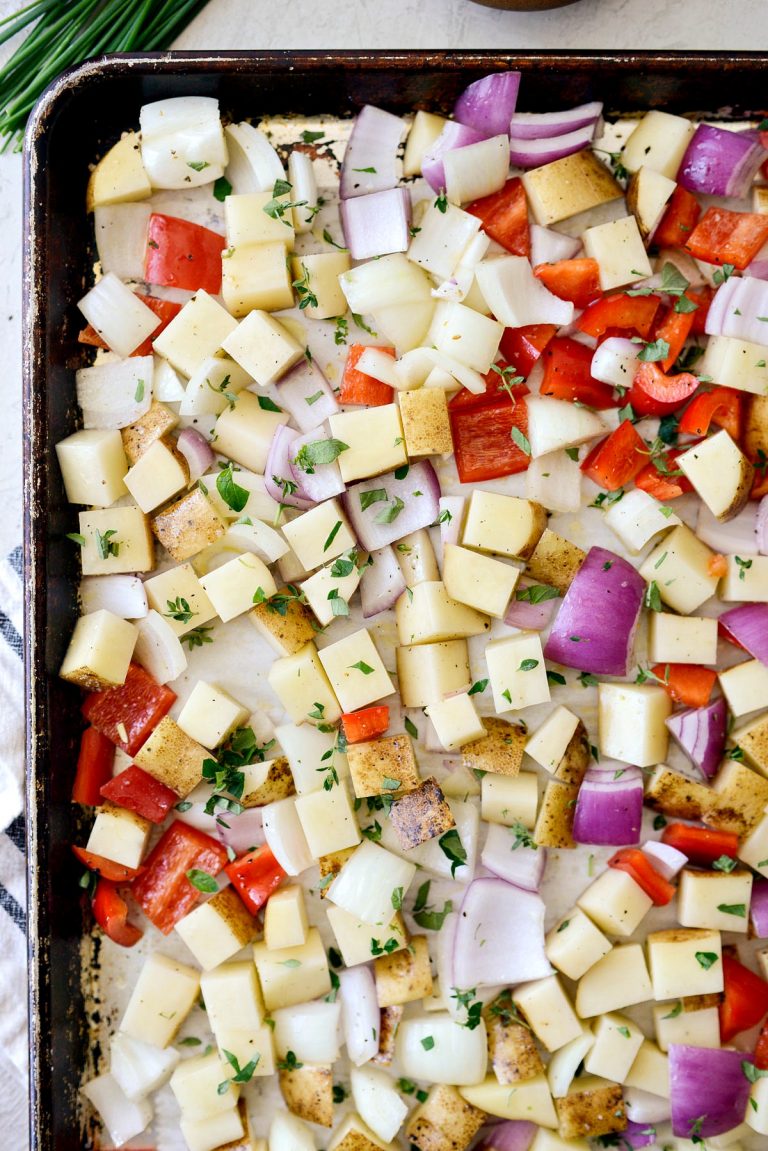 Toss and spread evenly on the pan. Sprinkle with thyme leaves and chopped fresh oregano. Roast the vegetables on the middle rack of your preheated 425° oven for 20 minutes. Rotate the pan halfway through – DO NOT TOSS. Then move the pan to the lowest rack in your oven for an additional 5 to 7 minutes.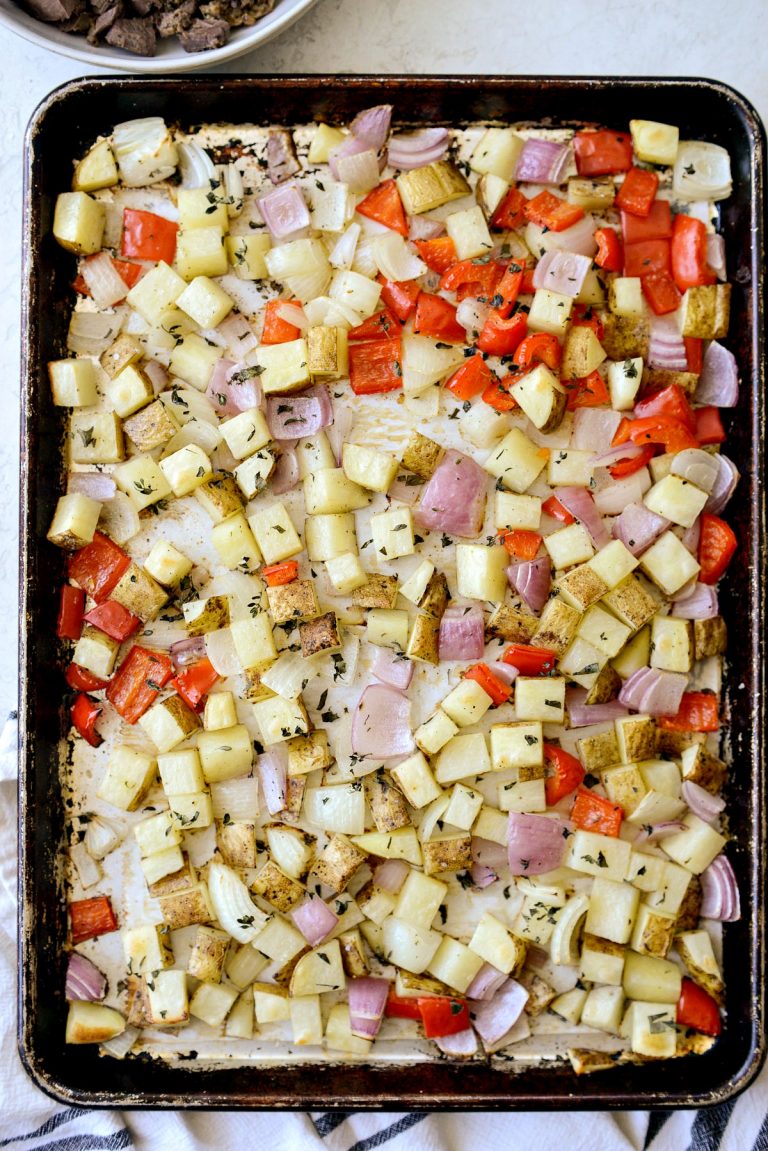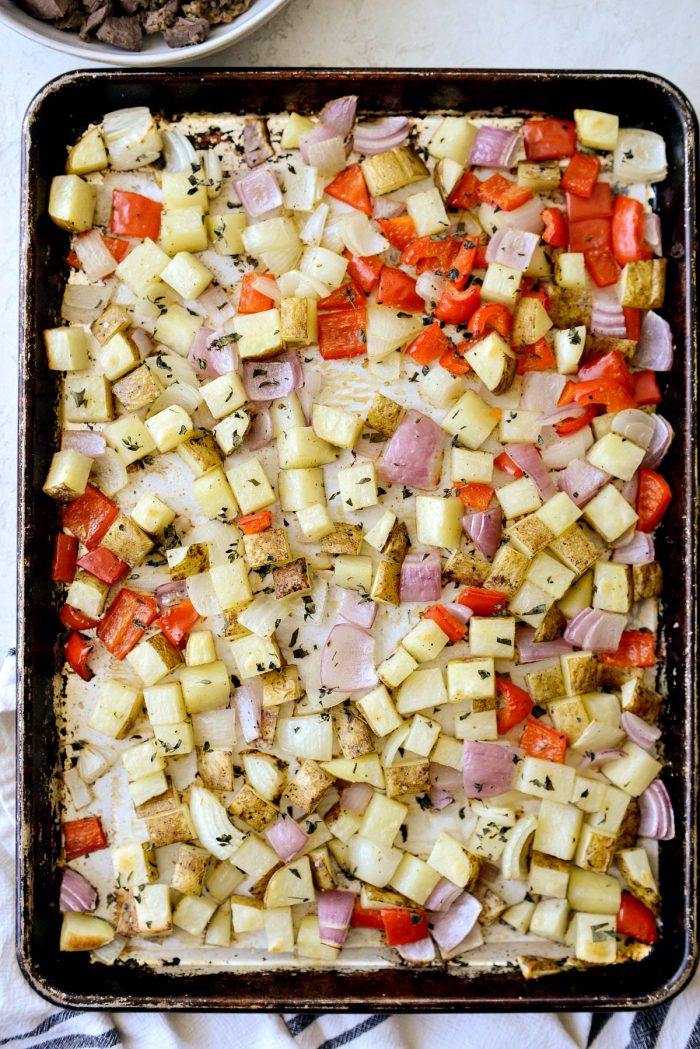 The hash is done with the potatoes can easily be pierced by a fork.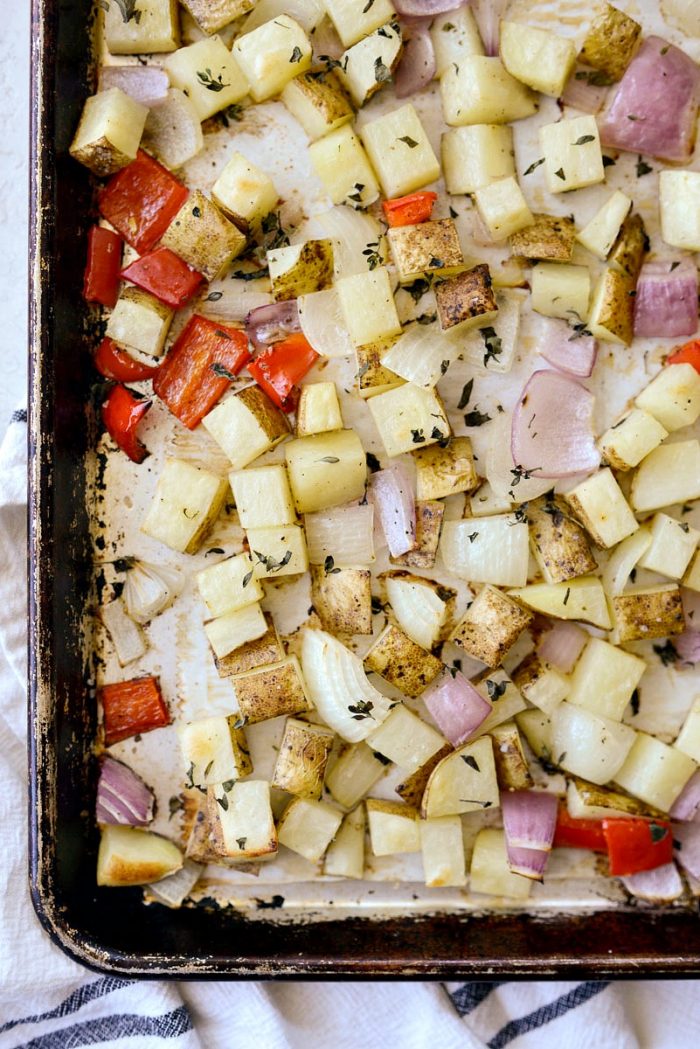 Perfection.
Now turn off the heat in the oven.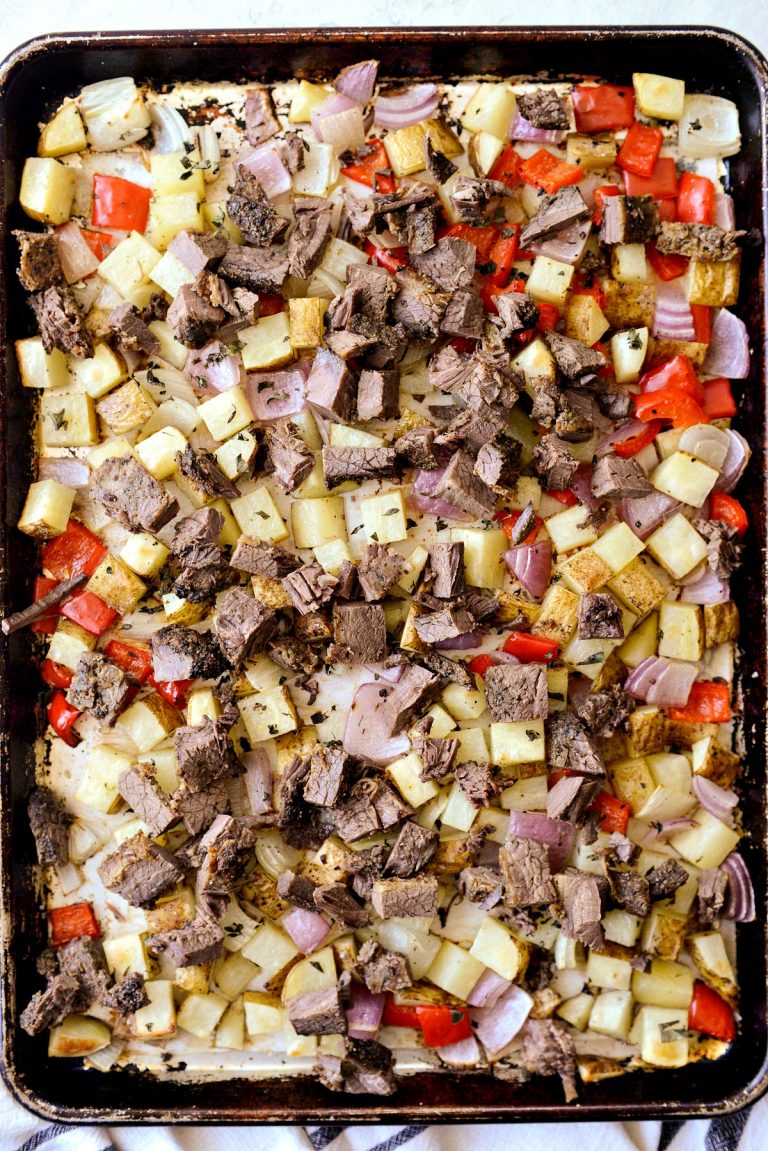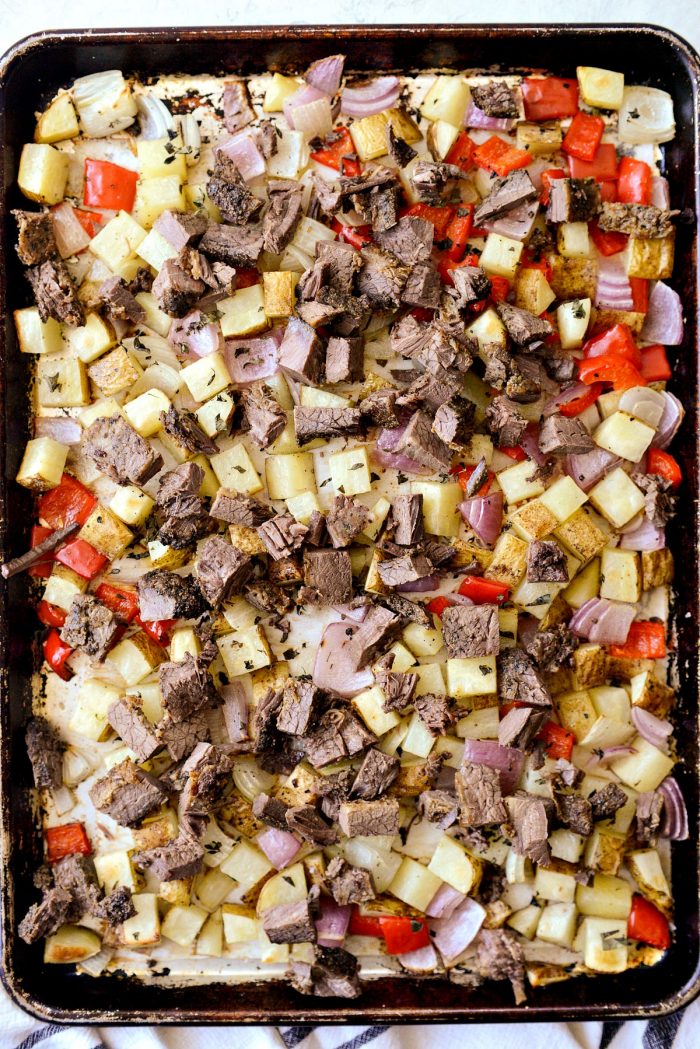 Lastly, scatter the brisket over top and pop back into the oven to keep warm.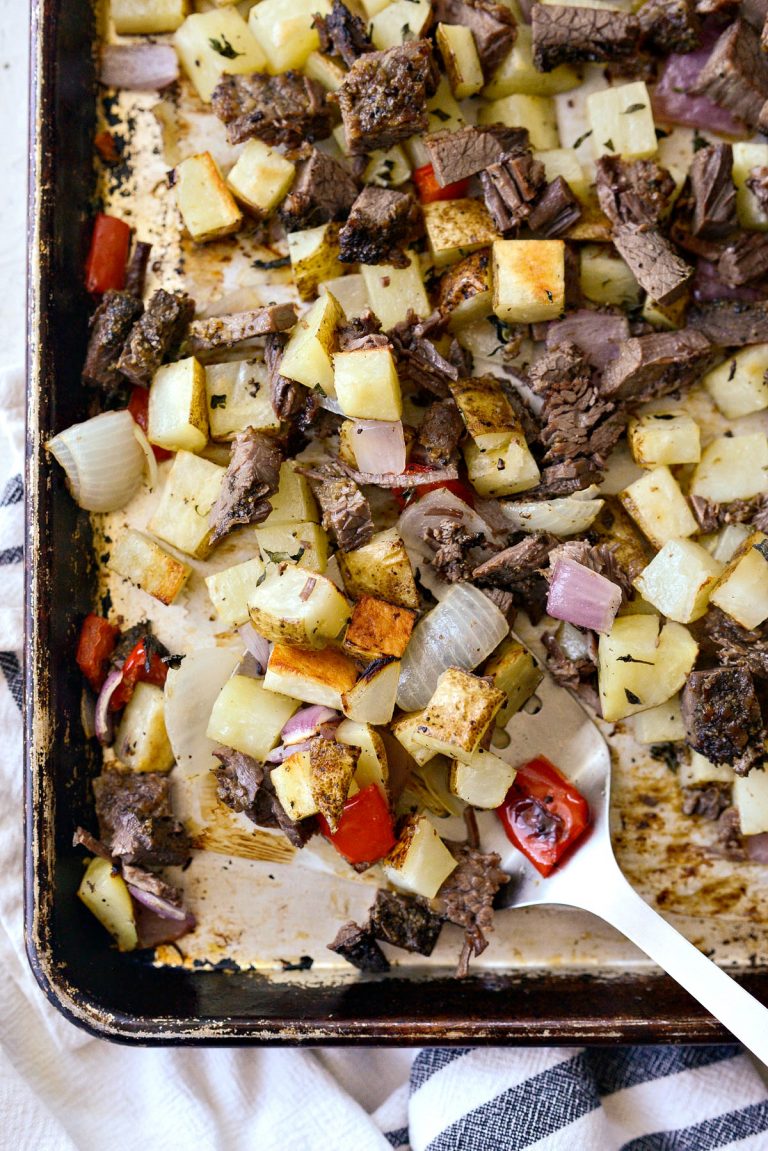 Meanwhile fry up a few eggs.
Divide the smoked brisket breakfast potatoes among plates and top with a fried egg, salt and pepper and snipped fresh chives.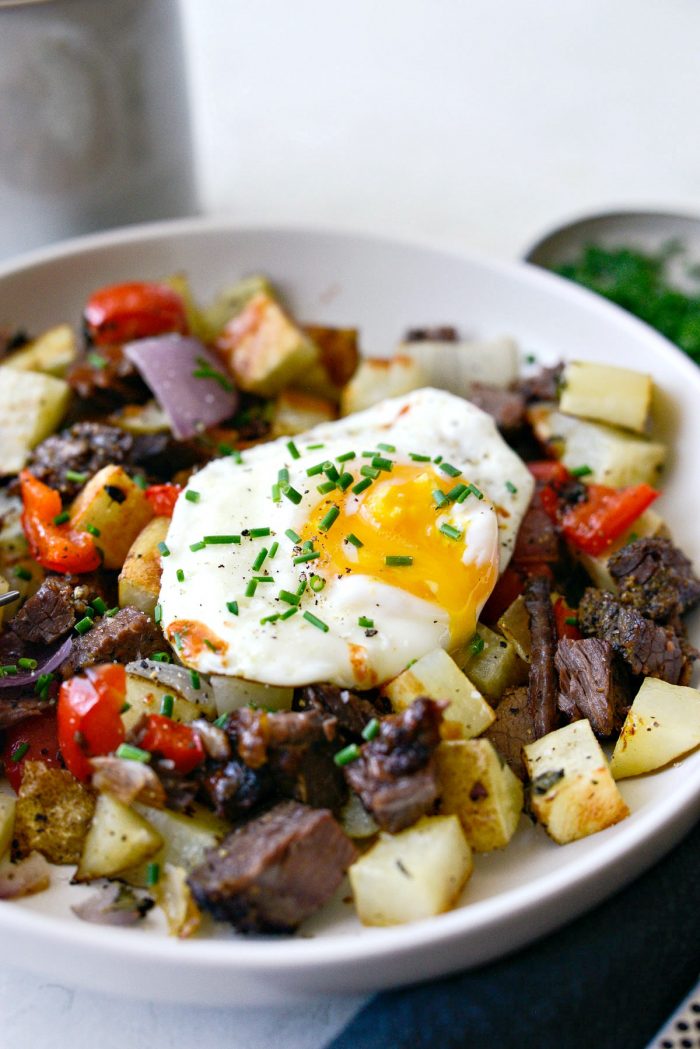 We also topped ours with hot sauce because why not?
The combination of smoky brisket, velvety egg yolk and crisp potatoes is a masterpiece. A breakfast of champions.
Although I'm not eating much bread these days (hello, bathing suit weather) I would imagine a slice of toasted ciabatta would be sublime.
Enjoy! And if you give this Smoked Brisket Breakfast Potatoes recipe a try, let me know! Snap a photo and tag me on twitter or instagram!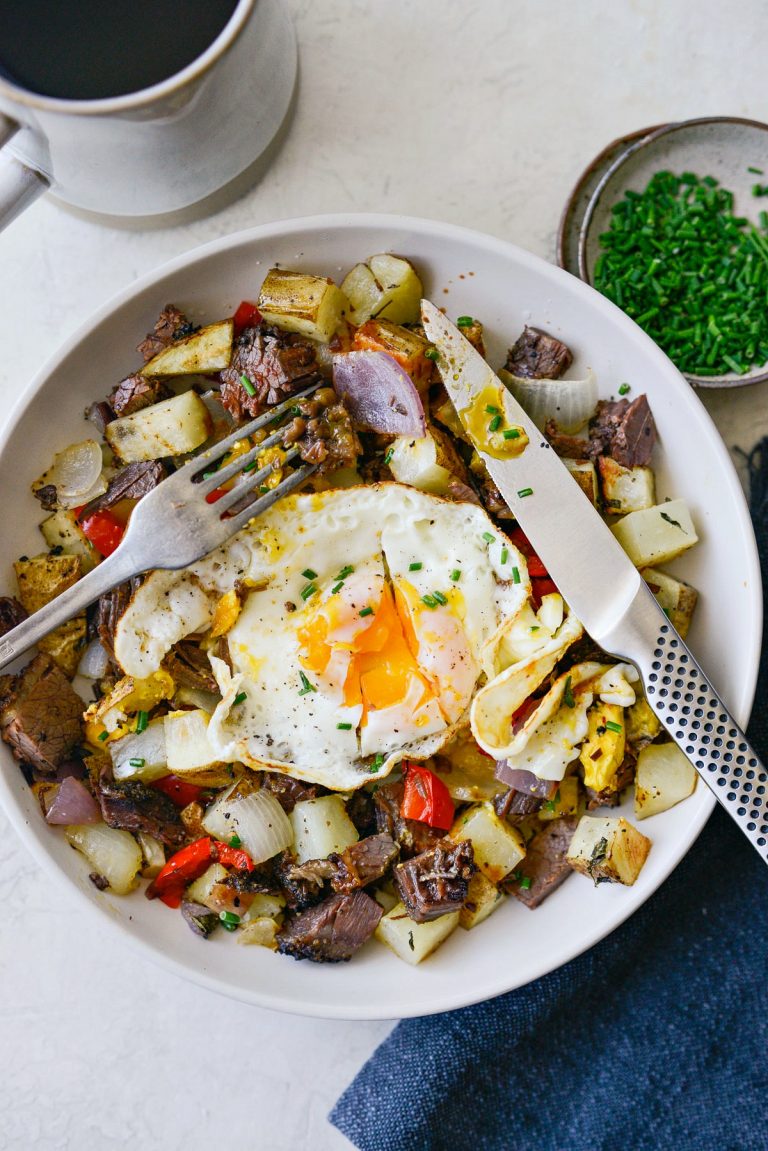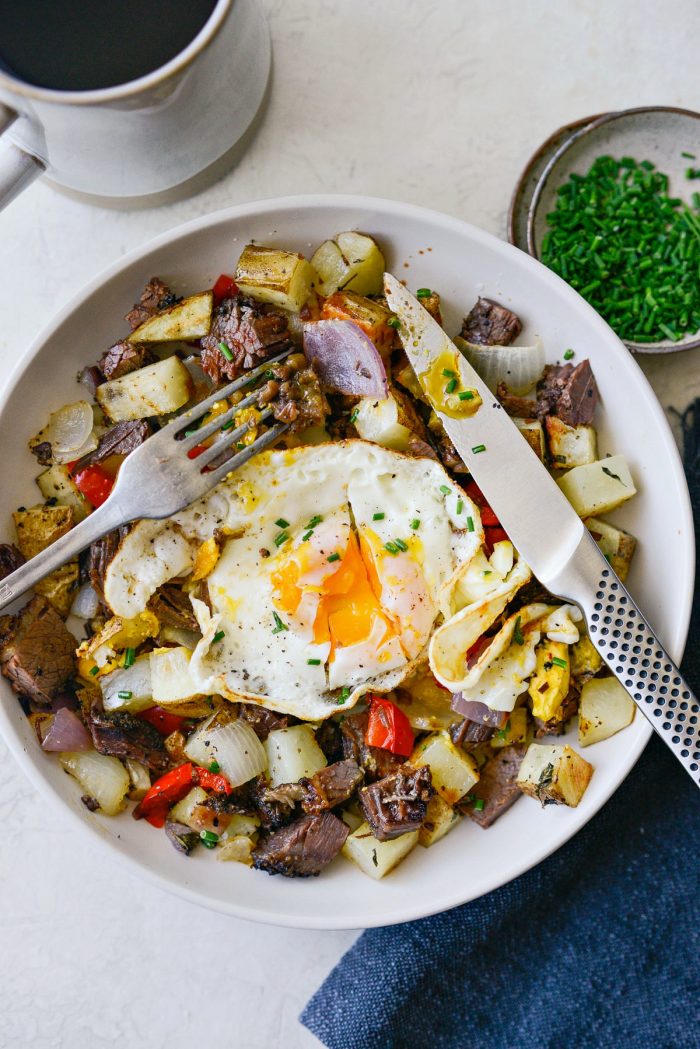 This post may contain affiliate links.
Buy the Cookbook: Simply Scratch : 120 Wholesome Homemade Recipes Made Easy Now available on Amazon »
THANK YOU in advance for your support!