Grilled Thai Chicken Salad is healthy and flavorful! Chicken thighs are marinated overnight in a thai inspired marinade and then grilled to perfection before being tossed in a salad of Napa and purple cabbage, green apple, red onion and fresh herbs. Serves 4 (generously) or 6!
I could eat this Grilled Thai Chicken Salad everyday of my life.
A few years ago I made a similar salad from my friend (and fellow food blogger) Brandy's blog Nutmeg Nanny. I absolutely loved it. Her salad was a take on a recipe from Bon Appetit which called for shredded cooked chicken fried until crispy in 1/2 cup olive oil. Later, that olive oil was mixed with garlic and herbs and eventually turned into the dressing. You can imagine how delicious this is right?
Since I'm watching the amounts of oil I both cook with and consume, I decided to take a healthier approach. First the chicken marinates in a Thai-inspired marinade – reserving a little of the marinade for the dressing before being grilled. The thai grilled chicken thighs are then sliced and tossed with two types of cabbage, green apple, red onions and both fresh cilantro and mint. With that said, the original 1/2 cup of olive oil I previously mentioned was cut back drastically to 2 teaspoons!
And it still tastes deliciously similar to that beloved salad! I add some chopped peanuts and a squeeze of lime right before serving. SO good.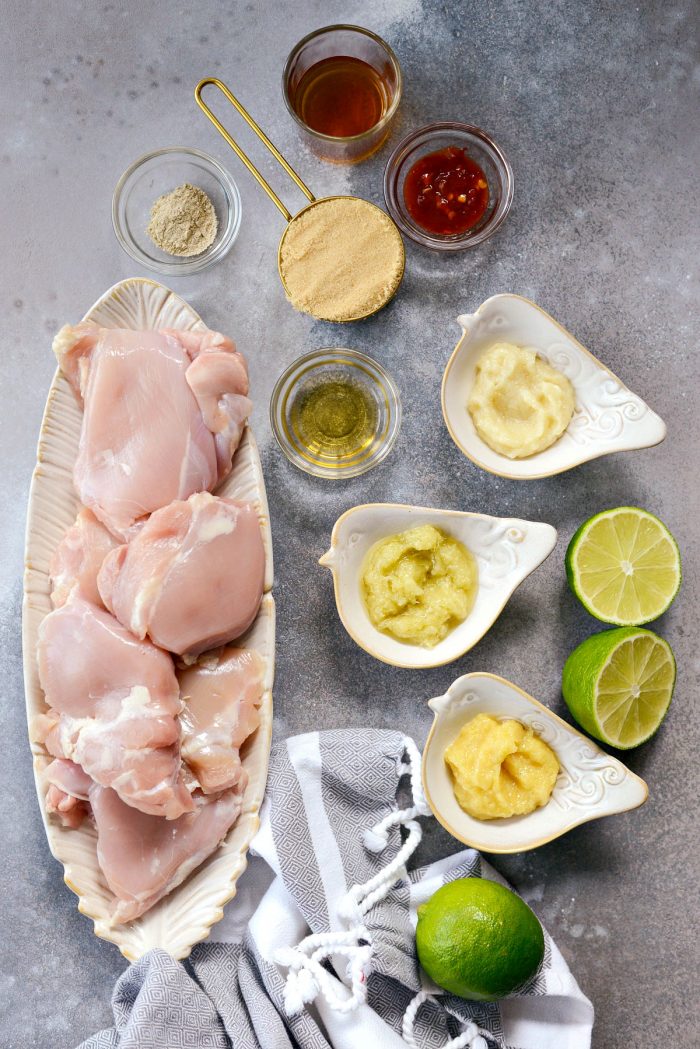 To Make the Chicken Marinade You Will Need:
light brown sugar
garlic (grated)
ginger (grated)
lemongrass (grated)
chili paste (Sambal Oelek)
white pepper
lime juice
rice wine
toasted sesame oil
boneless, skinless chicken thighs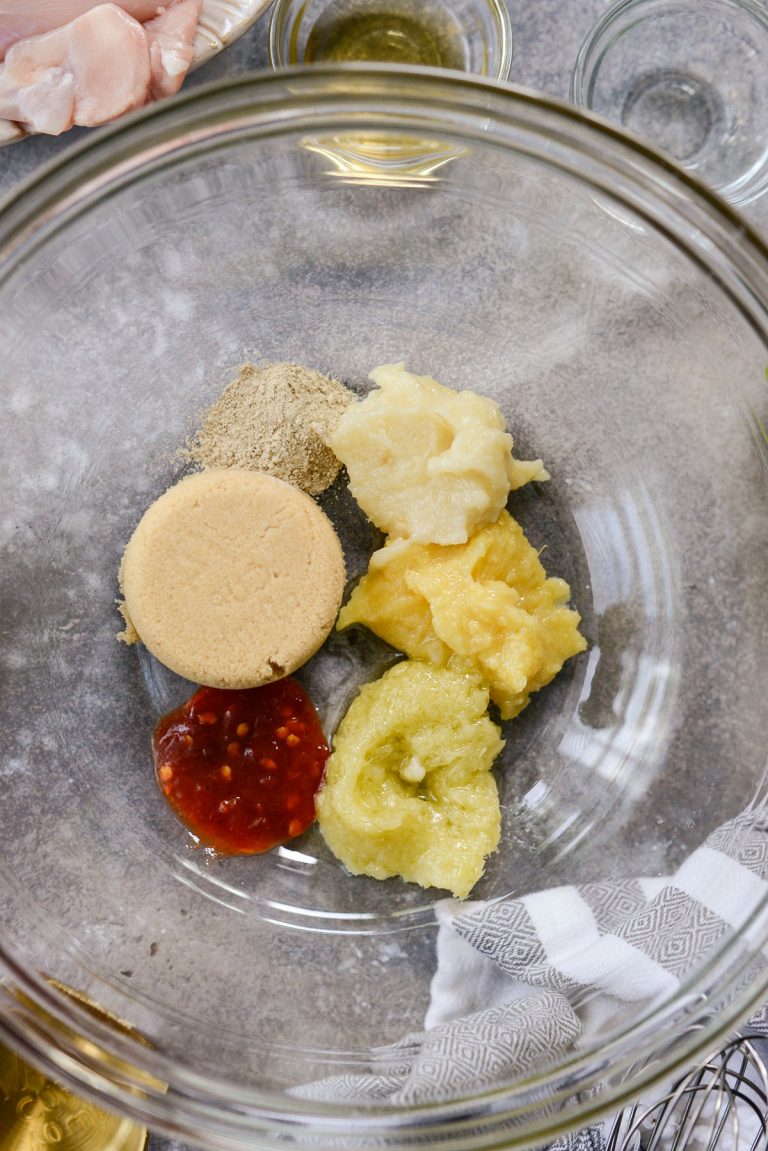 In a medium mixing bowl, measure and add 1/4 cup light brown sugar, 1 tablespoon each grated fresh garlic, ginger and lemongrass, 1 to 2 teaspoon(s) sambal oelek and 1 teaspoon white pepper.
Squeeze in the juice of 1 to 2 limes – about 2 tablespoons, 2 tablespoons rice wine (like Shaoxing or sake) and 1 teaspoon toasted sesame seed oil.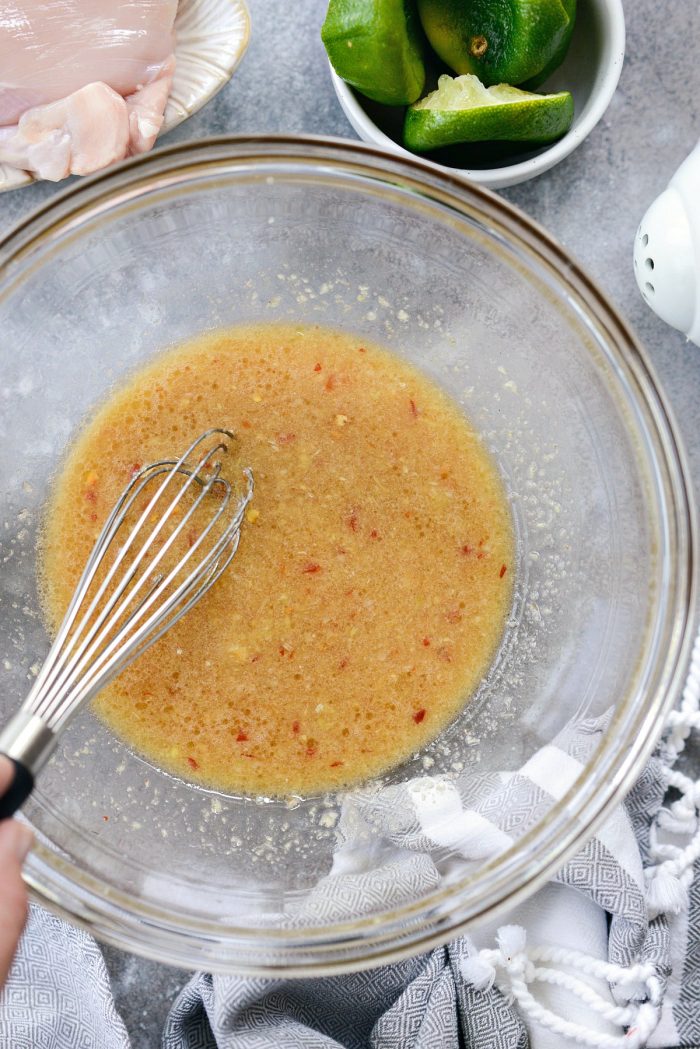 Whisk well to combine.
Reserve 3 tablespoons of the marinade.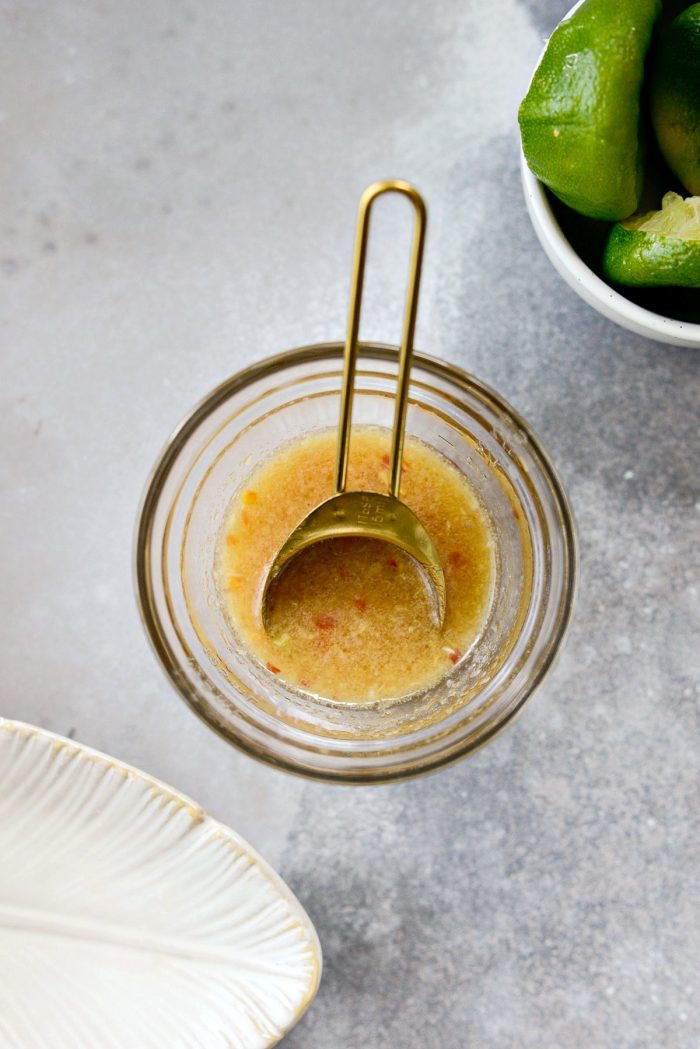 Measure and whisk in 2 teaspoons light olive oil. This will become the dressing for the salad. Cover and refrigerate.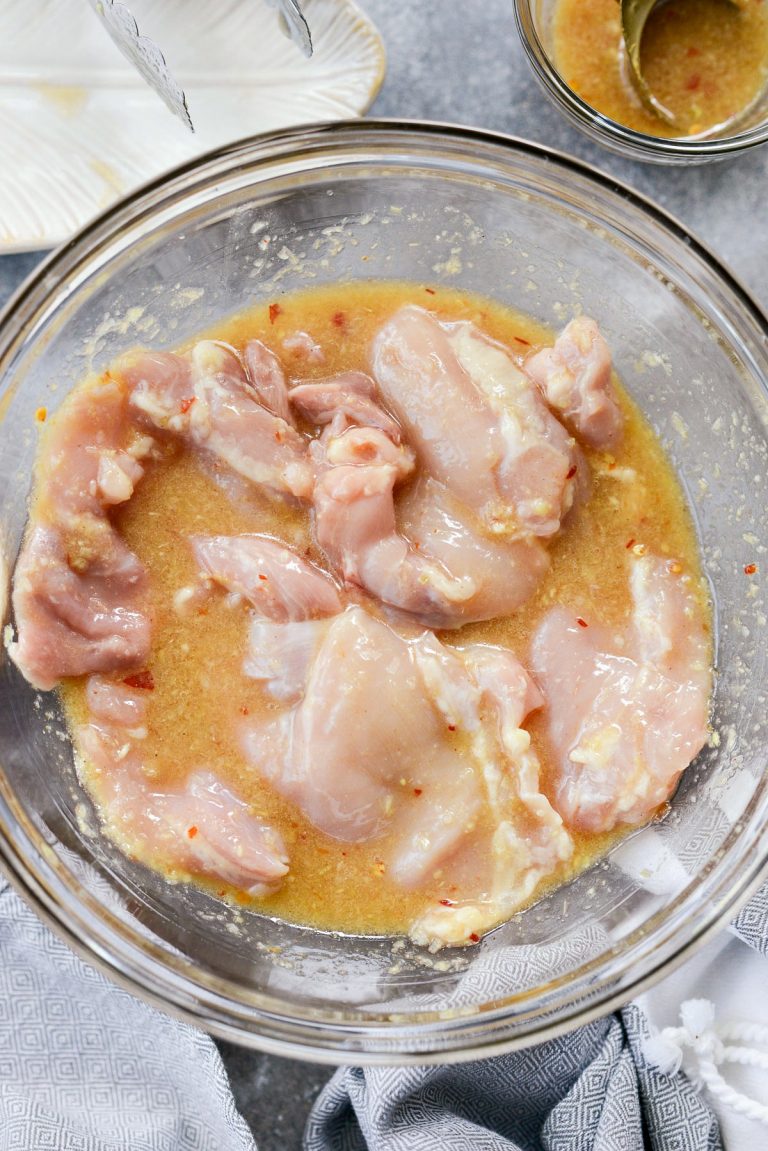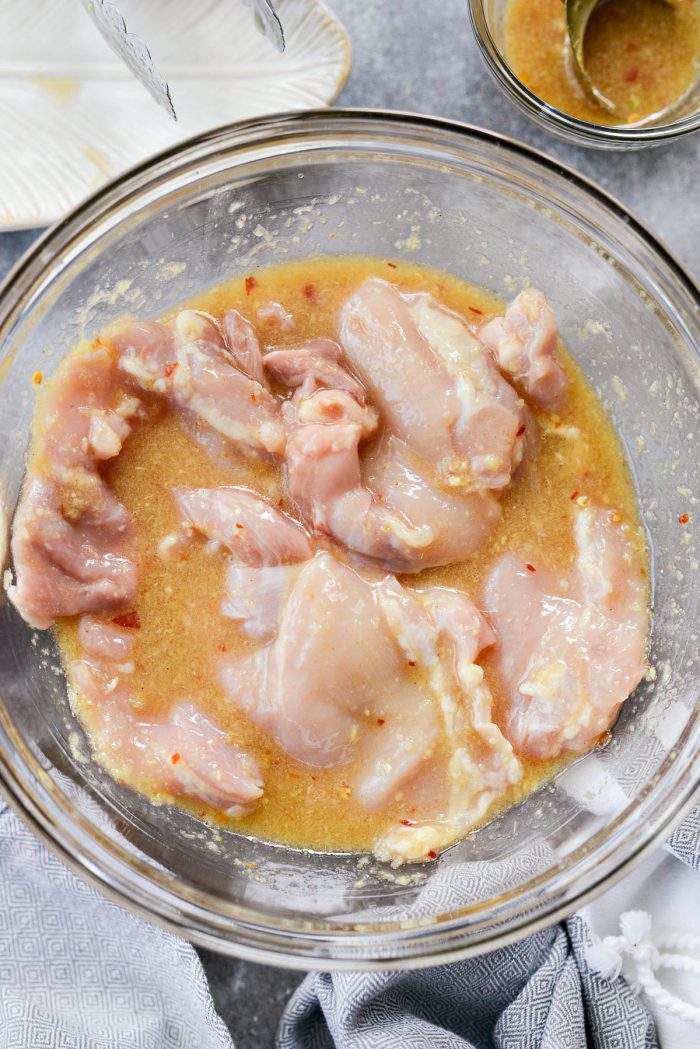 Place 1-1/2 pounds of boneless skinless chicken thighs into the remaining marinade and toss well to coat. Cover tightly and refrigerated over night. If in a pinch, 2 to 4 hours will do.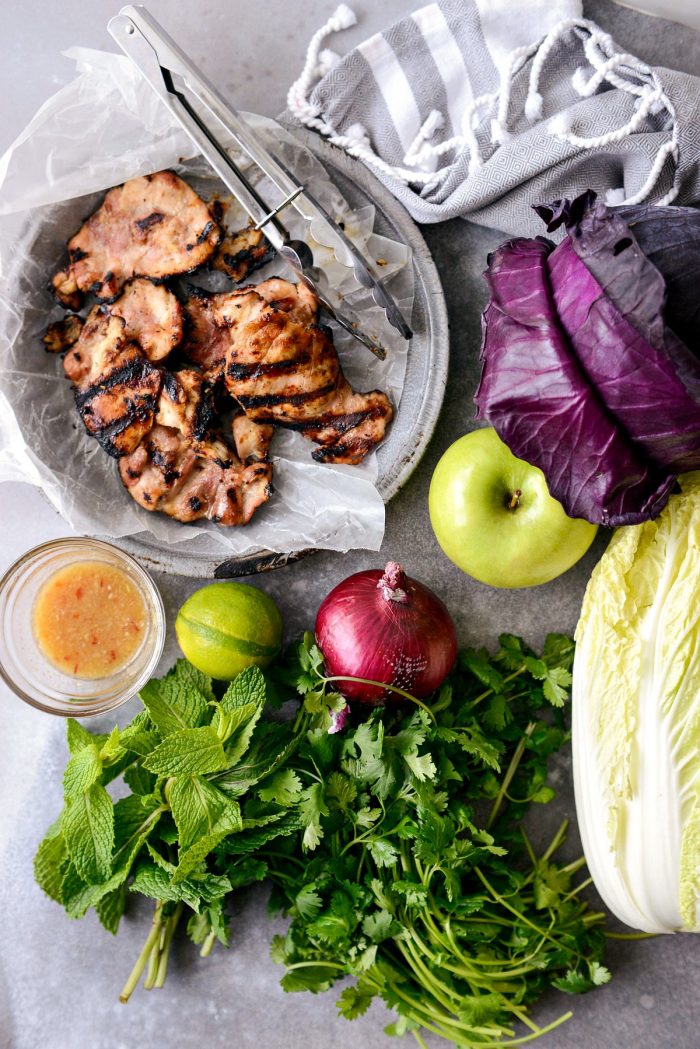 To Make This Grilled Thai Chicken Salad You Will Need:
grilled marinated thai chicken
reserved dressing
purple cabbage
napa cabbage
green apple
red onion
lime
cilantro
mint
kosher salt
chopped roasted peanuts, for garnish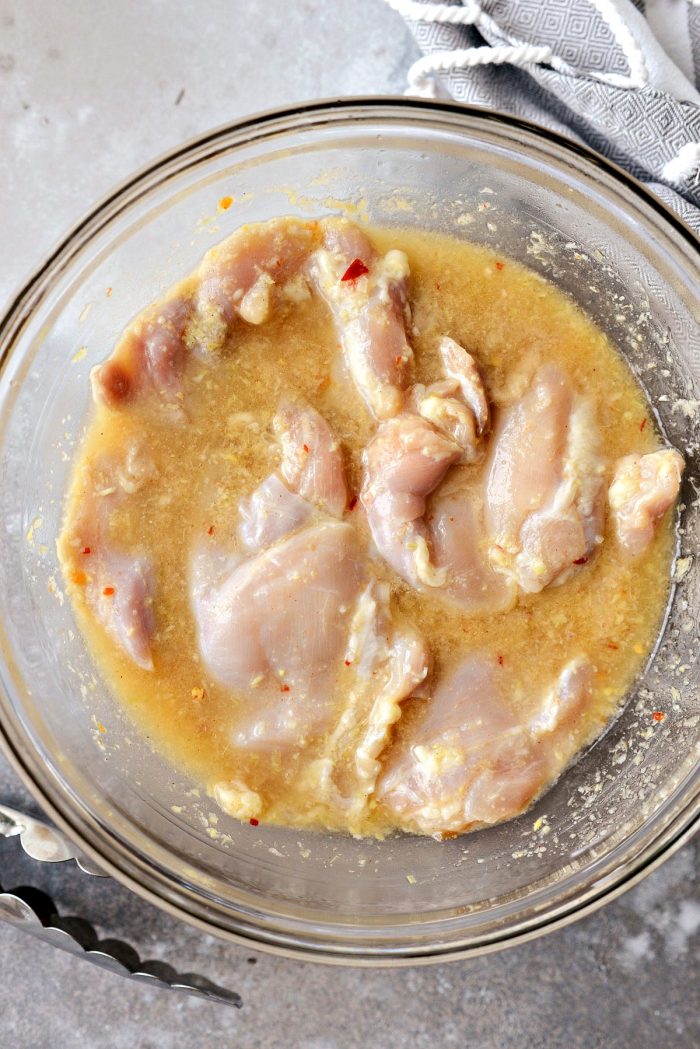 Remove the chicken and dressing from your fridge. Uncover the chicken and let come up to room temperature for about 20 minutes. Meanwhile, spray your grill with nonstick spray BEFORE preheating it to medium-high heat (about 500-600°).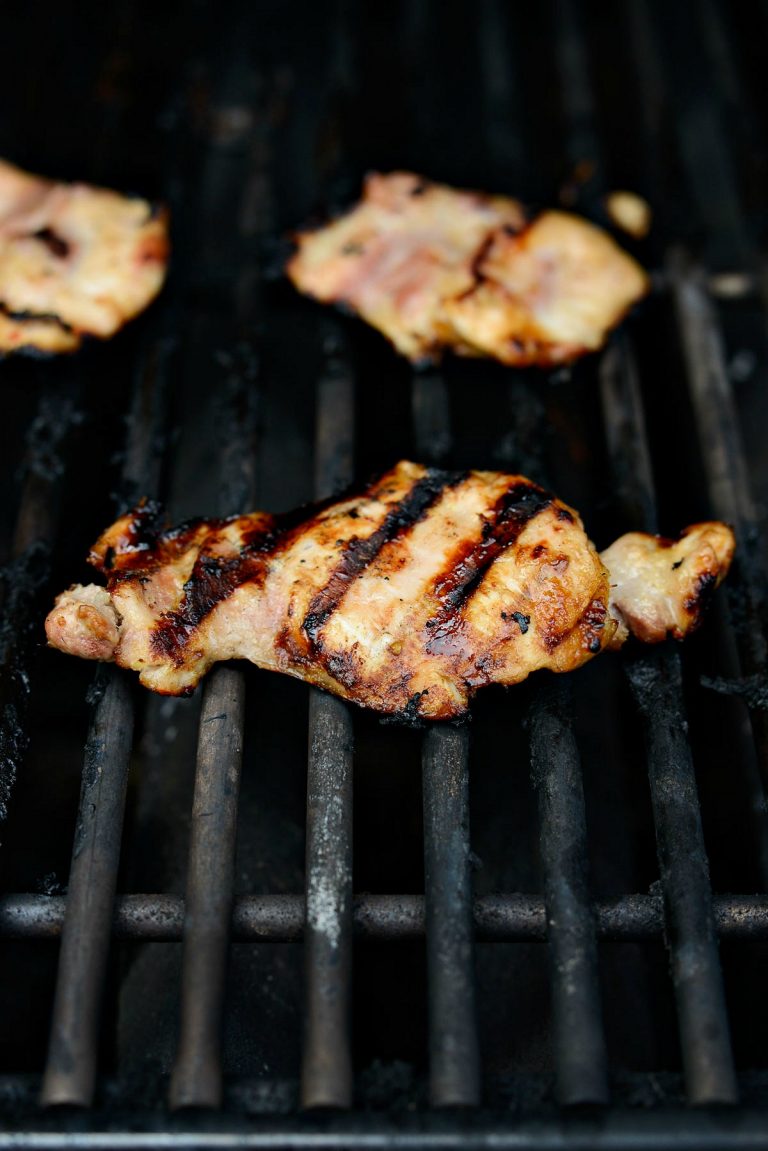 Once your grill is hot, use tongs to lay the chicken thighs onto the hot grates. Grill or 3 to 4 minutes a side or until no longer pink and fully cooked. Transfer the chicken to a cutting board to cool before slicing very thin.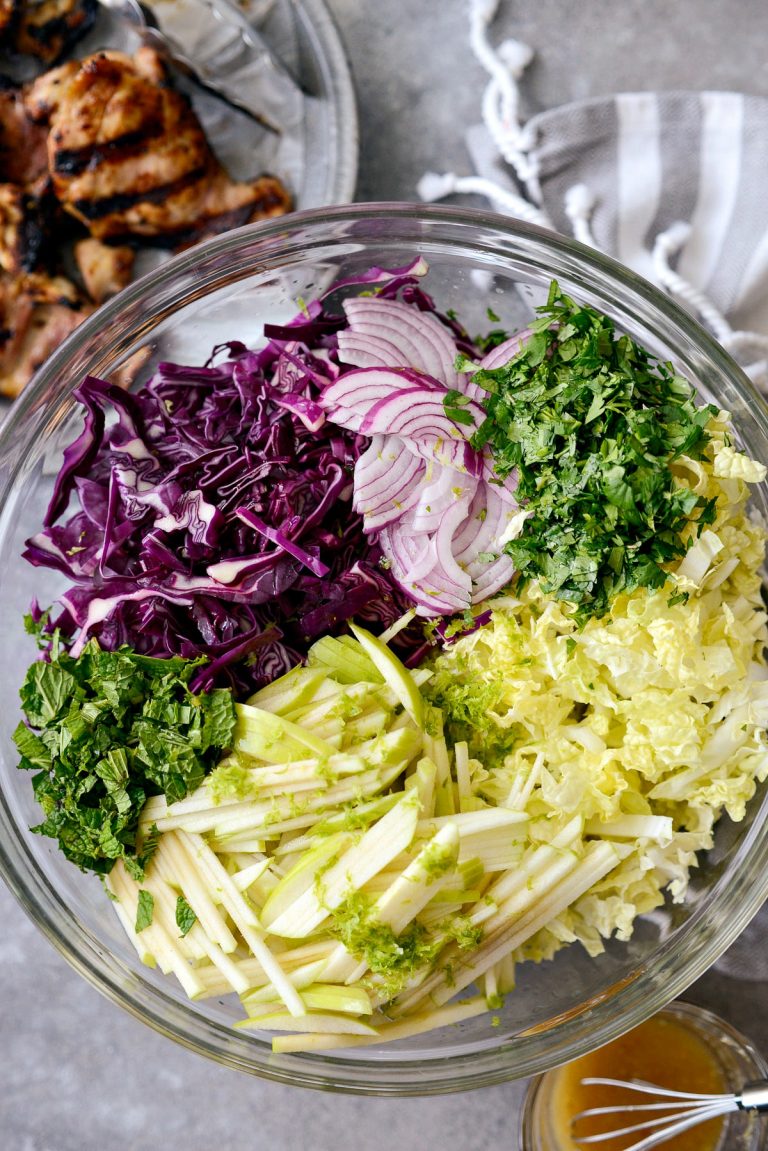 In your largest mixing bowl, add 3 cup chopped purple cabbage, 3 cups chopped Napa cabbage, 1 green apple – sliced into matchsticks, 1/2 a medium red onion – sliced thin, 1/4 cup both chopped mint leaves and cilantro, zest and juice of 1 large lime .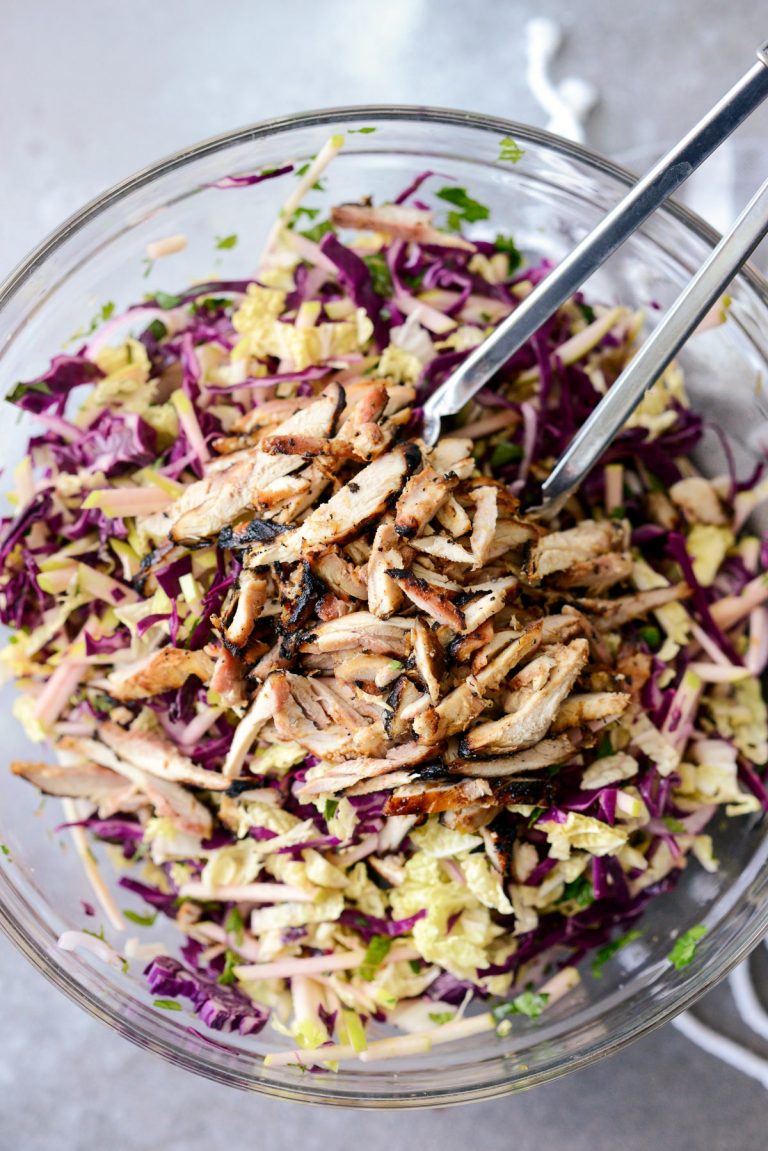 Add in the (cooled) thinly sliced grilled Thai chicken.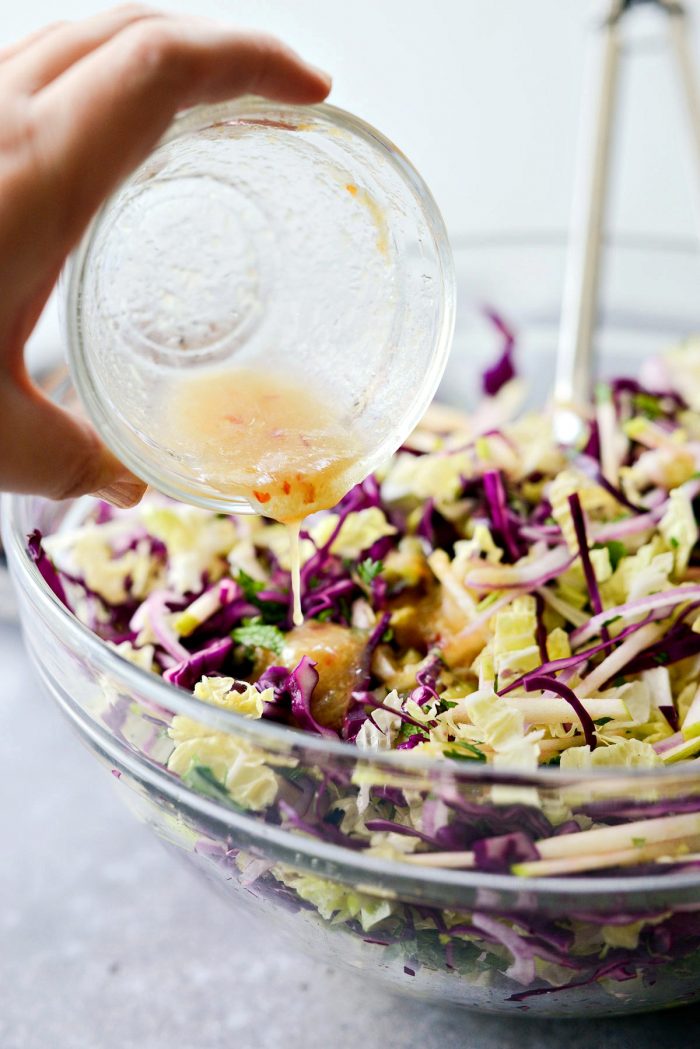 Pour in a desired amount of dressing, toss and taste test, adding a few pinches of kosher salt to taste.
Serve a generous amount onto plates with a sprinkle of chopped roasted peanuts, extra cilantro and lime wedges.
Prepare your tastebuds.
I love the combination of the tart green apple with the cabbage and earthy herbs. The chicken alone is incredible but tossed with everything else make this salad magical.
For More Amazing Summer Salads Click Here!
Enjoy! And if you give this Grilled Thai Chicken Salad recipe a try, let me know! Snap a photo and tag me on twitter or instagram!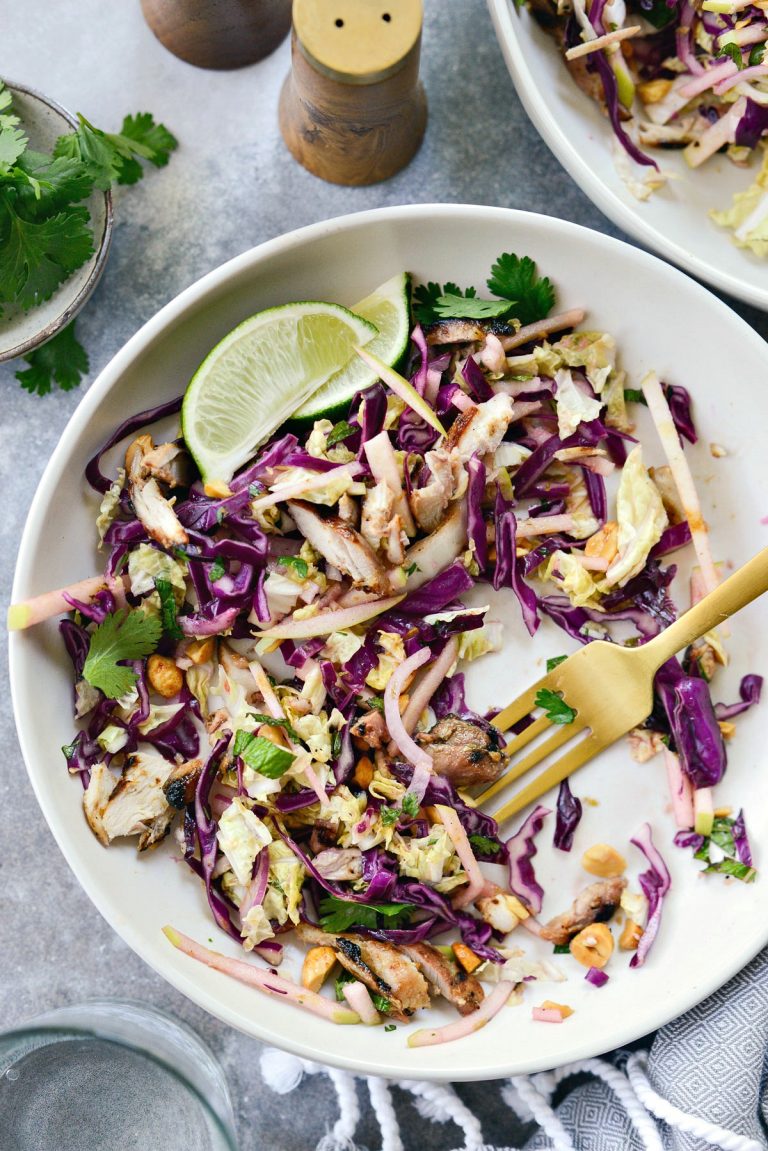 This post may contain affiliate links.
Buy the Cookbook: Simply Scratch : 120 Wholesome Homemade Recipes Made Easy Now available on Amazon »
THANK YOU in advance for your support!