This Buttermilk Roasted Chicken Dinner is one of my favorite home cooked meals. Chicken marinates in a simple marinade of buttermilk, garlic and rosemary for a few days before roasting with buttery Yukon potatoes. This recipe yields the moistest chicken with most incredibly flavor.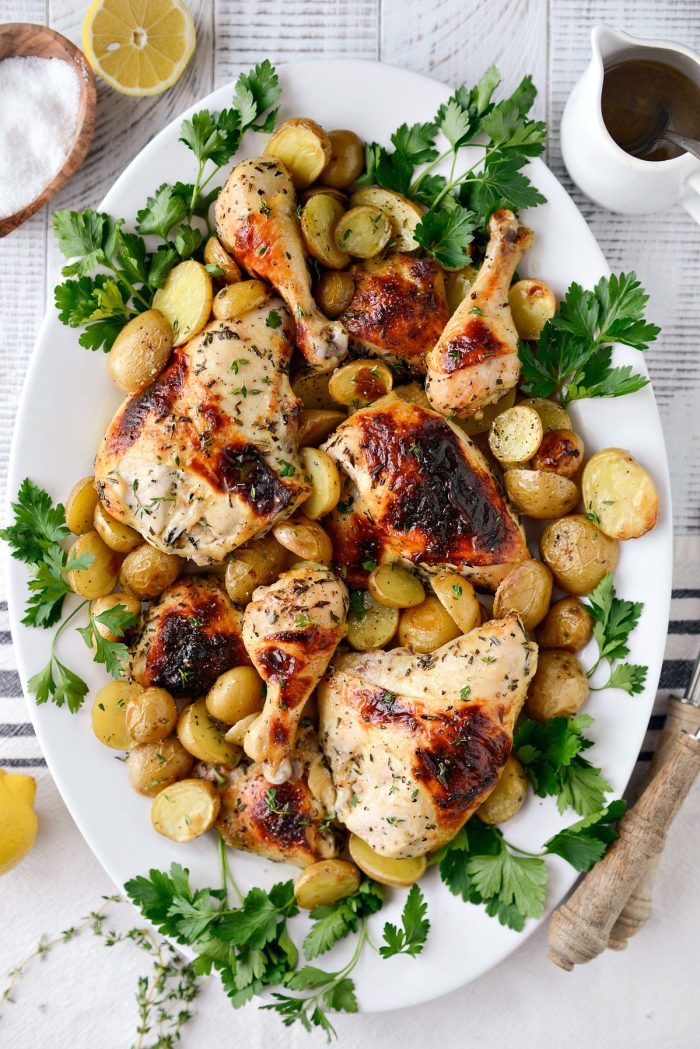 Marinating chicken in buttermilk does incredible things. Besides adding deliciously distinct flavor, buttermilk is also acts as a tenderizer therefore yielding extremely moist chicken. This recipe is rustic and simple and although you need to plan a few days in advance, the whole thing comes together rather simply. Plan on needing 2 days at the very least to marinate the chicken. But I promise you the results will be worth the wait.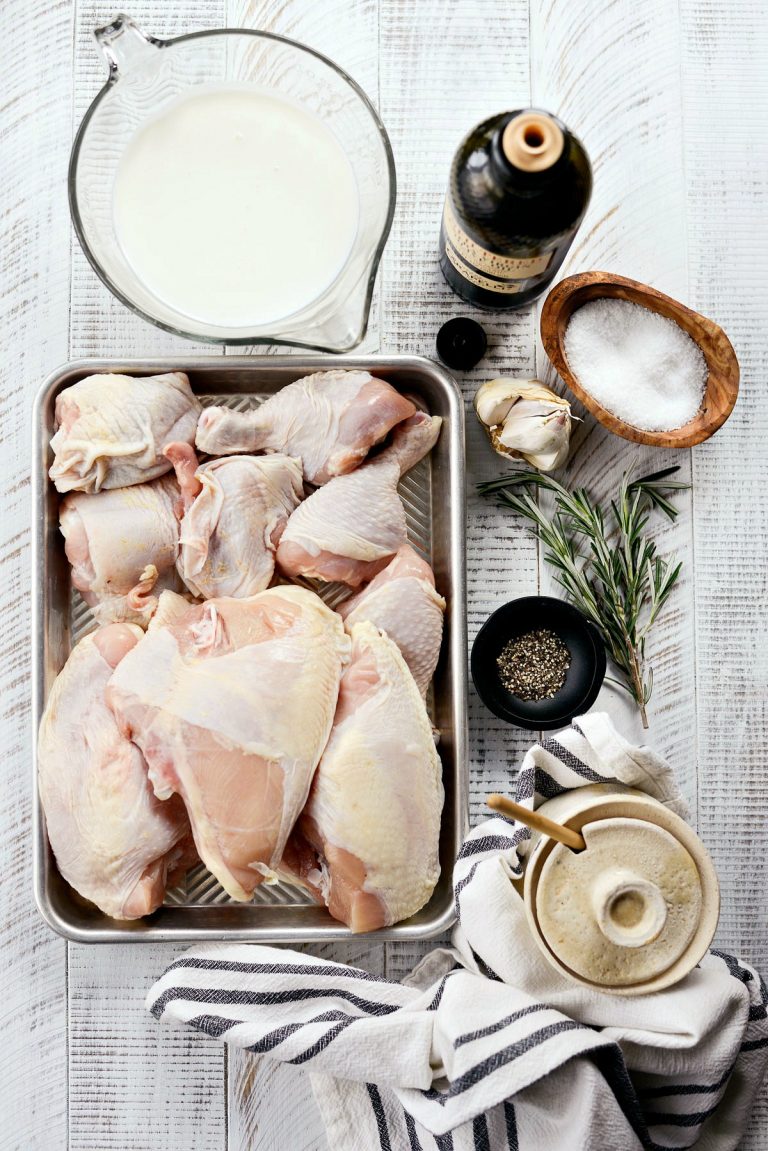 To Make The Marinade for the Buttermilk Roasted Chicken You Will Need:
whole cut up chicken
fresh garlic
rosemary
kosher salt
black pepper
olive oil
honey
buttermilk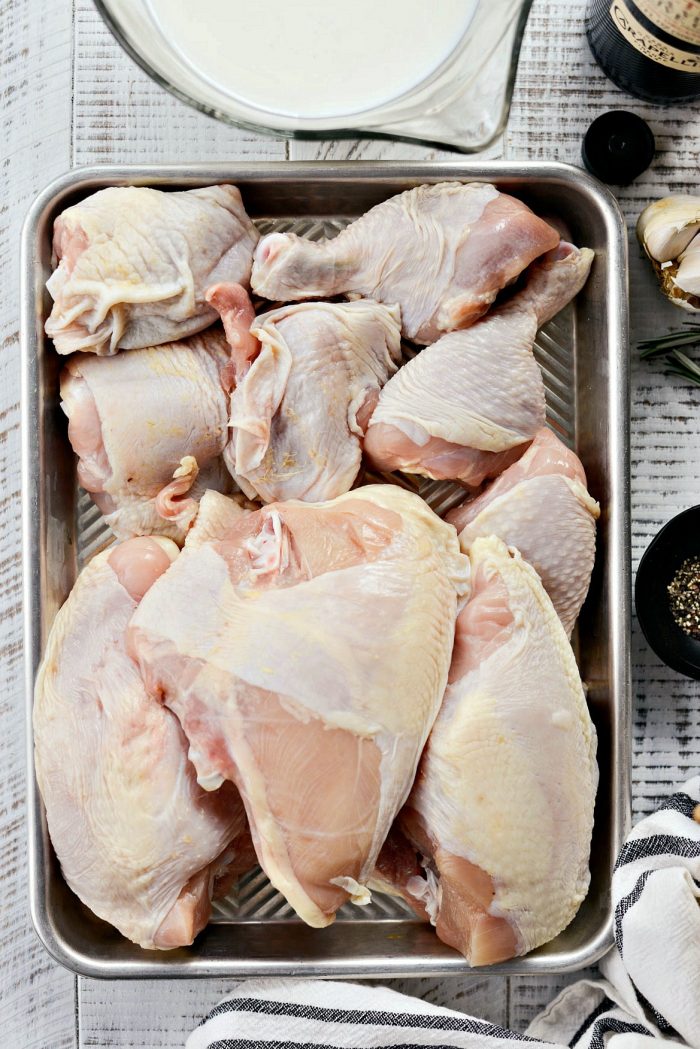 For this recipe, I use a whole cut up chicken. Depending on the brand, I look for a package that has a few breasts, thighs and drumsticks. However you could do this with all bone in, skin on breasts. Or a combination of thighs and drumsticks.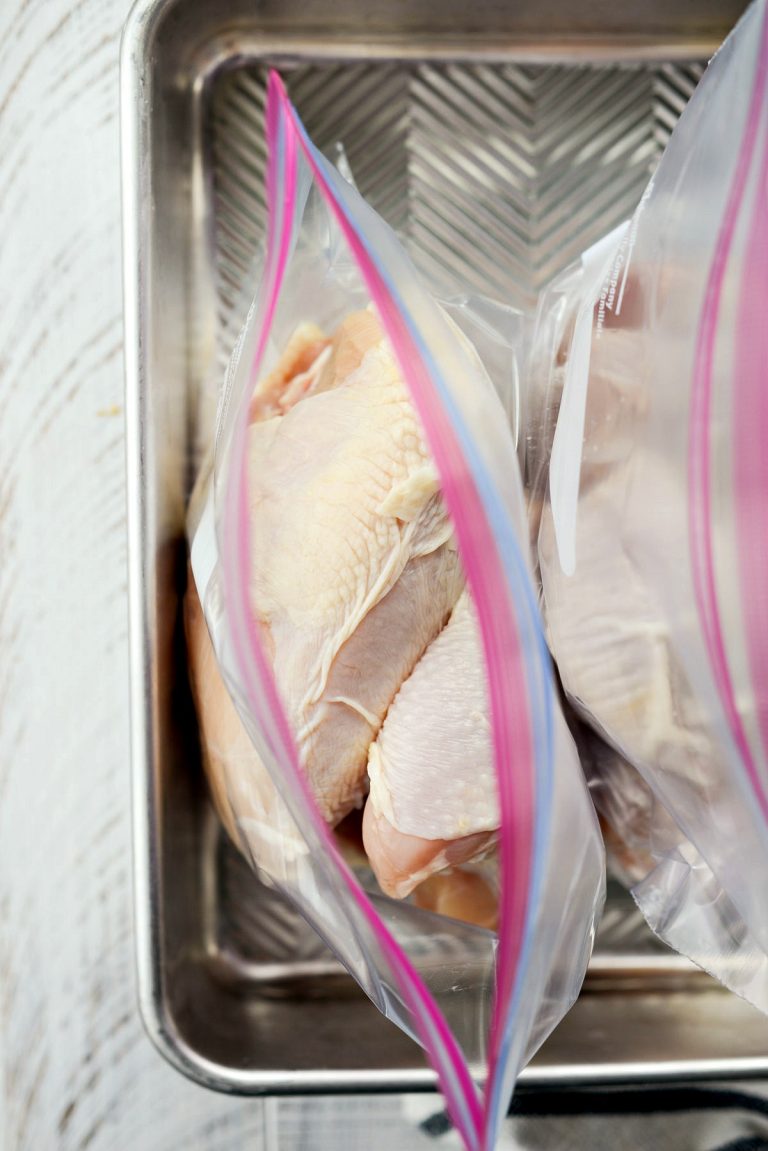 Divide the chicken among 2 gallon size resealable bags that are set into a pan.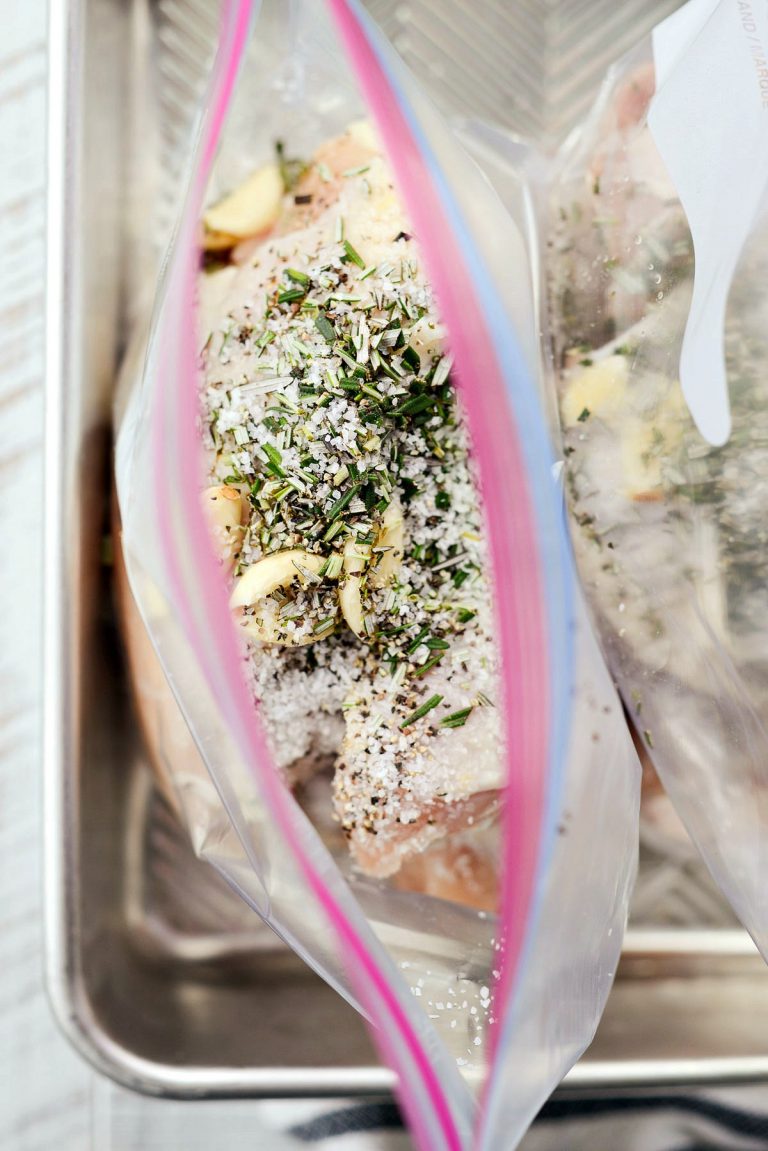 To each bag add 4 smashed and peeled cloves of garlic, 1 tablespoon minced rosemary, 1-1/2 teaspoons kosher salt, 1/2 teaspoon coarse black pepper, 1 tablespoon olive oil and 1 tablespoon honey.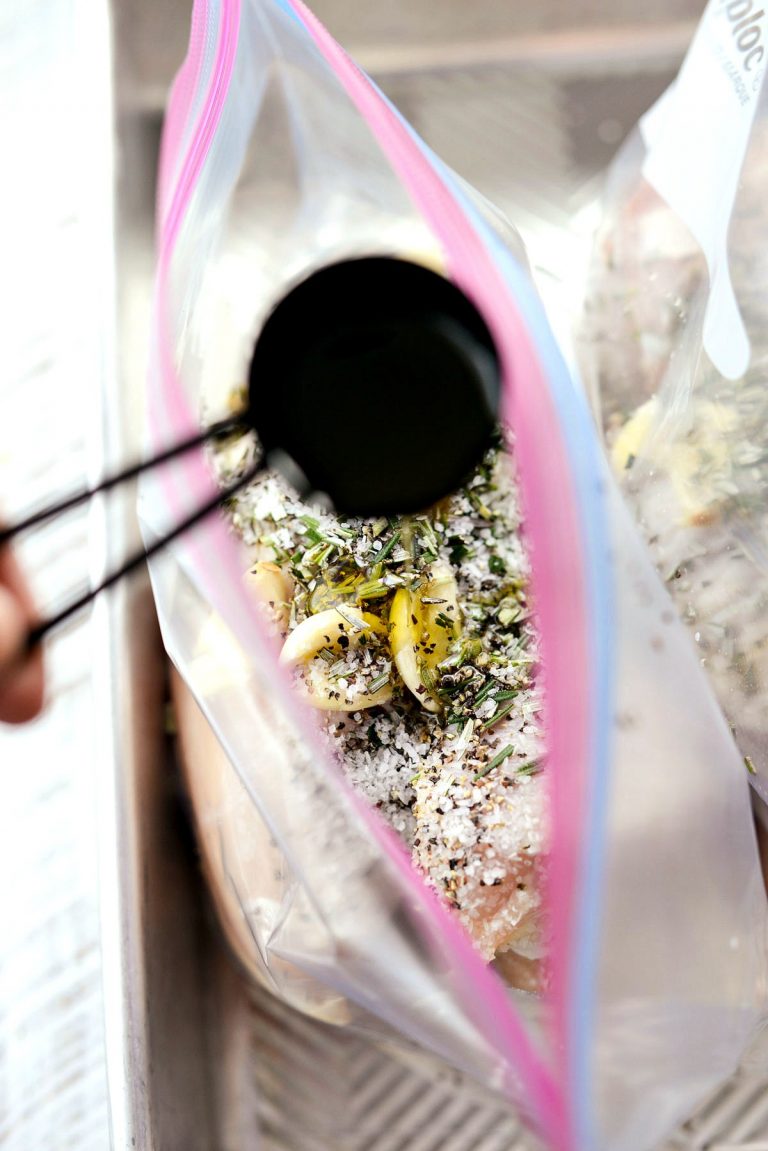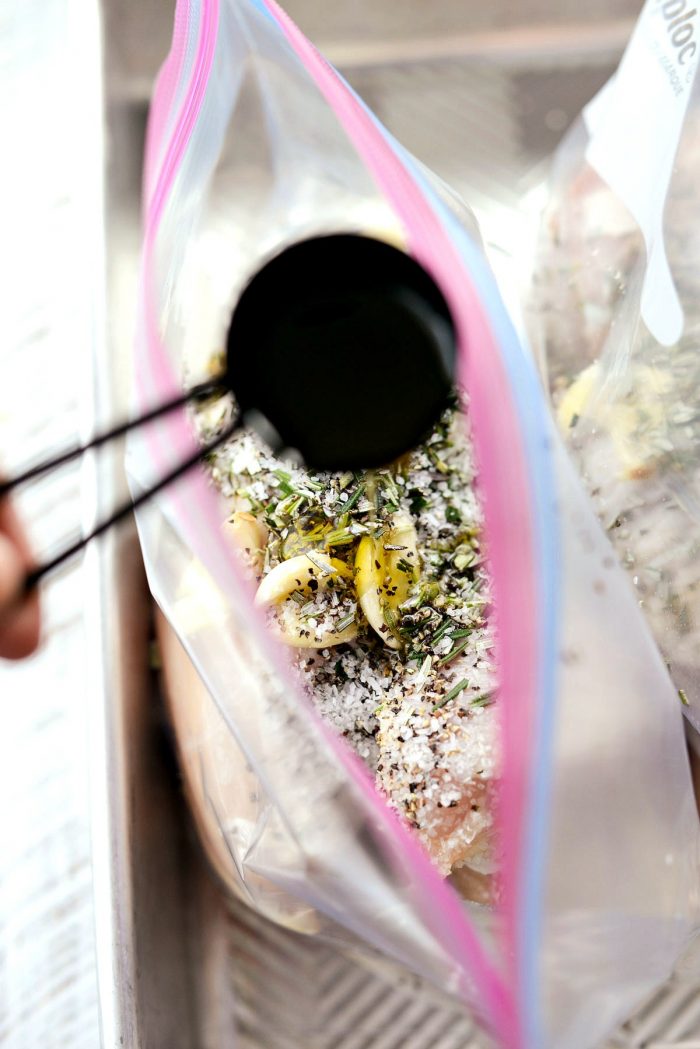 Pour in 1 tablespoon olive oil in each bag.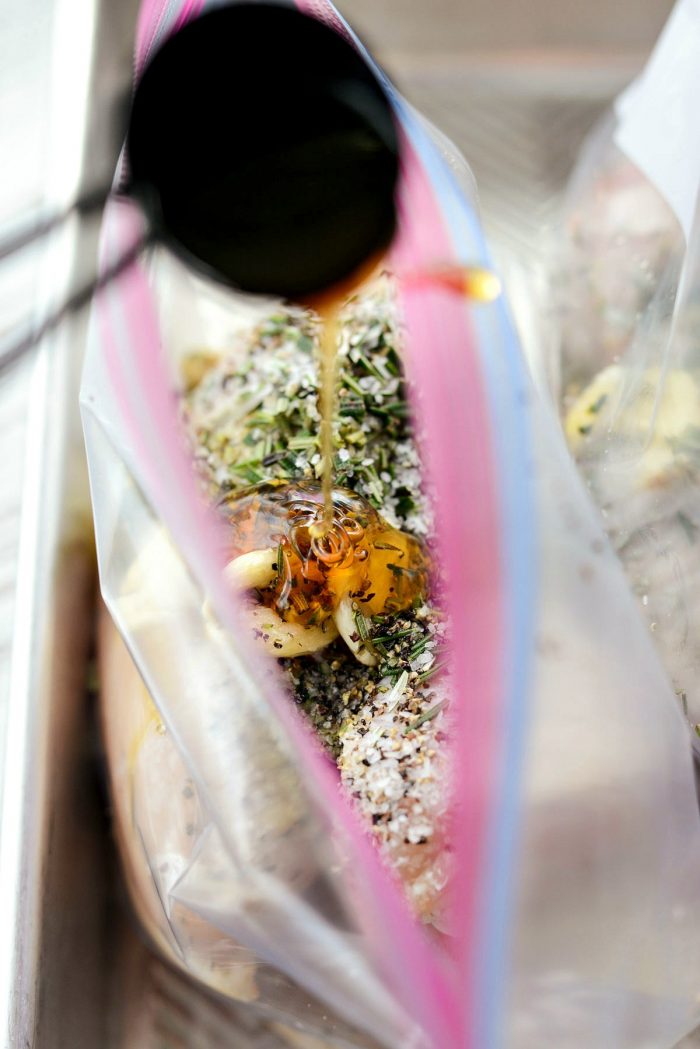 A tablespoon of honey per bag.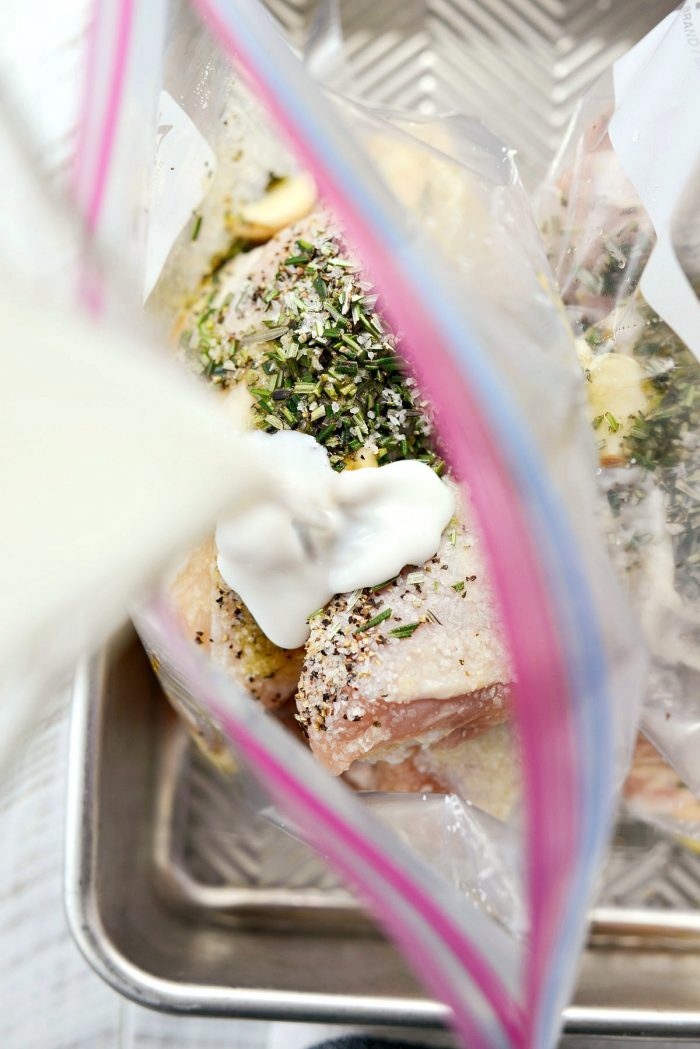 And then pour in 1 cup of buttermilk in each bag.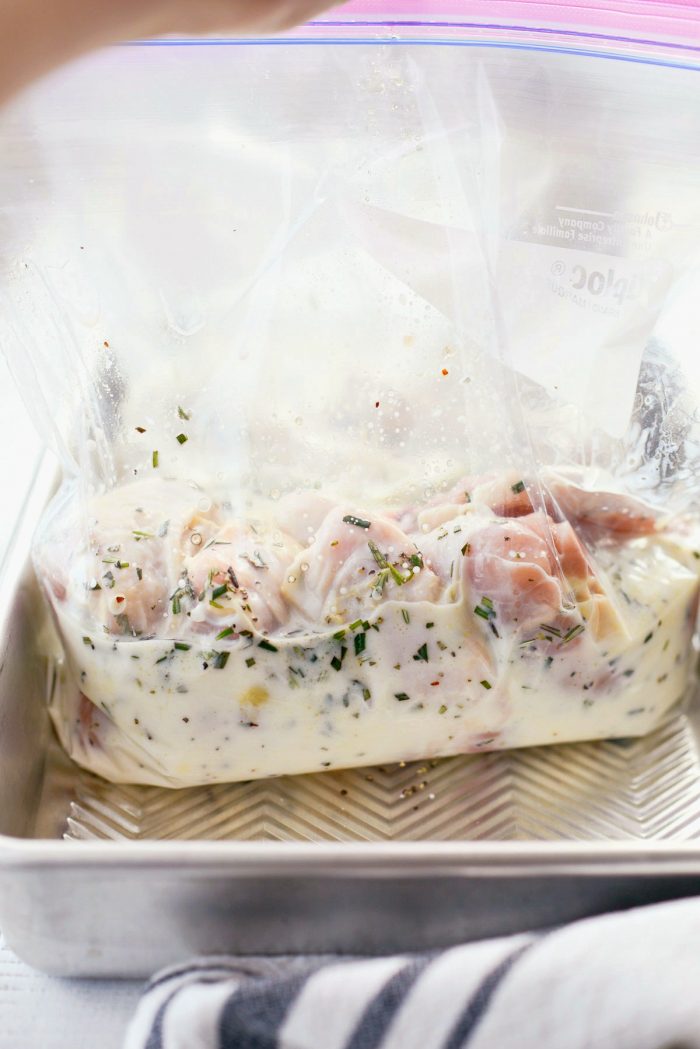 Squeeze out as much air as possible and then massage the chicken in the buttermilk marinade. To avoid any leaks, I place each bag of chicken in a second ziplock bag.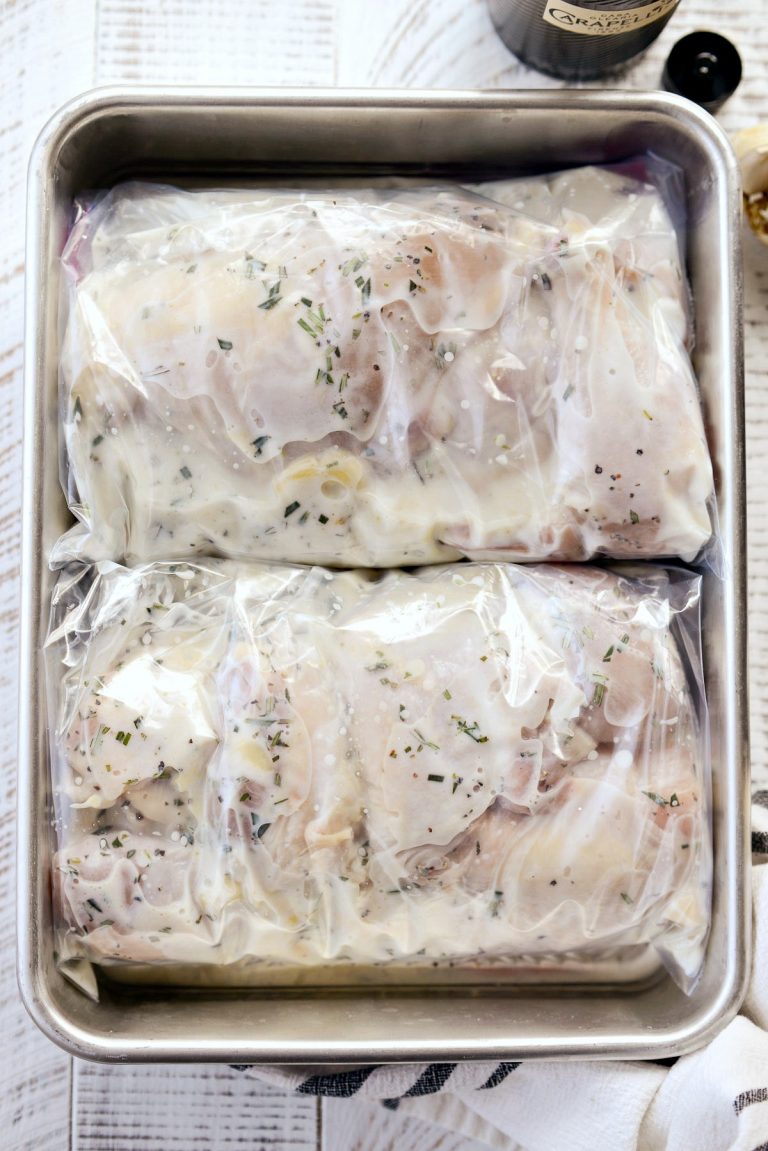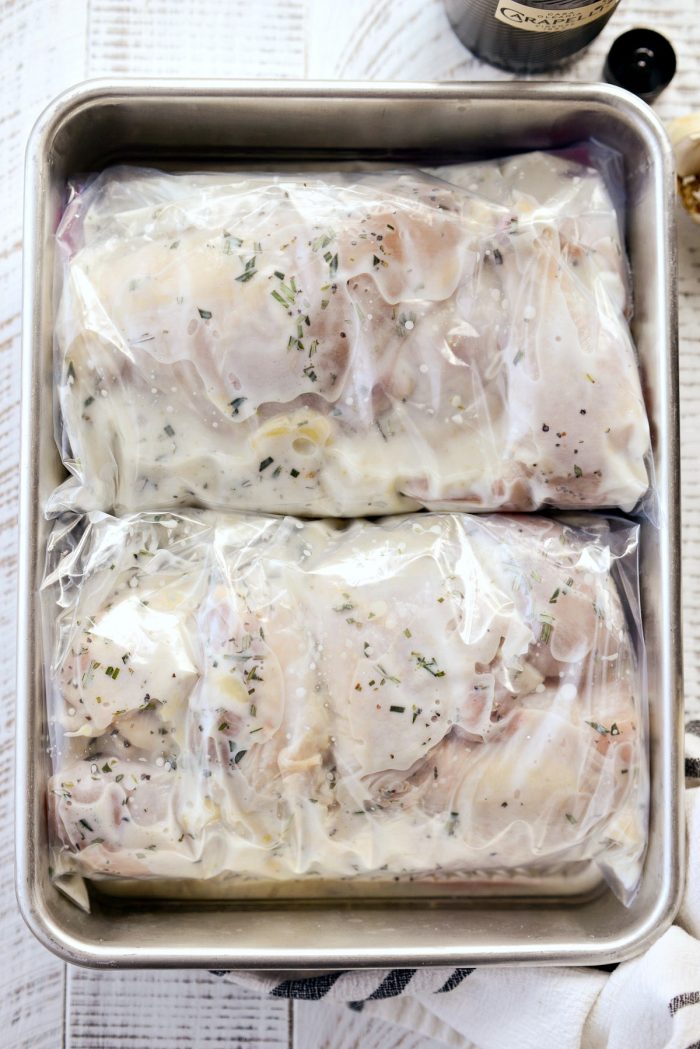 Lay the bags of chicken flat and refrigerate for 48 hours. Twice a day, flip and massage the chicken through the bag.
48 Hours Later…
To Make The Buttermilk Roasted Chicken Dinner You Will Need:
buttermilk marinated chicken
baby Yukon gold potatoes
butter
olive oil
kosher salt
black pepper
1/2 a lemon
minced parsley or fresh thyme leaves, for serving
Remove the chicken from your fridge about 30 minutes prior to baking.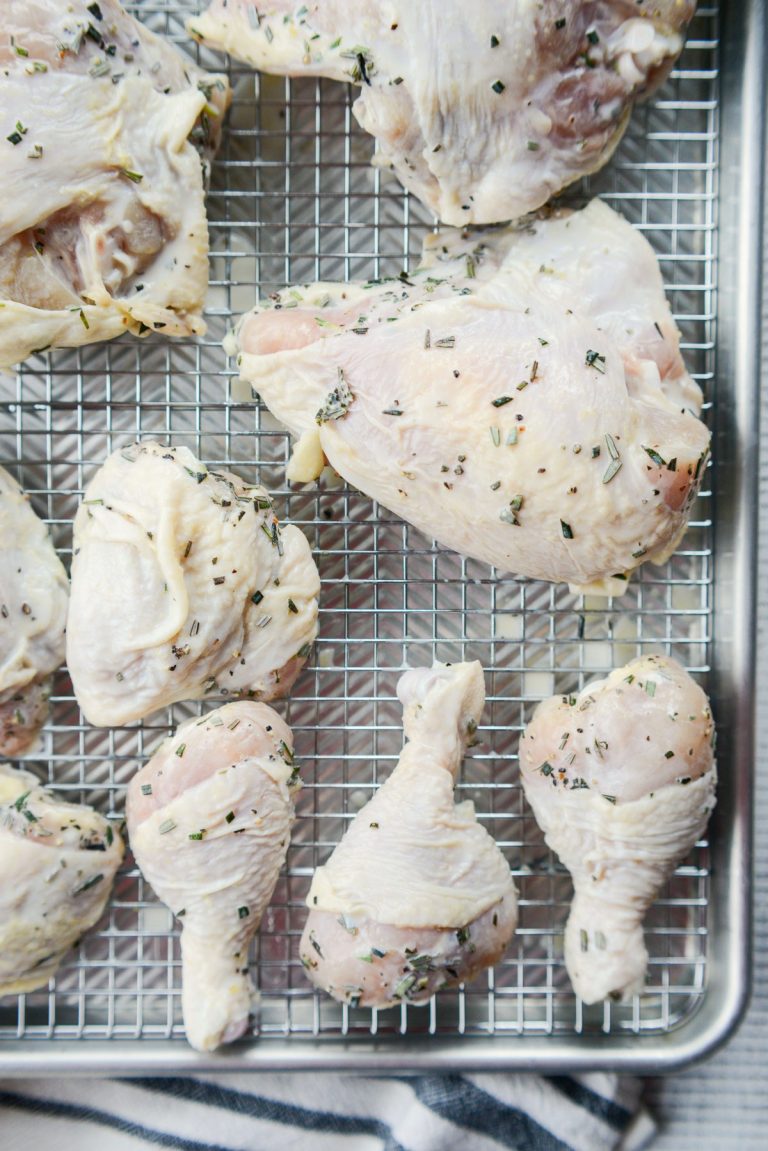 Use tongs to remove the buttermilk chicken from the bags and place on a wire rack set over a rimmed baking sheet. This will allow any excess buttermilk to drip off of the chicken.
Meanwhile, preheat your oven to 400°.
Spray a large deep sided roasting pan (this is a half size cake pan) with olive oil. Arrange the chicken and add 1-1/4 pound Yukon gold potato halves. Sprinkle with kosher salt and black pepper.
In a small sauce pan, melt 1 tablespoon butter with 1 tablespoon olive oil and drizzle over the chicken and potatoes.
Roast the buttermilk chicken and potatoes on the middle rack of your preheated oven for 45 minutes. Baste the chicken with the pan juices and rotating the pan halfway through.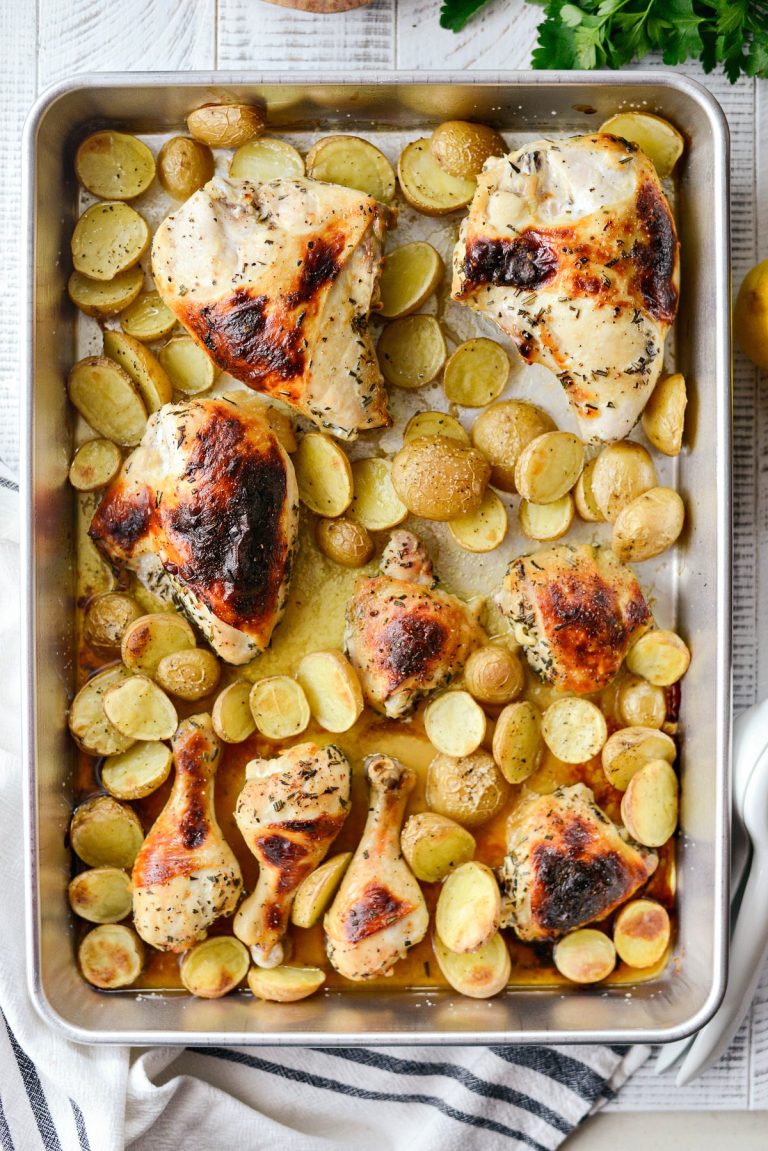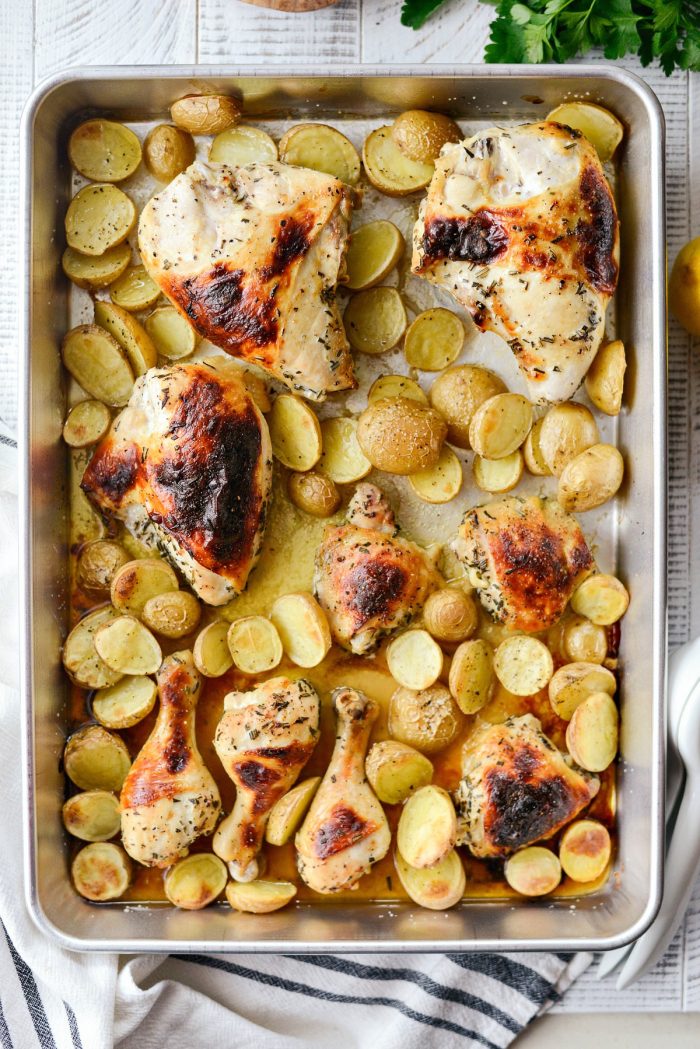 Reduce the heat to 350° and continue to bake for 15 to 20 minutes.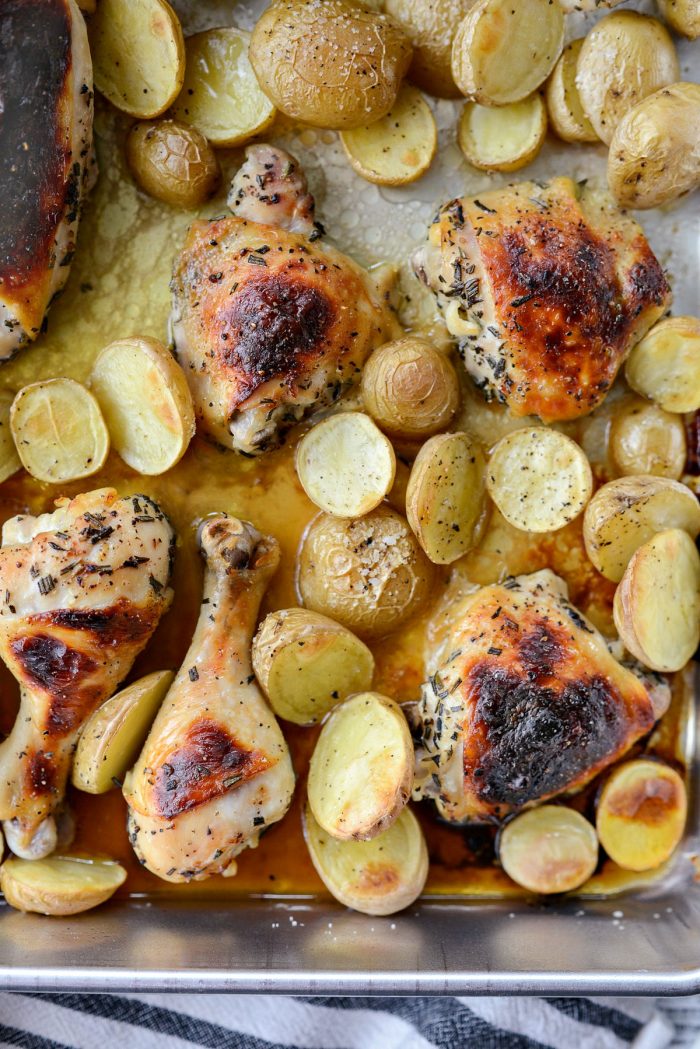 The skin is so crispy and delicious!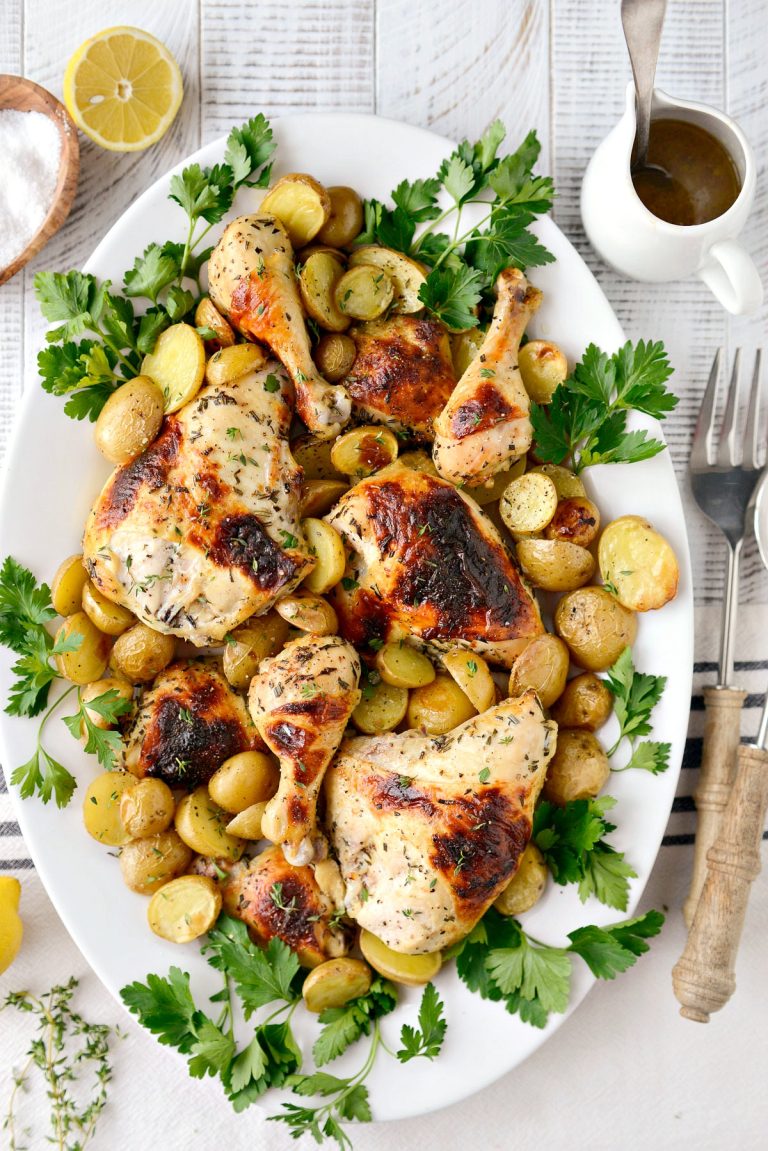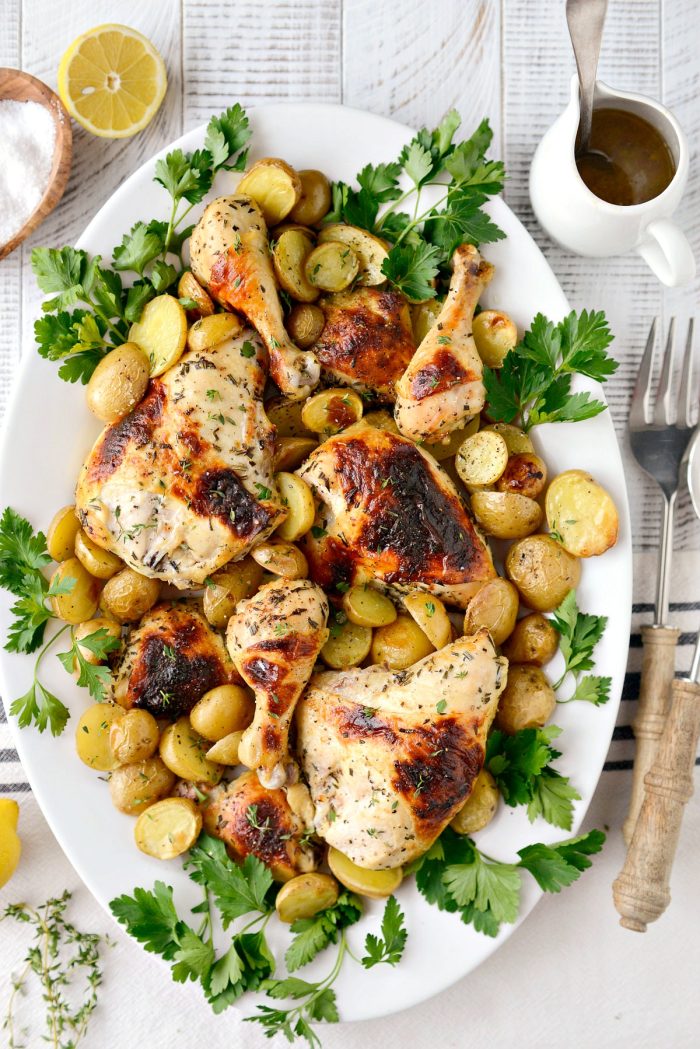 Transfer the chicken and potatoes to plates or a large platter. Squeeze the juice of 1/2 a lime into the pan drippings, stir and spoon over the chicken and potatoes.
Garnish with minced parsley or fresh thyme leaves and prepare your tastebuds for the most delicious buttermilk roasted chicken!
For More Chicken Recipes Click Here!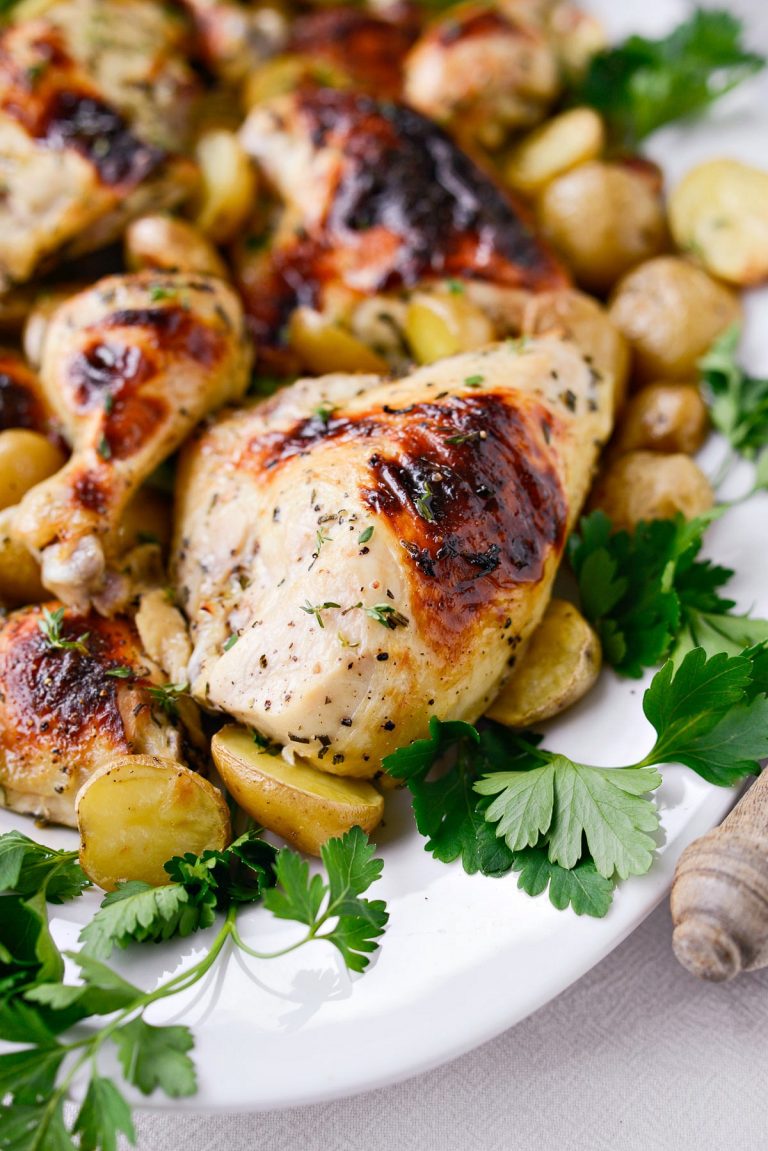 Enjoy! And if you give this recipe a try, let me know! Snap a photo and tag me on twitter or instagram!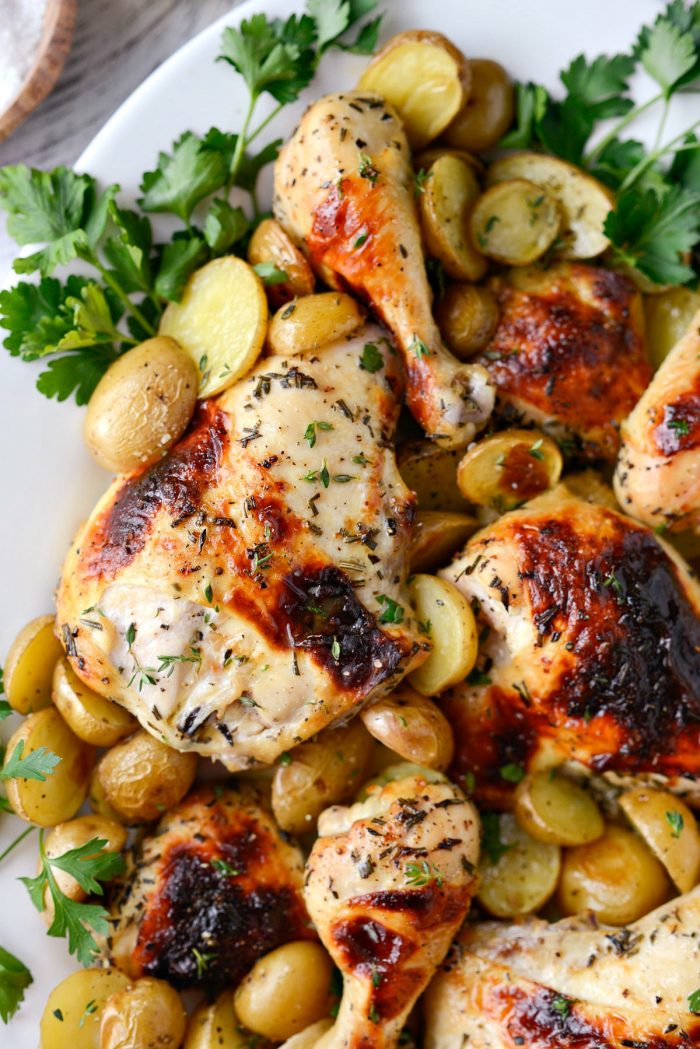 This post may contain affiliate links.
Buy the Cookbook: Simply Scratch : 120 Wholesome Homemade Recipes Made Easy Now available on Amazon »
THANK YOU in advance for your support!