Leftovers are put to good use in this Corned Beef and Rye Panzanella! Day old rye bread is toasted and tossed with radicchio, roasted brussles sprouts, onion, leftover corned beef and tossed in a zippy horseradish dijon vinaigrette.
If after St. Patrick's Day you find yourself with leftover corned beef, I've got a recipe for you!
I love leftover corned beef, so much in fact that I make extra on purpose just so I can find some what to make it new again. Whether used in breakfast hash, stacked in a sandwich, rolled into a Stromboli or, like todays post, tossed with toasted rye croutons and roasted brussles sprouts in a bread salad.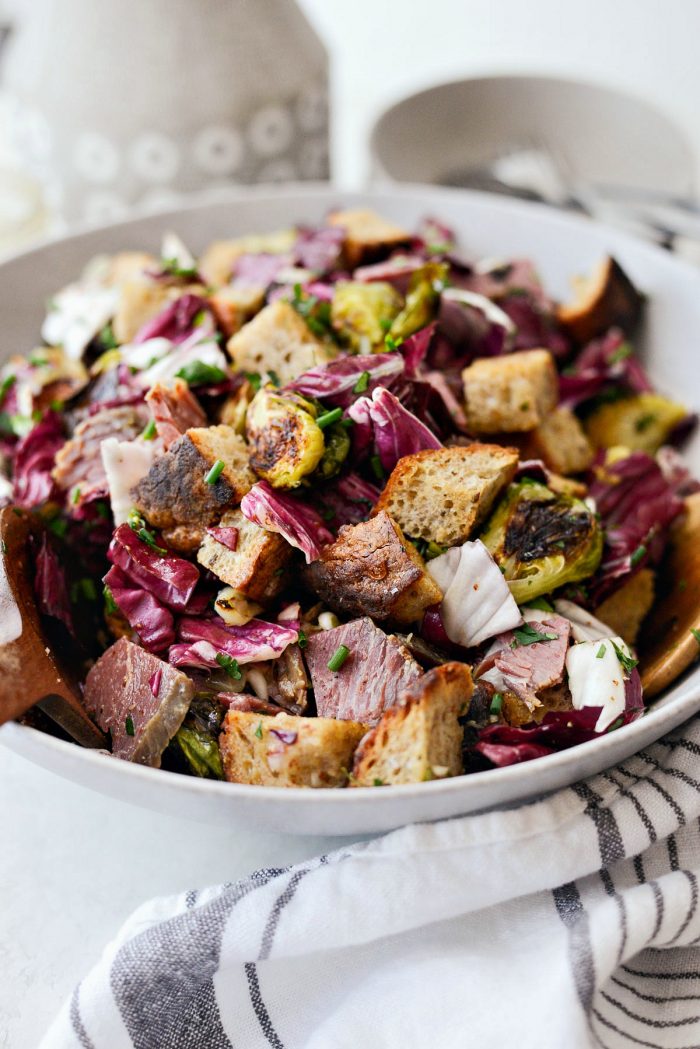 Rarely does leftover corned beef ever disappoint.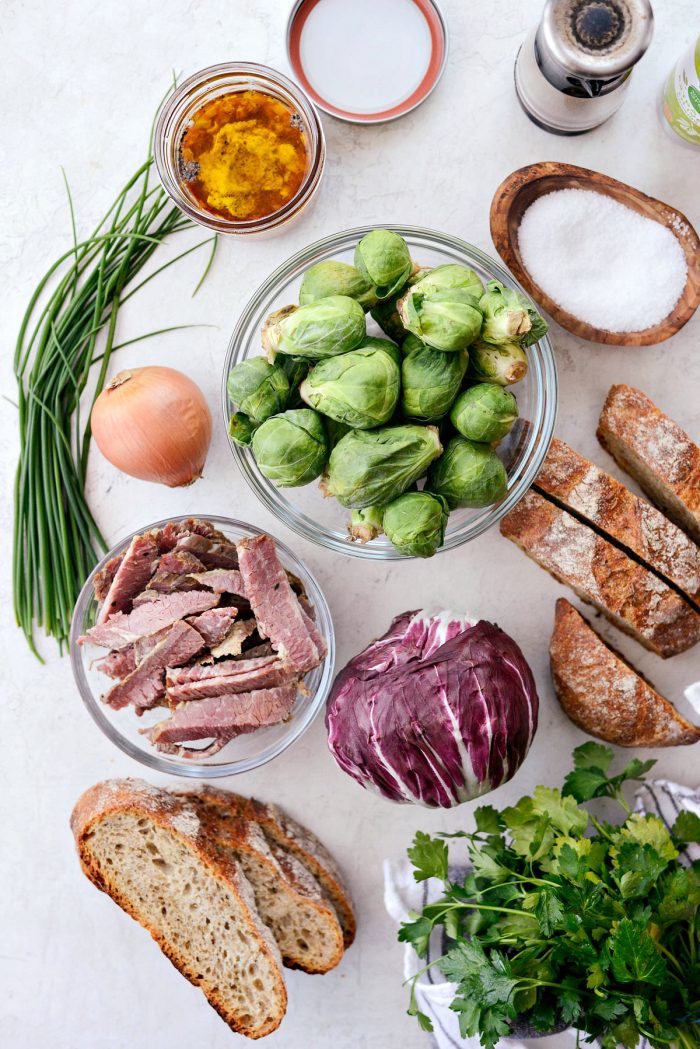 To Make This Corned Beef and Rye Panzanela You Will Need:
radicchio – you'll need to prep this in advance to tone down its bitterness, so plan accordingly!
rye bread – homemade or store-bought
olive oil spray
kosher salt
brussels sprouts
yellow onion
6 to 7 ounces leftover corned beef, diced
horseradish dijon vinaigrette
parsley
chives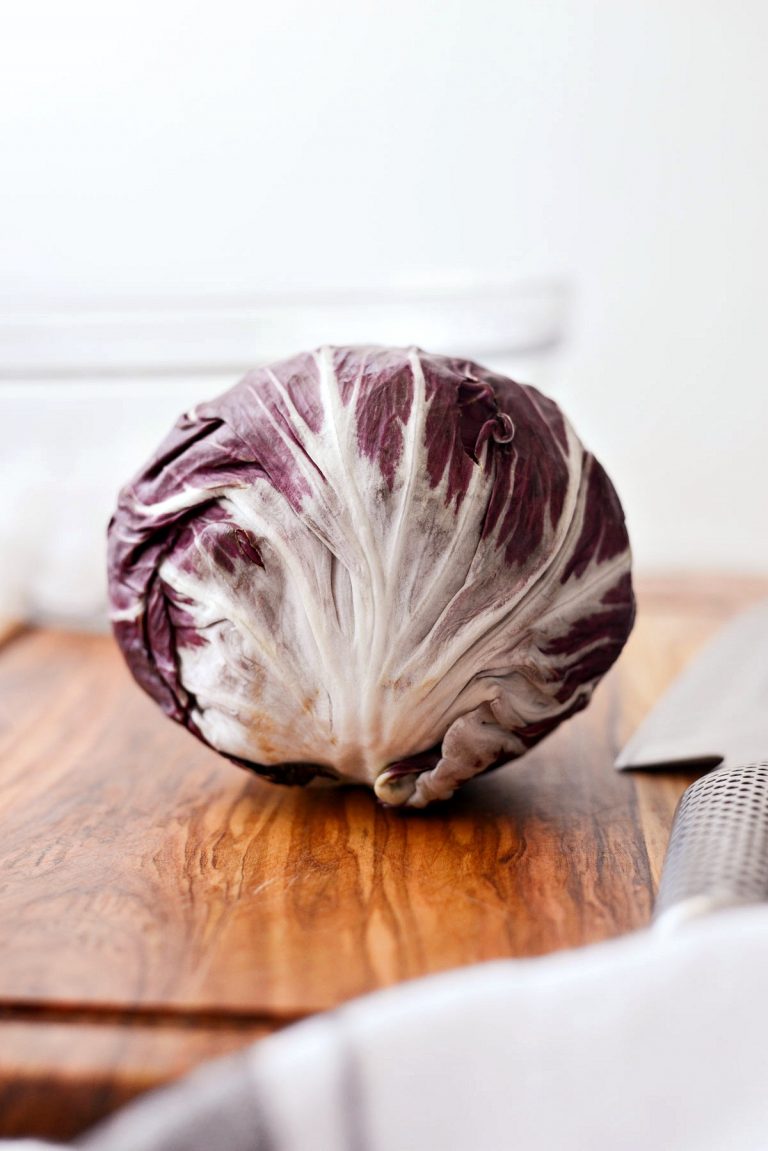 Radicchio is pretty bitter if eaten raw. There's a few ways to get around that and either of them would work in this recipe.
To significantly reduct the bitterness of radicchio you can either cut it into wedges and grill or roast in a hot oven. Or soak in ice water for about 2 hours.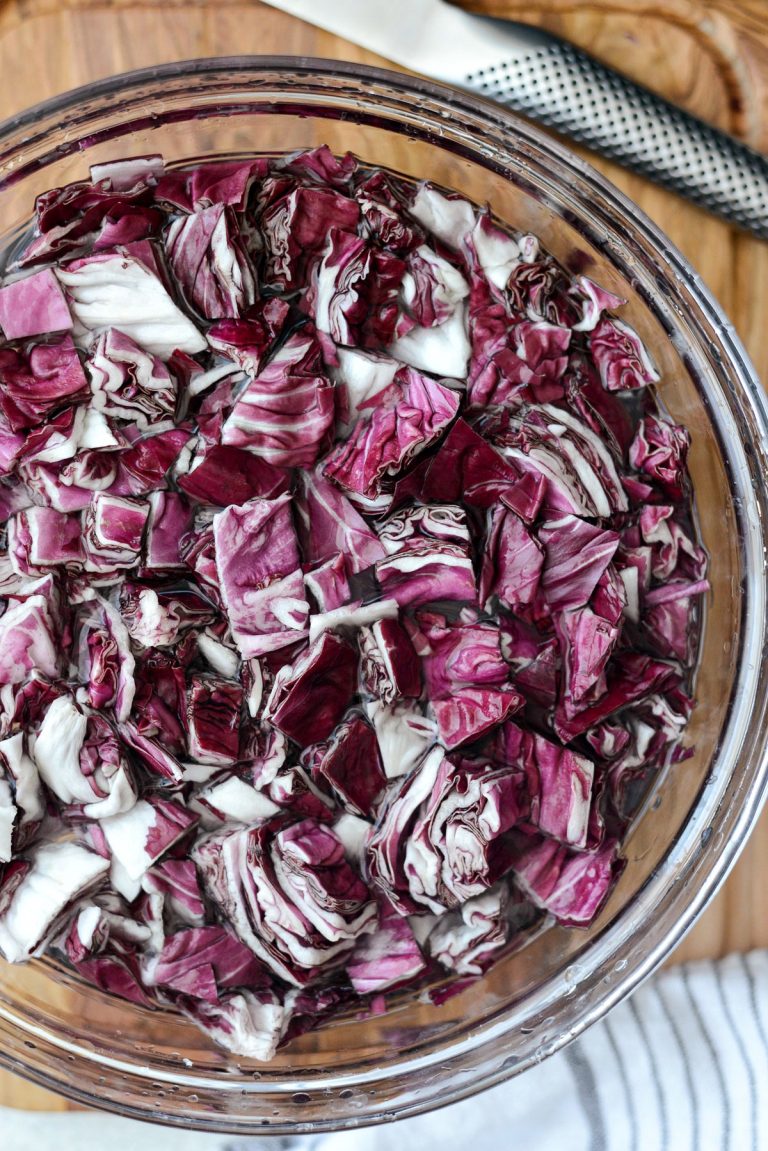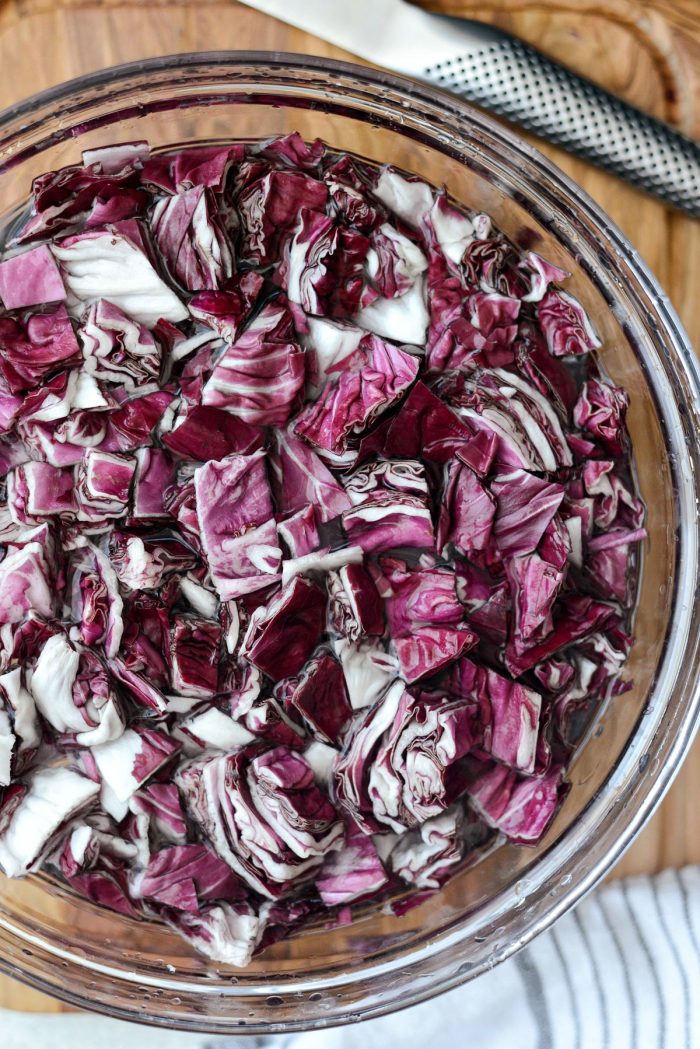 I went the soaking in ice water method, but am thinking next year I would either grill or roast.
Fill a large bowl with ice cubes and water. Plunge the diced radicchio in the ice water and pop the whole bowl it into your fridge for a few hours. Periodically, swish the radicchio during that time.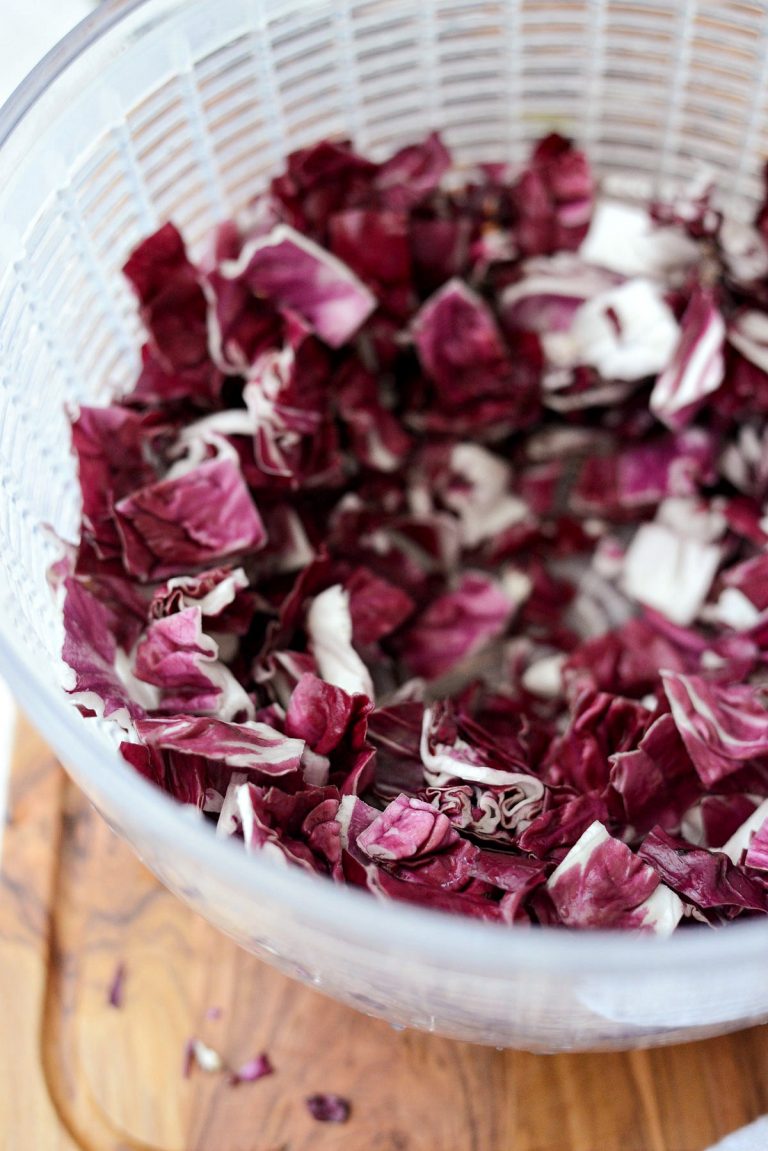 Once done soaking, drain and spin out any excess water by using a salad spinner. If you're unsure about using radicchio, you could sub in arugula in its place.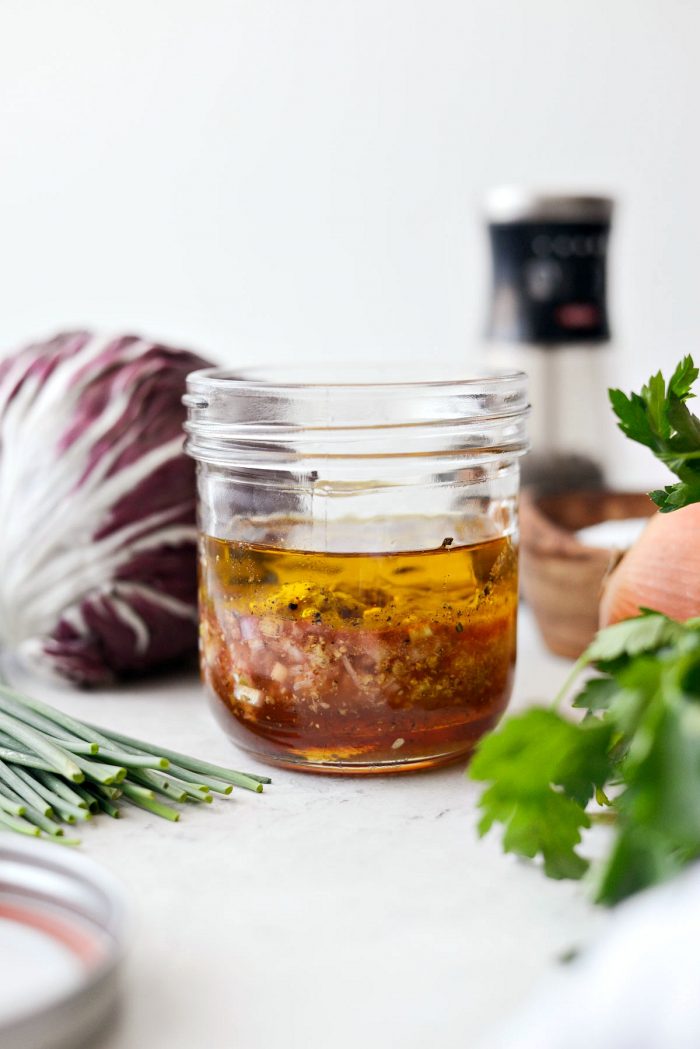 For The Horseradish Dijon Vinaigrette You Will Need:
shallot
dijon
honey
prepared horseradish
black pepper
red wine vinegar
olive oil
In a glass jar or container with a tight fitting lid, measure and add: 1tablespoon minced shallot, 2 tablespoons dijon mustard (I used country style dijon), 2 tablespoons honey, 1/2 teaspoon kosher salt, 1/4 teaspoon freshly ground black pepper, 2 tablespoons red wine vinegar, 2 teaspoons prepared horseradish and 1/4 cup olive oil.
Secure the lid and shake well and make sure the honey is dissolved.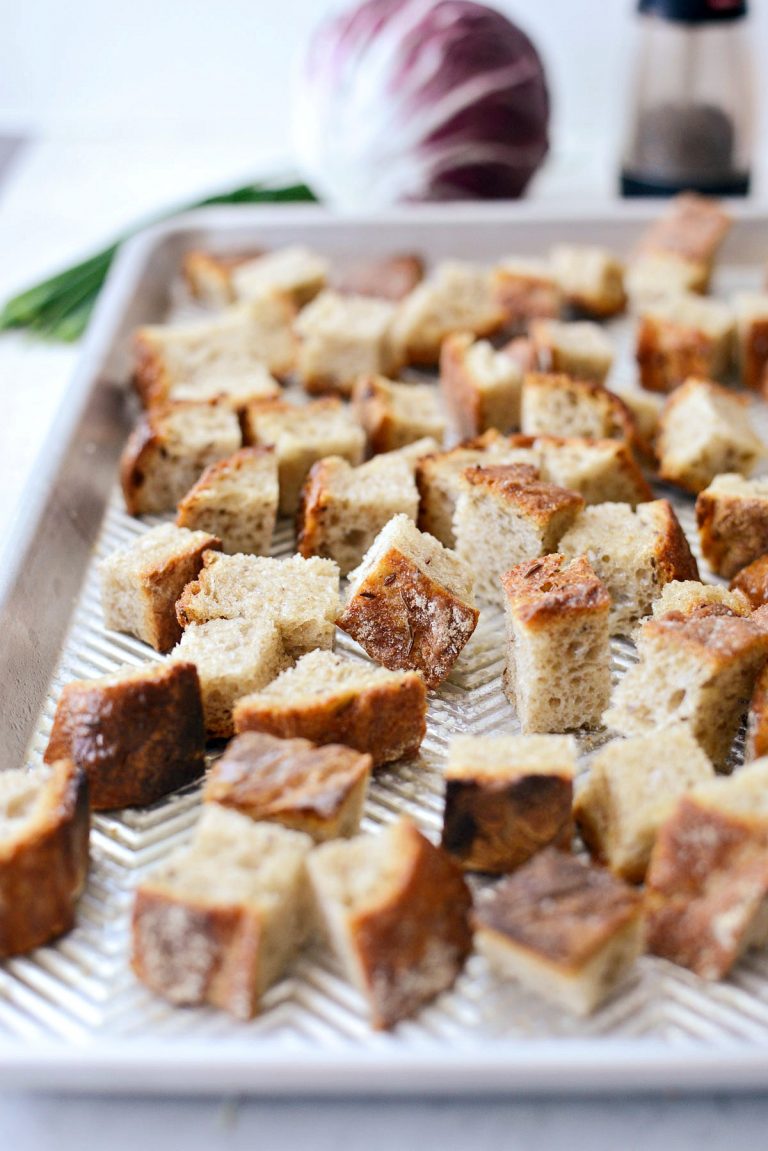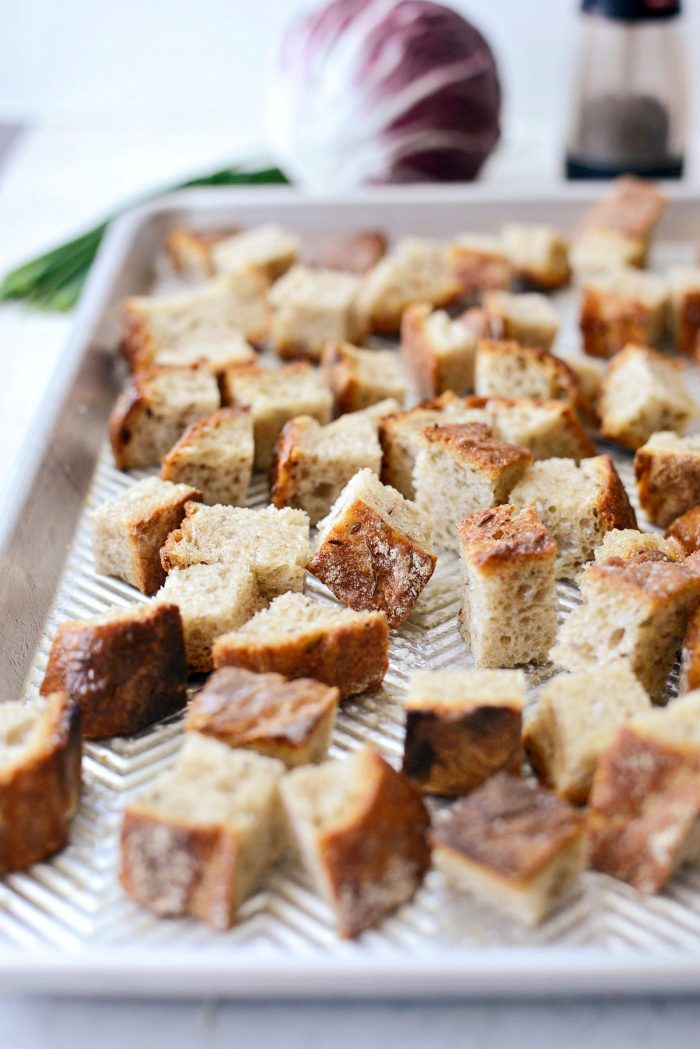 Mean while toss about 8 cups of cubed rye bread onto a rimmed metal baking sheet that's been sprayed with olive oil. Spray the tops of the rye with move olive oil and bake on the middle rack of your preheated 400° oven for about 8 to 10 minutes or until toasted and golden in spots.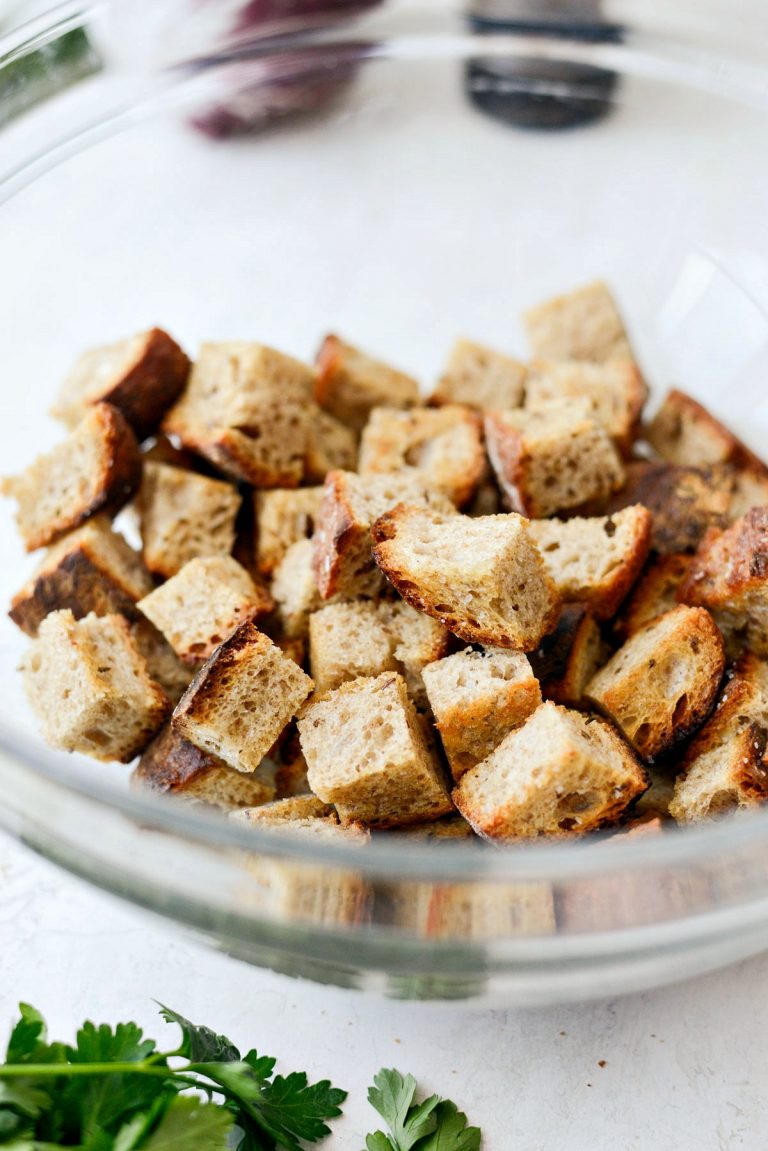 Remove and add to a large mixing bowl.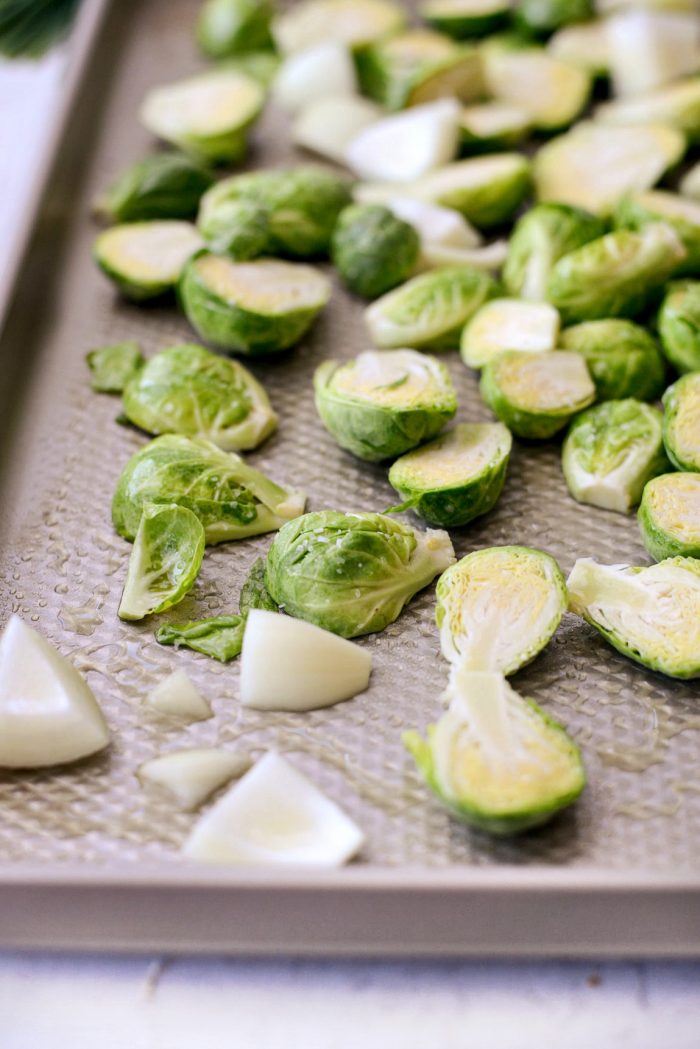 Meanwhile, add 1 pound of (trimmed and halved) Brussels sprouts with 1 small chopped yellow onion to a rimmed metal baking sheet that's also been spray with olive oil. Spray the tops of the onions and Brussels sprouts with olive oil and roast for 20 minutes or until crispy and golden in spots.
To the bowl with the toasted rye, add the diced corned beef, crispy roasted Brussels sprouts and onions.
Add some of the soaked and spun-dry radicchio and toss to combine.
Drizzle with a desired amount of dressing. I use it all but that depends on how you like your panzanella.
Toss well to combine.
Lastly, sprinkle with snipped fresh chives and minced parsley for a pop of deep leafy green and herbaceous flavor.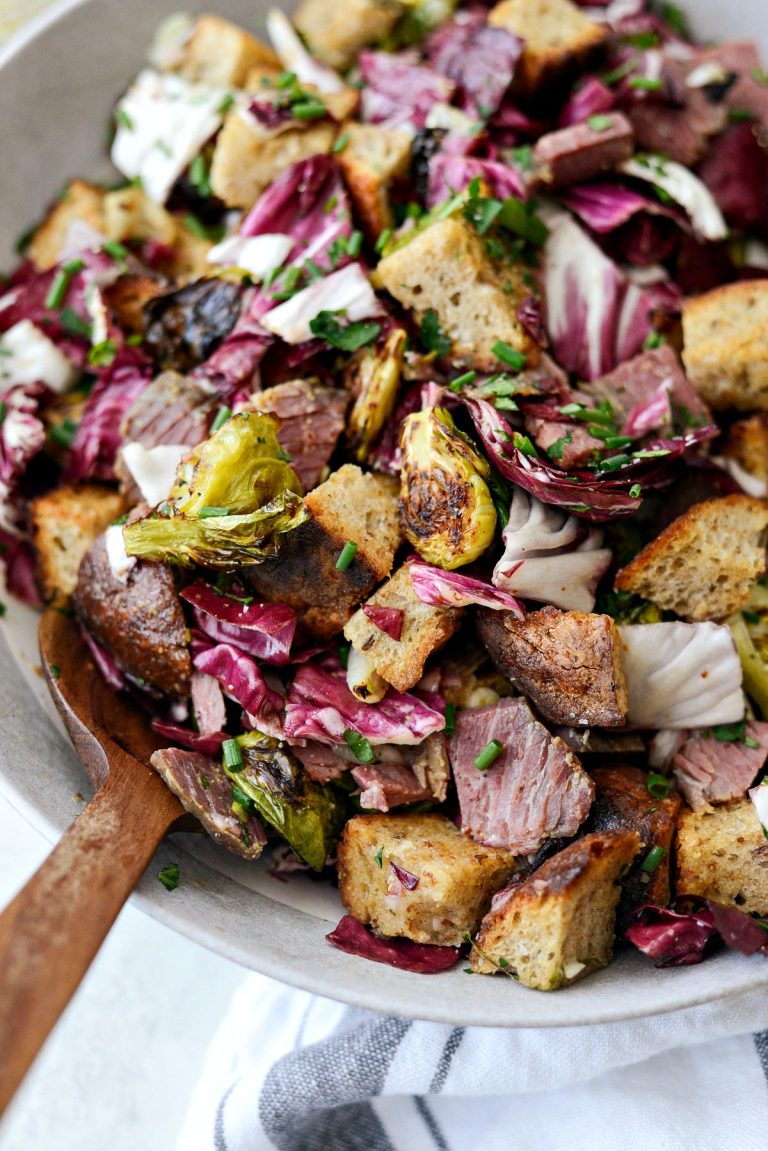 A crunchy and flavorful salad that will turns leftovers in to a gorgeous masterpiece.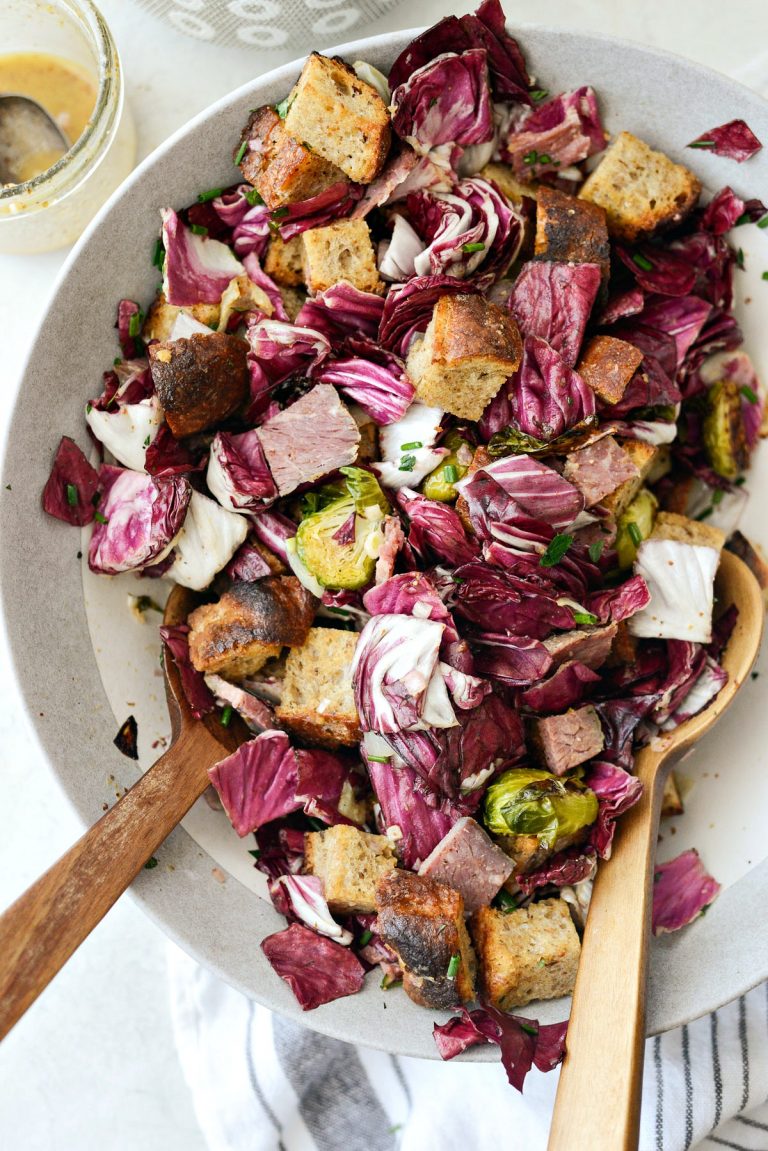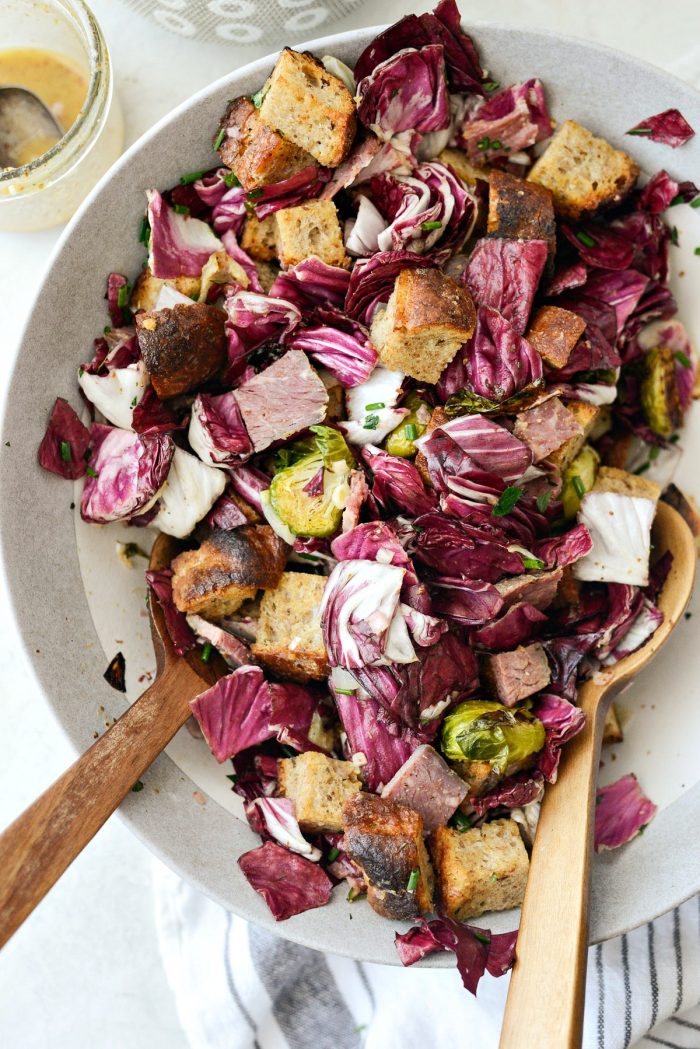 Enjoy! And if you give this Corned Beef and recipe a try, let me know! Snap a photo and tag me on twitter or instagram!
This post may contain affiliate links.
Buy the Cookbook: Simply Scratch : 120 Wholesome Homemade Recipes Made Easy Now available on Amazon »
THANK YOU in advance for your support!