Putting leftovers to work in this Corned Beef and Cabbage Stromboli! Corned beef, cabbage and cooked potatoes are rolled up with cheese in homemade whole wheat pizza dough and baked until golden brown. Slice and dip in zingy Guinness mustard. Leftovers never tasted good!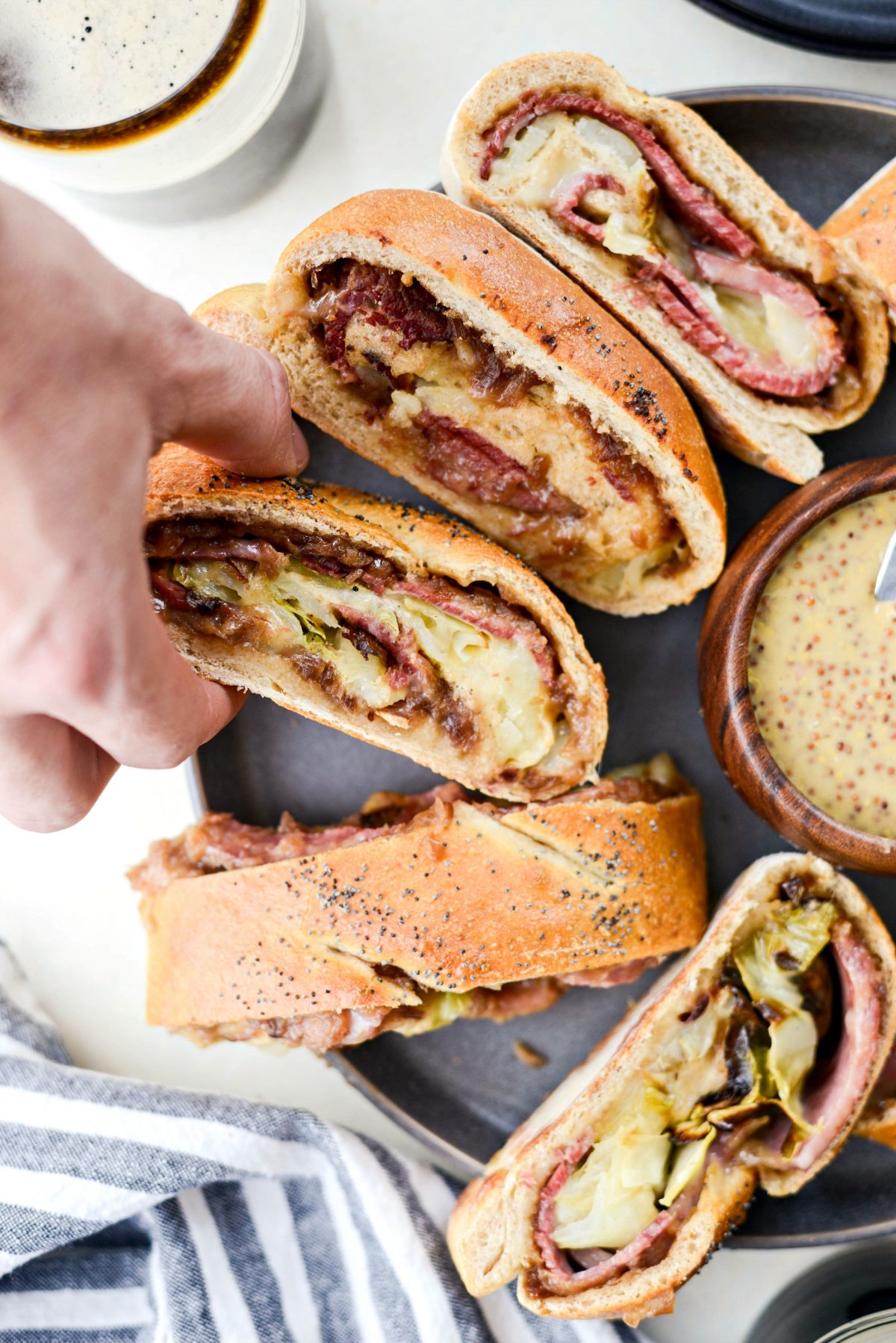 Wondering what to make with your St. Patrick's Day corned beef dinner leftovers? I've got you.
On Monday I made corned beef. On Tuesday, I made this corned beef and cabbage stromboli. I literally dreamt of this recipe and could not wait to make it. In it, homemade whole wheat pizza dough gets layered with caramelized onions, fontina, thinly sliced corned beef, cabbage, potato and Irish cheddar. Rolled and baked and sliced and dipped into the most incredible Guinness mustard.
Clearly you can see why I was so excited.
This year, you're going to want to make extras of everything so you can make the most amazing corned beef and cabbage stromboli.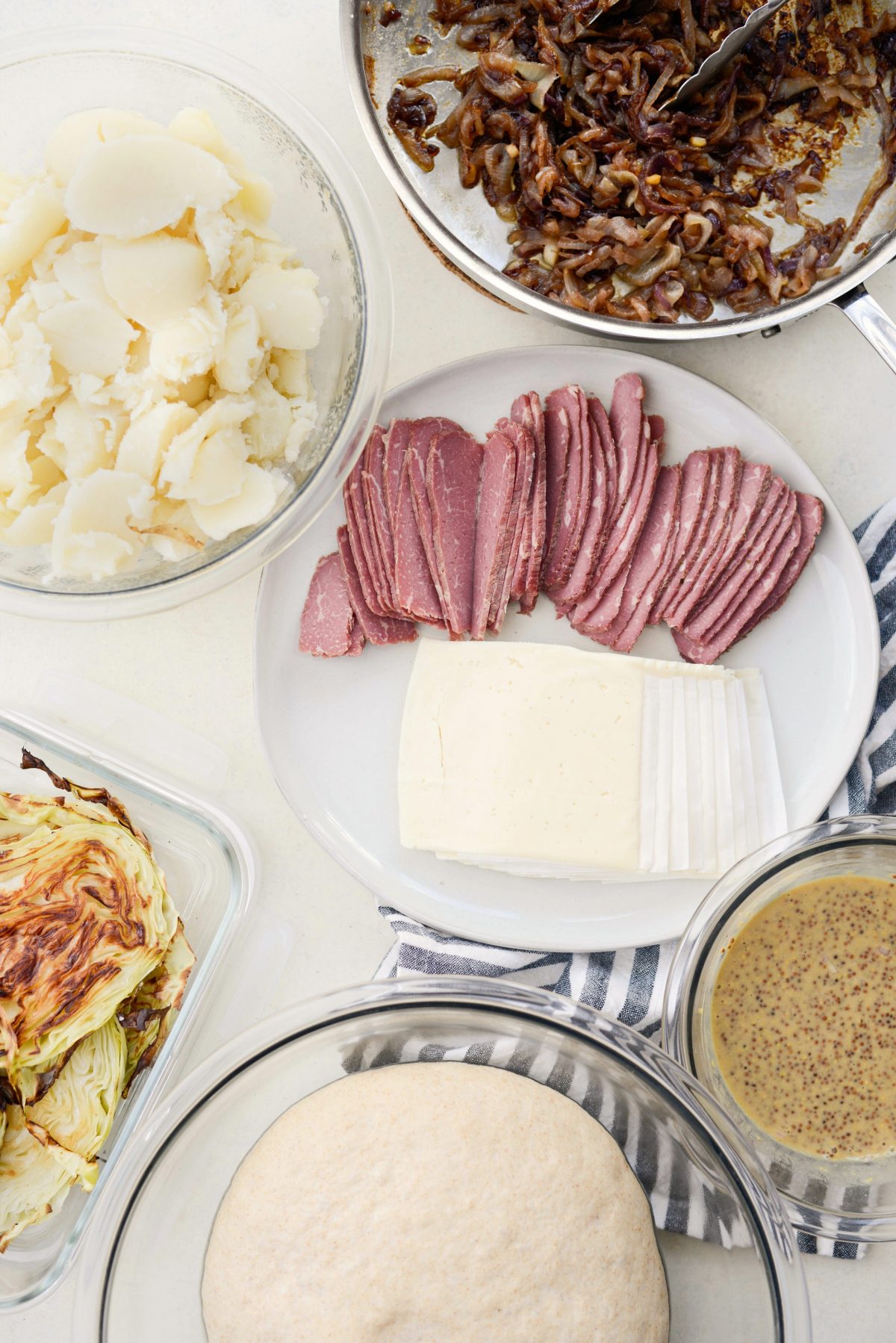 To Make This Corned Beef and Cabbage Stromboli You Will Need:
1 recipe whole wheat pizza dough
caramelized onions – I love caramelized onions, but my husband would prefer this without them. So these are totally optional.
leftover roasted cabbage – cabbage contains water, so use sparingly to avoid a soggy middle. Or omit altogether.
cooked and sliced corned beef
7 ounces fontina cheese
3/4 cup Irish cheddar
about 1 cup cooked potatoes
As far as the caramelized onions and cabbage goes, you can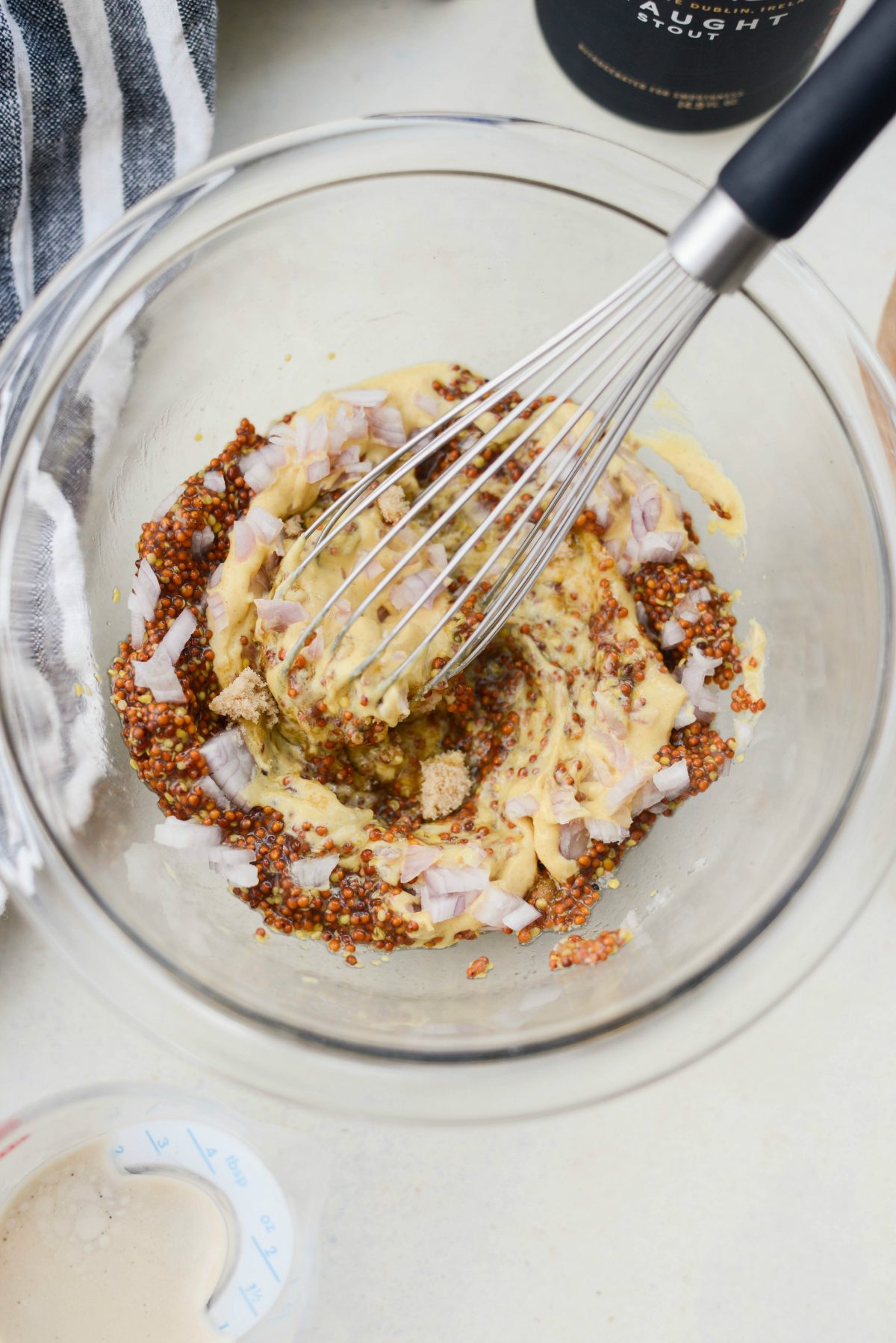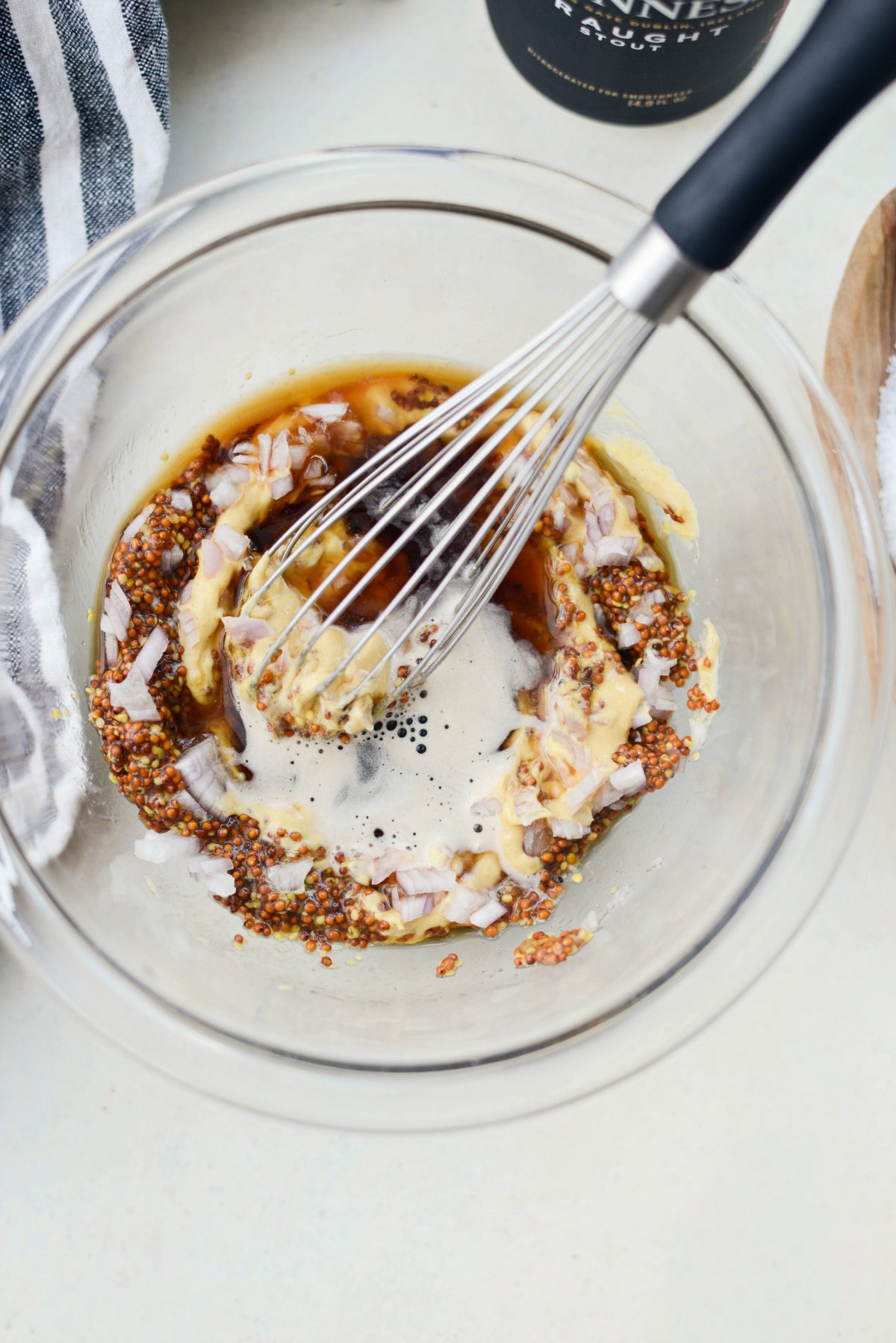 For the Guinness mustard you will need:
1/2 cup whole grain/seed mustard
2 tablespoons regular dijon
1 tablespoon minced shallot
1 teaspoon brown sugar
3 tablespoons Guinness
Throw it all into a bowl and whisk to combine.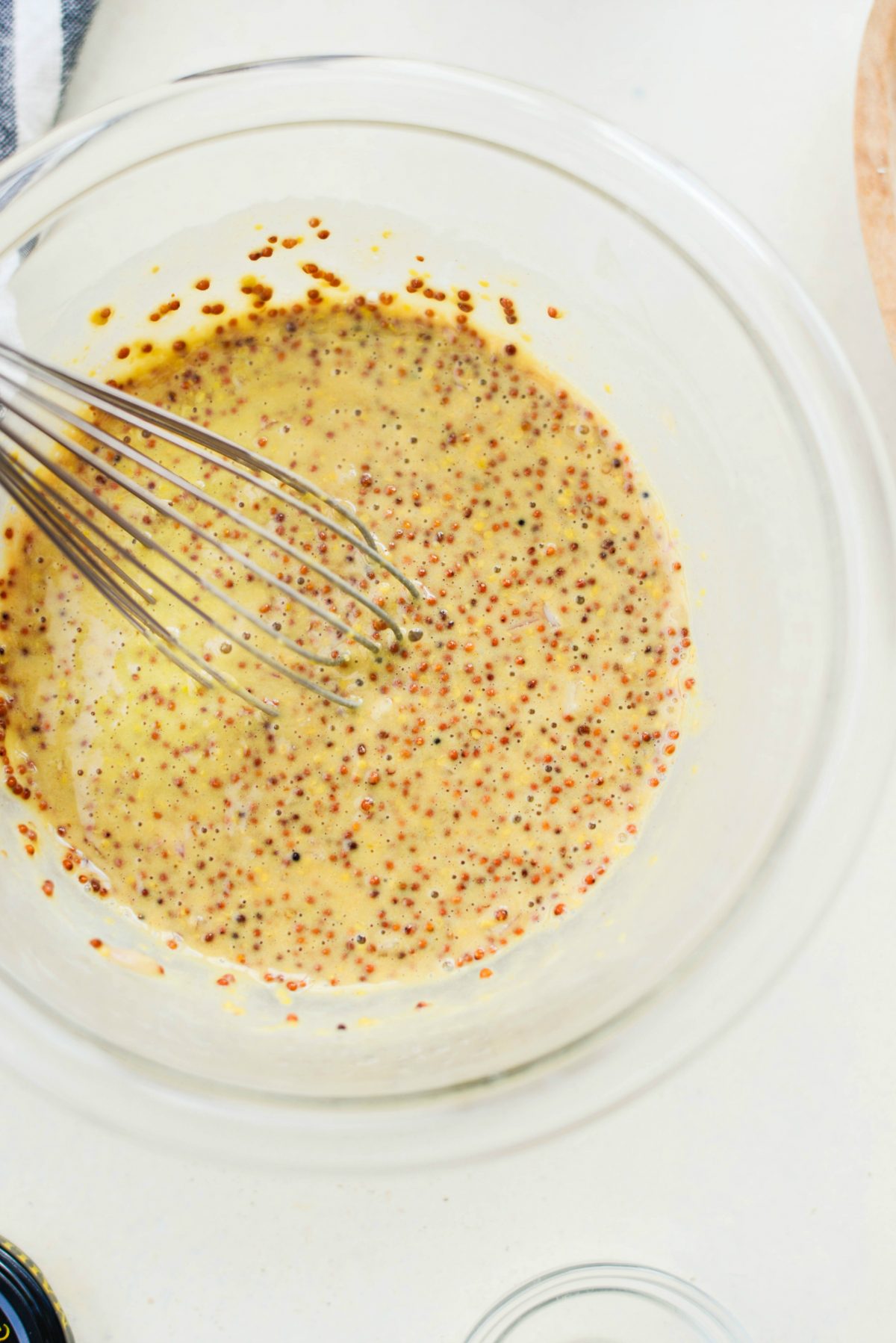 Once combined, cover tightly with a lid or plastic wrap and refrigerate for a few hours or until serving.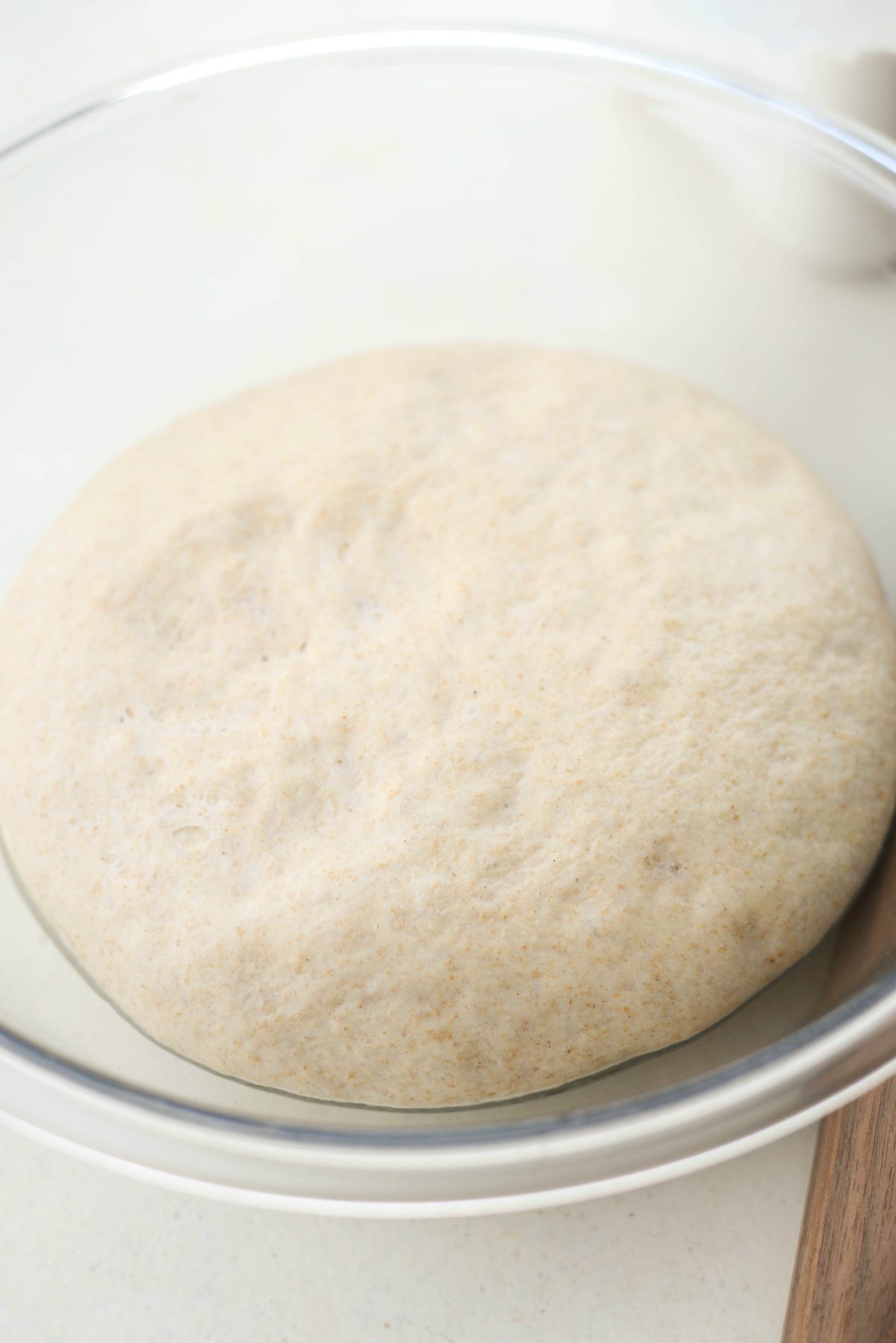 Next prepare the pizza dough. I used whole wheat pizza dough for the earthy flavor, but regular would work just as good.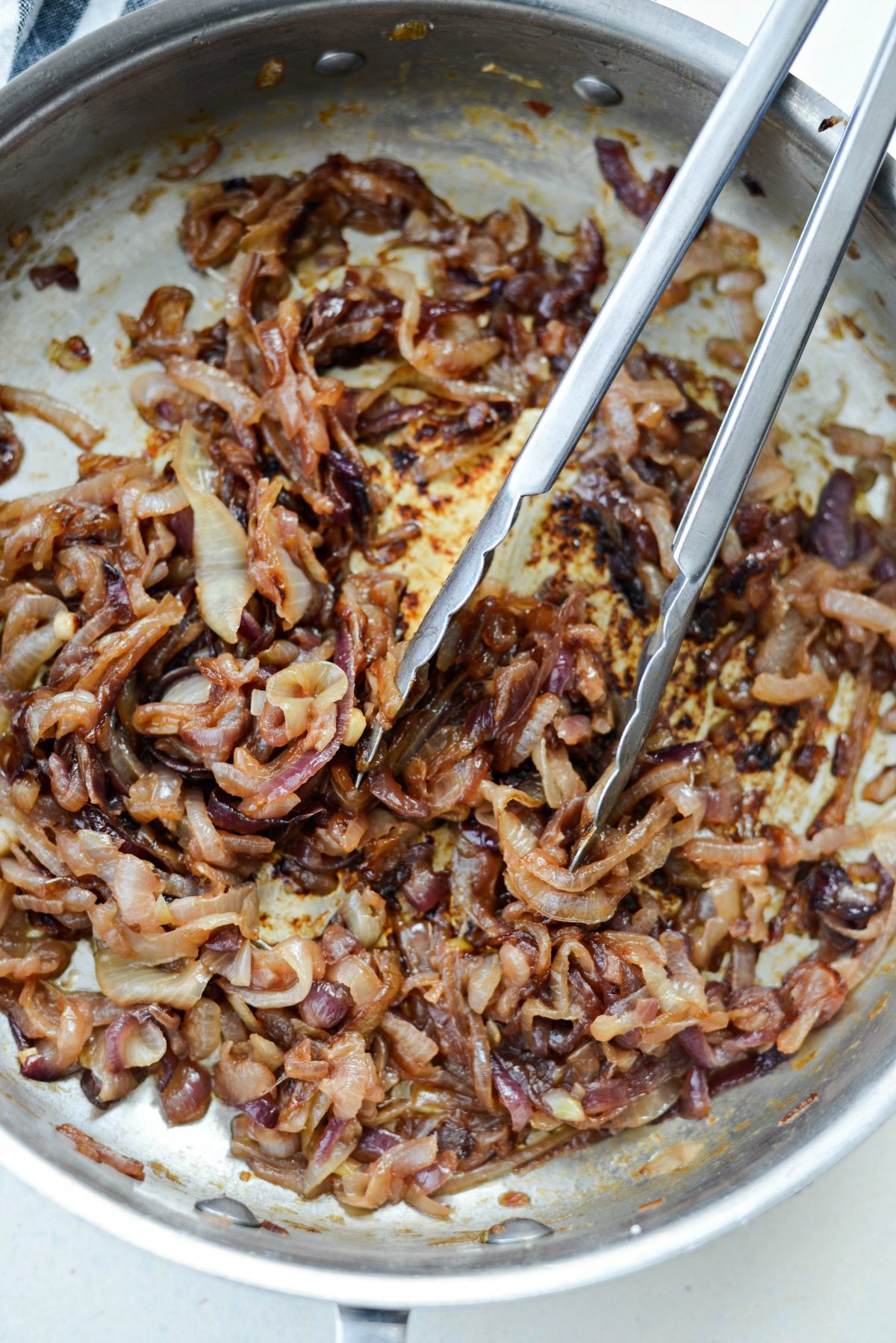 Meanwhile caramelize the onions. To be completely transparent, I am the caramelized onion fan of our family. I loved them in this stromboil, however Pat said he could do with out them, and suggested that maybe, in its place even more meat. I'll let you decide. However, with that said, using caramelized onions in this corned beef and cabbage stromboli is totally optional.
How To Caramelize Onions:
First peel, halve and slice 4 onions. I used a combination of onions (2 sweet, 1 yellow and 1 red) but only because that's what I had on hand. Then heat a 10 to 12-inch deep sided stainless pan over medium-high heat. Add 3 tablespoons of butter plus 1 tablespoon light olive oil. Once melted, add in the onions along with 3/4 teaspoon kosher salt. Toss and allow to cook for 5 minutes, tossing the onions halfway through. Then reduce the heat to medium to medium-low and cook for 45 minutes or until the onions are deep golden and super soft.
For a step-by-step tutorial click here!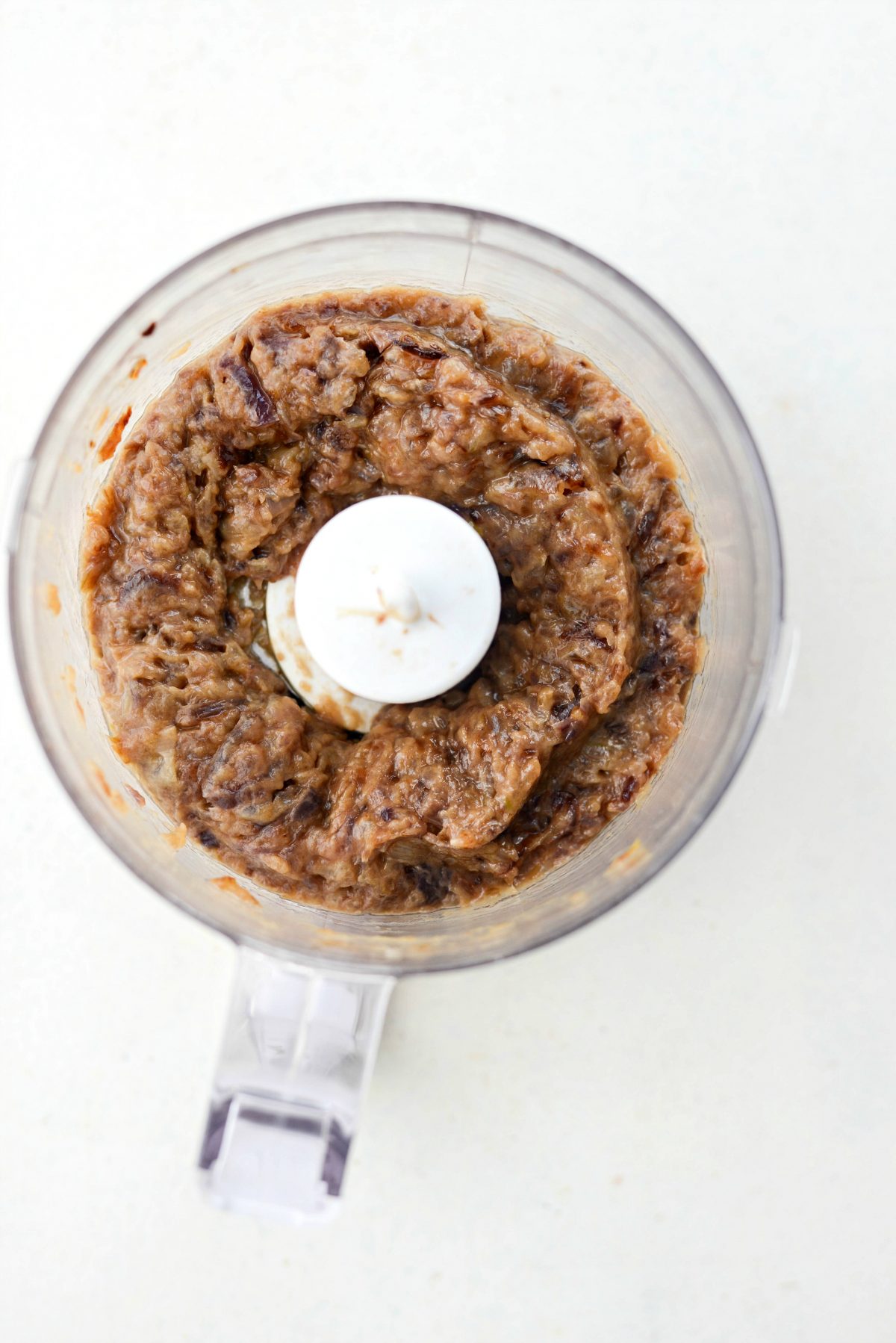 Next, transfer the caramelized onions to a mini food processor and pulse until a paste forms. Allow the onions to cool completely before using.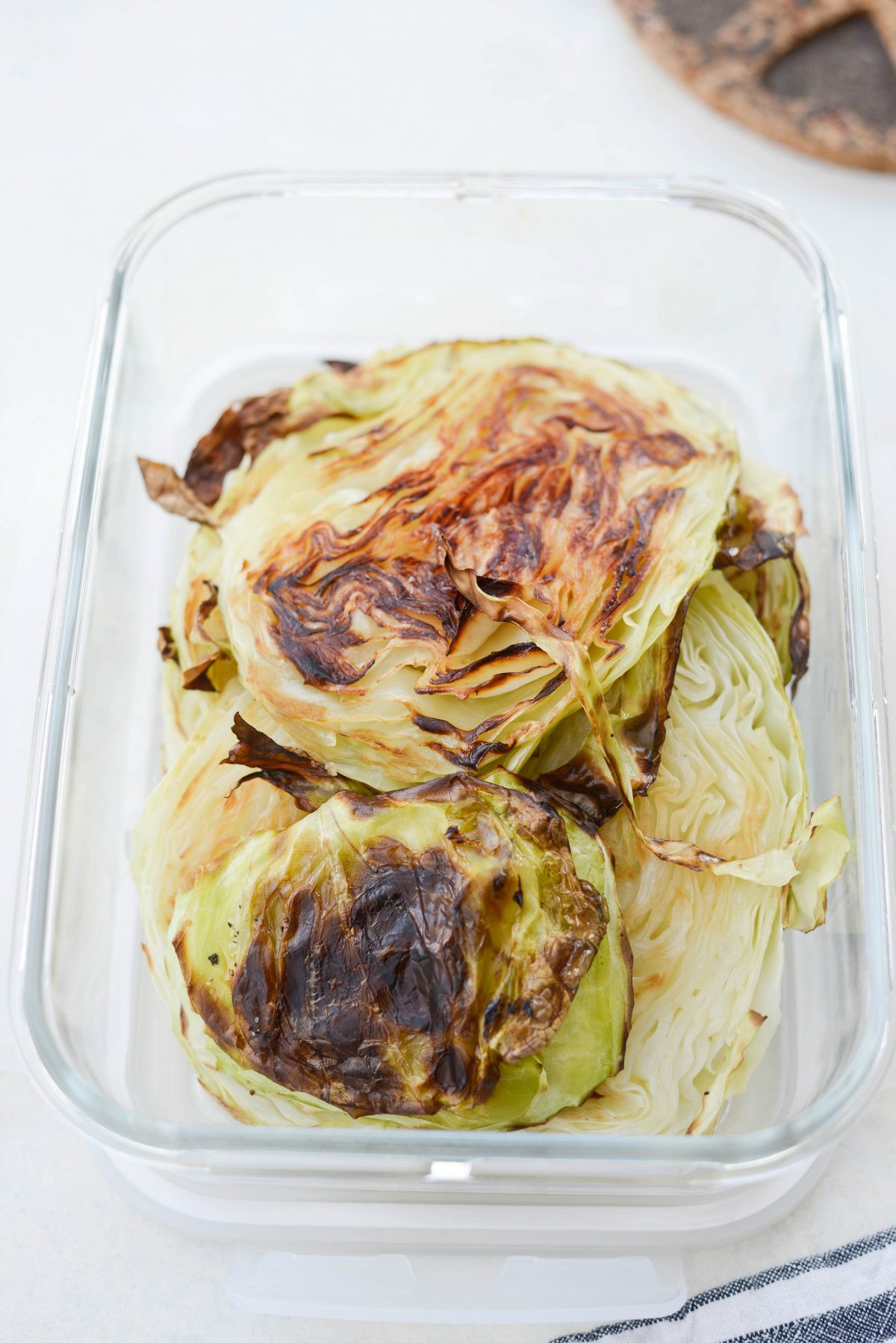 These roasted cabbage steaks were leftover from the other day. You won't need this much, but enough to scatter (chopped) overtop of the other toppings.
Cabbage contains water so use them sparingly when scattering them on the dough. You don't want a soggy middle.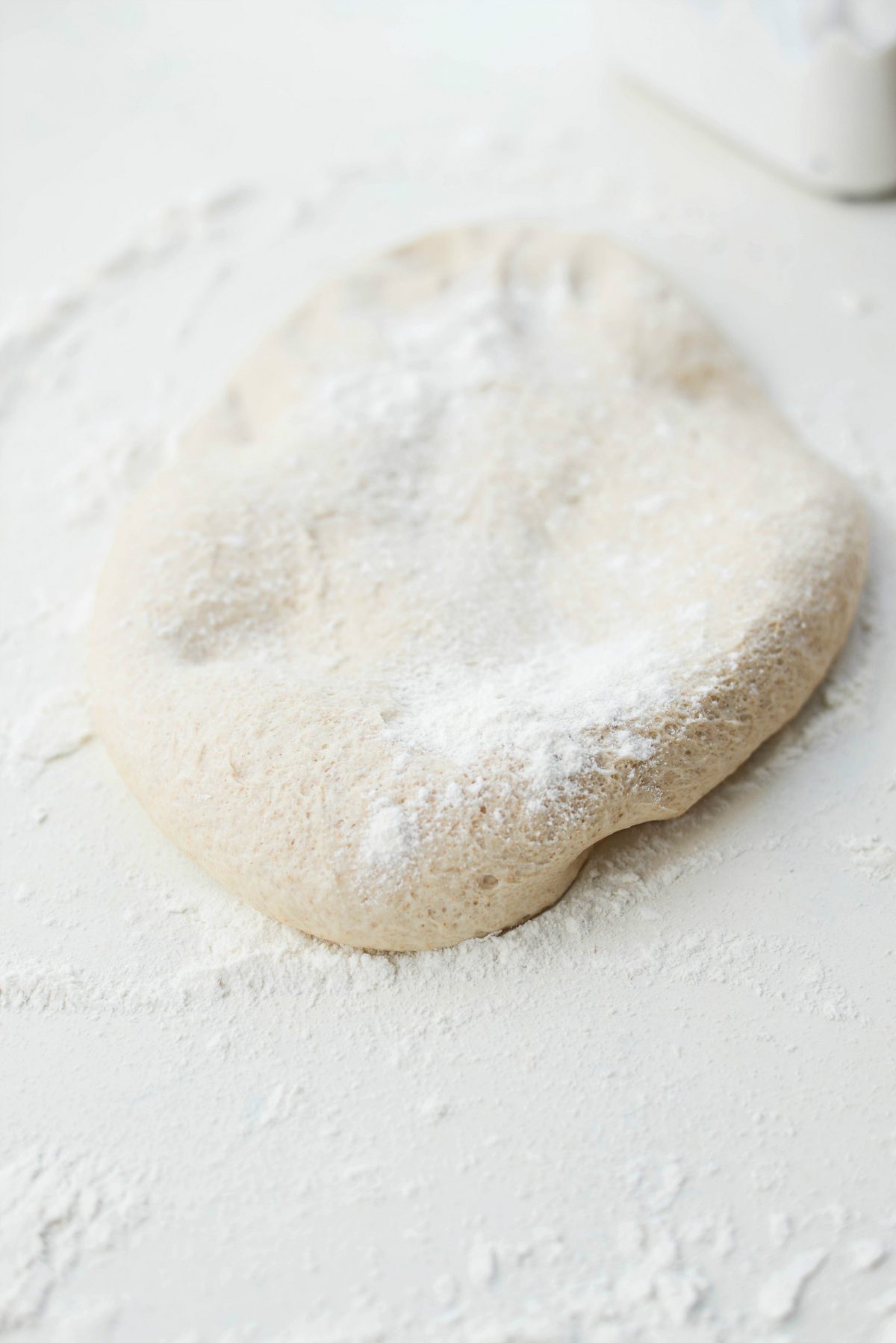 Once the dough has risen, punch it down to deflate. Then transfer to a floured surface and roll out to the size of a standard rimmed baking sheet (half sheet pan).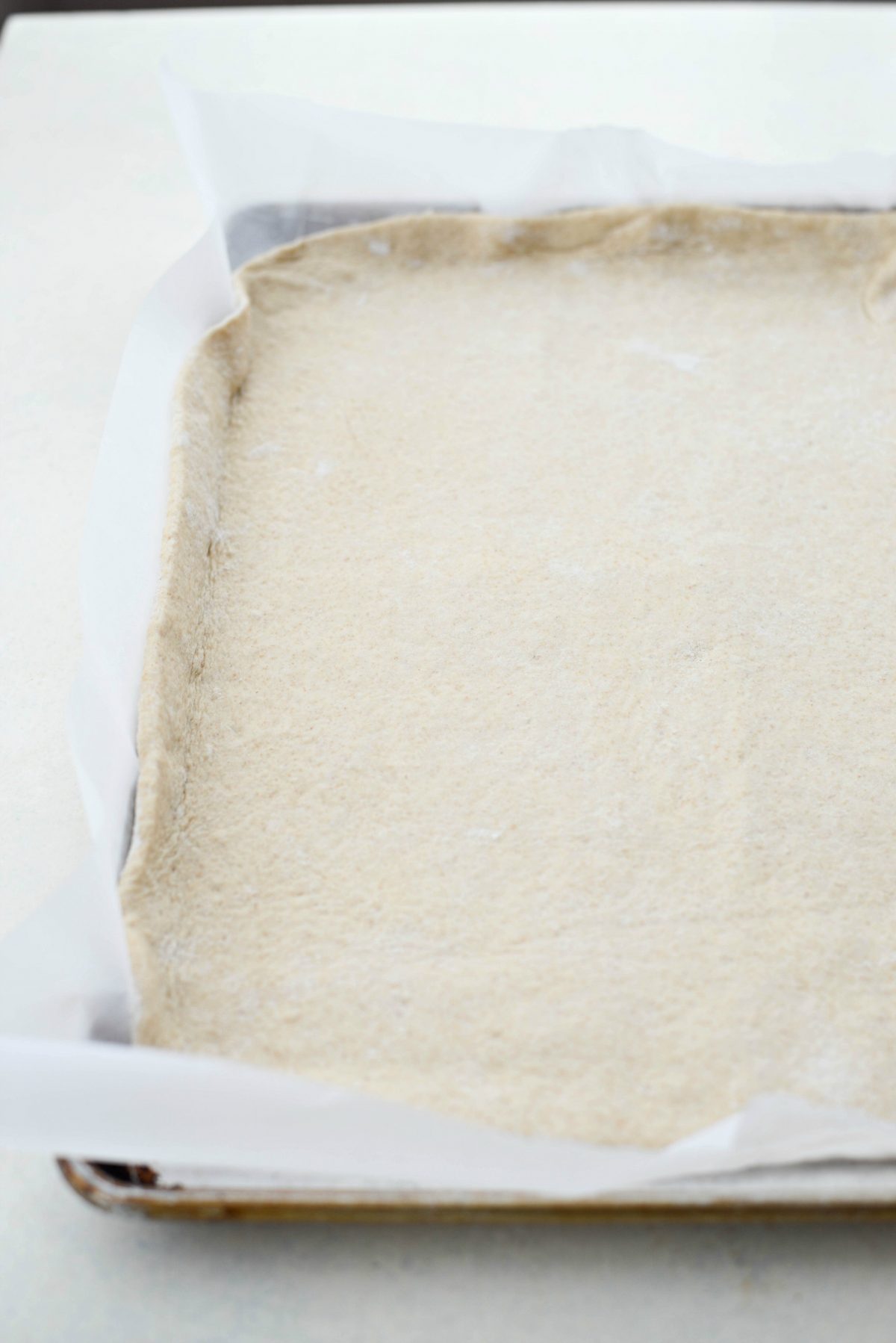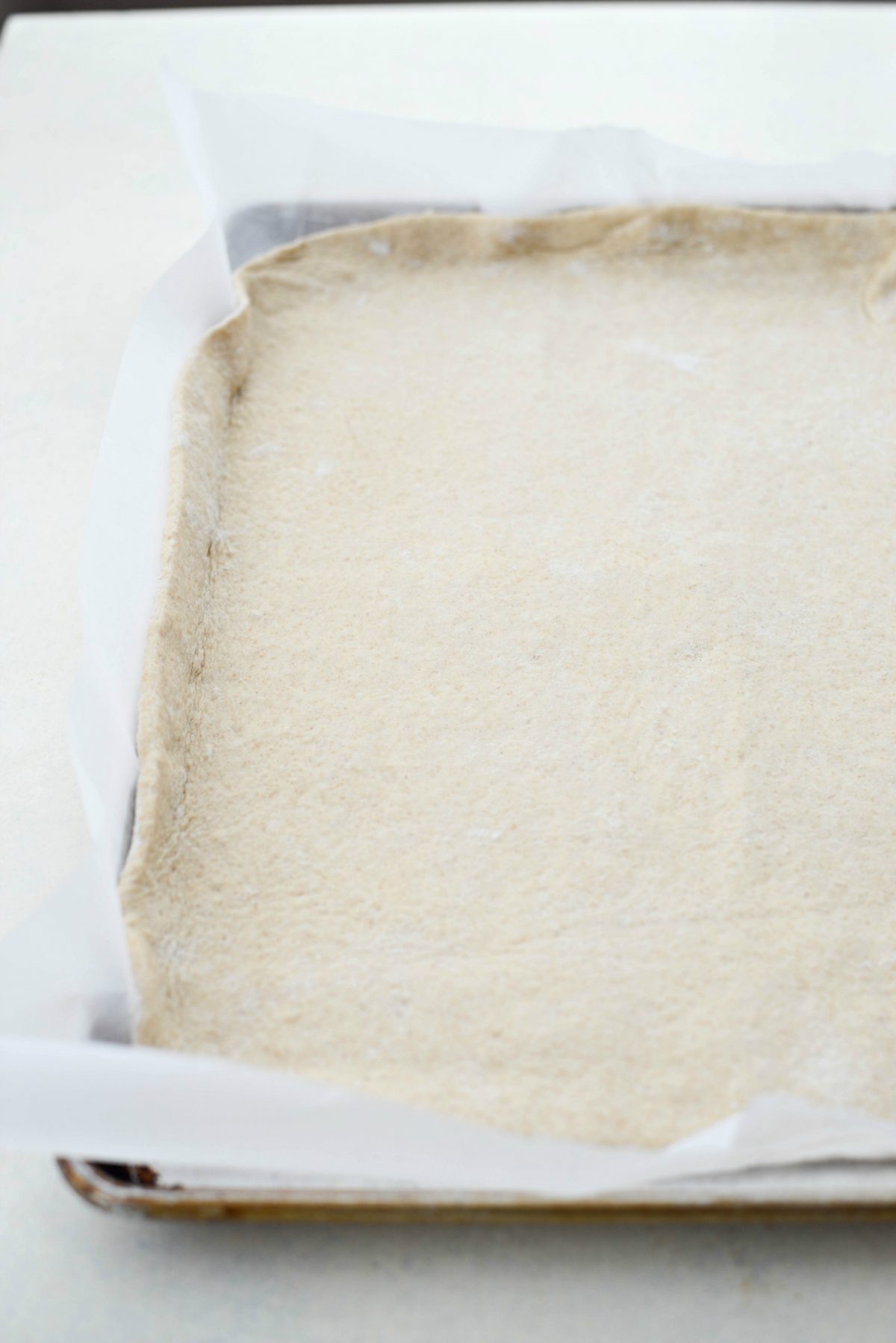 Next transfer the dough to parchment paper placed in a rimmed baking sheet. Allow one long side of the dough to overhang by 2-inches (not pictured here).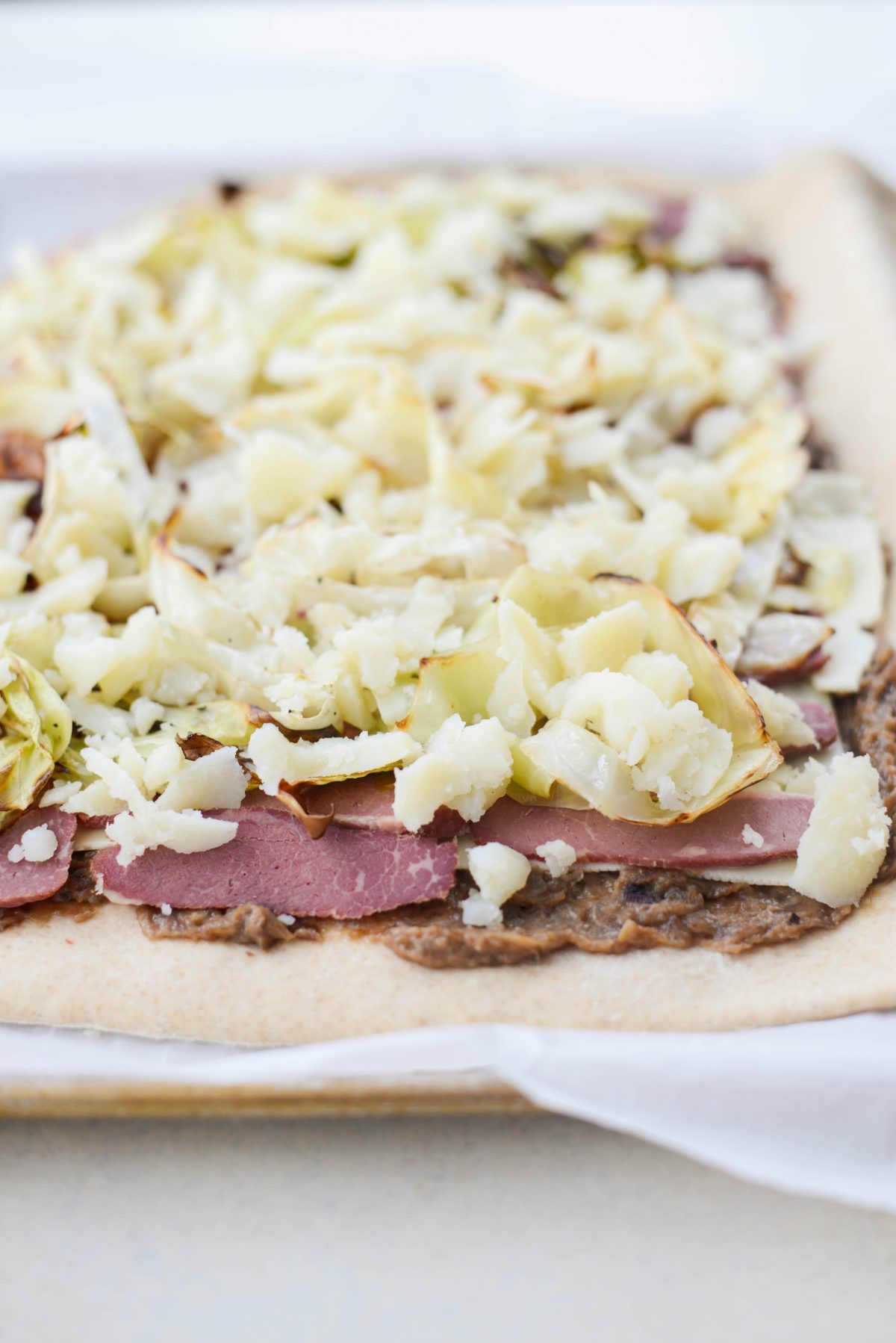 Next, spread the caramelized onion paste (if using) leaving 1/2 to 3/4 inch border on 3 sides and a 2-inch border. Then top with a single layer of fontina cheese, and 1 or 2 layers of thinly sliced corned beef. Lastly scatter the chopped cabbage, crumbled or diced potatoes and scatter the Irish cheddar overtop.
You see where this is going, right?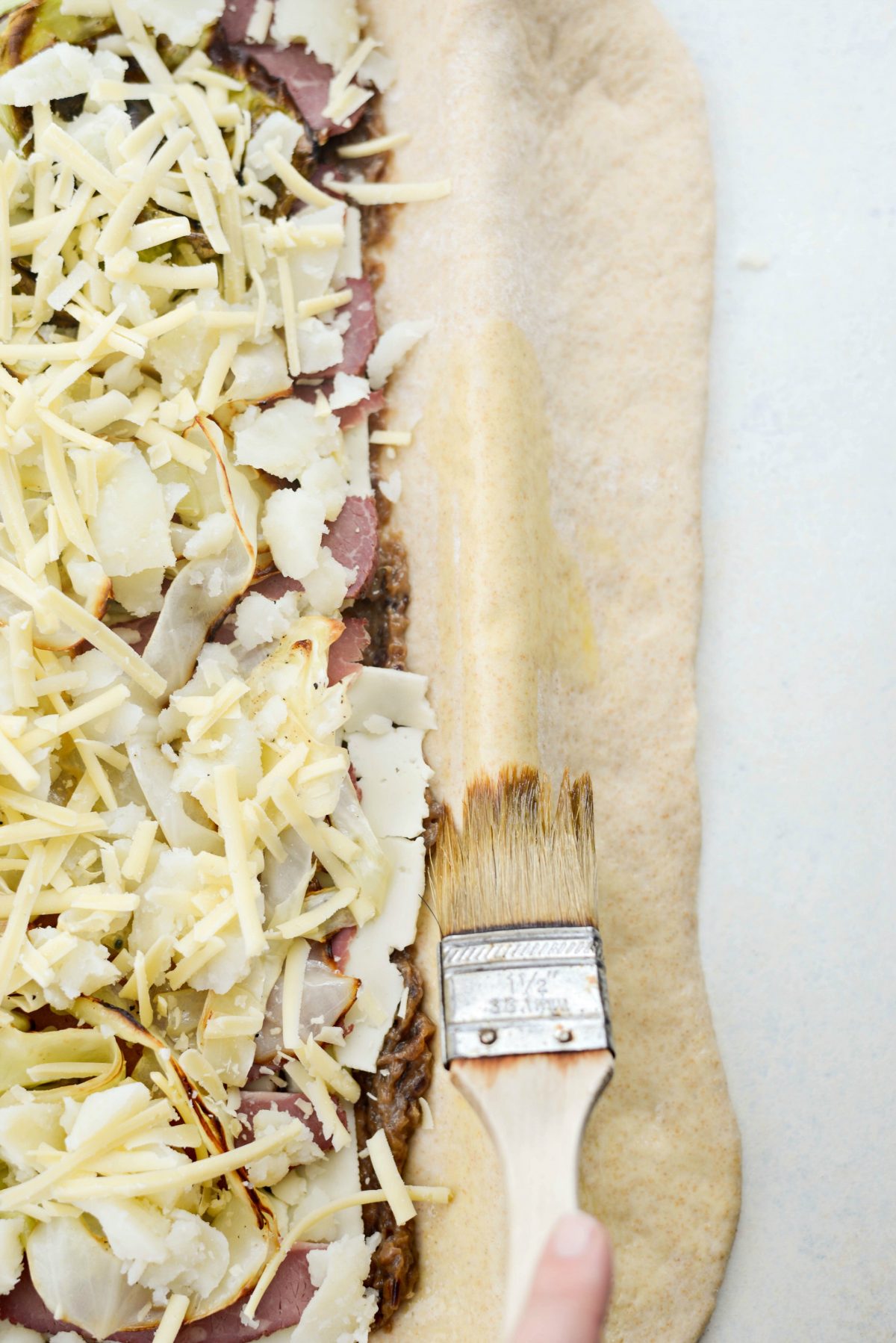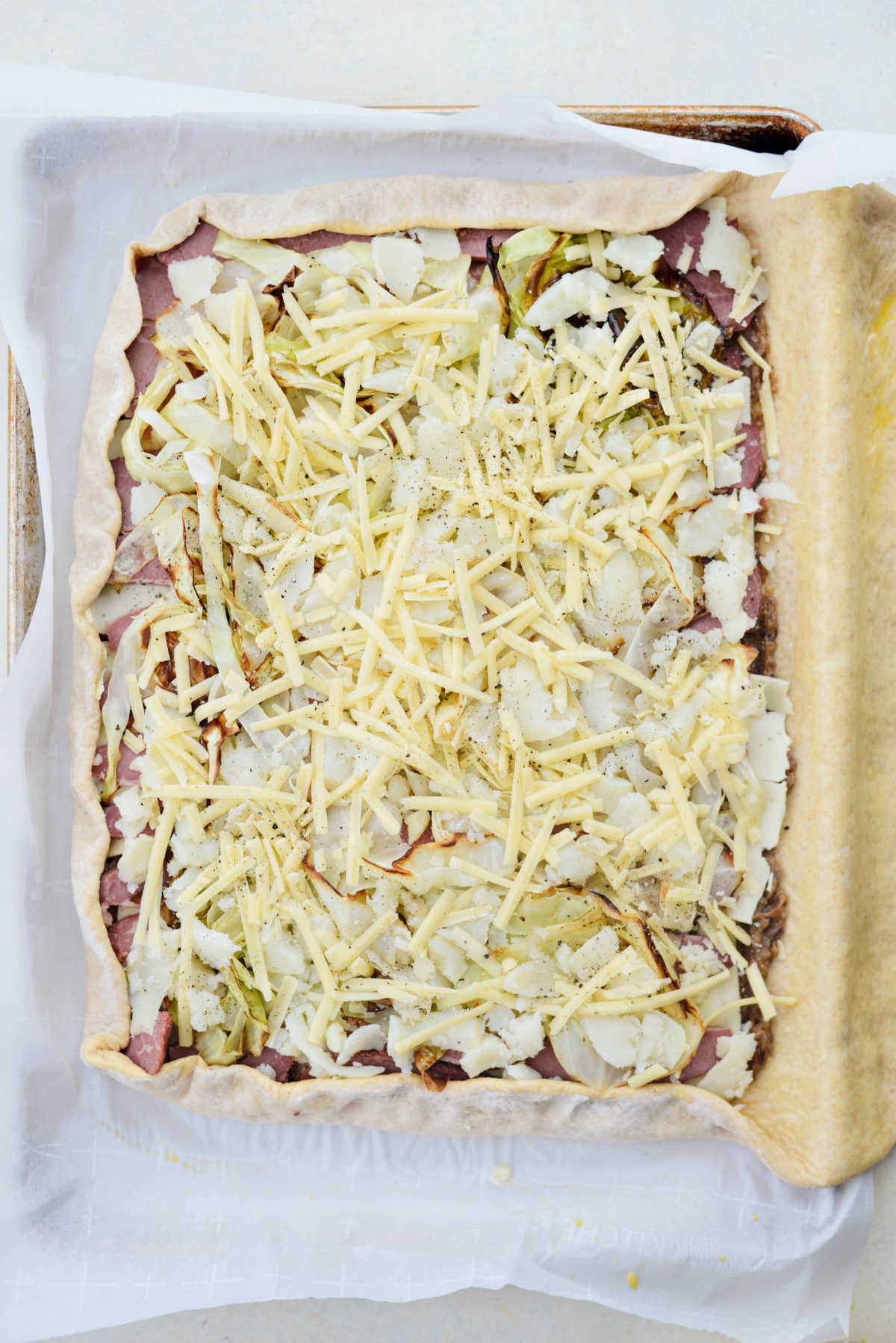 Next with your impeccably clean hands, gently press on the toppings to get them to lay flatter.
Then brush all of the exposed edges of the dough with an egg wash or 1 egg that has been beaten with 1 tablespoon water. Fold in the 1/2-inch sides over top of the filling, leaving the 2-inch border alone.
Now comes time to roll.
Then grab the parchment paper (along the side with the long 1/2-inch folded in border) and use it to fold that side of the Stromboli inward.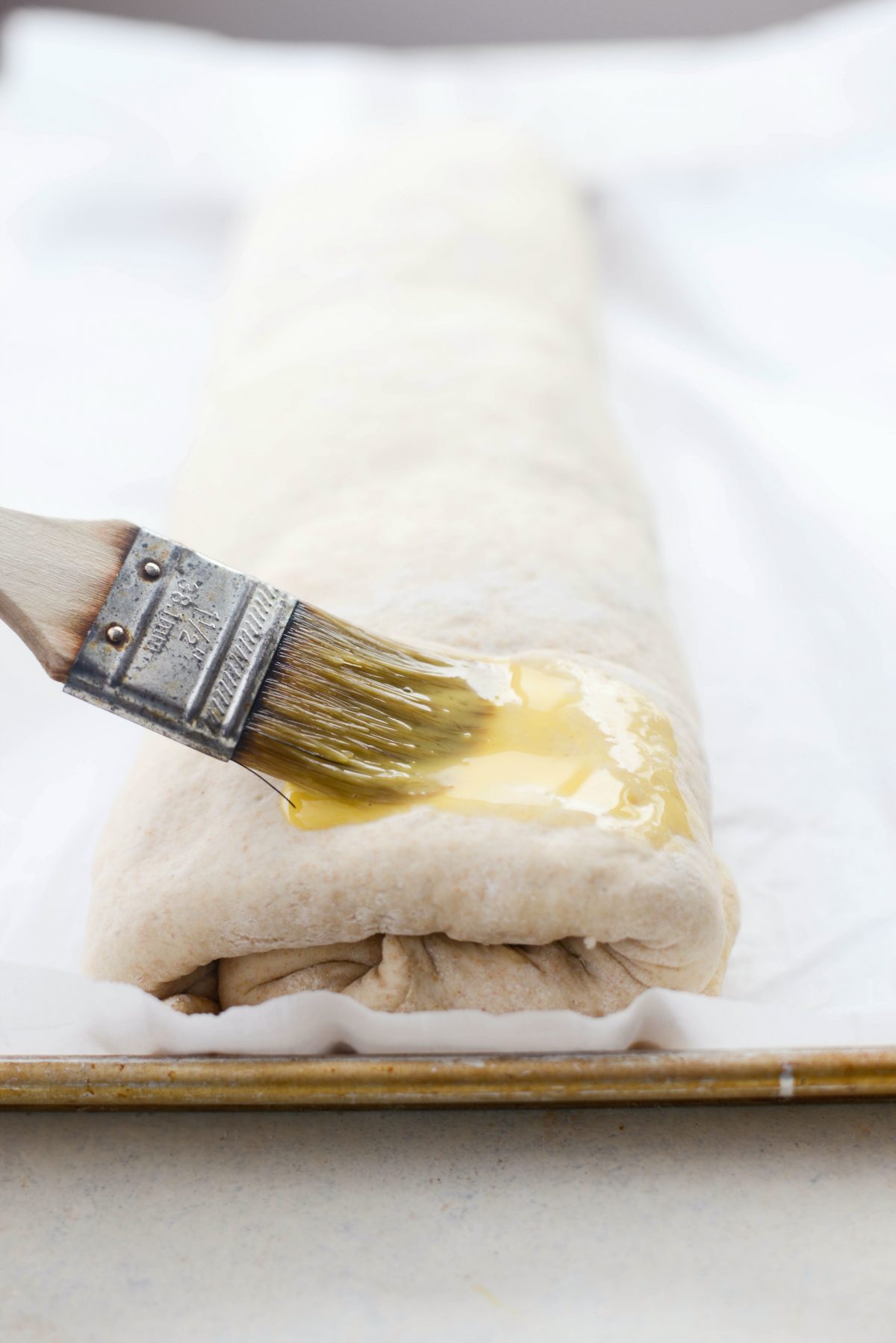 Then use the parchment paper along the side with the 2-inch border and fold it over top. Next roll the Stromboli so it ends up seam-side facing down and brush the top with the egg wash.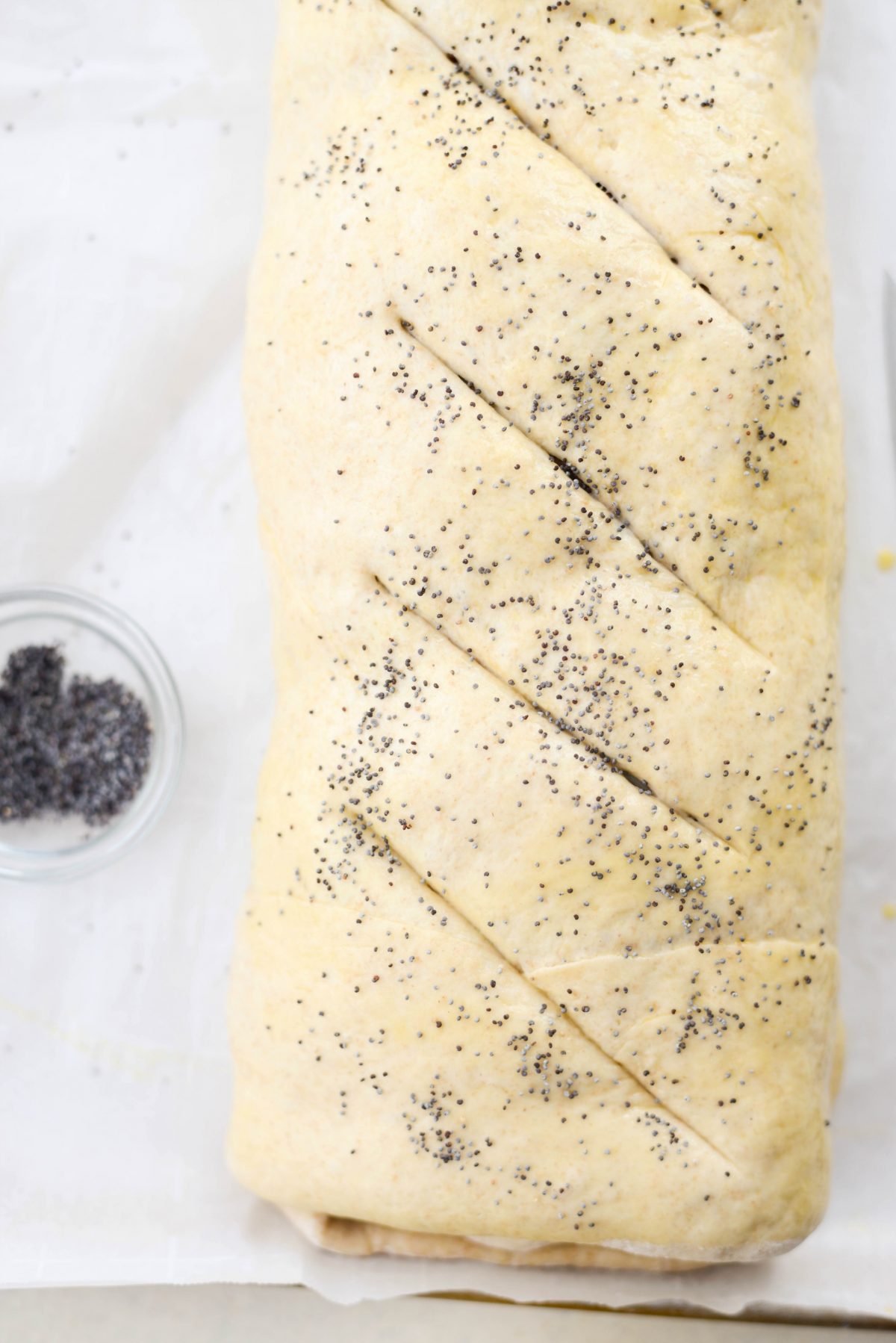 Next, use a paring knife to make slits a couple inches apart and sprinkle with poppy seeds.
Bake the Stromboli on the bottom rack of your preheated 500° oven for 15 minutes, rotating it halfway through. Then reduce the heat to 375° and move the Stromboli to the middle of your oven. Bake for an additional 15 to 20 minutes or until the center its fully cooked. Watch carefully so it doesn't not burn.
Cover the top with foil if it gets brown too quickly.
You can always check and make sure the dough is cooked in the center of the stromboli by cutting it in half (after baking) and checking the center. The edges bake up first and then continues to bake inward. If the dough isn't cooked all the way through, then just put it back together and into the oven for 5 minute intervals (at 375°) until cooked through.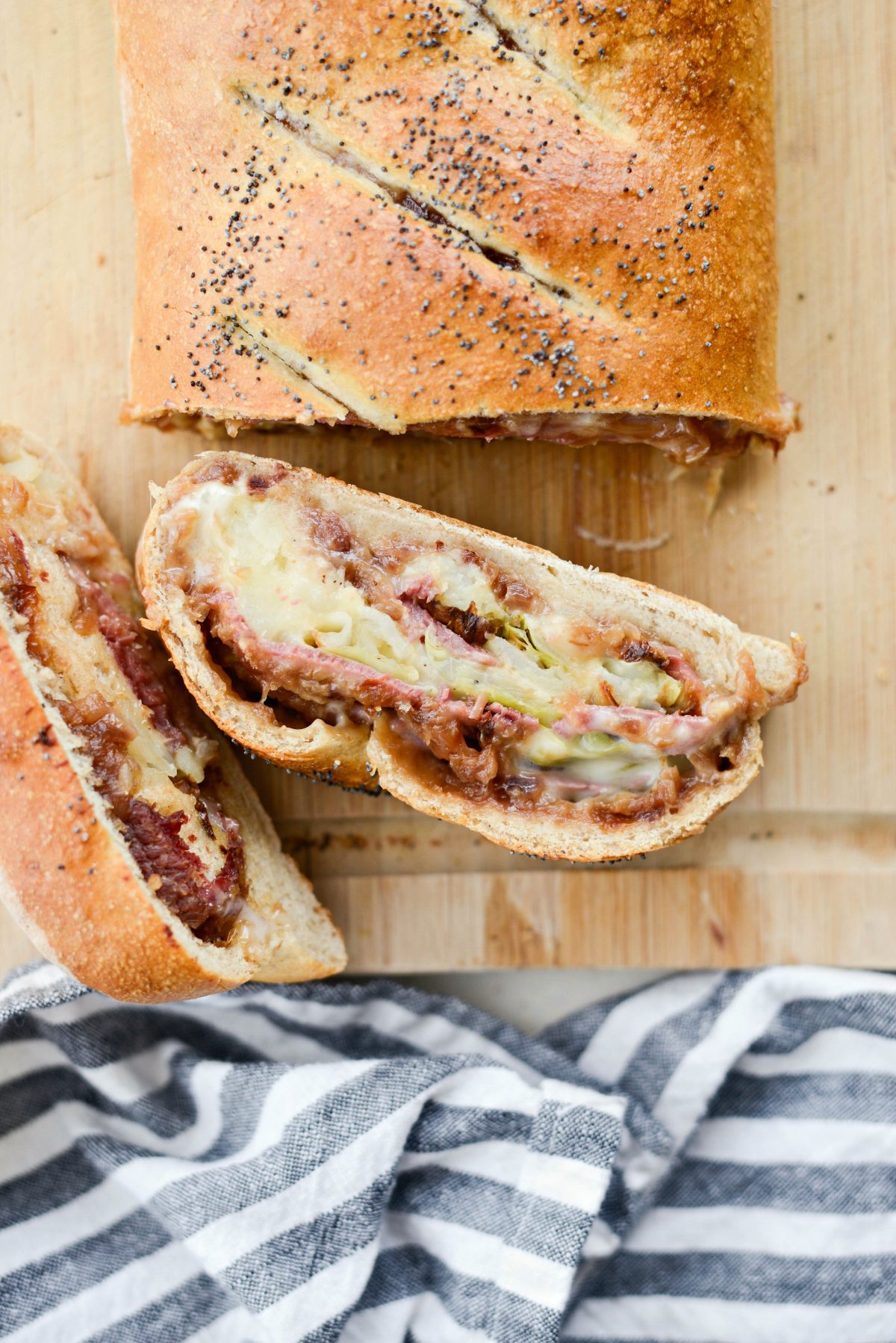 Look at that cheesy goodness right there!!
Lastly, let the stromboli rest for 10 minutes before slicing into 2-inch strips. Then serve with the Guinness mustard.
Dip, dunk and devour.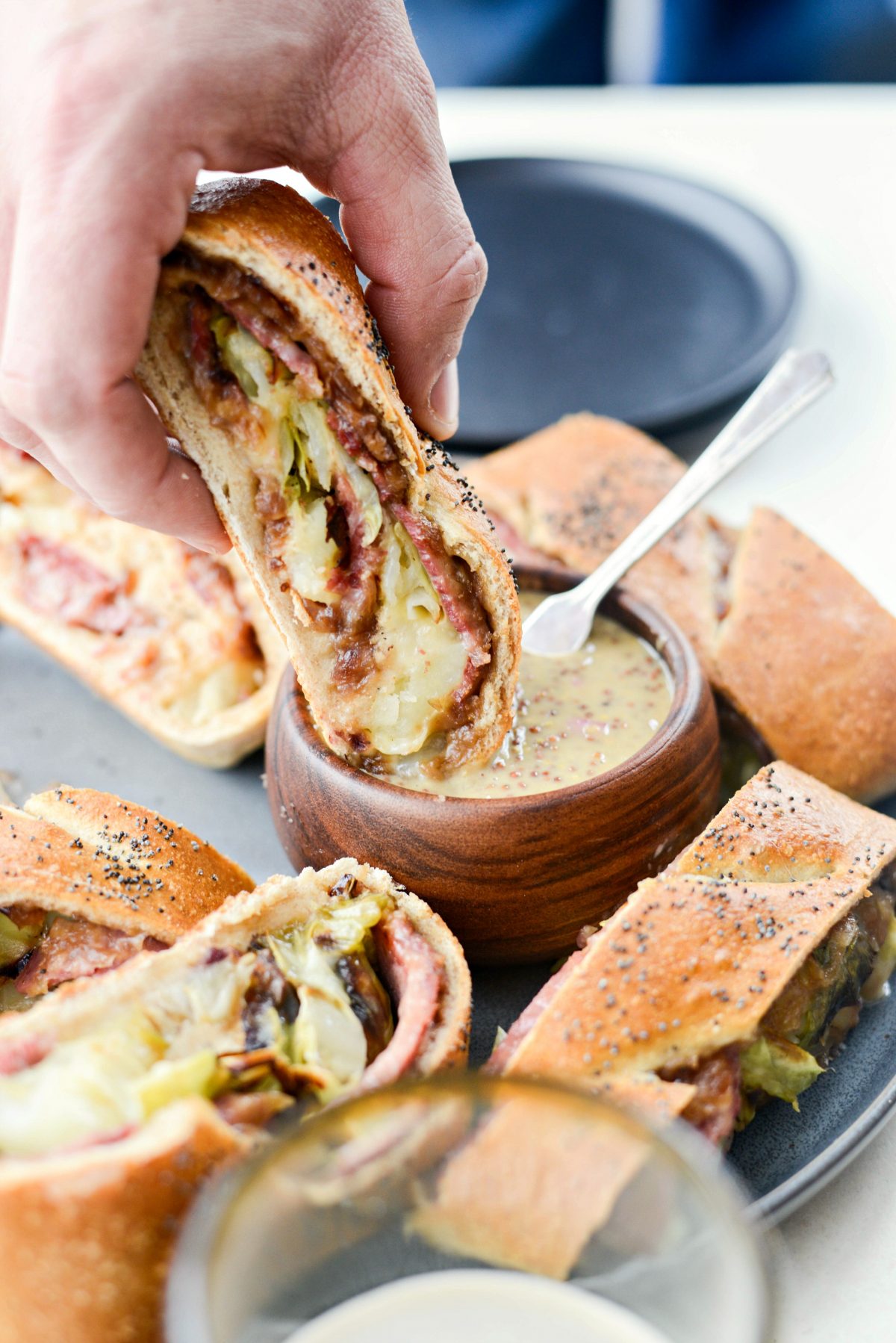 Enjoy! And if you give this Corned Beef and Cabbage Stromboli recipe a try, let me know! Snap a photo and tag me on twitter or instagram!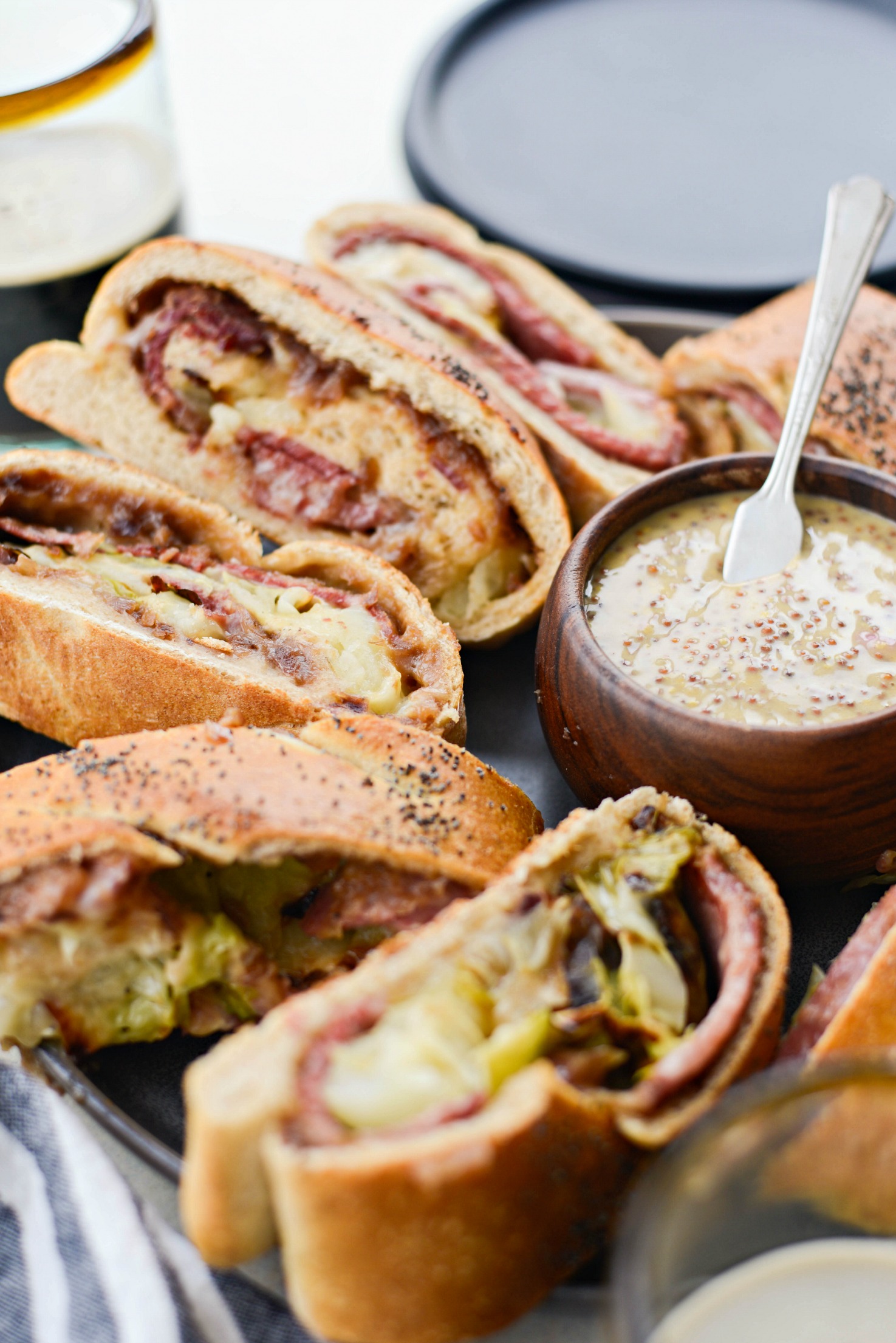 This post may contain affiliate links.
Buy the Cookbook: Simply Scratch : 120 Wholesome Homemade Recipes Made Easy Now available on Amazon »
THANK YOU in advance for your support!